Last Updated on
Today we are highlighting the company Sunjoy, whose team of innovative designers and product development experts are dedicated to bringing class and style to your living spaces.
We highlight this company based upon nothing but great experiences with their innovative designs and relationship with the public/their clients.
Sunjoy is a bit newer to the game, having been established as company just only ten years ago.
But don't let that short amount of time trick you into any kind of doubt: this company produces some of the best quality backyard furniture and accessories we have come upon, as well some of the most stylish and durable: qualities you will certainly want to look for!
The company is based in Singapore. Their recent establishment in fact gives them a fresh look at what to provide for customers.
Many companies that have been around for a long time tend to stay old-fashioned both in their design and approach to business.
Sunjoy has that young energy of a company very much here and present in the modern world, aware of the needs and wants of the modern consumer, while sticking to the old-fashioned ways of designing and producing high quality items that will last for years to come.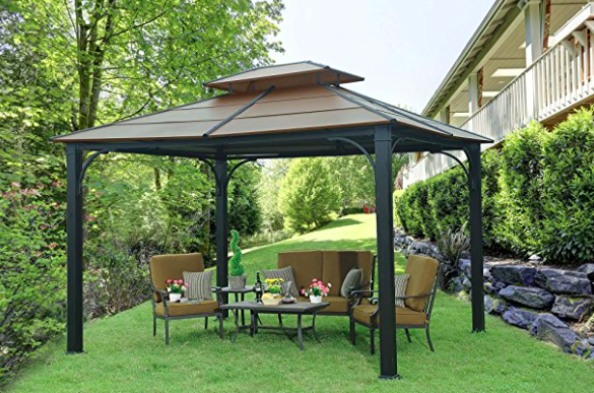 They have the passion as well as the talent to predict and forecast trends, thereby keeping them a step ahead of the game.
And these days, design is a big part of the game. We favour Sunjoy after having so many successful experiences with them, including product interaction and reviews.
The company, since the beginning, has been and is well-received by customers worldwide.
They've just got this incredible way of combining heritage, practicality and design: three crucial components to creating great products that people will love no matter their location or age.
Their designs incorporate modern and contemporary, sleek design inspired by materials of days past, all while giving the customer absolute comfort.
They produce beautiful wicker rattan sets that are just so lovely you could use them inside the home just as easily as out.
Sunjoy is huge on inspiring their customers, deriving direct satisfaction from giving people the opportunity to imagine living spaces, whether those customers want to design a cozy and relaxing space to read a book or enjoy a romantic talk, or wild party patio as a gathering place to entertain family and friends.
Patio furniture is an absolute must. If you have an apartment balcony, sprawling backyard or humble concrete patio, or a big wooden deck on sonotubes or virtually any area of outdoor land that you can use, you should take full advantage and set up a living space for yourself.
It will completely change the way you look at the yard. By adding a couple of chairs or a gazebo you have thus created a little escape for yourself that you can go to when drinking morning coffee, reading a book, entertaining guests or taking important conference calls.
Even if you're not the outdoors type, we really recommend setting up at least an umbrella with a good chair. Fresh air is good for the lungs and for the soul.
With that, we would recommend taking a look at Sunjoy products. Not only do they care deeply for the customer but they also strive to create a happy work environment for staff.
They say "Sunjoy attracts the best talents worldwide. A joyful environment coupled with passionate people are key elements that contribute to designing and developing the best Sunjoy products."
When it all boils down, Sunjoy's mission is to bring inspiration, style and purpose into every home, while continuing to be a global leader of indoor and outdoor furnishings for living spaces everywhere.
In addition to high quality furniture and accessories, the company also supplies replacement parts for everything. Offering replacement parts is a considerable quality in a company these days, when everything is designed to break and forces the consumer to continually buy entirely new sets.
Offering replacement parts promotes the longevity of the furniture while engaging the customer in some do-it-yourself action.
This helps foster an ability for building and problem solving in the customer, as well as creating less waste for the planet. We will take this moment to commend Sunjoy for their brilliant and responsible business and design choices.
Replacement canopies, netting and walls are all created by the same factory that makes the original parts, which means all after-market purchases will fit perfectly and you will have no problem.
Members of the company are deeply involved: they are all welcome to contribute to the company's blog, which is posted publicly on their website.
They also encourage Sunjoy customers to upload photos of their Sunjoy products. Companies love seeing their products in action and it's cool when they are so open and welcoming to experienced and potential clients.
Visit: https://sunjoyonline.com/