Cast iron chimineas are a more modern variant but still hailed as a recognizable 'classic' design.  They carry a lot of the same shapes and features, however the cast iron build makes them similar to European pot bellied stoves in most cases.
While metal chimineas are closer to the contemporary side of things, we usually find the cast iron versions very much stick with the rustic appeal similar to the traditional clay chimineas.  They are more heavy-duty than their clay cousins, however, this does come with somewhat of a higher need for routine care and maintenance.
Just watch this video from our friends at The Blue Rooster and you'll see that owning a cast iron chiminea can offer you plenty of great times ahead!
A notable feature for metal and specifically cast iron chimineas is that some models might lend themselves to cooking.  The larger, sturdier bodies are typically suitable for roasting a few marshmallows, doing some light grilling, and even baking a pizza or some fresh bread.
Some manufacturers might even go as far as including grilling trays and designs that facilitate cooking and baking.  Generally speaking, cooking with a chiminea is an excellent idea, however, this doesn't work for every single one on the market.
This is why we have also gone ahead and compiled a separate lineup for metal chimineas used for cooking for those who are curious to try it out.  Overall, whether you plan on cooking with your chiminea or not, having one in your backyard will certainly brighten up your outdoor space, provide great warmth, and be a most captivating centrepiece.
Now, let's take a look at some beautiful cast iron chimineas that are available now!
---
Oakland Living Antique Bronze Hummingbird Chiminea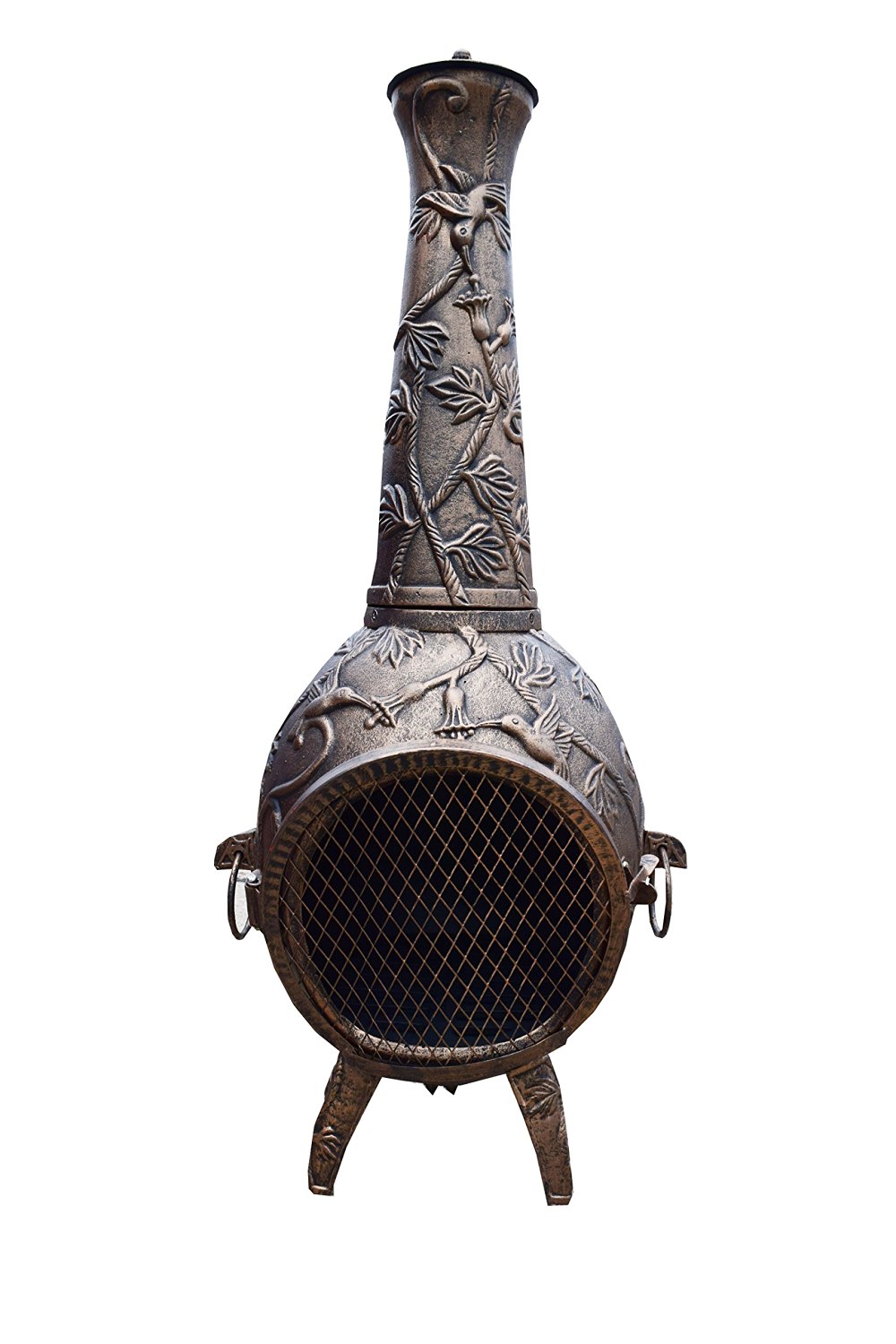 This 45 inch tall cast iron chiminea from Oakland Living is sure to be a star on your patio.  Featuring a lovely bronze hummingbird design and a sturdy yet portable build with an antique bronze finish, this model is great for accenting outdoor spaces of any kind.
The assembly and placement shouldn't be too much of a concern as it comes with no extensive installation required and weighs in at only 96 pounds.
With moderate attention and care for this chiminea, the hardened powder coat finish along with the cast-iron build and stainless steel hardware will ensure that you will be enjoying this chiminea for years to come.
It can take up to three to five standard sized logs or charcoal as fuel and lends itself to some light grilling should you be in the mood to roast something up.
Read our full review of this chiminea
---
Oakland Living Antique Pewter Leaf Outdoor Chiminea

Our second contender is also coming from the well known and loved Oakland Living brand.  This one is very similar in features and attributes to the Antique Bronze Hummingbird chiminea, except it is quite a bit larger.
It's hard to deny bigger is better as this one clocks in at 53 inches, weighing in at 168 pounds for a greater presence and stronger impression on your patio space.
Similar to the Hummingbird model, Oakland Living likes to dazzle us with quaint and eye catching designs embossed into the chiminea.
This one features a charming leaf design that swirls around the body and the chimney.  Similar to it's counterpart it can take up to three to five standard sized logs or charcoal as fuel and is conducive to light grilling if you are feeling up for it.
Read our full review of this chiminea
---
Deckmate Corona Outdoor Chimenea Fireplace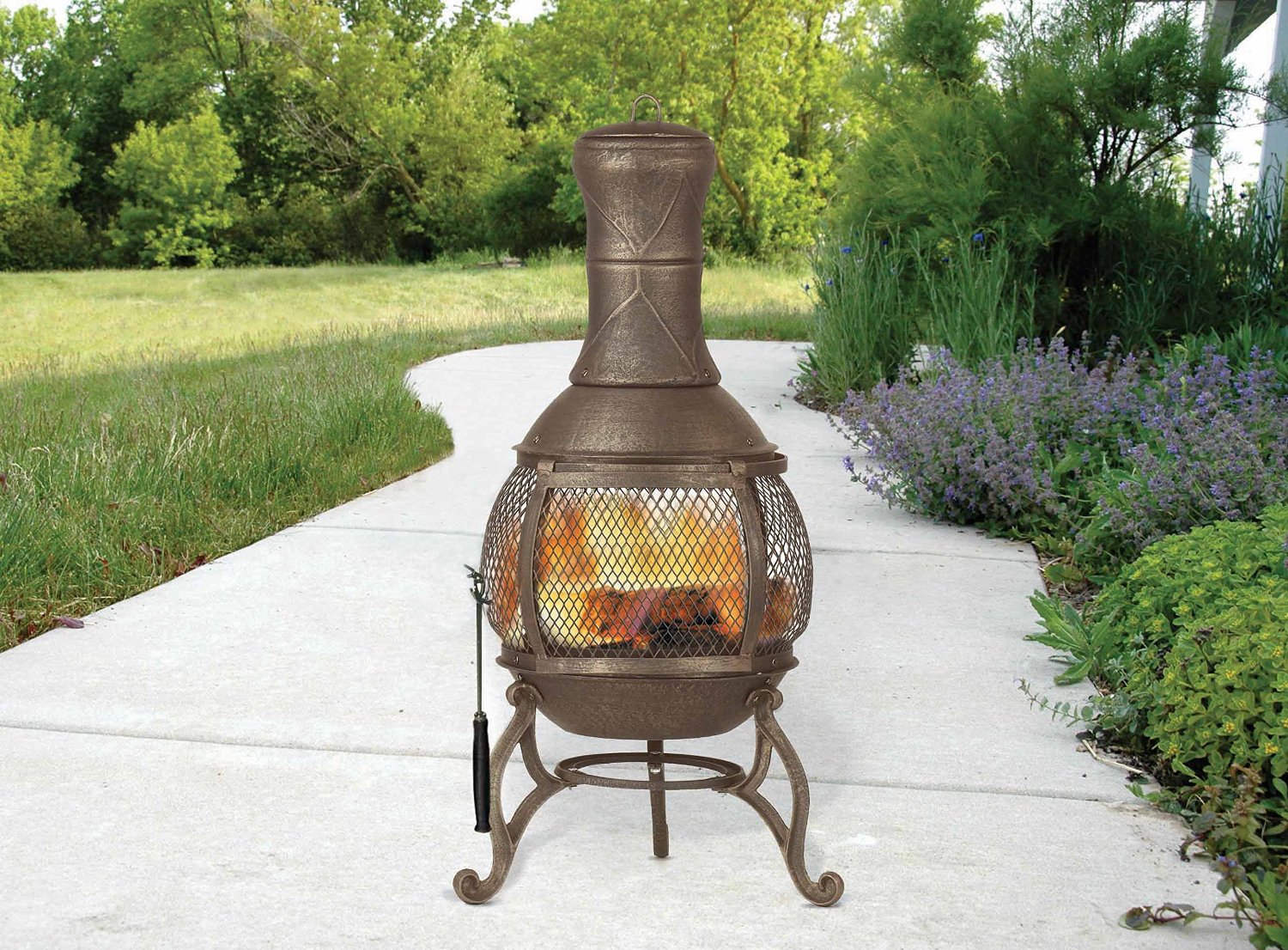 Moving on to a slightly smaller but still decently sized chiminea, The Deckmate Corona is a durable cast-iron build model that clocks in at 35 inches tall and 35 pounds (which is considerably more lightweight relative to size compared to the Oakland Living models).  It is overall a more compact version of the very well regarded Deckmate Sonora chiminea by the same company, packing an equally strong punch in terms of value and quality.
What we really enjoyed about the Corona is the fact that it is particularly light despite its class. This is coupled with a slightly more compact design using a shorter chimney, to make it one of the most portable and easy to maneuver chimineas out there.
The Corona features a steel protective mesh to keep embers secure, while sporting a rain cap for extra protection and a luxurious 360-degree opening in the fire chamber for an all-round view of the fire dancing within.
Read our full review of this chiminea
---
Oakland Living Antique Bronze Pentagon Chimenea / Fire Pit

Going back to Oakland Living for a bit, we are going to look at the Pentagon Chiminea / Firepit hybrid they put out.
It is definitely a change from the lineup so far as the Pentagon Chiminea Fire Pit borrows features from both standard chimineas as well as firepits. The first thing you will notice is the size and lack of chimney.
The Pentagon Chiminea Fire pit is a touch shorter than most chimineas, coming in at 34 inches tall, and lacks the traditional chimney rising from the body.  It is however quite a bit different than a regular fire pit as it's body is unmistakably alike to that of a chiminea fire chamber.
This puts our contender somewhere in between the two, making it an extra portable and contained fire implement that balances the best of the two worlds.
It features a 360 degree view into the chamber, protected by a steel mesh.  While there is no chimney present, it has a vent at the top with a rain cover similar to standard chimineas.  It comes with a stoking fork and log grate, as well as integrated cooking plates if you want to do some roasting while you recline by the fire.
At the end of the day, this is all packaged in the very sleek and modern pentagon design that demands no less than your full attention.
Read our full review of this chiminea
---
The Blue Rooster Cast Iron Casita Chiminea
Finally in our countdown, we're gonna take a gander at the Cast Iron Casita Chiminea by none other than the Blue Rooster company.
Blue Rooster distinguish themselves as a manufacturer of premium chimineas that are simple, stylish, and of undeniably high quality. Also a bit of a change from the age-old lightbulb shaped chiminea, the Casita comes in a much more rectangular stepped pyramid shape.  Despite the design alteration, you can still clearly distinguish a body as well as a chimney (or funnel in this case) rising from it.
The thing to know about the Casita is that it will be a heavy-duty chiminea.  It will demand a commitment from you in terms of the maintenance, but if done right, it will reward you time and time again by being one of the most beautiful and reliable models of its kind. It weighs in at 220 pounds and is 49 inches tall while measuring 22 inches by 18 inches at the base.
While there isn't much installation required, the size of this model does make it somewhat tricky to set up in the desired place. Once it's ready to go, however, the heavy-duty build makes sure that it will last a long time while providing unparalleled warmth and accentuation to your patio space.
In fact, it is such a durable item, that the manufacturer gives the go-ahead for it to be used in a commercial setting as well as residential.
One of the best features of the Casita that we've found is that it is fully equipped to work as an oven as well.  Everyone in our list so far has been capable of handling a moderate amount of chiminea-style cooking, whether you're roasting or grilling.
However, the Casita can handle much more as it has a considerably larger amount of space and is even designed to be able to bake bread or a pizza up to 16" in diameter.
If you are looking for a chiminea that is in it for the long haul, while also flawlessly satisfying all of your backyard fire needs, the Casita is your perfect choice.
Read our full review of this chiminea
Save
Save