Last Updated on
By: The Backyard Gnome
If you need a spa or hot tub for its therapeutic benefits, you potentially need help getting in and out of the water. The best hot tub handrails make it easier for anyone to get in and out of the spa.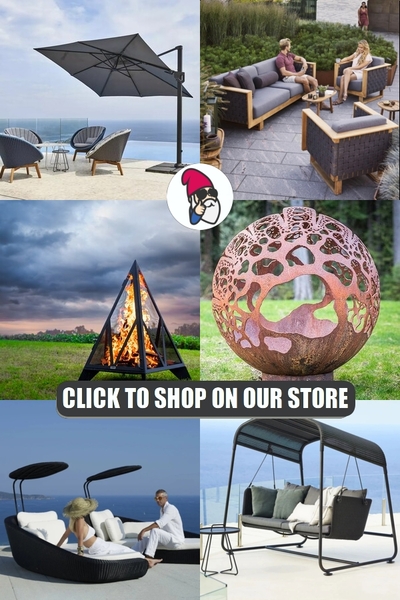 The handrail should be constructed of a solid material that can hold the weight and power of the person pulling on it. We've found some great hot tub railings for your backyard spa.
---
FibroPool Easy Mount Hand Rail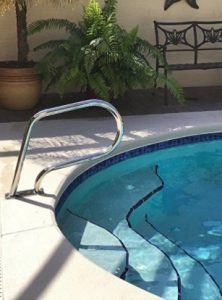 This stainless steel handrail is one that you normally see around inground pools. If you have an inground spa, there's no reason you can't use this handrail. It's sturdy and has a mount that can be installed directly into concrete or wood.
Features of the Hot Tub Handrail
Well constructed
Stainless steel
22" tall by 30" long
Easy to install
The handrail is simple to install. All you'll need is a drill that will work with cement or wood. It will depend on where you're installing the handrail. Drill the holes and install the handrail. It really couldn't be simpler.
Fibropool Easy Mount Hand Rail With Base Plate
The rail is made of stainless steel, which is important because if you're permanently installing the railing, you don't want it to rust or deteriorate.
---
Saftron Spa Floor Rail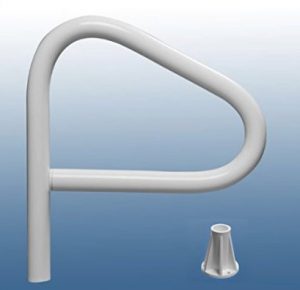 The spa floor rail from Saftron is made for spas that have low sides. The railing is 24 inches high, and it should be able to work over spas with side that reach 9 inches. That's what's recommended by the manufacturer.
Features of the Spa Floor Rail
Variety of color choices
Color isn't painted
24" high by 18" wide
Won't corrode
Saftron Spa Floor Rail Single Post For In-Ground Spas White With Lift And Turn Base
The rail comes in 5 different colors; white, beige, gray, taupe, and black. The beauty of the railing colors is that they won't corrode or flake. They're an integral part of the material used to make the railing itself. They're not painted or powder coated.
---
Leisure Concepts SmartRail Spa Safety Rail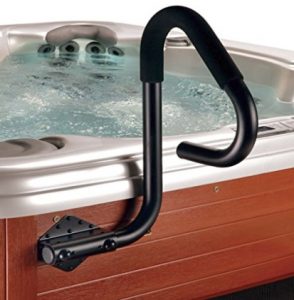 This railing is constructed using stainless steel with a powder coating that won't rust. That's important for your handrail since it'll be so close to the water all the time. It'll be wet constantly, so it has to stand up to elements that will cause it to rust.
Features of the SmartRail
Rotating bracket mounts
Textured finish
Durable and rust free
Steel construction
26" high by 16" wide
The brackets allow the railing to swivel as needed. Once the handle is in the position you need, it's a simple matter of tightening the hardware to ensure it doesn't move.
Smartrail Spa Safety Rail
This handrail can be installed directly on the side of the hot tub or spa as well as on the deck if you have a recessed spa. This gives you the freedom to place it exactly where it's needed.
---
Guardian Hot Tub Handrail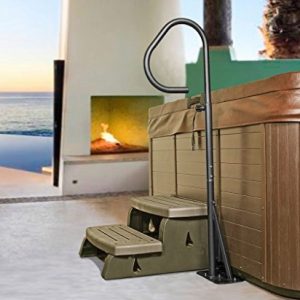 While many of the other handrails on this list are for outdoors. They will bolt onto the deck or the cement foundation. This one doesn't require any drilling at all.
This makes it perfect for indoor use as well as outdoor use. The base of the railing slides under the spa to easily hold it in place.
Features of the Handrail
No drilling required
Swiveling rail
Lock knob
Powder-coated graphite
Stainless steel construction
The railing will swivel and lock for different positions. If you need help getting into the tub, you can use the lock knob to change the position to assist you while climbing into the spa.
Guardian Better Hot Tub Handrail – Spa Side Safety Rail With Slide-Under Mounting Base By
On the way out of the spa, you can turn the knob to unlock the position and change it as needed. It's a convenient and safe railing for anyone who has issues getting in and out of the hot tub without falling.
---
Cover Valet CoverMate Spa Handrail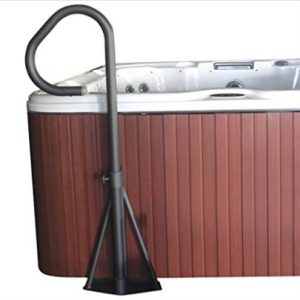 The handrail from Cover Valet has a base that fits directly under the spa or hot tub. That eliminates the need for drilling. It's perfect for indoor or outdoor spas and hot tubs where you want to have more versatile hand rails. It can be moved as needed.
Features of the CoverMate Handrail
Locking feature
Rotates 360 degrees
Under-spa base
No drilling required
Covermate 7930 Spa Side Handrail With Base
The handrail's base slips under the hot tub or spa with the turn knob able to release the position of the railing. It can be swiveled 360 degrees, which gives you the kind of access you need no matter what side of the hot tub you want to enter or exit.
---
Final Thoughts
It's important that you are entering and exiting your hot tub or spa safely. That can be a concern if you are using it for therapeutic reasons. If you are plagued with arthritis or back pain, it can make climbing a bit tricky.
A handrail will keep you from falling and injuring yourself. It'll also keep guests safe when they're using the hot tub. You don't want anyone to get hurt on your property because you lacked safety rails.