The summer is over and the dreaded winter has come, bringing indoor isolation, seasonal depression, and freezing cold weather. Yay! That said, winter doesn't have to be such a blah season.
Why not throw a winter-themed party?
That's right, this winter, grab ol' Rudolph by the antlers (so to speak) and take the party outside!
Think of it this way – a winter party is just like a party at any other time of year: friends and family getting together for great food and drink and celebrating good times, despite the snow and ice.
In fact, wintertime has all kinds of fun activities that we simply can't do in the summer. For example, could you do this?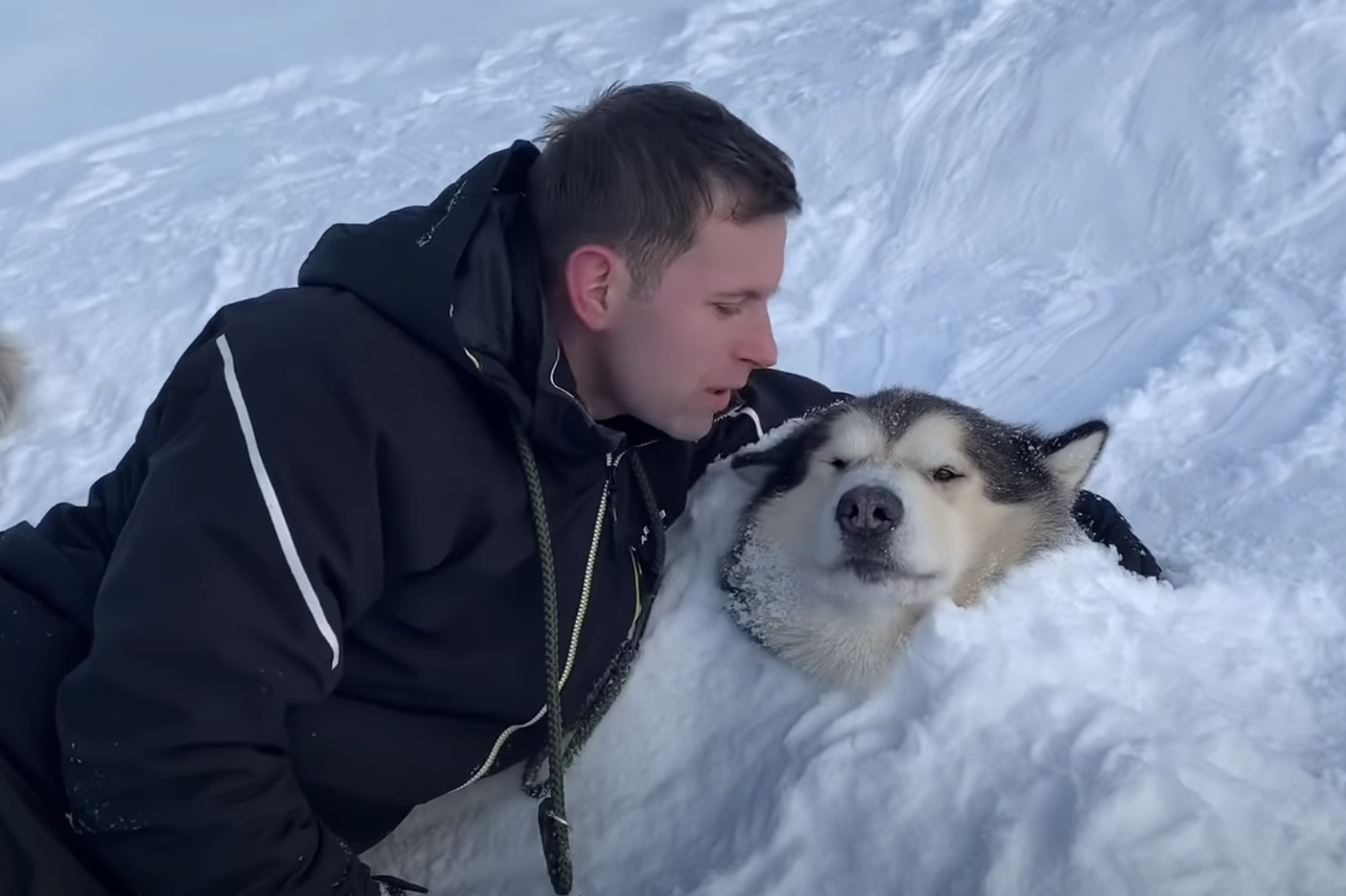 Sure, winter is a long season, and it sucks for many people, but we here at The Backyard Gnome are here to help you get through it. In fact, doggone it if we aren't going to help you throw the most entertainment filled (and yet sensibly planned) outdoor winter party ever!
Here is what we are going to cover today:
How do I keep my guests warm at a winter party?
The main concern about throwing a party outside in the winter is keeping guests warm and content.
If you've ever planned / hosted a party, you know it takes work, and forethought, even without having to consider things like snow and ice.
If you don't pre-plan it, your party might be a total disaster that will go down in history as one very large disappointment, and this is especially true for winter parties held outside, because – let's face it – this is why most people don't even bother either hosting or attending winter gatherings, unless of course you have friends and family that tend to spend time outside in the winter to begin with and who don't mind the cold.
But most people do mind the cold, and so you need to account for this right away, by providing some source of heat to keep people warm. Here are some options for that.
Outdoor Fireplace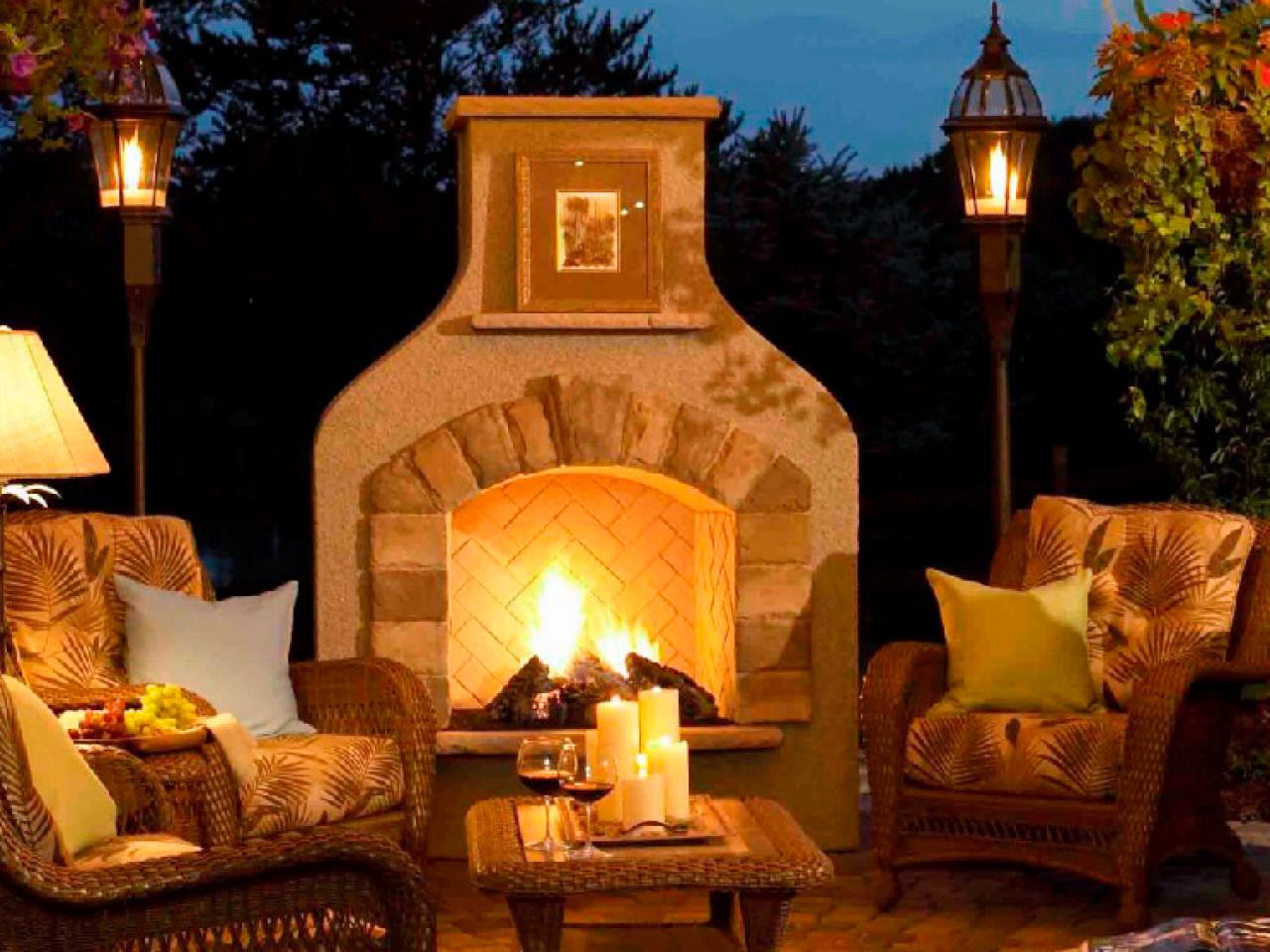 You've heard the phrase "go big or go home", right? Well, purchasing a large stone outdoor fireplace is a bold move, and will definitely make a statement, not just for the party goers, but it will serve as a great permanent addition to your home in general.
Something like a fireplace gives people something to gather around, and also provides ample heat, and is also generally a focal point for your whole yard, once it's lit up. Do make sure to check local bylaws first, before having any fires in your yard.
It may seem a bit extreme to spring for a large outdoor fireplace just to have a party, because these things are not cheap, but do consider the fact that if people walk out into a frosty cold backyard, and they see this, they will instantly become more comfortable and want to hang out in your backyard, because something like this, plus a nice patio set, makes the outdoors feel like a living room.
That said, this option is somewhat prohibitive because of cost, and it is a big decision to make overall. Fire pits are another great option, and less expensive than an outdoor fireplace.
Outdoor Fire Pit
Top Pick: Sol y Tierra Clay Chiminea Pizza Oven
Traditional Latin American look
Handmade with high-quality & natural painted terra cotta clay
Made from durable 2 inch thick clay with a crash tested shipping packaging
Certified for food processing (most often used as a pizza oven)
Comes with added accessories: metal feet, 10″ pizza stone, stainless steel grill, instruction in English, French, and Spanish
Size: 15 x 15 x 35 inches
Ships anywhere in Canada and the USA, as well as Hawaii & Puerto Rico
Ships from Quebec Canada in about 5-12 business days, depending on location
Lakeside Collection Outdoor Wood Burning Clay Chimenea with Metal Stand

Redi-Flame Chiminea Kit with Mosquito Repellent Log

Fire pits are less expensive than an outdoor fireplace, depending if you choose a cheaper model, or a luxury fireplace.
They are also portable, which is a plus, because you can decide where you want to put them before the party and then move them to that location.
Some fire pits, if they're the luxury type, are quite impressive, and have the ability to make someone want to stay outside, just to watch the fire and appreciate the fire pit in general. Smaller fire pits do the job too, but they're not so much a centerpiece as they are purely functional just for heat.
It comes down to how many people will be attending, and how much heat you will want to generate, as well as the size of your patio / backyard.
With some fire pits, you also have the option to cook food, so that is definitely a plus for any outdoor party.
Purchasing a fire pit means this is something you will have to years to come, so it potentially is a good investment, and can be used at future gatherings for years to come.
Bonfire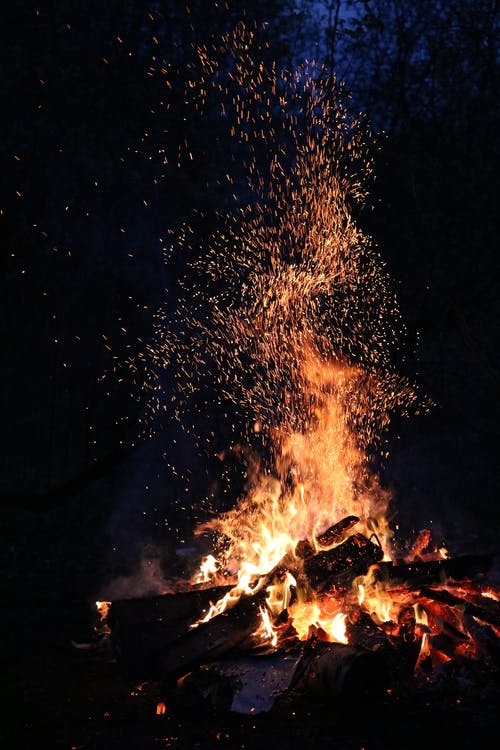 If you don't want to spend any money, but still want a fire, there's always having a bonfire.
Again, depending on the size of your yard, and the number of guests you are inviting to your winter party, this will determine the size of bonfire you can have. (Not to mention bylaws)
Compared to fire pits, bonfires still look cool, and people will definitely gather around them just the same as a fire pit, but whether you want to have a fire pit or a bonfire is really a personal and aesthetic choice. Firepits do provide more containment for your fire, and can be very eye-catching, depending on which model you choose, but there certainly is nothing wrong with a good bonfire.
Just make sure your bonfire is conducted safely and that it complies with any local or governmental regulations. The last thing you want at your party is bylaw cops coming over and issuing you a fine.
Chimineas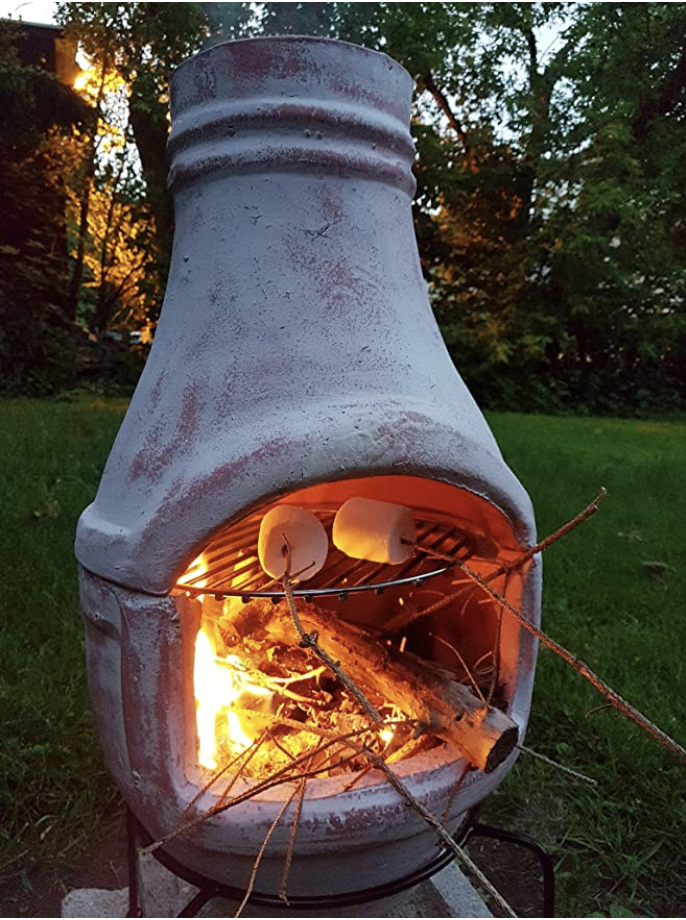 Chimineas are yet another option for heating up your party, this time in the form of a clay or iron portable chimney that sits on the ground and contains a hearty blaze that will keep your guests toasty warm as long as you keep it fuelled with firewood.
Because chimineas are generally smaller than fire pits, and often made from clay, they are a less expensive option for a fire, while also providing an aesthetic that is quite different. Chimineas are often found south of the border, in Mexico, and so having them at your party can be a slightly exotic choice and provide a jumping off point for conversations.
They are inviting, warm (both literally and figuratively), but when it comes to heat output, there are firepits which can allow for a bigger blaze, while also containing it, while chimineas don't provide 360 degrees of heat like either a firepit or a bonfire. Which one would be best? It's up to you.
Read our post on the best clay chimineas here to see some great models that are available now.
Patio Heaters
Buy Patio Heaters on TBYG Store
Free Shipping anywhere in the USA
Patio heaters are the last heat source we will mention, and they are a great alternative to fire pits if you would rather not have actual fire blazing. That said, some patio heaters actually feature real fire, while some of course do not.
Patio heaters have their own concerns, such as that they may need to be plugged in, they may provide heat to select areas, and they don't exactly draw the eye, necessarily. On the other hand, some patio heaters definitely do attract attention. Again, it depends on which model you are looking at.
At the same time, there are other perks to patio heaters, like the fact that some of them attach to the walls of some gazebos, and can be unobtrusive, if you don't really want to have to look after a fire the whole night.
How to decorate your backyard for a winter party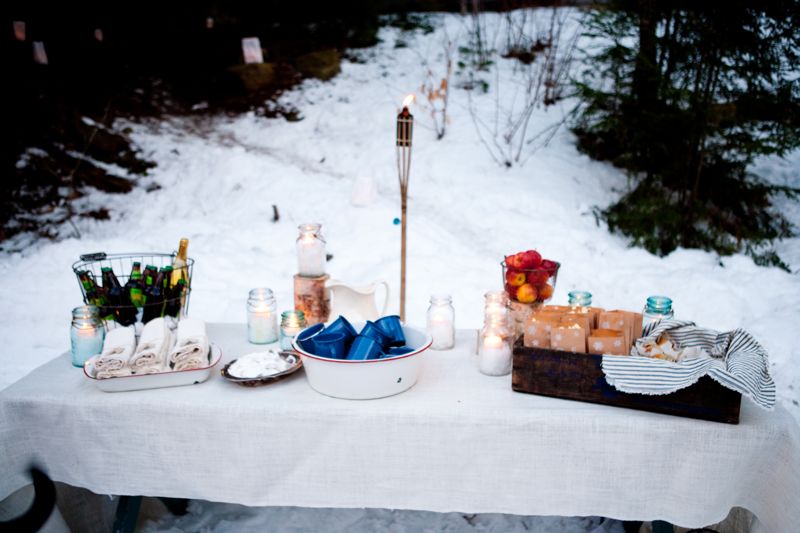 So, you've put away your patio furniture for the season. Is it worth bringing it back out for the duration of a party in the middle of winter? Is this advisable?
For example, you might have some very nice teak patio furniture, and you may be worried (understandably) that this will be bad for it. So, can teak patio furniture be used outside in the winter? The answer is yes!
is very resilient, and you could, if you wanted to, leave it out all year. Not that you would, because maybe you aren't using your backyard much in the winter, but who knows, maybe you have a nice gazebo and heater and you are out there all the time. We wouldn't assume either way.
Buy Outdoor Patio Furniture on TBYG Store
Free Shipping anywhere in the USA
What about regular outdoor patio furniture that isn't teak? Is it a good idea to leave it out during the winter, if only for a number of hours? What will happen?
The general rule is, if patio furniture is "outdoor", then yes, you can use it outdoors, and that means even in the winter. That said, it's a very discretionary thing. Some patio furniture should not be left outside all winter, but it would be fair to say that MOST outdoor patio furniture could survive one winter party out back.
This is especially true if you have a to put it under, because then it's even more protected than it would be if it was just outside getting snowed on.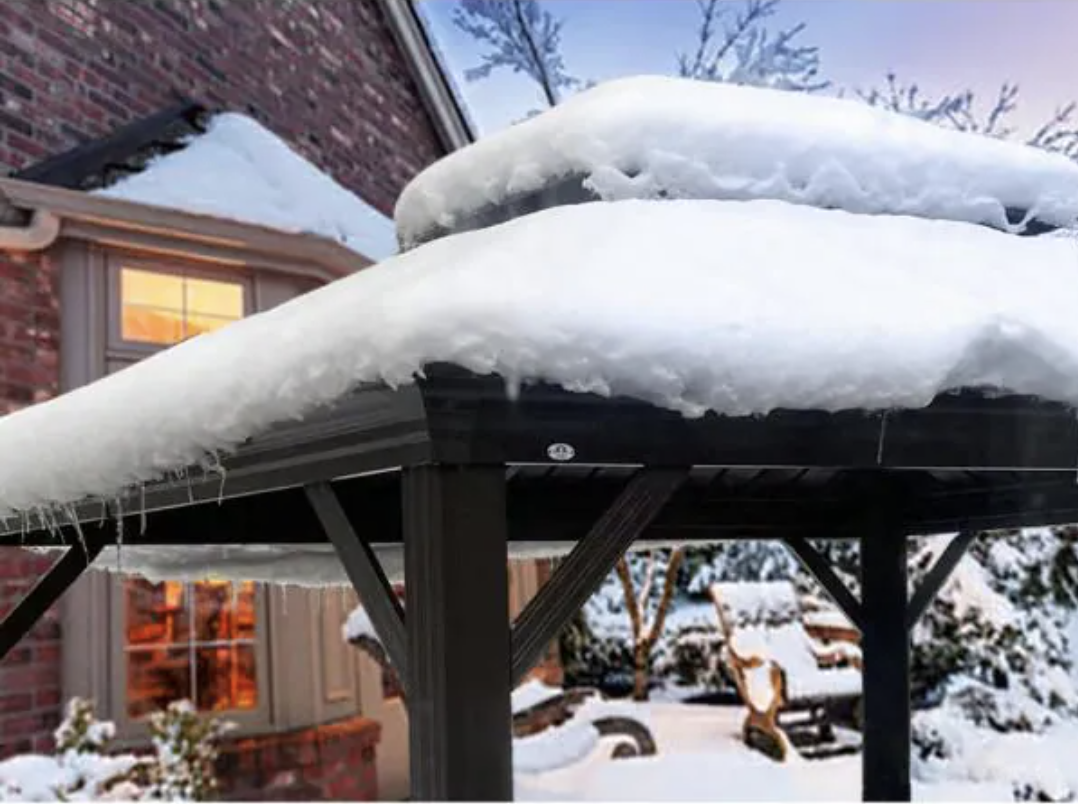 Let's say you've put all your patio furniture away, and you don't like the idea of it getting wet or snowed on, or being exposed to the cold.
Well, then, here's an opportunity to decorate differently.
If you have a picnic table somewhere in your yard, this could be a way to make your party more "fun", by adding a splash of quaint appeal to the proceedings. Same goes with something like bales of hay used for seating. If you can get a hold of those, then you can actually make a party that has a different vibe – a winter solstice type of mood!
With decor like this, you can save money if you don't yet have patio furniture, as these things can be bought at places like thrift stores, surplus stores, or farming stores. With the right accents, like some string lights and maybe a nice punch bowl, you can create an atmosphere that says you are here to celebrate winter, not be a naysayer about it.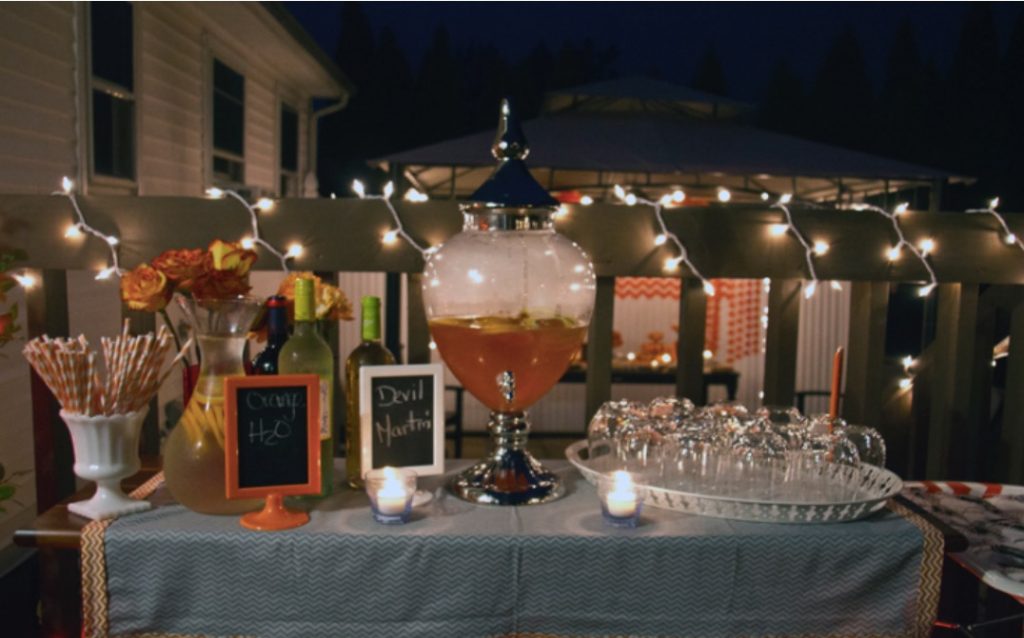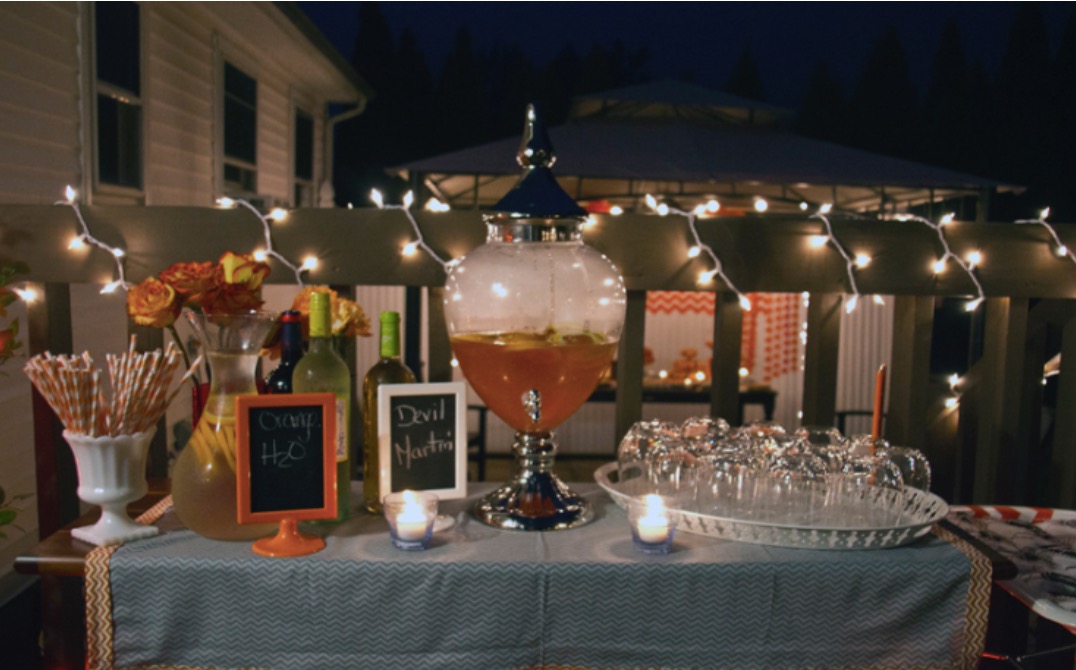 Winter-dinner-party-ideas
If you go with the picnic table chic, you can then cover it with a tablecloth and create a quick centrepiece out of candles, branches, and pinecones. And then, if it snows, it will only add to the beauty.
You could create a warm ambiance by stringing paper lanterns through tree branches or suspending mason jars filled with tea-lights. You can also fill pails with snow and stick candles in there, which will throw light and give off warmth. The idea is to simply embrace the winter!
While you don't always need a theme for your party, creating one is fun and can be an ice breaker, socially. Holidays and special occasions like Hallowe'en, and also birthdays during the winter months are natural themes that can help you make the party even more fun and exciting.
Moving on! We discuss what foods and drinks can be served at your outdoor party.
What foods and drinks can be served at my outdoor party?
So, what foods and drinks do you want to serve at your winter party? Ideally, everything will be hot, or at least contain warming spices, and easy to prepare. You definitely want to avoid serving things like cold cabbage or things that remind people that they are outside in the winter. Depends on the crowd, of course.
For drinks, think hot apple cider with cinnamon sticks, and maybe add some rum. Eggnog, anyone? Try brainstorming around the idea of hot drinks that might be spiked, but not everyone is going to want to drink spiked hot chocolate all night, so maybe have a healthy option for those who want it.
Do all of your prep work before the guests arrive, but consider letting the food cook out in the open where people can watch. Serving kebabs? Have all vegetables and meats (or tofu) cut and ready to stab. Get out all necessary cookware in advance, so you're not scrambling once the party is in full swing. A lot of food looks cooking on a grill or on some hot coals, so don't be shy to let the food be part of the fun.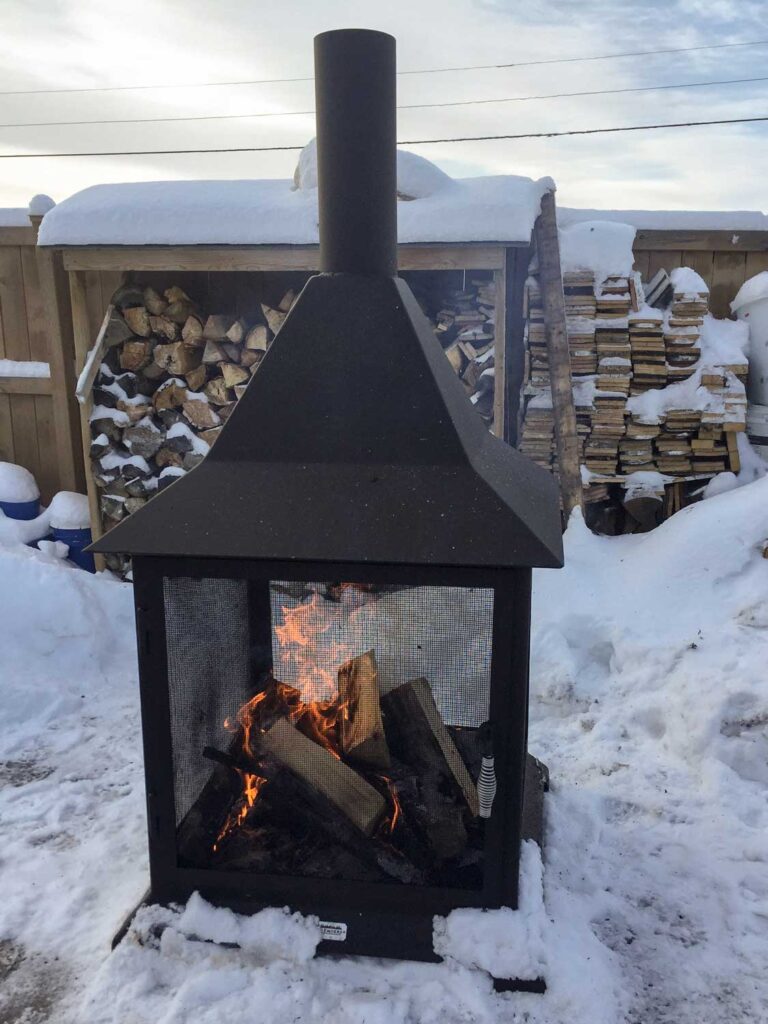 Chiminea-gallery_1-768x1024
Decorate the yard and set up the seating, and for goodness's sake, have a ton of firewood ready. You may even want to get the fire cracking before guests arrive. If you want to really impress your guests, drag out the grill.
With a portable barbeque, you can easily wheel it out of the garage or take the cover off if you've been storing it on the patio. It's another spot of warmth in the backyard during your party, too.
In the winter, you have an advantage over the summer months for food preparation. You don't have to worry about keeping your ingredients cold while you're cooking. Place a cooler filled with snow next to the grill, and you don't have to run in and out of the house.
People enjoy a good party that is well planned, rather than chaotic, and when food is involved, having waves of delicious food appear is something that most people wouldn't dream of complaining about (unless they hate the food, that is).
Your culinary creations can be served one by one, like a four-course dinner. You can set up a grill over the fire (or just atop the chiminea) and warm a pot of hearty soup. Serve this first to get some warm fluids into your guests. Once everyone is warmed from the inside, trying grilling up a pizza or some kebabs.
Cheese or chocolate fondues are great for outdoor parties, as they make fun, delicious snacks, and provide a never-ending source of warmth. Hot dogs and marshmallows are a must.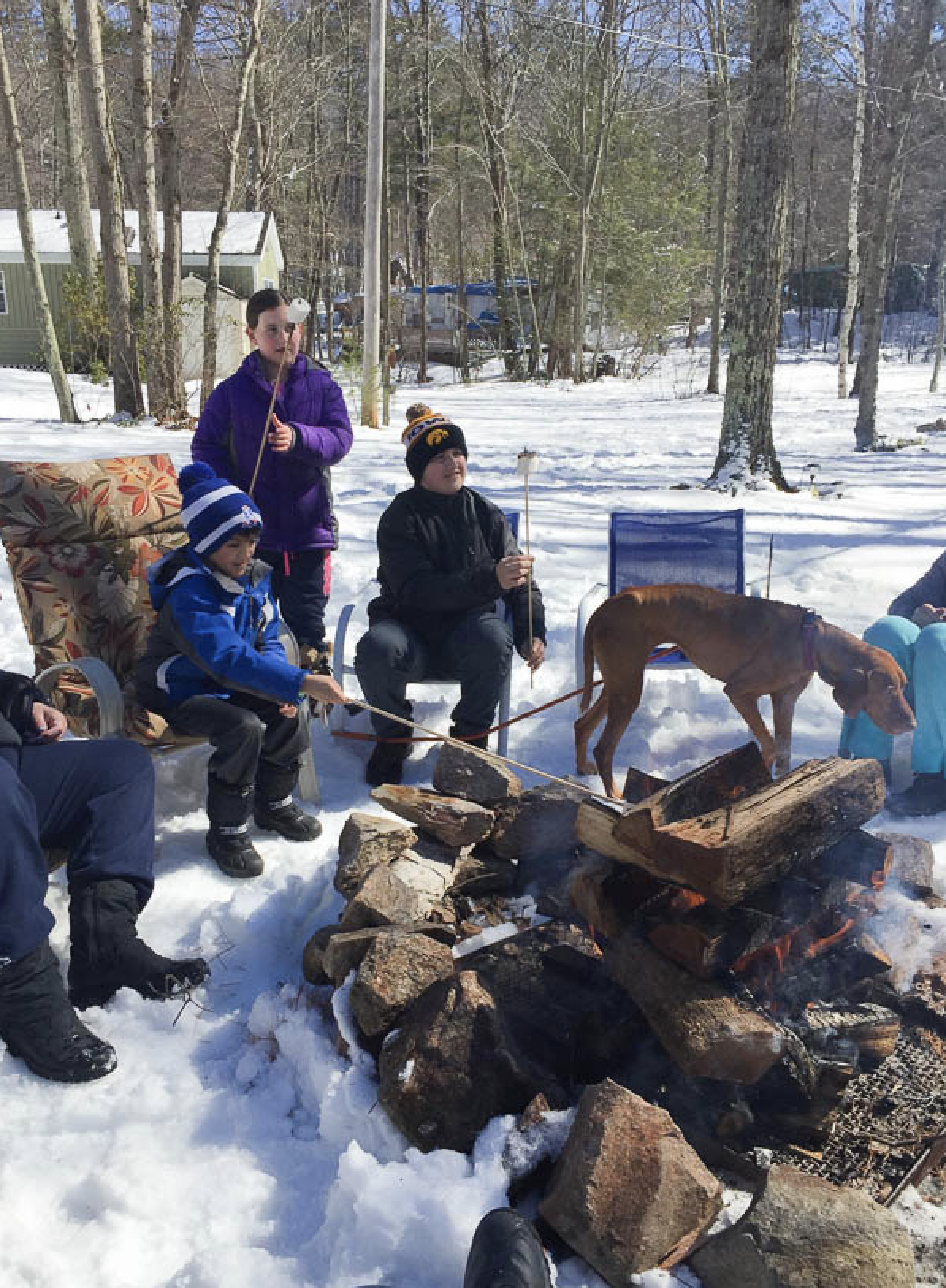 Try serving foods and drinks on rustic camping gear like thermoses, enamelware, or tin mugs. Cold drinks are easy; stick them in the snow for free refrigeration and easy grabbing!
Make hot chocolate inside the house and serve outdoors!
You're also going to be super warm near the fire, which is usually a problem in the summer.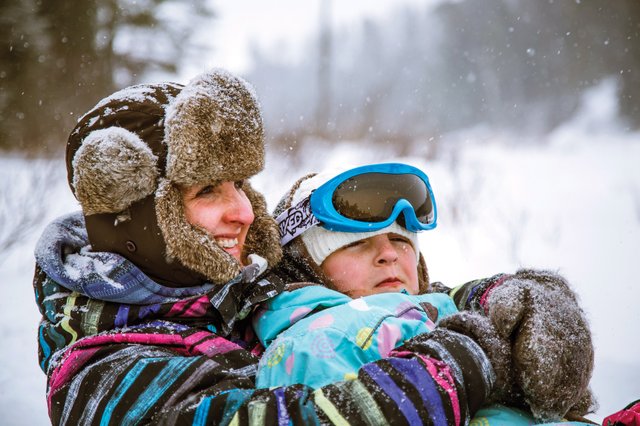 Extra Layers Winter
It takes a good twenty minutes to get a steady fire going, so having that grill warming the backyard while you're cooking helps you get a jump start on warming up the guests.
Since the party takes place outdoors, you want to encourage guests to go to the backyard.
Instead of having them remove their coats and get comfortable inside, take them right out back and let them see what a glorious fire and table spread you have going on.
So, how many people you should invite to your party? Or, rather, how many people can a winter party sustain before it becomes "too much" to handle? Stay with us to find out!
How many people I should invite to my winter party?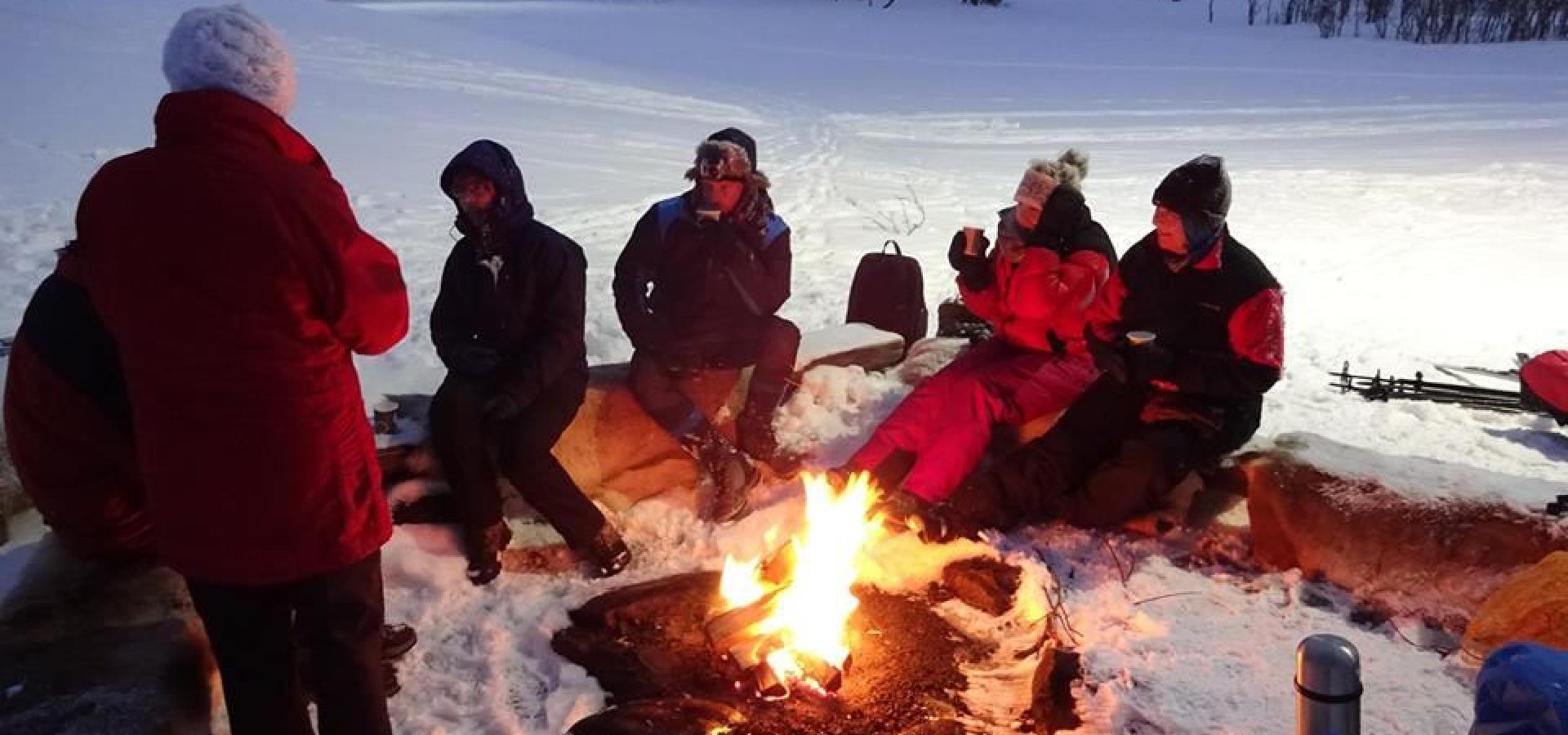 Going in and out of the house can make a big mess, as guests track snow back and forth, not to mention dogs getting in and out every time the door opens.
In addition to the melty mess, you'll waste a lot of energy if that door is opening and closing all the time, letting out heat. Don't let the cold weather stop you: you can stay warm outdoors easily. This is when your firepit comes into play.
All your winter parties don't have to include dozens of guests, either. Is it your family you're planning this party for? Friends? People you don't know? Work party? All of this is going to factor in to just how many of these people you'll want to be inviting, not to mention how much space you have in your yard to fill with people.
If it is completely up to you, and this winter party is not being done under duress from work or family, you could keep it small and low-key, and invite another couple or a few single friends to join you in the hot tub.
Outdoor hot tubs, if you haven't tried sitting in one in the winter time, is very fun, and you should try it if you can. There's something so invigorating about the steamy water and the crisp, cool air outside the tub. Really fun…but definitely not for everyone. Generally taking a dip in a hot tub will be something that all party goers might agree to do, rather than split up a party between non-hot-tubbers and dry people who have no intention of getting into bathing suits in sub-zero temperatures.
So, if you're thinking hot tubbing is the move, and you're up for changing your yard in favour of this legendary party you are planning, you might want a hardtop gazebo with curtains to help provide privacy and also keep the air a bit warmer. That gazebo should have a ventilation system and moisture redirection gutters, so that's something worth investigating as well.
Buy Hardtop Gazebos on TBYG Store
Free Shipping anywhere in the USA
Aside from the lounging in a hot tub with friends while sipping spiked hot chocolates (with marshmallows), you might need to give your guests even more fun things to do. Consider some fun winter games that can translate from spring/summer to winter. Which games are those, you might ask?
Stay tuned, as we discuss how to keep the party going and your guests entertained.
How can I make my outdoor party more fun?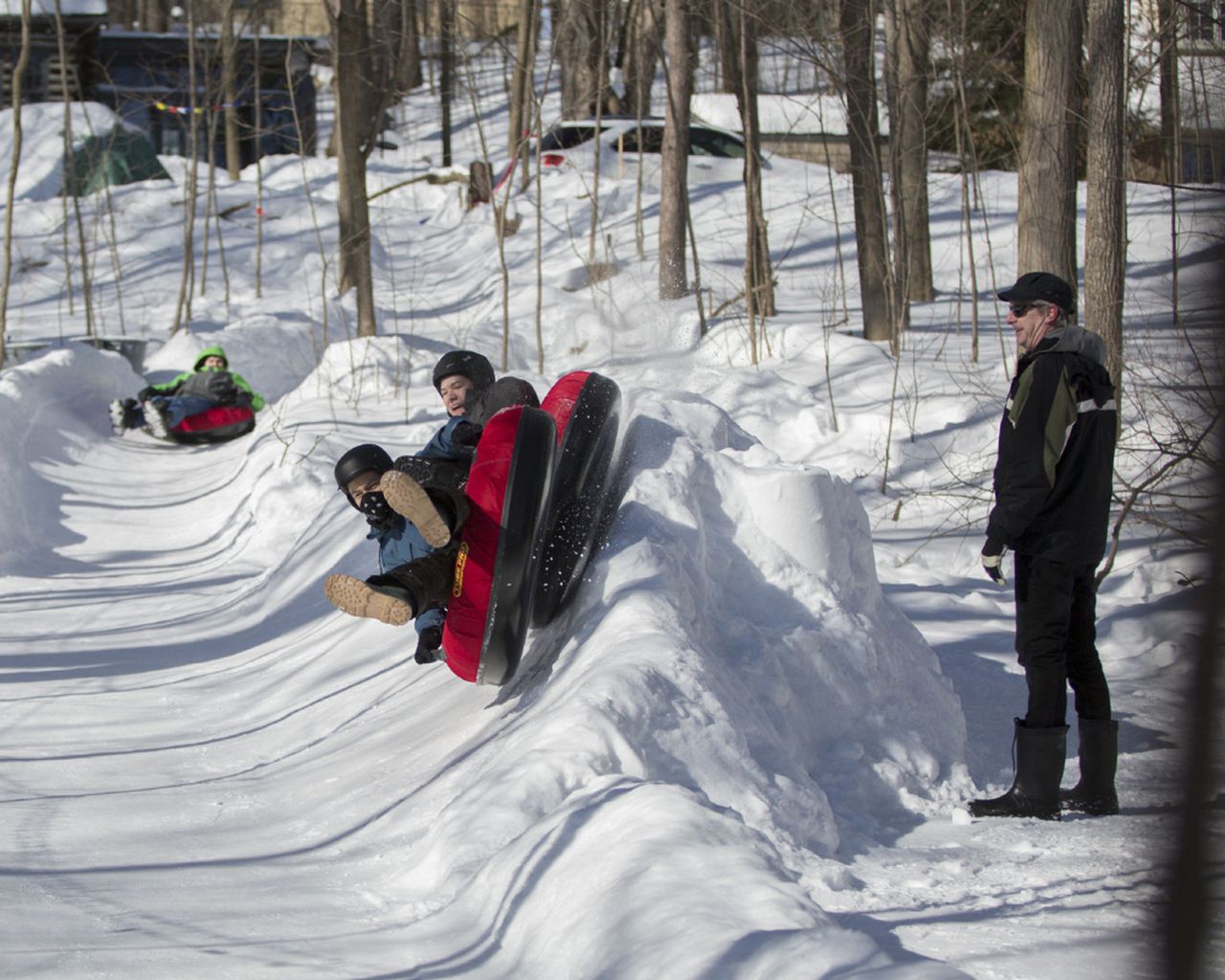 Luge-action
Inflatable, oversized games will work beautifully outdoors.
Sports tubes are a fantastic outdoor activity that will work in the winter. It's normally used for floating on the water, but if you have a hill in your backyard covered with snow, there will be friendly arguments about who gets to use the tube next!
That could lead to snow fights and snow forts as combatants pick teams. Of course, you want to ensure nobody gets hurt on account of planning a no-holds barred snowball fight, so another option might be to try to roll the world's hugest snowball.
If you're struggling for ideas for your next get together because you don't have enough room inside your home, you might not have even considered your backyard as a viable space – especially in the winter.
It's also worth keeping in mind that if you make your backyard winter party too much about games, and, for instance, allow for a rogue posse of backyard winter partiers to be tobogganing somewhere far from the main party, then you run the risk of a) making your party feel like there's too much going on, or b) simply losing track of your guests.
Perhaps try to avoid having this happen…
You, and only you, are the party planner and presumably home owner, so don't do anything too reckless such as having your yard turn into a drunken wasteland of toppled snowmen, homemade luge tracks gone wrong, and that one guy who won't stop using the crazy carpet.
There are other activities that are much more relaxing, or at least not as action packed, such as watching a movie. With the right layout, and the right projector screen, watching a movie in your backyard in the winter can be a very peaceful and fun pastime.
If you don't have an outdoor projector screen, you might consider buying our top pick for outdoor movie screens, a Severtson, shown below:

Buy Severtson Screens on TBYG Store
Free Shipping anywhere in the USA

When it comes to outdoor movie screens, all you have to do is set it up away from the flames, so you don't end up melting the screen, and you'll instantly have a place where everyone can snuggle under blankets near a warm, cozy fire.
Once everyone is happily fed, a little tipsy on the ol' hair of the dog, snowballs have been thrown, and snow-people have been built (and not knocked over), and movies have been watched, you can sit back and toss branches for the dog(s) fetch, and let the rest of the night ride out into that legendary status that you will soon have.
Why not enjoy a good conversation and warming drinks long into the night, as the world grows quiet and the stars come out.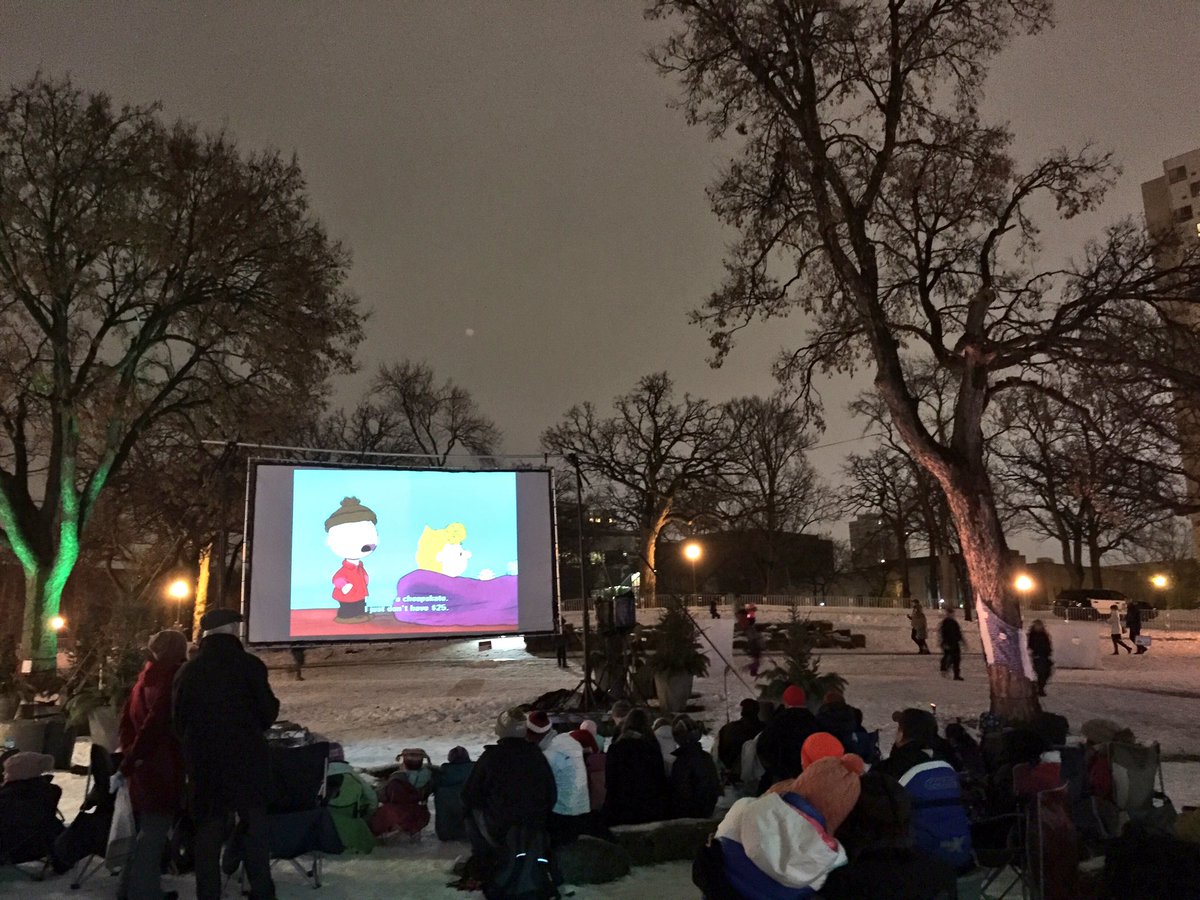 Some days can be rather windy, so it may be helpful to buy a party tent that you can easily set up and take down on occasion. You can store extra food and drink in the tent, as well as provide a separate area for guests to seek shelter or a spot for Seven Minutes in Winter Wonderland.
We hope this guide has helped to inspire you to plan your next winter party! Let us know how it goes in the comments, and don't do anything The Backyard Gnome wouldn't do.
Related posts: