Last Updated on
No really, we mean it. Don't let that snowy, cold weather stop you from enjoying your backyard or having any kind of fun. Winter is a long season, and we are here to help you get through it. We are going to help you throw the most killer outdoor winter party ever.
Yes, you can do it!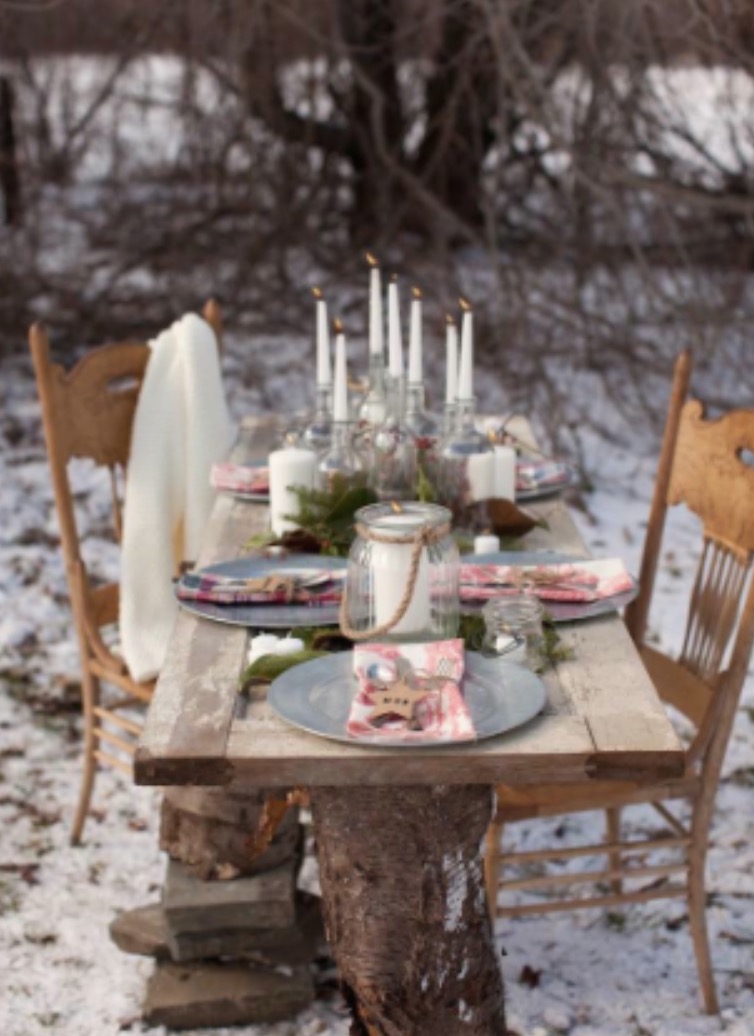 There are many reasons you'd decide to host an outdoor party when there's snow on the ground. Snow invites all kinds of new activities that we can't do in the summer, and dogs really seem to get a kick out of it. We've gathered some ideas on menu items, how to keep warm, and activities to get everyone involved. A winter party is just like a party at any other time of year: people getting together for food and drink and celebrating the joy of life and community. The main concern is keeping guests warm and happy, but this is fairly easy to do, as long as you have a fire feature like a chiminea or firepit.
Did you pack away your patio furniture? Cool. Here's an opportunity to decorate differently. Buy some hay bales and cover them with old blankets. These can provide seating. If you don't already have a picnic table in your yard, go ahead and get yourself one. If you don't want to get a picnic table, you should be able to find a decent table at a thrift store. Cover with a tablecloth and create a quick centerpiece out of candles, branches, and pinecones. Remember, it's just going in the snow, so it doesn't have to be precious.
Create a warm ambience by stringing paper lanterns through tree branches or suspending mason jars filled with tealights. You can also fill pails with snow and stick candles in there, which will throw light and give off warmth.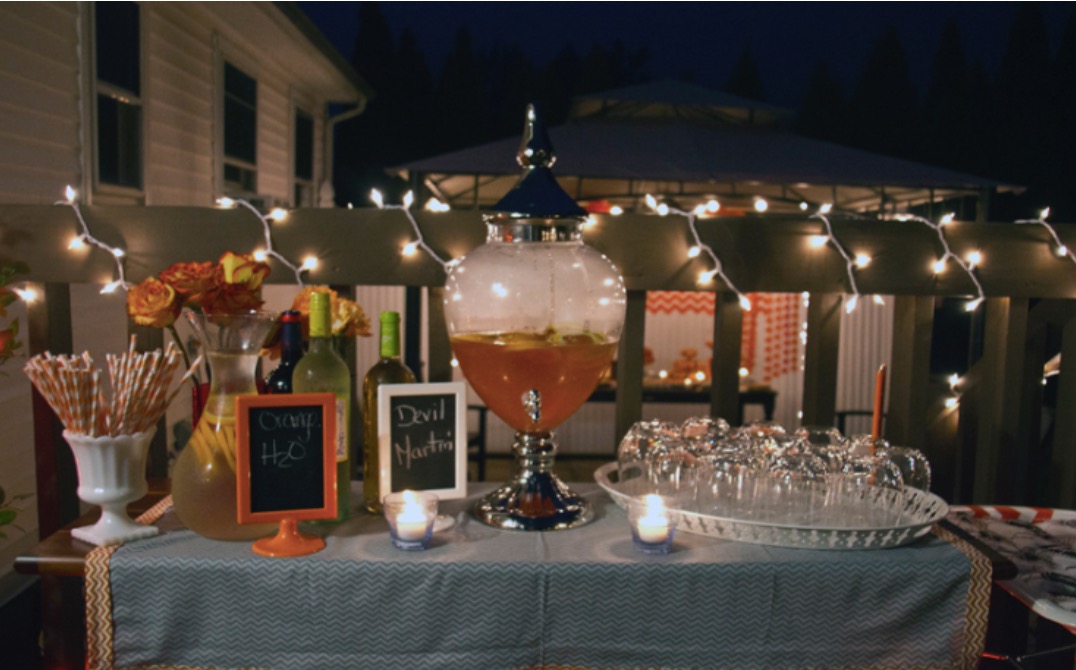 Figure out what foods and drinks you want to serve. Ideally, everything will be hot, or at least contain warming spices, and easy to prepare. Think hot apple cider with cinnamon sticks, and maybe some rum.
Do all of your prep work before the guests arrive. Serving kebabs? Have all vegetables and meats (or tofu) cut and ready to stab. Get out all necessary cookware. Decorate the yard and set up the seating, and for goodness's sake, have a ton of firewood ready. You may even want to get the fire cracking before guests arrive. If you want to really impress your guests, drag out the grill. 
With a portable barbecue, you can easily wheel it out of the garage or take the cover off if you've been storing it on the patio. It's another spot of warmth in the backyard during your party, too. In the winter, you have an advantage over the summer months for food preparation. You don't have to worry about keeping your ingredients cold while you're cooking. Place a cooler filled with snow next to the grill, and you don't have to run in and out of the house. You're also going to be super warm near the fire, which is usually a problem in the summer.
It takes a good twenty minutes to get a steady fire going, so having that grill warming the backyard while you're cooking helps you get a jump start on warming up the guests. Since the party takes place outdoors, you want to encourage guests to go to the backyard. Instead of having them remove their coats and get comfortable inside, take them right out back and let them see what a glorious fire and table spread you have going on. The fire won't be the only thing getting lit, if you know what we're saying.
Going in and out of the house can make a big mess, as guests track snow back and forth, not to mention dogs getting in and out every time the door opens. In addition to the melty mess, you'll waste a lot of energy if that door is opening and closing all the time, letting out heat. Don't let the cold weather stop you: you can stay warm outdoors easily. 
All your winter parties don't have to include dozens of guests, either. You could invite another couple or a few single friends to join you in the hot tub. They're heated, so you're not going to have to worry about freezing in the water. There's something so invigorating about the steamy water and the crisp, cool air outside the tub. Check out our section on hot tubs that will work perfectly during crisp winter nights under the stars.
While the hot tub will have a cover for when it's not in use, you might want to provide a shelter for the spa to avoid having to brush snow from it after a storm. A hard top gazebo makes a great shelter for your hot tub. It's terrific for any kind of outdoor party in the winter. The hot tub can be placed under the gazebo's roof, but you can also provide more sheltered seating for your guests.
Along with seating in the gazebo, you can provide guests with outdoor heating, too. Instead of people standing around in jackets with gloves, they can be comfortable within the warm bubble of the gazebo.
You have winterized your backyard, but how about uncovering that cast iron chiminea? You can use it in the snow once or twice, we won't tell. If you have a firepit, even better. You'll need a large source of fire to keep guests warm, as well as something to cook food over.
Foods will be served one by one, like a four-course dinner. You can set up a grill over the fire (or just atop the chiminea) and warm a pot of hearty soup. Serve this first to get some warm fluids into your guests. Once everyone is warmed from the inside, trying grilling up a pizza or some kebabs.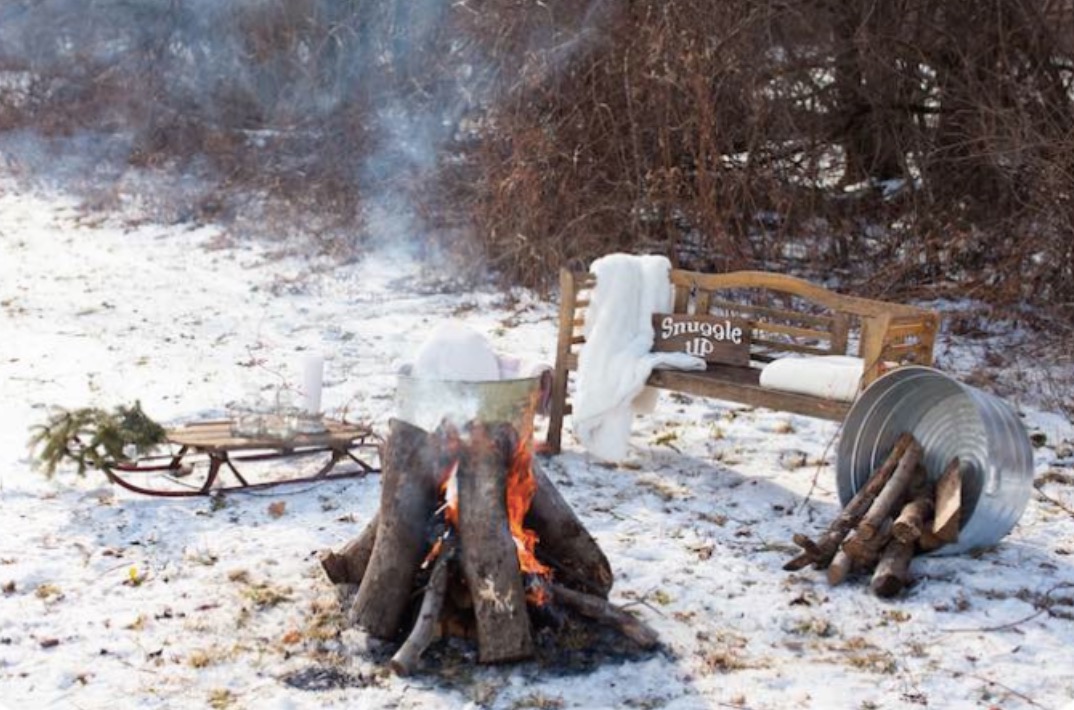 Cheese or chocolate fondues are great for outdoor parties, as they make fun, delicious snacks, and provide a never-ending source of warmth. Hot dogs and marshmallows are a must. Try serving foods and drinks on rustic camping gear like thermoses, enamelware, or tin mugs. Cold drinks are easy; stick them in the snow for free refrigeration and easy grabbing!
Make hot chocolate inside the house and serve outdoors!
Aside from the fire, making marshmallows, and enjoying spiced drinks, you'll need to give guests fun things to do. Consider some lawn games that can translate from spring/summer to winter. Inflatable, oversized games will work beautifully outdoors. Sports tubes are a fantastic outdoor activity that will work in the winter. It's normally used for floating on the water, but if you have a hill in your backyard covered with snow, there will be friendly arguments about who gets to use the tube next! That could lead to snow fights and snow forts as combatants pick teams. Check out our snowball fight safety guide before your guests arrive to ensure nobody gets hurt.
If you're struggling for ideas for your next get together because you don't have enough room inside your home, you might not have even considered your backyard as a viable space. Whether you have a gazebo or not, you can sit around a fire table on comfortable furniture while watching a movie in your backyard. This isn't a summer-only activity if you have an inflatable movie screen. All you have to do is set it up away from the flames, so you don't end up melting the screen, and you'll instantly have a place where everyone can snuggle under blankets near a warm, cozy fire.
Once everyone is happily fed and a little drunk on whiskey, snowballs have been thrown, and snowpeople have been built, you can toss branches for the dog(s) and let them entertain you. Enjoy good conversation and warming drinks long into the night, as the world grows quiet and the stars come out.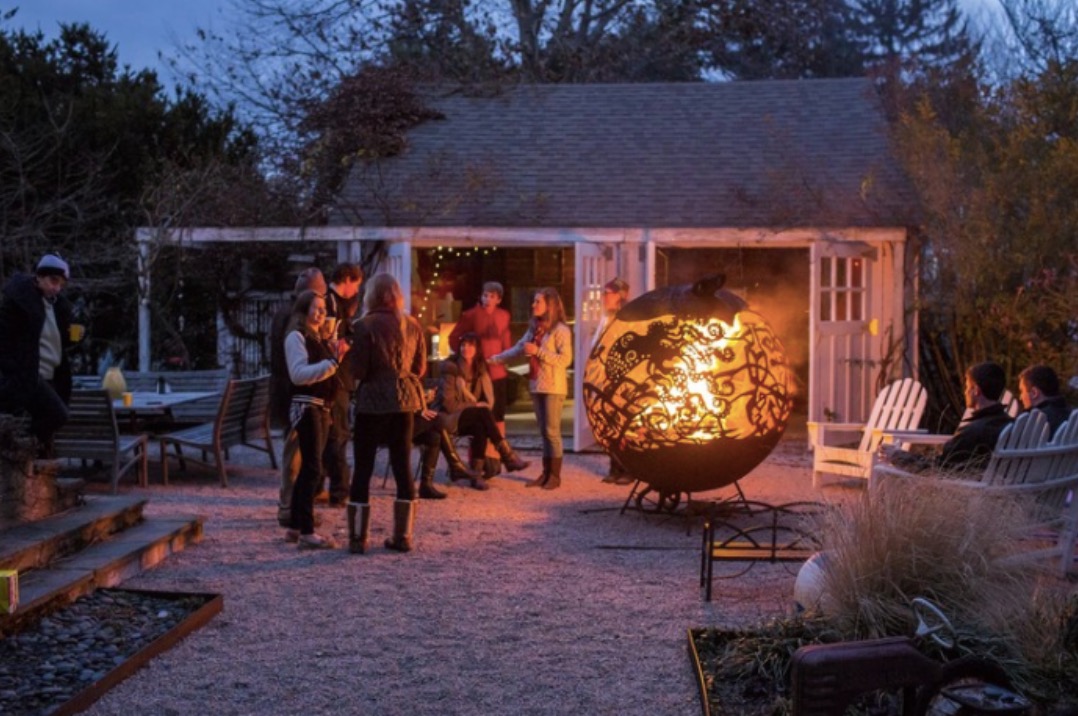 Some days can be rather windy, so it may be helpful to buy a party tent that you can easily set up and take down on occasion. You can store extra food and drink in here, as well as provide a separate area for guests to seek shelter or a spot for Seven Minutes in Winter Wonderland.