It's hard not to be swayed by the classic and iconic clay chimineas.  While there are many designs out there and a variety of materials used to make chimineas, there is just something about the earthenware that is so alluring.  Watch this quick video and you'll be sure to see what we mean…
The traditional clay design that is true to its origins has survived the test of time until the present day and is still an accent very much loved in many people's backyards.  So much so, that some people even go as far as to use them purely for decorative purposes even if they don't want to have a fire in their backyard.  Either way, whether you're getting one purely for decoration, or are looking forward to setting up a cozy fire in your backyard, a clay chiminea will serve you well.
Advantages Of Owning A Clay Chiminea
Aside from the aesthetic, there are several features that make clay chimineas quite practical.
First and foremost, they are actually safer than their metal counterparts.  Clay is naturally an insulator which means the body will heat up less than that of a metal chiminea. This makes it so that the heat emitted by the chiminea is focused out of the opening in the fire chamber and isn't dissipated throughout the actual body of the chiminea.  This makes it easier to position and manage the flow of the heat, while also making it such that the body of the clay chiminea is less of a risk of burning anything that might touch it.  While that is quite a plus, we cannot stress enough that even with the safer models out there, proper measures of fire safety are a must no matter what.
Secondly, they are lighter and easier to carry while requiring less maintenance and assembly than the metal versions.  It's important to keep in mind that every chiminea will still need some amount of care to be able to live happily on your patio, but if you want to take a lower maintenance option, clay might be the choice for you.
Nevertheless, different types of chimineas will also come with different features as well as their associated pros and cons.  If you want to get the full picture and get the most out of your investment, you should check out our articles on copper and aluminium chimineas, cast iron chimineas, or even cooking with chimineas, which will make a traditional wood oven pizza like you wouldn't believe!
Here are 2 of the best clay chimineas we've come across yet.  Enjoy!
---
Redi-Flame Woodshed Renewables Chiminea Kit

Our first contender is a very quaint and well rounded chiminea kit by Redi-Flame. The 14" handmade clay chiminea comes with everything you need to get going as it includes fire starters and even an all natural insect repellant.
The first thing you will notice about this one is that it is particularly small compared to most chimineas that can be several feet tall.  This not only makes it extra portable, but also allows it to be much more versatile in terms of how it meshes with the rest of your backyard.  It goes without saying that these features, along with the accessory kit and the affordable price, qualify it to be one of the best options for anyone looking to get started in owning a chiminea.  It's a safe and small investment that goes a long way and lets you try out the joy of having a fire placement in your backyard without it being too much of a hassle.
One interesting note for the chiminea buffs out there, however, is that the size and price of this kit also lend themselves to purchasing several.  As an alternative to having one big chiminea, there is always the option of having several smaller ones arranged tactfully throughout your backyard.  The smaller fires scattered around, along with the traditional hand made clay design are sure to create a magical mood for yourself and your guests.
Read our full review of the Redi-Flame Chiminea
---
Gardeco X-Large Clay Chiminea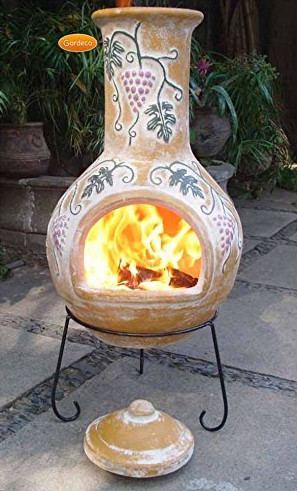 While there are many varieties of clay chimineas available out there, few are quite as captivating as this model by Gardeco.  It is a well sized chiminea at 4 feet tall with a 1.6 foot radius for the chamber, however it does not compromise on portability as it is still fairly light.
Each Gardeco chiminea is hand made and hand painted for the best quality and to achieve that perfect rustic feel.  The cool thing we've found about them is that every single hand made chiminea is unique, carrying slight differences that set it apart from the rest.  This does mean that the measurements seen here may vary but only by very small amounts.
The Gardeco requires very little set up as it comes with simply an iron stand and a clay lid.  No complicated install required! All you need to do is set it up on the stand and light your fire.
The lid provides protection from some of the elements, however it is always a good idea to bring it into your garage or shed during heavy storms or winters to avoid damage to the clay body.
If this is your first chiminea you should take a look at our article regarding chiminea maintenance which details fuels that can be used as well as what to do before first usage.
Read our full review of the Gardeco chiminea
Save