Many people subscribe to the philosophy of doing one thing really, really well. When a business takes this idea to heart, you get some of the best results in terms of a quality, long-lasting product.
TikiBarToGo, based in Burlington, New Jersey, applied this philosophy to their signature portable tiki bar, and the results speak for themselves.
Since 2003, owner John Derrico has been able to offer a high quality portable tiki bar at a reasonable price with loads of pizzaz to both business and home owners alike! He realized early on that there was a need for a portable party station that could be set up / taken down quickly, anywhere, anytime.
Why Should A Tiki Bar Be Portable?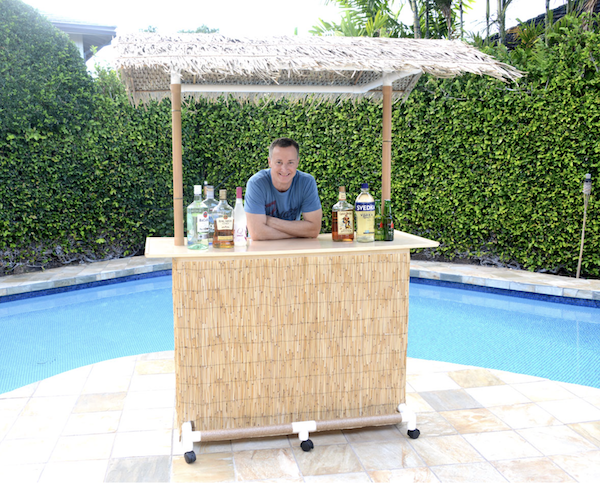 Across America, there are plenty of tiki-themed bars that people love to frequent. While tiki culture itself is steeped in legend and mystery, what is obvious is that people love the tropical aesthetic, and seeing a tiki bar basically means that a party is either going to happen, or is happening.
And so, understandably, some folks have taken it upon themselves to bring the tiki aesthetic home with them, by way of constructing an elaborate tiki bar set up that allows them to entertain in their own backyard with a beautiful tiki-themed set-up.
That said, permanent construction work of this kind is a fair time and resource commitment, and usually quite costly.
On the other hand, a portable tiki bar kit is a great way to save money, save time, and still enjoy the tiki vibes without all of the fuss.
Whether you want to bring your tiki bar with you to a business event, or wheel it out onto your patio for an intimate gathering, the portability and easy set up / tear down are the main attractions for the person throwing the party. And yet, there are very few options for a high quality, compact, modular and portable tiki setup.
This is where John Derrico, owner and operation of TikiBarToGo, has come up with the perfect solution.
The TikiBarToGo Vision
John Derrico's trip down the tiki path all started at a Jimmy Buffet concert, when he and his good friend Joe saw a fellow Parrothead taking half the day to set up a simple tiki bar display, toiling away from morning to suppertime.
It was a good 6 hours of labour, and while the resulting tiki was great, the time it took…was way too much! (*note: "Parrotheads" are the nickname of Jimmy Buffet fans, example pictured below…)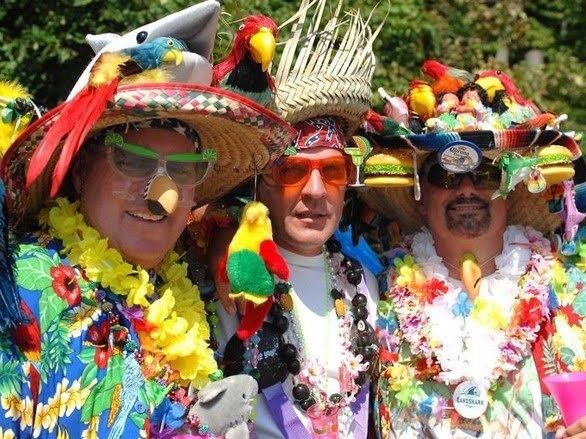 Being furniture designers and handymen themselves, John and Joe figured there had to be a better way to accomplish the same goal in much less time. And, well, that's exactly what they set out to do!
John and Joe got to work immediately on their new collaboration, and, before long, had a working prototype of what would soon become the first TikiBarToGo portable tiki bar.
Joe was an active part of the business until he sadly died in 2014 of a serious illness, but he had always given his blessing to the tikis he helped create to go out provide good times for all involved.
So, over the course of almost two decades, TikiBarToGo has become a nationwide concern, whose manufacturing and distribution operates on a national level, while retaining the strict quality and creative control of a smaller operation.
Since the outset, the TikiBarToGo's business model has been a mingling of John and Joe's personal vision for what a portable tiki bar should be, and customer feedback. They refer to it as a "complete, all-purpose party station". Yes, indeed!
The TikiBarToGo mission in a nutshell:
Portable
Durable / Lasts for years
Indoor / Outdoor
Suitable for both residential and commercial use
Attention-grabbing
Good looking / Aesthetically pleasing
Authentic tiki look / Tropical theme
Easy set up / Maximize time spent entertaining
The right accessories (wood trim, 2 shelves for bottle storage, tough roof, furniture grade PVC, cabinet grade wood shelf, woven palapa palm roof)
As time went on, additional features for their portable tiki bars began to materialize, including: wheels, a reed skirt with vinyl liner, and carrying bags. To this day, John is always looking to improve his tikis when a good idea arises.
John and Joe wanted everyone from frozen drink vendors to backyard party enthusiasts to caterers, to literally anyone who loves the tiki aesthetic, to be able to quickly and easily set up one of his tiki bars, and instantly become the center of attention and the source of easy-going, fun-loving vibes.
Whether it's on your back deck, next to your spa or hot tub, or making the scene at a convention, TikiBarToGo portable tiki bars always stand out!
John and his team aim to please when it comes to what his customers want, working quickly and diligently to fulfill their customers' needs.
For example, in terms of commercial applications, TikiBarToGo offers portable catering supplies to Maui Wowi Hawaiin Coffee and Smoothie franchisees, who operate nationwide. Another recipient of TikiBarToGo tikis is Miller Brewing Company, who use their models for their Miller Chill beer promotion in the Florida region.
What's great about the TikiBarToGo portable tiki bar product line is that they don't look portable, and yet they set up in about 10 minutes!
What Sets TikiBarToGo Apart
According to John, many of the portable tiki bars on the market these days are very light and fragile, and basically unsafe for outdoor use. At the same time, heavier bars can't be moved around and hence are not what you would call portable.
In order to have a functional portable tiki bar, a balance must be struck between having everything weighted as it should be, in the right spots, from a solid base, to then employing lighter materials when needed so as to make the bar properly portable.
When it's disassembled, your TikiBarToGo tiki bar will be a grand total of 72″ x 30″ x 7″ and will fit perfectly inside two optional custom carry bags designed for exactly that purpose. So, whether you're storing your tiki in an SUV for its next event, or putting in storage on the off-season, it's all good!
TikiBarToGo tiki bars are built to last, with an expectation that you will be transporting it to various functions, if you so choose. In other words, if the daily grind sees you going all over hell's half acre with this bar, bless you!
However, if you just want to keep your TikiBarToGo bar at home for entertaining guests, more power to you! Multi-functional application is the name of the game here.
That said, TikiBarToGo portable tiki bars are not to be left out in the rain, sleet, and snow – while they are fairly low maintenance and durable, it is recommended that you keep them out of rough weather.
The fact remains – whenever you whip out this tiki bar, it's going to draw people in, as it is both unique and instantly recognizable. People will see it a mile away and love it!
TikiBarToGo: Who Uses Them?
Smoothie companies use them for off-site catering events and parties
Many companies use TikiBarToGo for their tropical theme display booths at trade shows, such as in iPhone app developer for the MacWorld show in San Francisco
Liquor companies use them for themed displays at sales outlets
Party Supply Rental companies rent them all over the country
Hotels and resorts use them for on-site theme parties and product show booths, check in stands, hostess stands, activity huts
Margaritaville purchased a TikiBarToGo tiki bar for their tour bus
TikiBarToGo was featured at the Margaritaville booth at the 2010 Country Music Awards Festival in Nashville
Lady Antebellum had one backstage on their "Need You Now" tour
Radio Stations use them to do live on the scene remote broadcasts
Miller Chill used 80 TikiBarToGo bars to showcase their products at retail locations
Various organizations and companies have raffled off these portable tiki bars as a main prize at the conclusion of their event
Features of the TikiBarToGo Portable Tiki Bar
We've mentioned a few of these already, but they're worth repeating:
Premium Grade White PVC Furniture Pipe
Hinged Bamboo Roof Frame with Weaved Palm
Unmanilla Rope Wrapped Footrest
Faux Bamboo Roof Uprights
Birch Ply Bar Top 60″ x 24″ with Exterior Polyurethane
Birch Ply Storage Shelf 48″ x 18″ with Exterior Polyurethane
Natural Reed Bar Skirt with Vinyl Backing
Integrated Power Cord
Wheel Option with 5 Locking Casters
Additional 48″ x 18″ Storage Shelf
Custom 3 Bag Carry Bag Set
Overall assembled specifications:
Bar Surface – 60″ x 24 " (5 feet by 2 feet)
Storage shelf – 48″ x 18″ and provides 14″ of height
Standard Bar Height from floor of 43″
Overall height to peak of roof – 84″
Roof Panels – 72 " x 60″ (Folds to 72″ x 30″ for transport)
Weight – Approx. 75 lbs
Wrapping Up
All in all, we highly recommend the TikiBarToGo line of products. It has been interesting to see the evolution of this brand, and how it has made so many strides in the business of portable tiki bars.
If you want to learn more, please visit our online store to get a better look at the Paradise Portable Tiki Bar. You can also feel free to read some of our other tiki related posts that we have on this website. We hope that you will find it informative! Thanks for reading.
Related posts: