We often hear it asked, "What is the best patio umbrella?"
Having seen many come and go over the years, we put together this guide to selecting the right one for your needs, and well as several contenders as to which one could be fairly be considered the top of the line.
We've been through hundreds of patio umbrellas, and there are just some patio umbrellas that really do fail miserably when it comes to serving the purpose for which it was created.
They blow away, they get ripped easily, they provide insufficient shade either because they're too small or the material used to make them is cheap, and - to put it bluntly - they're ugly.
On the other hand, the umbrellas you can expect us to talk about here are the exact opposite - they can stand up to the elements, they don't get knocked around easily, they look amazing, they're adjustable, they're generously sized, and overall super durable.
These will be an asset to your patio or deck, whether they be used poolside, or otherwise.
Editor's Recommendation: Top Patio Umbrellas in 2023
With Patio Umbrellas: Shelter From the Sun | In Style
There are many ways to set up and arrange your dream backyard.
Of all the many tastes and styles, as well as the different accessories available for each, it's hard to find any two backyards are ever exactly the same.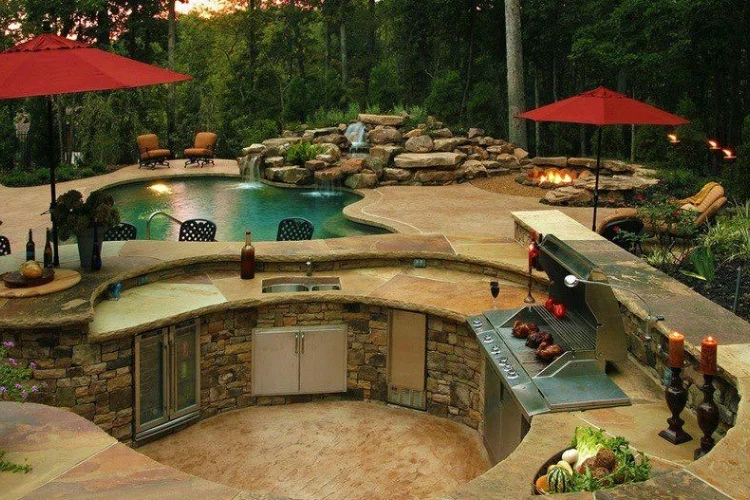 While we all look forward to the heat and the sunshine, there is a difference between enjoying some sun and being completely beaten down by it.

That is why it's always important to consider a proper shade arrangement when putting together your ideal backyard, so that you can relax and take in exactly the amount of sun you need.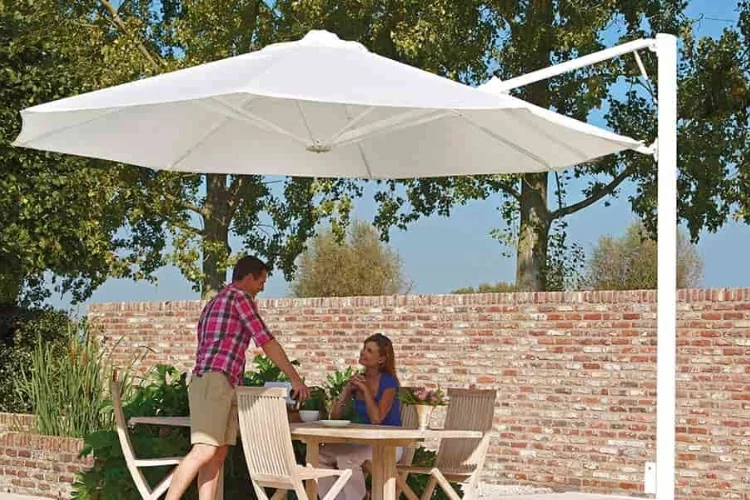 Looking at what's out there in the land of umbrellas, we've found that there is indeed no lack of options, models, and designs to fit every need imaginable. So much so, that it can actually be a bit dizzying.
Being quite picky for aesthetics as well as practicality, we've selected the models that bring forth nothing less than the best features, style, and even price.

Before we delve into our list of the best patio umbrellas, you should do some research so you know what you're looking for. We've compiled all the information for you below, so you know what features and things you need.

These patio umbrella reviews are each very different from the next. Some have solar-powered LED lights, others are cantilever style, hanging from an arm, and are all made of different materials.

Whether you're looking to create a focal point or just add some shade, your umbrella will help you with all of that. But it's best to have all these things figured out before you go shopping; it'll make your job a whole lot easier.

Buying Guide for The Best Patio Umbrella
When we talk about the "best patio umbrella", it means something different to everyone, but there are definitely some common features you will want to make sure of.
You will need to consider:
Size of Umbrella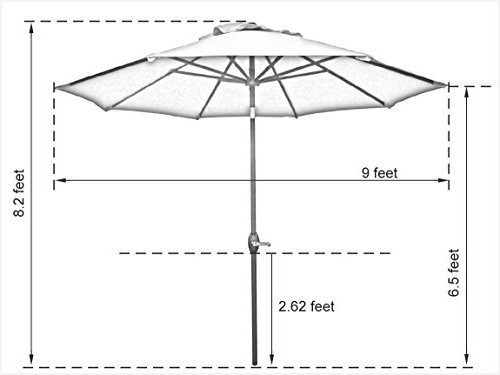 Consider the space you're looking to cover with the umbrella. Is it a table and chairs that you want to cover, or an entire patio's worth of space?
If it's a dining area you're looking to cover, ask yourself - what's the size of the area? How many people do you want to be able to fit under the umbrella?
Patio umbrellas can range from 7′ in diameter to up to 12′ in diameter. You may want to take some measurements before purchasing your umbrella, to ensure that it will cover what you want it to cover.
Some umbrellas are cantilever style, which means they are a lot more adjustable than the style of umbrella where the main pole is in its center. Depending on your plans, you have to think about these things, because it would not be ideal if you're buying your umbrella for a dining set, and the umbrella and the dining set are not compatible.
Luckily, many dining and/or patio sets we are aware of come with an umbrella, so that wouldn't be a worry in those cases.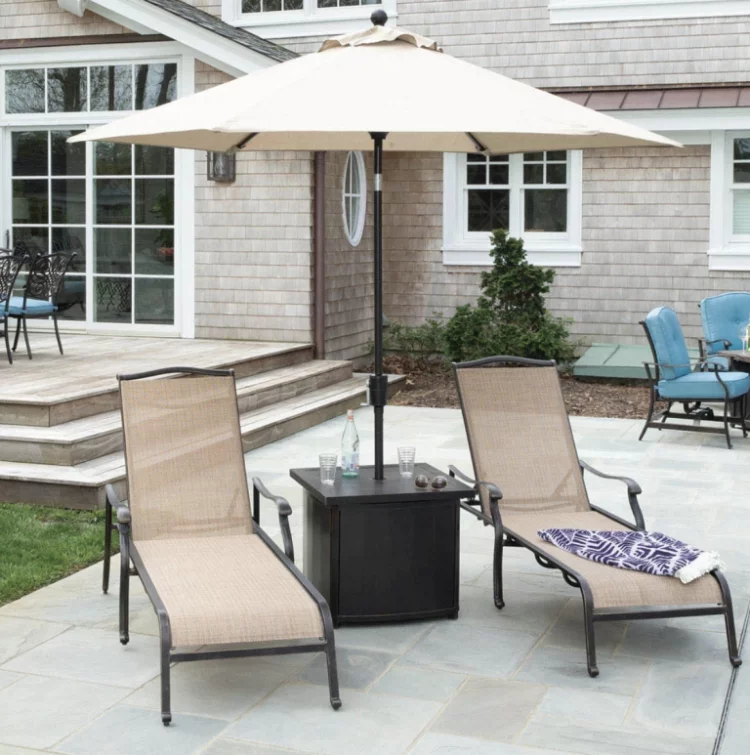 That said, if you're mixing and matching patio sets with umbrellas that don't belong together, it could easily become a concern that the umbrella you choose isn't going to suit your needs. The bottom line is, don't be too taken with the aesthetic beauty of an umbrella; it needs to serve the purpose that you are assigning it to do.
For example, if you are using your patio umbrella to provide shade for a hot tub, you will need a cantilever so that it can be properly angled overtop the specific area. On the other hand, for this particular purpose, you may instead want a gazebo, as they are better suited to provide shade in situations like this.
Umbrella Stand Considerations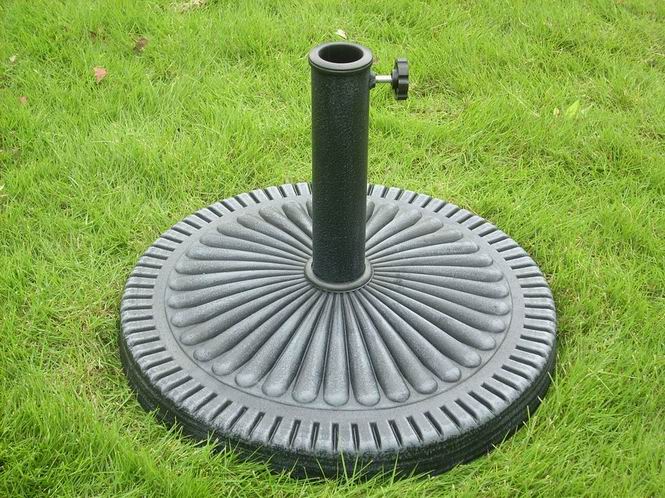 When it comes to the umbrella stands, every buyer needs to pay very close attention, for several reasons.
First off, a lot of patio umbrellas come with stands that are rather piddly, or not substantial enough to really hold up the umbrella they need to support. Why does this happen? The same reason so many products are made poorly, which is to cut costs. Some companies will argue that you just add some sandbags to the bottom, as if that was the expectation from the get-go.
Many umbrella stands are actually filled with sand, or water. Depending on the quality of such a stand, this can be sufficient.
Having a weak stand is one thing, but then again, some umbrellas don't even come with stands, as the stands are sold separately, or they expect you to buy a stand from some other manufacturer that is either made to fit that specific sized pole, or it's "universal fit".
Any good umbrella comes with a stand, and that stand is more than capable of keeping the umbrella in question tethered to the ground. This will usually mean that the stand is heavy duty enough to do the job, unless, of course, the umbrella is particularly light weight, in which case the stand doesn't have to be built like a tank.
The bottom line is, a high quality stand is an absolute necessity, as it will anchor the umbrella in place. Make sure you check to see that your umbrella comes with a stand, and look closely to make sure you think it's something that will keep your umbrella from flying away.
Fabric quality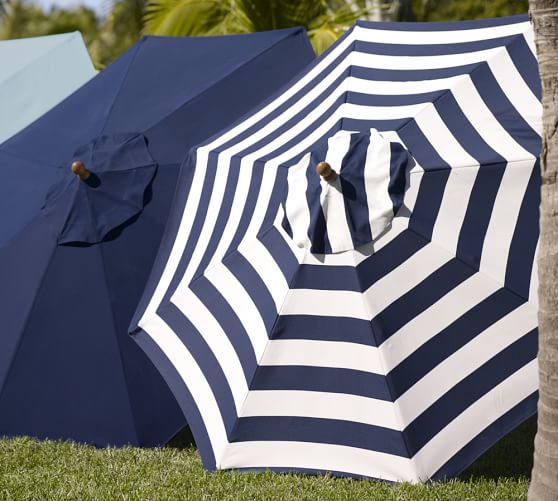 There are all kinds of different fabrics used to make patio umbrellas, such as canvas, acrylic, polyester, and olefin. Perhaps the best known material is Sunbrella fabric, which is designed to protect against fading caused by UV rays, and it used to make a lot of different products; not just umbrellas.
So be aware of the material used to make your umbrella, and beware of the cheap stuff. Not only does cheaply made umbrella fabric fade within a season; meaning you have, at best, one good season with it, but, by next year, that same umbrella won't even look the same anymore, much less offer you any type of serious protection from harmful UV rays.
It's always a good strategy to try to separate your overall opinion of the look of an umbrella, since the fabric or the design is always meant to dazzle you, and try to see past that to the actual quality and durability of that fabric.
Believe it or not, some patio umbrellas are not exactly waterproof. They might be water resistant, or they may not offer any sort of water resistance at all, and be more purely decorative.
In general, most people are trying to find a balance between high quality fabric, the protection it offers, and something affordable. The umbrellas in our list below try to keep this in perspective.
Skeletal material (pole and ribs)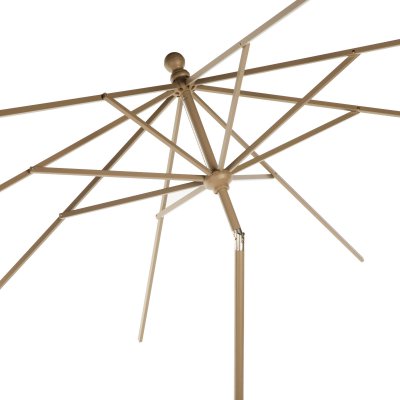 Ideally you're going to look for stainless steel or aluminum, something that holds up to weather damage without rusting.
Once the rust starts, it doesn't stop spreading, and will tarnish the umbrella fabric and anything else around it.
The colour of iron oxide (the brownish red flakes that signify rust) runs when wet and you won't be able to get it out. Plus it looks tacky.
Wind Resistant Umbrella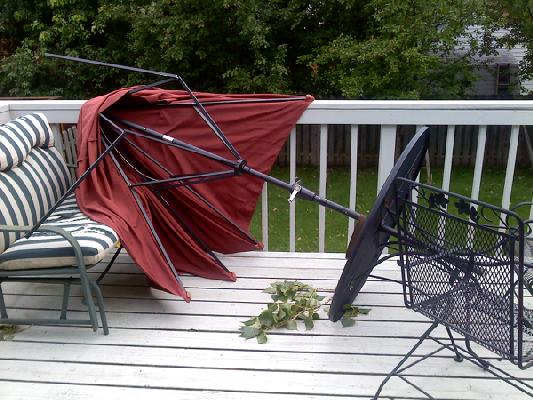 No matter where you live, you will absolutely want to look for a strong or even heavy duty patio umbrella. For those of you living in hilly areas, wide open land or just plain old windy spots, then you'll want to look into wind resistance as a feature.
The best outdoor umbrellas will be wind resistant and this is achieved by a few things in the design. Some things we previously discussed, like fabric quality, skeletal material and a stand all do their part in contributing to wind resistance.
Another feature to look out for, especially if you live in areas with high winds, is a vented canopy top.
We included that in our list of shade umbrella reviews, but you may want to also look for an offset patio umbrella, or one with tilt action, as these makes the umbrella more conducive to adapting to higher wind conditions.
But the biggest thing you need to look out for is a weighted base, or some sort of support stand that is going to keep this thing standing up.
The thing we must warn you about is that a lot of these umbrellas, while they have cantilever action and really wide coverings that are, on average, about 10″ around, well, these umbrellas are not going to easily stay up if there's wind. They are basically just huge kites, and even a fairly supportive base is not going to keep them pinned down.
Therefore, the answer is, quite often - yes, sandbags!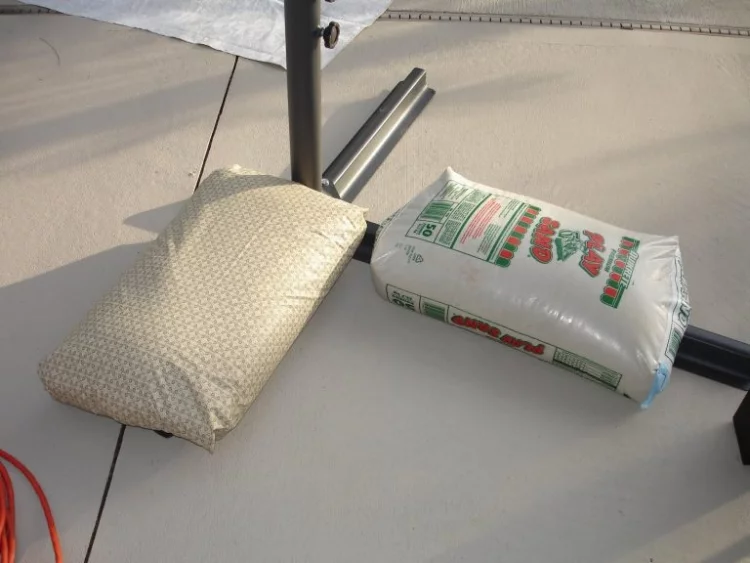 Now, this might take away from some of the style to your backyard arrangement, having big ugly sandbags holding down your patio umbrellas so it doesn't lurch this way and that on a windy day, but, trust us, you'd rather have this than your umbrella crashing into your glass table.
These kinds of situations can be avoided. Another option is - just don't leave your umbrella open when you're not using it. Seems simple, but many people think they can just leave their umbrella up all the time, and because it's nice looking, some magical force will keep it from flying through your window.
Well, the truth is, that even with sandbags holding it down, or some weighted base that has enough weight to keep the thing on the ground, if there's a strong wind, and a wide patio umbrella that is open, there's a good chance that combination is going to create a recipe for something flying somewhere into something else.
Here's a base for a Tropishade umbrella that is a good standard to look for when seeking out a heavy duty base that won't give you grief.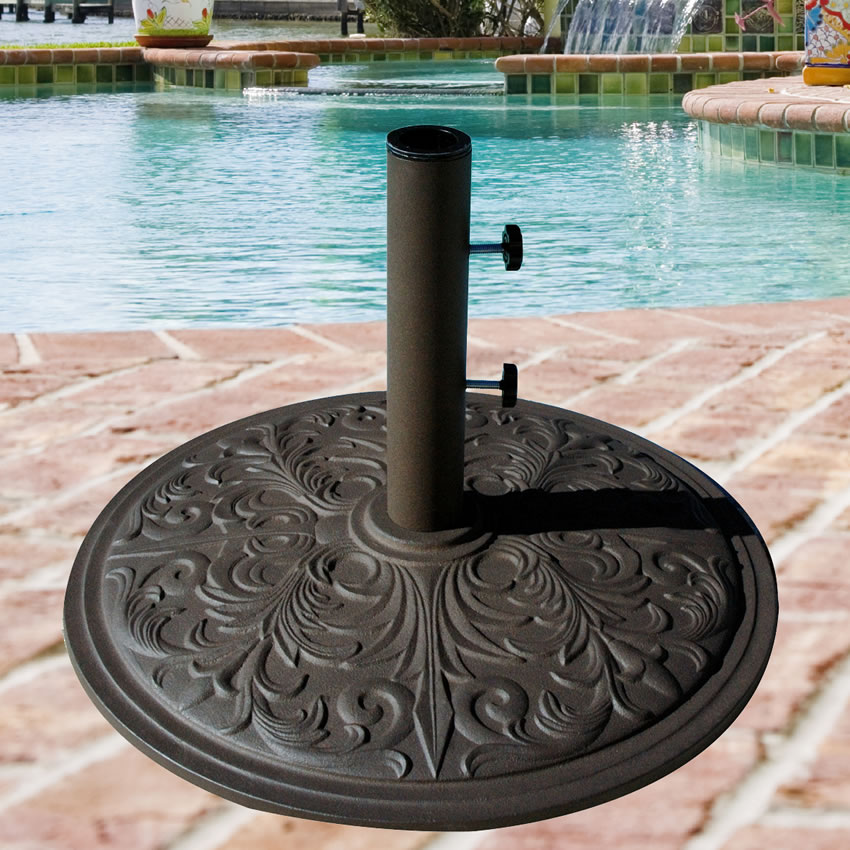 It's 50 lbs, so that's as heavy duty as you're going to find, without making a special effort to get a super duper heavy duty base.
Here's another "inspiring" video. As in, this should inspire you to make sure your umbrella is 100% secure before leaving it unattended.
Consider, again, the maintenance you will put in when setting up a good shade-providing patio umbrella and how this will affect your buying decision.
Are you able to put it away for the winter?
While we highly recommend this, we recognize this isn't always possible. If you have to leave your umbrella out year round, make sure the materials of pole and ribs, as well as the umbrella canopy itself, what will stand up to the winter conditions or harsh storms?
We've included some wind resistant umbrellas on this list, and you'll also find examples of durable umbrellas.
Matching Your Other Décor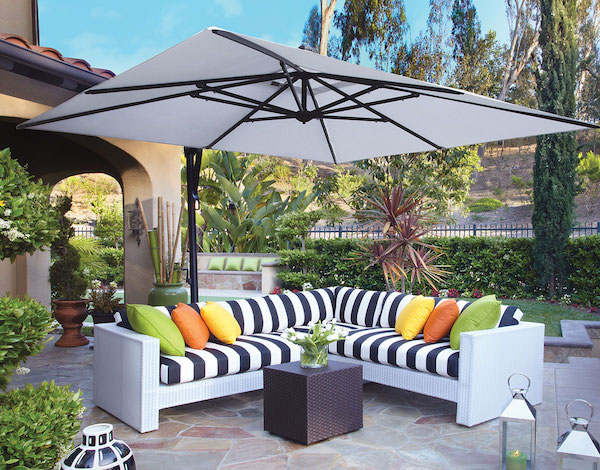 Obviously, make sure your umbrella matches your table and chairs or other features. The top umbrellas on the market come in all kinds of colours and options.
Crank Lift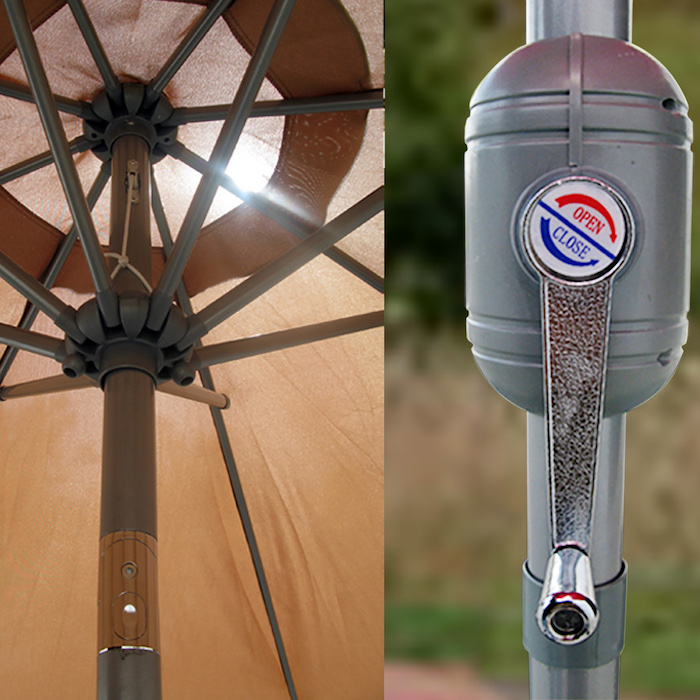 Having a crank lift is crucial. The crank lift is a sign of a quality outdoor umbrella. We hate those patio umbrellas that are like rain umbrellas where you have to manually push up the pole to open the umbrella.
Especially in the case of a large sun shade umbrella, a smart design will allow you to stay in one place and crank it open.
This is way more accessible, making use of counter-balanced gears for easy opening and closing. It is easier on the hands and overall posture, and highly preferable for those with any mobility issues.
This type of umbrella is far more durable than the push-up-to-open kind, as it's all one piece and is far less likely to weaken or come apart. A crank lift is the sign of a heavy duty patio umbrella.
Cantilever Tilt Action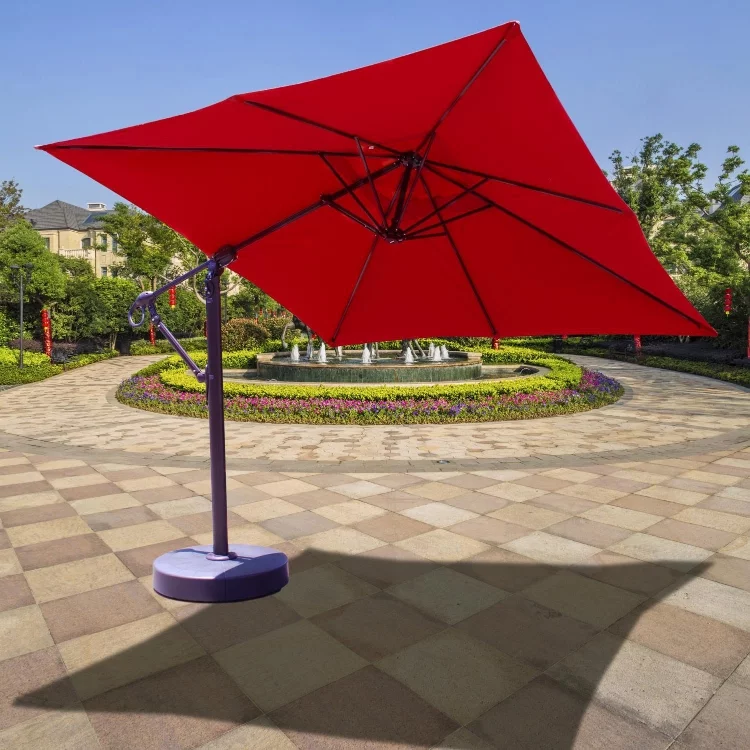 Most of the umbrellas we have reviewed make use of tilt action. Innovative designers have included easy tilt action by way of a twisting knob on the umbrella pole.
Tilt action has a couple of other more official names in the industry: this customizable positioning is referred to as tilt and shade umbrella.
This is because it allows you to temper the elements (flame is sunshine, shade is protection from the sunshine!) to your preference.
Customizable is the way to go nowadays. With all these options, who would choose otherwise?
As the sun moves across the sky, you will want to reposition your umbrella accordingly. It doesn't even make sense to have one stationary setting
You simply have to wrap your hand around the knob and twist and it will change the tilt angle of the umbrella. You can choose to have it directly above or off to the sides; any which way the sun goes.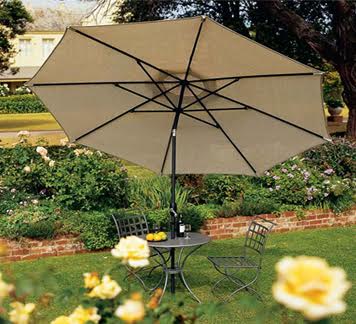 What Is a Market Patio Umbrella?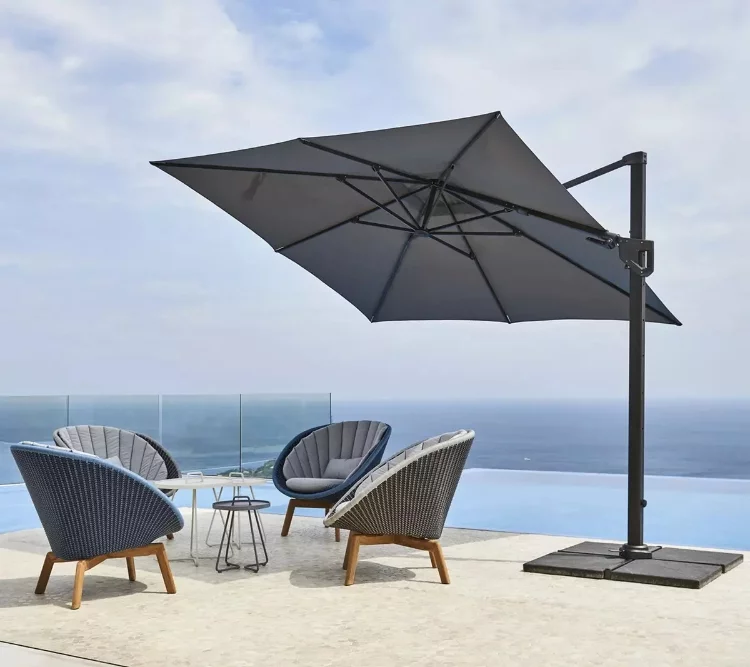 Ok, one last thing. You will often see the term "market" patio umbrella tossed around. But what does that mean?
Short answer is that a market umbrella is a type of umbrella that someone might use at a market, so it has to be big to shield a vendor and their wares from the harsh rays of the sun.
So, within that description, there is the implication of more sun protection than your average, say, beach umbrella. A market umbrella was once more associated with commercial purposes, and so were made to be tougher.
They are usually quite lovely, however, and they are also usually somewhat adjustable, to adjust as the sun moves across the sky.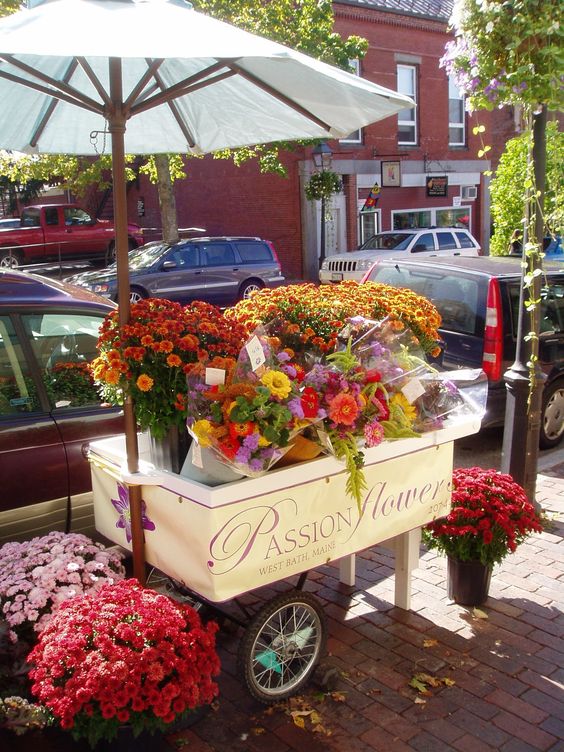 In the case of a "market patio umbrella", this is just a term used to indicate that it's a large-sized umbrella that is designed to offer more shade, but also look good on a patio, such as yours!
Alright; there it is. Now that you've read through all of that advice and narrowed down your hunt to the perfect outdoor umbrella for your particular patio, check out our personal favourites!

Here are the contenders that have won us over!
Top 10 Best Patio Umbrella Reviews 2023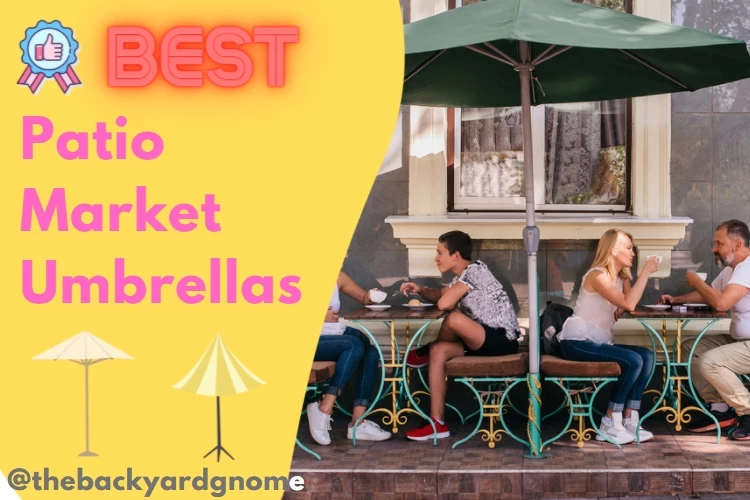 Best Choice Products Offset 10' Hanging Outdoor Market Umbrella - Link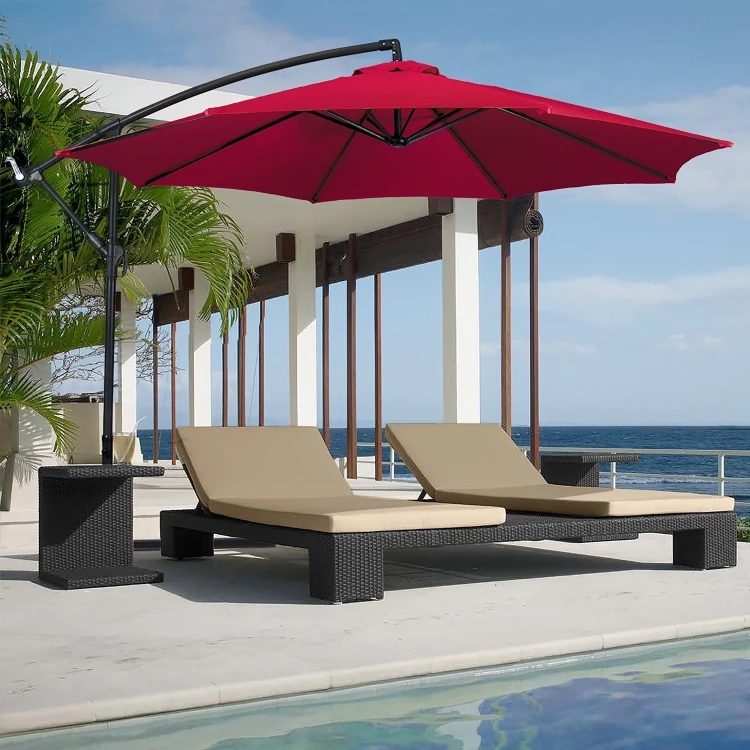 A great starter for our list of patio umbrellas is the offset umbrella by Best Choice Products.
Best Choice Products, or BCP for short, is an online distributor that we've been recommending for years now, if you want an umbrella that is first and foremost really elegant-looking.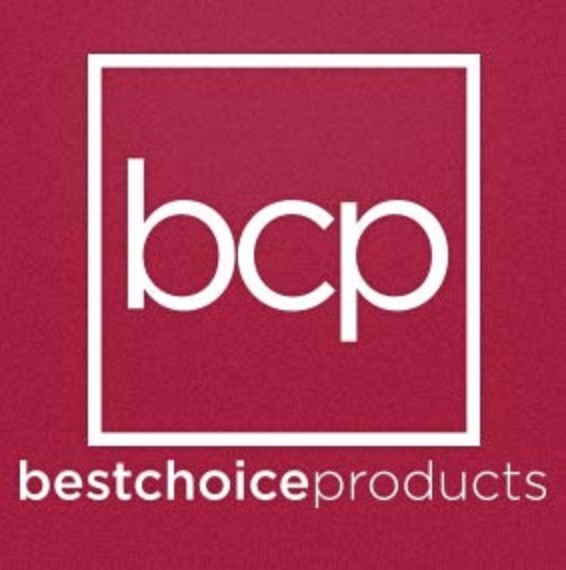 Some of our favourite patio umbrellas come from the Best Choice Products, like their solar powered LED umbrella that features a USB charger built-in, and their giant 16 foot market patio umbrella with cross base.
They have a great selection when it comes to patio umbrellas, and you can tell they are clearly fans of umbrellas as they have such a wide selection of interesting and innovative models to choose from.
All around, if we were to recommend just one of their umbrellas, it would have to be the 10 foot offset market patio umbrella.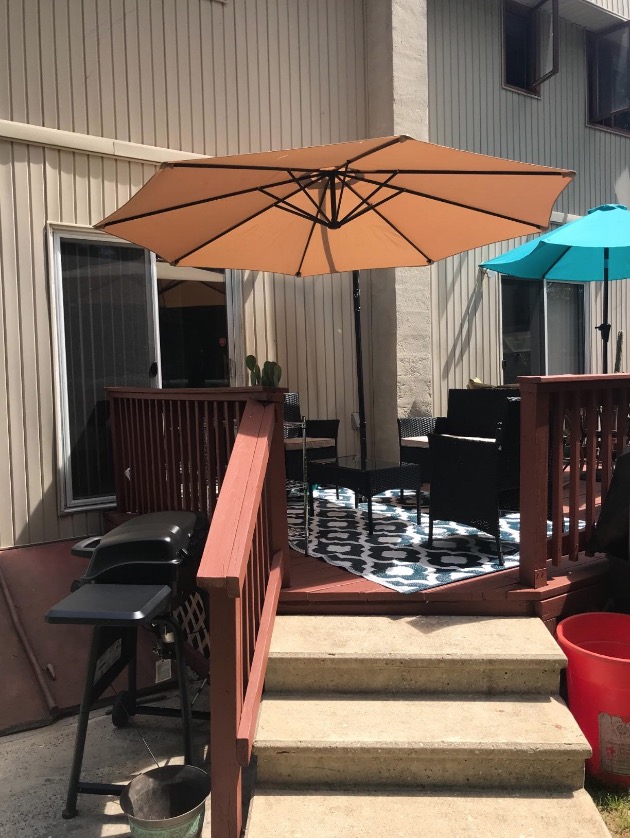 BPC are great guys, and they've been in business for almost 20 years now. Core values of the company include such phrases as: "be generous", "be meticulous", and "be uncomplicated".
Meticulous and uncomplicated are two words you could definitely apply to this BPC 10′ offset patio umbrella.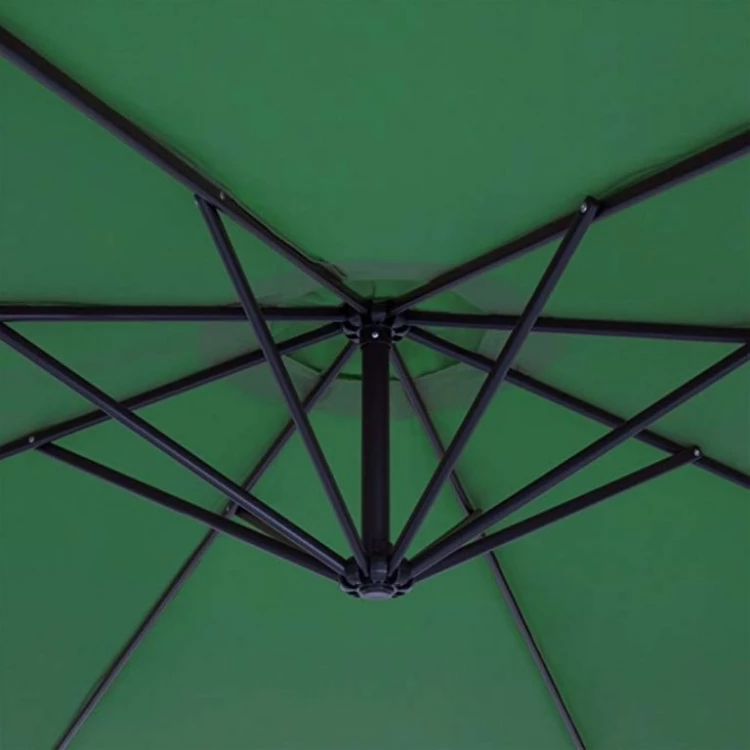 All the models we have used have all been well constructed, easy to assemble out of the box, and they come in a variety of solid colours that tend to match well with most of the outdoor loungers, couches, and sectionals that we've seen.
It's simply a matter of choosing which colour you like, whether it be something bright and eye-catching, or something more subdued.
Price-wise, it is quite affordable, at less than $100. A great starter umbrella, if you're looking for some serious shade from the sun.
Above all, we find that this particular umbrella looks very attractive and luxurious, while giving its users the freedom of mobility, by completely opening up the space under it.
Most guests who see it comment on how nice it looks, and how big it is.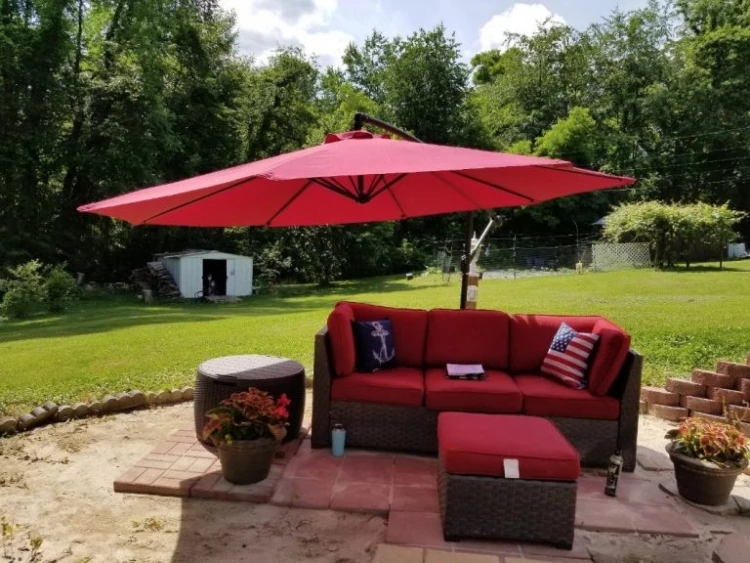 This umbrella features a simple and effective design that is not shy about showing off some style.
Overall, it is a super versatile product. The offset design allows you to comfortably place it anywhere in your backyard and move it around at your leisure.
It works with a patio table and dining set up as well as your array of lounging chairs or even by the pool.
Cons, If Any?
Our testers found that this patio umbrella needs to be well-secured, where ever you choose to set it up. And we've received numerous emails about exactly that as well.
Some people have mentioned to us that almost any strong wind can knock this thing over.
Sandbags can help with securing it. Just keep in mind that it is a rather wide umbrella and if positioned in the improper place, a wind could carry it.

Coolaroo 11' Cantilever Market Umbrella - Link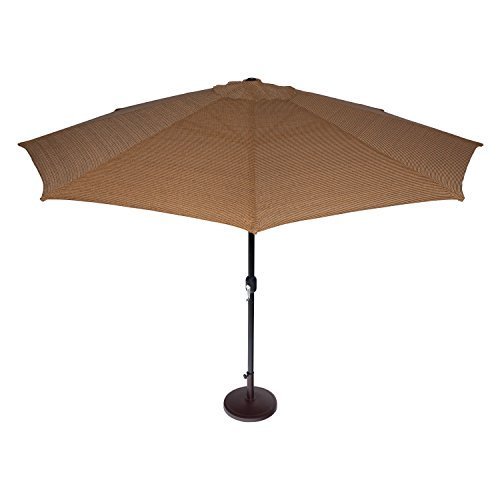 Moving on to the slightly larger Coolaroo umbrella, this one features the standard wide protective design that you need, but there are a few details that make this umbrella a little bit different from the rest of the best.
First off, we should mention that Coolaroo is an Aussie company by origin, where they do get a lot of sun, so they ought to know something about sun protection, right?
The popularity of their products has seen them expand globally, and that's how we came across this umbrella, via the American side of things.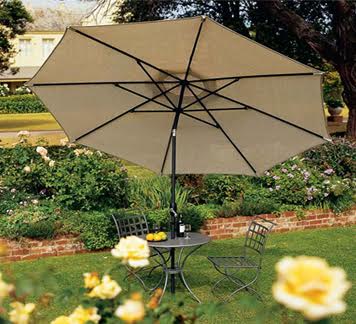 The company is a subsidiary of Gale Pacific, a global company that's been around since the 1970's, where Coolaroo is an arm of the company that works on innovative designs for outdoor home and leisure products for home and garden.
So what is there to love about the Coolaroo 11′ Market Umbrella?
First off, the adjustable pole made from practical aluminum makes it easy to arrange for shade in any spot in your backyard, while the UV-resistant canopy and rust-resistant frame ensure that this product will not let you down.
The tilting mechanism for this product also appears to be well crafted, with plenty of leeway for angling the umbrella as you like, to keep the sun out of your face no matter where you sit.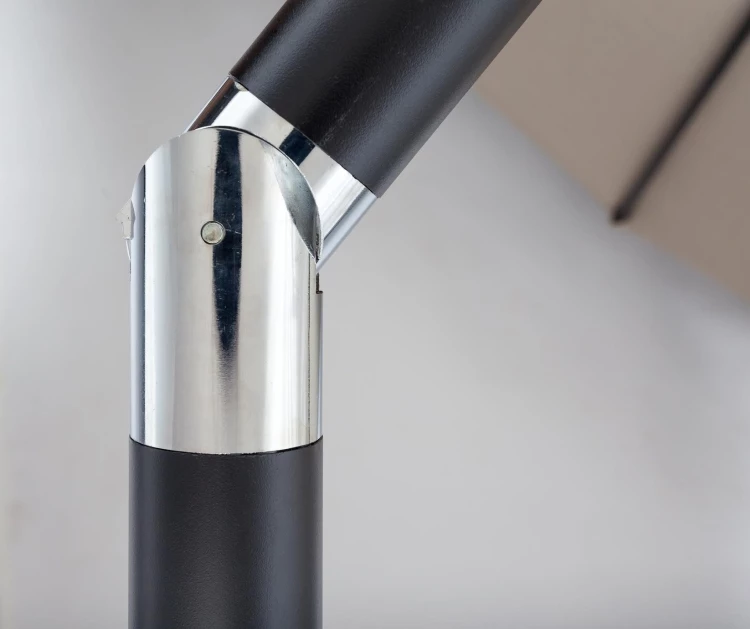 In fact, the umbrella has the advantage of being made from a special knitted shade fabric, which lowers temperatures substantially (30% in direct sunlight), and blocking up to 90 percent of harmful UV rays.
When you get in close to see this umbrella we think is where it really starts to wow you!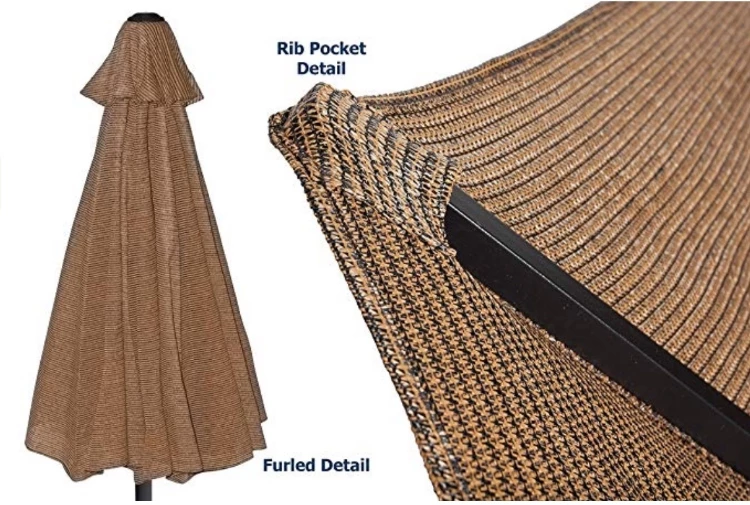 It is the finer details of this umbrella that make it stand out, such as the rib pocket and furling shown in the picture above.
Indeed, Coolaroo has been working with their own scientists to develop new and exciting proprietary fabrics for their products, and this umbrella is one of those creations, with a look all its own.
The downside to this lovely looking knitted fabric is that it is not weather proof, so there's that to consider. If you're sitting on a day where it's starting to drizzle.
From a distance, the umbrella just seems to be brown (or beige if you so choose), but as you get closer, you can see that the knitted fabric really adds to the look of this particular umbrella.
The ribbed pockets fit quite snuggly into place as well, ensuring that everything holds together nicely!
The Coolaroo Market Umbrella comes in two colours - mocha, and smoke coloured, AKA brown and beige. However, upon closer inspection to the detail put into this product, you these names actually do make sense.
Here are some stats from the manufacturer on this product.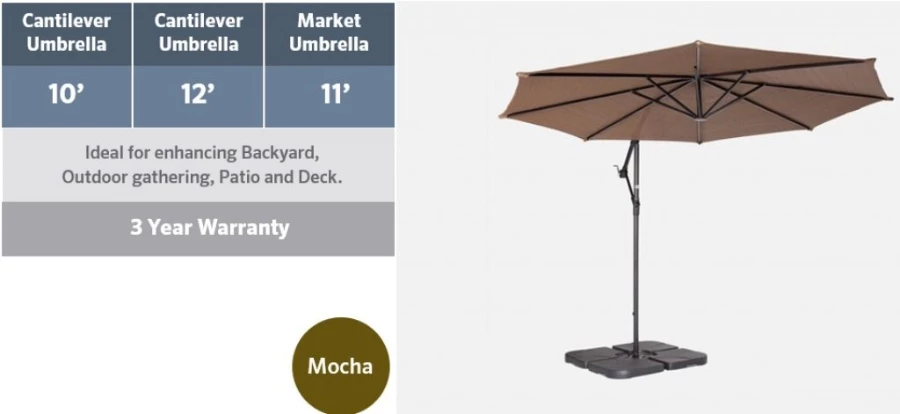 Speaking of the manufacturer, we spoke to Sean Alford, the Global Product Manager for Coolaroo, to get his take on their product and why it's doing so well in the market these days.
He said this of the Coolaroo Market Umbrella: "The Coolaroo Market Umbrella elevates the look of your outdoor space while providing protection from the sun.
The Market Umbrella canopy will block up to 90% of harmful UV rays while reducing temperatures underneath due to our unique fabric knitting process."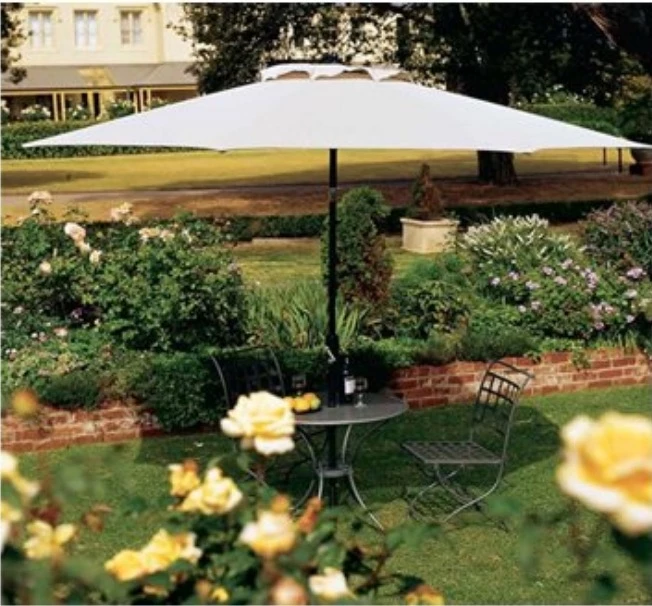 Indeed, these are all valid points and we've mentioned all of this already so far. We continued grilling him on this particular umbrella, probing deeper into what the umbrella canopy fabric made from. He added:
"Our canopy fabric is constructed with high quality HDPE (High Density Polyethene) fabric which is made with 100% recyclable material and is resistant to mold and mildew.
When you purchase a Coolaroo Market Umbrella, your product is backed by a 3-year warranty against UV degradation, ensuring protection for you and your loved ones for years to come."
These are some of the reasons why we think this umbrella belongs on this list. If you want a combination of cool style with some added practical measures that will keep you protected, we'd say this Coolaroo umbrella model is a good one.

California Umbrella 9' Wind Resistant Tilt Umbrella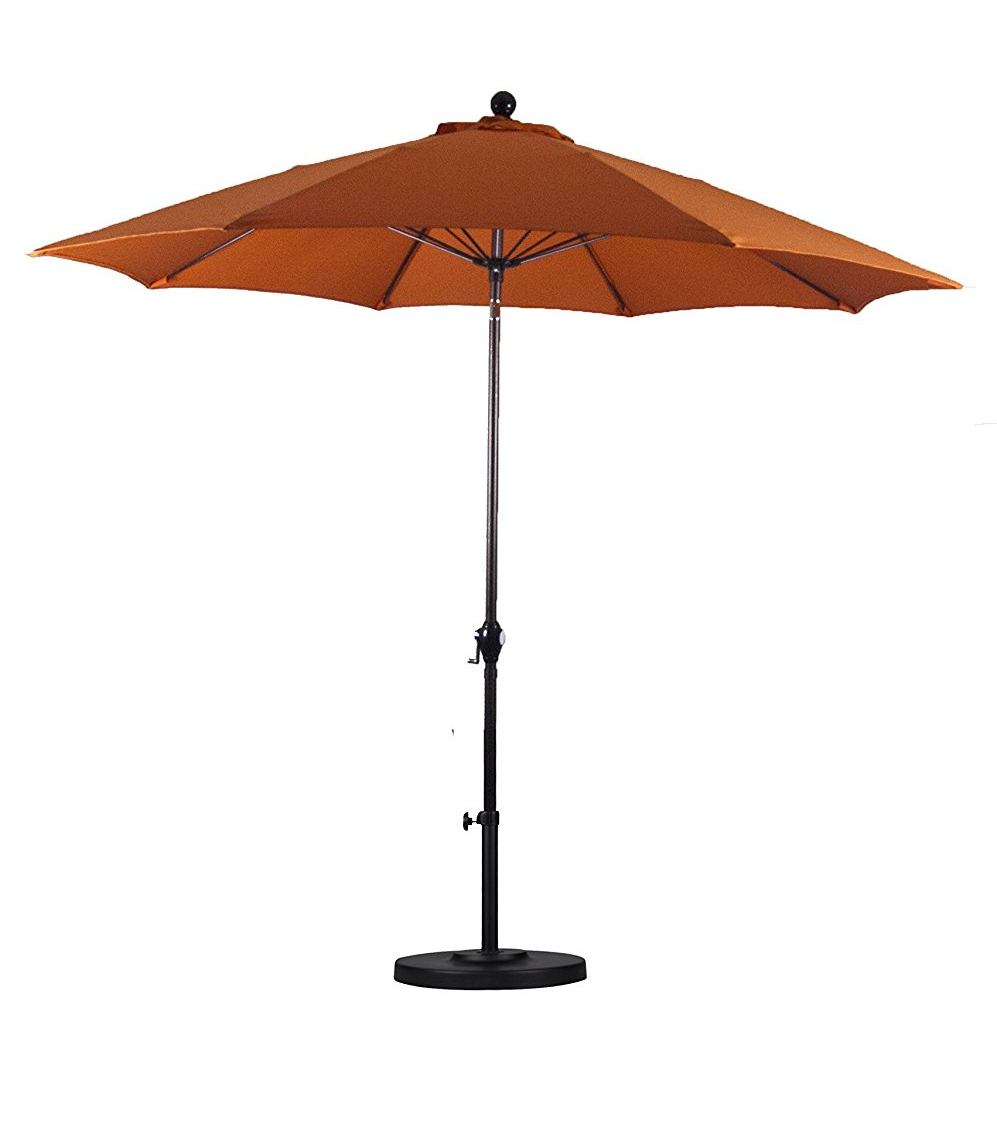 California-umbrella-9-feet-polyester-wind-resistance-fiberglass-market-push-button-tilt-umbrella
This more compact (but still quite large) 9 foot tilt umbrella from California Umbrella is by all means sure to dazzle and impress.
California Umbrella has been in the umbrella business for 50 years, and are known as leaders in the industry. We personally enjoy some of their hardwood umbrellas, made with 100% marenti wood.
But, for the purpose of this article, being to choose the best patio umbrellas we've come across, we've decided to go with this featured model, which features a frame made from fiberglass, which is extra resilient.
This model is part of the company's Sunline collection.
The built-in double wind vent helps to make it so this umbrella isn't going to get blown over as easily as some other umbrellas that do not have this particular feature.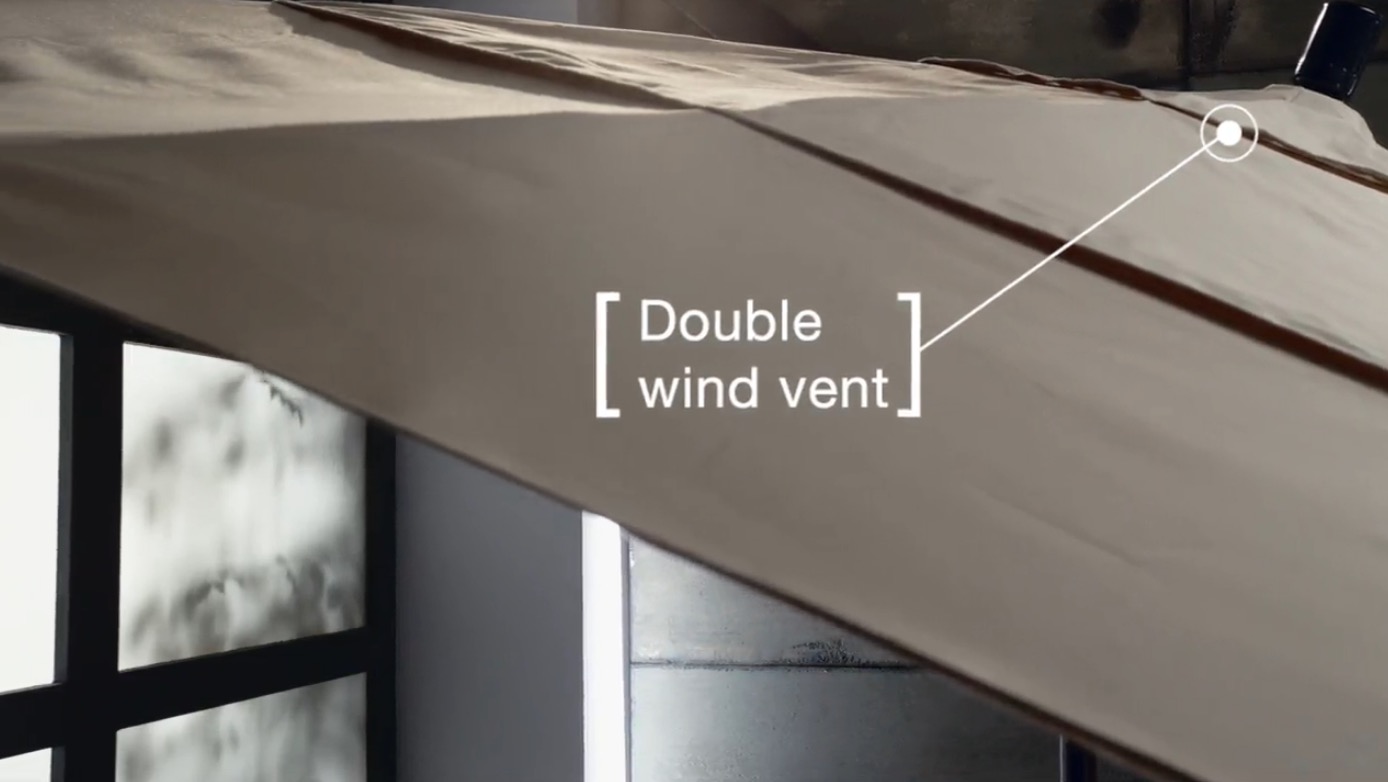 Although the previous two umbrellas are both larger at 10′ and 11′ respectively, 9′ is still nothing to sneeze at. Once fully opened, the dimensions of this umbrella are: 108″ x 108″ x 102″, and features a styled Valence cut, adding some extra class to its look.
Coming in an array of beautiful colours, this California Umbrella model can easily find it's place in practically any backyard arrangement and design.
That said, do take a look at the colour choices and see if they suit you. From what we've seen, there are about 10 colours available for this patio umbrella, including lime green, navy blue, and taupe to name but a few.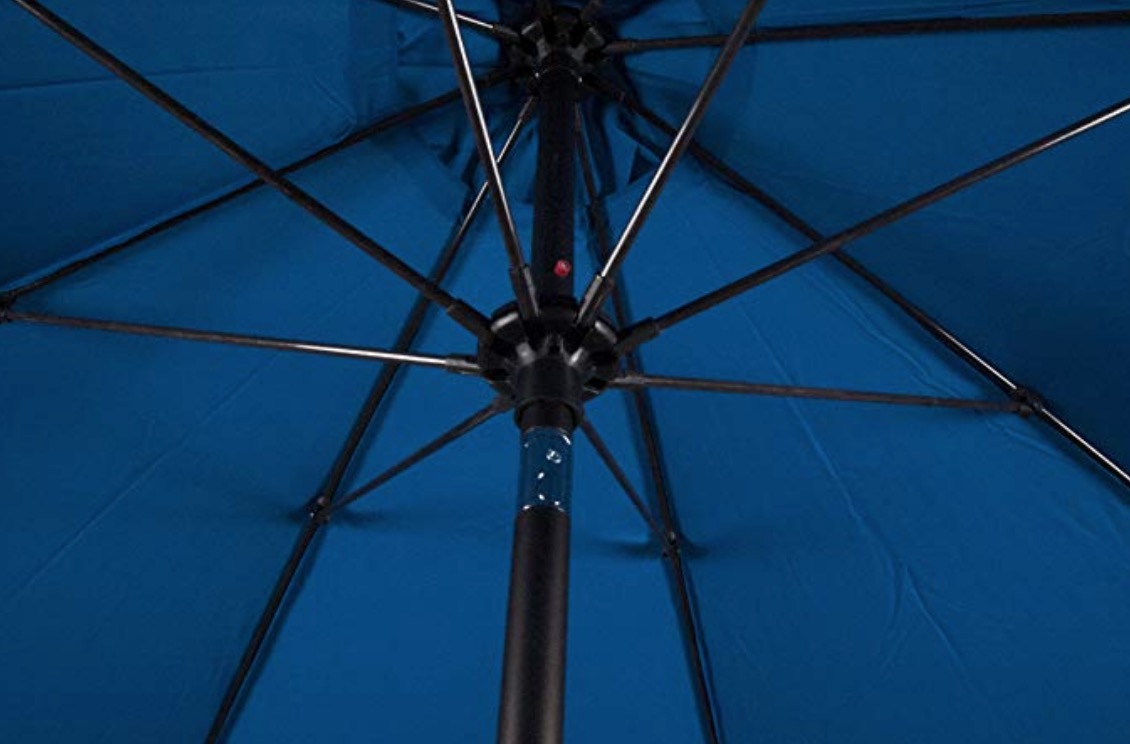 The colour palette looks like the equivalent of a pack of subdued pencil crayons, meaning they are colourful but not extremely bright like some others. If you're going for a more demure look, or something that isn't verging on neon, this umbrella would be a good choice.
The wind resistant, three-way tilt system activated by push-button allows for very easy adjusting and placement, while the fiberglass ribs and aluminum pole make this one as durable as it is stylish.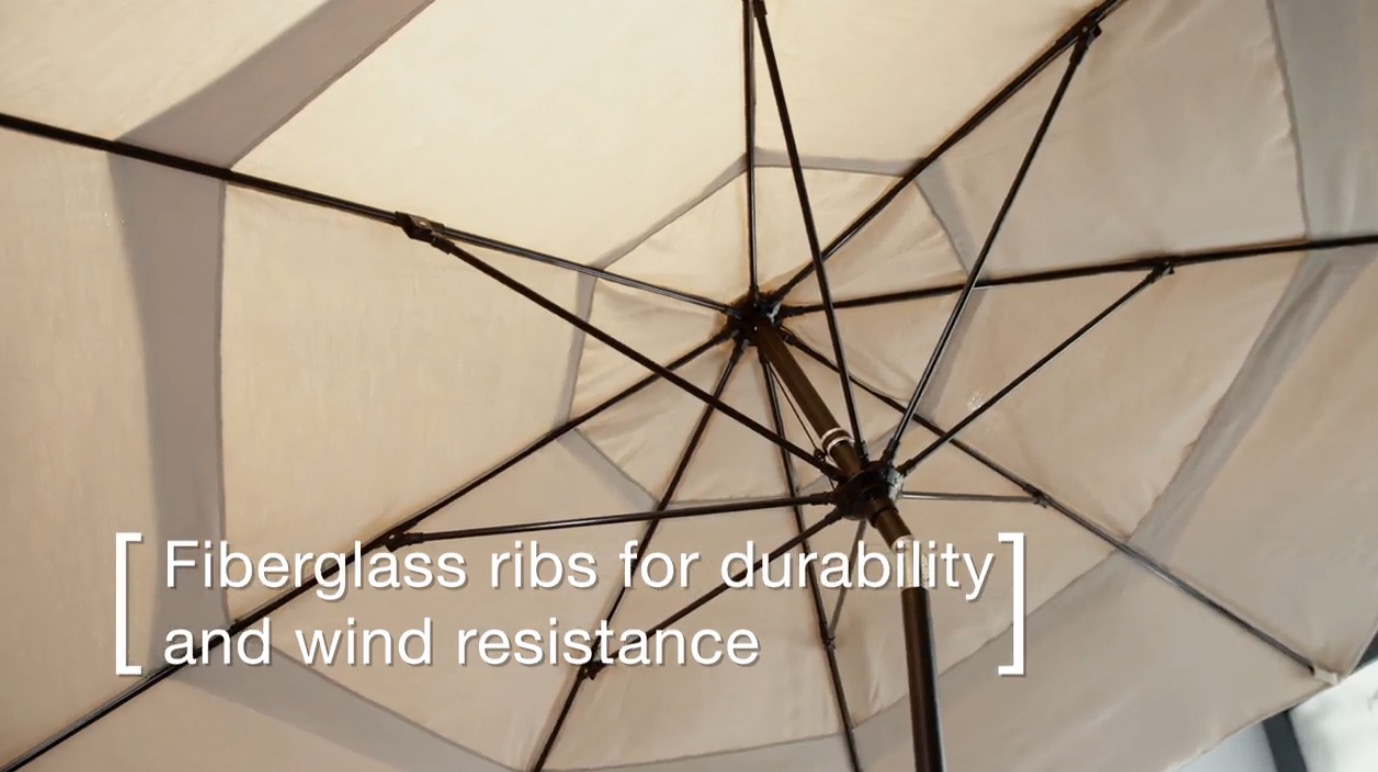 The material of the umbrella covering is polyester, and, although not 100% weatherproof, the company calls it hydrophobic because it dries quickly to avoid gathering mildew.
Polyester is a dependable material, and this umbrella is known to hold its colour longer than competitors. As of this writing, there is a 6 month warranty on the fabric as well.
To sum up, this umbrella is, in many ways, similar to the two mentioned thus far, but with a few key differences. It's adjustable in the right places, and can tilt any way you please.
California Umbrella Round Fiberglass Rib Aluminium Market

The colours are not as bright from the get go, and the the colour holds longer because this umbrella was made to endure more than one season. At 9 feet across, it provides some decent shade.
Flexzion 10' Hanging Offset Patio Umbrella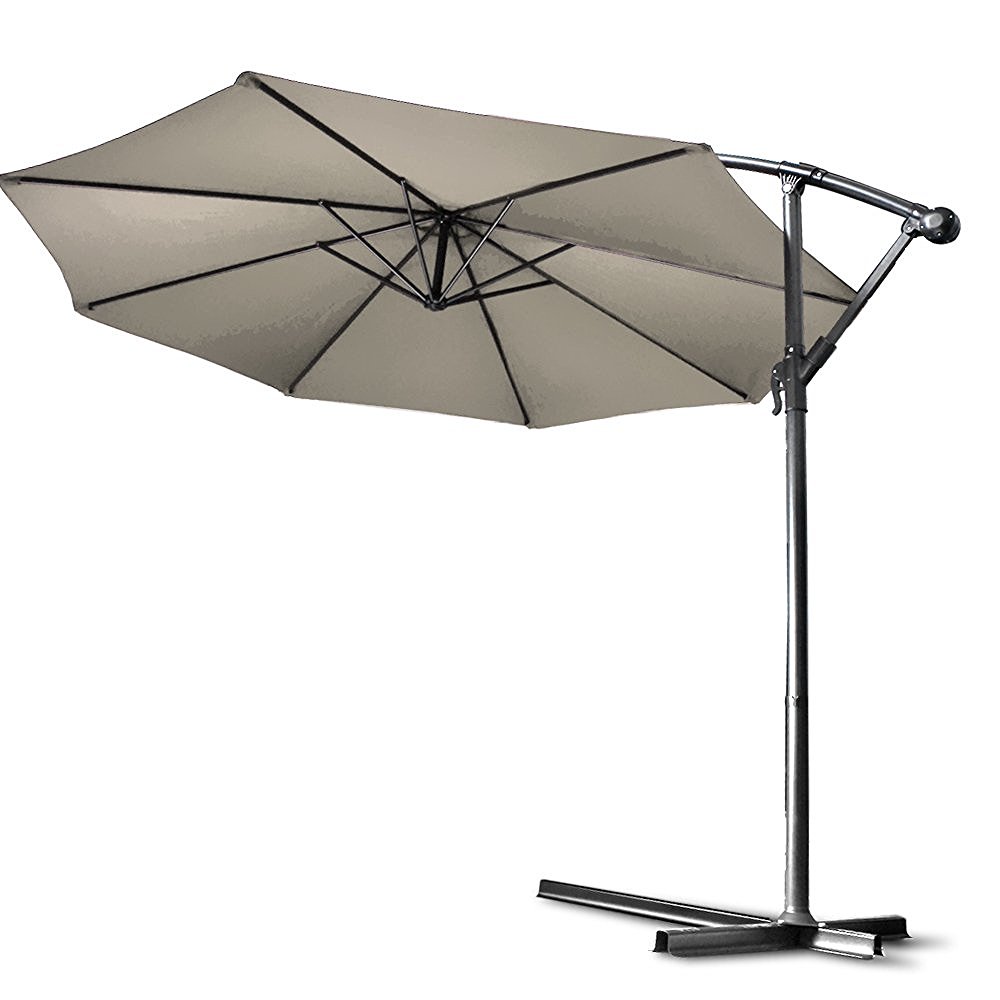 Flexzion-patio-offset-umbrella-10-feet-beige-hanging-folding-sun-shade-crank-canopy
The Flexzion Offset Umbrella is an excellent heavy duty patio umbrella that is actually very light on the wallet.
Considerably more budget-friendly than our earlier feature offset umbrella, but certainly not stingy with quality and durability, the Flexzion by Pro-Market is perfect if you are looking for a versatile and stylish addition to your backyard.
It has the unique addition of being an arched patio umbrella, which adds interest to the patio.
One special property of this Flexzion umbrella is that it features an anodized aluminum framework, which adds to its decorative nature.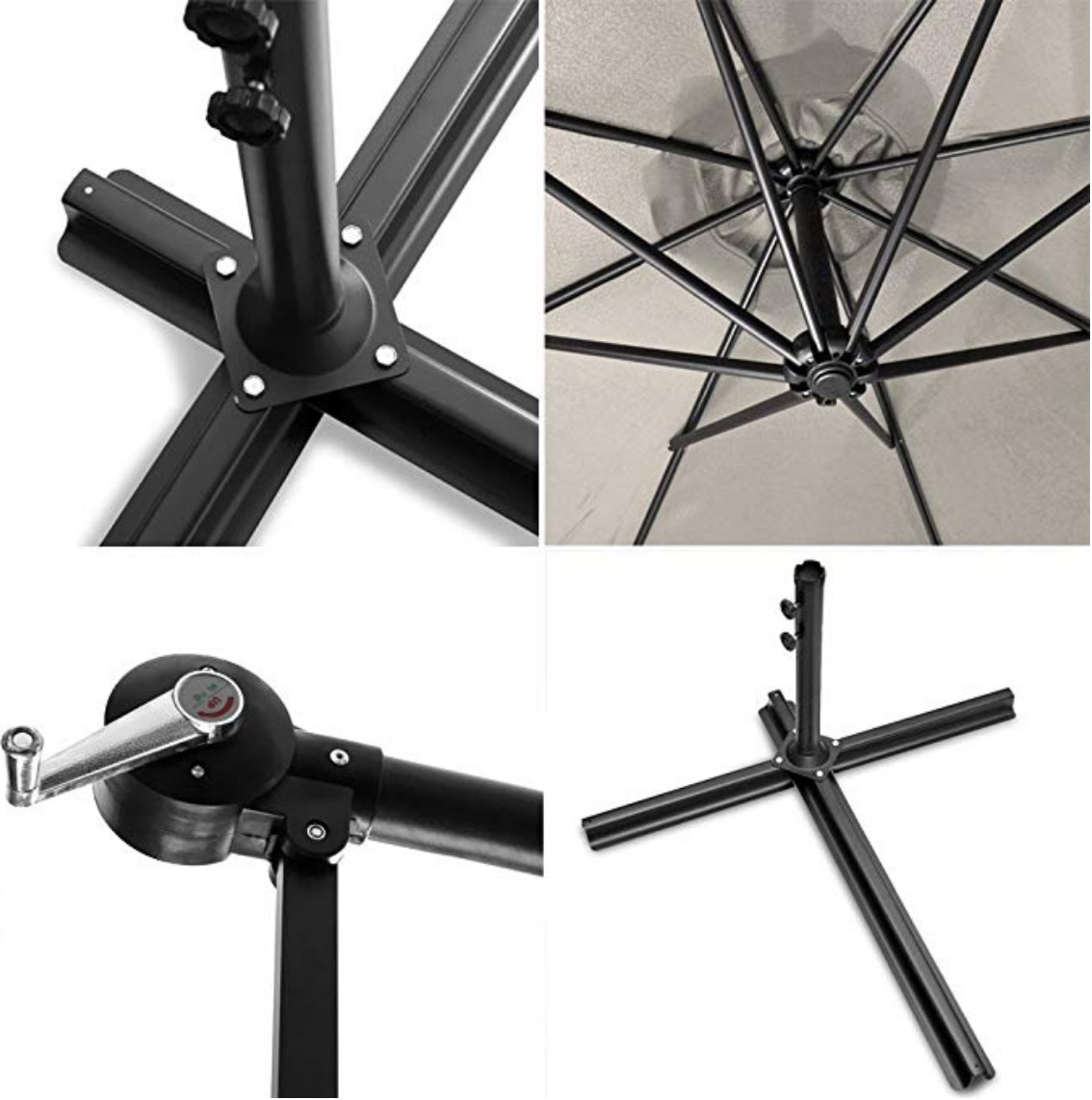 Anodized aluminum does not add to the strength of the frame of this umbrella, as some have asked, although it does make it slightly more durable. It is a chemical process that produces an anodic oxide finish. Anodizing the aluminum does help its resistance to corrosion, and it improves its appearance as well.
Now, as we've indicated with the previous umbrellas, one common problem with most of these umbrellas is because they are so wide (10′ in this case), the base is not going to keep them from falling over if there is a strong gust of wind.
In fact, you need to weigh the base of this umbrella down somehow or you will run into the same problem once again.
The picture below illustrates the dimensions of this model, and, as you can see, it's not going to stand up by itself. The base isn't designed to do that, and buyers should not expect it to be freestanding. Even if you close the umbrella, the base is not stable enough for wind not to knock it over.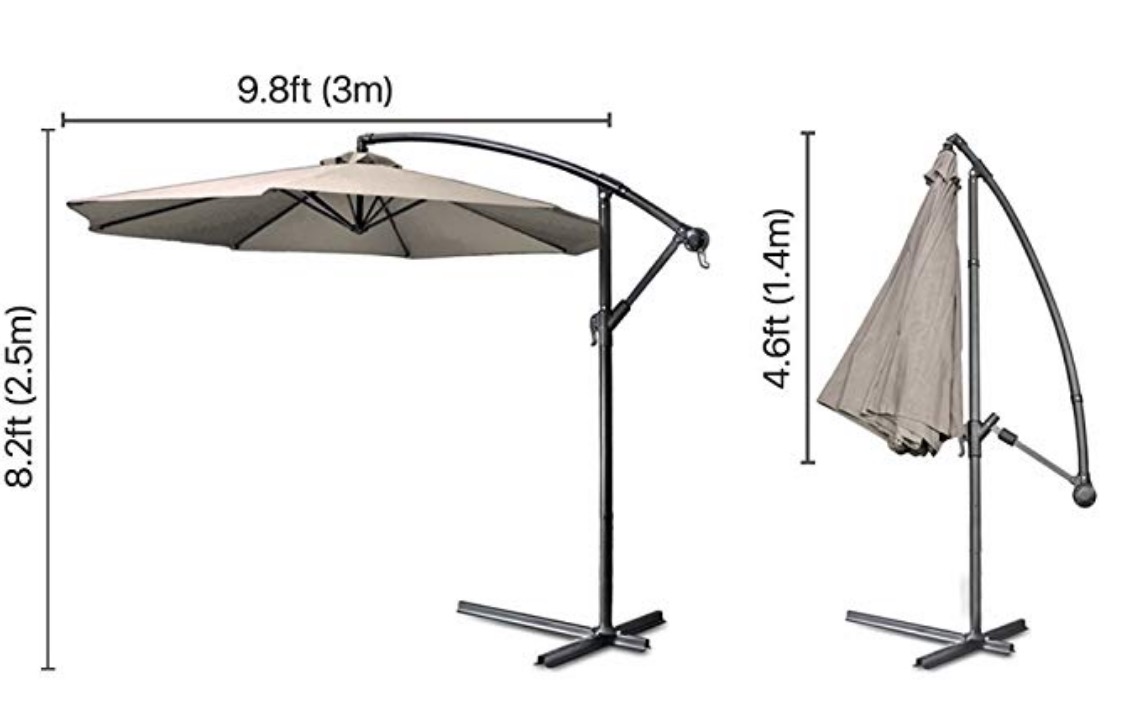 It seems that several people have bought this and other similar umbrellas assuming that they need no added base support, but it's worth noting that only certain umbrellas come with a fully weighted base and this is, once again, not one of them. This could be seen as a detractor, but we see it more as just something to be aware of.
So, before you buy, have a plan for how you will be supporting this umbrella once you purchase it.
Another thing you should know about this Flexzion umbrella is that it comes in only one colour, that being beige.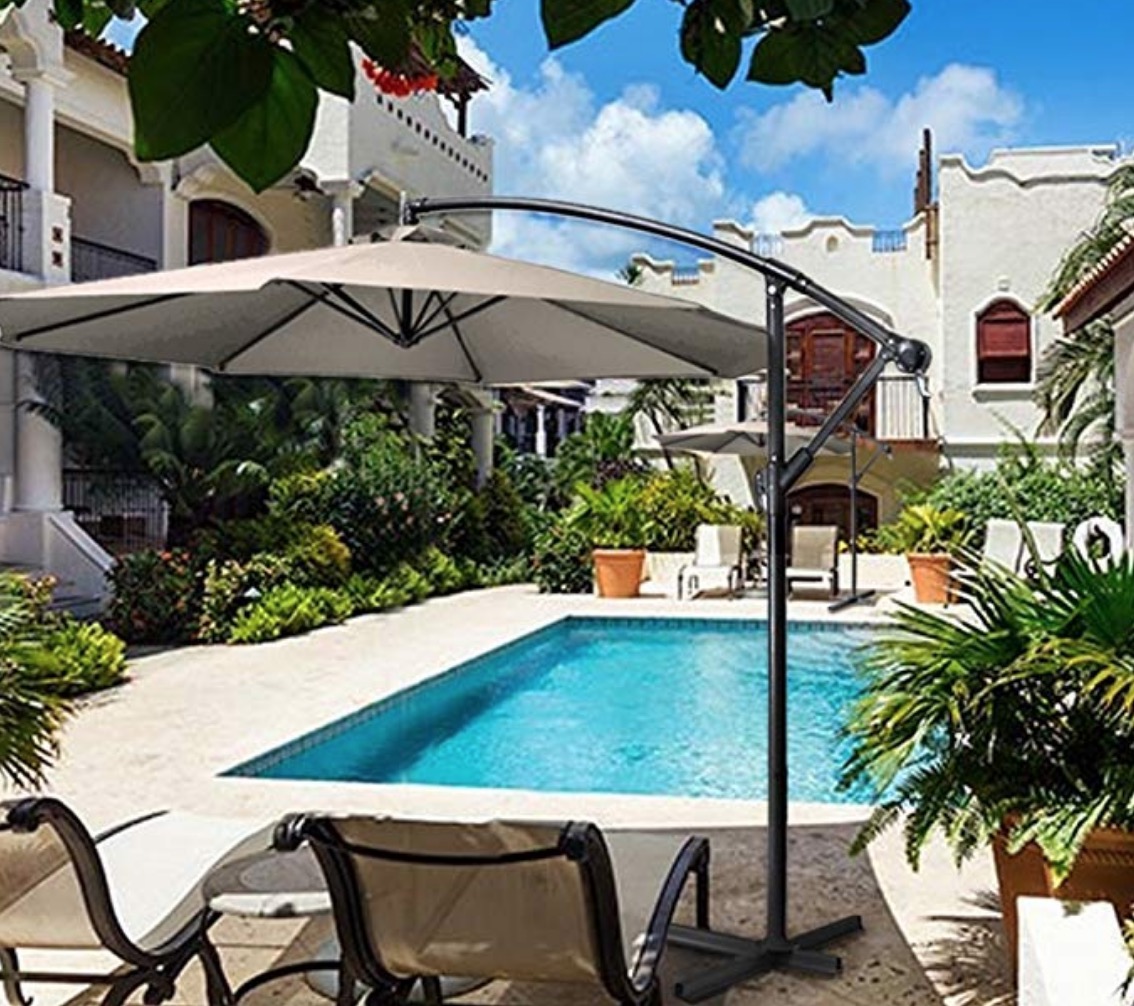 Ok, back to things we like about the umbrella and why it made this list. It sports a UV protected polyester canopy with vents built in for better air circulation, and, overall, we think the aesthetic of this umbrella is quite snazzy.
The adjustable stand with easy-tilt operation is there to make sure this umbrella delivers on versatility as much as it does on style and longevity.
Flexzion 10 Ft Patio Umbrella Offset Hanging Folding Sun Shade Cantilever W/Cross Base Crank & Canopy

We think that if you don't mind your umbrella being beige, this Flexzion umbrella does offer strengths in other areas making it worthy of your attention.
TropiShade TropiLight 9' Mood Lit Umbrella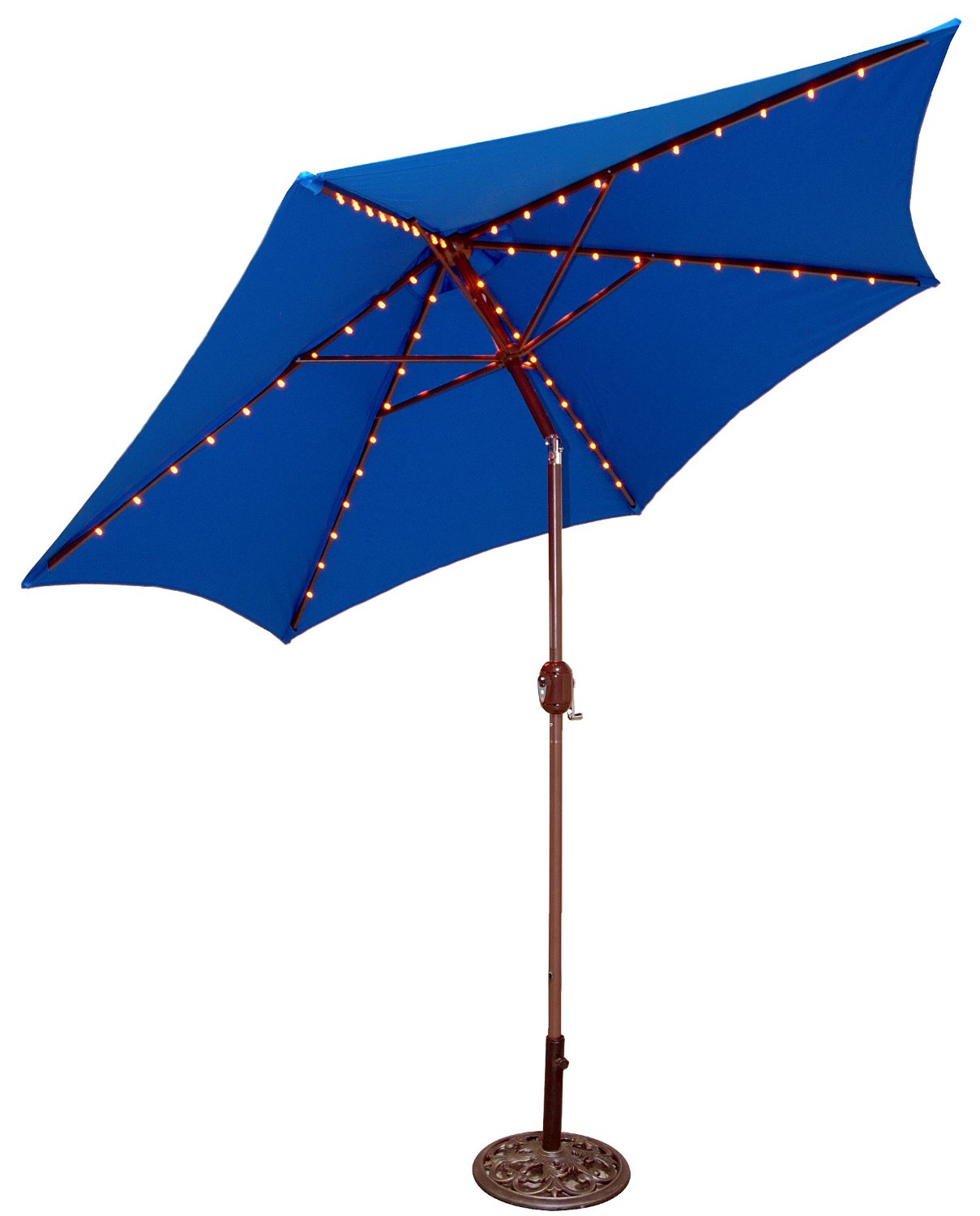 Tropishade-tropilight-led-9-feet-lighted-bronze-aluminum-market-umbrella
The TropiShade TropiLight Umbrella is certainly a change of pace.
This bronzed-aluminum frame patio umbrella with LED lights is perfect for nighttime relaxation in your backyard. The wind-resistant frame is versatile and adjustable, featuring a lightweight canopy with venting built in.
Notice what we said there? Wind-resistant frame, along with venting built-in. This combination, when it comes to patio umbrellas, is a winning one for sure.
It is now we should mention two things - one is that Tropishade is no fair-weather (no pun intended) patio umbrella company. They've been around a long time, and their reputation is solid.
Not only do they make a wide variety of popular umbrellas, including the light-up one we're looking at here, but their bases are probably our favourites of the bunch, with some seriously heavy duty and yet stylish models to choose from.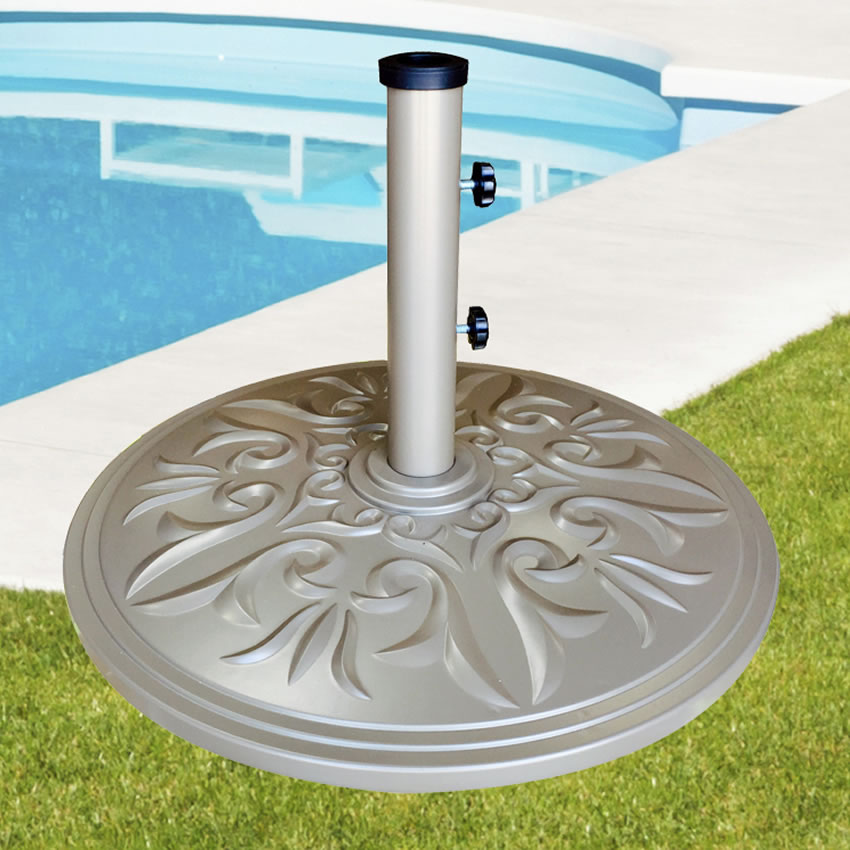 As you can see, this kind of base is designed to stay on the ground, so that the worst thing that could happen, is that your umbrella will tip over if winds are strong enough, but our testers report that it takes a mighty strong wind to do that.
Compared to some of the other umbrellas on this list that feature bases that simply need to be battened down, this Tropishade base at least stands a chance against gales of wind buffeting your peaceful backyard paradise.
This Tropishade umbrella comes in a very stylish set of colours, including: beige, green, navy, canvas white, and royal blue. The colour selection, while it isn't as large as some of the others on this list, has a very nice selection, in our opinion.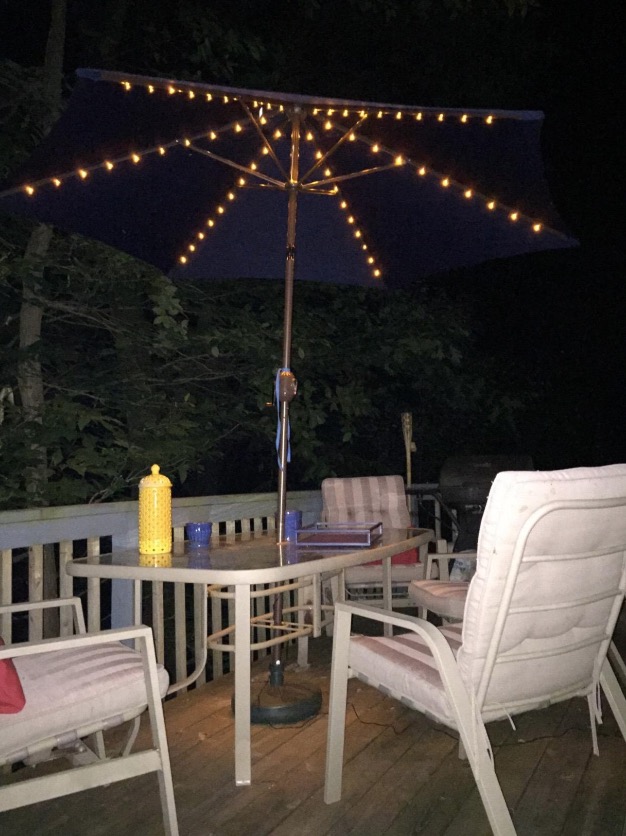 This umbrella is equipped with the mood lighting system which makes it a light fixture as much as it is a shading fixture, setting the atmosphere for a delightful outdoor patio under the stars.
The lights come with a cord that is easily extendable across your average sized deck, or you could use an extension cord. The point is, this is one of the few umbrellas on this list that makes sense to use at night, as an after hours party umbrella.
You can add some candles on the table, and this umbrella will definitely create a mood. It provides just the right amount of ambient lighting to light up the table and your guests' beautiful faces.
It also looks just fine in the daytime, and at 9′ around, it is a great addition to any backyard that gets a lot of sun. It is an adjustable model as well, although it doesn't do some of the more drastic adjustments as others do, it simply tilts the way you want it to.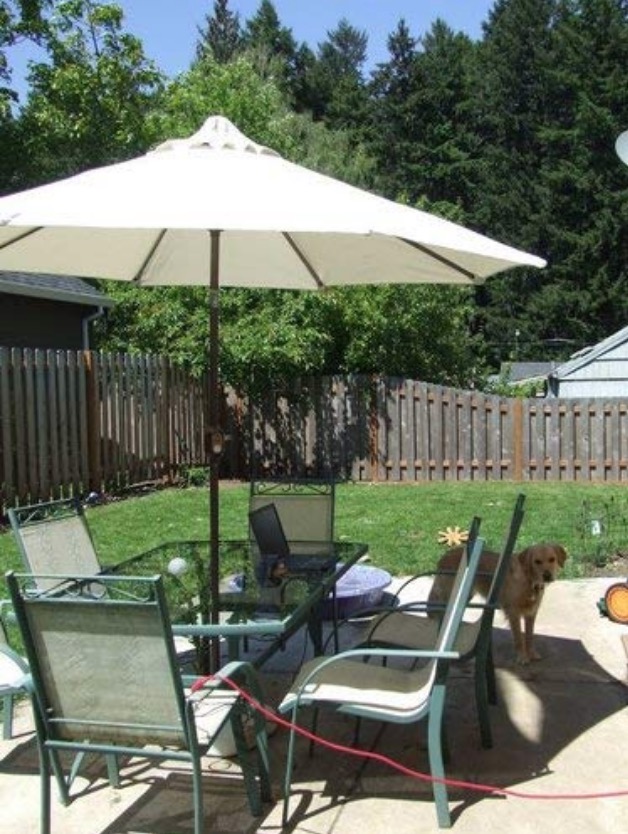 Tropishade Tropilight Led Lighted 9 Ft Bronze Aluminum Market Umbrella Without Navy Polyester Cover

If you're looking for the perfect treat to spoil yourself with, or the best piece to dazzle your guests with, the TropiShade is what you should go for.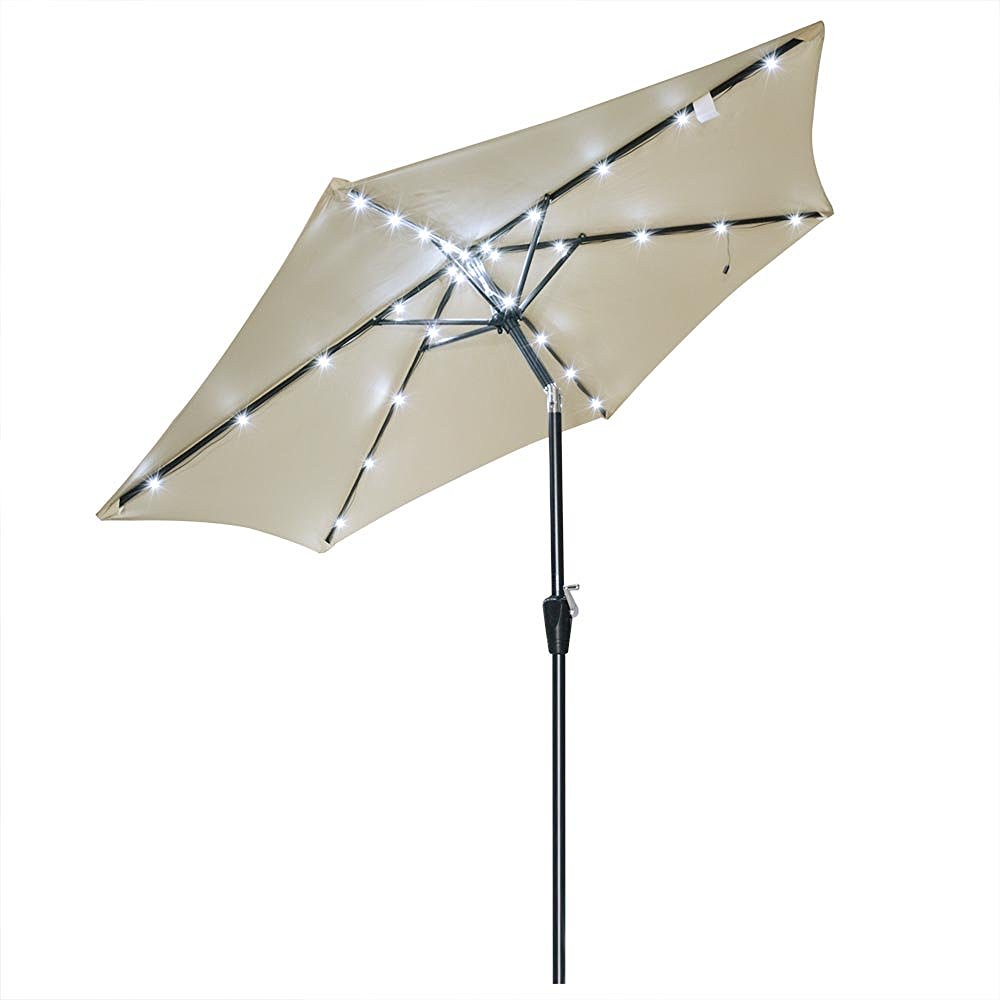 Yescom-8ft-aluminum-tilted-outdoor-patio-beige-umbrella-w-30-cool-white-leds-for-gazebo
Continuing the trend of beautifully mood lit umbrellas, the Yescom 8' Tilted Aluminium Umbrella is along the same lines as the TropiShade, but with a few different features.
Before we talk features let's talk size. In terms of size, 8′ is slightly smaller than most of what we've mentioned so far, but (there's always a but) 8′ means it's smaller and if you're looking for increased stability and don't mind a smaller size, smaller sized umbrellas do offer that.
Not to mention, the base on this model is actually fairly sturdy. It doesn't use any sort of cross bars like some others we've mentioned (attractive as they are from the pole up). Those aren't really the same thing as a solid base, which this one does offer.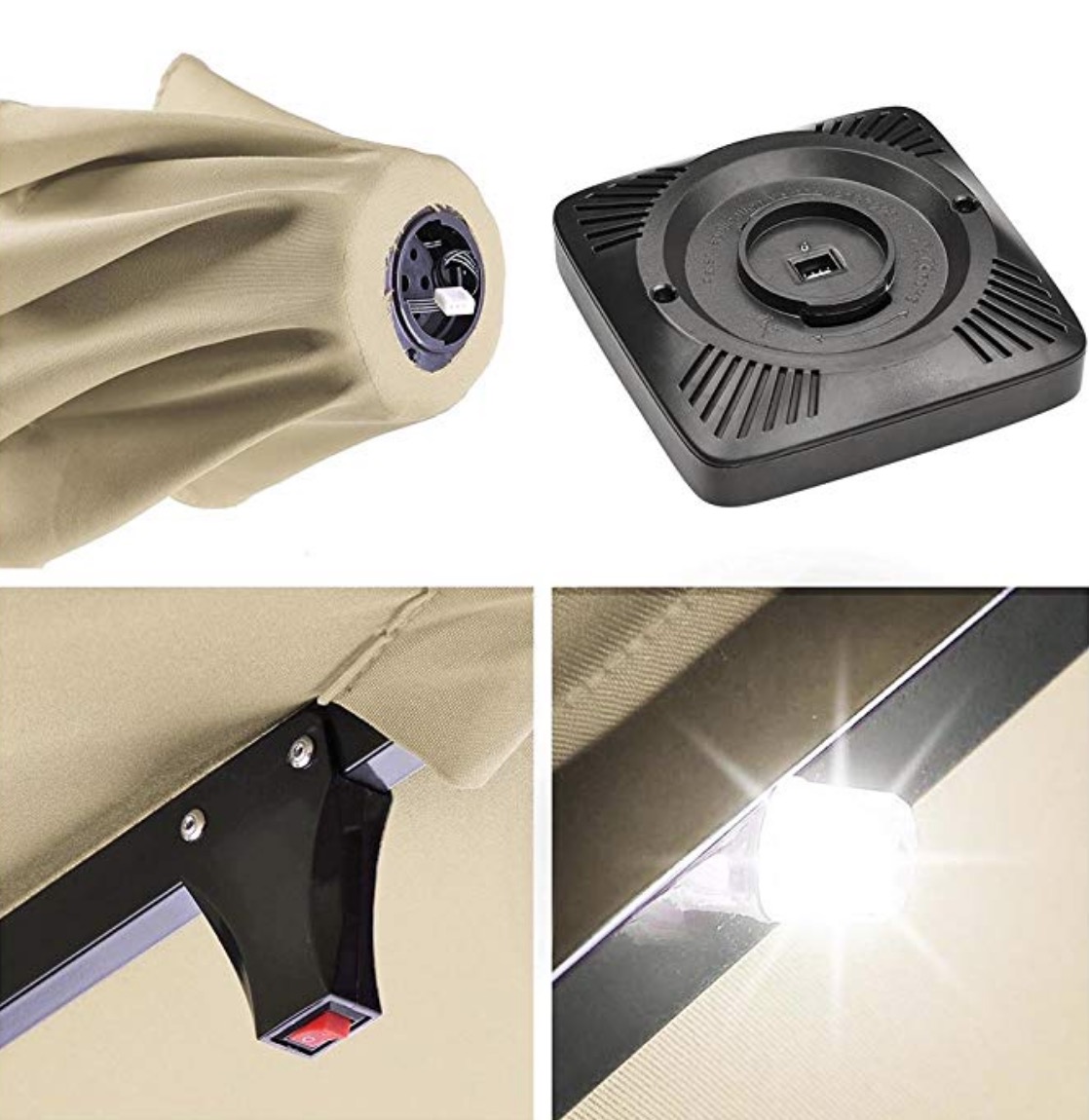 Something else to mention is that Yescom USA is a company out of California who is a very transparent online distributor who have been around since 2002, and they make a wide variety of items, although they started with cell phones.
If you visit their website, you can see they allow a place for customers to add their comment, and while not every single one is absolutely glowing, the fact that they have a dialogue on their website with their customers who can choose to either praise or denounce them means they are ready to take on criticism.
We've even offered our 2 cents in their forums about some of their products, and we would like to think they took our comments seriously.
Anyway, back to the umbrella in question. This outdoor solar powered LED umbrella sports a similar versatile and adjustable frame, making it excellent for placement and very easy to work with.
It, of course, has an array of beautiful white LEDs to light up your evening relaxation, making it the best patio umbrella with lights.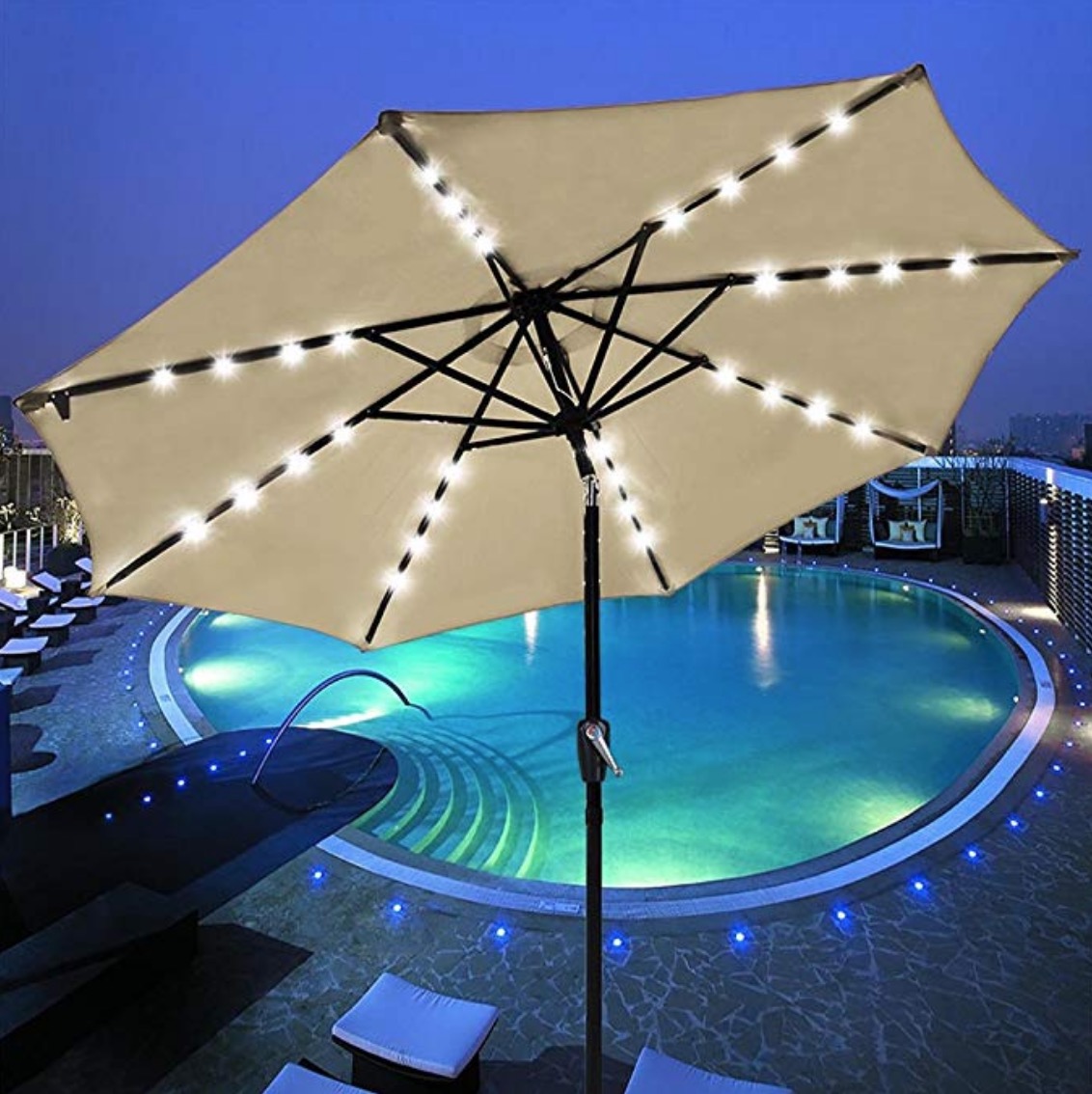 The canopy is fade-resistant, which is a much needed feature for any piece, especially one where the aesthetics are such a big selling point.
However, one of the coolest ad-ons to this model is the built in solar panel on top of the umbrella. Not only is it fighting off the sun to keep you in the shade, it also uses it to charge up the LEDs so you can have a beautifully lit evening later on.
Yescom 9′ Outdoor Solar Powered Led Umbrella 8 Ribs W/ 32 Lights For Patio Garden Deck

Yescom has definitely won us over with this design, and we think this is also a great umbrella if you have a pool that also features LEDs. Great combo!
Trademark Innovations 9' Half-Umbrella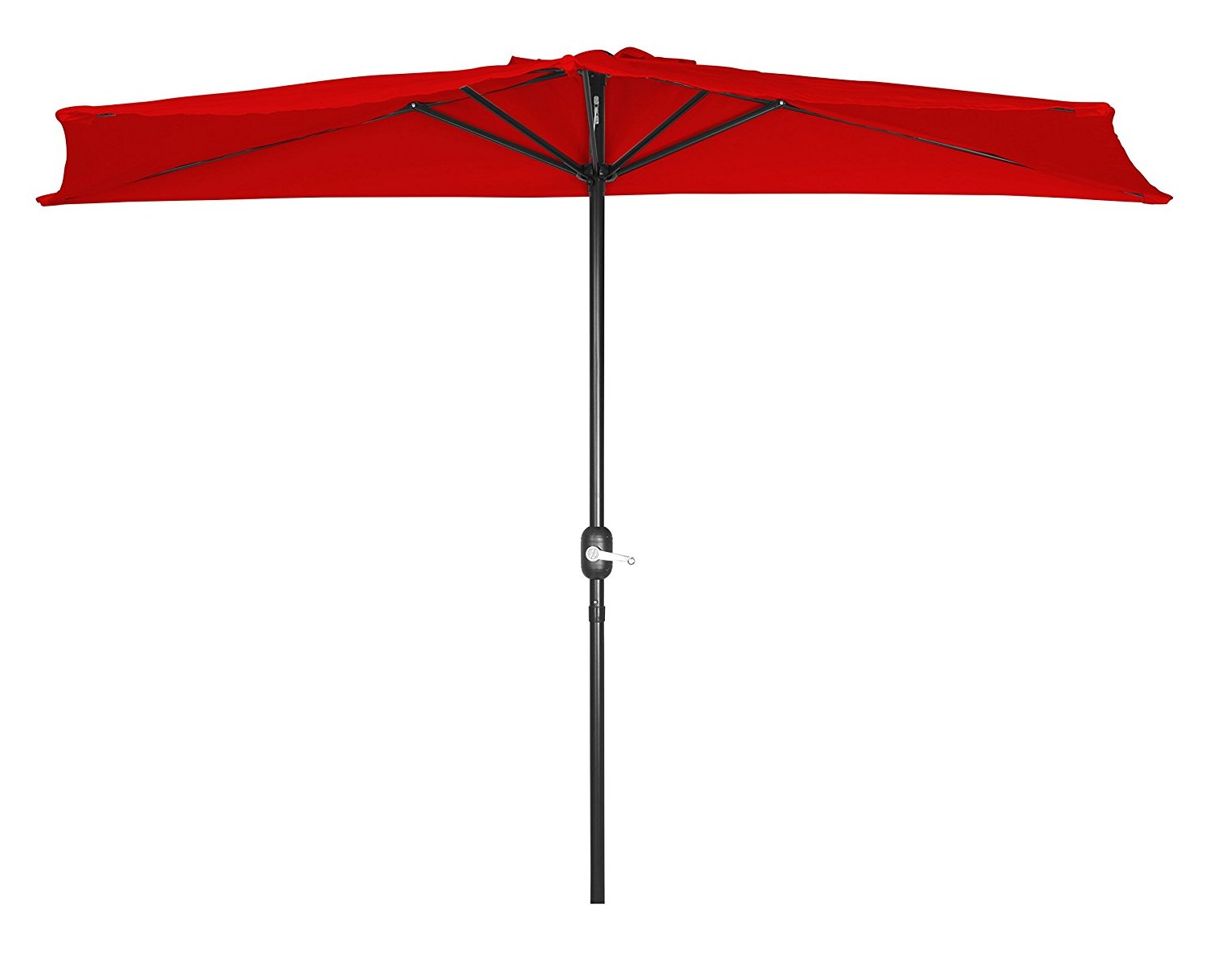 Trademark-innovations-patumb-patio-half-umbrella-9-feet-red
Now, if you're looking for something truly different, you should take a gander at the Trademark Innovations so called Half-Umbrella.
Intriguingly enough, it is an umbrella that looks like half of an umbrella, much like the name implies. Do not be fooled, however, as it is still a considerably sized canopy, just with a particularly quirky design.
Aside from being fun and quite the head-turner, this model is actually brilliantly practical. It features the same durable and versatile frame as all the superstars in our lineup plus some advantages brought on by it's shape.
The halved design allows for easier placement along walls or even as an extension to gazebos or other canopies. It also works well for anyone with a smaller patio or balcony, even, where the umbrella has to sit up against the wall.
At the same time, the flat side allows for more effective coverage of hard to reach areas, as opposed to circular designs which always leave unavoidable openings because of the circumference arching away.
Trademark Innovations 7' LED Lighting Umbrella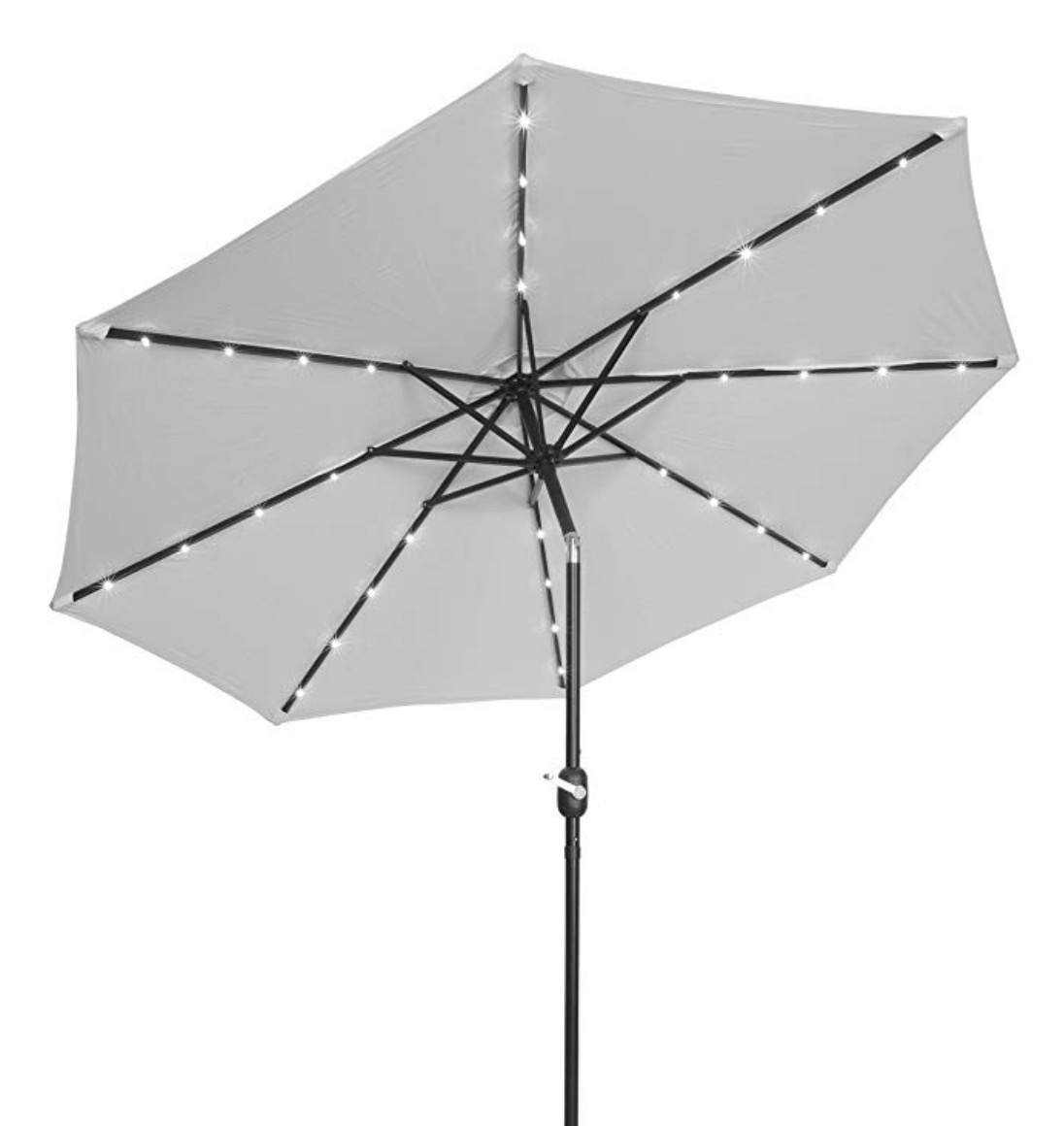 Taking it up a notch, since we've talked about practical market umbrellas as well as the enchanting LED mood lit umbrellas, wouldn't it be great if there was a combination of the two?
Well, Trademark Innovations definitely has us covered on that front (both literally and metaphorically). This isn't your average deck umbrella.
The 7' LED Lighting Umbrella combines the unique design of their their trademark style with the functionality and style of LED lit umbrellas making it an absolutely stunning addition to your backyard.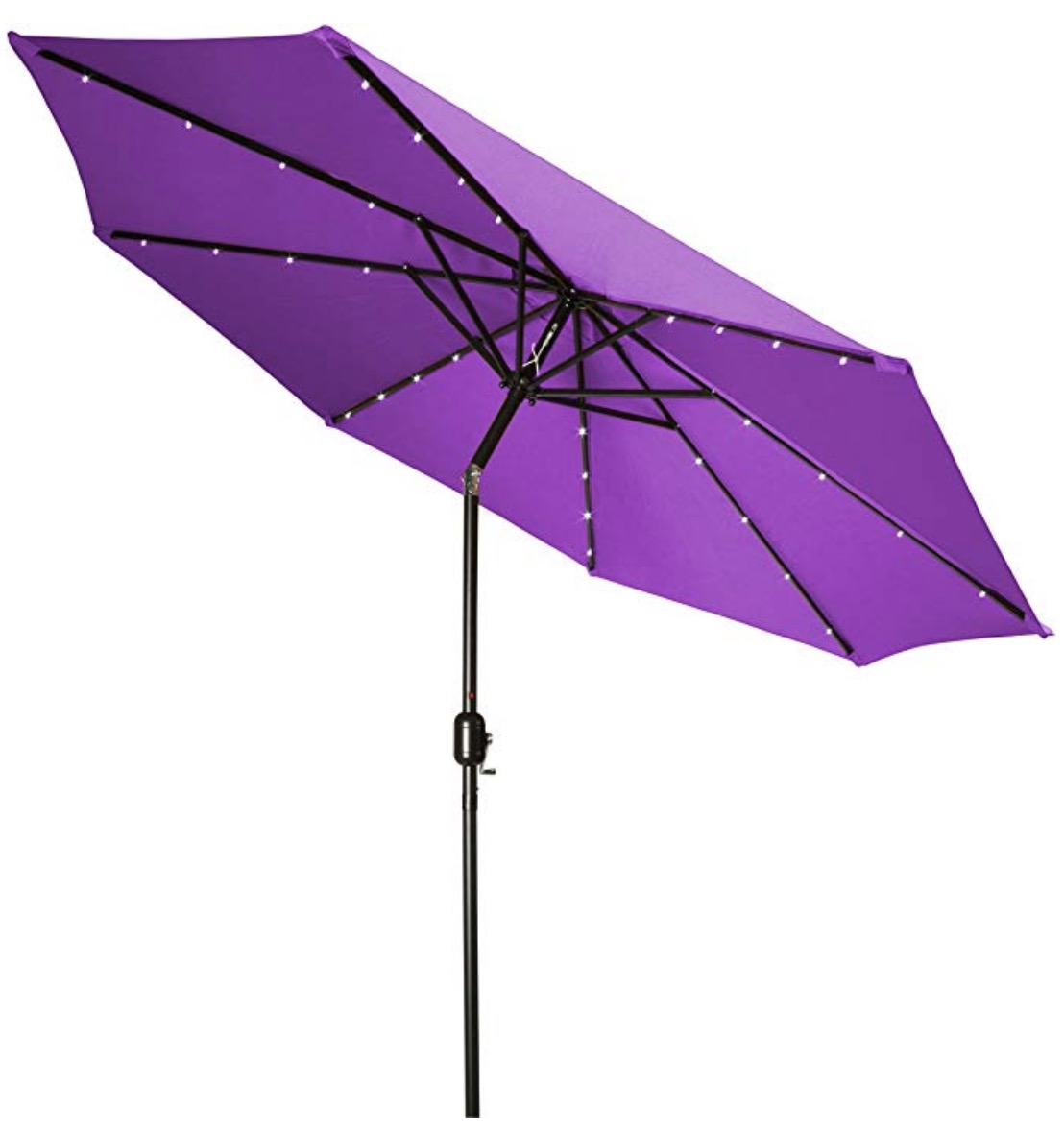 Take note of the array of gorgeous LED lights on its underside which are not only beautiful but also great for lighting up a spot on your patio for hanging out, reading, or entertaining.
The umbrella is equipped with solar panels so it's not just fighting off the sun for you, but also charging the LEDs with up to 9-12hrs of battery life.
As a consequence, the Trademark Innovations LED Lighting Umbrella does not need you to go through the hassle of plugging it in or charging it.
This is a well received product by a well received company. It's definitely worth a look!
San Diego Shade Sail Rectangle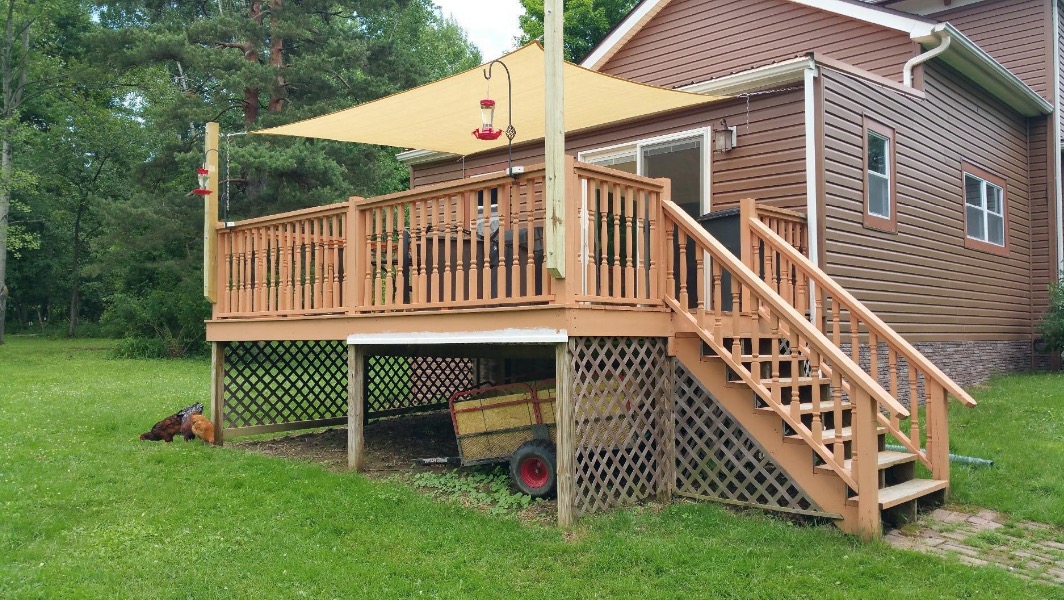 Next in our lineup of shade providing champions is the San Diego Shade Sail Rectangle.
The shade sail is not quite your typical umbrella, but rather a hanging canopy. This design accomplishes several impressive feats.
Unlike most backyard umbrellas, the canopy and hanging system do not rely at all on any kind of pole or frame making it one of the lightest and least hassle options for shade in your backyard.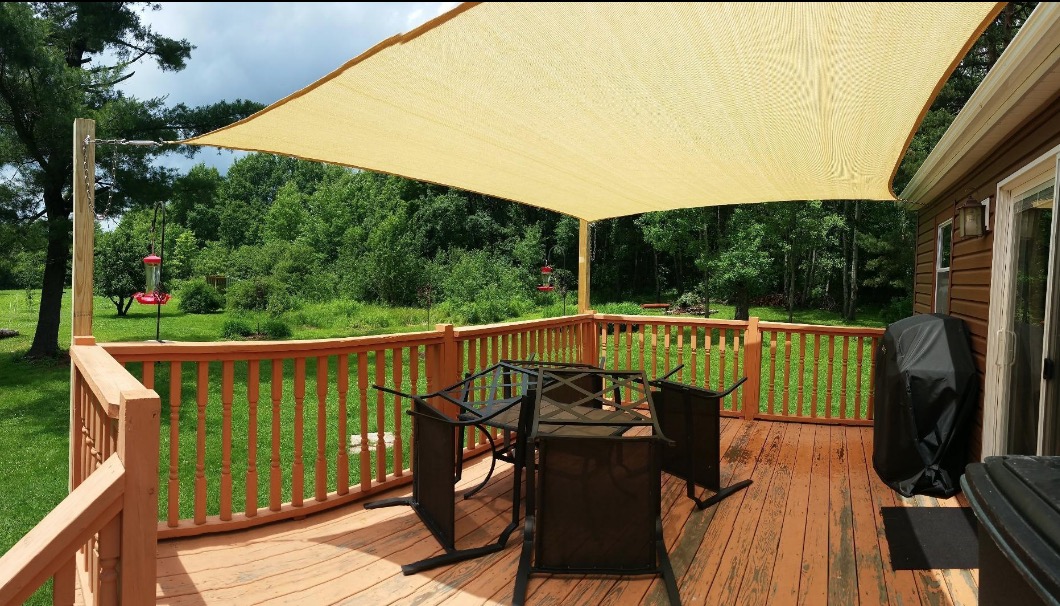 At the same time, this also allows it to actually be much larger than most umbrellas, clocking it at a phenomenal 12 by 8 feet (measured from D-ring to D-ring).
At the same time, the rectangular shape lends itself to much more effective coverage and easier alignment with other elements of your backyard since you don't have to worry about the circular shape arching away and leaving corners uncovered.
Shade&Beyond 10'X13′ Rectangle Sun Shade Sail Sand Color For Patio Lawn Deck Garden Pergola

Getting shade over large dining tables or patio chair arrays will be no problem with this one!
Blue Wave 10' Santorini II Square Cantilever Umbrella
Santorini Ii 10-Ft Square Cantilever Umbrella W/ Valance In Stone Sunbrella Acrylic

Finally, the last contender in our rockstar compilation of backyard shade ideas is the Blue Wave 10' Santorini II Square Cantilever Umbrella.
Nothing short of a jaw-dropping heavyweight, this umbrella is perfect for anyone in need of an absolutely luxurious canopy and a LOT of shade coverage.
The Blue Wave incorporates a lot of useful features like the offset cantilever build as well as the square canopy shape.
When we talk about the best patio umbrellas, we're talking big, durable, sexy umbrellas. This is one seriously strong patio umbrella.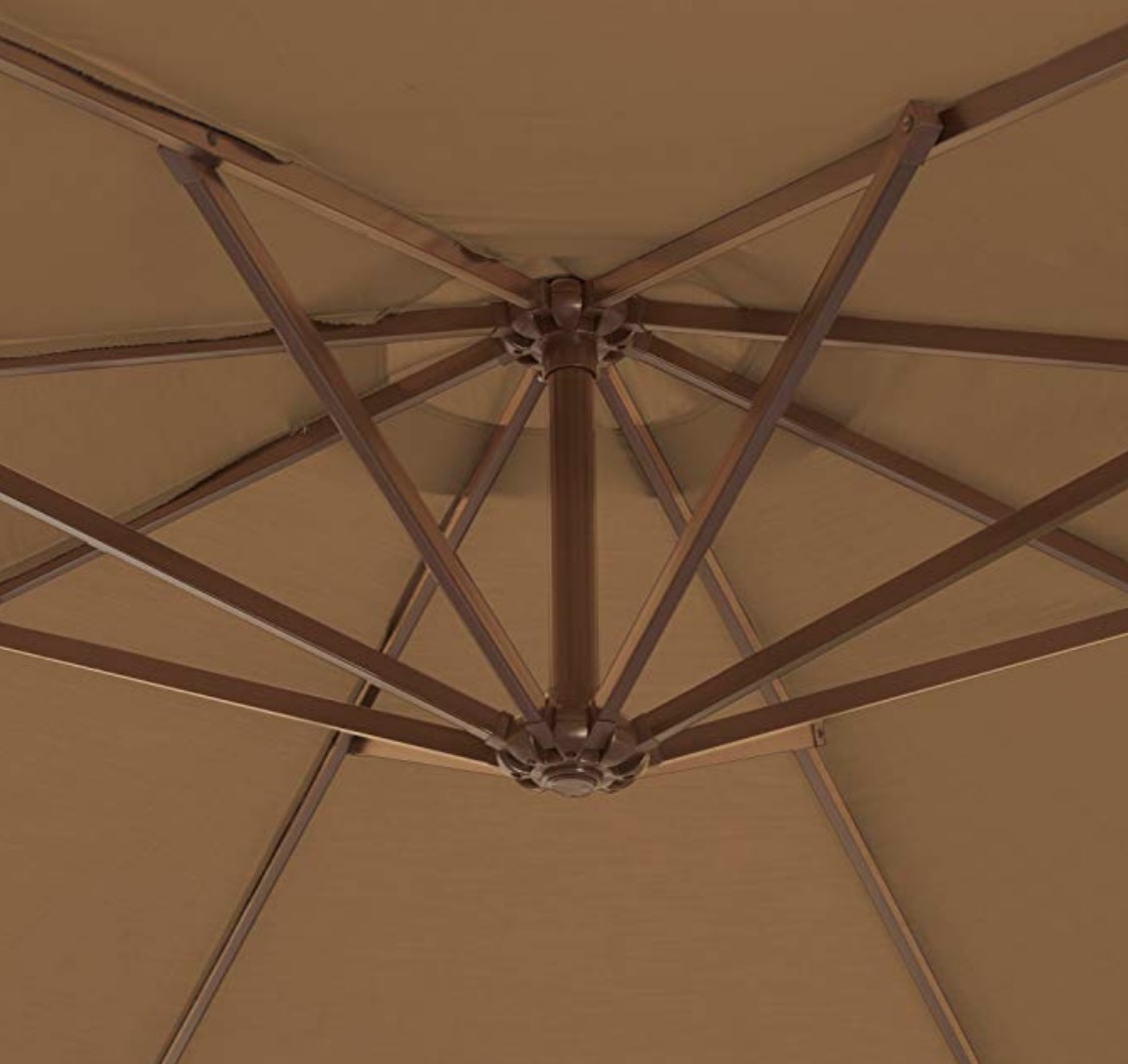 The square canopy, as we've mentioned before, allows for much better coverage and alignment, while the offset pole makes it that much easier to integrate among any of your backyard elements.
Most umbrellas with a centred pole would need to be placed right in the middle of where you want the shade to be in order to be effective.
With the offset pole, they can be conveniently placed off to the side of what you want covered in cool relaxing shade. Adding to this
The Blue Wave umbrella here has a 360 degree rotating system as well as a locking canopy tilt and orientation system making it surprisingly easy to maneuver despite it's size.
While it is a bit of an extra expense, it is a product well worth the investment. It is particularly durable and well build, featuring a 5 year warranty on the canopy and a 2 year warranty on the pole.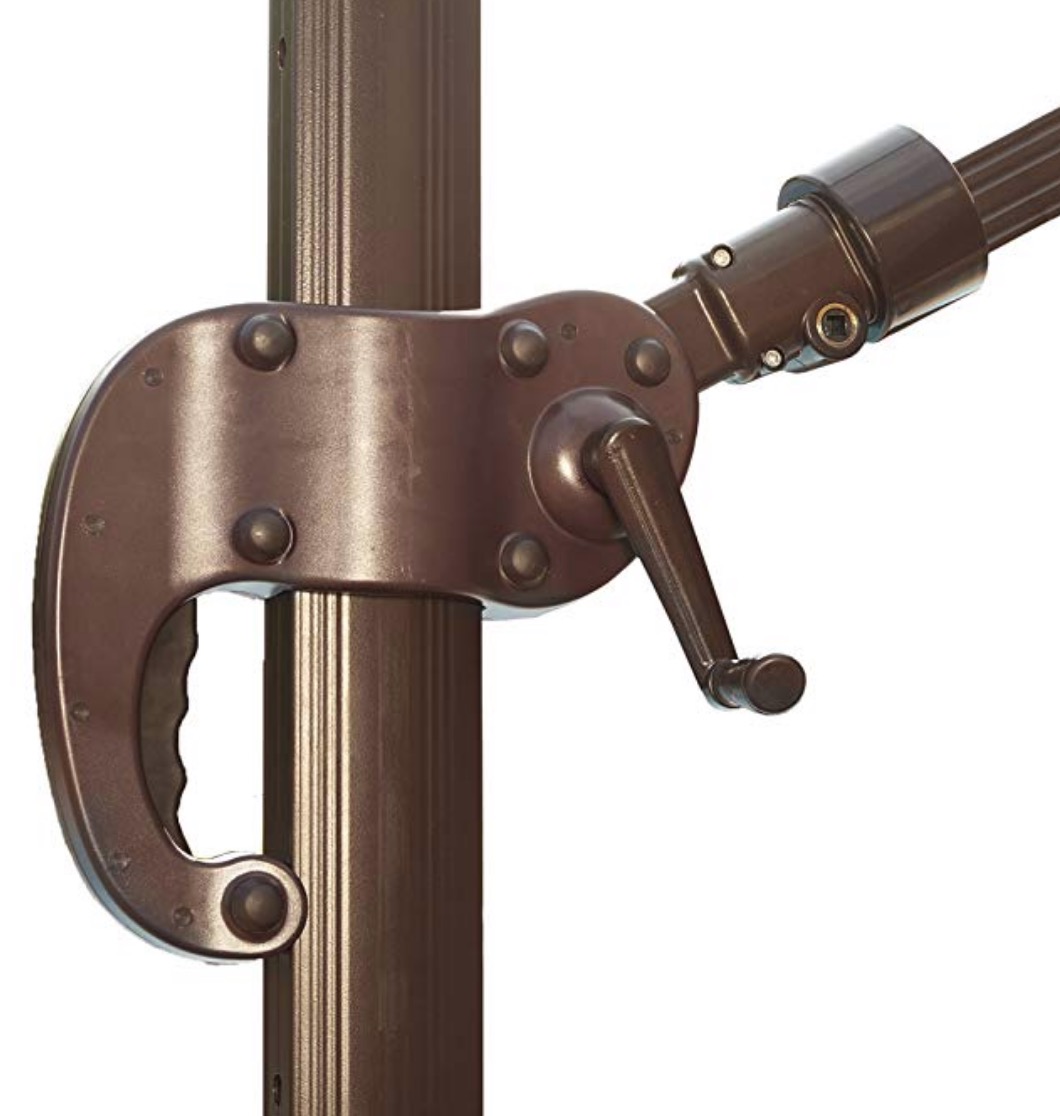 At the same time it is stylish and sleek, but will not be difficult at all to integrate with your decor. All these features aside, the one main advantage and selling point of The Blue Wave is that it is…well……huge and beautiful.
It is a design that firmly states indulgence and luxury. It towers over users and their guests, like an impressive monolith of shade and relaxation.
For those looking for ultimate coverage, this is undoubtedly the umbrella for you!
That's it for the umbrellas. If you still find yourself still in need for more shade options, you should take a look at some gazebos. Here is our review of the best canopy gazebos as well as our review of the best hardtop gazebos.
How to Tilt Patio Umbrella ?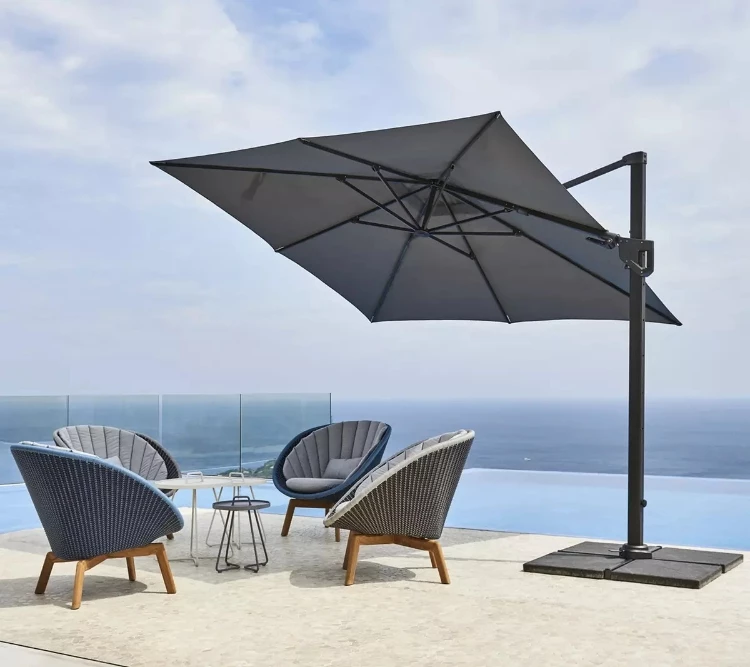 To tilt your patio umbrella, first find the tilting mechanism. This is usually a knob or lever located near the top of the umbrella pole. Once you've found it, simply turn it in the desired direction to tilt the umbrella.

Most patio umbrellas can be tilted to one side or the other, but some can also be tilted forwards and backwards. Experiment with your particular model to see what range of motion it offers.

Benefits of Having a Patio Umbrella
Did you know that having a patio umbrella can provide you with a number of benefits? Here are just some of the reasons why you should consider getting one for your home:
A patio umbrella can provide you with much needed shade on hot summer days.
A patio umbrella can also help protect you from harmful UV rays.
A patio umbrella can add a touch of style and sophistication to your outdoor space.
A patio umbrella can be a great way to create an intimate setting for entertaining guests.
So, what are you waiting for? Get a patio umbrella today and enjoy all the benefits it has to offer!

Different Types of Patio Umbrellas
When planning to buy a patio umbrella, it is important to know the different types that are available in the market. Here is a list of the most popular types of patio umbrellas:

1. Cantilever Umbrella
This type of umbrella is supported by a single pole that is positioned off to one side. This allows for more space underneath the umbrella, making it ideal for large patio areas.

2. Market Umbrella
This type of umbrella is very similar to the cantilever umbrella, but it has a double-sided support pole. This makes it ideal for use in windy conditions.

3. offset Umbrella
This type of umbrella is supported by a base that is positioned away from the center of the umbrella. This allows for more coverage and is ideal for use in shady areas.

4. Table Umbrella
This type of umbrella is designed to be used with a table. It has a support pole that is positioned in the middle of the umbrella, making it ideal for use in small spaces.

5. Thatched Umbrella
This type of umbrella is made from natural materials, such as straw or reed. It is often used in tropical climates and provides excellent shade and protection from the sun.

Now that you know about the different types of patio umbrellas, you can make an informed decision about which one would be best for your needs. Be sure to take into consideration the size of your patio, the type of climate you live in, and your budget when making your final decision. With a little bit of research, you should be able to find the perfect patio umbrella for your home.

My Expert Tips for Keeping Your Patio Umbrella
Keep it clean - Regularly sweep your umbrella off and hose it down to keep dirt and debris from accumulating.
Check for damage - Inspect your umbrella regularly for rips, holes, or other damage that could cause it to leak or collapse.
Store it properly - When not in use, store your umbrella in a cool, dry place out of direct sunlight to help prevent fading and damage.
Protect it from the elements - If possible, cover your umbrella when not in use to protect it from wind, rain, and snow.
Be careful with it - Avoid slamming or dropping your umbrella, as this can cause damage that is not always visible.
By following these expert tips, you can help keep your patio umbrella in great condition for years to come!

Conclusion for Patio Umbrella Buyers
If you're in the market for a patio umbrella, there are a few things you'll want to keep in mind. First, consider the size and shape of your patio table. Umbrellas come in a variety of sizes and shapes, so it's important to find one that will fit your table perfectly. Second, think about the style of umbrella you want. There are plenty of options out there, from traditional to modern styles. Third, consider your budget. Patio umbrellas can range in price from very affordable to quite expensive, so it's important to set a budget before you start shopping. Finally, keep an eye out for sales and special offers. Many retailers offer great deals on patio umbrellas during the spring and summer months. By following these tips, you're sure to find the perfect patio umbrella for your needs.

Related posts: