Gazebos are a convenient and attractive way to finish off a backyard by creating a focal point and providing a sheltered area to relax and enjoy time with friends.
On this website, we've reviewed some of the best hard top gazebos, and best soft top / canvas canopy gazebos currently available, and there's no doubt that there's a certain enthusiasm growing for each style of structure when it comes to backyard entertaining.
Sojag Mykonos II Double Roof Hardtop Gazebo

Sojag Roma Soft Top Gazebo

PenGuin All-Season Hardtop Gazebo

One thing that often makes folks leery about installing gazebos in their backyard is, besides the price tag, which can be hefty, is where and how to set them up. Some common questions we hear are, "Will a handyman be needed?", or "Do I need special tools to do this?"
Here we walk you through the process so that you can learn how to set up both hard top and soft top gazebos on a concrete patio, grass, or pavers. Setting up your own gazebo will save you money and give a sense of pride in having built it yourself!
The assembly process is very similar for the first few steps when building either a soft or hard top. After selecting the location, you will have to level the foundation and, if the gazebo will be a permanent installation, set the posts in cement.
Once the cement has cured to concrete, you can then go ahead with the final steps in the assembly process. We will go into greater detail later in the article.
It could be that you are setting up a temporary gazebo for an event or at the cottage, for example. These posts obviously will not be set in cement, but will require some anchoring. We will be sure to cover all possibilities later in the article.
Before you begin assembling the gazebo, there are some things to take into consideration: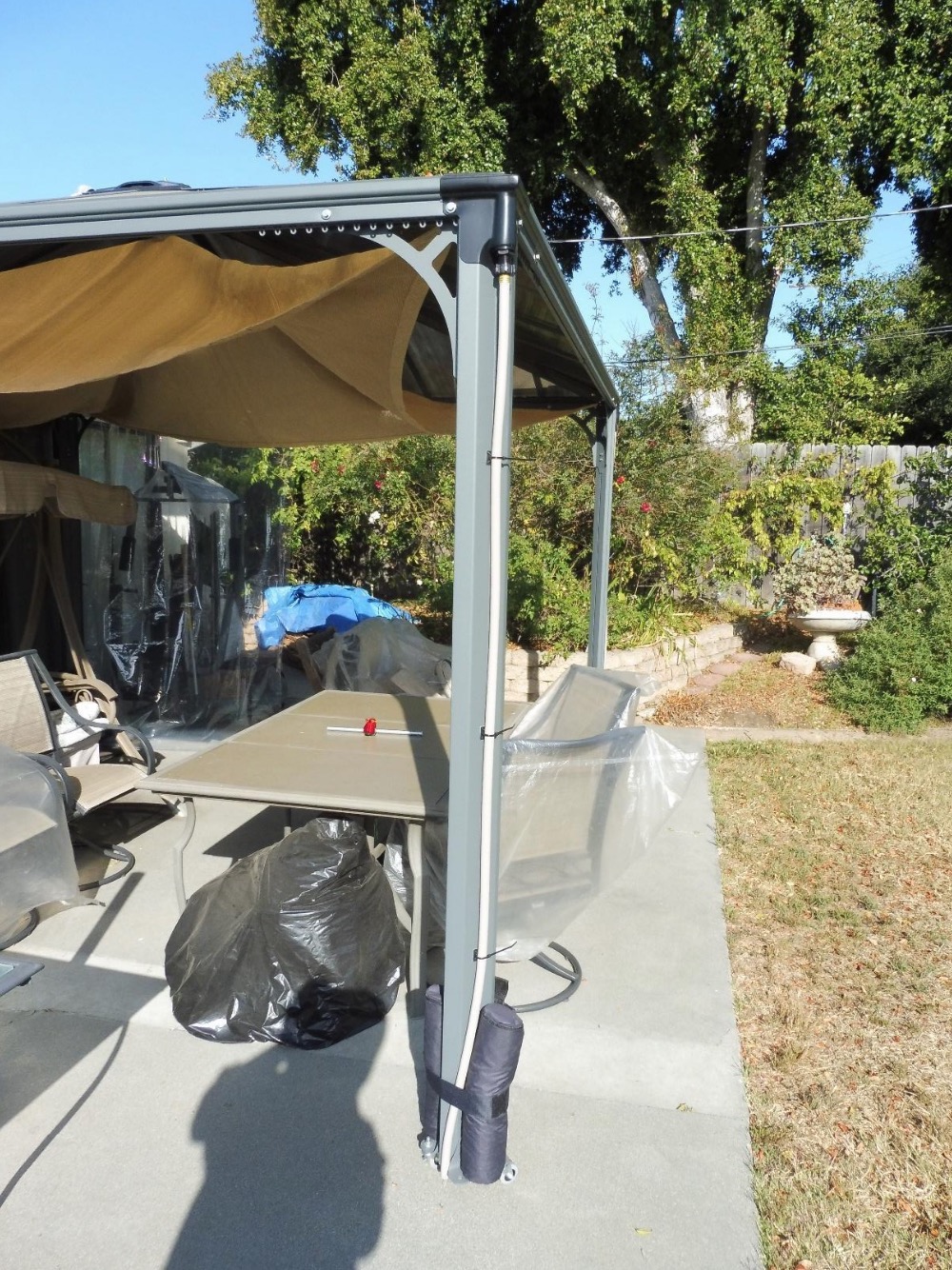 Location
Select your desired location. Look at the land. Is it fairly flat? Will it be easy to level? Could a gazebo remain stable on that terrain? Then, take out a tape measure and take note of the available dimensions.
This will help narrow your search for the right gazebo. One last thing to consider is the sun's movement: where does midday sun hit? Do you want shelter from midday sun? And so on.
Cost
There is a noticeable difference in cost between hard and soft top gazebos. Hard top gazebos require more labour to produce the parts, whereas soft top canopies are easier to make. The look and atmosphere provided is drastically different.
Tools
There are few tools you will need to build your gazebo: a ladder, screwdrivers, and a hammer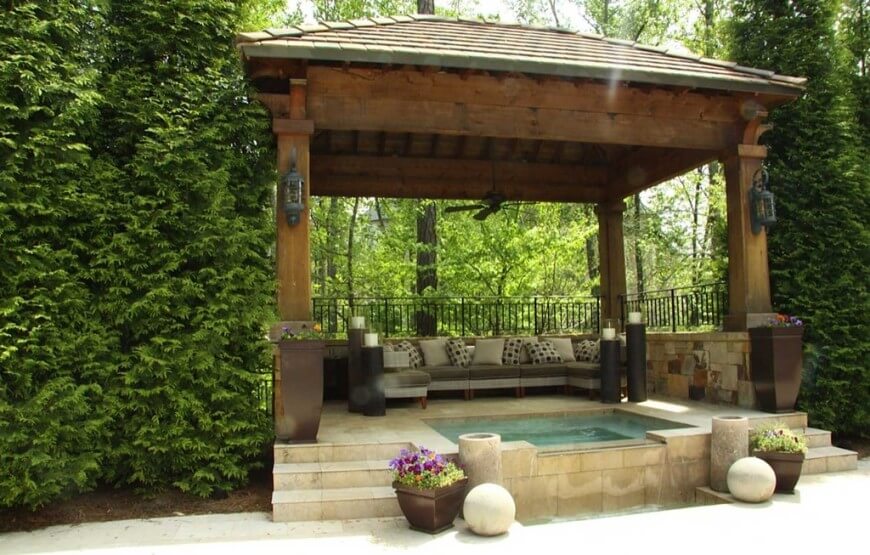 Is it hard or soft top?
Soft top gazebos are much easier to assemble than hard tops. The canopy comes as a single piece that can be attached to the posts.
Hard top gazebos will be heavier but provide protection from sun and rain and make quite a statement in the yard.
If you are setting up a gazebo for an event, then you will want to opt for a soft top since they are more temporary in design.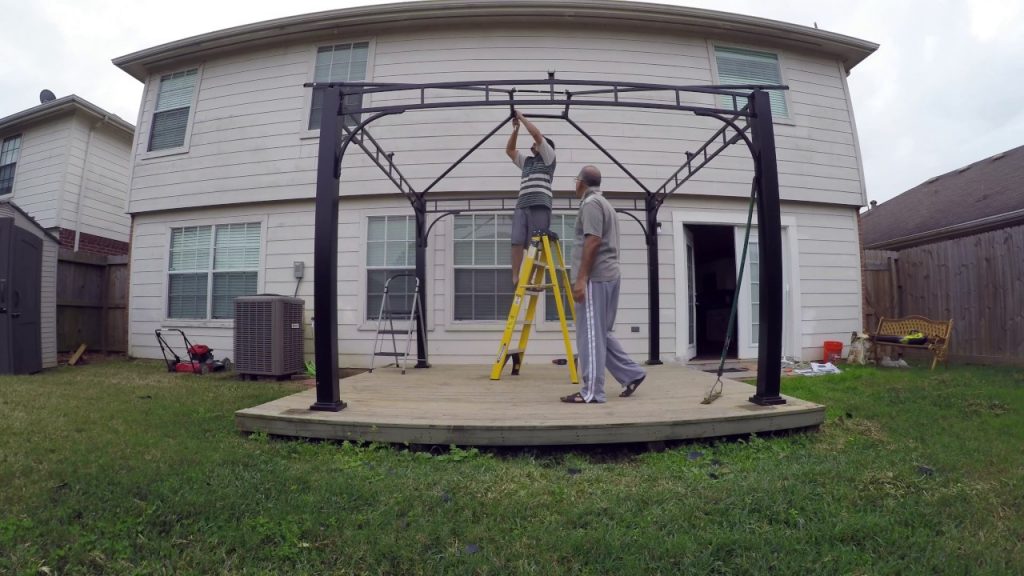 General Assembly Process
It is useful to have an extra set of hands when building anything: someone to fetch the tools, double check your measurements or stand back to give a second eye/opinion. They will help stabilize the frame while you build, and putting a second drill or screwdriver into their hands will greatly decrease your labour time, giving you more time to relax and enjoy your new gazebo!
First, figure out the location of the gazebo. The ground should already be fairly level.
If you are installing a prebuilt gazebo, it is especially important to find a level spot of land because the posts come at a pre-cut length.
A custom build, however, is more accommodating of uneven terrain: for example, a sloping backyard. The posts would be cut at different lengths to accommodate the slope while maintaining a level canopy.
To level the ground, take a shovel and move dirt from the high spots to the lower spots. A level ground will help smooth out the installation process; level ground will keep the gazebo stable and prevent possibly injury.
The very first step is to take all parts out of the boxes, including hardware, and lay them out flat on the ground. Make sure everything is included.
Now, look at the instruction manual and pair assigned hardware with according pieces. This bit of organization will help save time and stress when you are building it later on.
Now that you have laid out all the pieces and ensured everything is present, take a look through the instruction manual to familiarize yourself with the process before actually doing it. It's good to get the impression into your mind before delving in.
Like a food recipe, it is wise to look through all the steps before taking action; this way you will familiarize yourself with what to expect. For example, after having completed a step, you will know when or where that comes up again in the installation process. It stops us making pre-emptive decisions that may be incorrect.
Soft Top
It is advisable to lay the soft top canopy out on dry grass, in the sun, while you build the frame. The sun will warm up the fabric, making it more pliable and therefore easier to install.
Some soft top canopies/gazebos have frames that come as one piece and can simply be unfolded or extended to their full shape.
It is important to anchor the posts to the ground with stakes or other hardware supplied by the manufacturer of your gazebo.
Gazebos with folding frames usually require the builder to attach the canopy to a frame unfolded ¾ of the way, so that when the builder fully extends the frame, the canopy is already attached and stretches out taut. The pole lengths will likely be adjustable; adjust to your desired height and enjoy.
Hard Top
Installing hard top gazebos requires more than one person. There will be some heavy lifting and many pieces to put together and will take the course of two full days with multiple helpers.
Hard top canopies may require more tools than the soft top counterpart, since there will likely be panels or pieces to put together.
Soft top canopies ship easily as one piece, because they can be rolled up into a box. Hard top gazebos are shipped in multiple pieces to make the packaging as compact as possible.
It helps greatly to build the hard top canopy on the ground than to try and maneuver around on ladders, risking injury or misalignment.
We advise you to screw all screws just tight enough to hold everything in place until you are sure all the pieces line up perfectly. Then you may tighten them.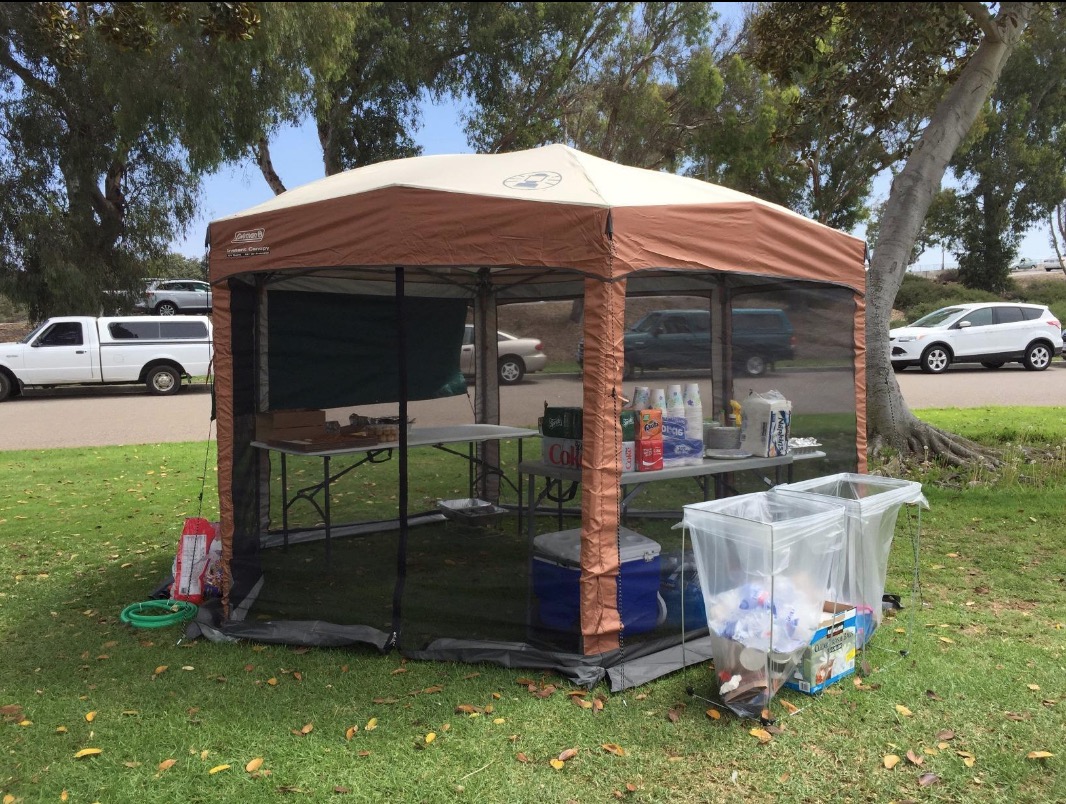 Installing on Grass
The most important factor in installing a gazebo on grass is a stable foundation. A stable foundation ensures structure security while putting your mind at ease during higher winds. A stable foundation begins on level ground.
Do you want a grass floor or a wooden floor? We include instructions for creating both a grass and wooden floor.
Most often when gazebos are installed on grass, the builder will also assemble a wooden floor for comfort and stability, especially if you are using the gazebo to entertain and dine.
It is not advisable – in fact, we forbid it – to have a gazebo over a firepit, where you would want raw grass. Or perhaps the gazebo is being used for a short-term event and will be taken down once again.
Measure out the surface area
Using a measuring tape, measure out the area that will be covered by the gazebo. You will need these dimensions to create a foundation of sorts and to lay weed barrier. It also helps you envision the yard with gazebo.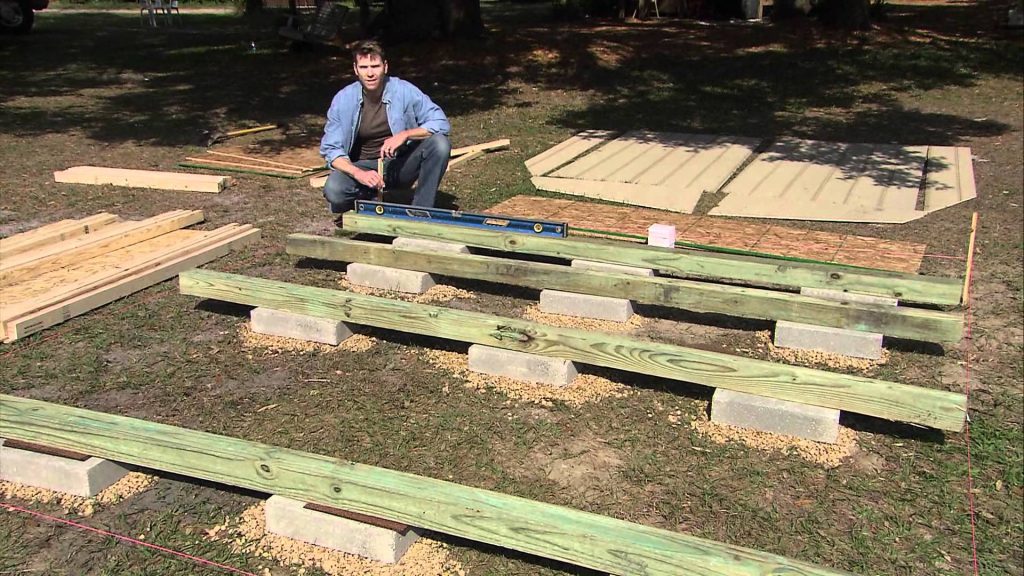 Level the ground
A level foundation ensures stability and is pleasing to the eye. You will want help for this. Using shovel, dig the dirt from the high spots and use it to fill any low spots.
If installing a wooden floor, where do you want that floor to sit? You can dig about five inches down into the earth and level that area. It is useful to also compact the area if you can.
Erect the gazebo/Anchor the posts
Now that your foundation is figured out, you can build your gazebo.
You will first install the posts by anchoring them to the ground. The gazebo manufacturer should and most likely will have sent stakes or anchors with the gazebo itself.
Dig at least three (ideally six) inches down and secure to the ground by driving the stakes down.
They typically slide through the posts and into the ground, thereby holding the gazebo in place.
Lay weed barrier (if installing wooden floor)
Cut a piece of weed barrier and lay it on the grass where the gazebo will sit. You can use plastic sheeting or designated weed barrier for this purpose. It will stop grass and weeds growing through.
Install wooden floor
You can hire a contractor to build this, you can find one at a hardware store, or you can build one yourself.
If building yourself, you should be familiar with the building process and do some research. Be sure to lay support posts to which you will affix the floorboards and secure the gazebo posts. For example: dig five inches down and level the earth.
Then, lay 4×4 posts down as support beams. One by one you can lay 2x4s atop the support beams, hammering into place. This process does not take long.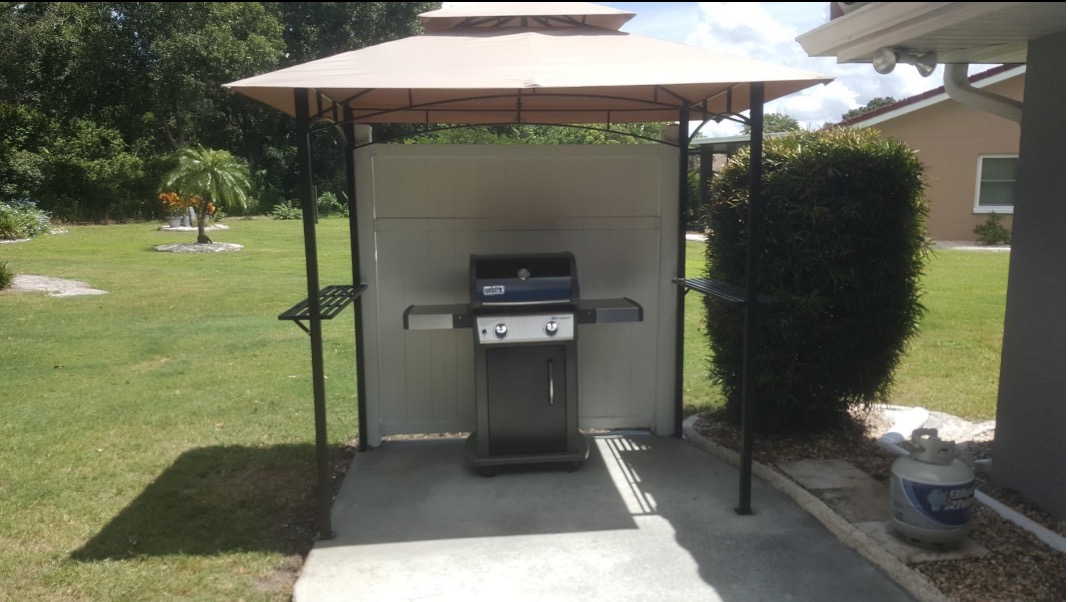 Installing on Concrete
There are two ways to do this. Question: do you want to drill directly into your concrete, or do you want the gazebo to sit atop the concrete?
Drilling Into Concrete
Drilling into concrete requires a hammer drill, hammer and concrete wedge anchors. This is the preferred method as it ensures stability in your permanent gazebo.
However, drilling into the concrete is synonymous with damage, so you must be sure this is what you want, lest you decide to take down the gazebo in a few years and your patio be full of holes.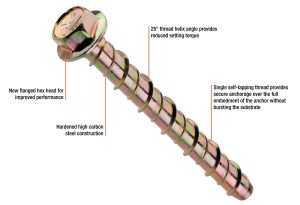 Concrete wedge anchor
Stand the gazebo in place. Using a hammer drill, drill through the appointed screw holes in the base of the posts.
Using tape, you can mark a hole depth on the drill bit so you don't drill too far. We are only making holes right now: do not screw into place yet.
Now that you have the holes drilled, move aside the posts and clean the holes out with a vacuum.
Holes must be cleaned out to ensure proper fastening.
Slide the gazebo back into place.
Now, take the concrete wedge anchors. Slide the washer on and then screw on the nut, leaving it at the end for now. This will protect the threads as you hammer the anchor in place.
Now, place the anchor in the hole and hammer it into place. Tighten the nut with your fingers – until snug – and then wrench about four turns.
Installing Atop Concrete
You will still need to anchor your gazebo posts to withstand high winds.
One clever way to both anchor the gazebo and add decorative landscaping is to set the posts in cement containers. For example: flower pots or buckets.
This option ensures stability and protection without damage to the concrete patio. It can also be a more visually pleasing option.
You will need pots that hold about 5 gallons. With the help of three other people, place a pot at each post.
With a person at each corner, lift the gazebo and set the legs down inside the pots. You will then mix your cement and fill the pots, allowing 48 hours for the cement to harden.
You can then decorate the pots with plants, lighting, etc.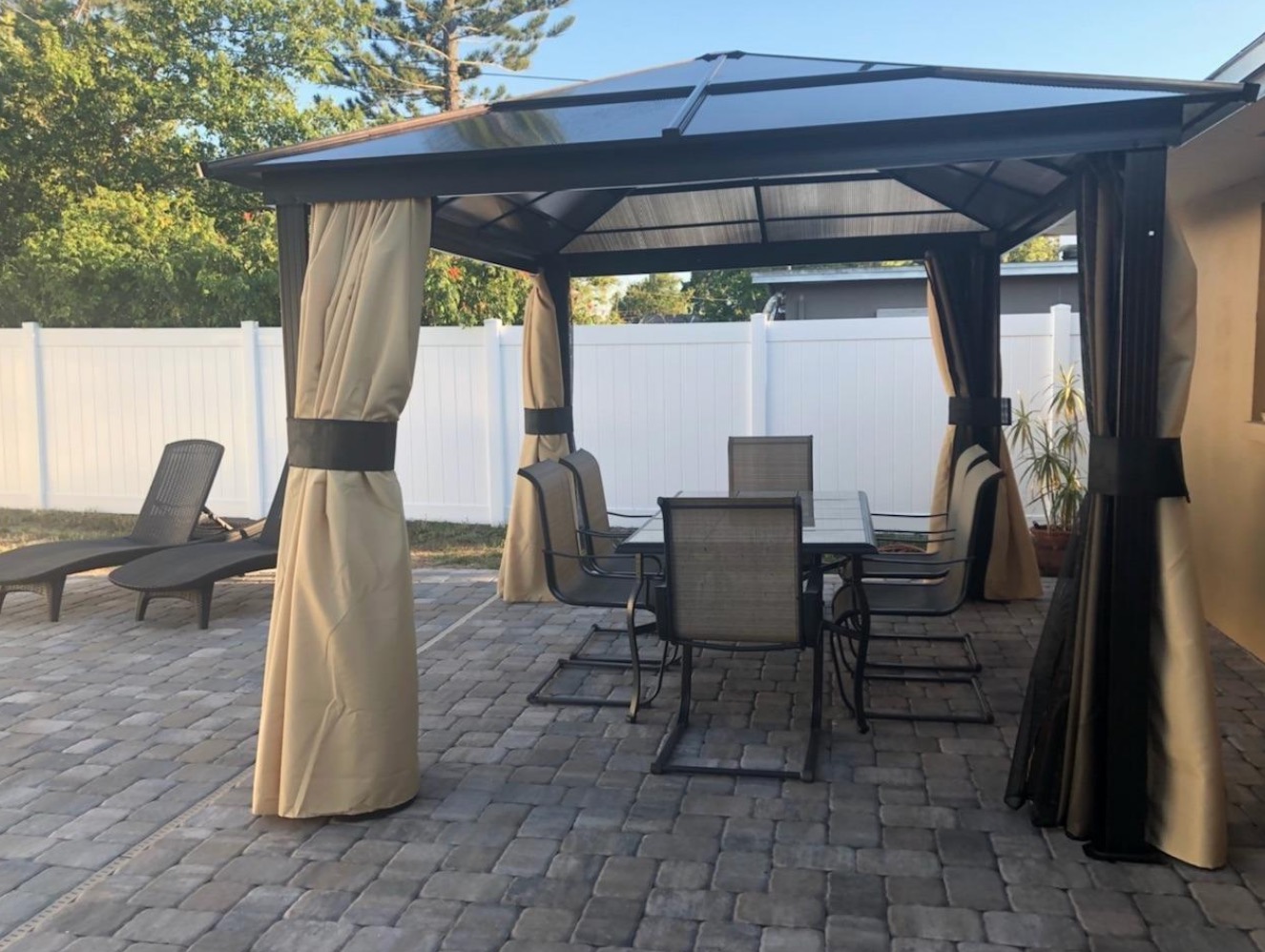 Setting a gazebo on pavers
Pavers can be one of the most frustrating surfaces to mount to. They are not typically strong enough to hold a gazebo, because any strong wind could lift the gazebo and take the pavers with it.
There are a few options for setting up a gazebo on pavers. The way you go about doing this will ultimately depend on your desire for permanence or the type of pavers you have or the type of base that was included with your gazebo. Another factor to consider is the general weather in your area.
If the area is prone to higher winds you may want to drill directly into the pavers; if your area does not receive wild storms or winds, you can likely get away with filling the posts with sand or driving stakes down into the ground between pavers.
Most if not all gazebos will come with hardware that allow you to anchor the gazebo to the ground. Even if your gazebo is a temporary fixture, you will have to secure it down somehow. We will go over a number of different methods with this article so you can decide which would work best for you.
1. Drive the stakes between the pavers
As mentioned, your gazebo will likely include some kind of stake. Provided the stakes are thin enough, you can simply attach the bases to the posts and then drive the stakes through the bases and into the ground, in between the pavers so they go into the earth. This way you do not have to destroy your patio, and if you want to remove your gazebo later, you can simply pull up the stakes and move it.
2. Secure the gazebo using rope
This method involves rope tie-downs and can be used in conjunction with driving stakes between pavers for additional security and support, particularly if you live in a windy area.
Somewhere in your gazebo you will find additional hooks or grommets for this purpose. Take white rope and tie to the hooks or grommets and then take them down to additional stakes in the ground. These additional stakes should be driven into the earth.
This is not the most popular option since the rope tie-downs are highly visible and not entirely desirable, but they do get the job done, and you can always weave attractive ribbon around the rope if you don't like it.
3. Masonry screws/Tapcons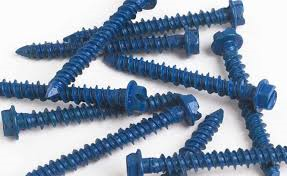 This method involves the use of masonry screws, which get drilled directly into the pavers for a permanent and secure installation. You will need a masonry drill for this step. Both masonry drill and screws will likely need to be purchased separately.
You may want to start by penciling or markating the holes on the pavers. You can achieve this by setting up the gazebo and bases where you want them, and then taking a pencil or other marker and thus drawing through the bases where the screws will go.
Using the drill, align the screws with the holes on the included gazebo bases, and drill them directly into the pavers. This is one of the most reliable ways to secure a gazebo and will guarantee against storms for years to come.
Tapcons are concrete-specific screws that, once drilled in, expand to stay in place.
4. Fill planters with concrete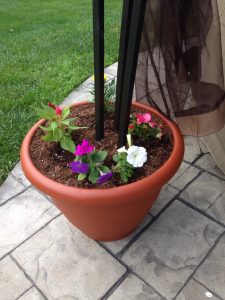 This is a long time favourite method for gazebo owners because it provides stability while enabling the homeowner to grow plants and flowers around the posts.
Find 4 large planters and fill them with a layer of sand. Then add a layer of cement and insert the posts while the cement is still wet. Ideally you will want about 12 inches of concrete or 100 pounds total in each planter. Give the cement 48 hours to turn to concrete; then you may plant flowers or plants on top.
5. Dig up some pavers and set the posts in concrete in the ground
This option involves tearing up some of the paver bricks. This can be achieved with a flathead screwdriver or flat nail bar. You may choose to remove one or several of the pavers per post. Then dig into the ground and set the posts into the holes and pour in cement. Let stand for 48 hours. You can also choose to simply set the posts into the earth i.e. without cement.
If you do not set them in cement you may want to lay sandbags or your choice attractive weights at the base to ensure further security.
6. Fill the posts with sand
This is an option that has worked for many gazebo owners. If your posts allow for it, you can simply fill them with sand to create weight. Be careful not to add too much weight to the top.
7. Concrete footing
Using concrete footers entails removing the pavers and sinking footings. Concrete footers are blocks of concrete to which a bracket is secured. The gazebo posts will then secure to the bracket. These will sit under the pavers so you don't see them.
Decorate and Enjoy!
Now that your gazebo is fully installed, you just have to decorate it. Enjoy!
Here are some additional articles on our site you might find helpful.
Related posts: