If you are looking for new and exciting ways to be festive this holiday season, consider decorating your gazebo!
If you've read our previous article on how to winterize your gazebo, you're already ready to go. If not, don't worry, we'll give it a quick recap.
Overall, this article will contain lots of great ideas on how you can decorate your gazebo Christmas-style to be the talk of the neighborhood!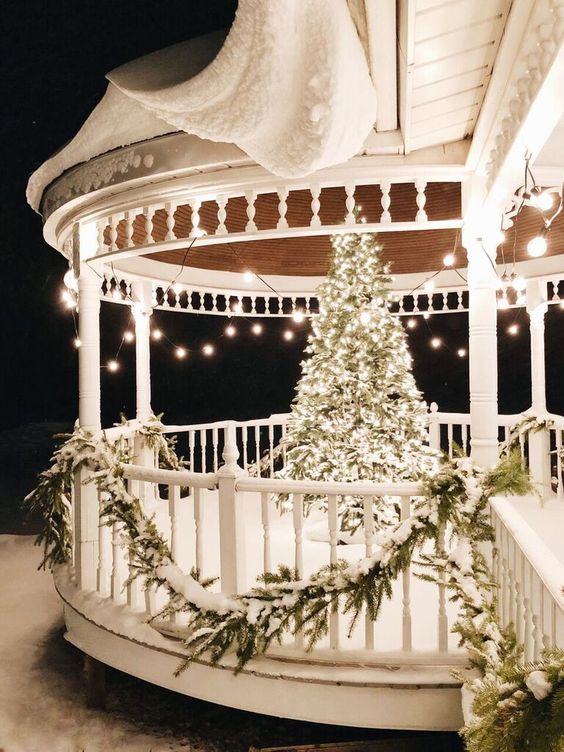 Taotronics Led String Light

Globe String Lights With Clear Bulbs

Prextex 100-Count Clear Green Wire Christmas Light Set

First, though, we need to go over a few things about what you need to do BEFORE you go all out and decorate your gazebo for Christmas. If you feel like you've done all that due diligence, then just skip on ahead.
Table of Contents
Let's begin!
Two Types of Hardtop Gazebos
Before we get into the fun part of this article, which is figuring out what decorations to use and how to place them in, on, and around your gazebo, we need to clarify something.
That is, we need to talk about the fact that there are, stylistically and aesthetically, two very different types of hard top gazebo, and this is important to note.
Why? Because the type of hardtop gazebo may determine if you'll be decorating it, or covering it for the winter.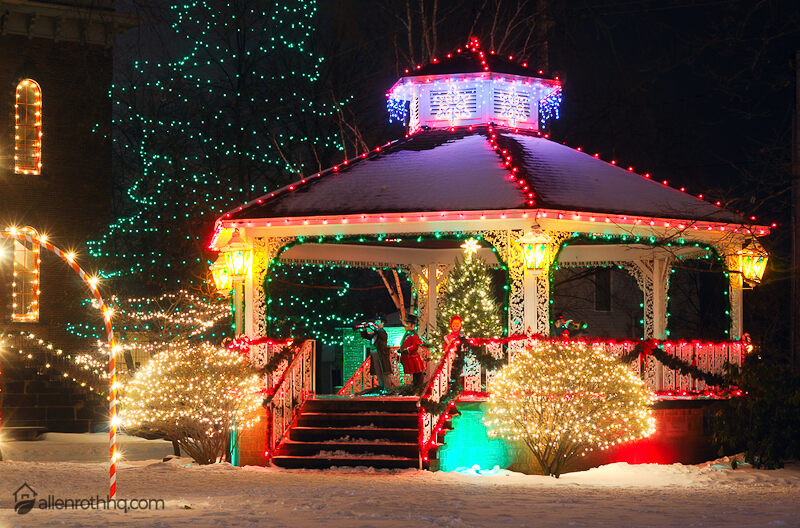 So, what are the two types of hard top gazebo and how are they different? Well, if you've looked at many gazebos in your time, you've probably come across both of them, to be sure.
One is the more modern metal-framed design that you will see frequently for sale, like this Sunjoy Chatham Steel Gazebo.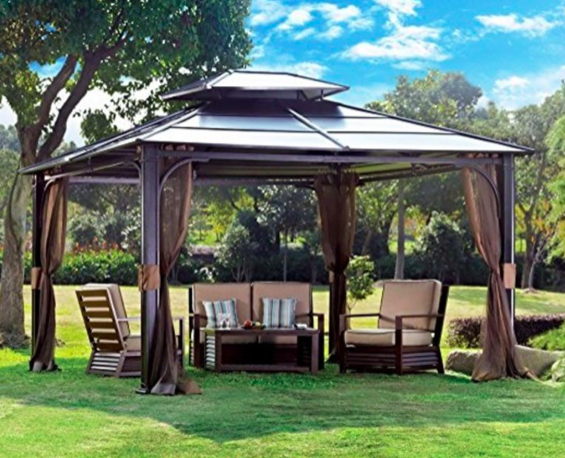 These gazebos are great. They generally are found in peoples' backyards and during the summer months, they're a place to congregate and socialize.
Once purchased, you either bring it home or order it to be delivered, it arrives, you set it up, and you're good to go!
These metal-construction gazebos are generally functional, welcoming, stylish, but they generally need to be covered in the winter with some kind of gazebo covering.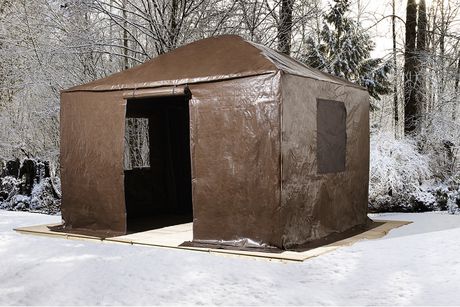 In fact, we've even reviewed many of these residential hardtop gazeboss (the metal kind) on this website over the years.
On the other hand, you have your more old fashioned wooden gazebos, that some people have in their backyards, and which you often see in parks used for weddings and other special events.
A lot of older homes have these kinds of gazebos, and they're usually quite lovely and literally begging to be decorated for Christmas!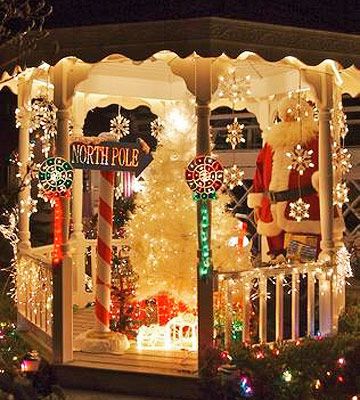 These old fashioned wooden gazebos can be somewhat compact and simple, or large and ornate, or…large and simple, and small and ornate.
These are the type of gazebo that we will focus on here, since they look downright amazing when someone with a keen eye for Christmas decorating works their magic.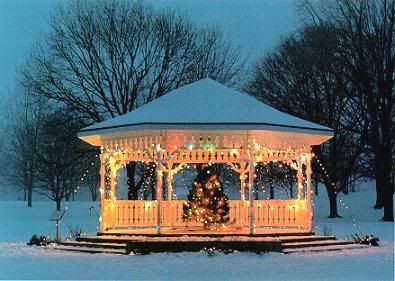 Now, we'll take a look at actually preparing our gazebo for getting decorated.
Preparation
Before you can properly decorate your gazebo for the holidays, it only makes sense to winterize it first. In our previous article, we talked about what the winterizing of a gazebo entails, and we'll go over it again briefly right now.
Basic Tidying / Decluttering
First off, you need to declutter your gazebo. Why should do this? Because if you don't, your decorating may not be all that it could be. Hey, WE want your Christmas gazebo to be all that it should be, so make sure not to skip this preparation phase.
Ok, so when should you do this tidying / decluttering? Before the first snowfall would be our advice, because once the snow comes down, it usually doesn't stop, and that just makes the actual cleaning harder. Plus, you'll run out of time.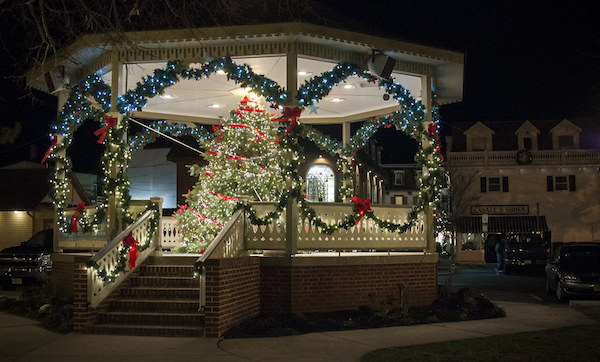 So, you should giddy up and remove any furniture you may have on your gazebo and put it somewhere safe for the winter, like your garage or toolshed.
In addition, remove anything else, as in smaller objects, that are laying in and around your gazebo. Maybe you had some sort of event in the fall out back and things are still a little untidy from the last party.
Finally, you're going to need to get up on the roof and remove anything that might be up there, from bird poop, to leaves, to branches. In the end it should look something like this, minus the fall decor.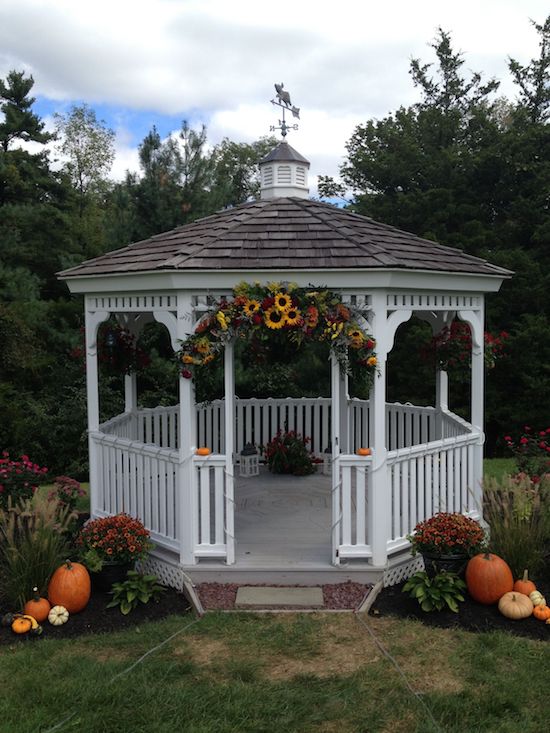 Speaking of fall decor, this is the point where you remove the gourds, pumpkins, and summer / fall paraphernalia from your gazebo because Christmas is coming, and it usually comes quick. Your window of time to decorate for this particular season isn't usually that long, so you should really get going!
This overall de-cluttering of your gazebo allows you to see your gazebo and assess how much space it actually has. You may notice you have a lot more room than you thought!
Clean / Check Structure / Weatherproof
Cleaning your gazebo will require you to wash the floor, wash the roof, remove the spiderwebs, tighten any loose screws, and check the overall structure for signs of instability.
Depending on the state of affairs, you might need to take some time and deal with this.
For instance, if some support beam is cracked, you'll want to fix that or else many inches of snow later, you might have an even bigger problem on your hands.
Add all those decorations and the added weight can bring the whole thing down, which is both unsafe, and just a nightmare in general. Can't have that!
Luckily, this kind of collapse generally doesn't happen to many folks, but you really do need to check on things before you start piling decorations, lights, and a tree onto your potentially unstable gazebo.
Pro Tip: some people will want to treat the roof for waterproofing, or even add vinyl sheets so that the snow slides off the roof. This is sensible, but this is also where you have to decide how much snow you want on your gazebo roof aesthetically to add to the seasonal vibe of things.
Some gazebos naturally collect more snow on their roofs, while others don't. If yours does, you should at least consider how much snow might pile up, and how that can affect your gazebo's structure vs. the holiday effect that it has visually. It can be a delicate balance!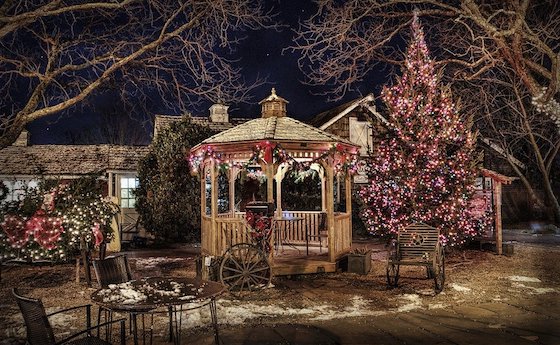 Pro Tip #2 – If you're using a tarp to collect snow, as it were, you may want to adjust your tarp to actually start to shape the snow in a way that you find more appealing.
Ok, so once you've tidied things up, and checked every beam and joist, rolled the gourds out of the way, and you feel good about everything being ready to go, that's when the real fun can start!
Time to decorate!
Gazebo Christmas Decoration Ideas and Guide
This is where we simple indulge in looking at some of our favorite designs that we've seen, and talk a little bit about why we think they look so good.
Deep Blue Evening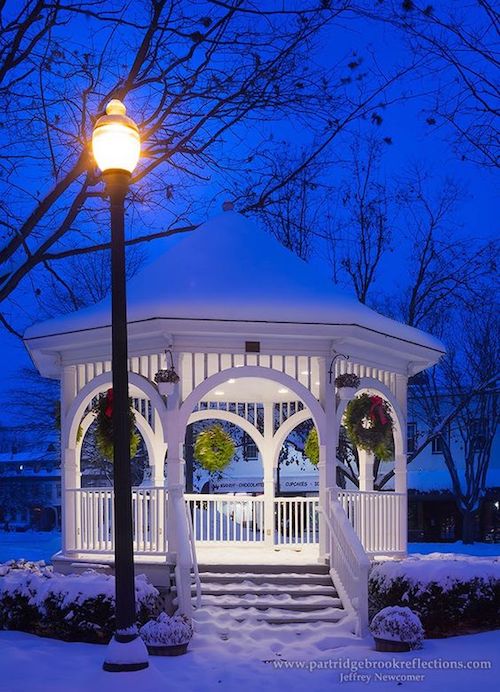 Christmas Lantern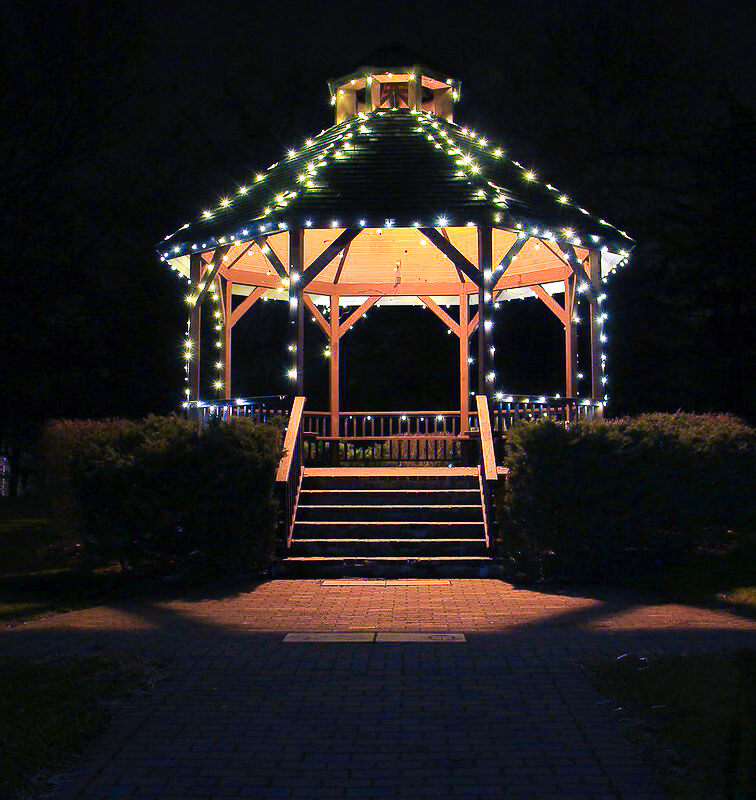 North Star
String of Lights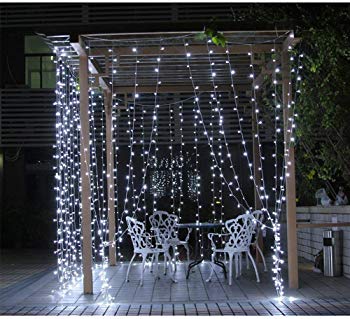 Whistler Wonder

Star of Bethlehem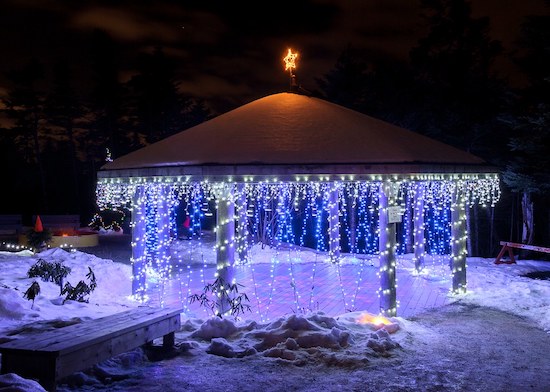 Focal Point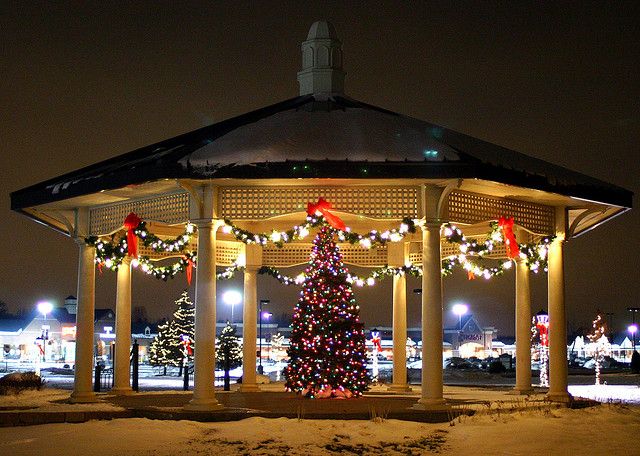 To The Max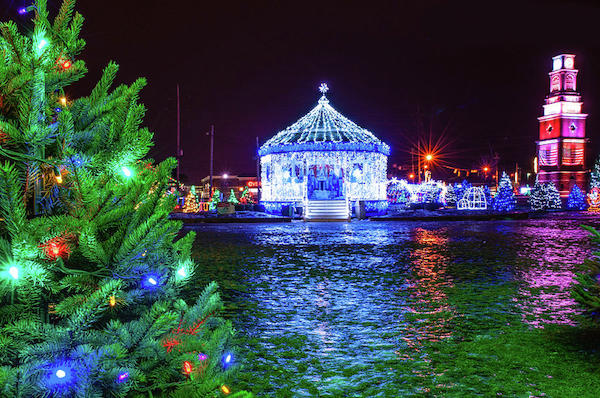 Red, White, and Green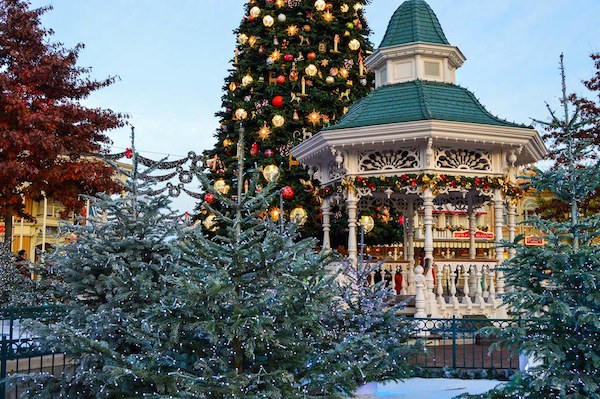 Candy Cane Lane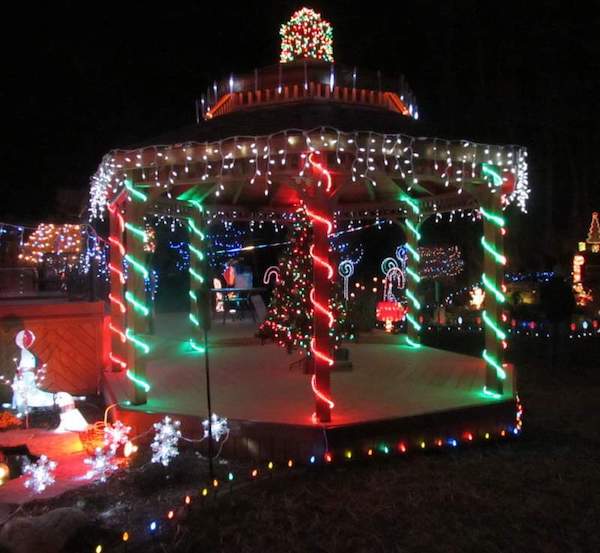 Conclusion
Thanks for reading our guide. If you have any stories about setting up your own christmas gazebo, please share it in the comments. If you saw an awesome christmas gazebo, let us know where and when.
Related posts: