A hardtop gazebo provides many benefits over a traditional gazebo. First, a hardtop gazebo is much more durable and will last longer. Second, a hardtop gazebo is easier to maintain and clean. Third, a hardtop gazebo provides better protection from the sun and weather. Finally, a hardtop gazebo can be used year-round, making it a great investment for your home.

There are many factors to consider when picking out a gazebo for your backyard. Ranging from design, to size, functionality, and accessories, while also considering overall cost and quality of the product.
Today we're going to review the best hardtops of 2023, and see what popular models offer the most return on your investment.
Editors' Picks for Top Hardtop Gazebos of 2023 in the Market Today
Infographic about a Buyer's Guide for Hard Top Gazebos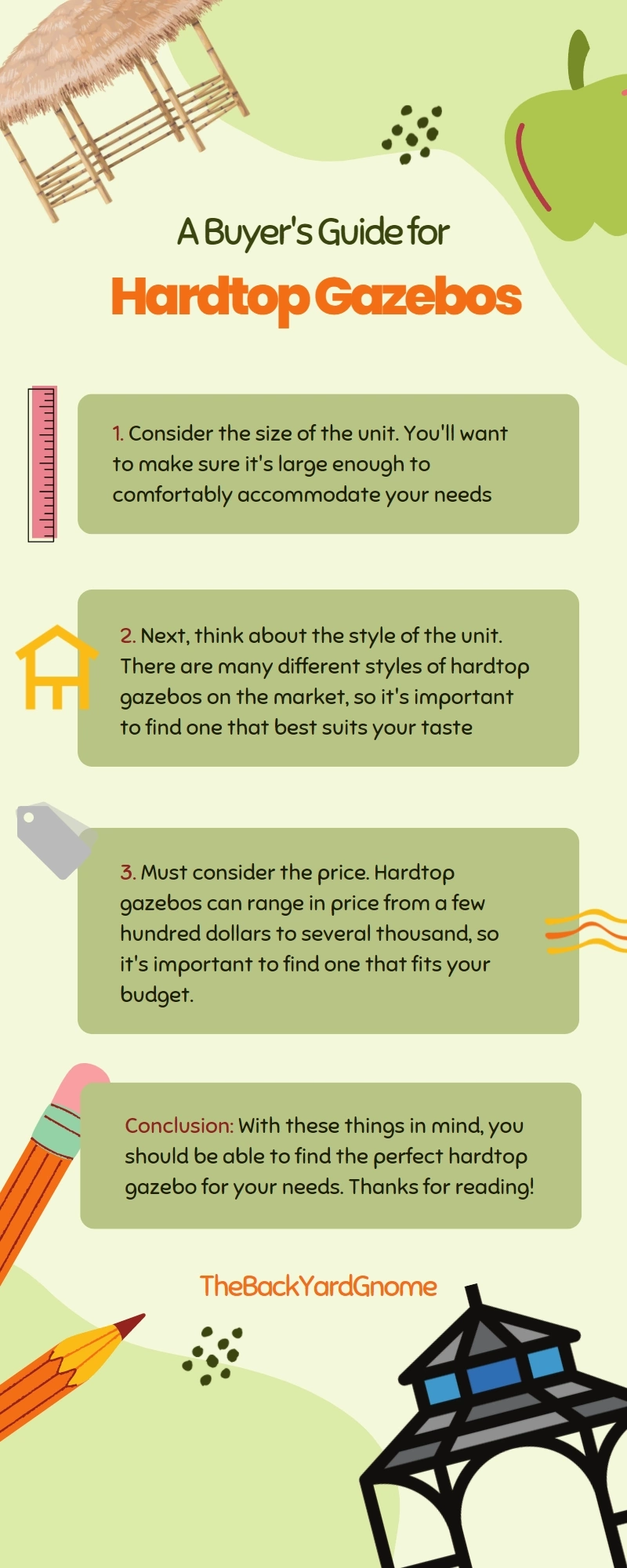 Buying Guide for the Best Hard Top Gazebo
A hardtop gazebo can be a great addition to your backyard patio setup in many ways, but there's a lot to consider before you purchase one, and that's why we're here.
First off, it's good to differentiate between the two types of backyard gazebos you will find out there - namely, hard tops and soft tops. The difference is, as you might expect, the "top".
If the roof the gazebo is hard, as in made of metal, then you're dealing with a hardtop, where the entire structure is made of metal (usually reinforced aluminum).
If the roof is made out of fabric or any other soft material, then that is a soft top gazebo. Usually, the roof material is draped and stretched over a metal frame. The frame itself, in this case, is much lighter than that of a hardtop gazebo, as it has less weight to support. These models are typically a lot less durable, which is why they are also on the cheaper side.

Advantages of Hardtop Gazebos
A hardtop gazebo is a great choice for creating an outdoor living and entertaining space. It allows you to get together with friends and family to enjoy the outdoors, while also offering privacy and shelter.
Hardtop gazebos, in particular, come with a number of advantages, the main point being that they are quite durable. This means that they can endure the weather better, can be left up all-season long, and overall have a longer lifespan.
The hardtops also lend themselves well to other uses such as placing over a dining set, a barbecue, or even a hot tub.


All Season Use
Hard top gazebos are all-season, which means you can use them year round.
Once set up, they are fairly weather-resistant so you won't have to worry about the wind blowing them over. You also won't have to tear them down for the winter, earning them the title of an all-season fixture.
During the winter, depending on the level of snowfall, you might still have to clean snow and ice off the roof to prevent any build up.
Depending on the model, the slope of the roof can help shed some of the snow, reducing the maintenance needed. However, if you start to notice a build-up, it's a good idea to go in and clear it out.
While hardtops are great at withstanding the elements, it's worth noting that additional safety measure may need to be taken in the event of extreme weather.

Space Requirements
Size and location are important to consider when picking a gazebo, and it's definitely one of the first things to look at.
Gazebos are large structures, they take time to set up, and are a sizeable investment, so it's important to consider how yours will fit in your backyard.
Beyond simply fitting, it's important to also consider what you'll want to be using it for. What kind of furniture or seating are you putting underneath it? How many people do you need to accommodate? And so on.
Lastly, be sure to take some measurements of your yard and find a suitable spot for your gazebo ahead of time. This will let you know what sizes and models you should be keeping an eye out for.
Common widths are around 10-12ft, with lengths typically varying from 10ft to 16ft. Some can be square (like a 10×10 or a 12×12), while others are more rectangular. In some cases (which we'll explore later in this article) they can even be much extra-long, stretching up to 30ft and more.
Canopy height and the headroom clearance are also important to consider. Most gazebos have a clearance of 6.5 to 8 ft, with the top of the canopy reaching 9 to 12 ft depending on the model. Naturally, models with sloped or arched roofs will have taller canopies than those with a flat roof.
Most hardtops do have arched roofs, to mitigate things like snow, although they can support a certain amount of weight (usually snow and ice), but it's good to keep them generally cleaned off if you can help it. Some gazebos do have flat roofs too, so you should watch out for that as it affects snow accumulation.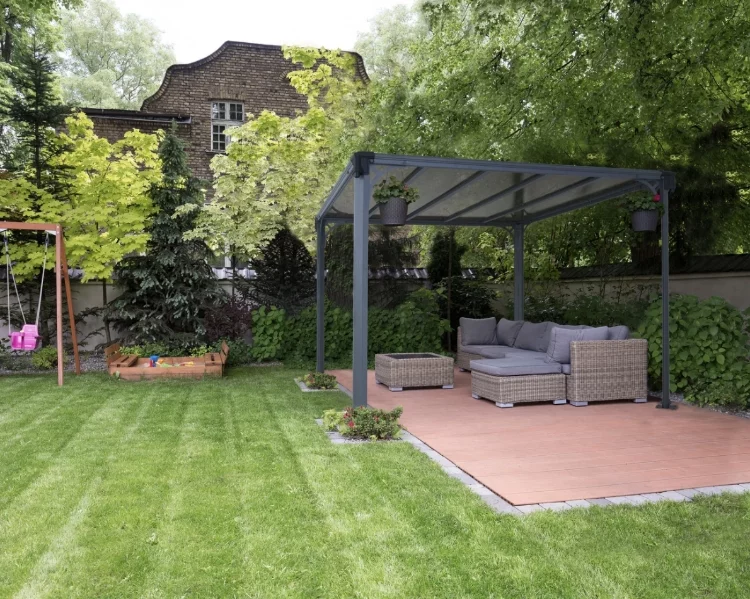 You should also keep in mind that measurements provided by manufacturers are usually measurements of the base, not the canopy. This means that if the canopy stretches beyond the posts, any amount of overhang is ignored by the measurements (ie. it's realistically a little bit wider and longer than the specified dimensions).
This is important if you want to put your gazebo up against the side of your house, up to a fence, next to other fixtures, etc.
Always allow some extra space in addition to the dimensions provided by the manufacturer. Rule of thumb is: don't go for any tight squeezes.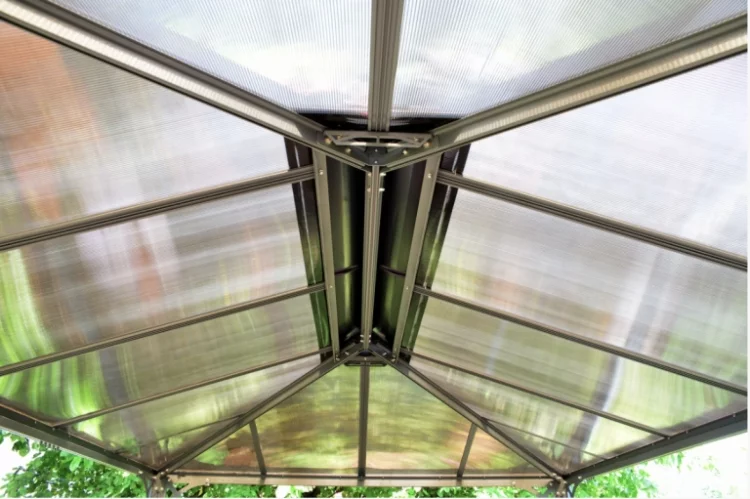 Accessories and Features
There are two main accessories that you can buy with most hardtops. Usually, you'll see privacy curtains and mosquito netting (in some cases they might come included, but not always).
Other popular accessories that people get for their gazebos include lighting, plant hangers, heaters, and protective winter covers. Some gazebos (like the Canopia hardtops which we discuss later on), will even have built-in rain gutter systems.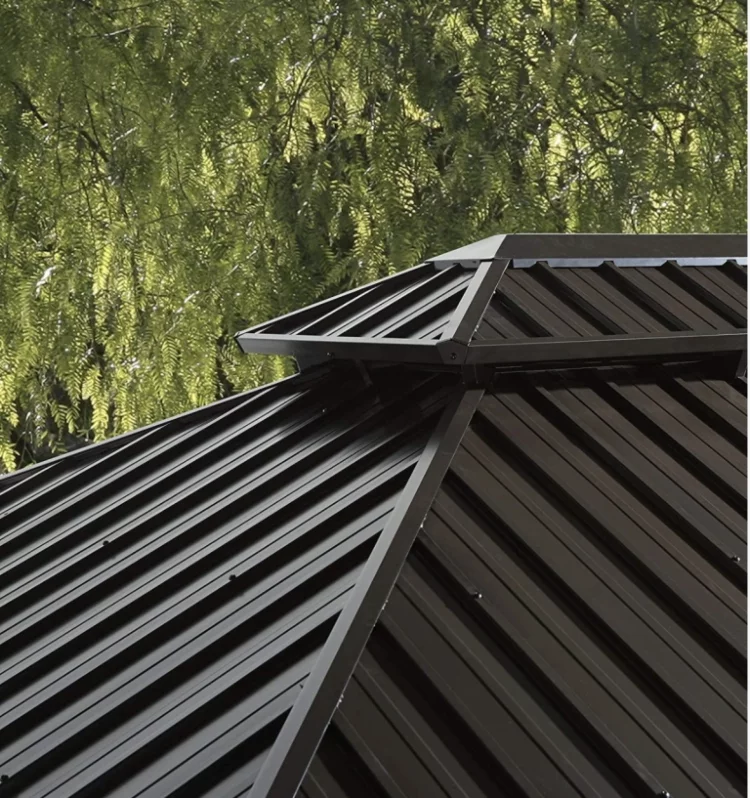 Double/Vented Roof vs Single Roof
The roof style is often a defining feature for hardtop gazebos. Most will have the standard single roof, however, some models out there will have a double-roof.
The double-roof style features a vented opening on the main roof, which is then covered by a second smaller roof, leaving some space in between. This makes it so that you get some airflow while still being fully covered and sheltered from the elements.
Depending on the situation, the roof vent can be a very desirable feature. The opening above allows hot air to rise up and leave the enclosure, creating air circulation and serving as an effective means to cool down the space inside.
This is often a popular choice in areas with really hot weather, as the vent can definitely make a difference. It's also a good choice for people who want to set up something that would require ventilation, like a hot tub or a barbecue station.
All in all, the vented roof is a good addition to have, making the double roof gazebos a sought-after design. This also means they will be a bit more expensive than the standard roof models.

Another feature that stands out is the roof material itself. Most metal frame hardtops will have solid metal roofs.
This option is fairly straightforward. The roof is made out of metal and it is fully opaque. Different models will have different visual details and designs on the roof itself.
An alternative, on the other hand, is the polycarbonate roof.
The polycarbonate roof is still hard, durable, and all-season, so it very much still counts as a hardtop. The way it's set up, however, is different. The roof usually consists of a metal frame, encasing large rectangular roof tiles made out of polycarbonate.
The tiles let light in and are partially see-through. This results in a roof that offers a lot of natural light, making your gazebo space feel a lot more open, The natural sunlight also serves to brighten up the enclosure.
Because of their composition, and because of their partial transparency, the tiles block harsh UV rays and don't allow a lot of heat to build up. This means you can get a lot of natural light while still being adequately sheltered from the sun.
If you want more light in your outdoor space, polycarbonate roof might be a good option.
One trade-off, however, is that the tiles, while still quite durable, are not as sturdy as a full on metal roof. It's not excluded that you might have to replace a tile every now and then with regular wear and tear. The good news, though, is that they're fairly inexpensive, and manufacturers will carry replacement tiles.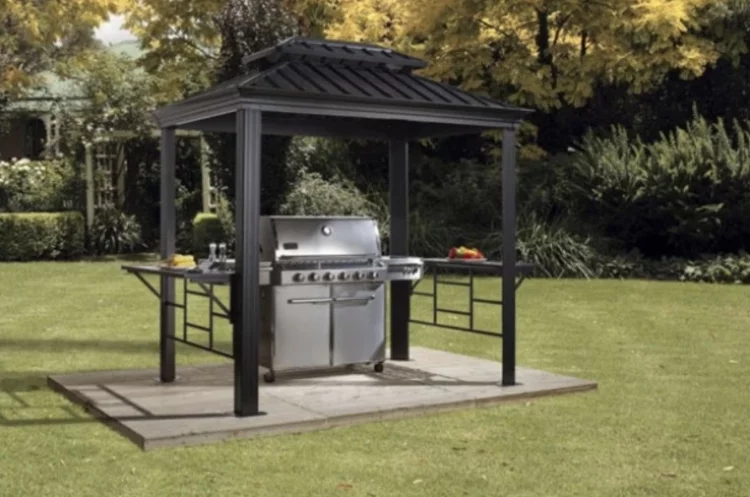 Barbecuing and Grilling
Barbecuing under your gazebo is a bit of a discussion. There are a lot of times when you might want to get your grill on while hanging out in the gazebo. It's not surprising a lot of people are wondering if you can barbecue under a gazebo.
The short answer is yes, but only certain types of gazebos are suitable for that. It's very important to avoid grilling under any other type of gazebo, especially soft tops.
You can, however, buy "grilling gazebos" which are set up to specifically grill under, like the Sojag Messina Grilling Gazebo here.

Setup and Teardown
Hardtop gazebos do require some setup when you're first installing them. There's no way around that, so if you're someone who isn't that handy with tools, definitely enlist the help of someone who is, so that you can make sure your gazebo is set up right.
Hardtop gazebos will come with detailed instructions on how to put them up. Many companies have installation videos online to watch which can walk you through the steps.
Another important thing to keep in mind is that you'll need more than one person to do the job. It's a large structure, and especially when it comes to setting up the roof, you will need to simultaneously lift and balance a number of heavy components.
Also worth noting is that it will require some patience. Designate a full afternoon, or if you want to take it at an easier pace, maybe even the whole weekend. No matter what gazebo you get, it won't get done in an hour.
For more info on this topic, read our article: How To Set Up A Gazebo on Concrete, Grass, or Pavers
In terms of taking your hardtop gazebo down, you shouldn't have to do this, unless you want to switch locations, or remove it completely.
At that point, it's the same job as the setup, but in reverse. In other words, get someone to help you, be patient, and start with the roof.
Buying Guide Wrap-Up
That's it for our crash course on how to pick a gazebo. Now let's look at some of the top models that we've come across and would heartily recommend!
Top 10 Best Hardtop Gazebo Reviews 2023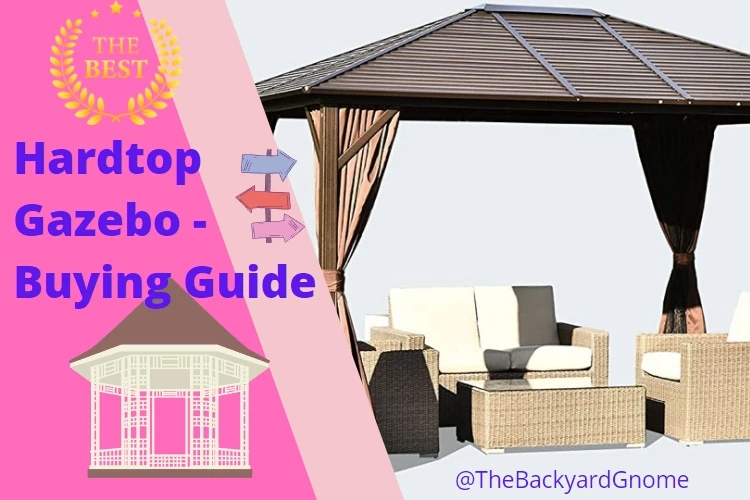 PURPLE LEAF 12' X 16' Permanent Hardtop Gazebo Aluminum Gazebo with Galvanized Steel Double Roof for Patio - Link
Full Feature List and Sizes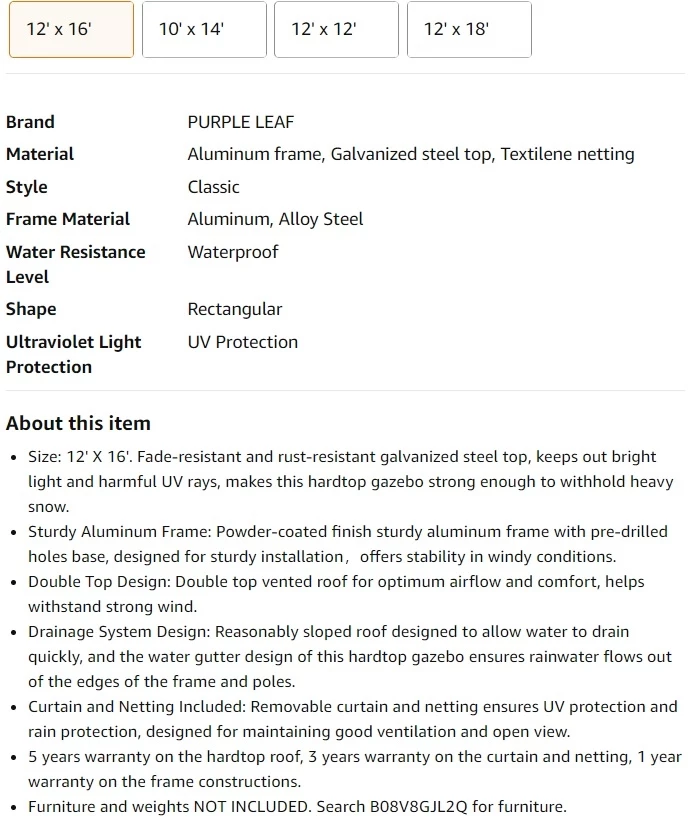 Description
If you're looking for a permanent hard roof gazebo, the Purple Leaf 12' x 16' Permanent Hardtop Gazebo is a great option. It's made with aluminum and galvanized steel for durability, and it has a double roof for added protection from the elements. This gazebo also comes with mesh walls to keep out bugs, and it has a spacious interior that can accommodate up to eight people. The Purple Leaf 12' x 16' Permanent Hardtop Gazebo is a great choice for anyone who wants a durable and reliable gazebo for their patio or lawn.
The Manufacturer's Guarantees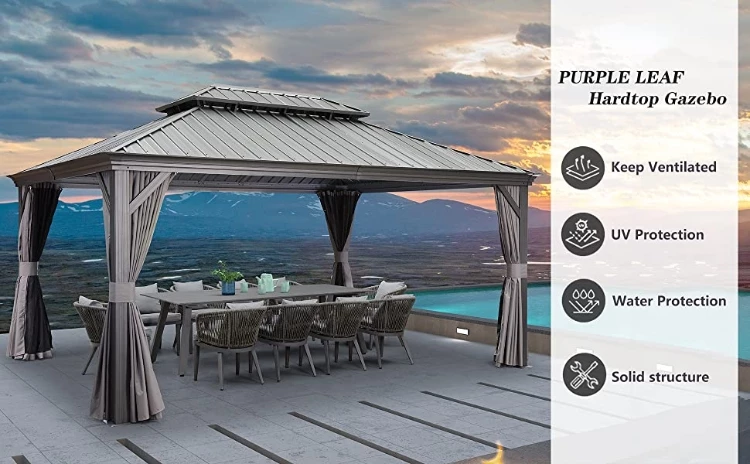 Advantages:
Made with aluminum and galvanized steel for durability
Double roof for added protection from the elements
Mesh walls to keep out bugs
Spacious interior can accommodate up to eight people
Drawbacks:
Some assembly required
More expensive than some other options
May be too large for some yards or patios
The Verdict
The Purple Leaf 12' x 16' Permanent Hard Top Gazebo is a great choice for anyone who wants a durable and reliable gazebo for their patio or lawn. It's made with aluminum and galvanized steel for durability, and it has a double roof for added protection from the elements. This gazebo also comes with mesh walls to keep out bugs, and it has a spacious interior that can accommodate up to eight people. While it's more expensive than some other options, it's still a good value for the money.

Sojag Mykonos II Double Roof Hardtop Gazebo - Link
The Sojag Mykonos II is one of the most sought after hardtop gazebos we've ever come across, due to its elegance, style, and durability.
With its vented double roof (perfect for dining sets, sofas, or even hot tubs underneath), durable all season construction, to the good selection of sizes it comes in (10′ x 12′, 10′ x 14′, 12′ x 14′, and 12′ x 16′), the Mykonos II is truly top of the line.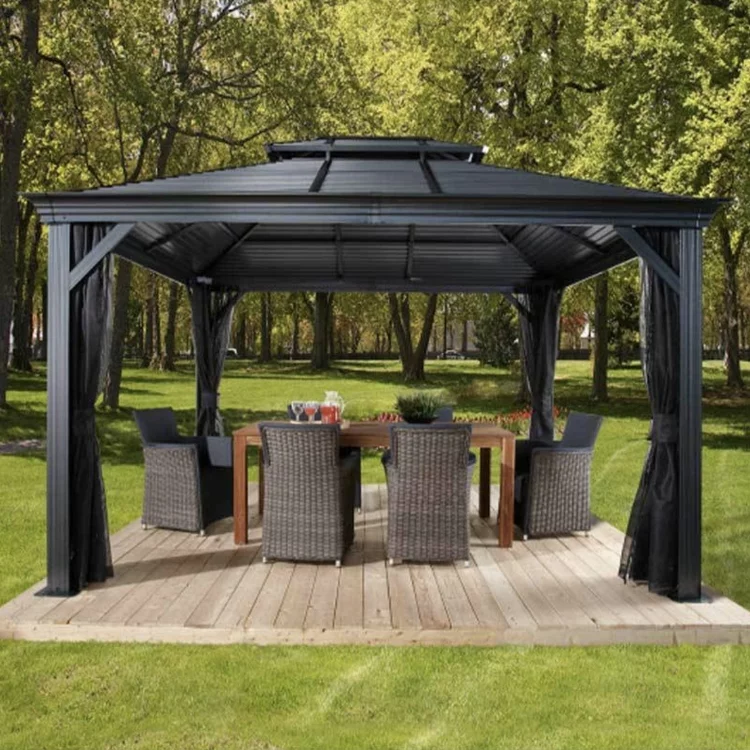 In addition, its galvanized steel roof and its high quality powder-coated premium Interpon AkzoNobel frame, its details like these that make the Mykonos II the perfect backyard solution when it comes to entertaining with guests, or having a private getaway outside of your own home to retreat to for whatever purposes you see fit.

Aesthetically, it's sleek, modern, and exudes a feeling of relaxation and protection for those near it, or under its generously sized steel roof panel canopy.
This hardtop comes with a set of mosquito netting fashioned out of PVC-coated polyester mesh, which helps to keep the wind and the sun out. It also meets CPAI-84 fire retardant international safety standards.
A great gazebo with plenty of space, this is one of the more popular hardtops out there today!
Advantages:
Offers protection from the sun and rain

Features a double roof for added durability

Easy to assemble and disassemble

Drawbacks:
Some users found the gazebo difficult to put together

The metal roof may become damaged in strong winds

May not provide enough shade for very sunny areas

Final Verdict
Sojag 10' x 14' Mykonos Double Roof Hardtop Gazebo Outdoor Sun Shelter is a great option for those who are looking for protection from the sun and rain. The gazebo features a double roof that helps to add durability, and it is easy to assemble and disassemble. However, some users found the gazebo difficult to put together, and the metal roof may become damaged in strong winds. Additionally, this gazebo may not provide enough shade for very sunny areas.

Sojag Meridien Hardtop Gazebo - Link
Sojag is known for having a number of great hardtop gazebos on the market, and another one in the mix is the Sojag Meridien. It's stunning outdoor structure that will add to the value of your home as it provides a space in your backyard that serves as its own room where you can get together with friends and family to enjoy some quality time.
Featuring a lovely but practically indestructible and corrosion-resistant polycarbonate roof, the Meridien's roof allows for some sunlight to come in, while blocking any harmful rays from getting through.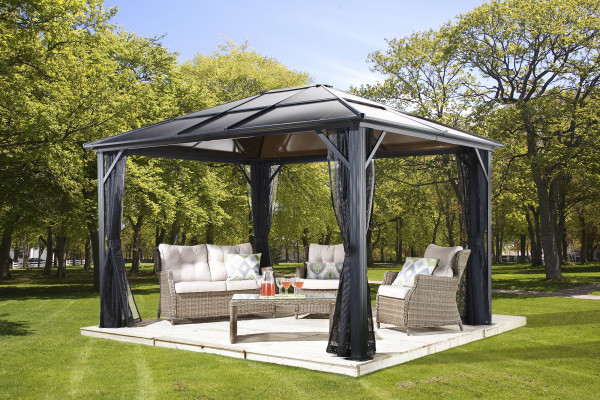 Available in 4 sizes (10′ x 10′, 10′ x 12′, 10′ x 14′, and 12′ x 16′), the Meridien's frame features a premium powder coating known as Interpon AkzoNobel, to maximize durability and enhance its look.
Meeting all CPAI-84 fire retardant international safety standards, the Meridien comes with a nylon mosquito netting that easily attaches to the roof, allowing for better protection against pests, and providing some extra privacy. Curtains are also available, for even greater privacy.
This is an all-season structure which can be used year-round for any number of purposes. That said, any snow that builds up on the roof should be removed.
In terms of set-up, the Meridien requires more than one person to do so, but assembly of the gazebo is DIY and you should give yourself sufficient time to properly assemble it.
Does not come with anchoring screws.

Canopia Palermo Hardtop Gazebo - Link
Canopia by Palram presents the Palermo Hardtop Gazebo, which is built with a powder-coated aluminum frame and hyper-durable polycarbonate UV-resistant roof panels, offering top notch protection from the elements and year round entertainment.
Canopia is a brand of the Palram company, who is known for their state of the art building materials when it comes to outdoor structures. They've been making outdoor structures for decades now, and their speciality is an innovation when it comes to durability.
Ingeniously structured with a gutter system on its roof that funnels water to the corners and downward, another main focus of the Palermo is keeping you dry if it rains.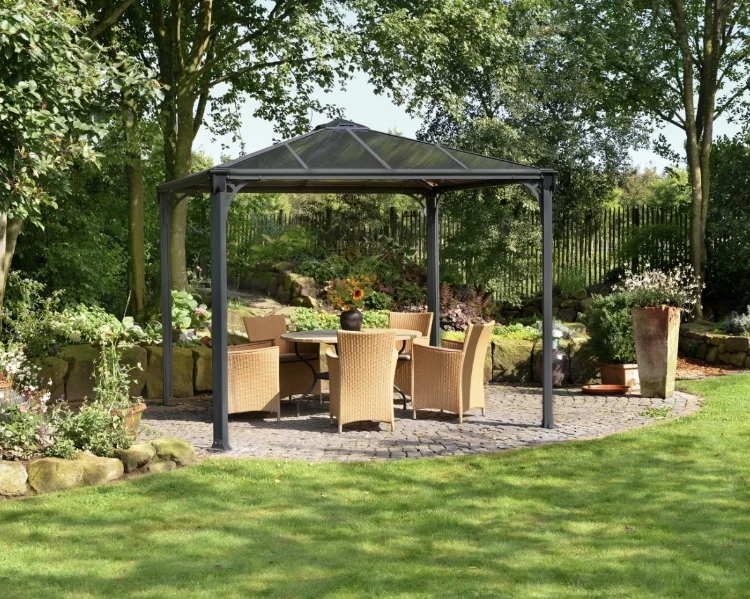 Aesthetically, the Palermo is simple and sleek, with a neutral-toned brownish-gray, rust-resistant aluminum frame, that blends seamlessly into most backyard settings.
In terms of the top of the structure, the Palermo doesn't have an out-and-out double roof like some other models, but it does have a ventilation system which is more subtle visually and the other double-roofers.
Structurally, the Palermo is set up with integrated channels for hanging curtains or mosquito netting for a more private space.
The Palermo comes in 3 sizes - 10′ x 10′, 12′ x 12′, and 14′ x 14′.

PenGuin Gazebo 4 Seasons 12'x14' - Link
PenGuin's Venus Hardtop Gazebo is an all-season gazebo with a see-through polycarbonate roof, designed to endure all types of weather.
Based out of Montreal, PenGuin has been in the gazebo business for years, and, being from Montreal, they know a little something about harsh winters, and the Venus is a solution to this.
Not only that, but the Venus has a stunning design which combines the elegance and style of the see-through polycarbonate roof, which shelters you while providing a significant amount of natural light (while repelling heat and wind), with the sturdiness of the heavy duty extruded aluminum frame.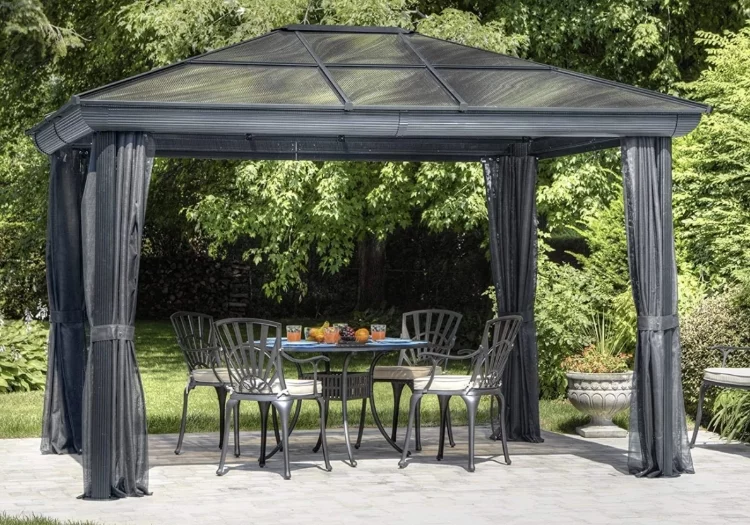 If you like this design, but prefer something with a solid metal roof, this model does have an equ metal roof version as well.
This gazebo comes with both a bug screen and a set of privacy curtains, allowing you to block the mosquitos in the summer months if you happen to be dining outdoors.
The Venus comes in two colors - brown, or slate, and comes in 4 sizes: 10x10ft, 10x12ft, 10x14ft, 12x14ft, 12x16ft.
Overall, it is both an imposing and welcoming site which lets you entertain guests year round.

Canopia Roma Hexagon Hardtop Gazebo - Link
The Roma Hexagon Garden Gazebo by Canopia, formerly Palram, offers something a bit different from the rectangular gazebos mostly found on this list.
In terms of aesthetics, the Roma offers fans of all-season outdoor backyard structures a hardtop gazebo with a unique hexagonal roof.
While this is unique in terms of residential hardtop gazebos, the hexagonal roof pattern harkens to something much more traditional in the world of gazebos.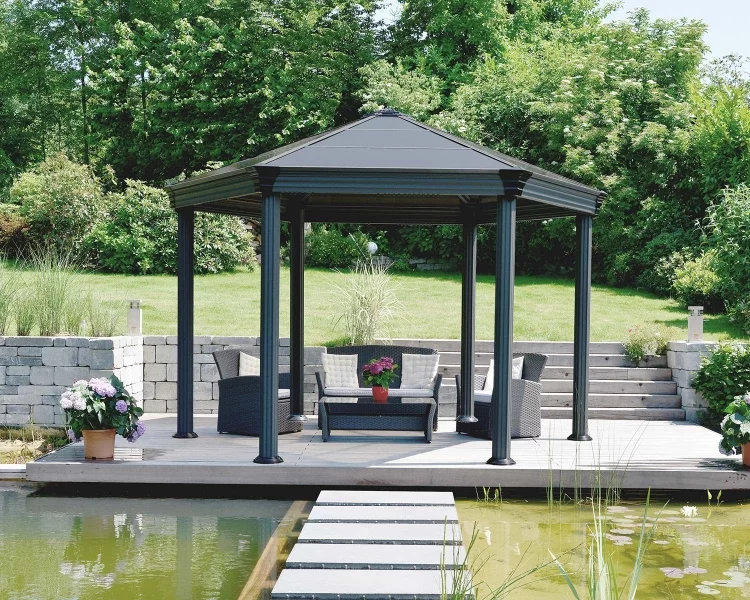 For example, when some people think of gazebos, sometimes they imagine the large wooden gazebo pavilions you might have seen over the years in a park somewhere, or near a church. The Roma certainly brings this type of design to the table, which has made its way back into the world of residential gazebos.
So, if you like this aesthetic, the Roma Hexagon Garden Gazebo offers a great place to relax with family and friends, with superior protection from the elements, where you can hang out in a lounge chair reading a book, or having delicious dinner. There's plenty of room for furniture of your choice underneath this structure.
Designed to be low maintenance and highly durable, the Roma can withstand any weather that gets thrown at it (rain, snow, hail), and is bound to last you years and years, due to its 6mm twin wall polycarbonate UV-protected roof. This heavy duty roof is designed to hold up to 52 lbs of snow per square foot, and 75 mile per hour winds (if anchored at the base - anchoring included).
The Roma is corrosion resistant and features an anthracite gray finish, with a bronze glaze. It also features a built-in hook system for adding curtains or mosquito netting for added protection and privacy (which are available, but not included). Other optional accessories include LED lights for added ambiance, and an infrared carbon fiber heater (1500w).
The Roma comes in one size: 163.2" L x 141.3" W x 119.9" H

Sojag Genova II Double-Roof Hardtop Gazebo - Link
The Genova II by Sojag is another all-season hardtop gazebo that people are always inquiring about.
First, it is a beautiful structure, with the sought after vented double-roof design that many gazebo fans enjoy. It is large and spacious as one would expect, serving as either a poolside feature of your yard, a dining area, or otherwise a place to relax and get out of the sun.
Once again, we find that this model has the same highly durable galvanized steel roof and an aluminum frame which is powder-coated for added durability. It's worth noting that gazebos like this one can and should last you up to 10 years, if they are properly cared for (ie. keeping them clear of large amounts of snow and iced piled on the roof for long periods of time, mainly).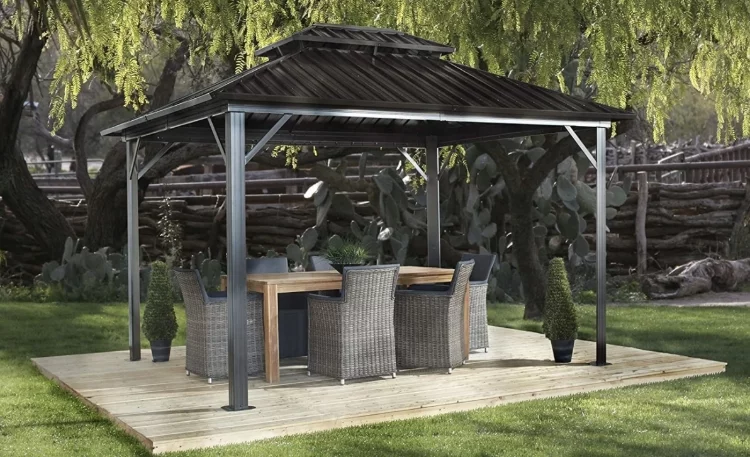 The Genova II does come with one set of polyester mesh for protection against bugs, which itself is highly durable and cuts back on rain and sun from entering your shelter. The tracks upon which the mosquito netting sits features a double-track system with rolling hooks, which allow you to quickly and easily shut out the outside world with a flick of the wrist.
Also includes is a set of high quality curtains, which allows your gazebo to turn into a separate room if you so choose, providing a certain amount of privacy for you and your guests.
The structure comes complete with pre-drilled holes in the brackets at the base of the structure, allowing you to anchor your gazebo to whichever base you so choose.

Canopia Martinique Hardtop Gazebo - Link
The Martinique is another beautiful hardtop gazebo that has made our list of the best out there.
Why? Well, this gazebo features many of the same features that are also featured here on this list that we appreciate, such as the downspouts which leads rain to the four corners of the roof and down, rather than over the edge and potentially dripping on your guests.
It also has the same sought-after rust-resistant anthracite powder-coated reinforced heavy duty aluminum frame that makes it structurally durable and a permanent fixture in your backyard that can stay there year round if you wish.
There are three sizes for the Martinique: 10′ x 12′, 10′ x 14′, and 12′ x 16′. These sizes are fairly standard for most hardtops, but this is a good thing. They are the most popular and functional sizes available.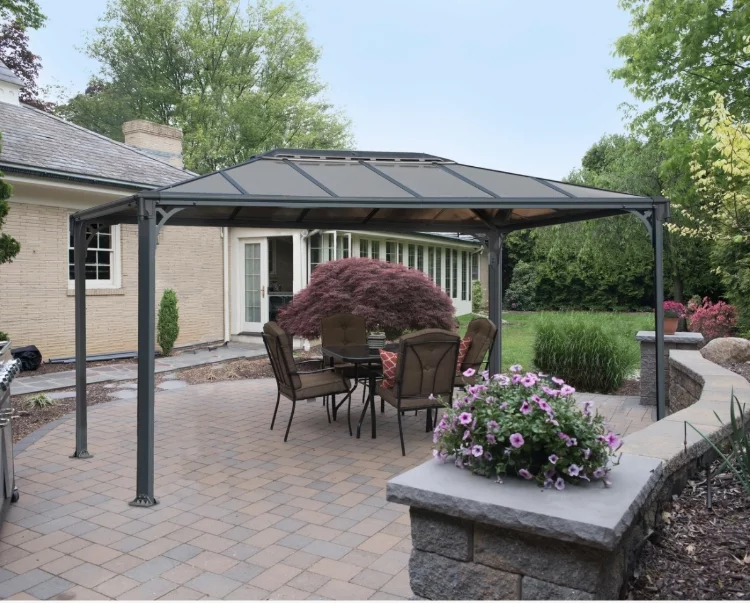 We see the same tough polycarbonate roof panels made to block harmful UV rays, not break or become brittle, while offering you the feel of a separate room outside your home and in the comfort of your backyard.
So you might ask - what's different about the Martinique? There are a few small differences, the wind/smoke hatch is not the double-roof, although it functions as such, and it has a slightly different design from others we've seen so far.
The Martinique also has extra padding in the roof panels, with 6mm twin wall panels that feature a bronze glaze, allowing for light to pass through slightly, giving the interior of the structure its own slightly golden tinge.
Curtains and netting available, and the hardware on the gazebo itself is in place for it, but they are sold separately.

Canopia Arcadia Multi-Use Gazebo Carport - Link
Finally, we have something a little different, which is the Arcadia Multi-Use Gazebo/Carport.
Due to its ingenious design, the Arcadia makes both a great carport, or a great hardtop sunshelter/gazebo, depending on how you see it.
As you can see, it features a unique arched shape, providing protection from the elements, however, it is not your typical 4-walled gazebo where you will find tracks for screens or netting. If you wish to add walls to it, you will have to be a bit creative here.
That said, one advantage of this model is the number of sizes it comes in: 12′ x 14′, 12′ x 16′, 12′ x 21′, 12′ x 28′, 12′ x 35′, and 12′ x 42′. So, if you Sojag Genova II Double-Roof Hardtop Gazebolike the aesthetic of this model, you have some much larger sizes you can choose from, which is unlike the standard sizes of most hardtops we've seen thus far.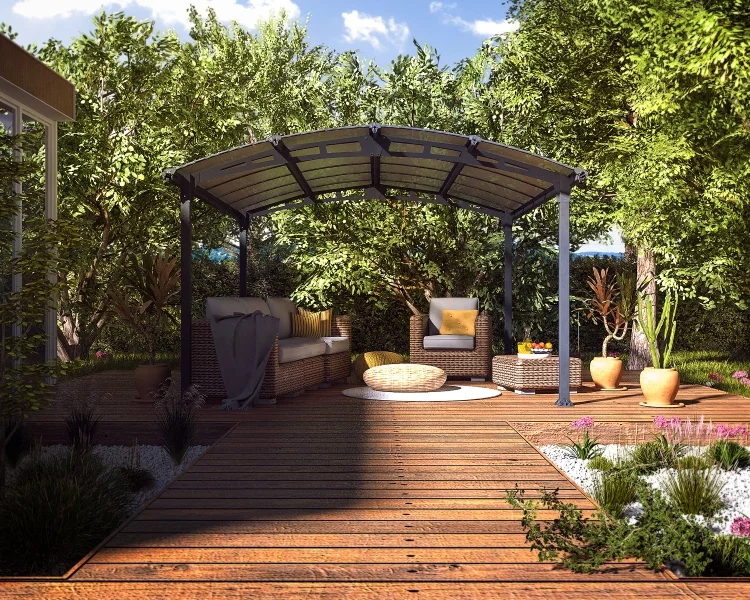 Due to its simple but elegant and modern design, this is what makes the Arcadia so popular with gazebo-lovers, because while it isn't as thick in terms of the support posts, it's still plenty sturdy and is designed for all weather just like the rest.
The installation of this model is arguably easier than the others too, as it is somewhat of a simpler design. So, you could potentially cut back on some hours of setup with this unit.
The Arcadia does pride itself on being nearly unbreakable, with 6mm heavy duty roof panels which slide into place, and it comes with all the pre-cut and pre-drilled holes, not to mention a complete anchoring kit, to make setup less of a chore.
Like the other gazebos, we find that the Arcadia has a powder-coated gray aluminum frame that is galvanized, and is made to support snow to about 300 pounds, although we recommend always clearing it off if you can before it gets to that point.
In addition, the Arcadia also features the same rain re-direction system which sends water away from its sides and over to its corners and down, avoiding irritating drips in the wrong places.
Overall, we find this gazebo to be a stunner and it comes highly recommended as well.

If you're looking for a stylish and durable gazebo, the Palram Palermo 3000 is a great option. It's made with high-quality materials and features a powder-coated aluminum frame that resists rust and corrosion. The roof is made of impact-resistant polycarbonate panels that provide UV protection. The Palermo 3000 is also easy to assemble, so you can enjoy your new gazebo in no time.
We love the Palram Palermo 3000 gazebo for its stylish design and durable construction. The powder-coated aluminum frame is rust- and corrosion-resistant, while the polycarbonate roof panels provide UV protection. We also appreciate how easy it is to assemble. If you're looking for a high-quality gazebo, the Palram Palermo 3000 is a great option.

Check it out our In-depth review


How to Build a Hardtop Gazebo ?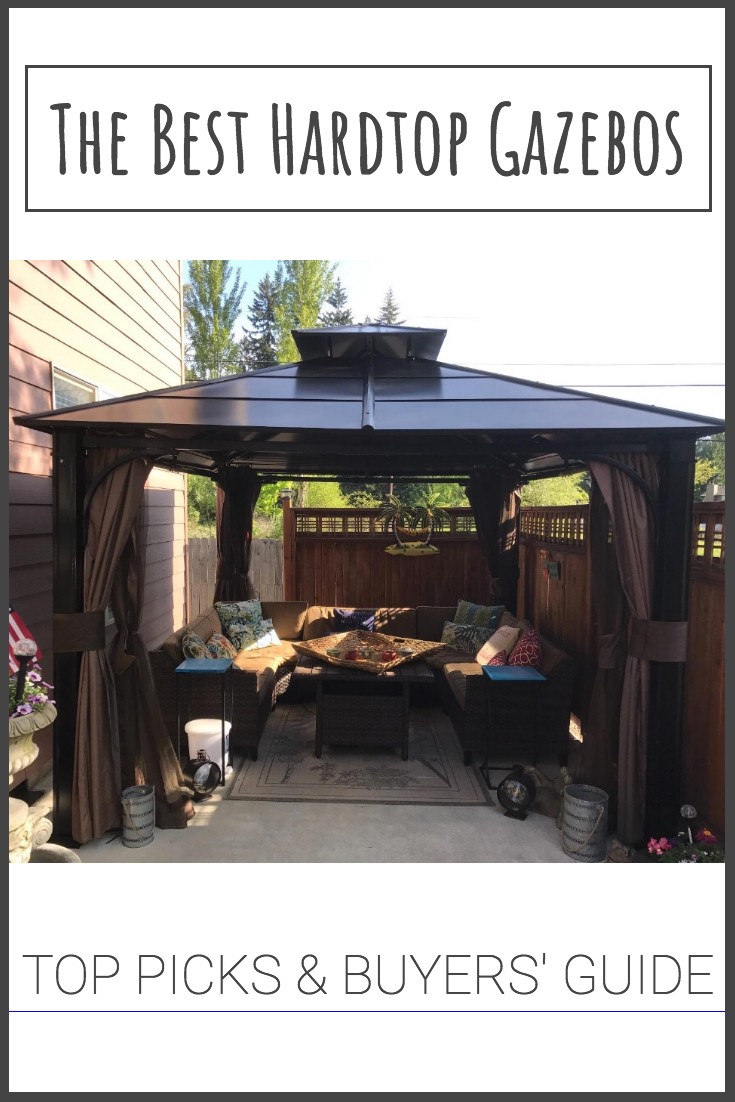 Building a hardtop gazebo is a great way to add an elegant addition to your backyard while providing a comfortable place to entertain guests or enjoy some peace and quiet. While there are many different ways to build a gazebo, using a pre-fabricated kit is often the easiest and most cost effective option.

Before you begin, it is important to select the perfect spot for your gazebo. You will need to consider things like sunlight, privacy, and proximity to other structures on your property. Once you have found the perfect location, you can begin preparing the ground by leveling it off and adding some gravel for drainage.

Next, you will need to assemble the floor frame of your gazebo. If you are using a kit, this will usually come with pre-cut lumber and all of the necessary hardware. Once the floor frame is complete, you can add the subflooring and decking.

Now it is time to start working on the walls of your gazebo. Again, if you are using a kit, the walls will come in prefabricated sections that you will need to assemble. Once the walls are up, you can add windows, doors, and any other features that you desire.

The last step is to add the roof. There are many different options for roofs, but a metal roof is often the best choice for a hardtop gazebo because it is durable and will last for many years. With the roof in place, your gazebo is now complete!
Benefits of Using a Hardtop Gazebo
If you're looking for a gazebo that will provide you with both style and function, then a hardtop gazebo is a great option. Hardtop gazebos are made with a durable metal frame and a hard top panel that helps to protect against the elements. Here are just a few of the benefits of using a hardtop gazebo:
1. Protection from the Elements
One of the best benefits of using a hardtop gazebo is the protection it can offer from the sun, rain, and wind. The hard top panel helps to deflect the sun's rays away from your seating area, keeping you cool and comfortable even on the hottest days. It also provides protection from the rain, so you can enjoy your gazebo even when the weather isn't cooperating.

2. Added durability
Hardtop gazebos are also known for their added durability. The metal frame and hard top panel help to make this type of gazebo one of the most durable on the market. This means that it will be able to withstand heavy use without showing signs of wear and tear.

3. Increased value
Because hardtop gazebos are so durable and offer so many benefits, they tend to add value to your home. If you're thinking about selling your home in the future, a hardtop gazebo can be a great selling point.

4. Easy to maintain
Hardtop gazebos are also very easy to maintain. The metal frame and hard top panel are both easy to clean and require very little maintenance.

5. Versatile
Hardtop gazebos are also very versatile. They can be used for a variety of different purposes, such as providing shade for your pool area or creating an outdoor living space.

If you're looking for a gazebo that will offer you all of these benefits, then a hardtop gazebo is a great option. With so many advantages, it's easy to see why this type of gazebo is becoming increasingly popular among homeowners.

Types of Hardtop Gazebos
There are three main types of hardtop gazebos: metal, wood, and composite. Each type has its own advantages and disadvantages that you should consider before making a purchase.
Metal gazebos are the most durable option, but they can be quite expensive. They're also not as easy to set up as other types of gazebos.

Wood Gazebos
Wood gazebos are the most popular type of gazebo. They're relatively affordable and easy to set up. However, they're not as durable as metal gazebos and they can be damaged by weather conditions.

Composite Gazebos
Composite gazebos are a mix of wood and plastic. They're more durable than wood gazebos, but they can be quite expensive.

Expert Tips for Maintaining Your Hardtop Gazebo
If you own a hardtop gazebo, you know that it's a great addition to any backyard. Not only does it provide shade and protection from the elements, but it also adds a touch of luxury. However, like all outdoor structures, hardtop gazebos require regular maintenance to keep them looking their best. Here are some expert tips for maintaining your hardtop gazebo:

1. Keep it clean
The first step in maintaining your hardtop gazebo is to keep it clean. This means sweeping away debris, leaves, and dirt on a regular basis. You should also wash the roof and sides of the gazebo with soap and water at least once a month.

2. Inspect it regularly
It's important to inspect your hardtop gazebo on a regular basis for any sign of damage. Look for cracks, holes, or other damage that could allow water or pests inside. If you find any damage, be sure to repair it promptly.

3. Protect it from the elements
One of the best ways to maintain your hardtop gazebo is to protect it from the elements. This means keeping it covered when not in use and making sure that snow and ice are removed from the roof in winter. You should also bring cushions and other items inside when bad weather is forecasted.

4. Hire a professional for major repairs
If your hardtop gazebo sustains major damage, it's best to hire a professional for repairs. This is especially true if the damage is to the roof, as it can be difficult to make repairs without proper training and equipment.

By following these tips, you can keep your hardtop gazebo in top condition for years to come. Enjoy your backyard oasis!
Buy them at Walmart, Etsy, eBay (limited quantity)
Outsunny 10' x12' Hardtop Gazebo with Aluminum Frame, Permanent Metal Roof Gazebo Canopy - Walmart, Etsy, Ebay
Sojag 10' x 14' Portland Wall-Mounted Hardtop Gazebo Outdoor Sun Shelter, Brown - Walmart, Etsy, eBay
Christopher Knight Home Aruba Outdoor Aluminum Framed Gazebo with Hardtop, 10' x 10', - Walmart, Etsy, eBay
Sojag Outdoor 6' x 8' Messina Grill Steel Hardtop Gazebo with Shelving, Dark Grey - Walmart, Etsy, eBay
Kozyard 10ftx12ft Hardtop Aluminum Permanent Gazebo with a Mosquito Net Sidewall and - Walmart, Etsy, eBay
Best Choice Products 10x10ft Hardtop Gazebo, Outdoor Aluminum Canopy for Backyard, Patio, - Walmart, Etsy, Ebay
Yardistry 11' x 13' Carolina Pavilion - Walmart, Etsy, eBay
Sojag Messina Grilling Gazebo - Walmart, Etsy, eBay
Conclusion for Hardtop Gazebo Buyers
Thanks for reading our guide!
If you still find yourself wondering what more is out there in terms of gazebos, you should check out our review of the best canvas canopy gazebos. They are a lighter weight (and so also less expensive), come in a variety of styles and designs, and are definitely worth a look.
Leave a comment below if you would like to share an experience, or talk about a product you've read about here.
Related posts: