Last Updated on
By: The Backyard Gnome
Today we review the Kozyard Rosana Hardtop Aluminum Gazebo, which is made from sturdy materials that will stand the test of time. They're meant to be solid and able to withstand the elements even if they're left outside all year long.
This is a permanent structure that you can install in the backyard. It's a great place for parties or relaxing with friends and family. It's like adding extra square footage onto your home's living space.
Features of the Kozyard Rosana Hardtop Aluminum Gazebo
Rustproof aluminum frame
Triangle stand poles
Hard top roof
Durable mosquito netting
Walls of 2 layers
Rustproof Aluminum Frame
The aluminum frame is meant to withstand rain and the sun. The paint won't peel or flake after being exposed to the elements for weeks, months, or years even. This isn't a structure that you'll be able to take down easily and place in storage for the winter. It needs to last for years.
The frame is what keeps the entire structure from collapsing. It's what holds the roof from falling down. With a sturdy frame, you'll be able to install this permanently into the backyard, and hang lights or a ceiling fan from the structure to truly call it an outdoor living space.
Triangle Stand Poles
The triangle stand poles are made of aluminum as well. They won't bend or break because of the shape. The triangle nature means they're reinforced on two sides to ensure stability. All 4 pieces are 3.85 inches by 3.85 inches. They're solid parts of the structure that won't wobble or break.
It'll hold the gazebo in place no matter what kind of weather hits. From snow to high winds to heavy rains, the triangle poles will keep the gazebo structure intact. It's easy to bolt the legs onto a hard surface, too. Whether it's cement or wood, the poles can be bolted down.
Hard Top Roof
The sloped roof is made of a hard, galvanized steel. The sloped nature as well as the actual run-off sections mean that you can let this stand in the snow. Even when snow packs onto the roof, you don't have to worry about collapse. In certain areas of the world, outdoor structures have to be shoveled and cleared like the home itself.
Otherwise, you could end up with structural damage that is felt in a few months' time. Imagine a flat roof that weakens the entire frame, which would become a problem during a summer storm when the legs break. That's not a concern with this gazebo at all. It's built to stand through the winter.
Durable Mosquito Netting
In the summer, there's mosquito netting included with this gazebo. An open gazebo means that bugs can make sitting outside incredibly unpleasant. In fact, mosquitoes can be a serious problem if they're carrying a disease. You don't have to worry about that with this durable netting included with the structure. It'll keep your family safe.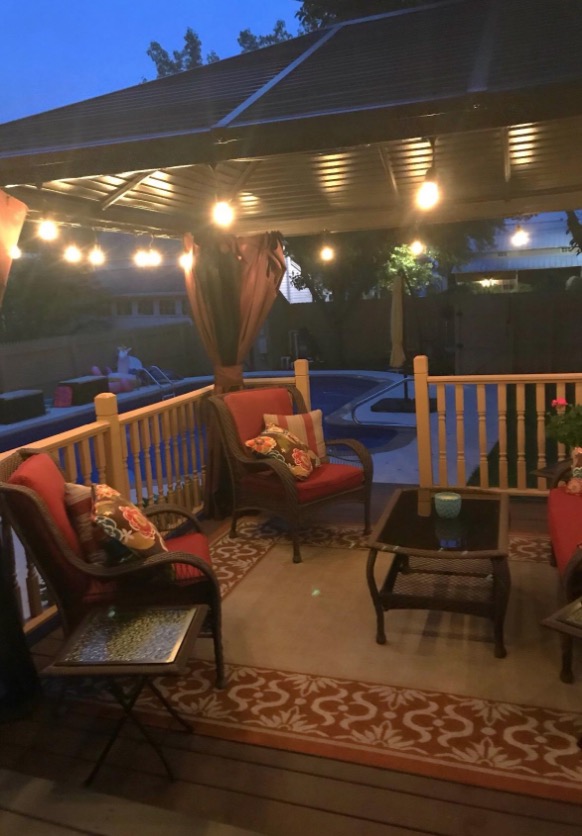 Layered Walls
Along with mosquito netting, there's also a durable privacy wall that you can add. There is a removable steel railing that will hold the extra layered walls for privacy. This could become a pool house with very little effort on your part. It'll give you privacy for a little fun outdoors, too.
Some people use these type of gazebos to surround their hot tub or spa. It provides privacy and a way to keep people away from the Jacuzzi unless you want them to see what's going on behind the curtain. The layered sidewalls are made of 180 gsm polyester.
Frequently Asked Questions
Is there a weight load for the roof?
It can hold 2.5 tons of snow. That's more snow than what could possible fall for an entire winter.
Can the gazebo hold the weight of a ceiling fan?

You'll need to ensure that you're purchasing an outdoor ceiling fan and reinforce the ceiling. It would depend on the weight of the fan. It's definitely possible.
How big is the gazebo?
The gazebo is 10 feet by 12 feet. That's 120 square feet of outdoor living space you're giving yourself with the purchase of this gazebo.
Conclusion
The Kozyard Rosana Hardtop Aluminum Gazebo is a terrific addition to any backyard. It's a dark brown to match most homes as well as the color scheme featured in most backyards. It comes with netting and fabric to give you a private space where bugs won't attack. It can be used during the day and well into the night.
Here are some additional articles on our site you might find helpful.