Last Updated on
More and more, people are opting for hardtop gazebos for their backyard experiences. Hardtop gazebos are sturdier than softtop, create a strong focal point. Gazebos shield you and guests from the sun while protecting your patio furniture from sun-related fading and weather damage.
Today we review the top 5 hard top gazebos by manufacturer Sojag.
---
Sojag Sedona Hardtop Sun Shelter Gazebo

Buy On Amazon
This gazebo comes in a dark brown tone, so it blends nicely with existing landscape. The aluminum frame is rustproof, so you can rest assured while it sits outside year-round.
The hardtop is a series of panels constructed from polycarbonate as to block out the sun, while keeping you and guests cool beneath it. The panels are 8mm thick. The roof is completely weatherproof, but we recommend removing snow as it builds up using a broom. There is no ventilation, so you should not put a fireplace under this gazebo, only furniture.
This gazebo measures 10×12 feet, and should be bolted down to your patio. It comes with a set of mosquito curtains at each of the four corners, allowing you to enjoy the gazebo at all times of day without losing the view. It will take around six hours to assemble with the help of an extra person.
The Sedona hardtop gazebo sells for around $1700.
Read our full review of the Sojag Sedona Hard Top Sun Shelter Gazebo
---
Sojag Castel Hardtop Bronze Gazebo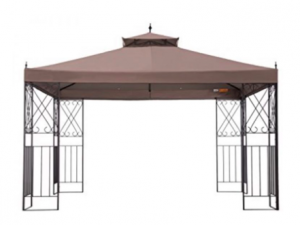 Buy On Amazon
This gazebo measures 12×14 feet, and its frame is a bronze aluminum. Its roof is eight millimetre UV-protected polycarbonate panels that will shelter you and guests from the sun. It is designed to be a permanent structure, so you can leave it up year-round. We recommend removing the snow as it begins to build up to avoid any damage.
The gazebo includes wall-to-wall nylon mosquito netting, guaranteed to increase your comfort so you can enjoy the gazebo at all times of day.
There are four sliding doors for ease of access on each side of the gazebo. The headroom of each doorway measures six feet, ten inches for plenty headspace.
Sojag refers to this model as a solarium, as the tinted ceiling lets soft light in while blocking out harsh rays
It creates a lovely atmosphere for dining and lounging. It must be anchored to the ground but you have to buy the anchors separately.
Read our full review of the Sojag Castel Hard Top Bronze Gazebo
---
Sojag BBQ Messina Hardtop Gazebo Review

Buy On Amazon
This is an outdoor kitchen gazebo, a structure that is designed to withstand the heat of your barbecue. It comes in a charcoal grey, creating a bold frame for your outdoor kitchen. It not only creates a bold cooking area, but also shelters your barbecue from the elements and gives you a roof should you be cooking outside in the blaring sun or falling rain.
The roof is made of galvanised steel, whereas most hardtop gazebo rooves are made of polycarbonate. The steel will endure high heat and smoke without sustaining damage or destruction. It is double-roofed for ventilation, giving heat and smoke somewhere to escape. The posts have base mounts with three holes that you can anchor to your patio.
The frame is rustproof aluminum. The gazebo measures 112" x 71" x 115", and has two side shelves for a workspace or storage, for a total footprint of 6×8 feet. The inside measurements from inside of post to inside of post are 6' 6½".
The barbecue Messina sells for around $1100.
Read our full review of the Sojag BBQ Messina Hard Top Gazebo
---
Sojag Messina Gazebo

Buy On Amazon
The Sojag Messina measures 12×16 feet, a significant structure that will bring real style to your backyard entertainment area. It is charcoal in colour, made of rustproof aluminum with a galvanized steel roof. The roof has a screen cupola to allow for ventilation while keeping bugs out. This vent helps keep the area cool beneath the shelter while giving the wind somewhere to cut through.
It comes equipped with PVC-coated mosquito netting, a key feature to helping you enjoy your outdoor time day and night. If you use the netting in the daytime, it can help break up wind and sun exposure as well. The gazebo comes with a second designated track for privacy curtains.
It has a bold frame with molded crossbeam for a nice design element the whole way around. This gazebo sells for around $2700.
Read our full review of the Sojag Messina Gazebo
---
Sojag Genova Sunshelter Gazebo

Buy On Amazon
The Genova Sunshelter is a high quality aluminum structure that will shelter you from sun and rain, while bringing a sense of luxury. It comes in dark brown and measures 10×12'.
It comes with mosquito netting to protect you from biting bugs, and the netting can either be drawn or tied at the four posts. It will take a day or two to set up and requires the assistance of one to two extra people.
There are three screwholes on each post to bolt the gazebo down: it is meant to be a permanent structure. Weighing just over 300 pounds, you can rest assured of quality and endurance.
The Genova Sunshelter sells for around $1200.
Read our full review of the Sojag Genova Sunshelter Gazebo