Last Updated on
By: The Backyard Gnome
More and more, people are opting for hardtop gazebos for their backyard experiences.
Why? Primarily hardtop gazebos are sturdier than their soft top and canvas canopy gazebo counterparts, while creating a strong focal point that protects you from the elements, offers shade, and provides a destination for friends and family to gather.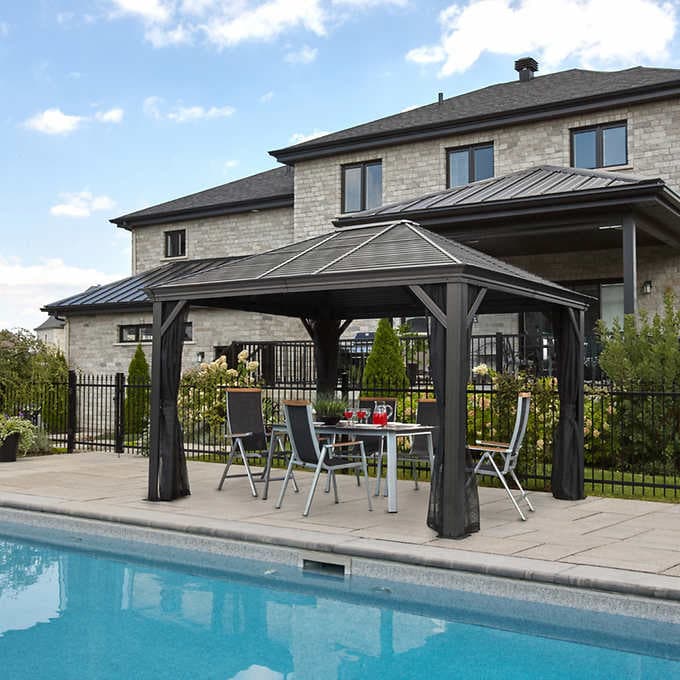 In this article, we are featuring hard top gazebos by the brand Sojag, a Canadian backyard fixture and furniture company who are well-known in the gazebo world for putting together some of the most stunning pieces we've seen
Sojag produces hard top, soft top, wall-mounted gazebos, swings, and even solariums.
We have been aware of Sojag's work for some years now, and we have a habit of checking in periodically to see what sorts of gazebos they've come up with this year, since their are always new models appearing from time to time. 
Popular models you may know include names like: Messina, Verona, Sedona, Mykonos, St-Paul, and Komodo, among others.
As a result of researching so many of Sojag's products, we've decided to put together a list of the top Sojag hard top gazebos.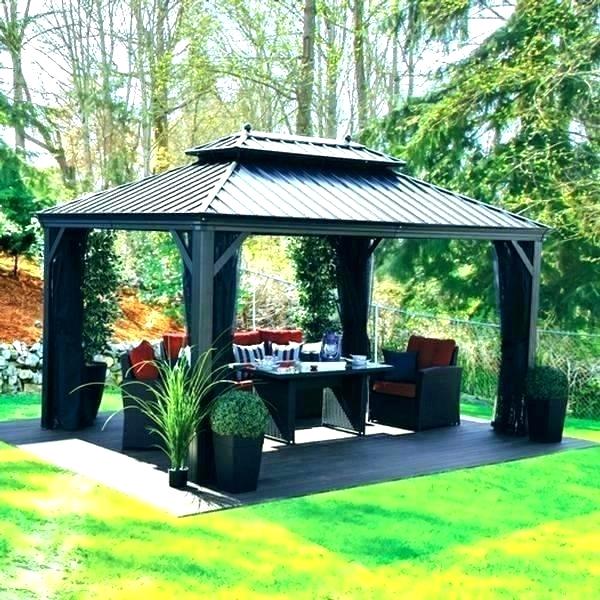 Like any review list, this is our subjective opinion of what are the "best" gazebos offered by this company, taking into consideration what we've gleaned from our research, along with what other buyers have also said about these gazebos over time.
As part of our due diligence, this list will contain both pros and cons of these gazebos, however, we always encourage anyone reading this to do their own thorough research before purchasing one of these gazebos, as they are somewhat luxurious, and made up of costly materials that bumps up their price overall.
Without further delay, we will now review review what we consider to be the top 5 hard top Sojag gazebos.
---
Sojag Messina Gazebo
UPDATE: The Messina has been discontinued by Sojag and is no longer available. The Mykonos II model is a more recent release that incorporates all of the great features of the Messina. Check it out below.
Sojag Mykonos II Double Roof Hard Top Gazebo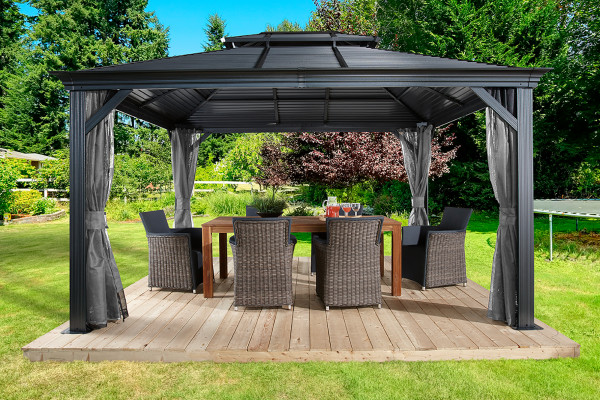 All-Season Hardtop
Vented double roof
Durable and corrosion resistant, premium powder coated dark grey aluminum frame
Includes a functional and convenient, PVC coated mosquito netting
The Sojag Messina measures 12×16 feet, a significant structure that will bring real style to your backyard entertainment area. It is charcoal in colour, made of rustproof aluminum with a galvanized steel roof.
The roof has a screen cupola to allow for ventilation while keeping bugs out. This vent helps keep the area cool beneath the shelter while giving the wind somewhere to cut through.
It comes equipped with PVC-coated mosquito netting, a key feature to helping you enjoy your outdoor time day and night.
If you use the netting in the daytime, it can help break up wind and sun exposure as well. The gazebo comes with a second designated track for privacy curtains.
It has a bold frame with molded crossbeam for a nice design element the whole way around.
---
Sojag BBQ Messina Hardtop Gazebo Review
Sojag BBQ Messina Hard Top Grill Gazebo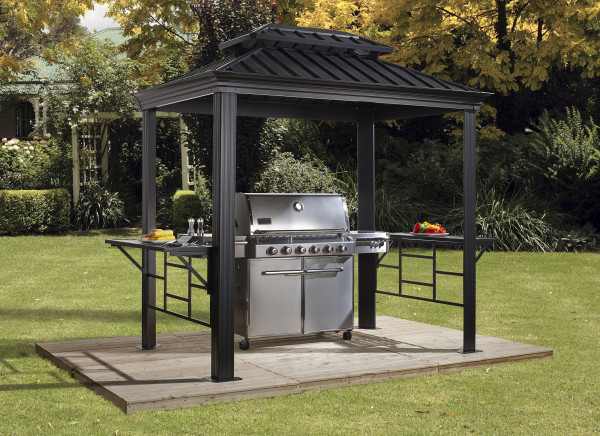 All-Season Hardtop
Suitable for BBQ-ing
Vented double roof
Durable and corrosion resistant, premium powder coated dark grey aluminum frame
Includes 2 side shelves for additional counter space
Here we have the Sojag BBQ Messina. This is a relatively small outdoor kitchen gazebo, with a structure that is designed to withstand the heat of your barbecue.
This miniature cousin of the Sedona comes in a charcoal grey, creating a bold statement for your outdoor kitchen.
It not only creates a great little cooking area, but also shelters your barbecue from the elements and gives you a roof should you be cooking outside in the blazing sun or even in the pelting rain.
The roof is made of galvanized steel, whereas most hardtop gazebo roofs are made of polycarbonate. The steel will endure high heat and smoke without sustaining damage or destruction.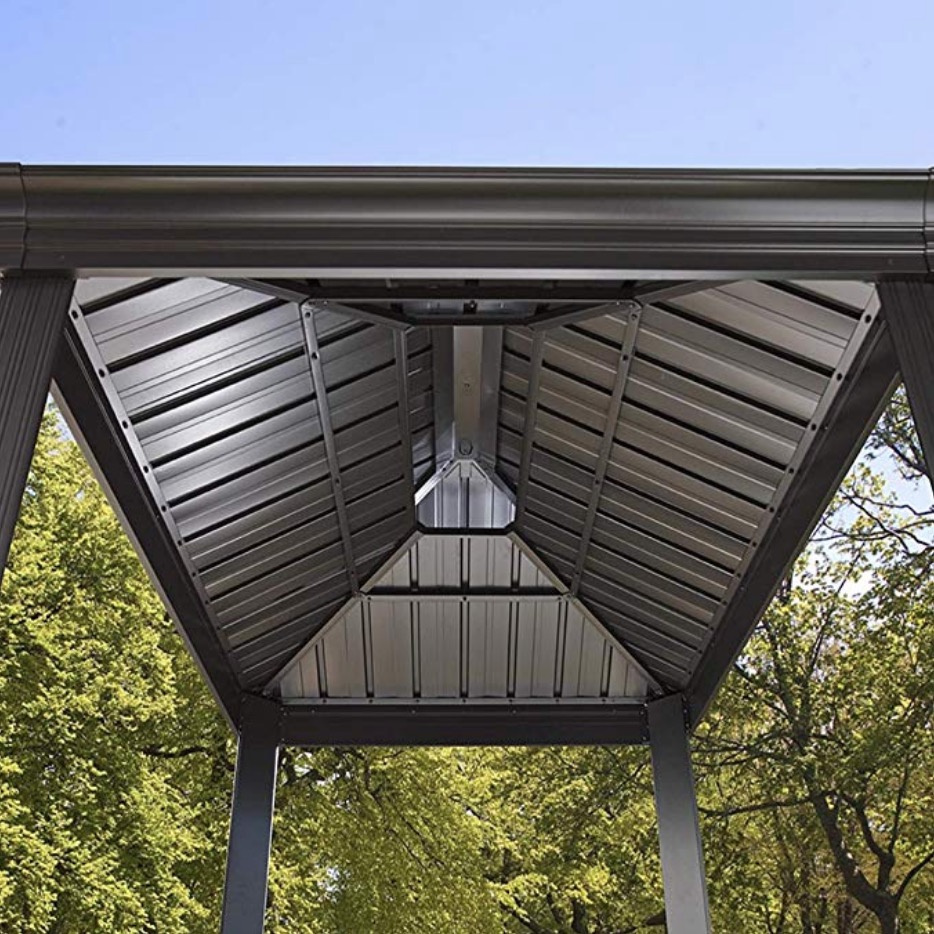 It is double-roofed for ventilation, giving heat and smoke somewhere to escape. The posts have base mounts with three holes that you can anchor to your patio.
The frame is rustproof aluminum. The gazebo measures 112" x 71" x 115", and has two side shelves for a workspace or storage, for a total footprint of 6×8 feet. The inside measurements from inside of post to inside of post are 6' 6½".
---
Sojag Sedona Hardtop Sun Shelter Gazebo
Sedona
This 10′ x 12′ gazebo comes in a dark brown tone – nearly black – so it seems to blend nicely with most landscapes with a lot of greenery, we find. 
It has the mysterious regal allure and dark shimmer of the obelisk from Planet of the Apes (sorry for the obscure reference), except far friendlier.
The aluminum frame is rustproof, so you can rest assured it can survive many of the off-seasons while it sits outside year-round. 
That said, there are ways to care for gazebos in the winter, beyond just leaving it outside as is, and you can read more about that in our article here on winterizing your gazebo.
This hardtop gazebo's roof, so you know, consists of a series of panels constructed from polycarbonate as to block out the sun, while keeping you and guests cool beneath it.
The panels are 8mm thick, according to specs, which means that it's thick enough to block out light, but not so thick that you want to be jumping up and down on top of it, though you may need to access the roof for various custodial reasons throughout the year.
The roof is completely weatherproof, but we recommend removing snow as it builds up using a broom or something of that sort.
There is no ventilation through the top, so we recommend that you should not put a roaring fireplace under this gazebo, only furniture, and home decor items.
This gazebo measures 10×12 feet, and should be bolted down to your patio. It comes with a set of mosquito curtains at each of the four corners, allowing you to enjoy the gazebo at all times of day without losing the view.
It will take around six hours to assemble with the help of an extra person.  This thing isn't exactly like pitching a tent, as it isn't the lightest of structures at almost 300 pounds total combined weight of all parts, so be ready for some manual labour – in our opinion worth it. 
The Sedona hardtop gazebo sells for around $1700, last we checked.  Not cheap, but also this is a fairly significant investment so it's not something we'd want to cheap out on in the first place, considering a well maintained gazebo can last years and years.
---
Sojag Castel Hardtop Bronze Gazebo
Castel
The aptly named "Castel" (castle?) gazebo is size-wise 2′ overall bigger than the Sedona, perhaps accounting for its name.  This is the kind of gazebo one would want during warmer months in locations where the bugs are rampant, because of the netting.
The Castel includes wall-to-wall nylon mosquito netting, guaranteed to increase your comfort so you can enjoy the gazebo at all times of day, whether there are bugs out to get you, or not. 
That said, you're only enclosed by this netting if you choose to be, and you can slide the doors open, letting the summer night air caress your skin.  Ha, so poetic we are!
There are four sliding doors for ease of access on each side of the gazebo. The headroom of each doorway measures six feet, ten inches for plenty headspace. Based on the size of this thing, you can totally party it up in there, choosing to have partial privacy or not. 
The mosquito net isn't going to make it so you can't be seen, but it does obscure the view slightly, plus, you could add curtains if you so desired. 
We like to think of the Castel like having a small one room apartment in your backyard that you can seek refuge in any time the weather allows.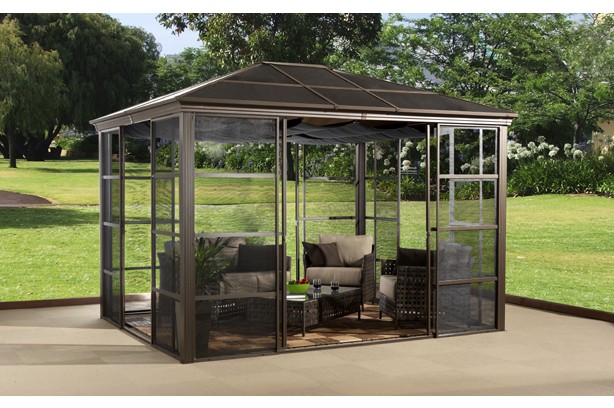 As mentioned, this gazebo measures 12×14 feet, and its frame is a bronze aluminum. Its roof is eight millimetre UV-protected polycarbonate panels that will shelter you and guests from the sun. 
In terms of the roof, it is functionally the same thickness as the Sedona, however style-wise, it looks different.
It is designed to be a permanent structure, so you can leave it up year-round. We recommend removing the snow as it begins to build up to avoid any damage, and covering it as well. 
We have a good article here on setting up a gazebo if you want to read about that.
Sojag refers to this model as a solarium, as the tinted ceiling lets soft light in while blocking out harsh rays
Overall, the Castel creates a lovely atmosphere for dining and lounging. It must be anchored to the ground but you have to buy the anchors separately.
---
Sojag Genova Sunshelter Gazebo
Genova
The Genova Sunshelter is a high quality aluminum structure that will shelter you from sun and rain, while bringing a sense of luxury. It comes in dark brown and measures 10×10', and also comes in 10×14′.
It comes with mosquito netting to protect you from biting bugs, and the netting can either be drawn or tied at the four posts. It will take a day or two to set up and requires the assistance of one to two extra people.
There are three screwholes on each post to bolt the gazebo down: it is meant to be a permanent structure. Weighing just over 300 pounds, you can rest assured of quality and endurance.
The Genova Sunshelter sells for around $1200.
---
In closing…what are your thoughts on these gazebos?  Have you ever owned one, or plan to?  Leave us a comment below and let us know your thoughts!
Here are some additional articles on our site you might find helpful.