No backyard is fully equipped without an assortment of proper seats and recliners.  Whether you are the lone backyard lounger who relaxes in solitude or the entertainer who constantly has company over, a well put together seating arrangement is key to getting the most of out you backyard patio experience. The selection we have for you is picked out based on product build and material quality, as well as offering the best relaxation experience one can wish for.  Constructed from durable, weather resistant materials, these chairs will have no trouble residing outdoors for extended periods of time. The strong, yet lightweight frames make them very practical to arrange, set up, and store, avoiding a great deal of clutter and headache for the end user. The adjustable, reclining design helps you personalize your experience and ensures your outdoor relaxation is nothing less than just right! At the same time, these models are all very affordable, do not require any extensive assembly work, and their high durability design ensures they will serve you well for a long time without warping or bending under pressure.  Nevertheless, as our guide will point out, not all outdoor recliners are the same and each is suited to a different taste. Whether you have some money saved up, or are just browsing for some spontaneous shopping, read on as we highlight the best of the best in the world of outdoor recliners.
Odaof Zero Gravity Recliner
The Odaof Zero Gravity Recliner is definitely one of our favourite picks, which is why we're eager to show it off in the top 10. It works brilliantly on the patio or by the poolside, as well as under a gazebo or in the middle of your yard.  It is a well put together ergonomic chair, coming in a luxurious black fade-resistant colour scheme.  The frame is very light, but also quite durable. It is scratch resistant, and can sustain up to 300 lbs. The reclining system allows you to select your perfect angle to relax into and is specifically designed to be smooth and easy to handle, while reducing the risk of the chair flipping over.  The angle lock ensures the chair is sturdy and safe for use. More so, one of the best aspects of this chair's frame is the so called Zero Gravity Position it cradles you in. This is indeed a very cool feature because it allows your body to rest in the exact same position it would default to while floating in zero gravity.  This makes it so that gravitational stresses and built up pressures on your body are completely eliminated, leading to one of the most delightful lounging experiences out there. (It's actually such a neat concept, that we went full out and dedicated an entire section to discussing Zero Gravity Chairs, if you care to read on).  The Odaof also comes with an adjustable and removable pillow as well as a high quality breathable and water/UV resistant mesh material.
---
Best ChoiceProducts Two Person Recliner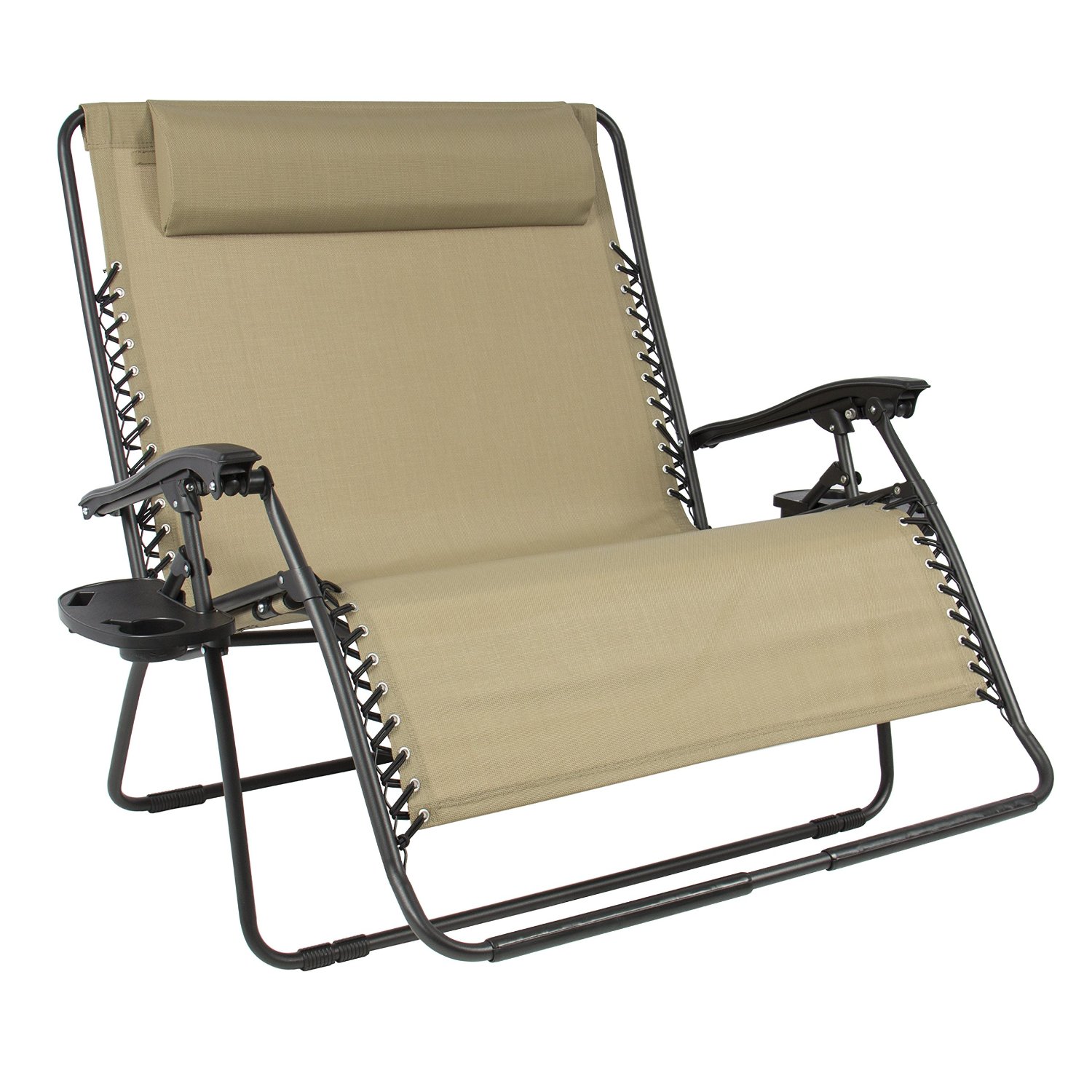 This wonderful chair by Best Choice Products, is suited for those who wish to recline with a friend or partner.  The two-person design, with built in cup holders, is great for relaxing with company over, or for seating people together at a party.  With that said, however, should you feel like taking up the entire chair yourself and reclining in the most indulgent and spacious way possible, there will be nobody to stop you.  The design is most durable, with the powder-coated steel frame and high quality breathable mesh making it one of the best built chairs out there. The ergonomic, adjustable frame is designed to resist bending and buckling even with two people using it for extended periods of time. While being a particularly large and comfortable chair, the Best Choice 2-Person Recliner is actually very easy to set up anywhere around the backyard, and just as easy to pack up when you're done.  This, along with the UV and weather resistant materials make this chair an easy choice for anyone's dream backyard.
---
Partysaving Recliner Model #APL1059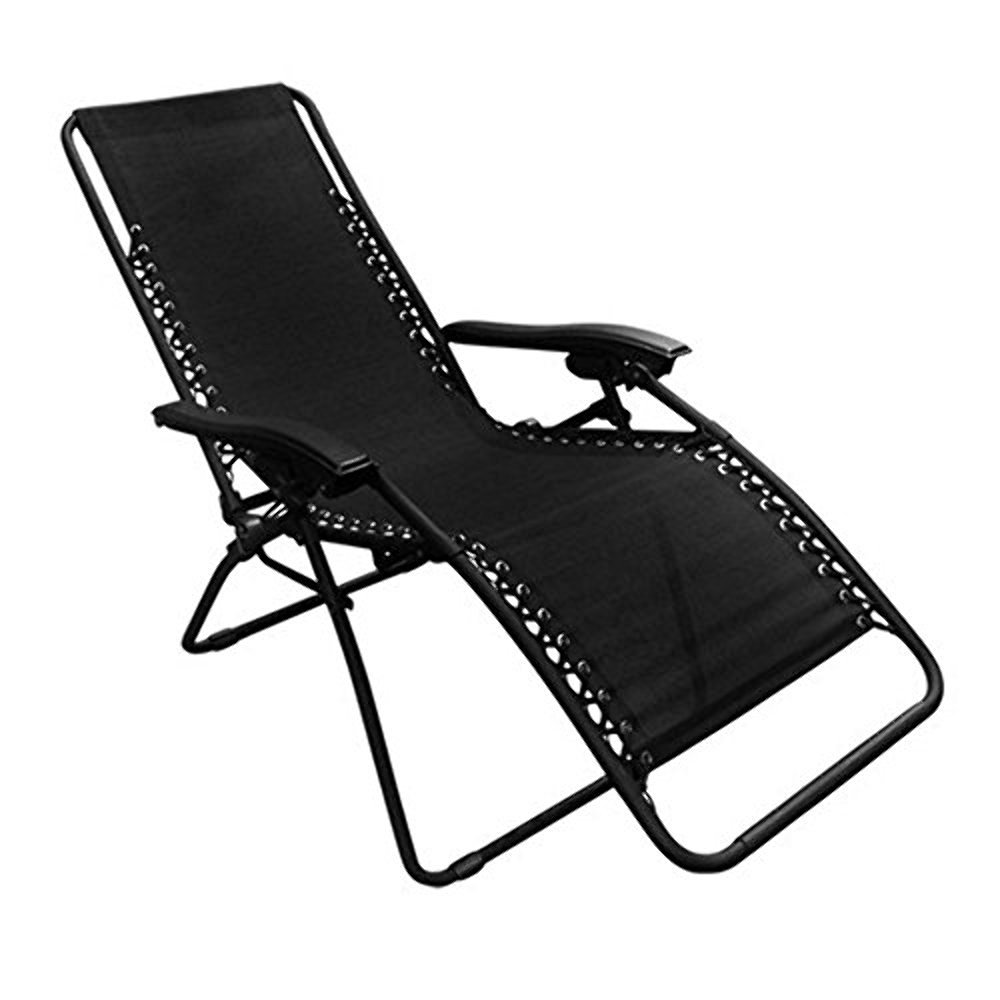 This simple and affordable chair is a great pick for your backyard relaxation needs.  The PARTYSAVING APL1059 is a premium grade patio chair featuring a comfortable and natural-feeling design that works anywhere in the backyard. The powder-coated frame as well as the weather and UV resistant mesh make it a good candidate for daily use without a scratch. Indeed, it is designed and tested to be able to sustain up to 250 lbs without warping or bending.  This means that throughout your day to day, this chair will deliver on hassle-free comfort without fail. The rubberized slip resistant feet, along with the adjustable reclining back, and the easy to set up frame, make it one of the hottest sellers out there.
---
Vergo Zero Gravity Recliner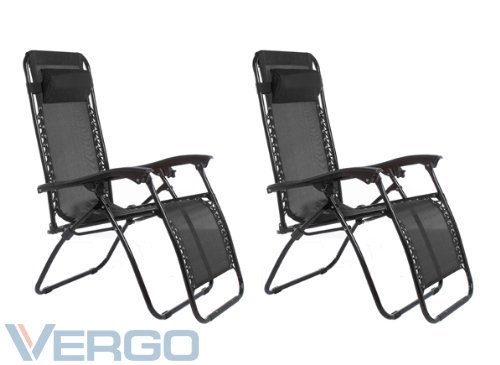 Vergo is a brand to remember as it retails products known for their great mix of affordability and uncompromising quality.  These Vergo Zero Gravity outdoor recliners, of course, are no exception.  Very reasonably priced, they feature a beautifully stylish design and a strong, high quality product build. The powder-coated, scratch resistant frame is tested to hold up to 300 lbs easily. It's adjustable and oh-so ergonomic, making sure you can lazily indulge at exactly the right angle that works for your back. At the same time, the weatherproof and UV-resistant mesh provides excellent comfort and support. The notable thing about these outdoor recliners is that they are actually Zero Gravity Chairs. As mentioned before, this isn't just a fancy name or brand.  Rather, it's a very unique and innovative chair design that cradles your body in a position that fully eliminates all gravitational stress and pressure placed on your bones, muscles, and joints.  Simply put, this is the most relaxed the human body can possibly be.  It's actually such an awesome concept, that we have a buyer's guide specifically for Zero Gravity Chairs and Recliners, as well as an entire section raving about their features and health benefits. Finally, what makes this product a great choice to consider, is the fact that these chairs come in pairs of two.  Adding to the affordability of the selection, not only are you getting a high quality product with a groundbreaking design, you are getting two of them!
---
Camco Recliner Model
The Camco 51812 is truly a champion for the backyard entertainer. The wonderful tan colour and fern pattern will undoubtedly add some flare to your backyard ensemble. It's a light, yet durable chair, featuring a double locking recliner system, as well as a breathable mesh for maximized comfort.  At the same time, despite the many features, the price is definitely just right!  What this chair tackles best is being friendly to the day-long lounger who might be seated for extended periods of time.  Most wooden chairs and recliners put strain on your back and thighs, sometimes even restricting circulation over longer periods of time.  That's certainly not our idea of a relaxing afternoon, which is why we recommend this one for all of your lazy sundays (or whichever day of the week works best for you).
---
Faulkner Recliner Model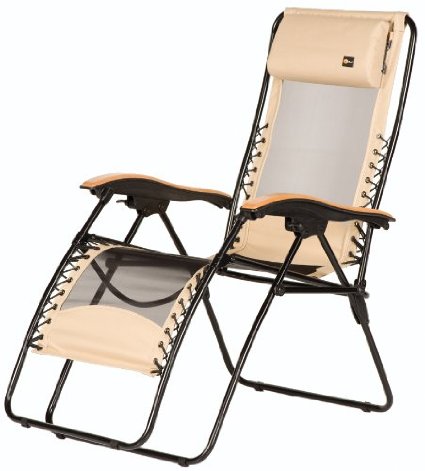 The Faulkner 48970 is a widely reviewed superstar of the outdoor recliner world.  The Newport-style patio recliner features a steel frame coupled with stylish yet ergonomic wooden hand rests.  The mesh has more of a design to it featuring  a nylon, cotton and polyester blend composed for the smoothest and softest feel. The ergonomic curvature of the chair overall makes sure you are reclined in a blissful, snooze-inducing position that is kind to your back and neck.  This is aided by the adjustable headrest and the innovative lever-lock system for the reclining angle. As with most chairs in our lineup, it features a light but durable build which will serve you a long time in the outdoors while also being very easy to set up and transport. (Because who needs the hassle?)
---
XtremepowerUS Zero Gravity Chair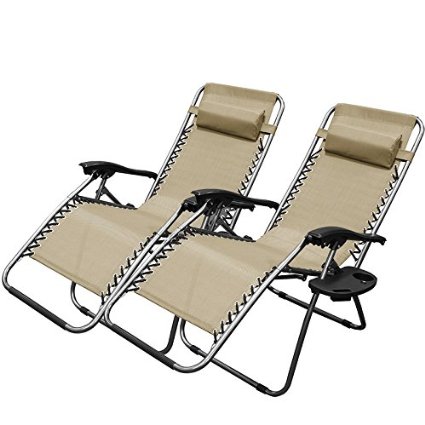 Made proudly in the US, this chair features luxurious size and durability for everyday use as well as entertaining.  Measuring in at 63.8 x 26.8 x 29.3 inches while open and tested to hold up to 330 lbs, this chair is definitely one of our most heavy duty candidates.  It goes without saying that it is made to be resistant to the elements and can reside happily in your backyard for extended periods of time.  While it is a heavy-duty build, it by no means compromises on comfort and easy of set up and transport.  In fact, the foldable frame makes it quite easy to assemble, pack up, or transport, while the Zero Gravity design makes it one of the most comfortable and ergonomic chairs out there.  As mentioned before, we cannot praise Zero Gravity Recliners enough, so do check out our entire section on the subject when you have a chance.  Adding to the value of this purchase, these chairs can also come in sets of two.  This way, you can have one ready for when you have company over.
---
Best Choice Products Recliner Double-Set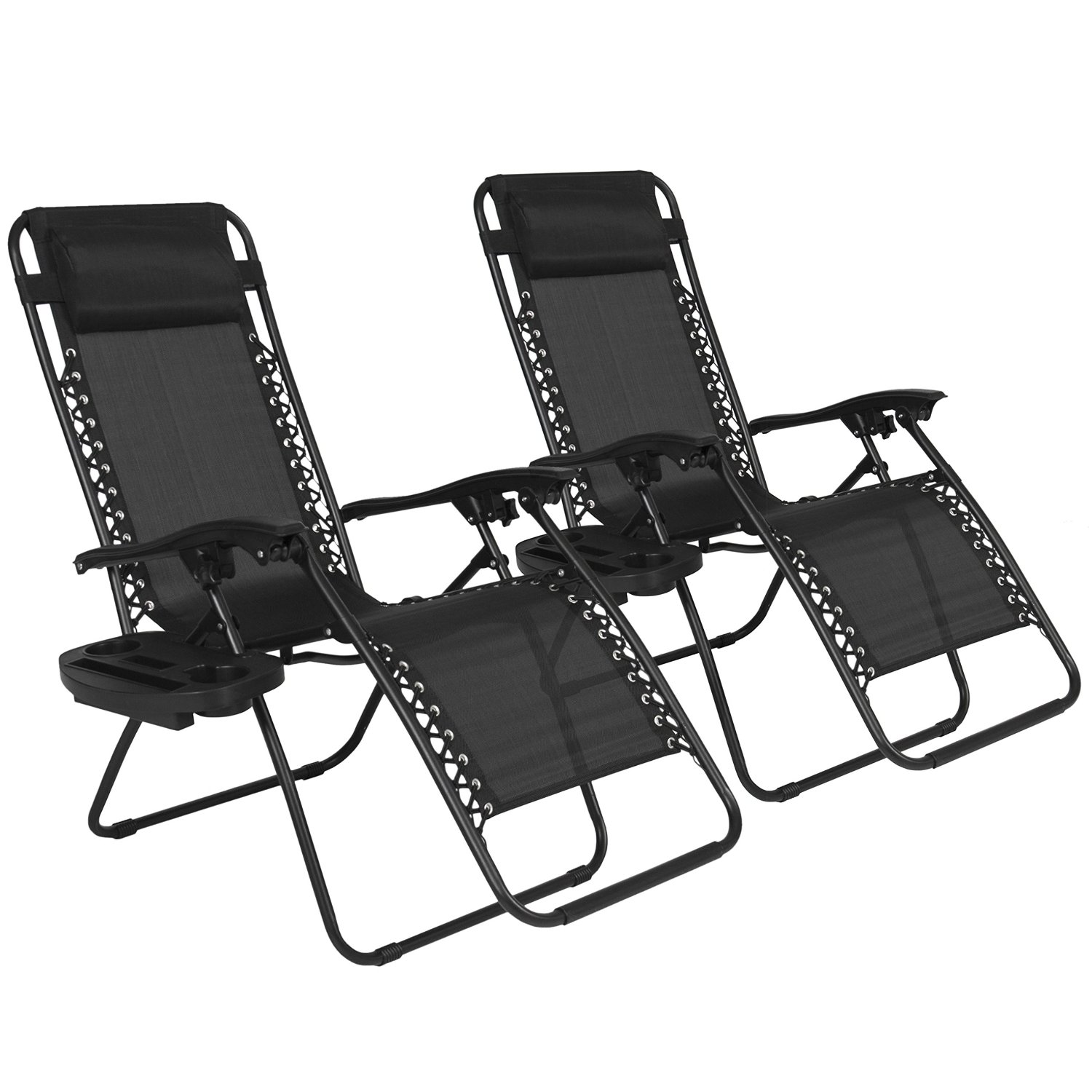 Going back to Best Choice Products, this power duo of the outdoor recliner world is definitely something to consider for your wishlist.  Simple and straight to the point, they are an excellent price for the quality and durability they provide.  They feature rubberized feet, adjustable headrests and padded seating for extra comfort.  Coming in sets of two, each being able to hold up to 300 lbs, and ready to brave the outdoor elements, this Best Choice Products selection is ranking number three in our rockstar lineup.
---
Outsunny Zero Gravity Recliner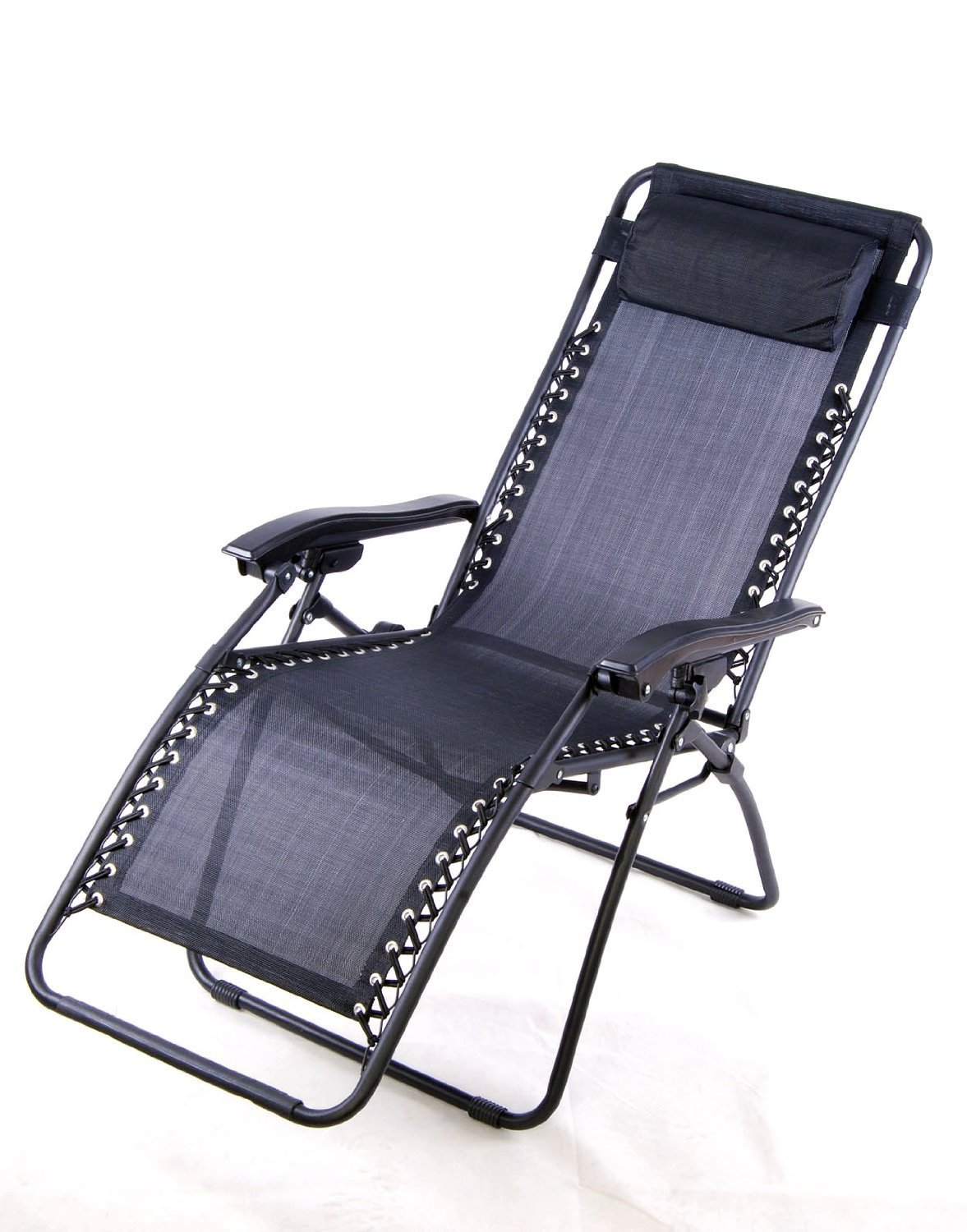 The Outsunny Zero Gravity Recliner is yet another Zero Gravity type outdoor recliner featured in our lineup. As you might be able to tell, we are more than excited to rant and rave about these innovatively designed chairs.  The zero gravity position, as it's called, is the most neutral and comfortable position the human body can assume. The chair is designed to quite literally mimic the position in which one would float under zero gravity conditions. You can always read more about this amazing concept on our page dedicated to zero gravity chairs. Nevertheless, focusing on the Outsunny Recliner, this one is a both a quality and budget superstar, which is why it has earned spot number two in our hearts as well as our top 10 lineup. The incredibly lightweight yet durable design, which clocks in at 20 lbs but can hold up to 300 lbs, is coupled with a weather resistant build and an incredibly comfortable zero gravity design plus a removable pillow. Altogether, despite the beaming high quality product build, this chair is one of the most affordable out there!
---
Caravan Sports Infinity Recliner

For those who do not shy away from absolute indulgence, and for situations where space is not close to scarce, we recommend the particularly large Caravan Sports Infinty Zero Gravity outdoor recliner.  Being able to hold up to 330 lbs and featuring a frame 5.3 inches wider that your standard issue, this chair is nothing less than a luxurious reclining beast for your backyard. Definitely worth mentioning is that it too features zero gravity technology, making this one of the most luxurious recliners out there.  Along with this, the end user benefits from a lot of the features of premium outdoor recliners such as weather resistant build, adjustable headrest and adjustable reclining angle.
---
In this article, as you might have noticed, we've mentioned a lot of the so called zero gravity chairs.  That is certainly no coincidence since they can be some of the best accessories to your backyard, so if you feel like reading more about them in particular, you should hop on to our review of the best outdoor zero gravity recliners.  For more information on how the chairs themselves work and what the deal is with the 'zero gravity position', we've prepared this nifty article on outdoor zero gravity chairs.