Yes, you read that correctly. We have put together a list of seven outdoor party ideas for wintertime. No, we are not punishing you. We truly believe in the magic beauty of winter parties: falling snow, cozy sweaters, cocktail possibilities, plus the rustic nostalgia of swinging back with your pals in a snowy landscape.
There is no longer any excuse to stay inside and watch the snow from your window: get outside, light up a fire, throw on a pot of coffee or tea, and party in a winter wonderland! Please note that these party ideas are geared toward adults, because children have all kinds of parties at school, and you should take advantage of their absence. 😉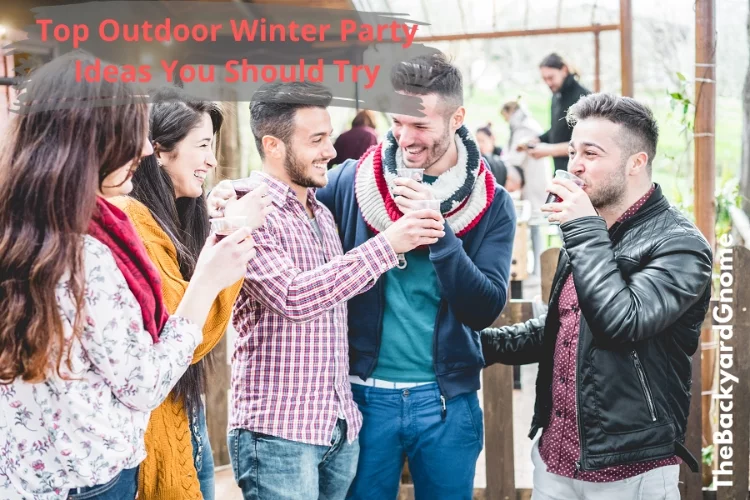 Best Outdoor Winter Party Ideas to Try
Krampusnacht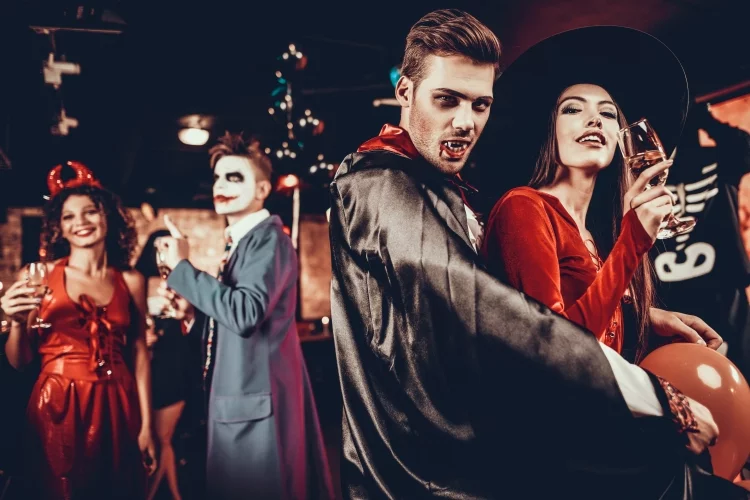 Krampus is the wicked twin of Saint Nicholas, who, instead of giving presents to good children, comes to town to terrorize misbehaved children. This tradition originates in Central Europe where, on December 5th, this hairy demon with forked tongue comes round with branches for whipping. He carries an empty sack, which he will fill with all the bad children. We do not condone the evil ways of Krampus here, but the idea of this holiday is wholly amusing, and can be a fun party idea between Hallowe'en and Christmas.
We'd make this one adults-only, actually. Encourage all guests to dress up in horns, masks, and hooves. Play a game where the loser is playfully whipped by other guests. Serve absinthe the right way by lighting sugar cubes on fire, and drink this hallucinogenic potion all night, if you can find the good stuff. We advise everyone to party indoors for this, or at least stay contained in your backyard. Tee-hee!
Winter Solstice Party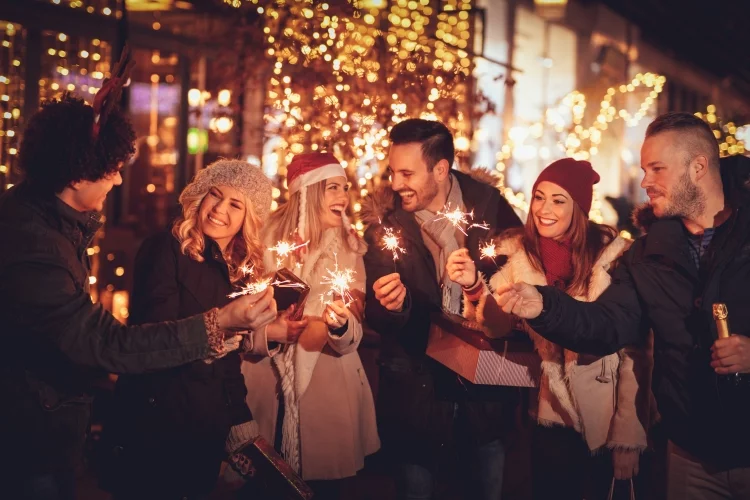 The Winter Solstice usually falls on or around December 22nd, indicating the longest night of the year, where the sun rises latest and sets earliest of any other day. After this night the days grow longer. There are many different things to celebrate at this time, such as connecting with ancestors and renewing our spirituality, and connecting with the cycles of nature.
You can celebrate at the moment of solstice, at noon, midnight, in the evening, or all day long! The Solstice can be celebrated in the backyard, or at a local park. Make a wreath and gather round, each person expressing gratitude. Decorate a cake with a sun image, light 12 candles (for each month of the year), everyone makes a wish and calls Happy Solstice.
It is also traditional to burn a Yule log decorated with holly and natural red ribbon.
Christmas Party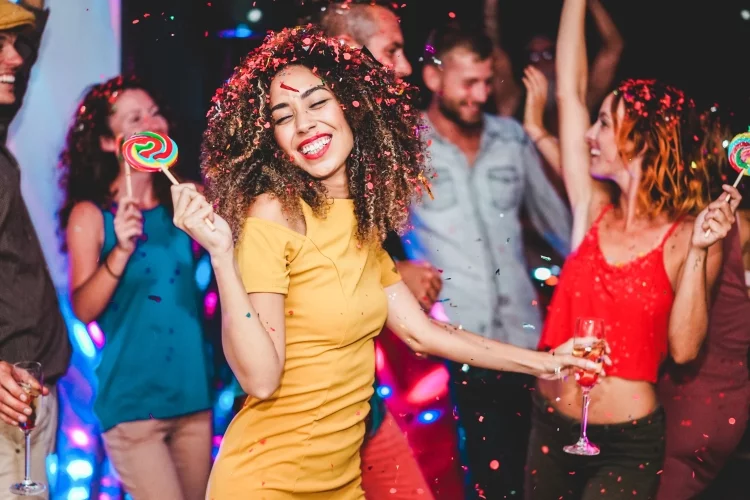 You can be like everyone else with their Ugly Christmas Sweaters and Secret Santas, but we want to take that to the next level. Get the dogs involved! Sure, throw on some antlers and that awful moth-eaten snowflake-patterned thing from the back of your closet, but then gather with all other dog parents, and dress those little dudes up in some Christmas sweaters of their own.
Travel as a group around the neighborhood and sing carols for your neighbors. It'll be a fantastic photo op, and the doggos will be howling right along with ya.
New Year's Eve
You know what New Year's Eve is. But do you know what it's about? Glitz and glamour, baby! Grab those bottles of champagne, decorate everything in silver and gold sparkling ribbon, string up the twinkle lights (go with one colour or white, rather than the red-and-green everything you'll have from Christmas), and compile a playlist of old swing music.
New Year's Eve is your reason to embody the classy, sassy socialite you are at heart (until after midnight when all the alcohol kicks in). Encourage guests to wear their finest and bring their most obnoxious noisemakers. Throw star confetti. Provide sparklers. And for goodness's sake, set off some fireworks at midnight! And when everyone comes back inside from the spectacle, line up polar bear shots (peppermint schnapps and crème de cacao) and fresh snacks for everyone. Woo!
General I-Love-Winter Party
First, thrift some shovels and blankets. Then anchor those shovels into banks of snow and hang blankets (or coats) on them, so guests can choose one to cozy up with later on.
If you have a firepit, get a roaring fire going. Serve up Cinnamon Old Fashioned cocktails with apple pie warmed over the fire. Fun party tip: buy cans of apple pie filling, a camping pie maker, and one or two loaves of bread. Everyone can make their own by sandwiching some pie filling between two pieces of bread.
Then, once everyone is warm and a little drunk, make snowpeople or build forts. 🙂
Company Party
Work makes people miserable, so if you are going to force your peers or employees to be outside in the snow, you'd better make it fun. Take everyone to a skating rink for a fun, nostalgic afternoon. If you'd prefer to host this one indoors, you can create an outdoor ambience by making center pieces from branches, serve desserts frosted with coconut and icing, and make good use of the colours white and blue. Of course you can always take the lazy route and treat everyone to a restaurant dinner.
All Things Fire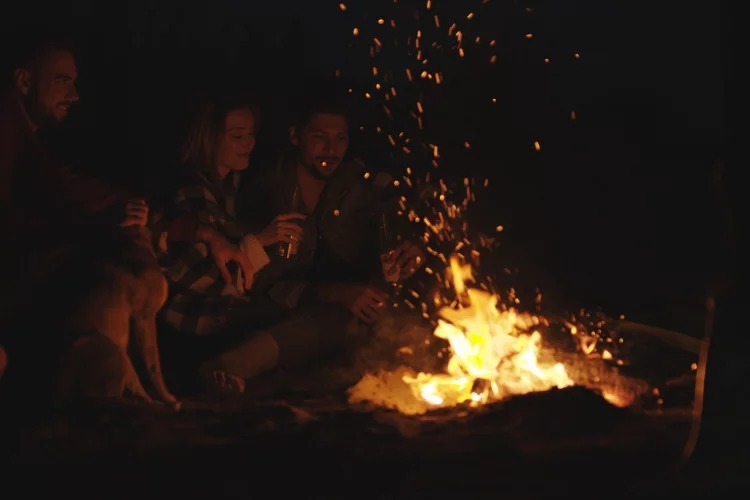 Fire is like, hot. And that's like, a thing you need during a winter party. Not only will fire keep you and guests warm, but will also provide lighting on those shorter winter days, and create a cozy atmosphere for an outdoor party.
Fill some pails with snow and stick candles in them. These can be used to light a pathway or tabletop. You can also hang some glass jars from tree branches and fill them with tealights for a sweet, twinkling snowscape.
Parties can be as simple as gathering round a firepit, unwinding with some drinks and good conversation. And of course, don't forget the snacks. Serve hot foods with warming spices like cinnamon and clove, drink whiskey, and enjoy some mugs of hearty soup.
Benefits of Having Outdoor Winter Parties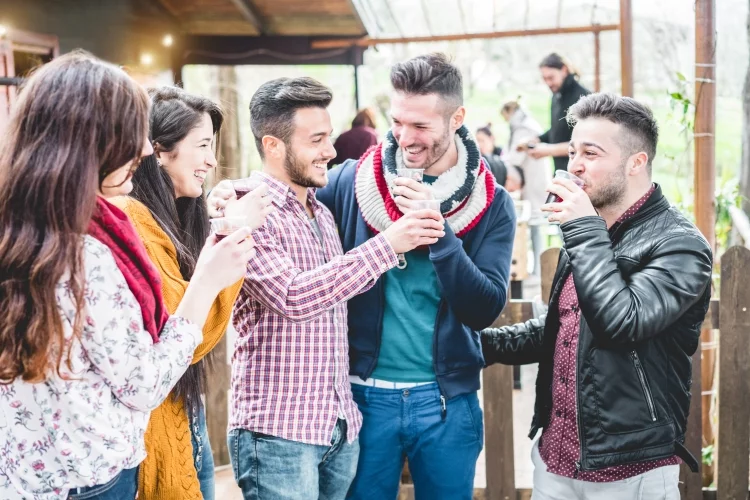 One of the best things about winter is that you can enjoy the outdoors without having to worry about the heat. This makes it the perfect time to host an outdoor winter party. Here are some of the benefits of doing so:

1. Enjoy the scenery
Winter is a beautiful time of year, and hosting your party outdoors means that your guests can enjoy the scenery. Whether you live in an area with snow-capped mountains or rolling hills, there's something stunning about winter landscapes.

2. Get some fresh air
Being outdoors in the winter can do wonders for your health. The fresh air can help to clear your lungs and improve your circulation. It's also a great way to get some vitamin D, which is essential for keeping your bones healthy.

3. Save money
Heating your home can be expensive, so why not take advantage of the cooler temperatures and host your party outdoors? You'll save money on your energy bill and your guests will appreciate being able to enjoy the fresh air.

4. Have fun in the snow
If you live in an area with snow, why not make the most of it? Build a snowman, have a snowball fight, or go sledding. Your guests will love getting to experience the fun of playing in the snow.

5. Make new memories
Winter parties are a great way to create lasting memories with your friends and family. Whether you're roasting marshmallows over a fire or taking a walk in the snow, you'll be making memories that you'll cherish for years to come.

Conclusion for Outdoor Winter Party Ideas
Throwing an outdoor winter party can be a great way to celebrate the season and enjoy some time with friends and family. However, it's important to be prepared for the cold weather. Here are a few tips to help you throw a successful outdoor winter party:

Make sure your guests are dressed for the occasion. Encourage them to wear warm clothing, including hats, gloves, and scarves.
Provide plenty of blankets and pillows for your guests to stay warm.
Set up space heaters around the party area to keep everyone comfortable.
Serve warm drinks and food to help your guests stay cozy.
With these tips in mind, you can throw a fun and festive outdoor winter party that everyone will enjoy!