The Backyard Gnome is a passion project put together by the Gnome Crew, discussing everything you need to know about putting together your dream backyard.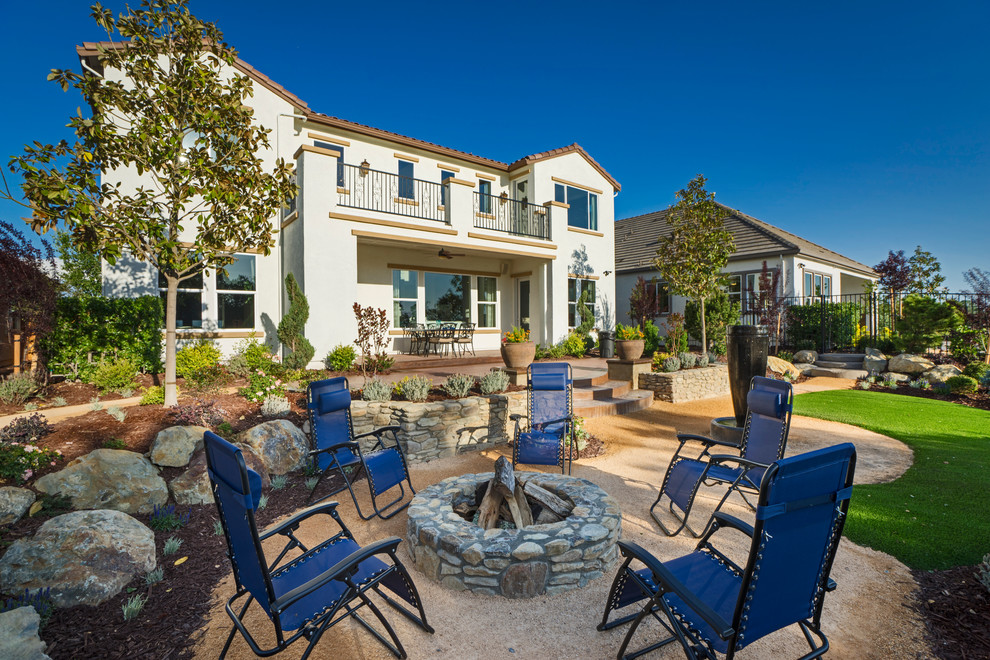 An ever-growing work in progress, The Backyard Gnome strives to be your go-to resource for anything pertaining to the backyard.
Whether you're wanting to learn about products, decor, maintenance, design, entertaining, gadgets, or more, the gnome crew is here to share their wisdom with you.
Believe it or not, the backyard is a pretty big place, and there's always lots going on. Our topics cover everything from overviews of popular products, to comprehensive how-to guides, and even handy diy tricks for those wanting to roll up their sleeves and do it themselves.
The best part of the journey are the friends you make along the way. In the years we've spent documenting all the different kinds of backyard awesomeness, we've come across some very interesting people, who have shared their knowledge and experience with us.
We love connecting with fellow backyard geeks out there, be it enthusiasts like us, makers and manufacturers, or even organizations that are helping promote the outdoor lifestyle.
Indeed, as you go through our pages and make yourself at home, you will find we often like to sit down and chat with expert sources on the various topics we cover, in order to make sure that we (including you, our dear readers) always get the full scoop.
At the same time, one discussion always seems to lead to another, and we often find ourselves opening new doors to new cool things after each article we pen down.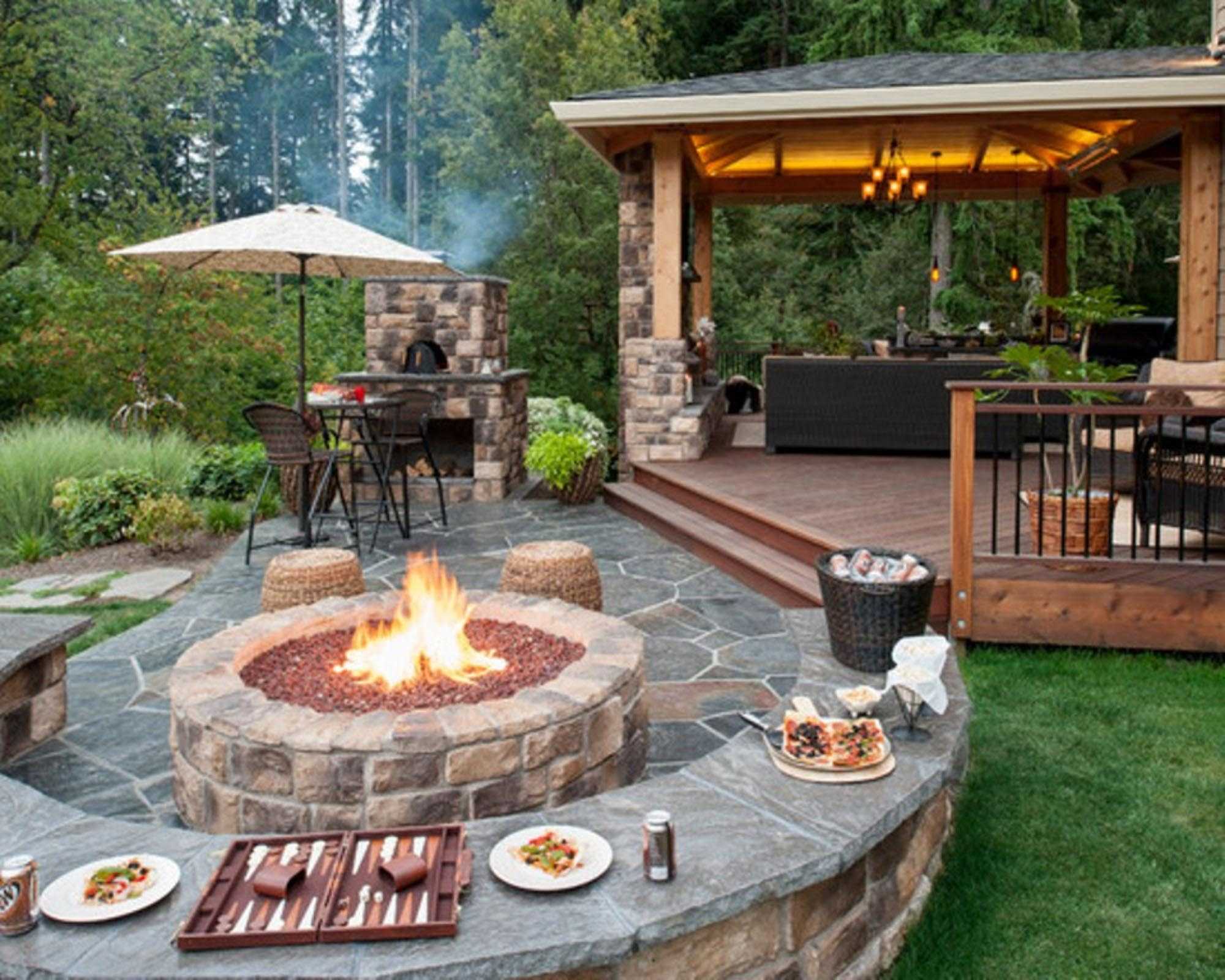 Our curiosity and excitement for the perfect dreamy backyard are what drive us to explore further, and document all the different kinds of backyard lifestyles and luxuries out there.
On our website, you will find topics including patio elements, fire implementations, pools & hot tubs, diy, maintenance, entertainment, gadgets, woodworking, and even nature conservation.
---
Pools and Hot Tubs
When it comes to pools and hot tubs, we consider them to be the ying and yang of the water element in the backyard.
For instance, a pool can be a place to romp around and have a great time with friends and family, while providing relief from the summer heat.
But as fun as pools are, installing them can be tricky, and so we think of ourselves as a resource for that.  For instance, what kind of pool is right for you?  How do you install a pool?  How do you maintain a pool, etc.
There are expensive pools you can buy, and budget options including inflatable models which may do you just fine.  We hope to help you on all of these fronts.
A hot tub, on the other hand, is less a place where your kids are going to leap into with a giant inflatable alligator, and, rather, somewhere you can go with a glass of wine, and look up at the stars, on a cold night, keeping warm and snuggly as the bubbles provide much needed hydrotherapy to your sore joints after a long day.
It's something you can do alone as hydrotherapy, a place for romance and quiet, or a place to congregate with friends.  Hot tubs have many facets, and we are here to explore them all.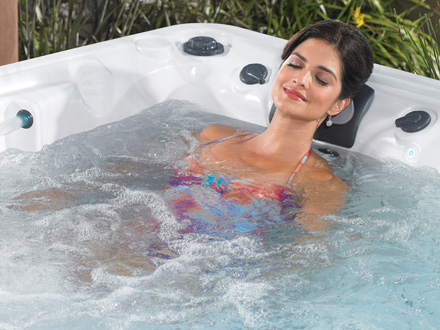 Both pools and hot tubs are amazing, and they each have their own specific functions in our backyard.
At the same time, we want to stay safe around water.
Therefore, we have to give a nod to organizations like the these, who provide information on keeping everyone safe and happy when they're around either the pool or the hot tub.
Visit them sometime, and hopefully you can learn some great tips like we did.
American Lifeguard Association – http://americanlifeguard.com/
The National Swimming Pool Foundation – https://www.nspf.org/
The Association of Pool and Spa Professionals – https://apsp.org/
---
Fire = Hot!
Water is great and all, but what about fire?
Fire can be used for so many things, such as cooking, entertaining, or simply supplying you with heat.
For instance, we love grilling, BBQ'ing, and cooking in general.  Chances are, if you have an amazing backyard, it's not going to be without some sort of contraption that will allow you to sear a steak.
For anyone that does any backyard cookout type of stuff, you know as we do that cooking is basically an artform, and the chef is someone that ought to be respected.
There are many, many brands to be aware of in just the realm of grills, BBQ's, and outdoor stoves. Not only that, but there are rules to follow when it comes to wielding fire outside.  Some places have stringent laws against open flames, others don't.
As such, there are certain organizations to be aware of when it comes to fire.  It's not something you should be messing with if you don't know what you are doing.
The NFPA is an organization we look to in order to get our bearings when it comes to policies relating to fire.  We had the chance to talk to them, in fact, and we got some great information from them on regulations and such.
The very first grill we got our hands on was from COBB.  We love COBB, what can we say.  They have a very unique perspective on grilling and cooking, incorporating centuries-old techniques.  We even got to interview COBB recently, which was really interesting!
In addition to grills, we're fairly crazy about chimineas.  Chimineas are great because they offer the warmth of a hearth, the function of a chimney, the entertainment of a firepit, and the cooking potential of a grill.  They come in many different forms, looks, and materials.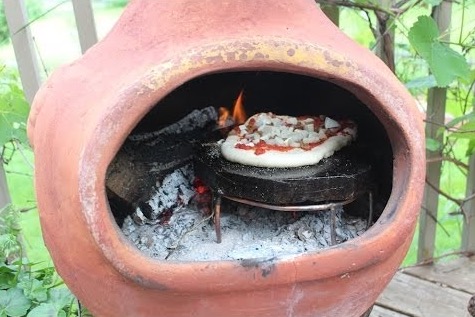 In terms of which one to buy, that's a very good question.  It depends why you want it, for one thing, and there are other determining factors as well.
The great thing about chimineas which we love is that they have a very artisanal quality where you can picture someone making it by hand, and adding little details.
They recall old times, and old ways of doing things, and yet it has lasted up until the present day without a lot of change affecting how they behave.  People like to sit around them, and enjoy their warmth and light.  Visit our chiminea section here.
---
Backyard Maintenance
One thing that's for sure is you can't have a majestic yard that requires no maintenance.  There's always a lot to do, unless you have a groundskeeper, and most people do not have groundskeepers.
Besides, a lot of people take pride in doing their own work, and that's the way they like it.  From snow removal, to gardening, to storage, if you are of the right mindset, these things can be, well, almost fun!
That said, if you don't feel giddy with the excitement of shovelling your back deck and patio, it doesn't matter – it needs doing, and you're going to want the best tools for that job.
That's where the gnome crew comes in, because we actually like researching the tools of the trade here, and we can tell you, whether it's a leaf blower, snow blower, pool skimmer – it doesn't matter, we've got you covered.
If you are the handyman type and you love the DIY aesthetic, we can appreciate that as well, and offer tons of great tips for the home builder / DIY person in your family.  Love sanding wood?  We love sanders too, and can offer expert advice on them.  Putting down patio stones?  We have landscapers working in our crew who think about patio stones all day long and then dream about them at night.
Any project you're doing in your backyard, chances are we've been there, and have an opinion on it.
While you might not agree with everything we say, we love nothing more than to engage in a great and productive discussion in the comments section of our articles to debate over different types of patio stones, or the pros and cons of rattan.  Whatever it is, we say "Bring it on!"
There's some stuff when it comes to backyard maintenance that we can't deny is plain hard work.  If you want to install a pond in your hard, there's a point where the "fun" wears off, after the 1000th shovel of dirt you fling into the pile.
Trying to replace your soft top gazebo cover because it got ripped during a windstorm?  It happens, and we have articles that can guide you through how to fix these inevitable drains on finances, at minimum cost but maximum effectiveness.
For inspiration, we look to people like the National Association of Landscape Professionals for guidance.
---
Backyard Entertainment & Activities
But what's the point in doing all that work if you can't let loose after a hard day's work.
This is the part of having a backyard that we love the best, because what else is having a nice backyard for if you can't throw an epic party and show all your friends and family a good time.
What does this section of our website include, exactly?  Well, the term entertainment is rather broad, and that means we have a lot to cover.  After all, it is also "activities" we will talk about as well.
Playsets
We have, for example, a section that includes games and playsets.
The playsets are mainly for the kids, and they qualify as an activity, but also a form of entertainment.  These playsets can range from swingsets, to jungle gyms, to entire play forts that include just about everything you can imagine.
These playset can get massive, and expensive when you buy them pre-made (vs. the kind you make yourself), but they can also provide entire afternoons worth of playtime for your kids, and so can be well worth the money and effort to assemble them.
So long as they're safe, playsets are a great way for kids to stay active, be social, and even learn about cooperation and safety.
Sometimes there will be neighbourhood park that has one of these types of play sets, and the kind you can get for your yard are similar, yet scaled down.
Games and Playing
Our games section, once again, is directed at kids, and talks about different forms of play-based learning, including popular activities you probably know like hide and go seek.
There is also unstructured learning, which is important for children to do as well.  One big influence for us in the realm of playtime is the International Play Association.  Another is the National School Boards Association (NSBA).  Reading their documentation we feel provides a solid framework for what is best for the nation's youth, and we feel that everyone should be more aware of them.
This section has a how-to element, and so we don't just talk about the games themselves, but the rules, and the motivation for playing such games.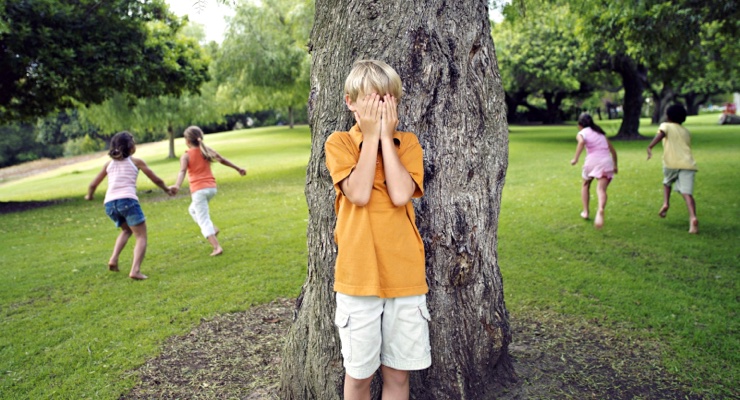 Gardening
This site also has a section on gardening, which is a backyard activity for young and old.  Gardening is as old as human civilization, practically, and so we have articles on its history, as well as the practice of gardening, and what that entails.
There is something in our gardening section for old hats and beginners, as we look at gardens around the world for inspiration, and techniques that are both common and obscure, so that you can make your garden into exactly what you want it to be.
Gardens tie in nicely with our next section, which is…
---
Patio
This is a bit section.  It is the section that really fits between gardening and landscaping, because often patios take up a large part of the back yard, and contain elements of your garden, while also taking into consideration the general landscape.
Basically, the patio is what ties it all together, and if you don't get it right, no one is going to be spending much time there, including yourself.
So, it pays you in many ways to understand how to put together the perfect patio yourself.  Allow us to assist you with this, as you say "patio", and our little gnome eyes light up with glee.  Patio time, let's go!
Whether it's laying down the patio stones, to adding furniture, to complimenting your patio with the perfect arbor, trellis, or gazebo, patios are definitely our passion.  Oh, and don't forget the right lighting!
We've spent countless hours online looking at stuff we like on Pinterest, and if you're short on ideas, don't forget about them.
In terms of influence, we like to pull inspiration from everywhere – from different countries, to different styles, and using different elements.
It really depends on how your backyard looks to begin with, but there are so many options, we want you to have as much fun as we do putting it all together.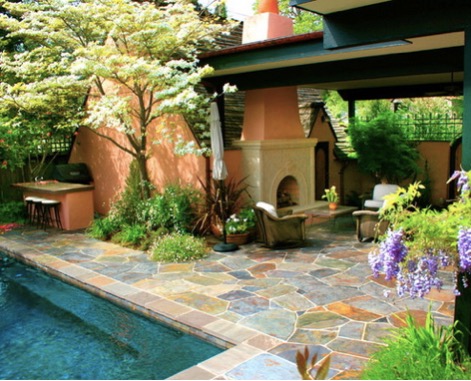 Budget certainly comes into play when it comes to designing your patio.  Some people like to spend big, while others are more selective and frugal, and that's no problem.  Even on a tight budget there are many options to make your patio look great.
In many cases, it comes down to the pieces you are selecting to furnish your patio.  What kind of patio furniture are you looking for?  What types of umbrellas do you like?  What sort of shelter do you need?
Also, where do you live?  What is the temperature range where you live?  The grand inquisition begins, but as long as you take it all in stride, you can put together something remarkable that will have your friends begging to come to your next party.
Even in the winter time, the patio can still be used, if you set it up correctly.
We've been reading over documentation put forth by organizations like the Hearth, Patio, and Barbecue Assocation (HPBA), and we try to think of their guidelines and take inspiration from what they do in order to keep ourselves in check.
Another great resource is the International Casual Furnishings Association, if you're really serious about patio stuff.
In the eyes of the gnome crew, the party is a year-round thing.  Unless you want to avoid your backyard once the temperature drops below zero, entertaining on the patio is still an option, if done right.
---
Environment
We here at the Backyard Gnome realize that the party can only go on if our environment is taken care of, and so, we have a deep concern for all things environmental.
As such, we've reached out to many environmental organizations to find out their story, so that we can share their stories with you, and you can keep them in mind, as you spruce up your own property.
The way we see it, there is no separation between the world around us and our own private worlds – the world of our back yard.
Some of our environmentally conscious friends include:
---
Brand Spotlight
We are in contact with a number of brands that we think are outstanding because they offer the best products for the backyard time and again.
These brands can come from any section of our website.  We've reviewed their products, gotten to know them, and we are always talking about them.
In fact, we even talk to them from time to time, and you will find interviews with some of our favourite brands all over the website.  Dive into a section, and you're sure to find the gnome crew talking to someone who is influencing the backyard space as we speak.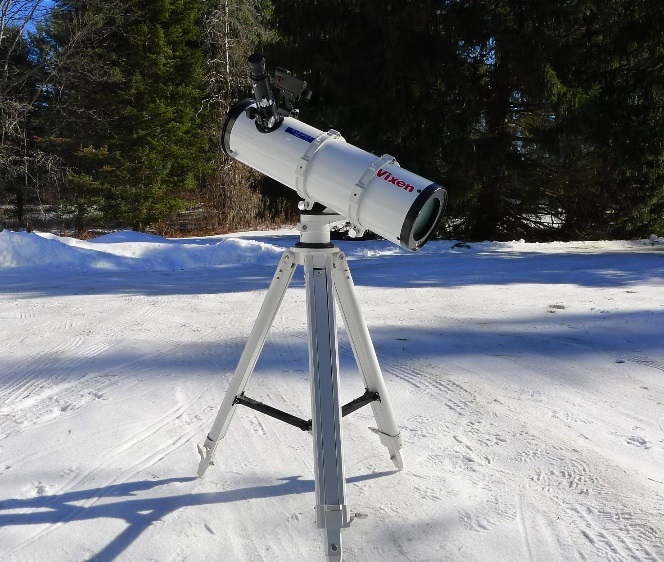 That said, not all brands deserve the spotlight, and this is why we only give the spotlight to brands we think are special in one way or another.
Some of the brands we've spotlighted so far include:
---
Please take the time to look through the information we offer on The Backyard Gnome.  We've spent countless hours putting all of this together, and we hope that you find some of it useful to you in your own journey!