Last Updated on
By: The Backyard Gnome
Put down those twigs you collected from the yard. No one wants to eat dirt and no one wants splinters in their marshmallows. Today we review the top five best sets of marshmallow roasting sticks, professionally crafted from fire-resistant metals, and double-pronged so you can get more bang for the buck.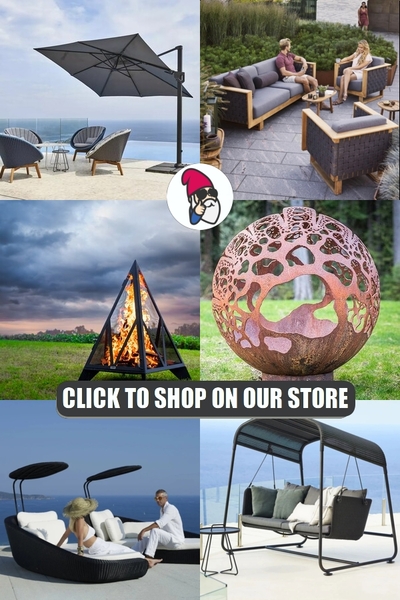 Some people have fire pits in their own backyards, while others like to enjoy fires at the campsite or cottage. No matter where you are, roasting sticks are essential. Have you ever met a person who didn't like fire-roasted marshmallows? Nay, it is a summer essential. In fact, most people look forward to roasting marshmallows specifically. Whether you pop them in your mouth straight from the fire, or prefer to make s'mores, or like to roast your own hot dogs or barbecue sauce-covered vegetables, we highly recommend investing in a set of professionally made skewers. Who wants to carve twigs every time they light a fire? Fires are enough work as it is. Handy roasting stick sets ensure you always have the tool on hand.
#1 – MalloMe Marshmallow Roasting Sticks – Set of 10
Mallome Marshmallow Roasting Sticks Set Of 10 Telescoping Rotating Smores Skewers & Hot Dog Fork 32
These are a widely beloved set of roasting sticks, particularly for families or children. They are 30 inches long, as opposed to the usual 22 inches, making them safer for children as they can stand farther from the fire but still join in on the fun. The prongs are not sharply tipped, so you don't have to worry about kids pricking their fingers (or fighting each other) with these. In addition, each one has a differently coloured band at the base of the handle, so everyone can keep track of which one is theirs. These are high-quality, FDA-approved sticks made of non-toxic stainless steel. The forks even retract into their handles and can be stored in the included heat-resistant pouch. This set sells for around $50.
---
#2 – Rome Industries 22-inch Marshallow Roasting Sticks
Cs-2200 Rome'S 8 Piece Marshmallow Roasting Fork Set
This set is made of chrome-plated steel in the USA. The sticks come in a pack of eight, and measure 22 inches long. Each retro-styled handle is a different colour so everyone can remember whose is whose. This can be very handy for cross-contamination purposes, as well as adding to the fun of a backyard fire. This set, manufactured by outdoor cookware specialist Rome Industries. Prongs are a good length for hot dogs and marshmallows. Set sells for around $20.
---
#3 – Naturo Marshmallow Roasting Sticks
Naturo Marshmallow Roasting Sticks With Storage Bag And 2 Cooking E-Books
This set comes in a pack of eight, with two of each colour. The ends are double-pronged so you can cook several marshmallows (or vegetable or hot dog) at the same time. This set sells for around $35 and comes with a very cute retro-styled carrying bag, so you can easily transport the skewers to the campsite or cottage. Made of FDA-approved, non-toxic stainless steel. The company promises a lifetime guarantee and includes two complimentary cookbooks with each set of sticks.
---
#4 – mKitchen World Premium Roasting Sticks
M Kitchen World Marshmallow Roasting Sticks – Telescopic Smores Skewers Hot Dog Extending Stainless Steel Fork
These roasting sticks come in a pack of five. They are a must-have for families with young children, as they are telescoping (extendable) handles and can reach 45" in length, keeping kids safely away from fire. They are made from non-toxic, heat-treated stainless steel. The sharp tips are protected by rubber so kids won't hurt themselves. These can also be used as a fork to move food from a grill to a plate. They retract to 10 inches and can be stored in the included canvas pouch, or easily packed up and taken to the campsite or cottage. Manufacturer mKitchen provides a lifetime guarantee on this product. Their rubble handle with indents is a very comfortable and non-slip surface. Another cool feature is each stick can hold up to 1.43 pounds. When loaded, the stick will bend but not break, and will go right back to its original shape. Their bright colour makes them easily found in the dark. This set sells for around $40.
---
#5 – Aoocan set of Eight Marshmallow Sticks
Aoocan Marshmallow Roasting Sticks Telescoping Rotating Smores Skewers Hot Dog – 32 Inches
These roasting sticks are 32 inches long and made of non-toxic stainless steel for safe roasting, so you and children can stay a safe distance from the fire. They have non-sharp prongs, making them safe for children, but still very effective. The forks retract into the handles, down to a length of only 12 inches, and the set includes a handy travelling heat-resistant pouch. They are easy to store and take on camping trips. These are also very easy to clean. Each handle has a differently coloured ring so everyone can reuse their own without worrying about cross-contamination; kids will get a kick out of the colours and be very excited to use them. The wood handle tips are BPA free. For the quality and telescope feature, this set is one of the best values on the market, selling for just $13.