One great way to get artistic with your patio is by using flagstones, or large flat rocks that have been used for paving since time immemorial…or at least since sometime in the 1800's.
Flagstone creates a warm, natural look but it can also subtly create drama, as often the stones are nice and large, and come in a variety of different colors.
You can certainly get creative with these stones since their often irregular shapes often inform the shape of your patio to be.
In this article, we want to share with you 15 of our favorite flagstone patio designs that we've spotted around the web, in order to generate new ideas for those who might be thinking of using flagstone to build themselves a patio in the near future. Enjoy!
Best Choice Products Offset 10' Hanging Outdoor Market Umbrella

Coolaroo 11' Market Umbrella

California Umbrella 9' Wind Resistant Tilt Umbrella

Flexzion 10' Hanging Offset Patio Umbrella

Tropishade Tropilight 9' Mood Lit Umbrella

Yescom 9' Tilted Aluminum Umbrella

Trademark Innovations 7′ Solar Led Patio Umbrella

Trademark Innovations 5' Led Lighting Rectangular Umbrella

San Diego Shade Sail Rectangle

Blue Wave 10' Santorini Square Cantilever Umbrella

The Secret Garden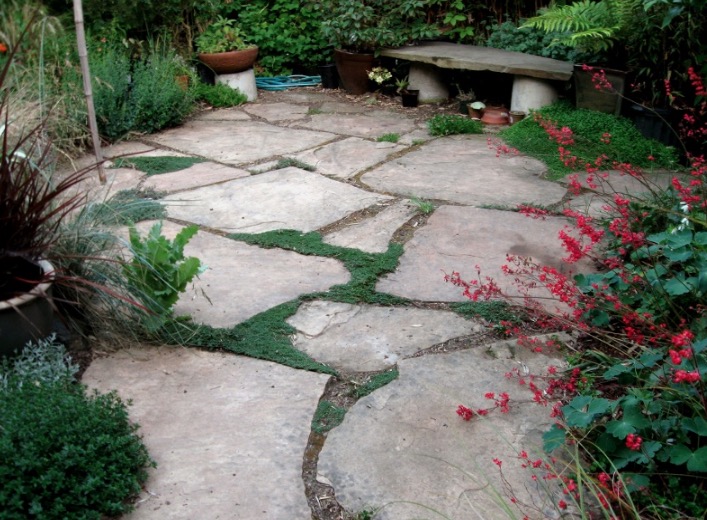 Backyard Flagstone Patio Ideas
This patio features a private sitting area just off the dining area, complete with stone bench and lush plants.
The joints are not evenly spaced in this layout, but it works with the moss and overgrown garden for an old-timey look, as though one had entered a secret garden.
I can imagine sitting out here for a quiet talk or afternoon reading session.
The Gathering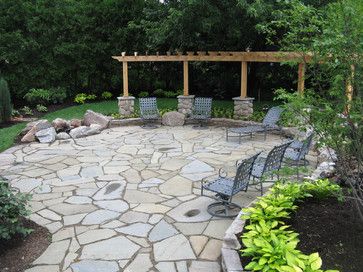 Patio Design Backyard Outdoor Ideas Stone Firepit
I am drawn to this open-concept patio featuring pergola and irregular flagstone, as it lends to many possibilities for entertaining.
Guests may be seated for dining, and take up some dancing or mingling afterward! A wall of ledge stone encloses the space and also provides additional seating.
Dinner For Two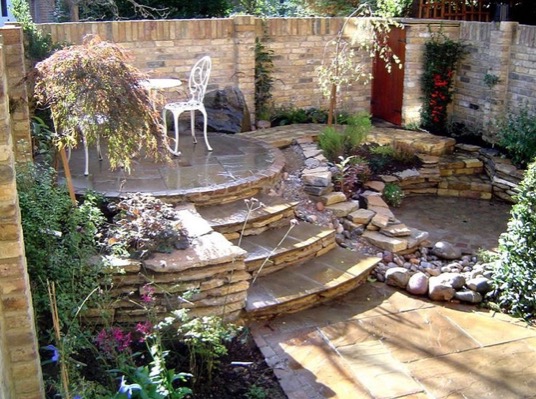 Ornate Romantic Patio With Flowers And Flagstone
This highly ornate patio has a romantic aesthetic, with its isolated seating area for two, privacy wall, and flowing gardens.
The warm tones in the sandstone brighten the area, while reflecting the colours in the brick wall. Layers of stone create different levels for a dynamic entertaining area.
A design this intricate will have to be laid by a professional. Everything will have had to been levelled, with a four-inch layer of gravel beneath the concrete, to allow for drainage.
Pull Up A Seat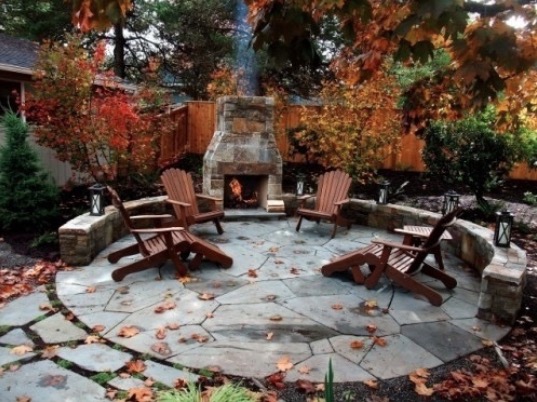 Flagstone Patio Fall Colors
Here the homeowners have installed bluestone, which is extremely durable, holding up throughout harsh winters.
The pathway is differentiated from the seating area by a subtle difference in design: wide open joints in the path, with vegetation left to grow in between for a magical walkway effect, with tight joints in the patio design, providing a comfortable floor.
The round patio encourages guests to pull up around the fire, while the stone half-wall creates some intimacy. When bluestone surrounds a fireplace, we recommend sealing it to protect the natural hues against scratching and staining.
An Eye For Detail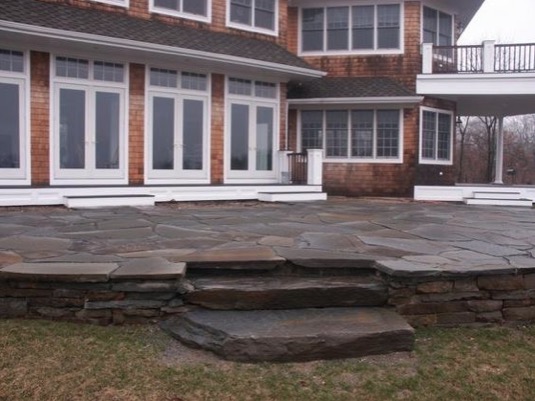 Match Patio Flagstone Stone With Color Of Home
Imagine stepping out of your kitchen and onto this nice, cool patio! The homeowners were careful to match their stone with the colours in the brick exterior.
Money-saving tip: build a skirt of ledge stone for continuity, but use gravel and concrete filler in the centre of the patio. Consider buying thicker rock for instant steps.
Sandstone is porous and can be prone to water absorption, therefore, we recommend sealing it. The elevated nature of this patio allows for drainage.
Poolside Palette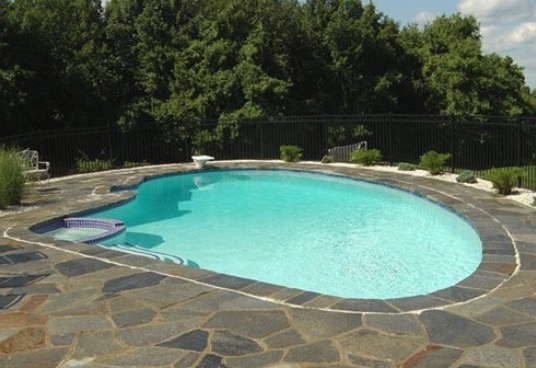 Pool Patio Flagstone Mixture Of Colors
Irregular slate pavers are set in concrete. Slate is a popular choice for a pool patio, providing a naturally slip-resistant surface, and offering endless customizing options.
It has the strength of concrete but its many tones provide a unique, dynamic entertaining space.
Here the homeowners take advantage of its many colours by mixing grey, brown, copper, and blue.
Of course, you can also opt for one uniform colour. Slate is flakier than other stone, making it easy to chisel into your desired shape.
Cool Tones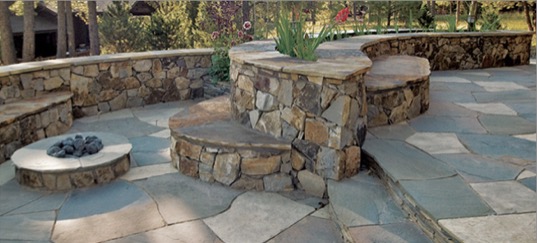 Flatstone Patio With Natural Floor
The design options are endless when using flagstone! Here, irregular bluestone pavers create a natural floor in cool tones, while quartzite pieces delineate the space, providing different seating areas for guests.
Bench seating is cleverly worked into the walls. The patio has been dry laid, meaning it was not set in concrete.
This method is more forgiving, as concrete (wet laid) stone can be prone to cracking during freeze and thaw. The dry laid method allows for stones to shift and be reset more easily.
Curvy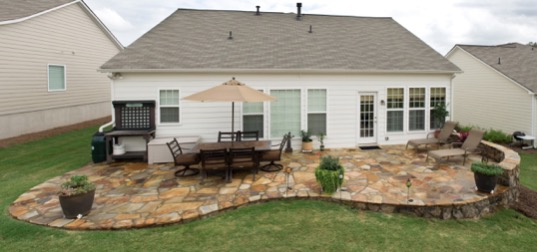 Curved Outdoor Flagstone Patio
This patio extends the living space quite effectively. Its curving boundary allows for the cooking area to be separated from the dining area, with room for a separate lounge corner.
The great thing about using natural stone is that it brings pops of colour to complement any landscape, like the warm tones of this quartzite patio.
On one end, the stones are level with the land, while on the other end, additional stones form a retaining wall, keeping the patio level and providing an interesting landscape.
Organic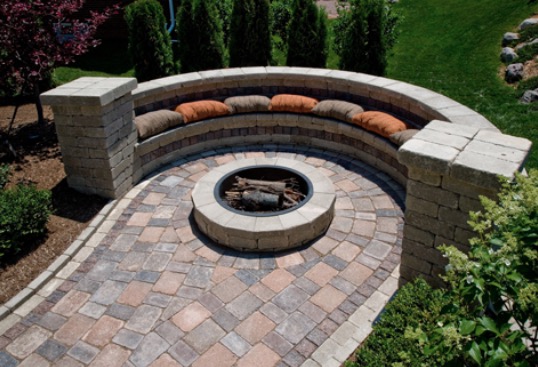 Organic Look Patio Tones
A clever, cozy design built into a hill, featuring organic curves to match the organic tones.
There is ample space for guests to sit and eat, as well as flat surfaces for them to place loose objects.
Chairs can be added for additional guests. Here the firepit will provide additional warmth and lighting once the sun is set.
Exotic Landscape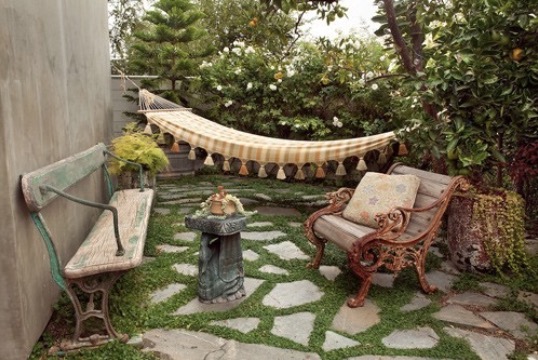 Exotic Backyard Patio
Step into an exotic landscape in your own yard!
This design features a more intimate backyard setting with irregular flagstone providing just enough hard ground to walk upon, and lots of plant life to brighten the area and bring privacy.
This is a really nice way to bring comfort to a smaller yard, where a few guests can relax and engage in conversation.
Peaceful patio spaces are just as nice as party spaces!
By The Seaside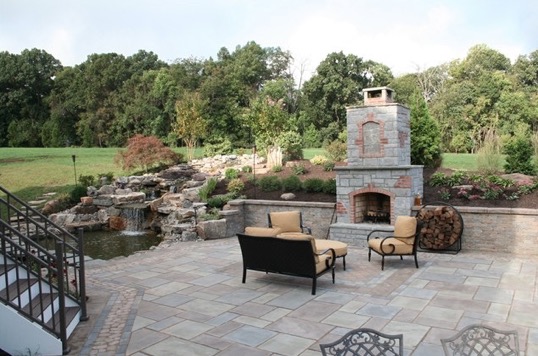 Mediterranean Seaside Inspired Patio
Step out of your kitchen and into an exotic place. Inspired by the Mediterranean seaside, this patio features a bluestone fireplace set against gardens and a waterfall.
The homeowners employ both irregular slabs and pavers to accentuate the elegance of the patio, while keeping the terrain rocky and natural around the water.
This setup is great for parties, with different areas to explore, like the plush furniture around the fireplace, for a realistic Tuscan summer night.
Two-Tiered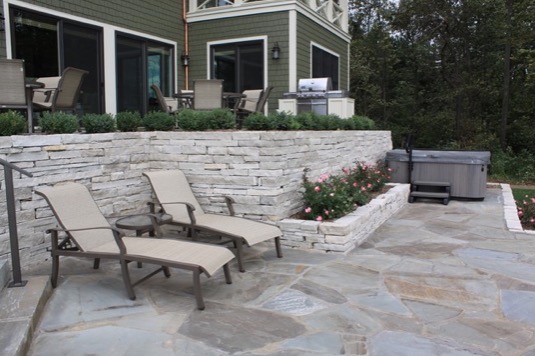 Bluestone Pavers Two Tiered Patio
Bluestone pavers are wet laid in a two-tiered patio layout. The top level comes off the kitchen and includes the cooking area as well as two dining tables.
This makes it easy for yourself to bring food and utensils in and out of the house, while guests have ease of access during mealtime.
The lower level is separated by a retaining wall of ledgestone, and set up with lounge chairs for a more quiet relaxation area.
Lots To See, Lots To Do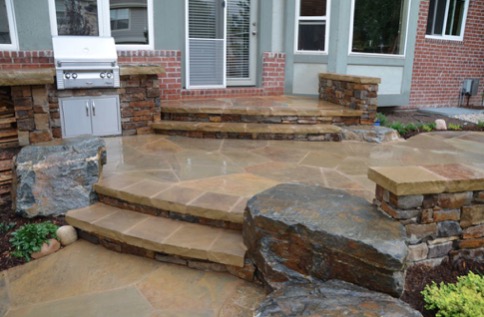 Variety Of Flagstone Cuts For Patio
This design makes use of all kinds and cuts of stone for an interesting terrain. Local sandstone is wet laid to create multiple levels for entertaining.
Large rocks flank the stairway for a grand effect, while the barbecue is worked into the wall to maximize floor space.
Like all artistic masterpieces, a patio of this magnitude would entertain your guests for hours, giving them something to examine and explore.
Great Vantage Point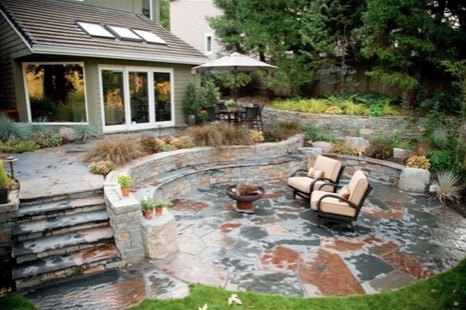 Backyard Vantage Point Relaxing
Not only does this slate patio provide a backyard vantage point, it also provides something gorgeous to gaze upon from the house.
The dining area is close to the door, while the lower patio has big, comfortable chairs for a more relaxing patio experience.
The organic curve in the retaining wall makes for a great energy flow, and contains bench seating around the firepit.
Our Little Corner Of The World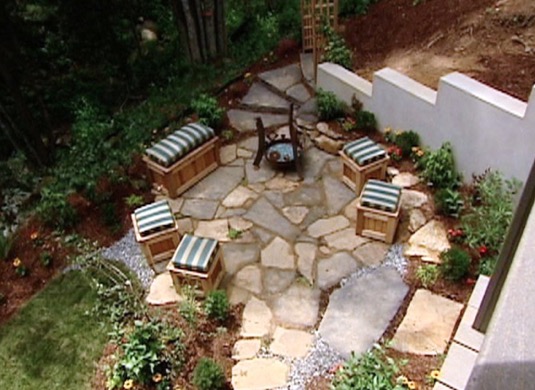 Here the slabs of sandstone are working into the side of a hill, with stool seating for guests. The irregular, jagged cuts and layout serve as a continuum of the surrounding rugged landscape.
When building a deck into a hill, there are legal inspection procedures involving time and money. Dry laid flagstone is a nice alternative to that, for a simple backyard getaway.
We hope these patio ideas sparked some ideas for your own patios using flagstone! We certainly enjoyed sharing these fabulous patios with you.
Related posts: