Gazebos add so much to our backyards by creating a visual focal point and an area for people to gather. However, they are subject to weather related damage since they stand outside 24/7!
Every so often there comes a time when we must replace the canopy on our gazebo. Soft-top canopies need to be replaced more often than hard top because of their vulnerability to damage such as ripping, tearing or sun-related damage like fading.
However, hard top canopies also become damaged or perhaps you want to replace the existing style with something else that caught your eye. Perhaps your soft top was damaged and you want to try a hard top now.
No matter your reason, we are here to help you learn to replace a hard and soft top canopy for your gazebo so you can save some money and do it yourself!
Sojag Mykonos II Double Roof Hardtop Gazebo

Sojag Roma Soft Top Gazebo

PenGuin All-Season Hardtop Gazebo

Replacing a Hard Top Gazebo
The first thing to know is that a hard top gazebo is a series of slats held together by a frame. You will remember this if you installed your first hard top canopy. That being said, the old canopy will have to be removed first, of course; it must come down in pieces.
You will need a drill to loosen all screws, one panel at a time for safety reasons. Have two people hold the panel in place while you remove the hardware. When the hardware is out, have two people help you lift the panel down. Do this until all panels are removed.
Now you are ready to attach new panels. Remember this requires you to purchase individual slats and then build each panel one by one. They will be attached to the roof frame as such.
Gazebo slats are expensive. They are sold individually from $99 all the way to $700 per piece. This is a significant investment you should spend a good amount of time thinking about. While looking at your choices, consider the following:
Your budget
Colour scheme
Purpose of canopy: Do you want it to block the sun? If yes, look for dark tinted plexiglass or solid colour slats.
Transparent or solid colour? Do you want to be able to look up at the sky or are you content to be sheltered entirely?
What designs are available, given your post dimensions? Do you want ventilation? Can you include ventilation at the top?
Now that you have selected your material and design, it is time to build the new canopy.
Building a gazebo top will require the hands of two people and three to four to lift and finish installing. There will be a lot of heavy lifting and this construction project will take a full day. But imagine yourself at the end of it: grabbing a cold drink, pulling up a chair and relaxing under your brand new gazebo.
It is wise to build the canopy upon the ground before lifting and securing it to the tops of the posts. This serves two purposes: to prevent risk of injury and bodily harm and to enable you to see the entire thing constructed from a useful vantage point.
Tools
You will require:
Work gloves
Power drill
Ladders
Help of 1-3 people
Calm weather
The Building Process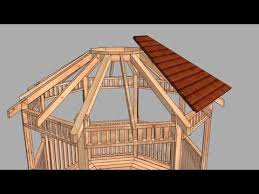 Take out the instruction manual and count all pieces. Ensure all hardware is present and line it up with according pieces of the canopy. It is best to work on a raised and level surface such as a work table while you assemble the gazebo panels. Most hard top gazebo canopies have four sides and you will attach them to the roof frame one at a time.
Ensure all corners are flush. One person should hold the boards or piece in place while another drills the screws into place. Hand tighten all screws until everything is in place and checked: then you can go ahead and drill the screws tightly.
Place one ladder in the centre of the gazebo and two ladders on either side. One person should stay in the centre to hold the gazebo. Make sure all panels are flush. The final panel will take the longest because there may need to be adjustments: the person at the centre will have to push up on the other panels while everyone else lines up the panels and drills into place. You can now go ahead and secure all screws with a power drill. Then push up at the centre again to ensure nothing lifts.
Make your own with corrugated polycarbonate roofing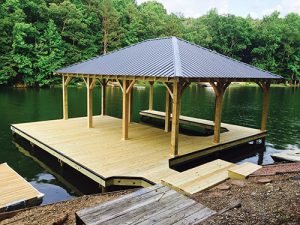 A cheaper option for making your own hard top canopy is corrugated polycarbonate roofing. To install this, first you will need to add a wood frame to which you will screw the polycarbonate sheets. You can attach the wooden 2x2s or 2x4s to the existing frame using braces, brackets or strapping material. Now measure out your sheets of the roofing. Consider the alignment of grooves when marking your cuts; it is far more visually pleasing when all the grooves line up.
Related Videos
Here are some videos that show various ways that people are fixing / replacing their gazebo canopies. Everyone does it a little differently!
Related posts: