There are endless possibilities when using flagstone. Its popularity derives from the ability to completely customize the type of rock, cut, and pattern you want.
Your patio design will be entirely unique, as no two pieces of flagstone are the same! With its varying natural tones, slip-resistant surface, and durability, flagstone is an attractive and low-maintenance material.
Best Choice Products Offset 10' Hanging Outdoor Market Umbrella

Coolaroo 11' Market Umbrella

California Umbrella 9' Wind Resistant Tilt Umbrella

Flexzion 10' Hanging Offset Patio Umbrella

Tropishade Tropilight 9' Mood Lit Umbrella

Yescom 9' Tilted Aluminum Umbrella

Trademark Innovations 7′ Solar Led Patio Umbrella

Trademark Innovations 5' Led Lighting Rectangular Umbrella

San Diego Shade Sail Rectangle

Blue Wave 10' Santorini Square Cantilever Umbrella

What is flagstone?
Flagstone is not a type of rock itself, but refers to large, flat slabs of rock, which are quarried from igneous, sedimentary, and metamorphic rock.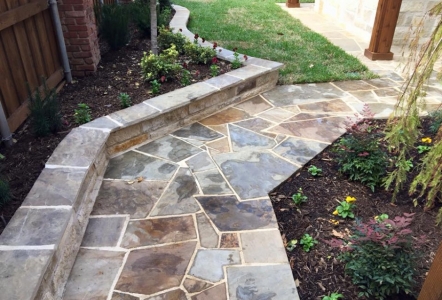 Flagstone Walkway With Small Wall
The pieces can be cut into uniform tiles, or into random shapes and sizes (or, "flags"). It is a widely popular patio flooring option, regarded for its natural look and slip-resistant surface.
Flagstone will help you stay comfortable outdoors during summer, as it is cool on the feet, unlike other materials that absorb more heat.
Stone is also a nice alternative to a wooden deck as it does not splinter. The slabs are either laid in cement, or on level ground with cracks or "joints" in between.
A good flagstone patio will work as one large puzzle, with the pieces looking like shards splitting off one giant stone (think continents breaking off of Pangaea).
The key is keeping the joint space consistent throughout the design. These joints can be filled with mulch, moss, sand, or soil, giving the yard a classy aesthetic while allowing for water absorption.
Types Of Flagstone
Flagstone tends to be more costly than other patio materials, as labour and transportation are factored in. To minimize this cost, find out where your rock is coming from. There are several types of flagstone available within North America alone:
Igneous: Basalt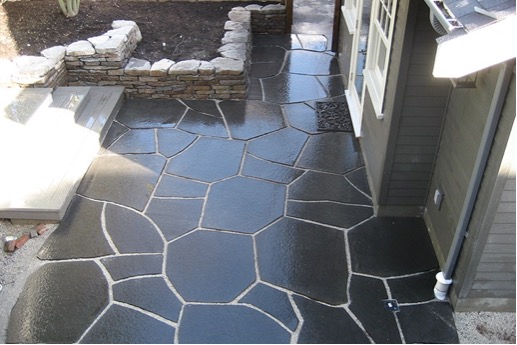 Igneous Balalt Flagstone Patio
Basalt is one of our top choices for its textured surface and sound absorption. Its grey and black tones provide a very elegant ground for your patio, akin to a tiled floor. Ideal for extending the living space so guests can spend time indoors or outdoors.

Sedimentary
Limestone. Strong and durable, limestone tends to have a flatter surface than other options, and can be polished.
Bluestone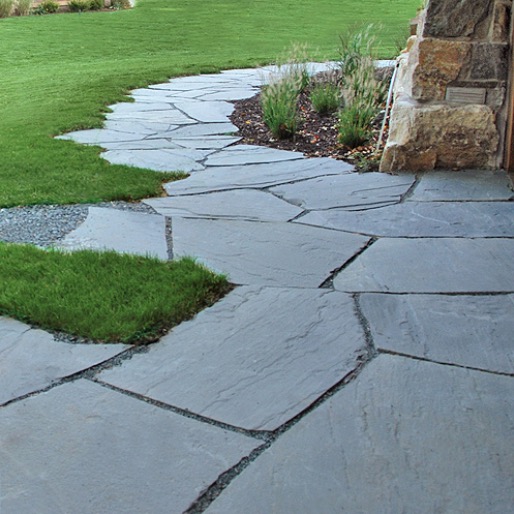 Bluestone Natural Cleft
Bluestone is another top choice for us. Known for its bluey-grey tones, it has a non-slip surface and is weather-resistant. Try a mosaic layout using irregular stone for a landscape reminiscent of medieval times.
Sandstone. Comes in soft, natural tones like beige and pink. Maintains cool surface temperature in summer, but tends to break down faster than other stones.
Metamorphic
Quartzite. Has a smooth, glossy surface that does not wear over time. Also stain- resistant.
Slate. Flakier than other flagstone options, easy to shape, but breaks apart easily.
The type of rock you choose for your patio will depend upon the purpose of your patio. For example, if your patio surrounds a pool, then choosing a metamorphic or igneous rock will hold up against water erosion.
Sandstone, or other sedimentary rock, is good for simple outdoor dining or sitting, as it provides a cool surface for the feet. If you plan on a lot of backyard entertaining, something like basalt would be a good choice, as it absorbs sound.
Some other things to consider include the materials from which your house is built, and the theme of your patio furniture.
Cuts
Irregular flagstone can be a cheaper installation option, as you would purchase fewer slabs and be able to scatter them. Let's look at some other options for cutting flagstone:
Ledgestone. Flat strips of stone, best used for walling/fencing/stacking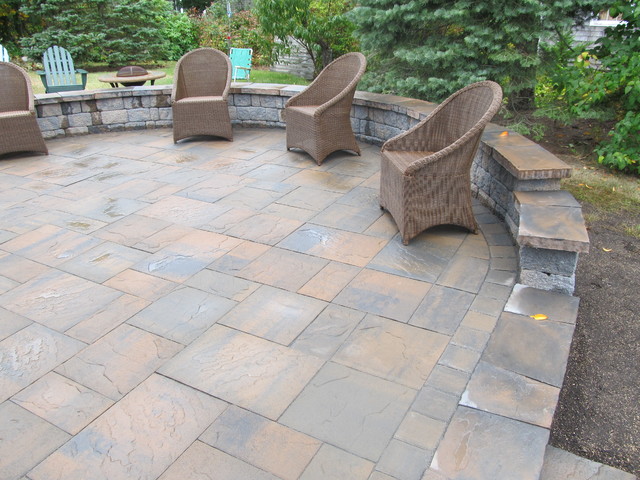 Rustic-landscape Ledgestone
Mosaic. Patterns made up of random pieces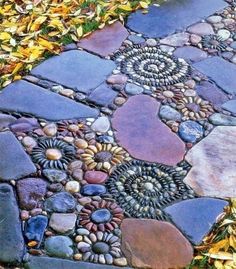 Mosaic Stone Patio
Pavers. oblong or square pieces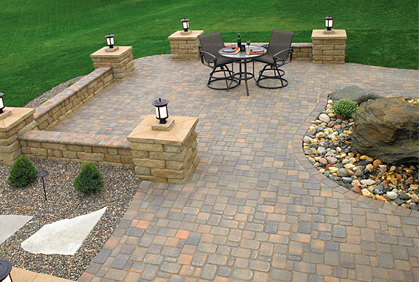 Paver Stone Patio
Steppers. Flat stones for pathways or steps. Can be a fun addition if your yard features a garden or wooded area, prompting guests to explore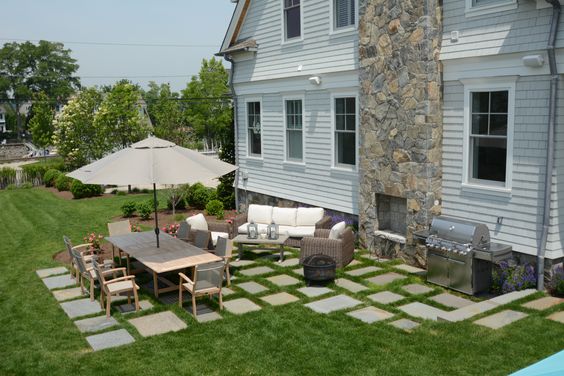 Stepper Stone Patio
Slabs. Flat pieces of stone with irregular sides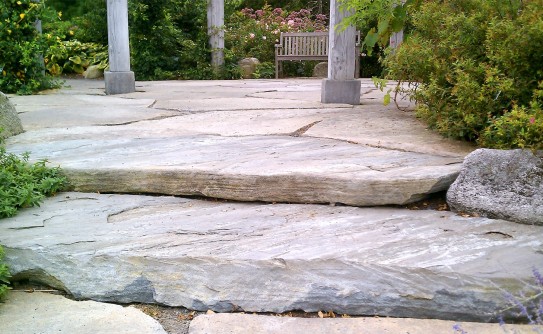 Huge Patio Stone Slabs
It is recommended that each piece be at least one inch-thick for high-traffic areas. The stones must always be level, otherwise they will shift!

Ideas
Here is a great example of pavers surrounding a firepit and seating area. An arc of stone creates a wall that enables two things: a level floor for laying the stone, and protection against land erosion.
It also creates a more intimate setting around the firepit: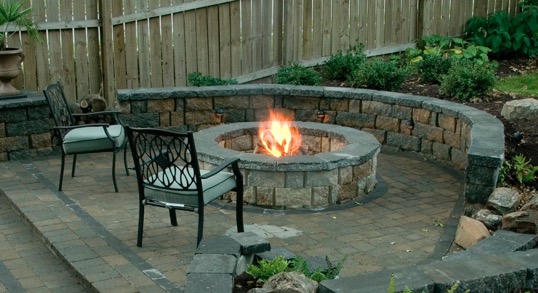 Small Backyard Landscaping Ideas Installing Firepit Flagstone Decor
Here is an enclosed slab patio with moss growing in the joints: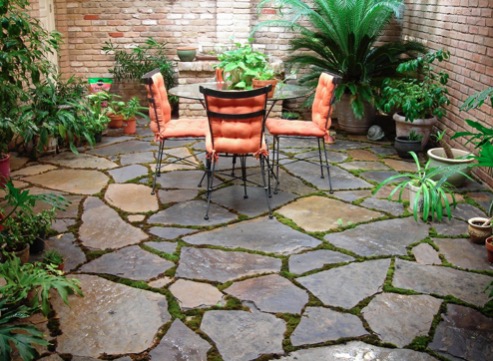 Flagstone Backyard Patio
The large planters add pops of colour for a cozy dining area full of earthy hues.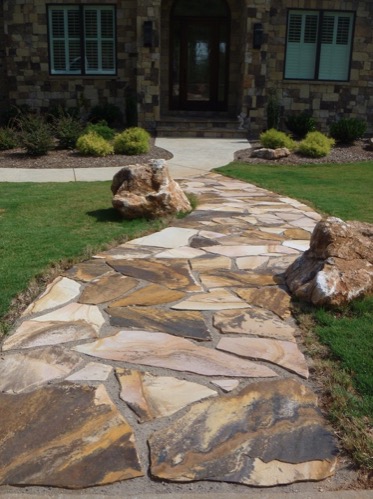 Hardscape Flagstone Patio
This quartzite walkway (pictured above) reflects the colour and texture patterns in the stone walls, tying the yard in together and enhancing the entrance to the house.
Cost
The cost of flagstone is measured by square footage, roughly $15-30/ square foot, depending upon place of origin and cut. Flagstone is costly to have installed professionally, but time-consuming to install on your own. Each slab must be laid level and secured to protect against frost heave.
Flagstone is a low-maintenance, long-lasting material with a timeless look, that will create conversation, keep your guests cool, and add value to your house. Natural stone offers endless options for your patio while bringing some gorgeous, earthy hues to your entertaining experience.
Related posts: