There are many advantages and few disadvantages to wicker furniture. As we've mentioned in previous posts, there are many materials that can be used in wicker furniture. Wicker is a type of weaving that's done with reeds, cane, or rattan vines to craft the furniture.
Advantages of Wicker Furniture
Attractiveness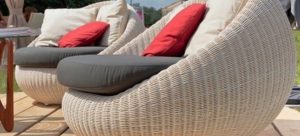 When you have wicker furniture in your outdoor space, it's like blending nature with nature. Its construction and materials make it seem tropical while at the same time being a natural addition to the environment in your backyard.
Wicker furniture doesn't have to be brown, either. Wicker furniture can be a variety of colors depending on the color scheme you need in your backyard.
You could have a splash of color or have the furniture be a neutral tone. The choice is yours, but wicker furniture is beautiful in any color.
Devoko 5 Pieces Patio Furniture Sets All-Weather Outdoor Sectional Sofa (…)

Best Choice Products 3-Piece Outdoor Wicker Patio Bistro Set With (…)

Phi Villa 3 Piece New Patio Sectional Furniture Outdoor Sofa (…)

Durability and Construction
The materials used in the making of wicker furniture are incredibly strong and durable. Whether it's rattan, reed, or bamboo, the material is strong before it's even turned into outdoor furniture.
Once the material is woven onto a frame, it increases in toughness and durability. When you're weaving the material, it increases the strength of the material dramatically.
Little to No Maintenance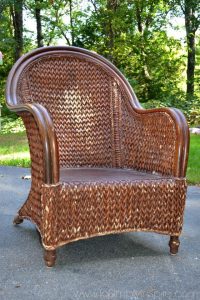 If you're purchasing wicker furniture in natural materials, they have a natural aversion to bugs and rot. They may be susceptible to extreme weather, but they can be lacquered to avoid water and mold. It's easy to clean natural wicker by coating it yearly to keep it looking its best.
If you purchase wicker furniture in a resin or other man-made material, you're getting a beautiful patio set. It's one that won't need to be cared for weekly or monthly, either. Just wipe it down if it gets dirty.
Steady and Safe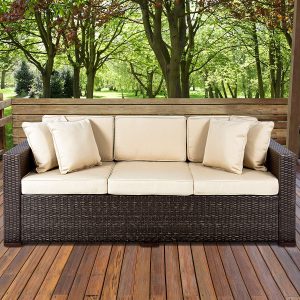 Wicker furniture is safe for children to use outdoors. While being steady, this furniture is also safe. Some wood furniture is heavy, and can become off balance.
A child might climb and tumble from the furniture pulling the piece to the ground, too. Wicker furniture is steady while also being lightweight. Children won't get hurt if they tumble out of the chair.
Wood furniture is heavy while some other types of outdoor furniture is too light. It ends up tipping with the slightest shift of balance from the user.
Great Outdoor Options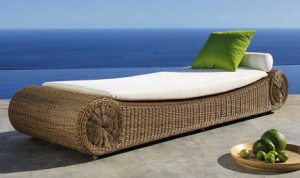 Wicker furniture can be used indoors, of course, but the best options for seating are outdoor options. They will have sturdy metal frames and durable materials for the couches and chairs, which will also come with great cushions.
Much of the outdoor furniture will have options like seating as well as side tables and coffee tables. They'll all be crafted from wicker to be incredibly durable.
Disadvantages of Wicker Outdoor Furniture
Loose Weave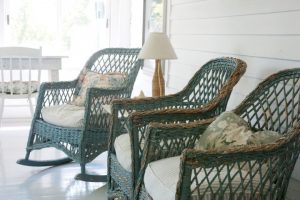 When you purchase wicker furniture, you need to be sure that it's well crafted. If there are any loose parts that weren't weaved properly, those spots can unravel later. It will take some time for the weave to unravel, but it can ruin the entire conversation set.
Loose weave can be very uncomfortable, too. If the weave is loose on the seats or the arm of a chair, it will poke or scratch anyone who sits in the furniture. It might also scrape people as they walk by the chair.
Badly crafted wicker furniture are usually made by people who are charging a little amount of money. They're cheaply made and cheaply sold.
Comfort Level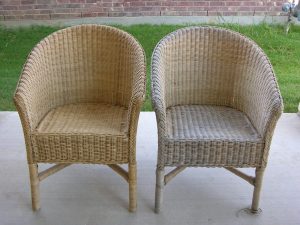 Wicker furniture isn't always the most comfortable. That's also true of most wood furniture, too. The outdoor furniture set that you choose should have comfortable cushions for increased comfort.
You're not going to find natural wicker furniture that's truly comfortable without some foam cushions. Thankfully, outdoor furniture usually comes with those accessories. Some even come with extra throw pillows and other cozy accessories.
Higher Cost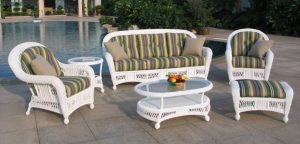 There are higher costs associated with some wicker furniture. If it's handcrafted and made of natural materials, you're paying for that craftsmanship. In this case, we almost added this to the advantages section.
If you're like us, you don't mind spending extra money for well-crafted pieces. They'll last longer. You'll have to decide whether your budget can handle a handwoven furniture set.
Conclusion
Many of the disadvantages we've talked about can be negated with some research. If you want to find well-crafted furniture, you're going to spend a little more. It's going to be cozy and built to last. It won't have loose weaving or broken pieces. It'll be reinforced and able to withstand the elements outside.
We are huge fans of wicker outdoor furniture. It's stunningly beautiful. If you want the look of wicker without the price tag, you could always choose a resin or other composite material. It'll give you the same beauty at a lesser price.
Related posts: