Putting together a backyard entertainment area is not as simple as buying furniture and inviting people over. Well, it could be, but you don't want to be a lazy host. Keeping yourself and your guests comfortable will be your top priority while creating a functional, attractive space.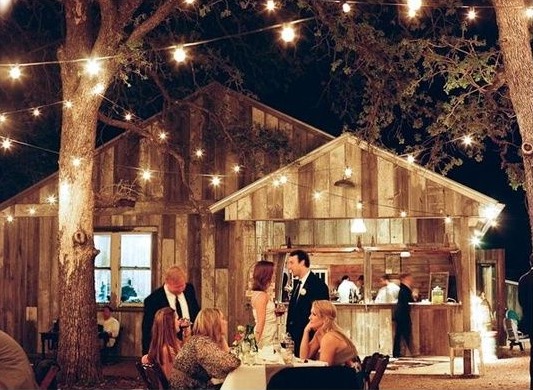 Wood offers optimum comfort as patio furniture. Its flat planks are comfortable to sit on as they allow for weight displacement, while softly supporting your back. Wood may also be laid with cushions. It is more comfortable than steel and will not rust; however, wood is a natural material, making it vulnerable to bugs and weathering.
Bugs will get into your seat cushions, bugs will eat the wooden planks, and bugs will try to suck the blood of your guests.
Also, rain will soak into your wooden furniture and cause the grain to expand and contract, leading to cracks and dangerously soft seating. Sun will fade the colour and weaken the integrity.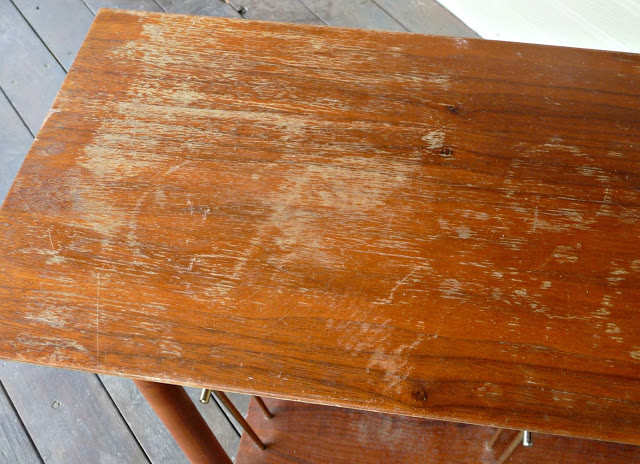 There are many options for chemical protection, but chemicals are essentially poisons that damage the environment and lead to health problems. We've put together a list of some wood species containing compounds that naturally repel bugs and resist weathering, as well as woods that have to be treated, so that you can get an idea of which material you'd like your furniture to be.
Phi Villa 3 Piece New Patio Sectional Furniture Outdoor Sofa (…)

Grearden Patio 3 Pieces Pe Rattan Wicker Chair Set

Diophros 7 Pieces Patio Furniture Sets

Naturally Bug & Rot Resistant Wood Types
Acacia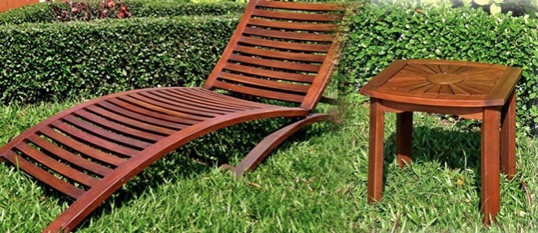 Acacia is a hardwood that is often used to build boats. It is extremely dense, and holds up against hard weathering. It is a sustainable wood as it grows almost invasively in different regions around the world. This is a wood known for its durability and gorgeous, deep tones.
Eucalyptus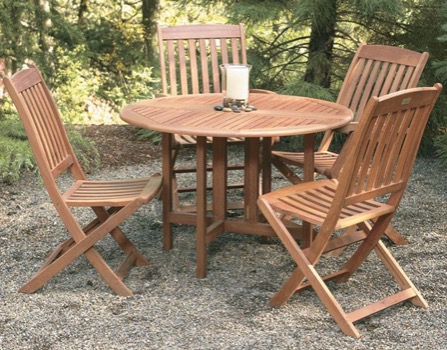 Eucalyptus is a sustainable, extremely durable wood that is harvested from plantations. Its high oil content enables it to repel moisture, while bringing out the warm, orange tones in the grain. The integrity of eucalyptus will hold up over time, but colour is prone to fading if left raw.
Cypress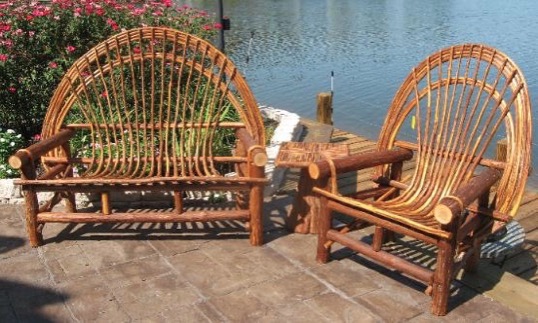 Cypress is regarded for its naturally-occurring preservative that protects against insects and rot. It is less prone to expand/contract cycles. It is not as sustainable as other wood sources, as it takes at least thirty years for these trees to reach maturity. Despite being more difficult to find and more expensive, cypress patio furniture can withstand the elements without any kind of finish.
Cedar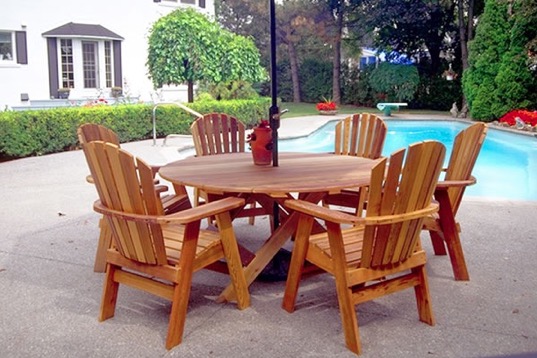 It's summertime and the sun has just set, and everyone is heading inside. Why? Because no one likes a bloodsucker. Cedar produces a natural resin with a strong, spicy aroma that repels insects. Choosing patio furniture made of cedar will help eliminate mosquitoes, so you can keep on partying past sunset.
Cedar is so durable that it is typically used for siding, boat building, and furniture. While it is incredibly strong, it is also lightweight, making it easy to rearrange. Cedar should be sealed for two reasons: the knots and cracks are quite visible and will let moisture in; also, cedar will turn silvery-grey over time if not treated. Cedar roughens up so we recommend a yearly sanding and fresh coat of paint to keep it comfortable. Cedar lasts about twenty years without warping or splitting.
Teak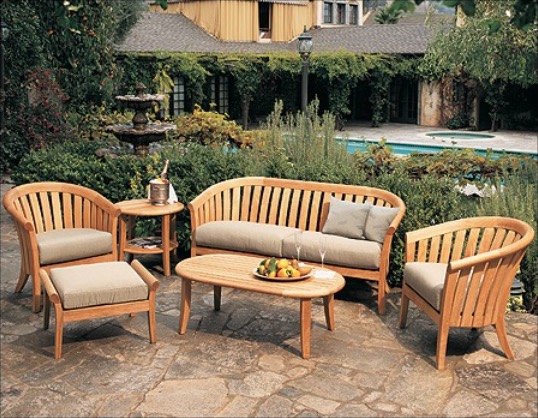 Teak is one of the best woods for patio furniture. It is often used to make sailboats as it is incredibly strong. Its fibers are composed of dense grain that do not soften or warp over time.
Teak is highly moisture-resistant due to its high mineral content, and produces natural oils that give the wood a lustrous finish. It does not expand/contract, and ages well. It doesn't warp. It doesn't crack. It is a material that lasts years and years and years while resisting rot.
Due to its high desirability, it has been over-harvested and now must be carefully farmed on plantations. This makes teak very expensive, but it is still the best type of wood for patio furniture.
Something To Think About…
Untreated woods will turn silvery-grey over the years. If you do not plan to stain/paint/varnish your wooden patio furniture, you should at least perform an annual sanding to rid the surfaces of any rough texture or splinters. You want to provide patio furniture that invites people to sit and enjoy their visit. If your furniture does have an oil finish, you should still sand it and add an annual coat of finish to maintain its colour and shine. Our article outlining five of the best hand sanders for furniture refinishing might be of help on this matter.

Keep in mind that wood cut from the centre of the trunk will be denser than outer layers. This means it will be physically stronger and richer in colour. Be sure to specify that you want the heart pieces when selecting your patio furniture.
All patio furniture should be covered when not in use. A simple tarp can work. Protecting your furniture from the elements – no matter how strong the wood – will ensure that your wooden patio furniture remains strong, comfortable, and smooth for years and years.
Related posts: