We recently published articles on party ideas for tweens and toddlers. Today we give party ideas for grown-ass adults, because sometimes you just want to have fun with all your pals, but aren't quite sure where to start.
You may notice some crossover ideas in these articles, especially ones relating to food, because we all love food. We've also ramped up the sass in this article providing a wide range of themes to suit your interests.
Best Birthday Party Ideas for Adults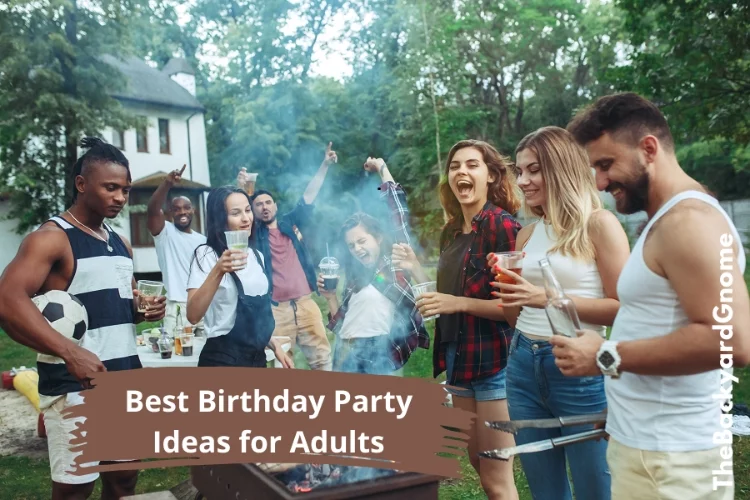 S'mores Bar
Yes, this was on our tween list. Forgive us, but we believe that s'mores love transcends earthly age limits. A food bar is always a hit at a party. You're going to need snacks anyway, so why not centre the party theme around the food itself? Set out a table and lay it with a cloth. Then fill bowls with graham crackers. You can often find these in original, chocolate, and honey flavour. Don't stop there: get an assorted box of cookies, too! Provide chocolate in the shape of bars, chunks, and chips, as well as a variety of marshmallows, including white, different colours, and toasted coconut. You will have to provide skewers so don't forget those! Feel free to get creative with the toppings with things like crushed peanuts or sprinkles. Then gather round the fire and enjoy the evening!
Big Ol' Barbecue Bash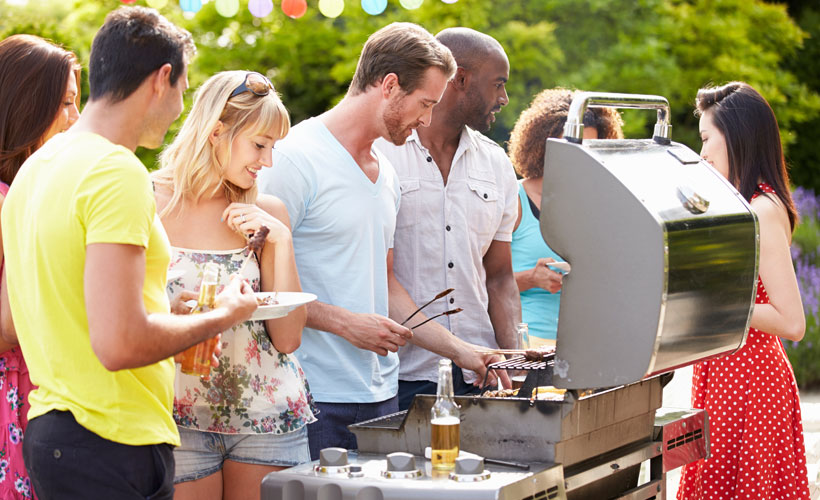 Not all of these will be about food, we promise. But what's a backyard party without a barbecue? Make sure your party rises above and beyond. First, provide a menu. Paint a piece of wood with chalkboard paint and handwrite the menu in a funky diner style to let guests know what's up. Fill small-medium containers with all kinds of condiments, using popsicle sticks for labels. They will double as spreading utensils. If you're serving hot dogs, use coffee filters instead of plates. This will help keep their shape and stop spills and add some character. Get a kiddie pool and fill it with ice, and stash all the beers and temperature-sensitive foods in here. Place it on a table where pets can't reach it. Make sure to sprinkle peppermint oil or burn citronella candles to repel bugs.
Plain Party Jazzed Up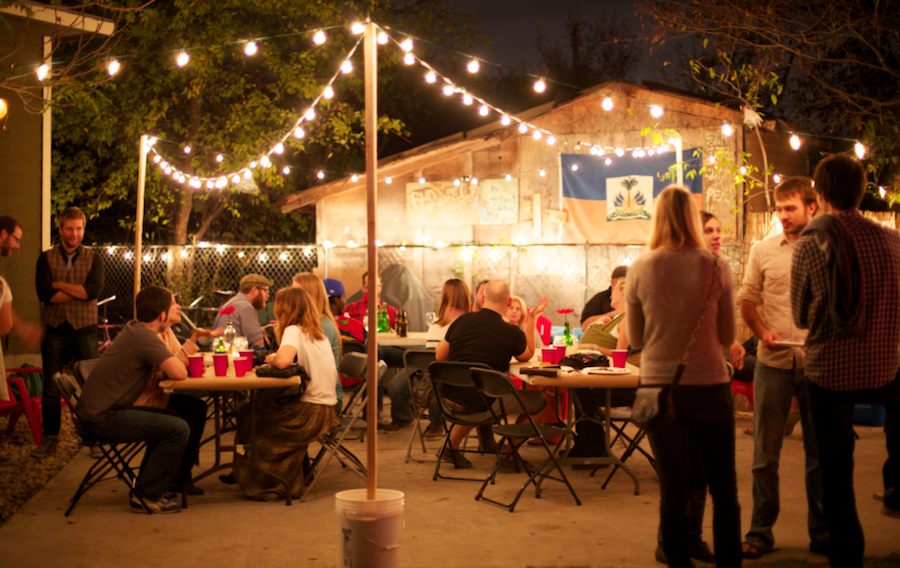 You don't need a theme. you can just invite people over for the sake of enjoying each other's company, but you can add some pizazz to the surroundings! Try things like laying ribbons across a table in place of a tablecloth. The multiple colours will set a festive atmosphere. Balloons always put people in a party mood. Hint: fill them with water and freeze, and use in place of ice cubes to keep things chilled. Pull a dresser into the yard and turn it into a bar! If you have any empty wine bottles lying around, use them as candleholders.
Laying Low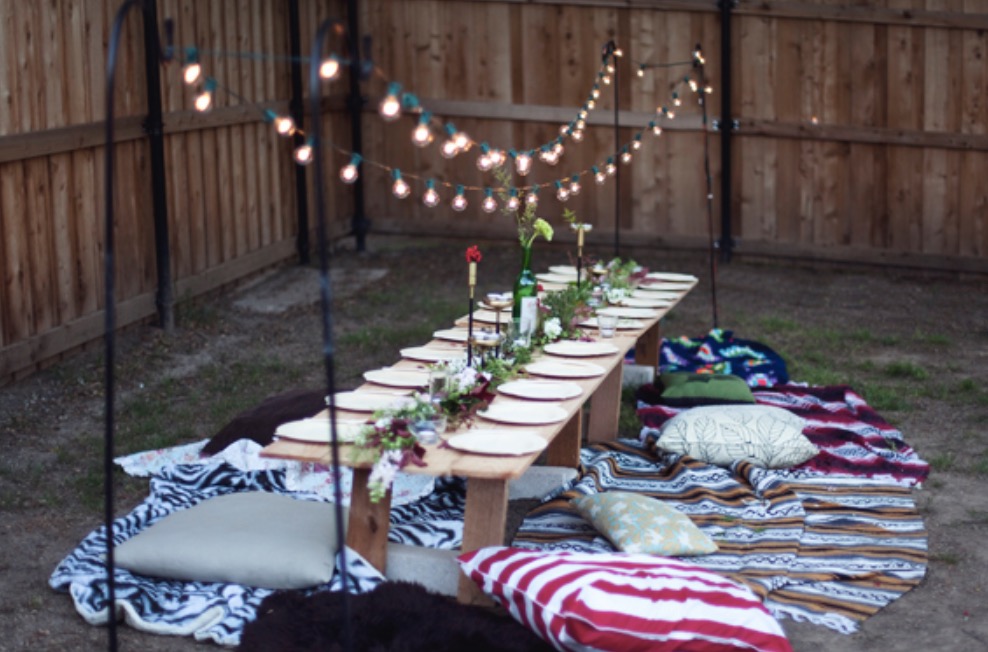 Have a lowkey dinner party Japanese style by sitting on the ground! To make a table, gather some skids or crates and layer them to your desired height. Lay out some sheets or blankets (if you don't want to use your own, get some from a secondhand store). Provide pillows and lay some fabric across the skids, obviously. Line the table with flower petals and candles for a nice ambience.
Campfire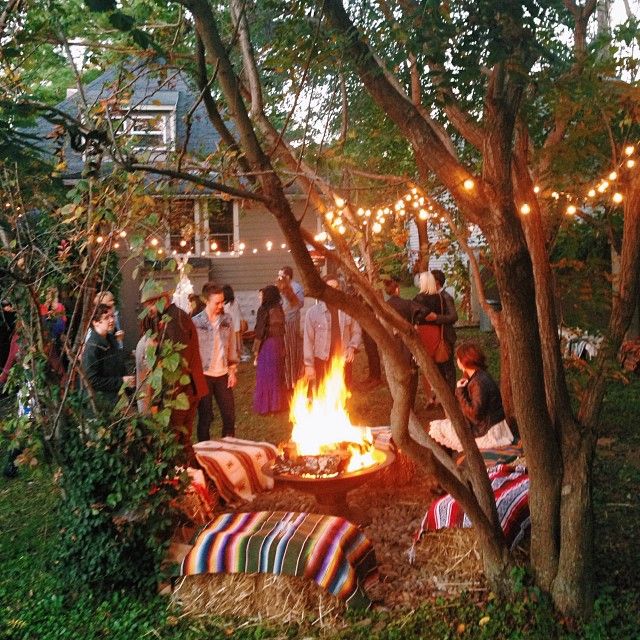 Gather friends around the firepit. If you have a bunch of chairs in the garage that never get used, spraypaint them for interest. String twinkle lights around the tree trunks for a sparkling, sweet evening. The fire will draw everyone around it, and everything will get rolling from there.
Tea Tasting Party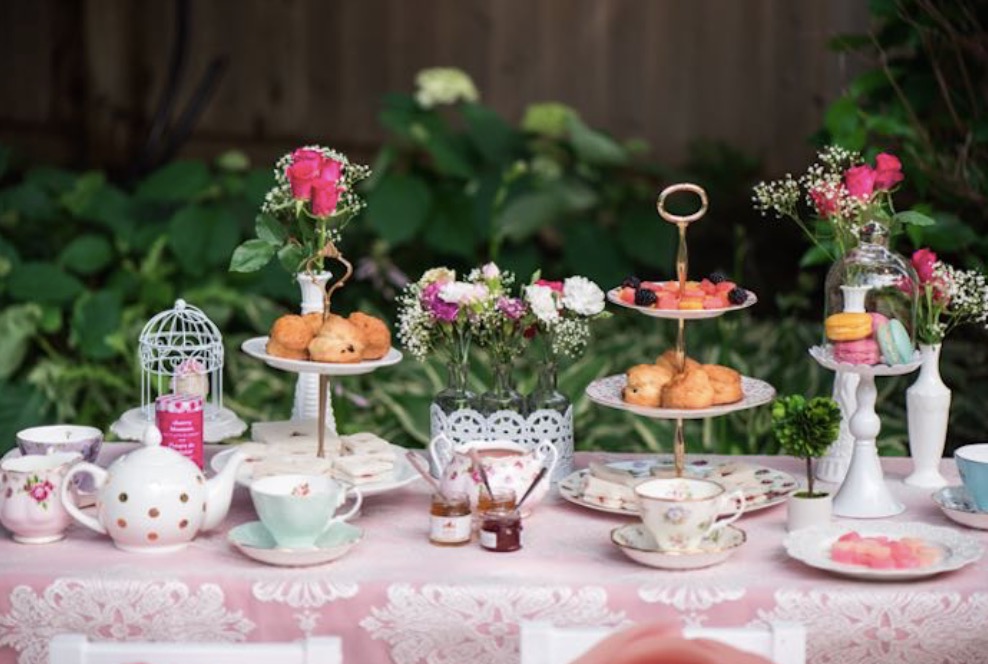 First, line your outdoor table with a lace cloth. Serve little sandwiches (cucumber, or egg salad are traditional and well loved) and pastries like cakes or scones with clotted cream and jam. Provide a menu and serve at least three different kinds of tea. Encourage guests to come in high tea wear, like fascinators and gloves. Twinkle lights are a must. Compose a centerpiece from edibles like asparagus, plum tomatoes, and carrots. You can find antique teacups at secondhand or antique shops, as well as tiered trays and vases. Decorate with fresh flowers.
Starlit Night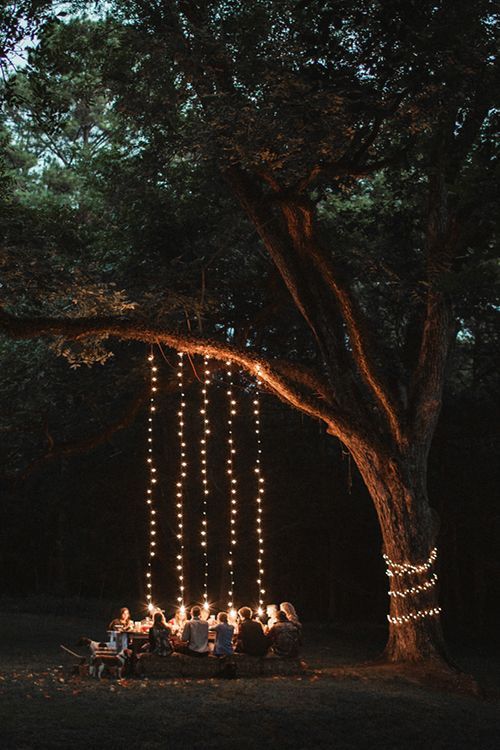 Again, you don't have to throw a theme party, but simply gather people at your house and decorate to make the night memorable. Try popping LED lights into helium balloons before you blow them up. This will create a wonderful ambience once the sun is set. Be sure to string twinkle lights along the fence or pergola. Get some star-print gift wrap and use as a tablecloth. Or, you can project star lights onto any overhanging surface and make your party a true "starry night".
Bar Party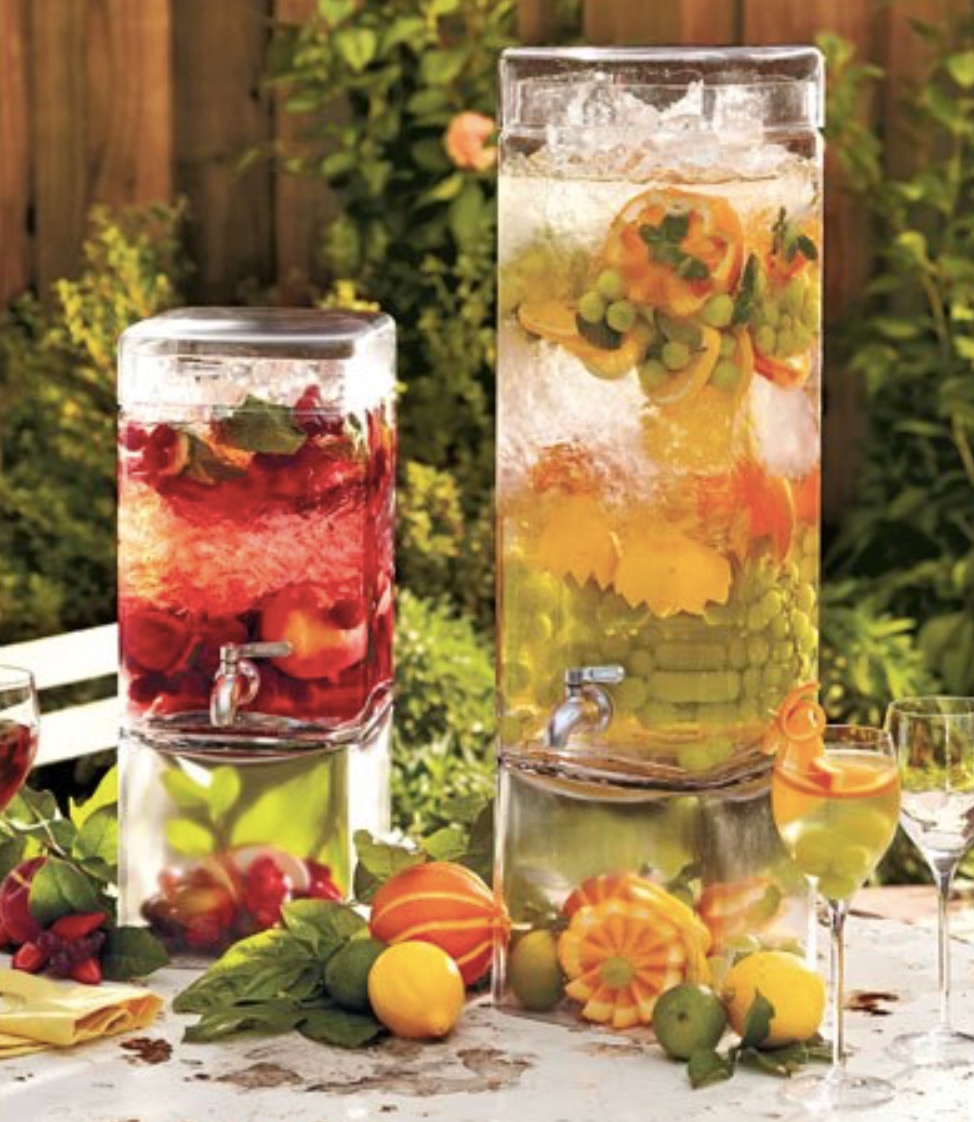 Serve a bunch of cocktails but in a new way! Get a few infused water dispensers and mix cocktails into them such as sangria, mojito, and margarita. Be sure to use fresh fruits and herbs. You can find chalkboard labels at craft stores. Label the dispensers and provide cups, napkins, and snacks. You can even use rocks for labels. Write on them with white marker, and they will even hold the napkins down! At the end of the night, serve to everyone a glass of champagne poured over sorbet, served with a spoon.
Benefits of Having Parties as Adults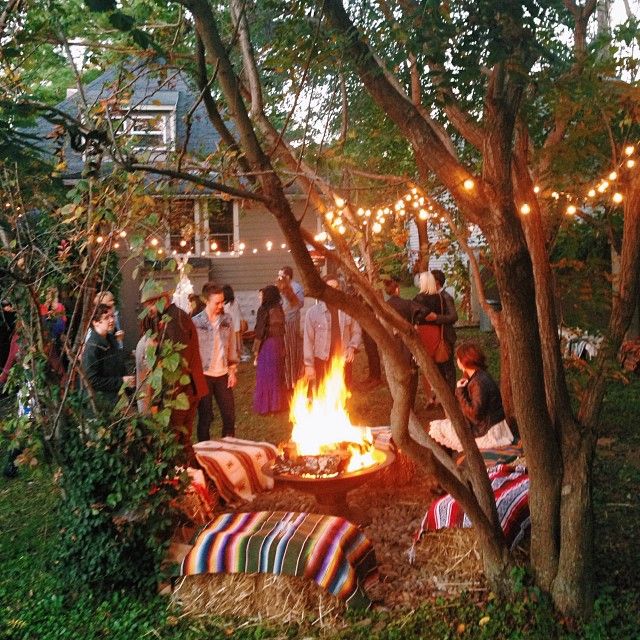 Have you ever wondered why people love to party so much? Well, there are actually quite a few benefits to having parties as adults!

Help to Relieve Stress
For one, parties can help to relieve stress. If you've been feeling overwhelmed at work or home, a night out with friends can be the perfect way to let off some steam. Dancing, laughing, and simply enjoying yourself can help to improve your mood and reduce stress levels.
A Great Way to Meet New People
Parties can also be a great way to meet new people. If you're looking to expand your social circle, meeting new people at parties is a great way to do it. You never know - you might just meet your new best friend!
A Great Way to Stay Active
Finally, parties can be a great way to stay active. If you're not a fan of the gym, dancing at a party is a great workout! You'll burn calories and have a blast doing it.
So next time you're feeling down, consider throwing or attending a party - it could be just what you need!
Conclusion on Party Ideas for Adults
We hope this list gives you enough ideas to go forward with a super awesome birthday party for the guy or gal in question. Ultimately, its up to you, and there's no rules. You can combine themes if you really like two and just can't decide, but just remember that the more thought out your party is, the more people will remember it for years to come!
Related posts: