There is nothing cosier than sitting around the fire with your loved ones on a summer night and spending some quality time. These are the golden memories everyone lives for and you want to remember your whole life.
To do this, many people search for a high quality outdoor fire pit that they can gather around, that will add some extra relaxation to their lives.
One such fire pit that we want to talk about today is the Iron Embers Chiminea Outdoor Fireplace, a combination of practical purpose and artistic appeal, which is the subject of today's review.
Iron Embers Chiminea Fire Pit
Free Shipping anywhere in the USA
Features of Iron Embers Fireplace
This outdoor fireplace comes with many different features and options that customers would appreciate. Let's have a look at the most prominent features of this outdoor fireplace below, so you know what it's all about!
4 Size Options
The size of an outdoor fireplace matters greatly, because it depends on size of your backyard, and space restrictions otherwise. If you have a smaller backyard, you probably don't want to cram in a 7-footer sized outdoor fireplace because it will make the yard look much smaller.
That said, the Iron Embers Chiminea here is available in many different sizes for you to choose from, and so you can choose according to your budget and space available.
The following sizes are available to choose from for the Iron Embers Chiminea Outdoor Fireplace:
4′ tall
5′ tall
6′ tall
7′ tall
One of the best features of this outdoor fireplace is that you can customize it in various ways and have it delivered to your doorstep whenever you want.
That said, there is a fair bit of a lead time on this product, as they make it by hand, so you should probably order it months in advance of when you actually want to use it.
Chimney20Cap
Chimney Cap
One feature you want to consider is whether you want the chiminea with a chimney cap or not.
The chimney cap is both an aesthetic and practical choice, as it prevents rain from getting in, and also changes the look of the chiminea visually, especially as it pertains to the way that smoke comes out of the top. The look, with the cap, is very different.
Still, without the cap, the smoke is funnelled upwards, and away from you and your guests. The design of the Iron Embers firepit is great in that, no matter what, you don't have to worry about smoke the way you would with lower, more open fire pits. This one is designed to never have you bothered by sparks or smoke.
The cap also slows down the smoke being emitted from the fireplace, containing the fire more and slowing the burn down slightly, as it can't escape as fast. There's still great air circulation with the cap on, but it's slightly restrained, so you get thicker, more dazzling smoke designs with the cap on.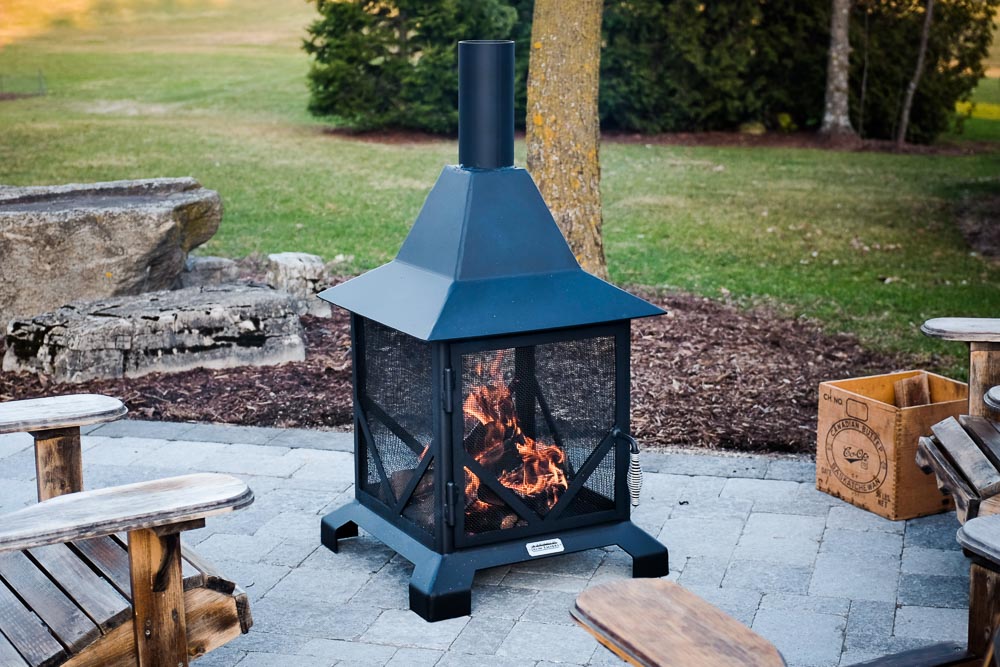 Classic Look
The Iron Embers outdoor fireplace is the perfect combination of old school and modern, chimney and fireplace, and you can easily provide visual interest in your yard with it.
In a word, it's unique. It looks out of the ordinary, with very purposeful angles, but also contains some traditional elements as well. Depending on what you already have in your backyard, it can easy be the main highlight of any given area.
While this chiminea is made from solid 1/4″ steel, it looks like it's made of iron, aesthetically, due to the outer layer of paint applied to it.
This outdoor fireplace is available in a classic black matte color, with no other options for colors, so that's something to be aware of.
Free Shipping
Free shipping is available for this outdoor iron chimney on our store. If you are from anywhere in the United States of America, you can get the free shipping option and get it delivered to your doorstep. The origin of shipment is from Ontario, Canada, for this product.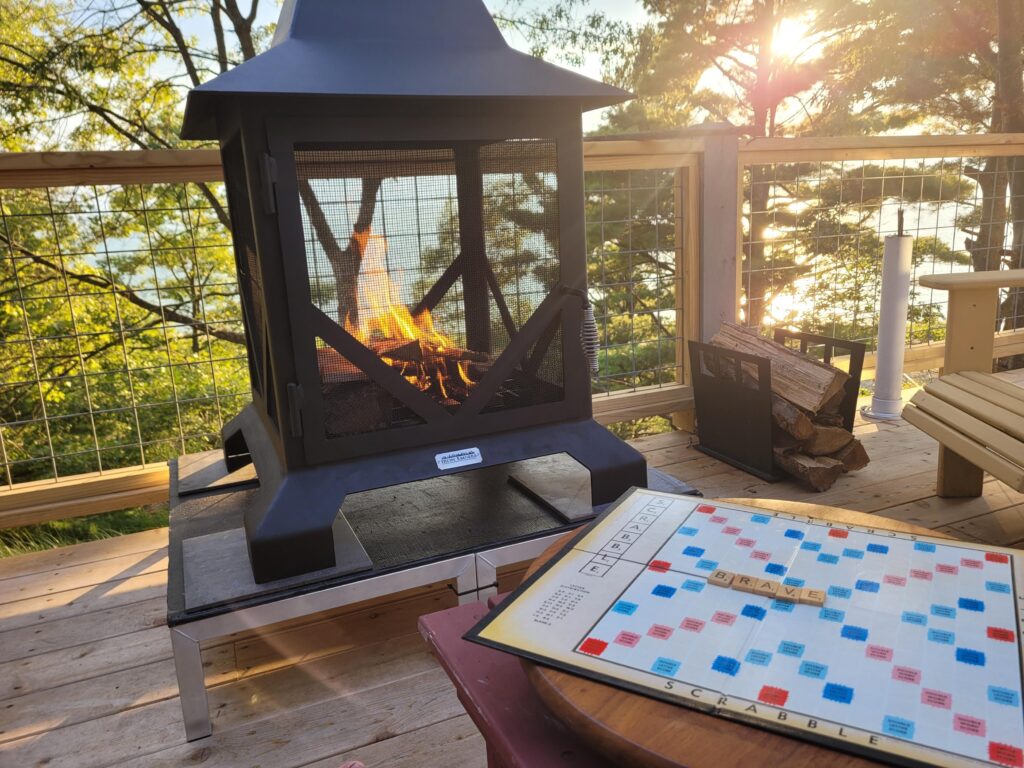 Sturdy Material
Premium quality steel materials are utilized to manufacture this outdoor chimney / fireplace. It is a sturdy addition to your backyard, which will last a long time -easily upwards of a decade – no matter the weather conditions because its handmade by master Canadian metal-smiths.
Even the spark screen mesh is made from the same sturdy steel materials. As such, the mesh material is completely fireproof, and it surrounds the sides of the outdoor fireplace so no stray sparks coming flying out at any point.
You can easily open the door via the heat-resistant handle, and adjust the wood inside to ensure that the fire is burning correctly and distributing the heat in a balanced fashion. This outdoor fireplace is balanced on four legs, so it does not directly touch the ground.
Overall
The Iron Embers Chiminea Outdoor Fireplace is a product that will last you a lifetime. The style is simple, but effective, with a great view of the fire, and easy to add firewood by way of its heat-resistant handle. There are basically no cons to this product, unless the style doesn't specifically appeal to you.
Related posts: