Here at The Backyard Gnome, we take backyard entertaining very seriously. We don't fool around when it comes to recommending the best products on the market.
We have travelled far and wide, seeking new ideas and products whether they be party theme ideas, patio furniture, or cooking equipment.
We believe there are three necessary parts to a kicking backyard party: people, music, and food. We'll let you take care of the people (it's not like there are groups of people you can buy for parties).
And while we'll help you choose out the best music accessories like speakers and Bluetooth devices, we'll leave the music up to you.
And food? The menu is up to you, too: but how will you cook that food? How will you present it? And when night falls, how will you keep guests warm and visibility high? Perhaps we should add a fourth element to the party checklist: fire.
Yes, fire. All that hot energy moving around and dancing. It keeps you warm, provides light, and best of all, it cooks food.
Fires are great additions to any backyard party, bringing a sense of community as people unwittingly, like the cavepeople they really are, gather around it. Fire brings promise.
It brings promise of comfort and safety (especially when well-contained). We also, here at The Backyard Gnome, believe that anyone should be allowed to throw a party, whether you live in a mansion or in a townhouse, and we have searched far and wide to find products suited to any lifestyle.
For the purpose of backyard firepits, we have recently really been into the chiminea. They are certainly coming back in style.
They were invented in Mexico in the 1600s as a way to cook food with a contained fire, as well as provide heat to the household. Traditionally they are a pot-bellied oven with a smoke stack.
The fire burns from the belly and smoke is directed up the stack and away, unlike a regular fire pit or barbecue. These days, chimineas come in many shapes and sizes.
We recently reviewed a pentagonal chiminea made of cast iron, which is a unique and contemporary take on a traditional mechanism. Today we review one that looks very much like a fireplace: the Blue Rooster cast iron chiminea.
This chiminea is shaped much like an outdoor fireplace, which is of course its purpose, but the familiar shape will add a homey touch to any patio or garden setting, inviting you and friends to sit in front of it.
The Blue Rooster design is one often imitated, but never duplicated! Nothing matches its quality or design.
This one comes with a steel support stand, steel hardware, a screen and poker tool, as well as bottle of paint for touch-ups.
It also includes cast-iron grates for baking and cooking, in addition to a removable rain lid! The rain lid is a brilliant accessory that other chimineas do not include.
Just make sure you remove it before lighting the fire!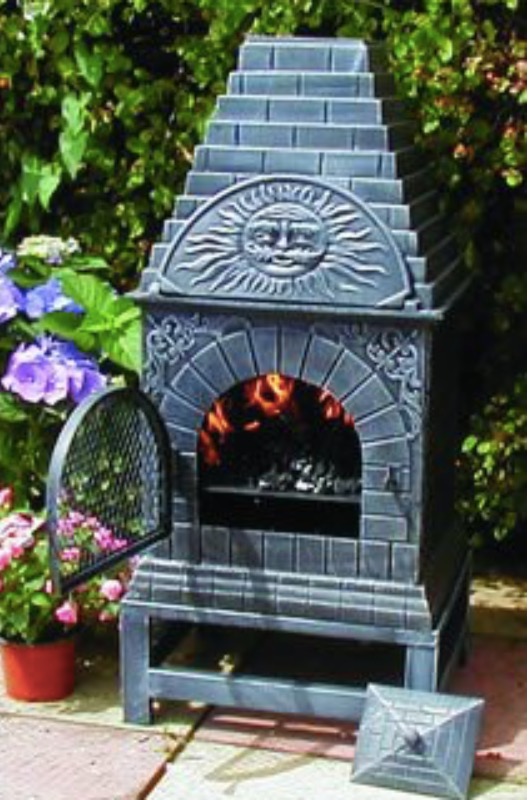 It is a very heavy and sturdy thing. You will need some help setting it up. Building it involves the stacking of pieces, but do get someone to help you to save your back!
It weighs approximately 230 pounds, more than the average man. It is four feet tall, two feet wide, and one and a half feet deep.
Metal is an excellent conductor of heat. The cast iron construction will absorb and radiate heat to evenly and thoroughly cook food, while keeping you and guests warm long into the night. It easily accepts 15" fire logs.
When you have the fire going, let it burn down to embers and coals. This is the ideal cooking setting for a chiminea.
Once the fire is down to coals, set your food upon the grate inside. Of course, use a barrier: for pizza and bread we recommend using a stone, and for oher things like burgers, try using a cast iron pan to set upon the grate.
You don't want to expose your food directly to the heat: it will burn before it is even cooked. To access the cooking area, simply pull the sun panel down.
This is where the food goes. Open it up, put the food in, and close the door back up and let it cook! At its widest point, the door measures 15.5" wide, and seven inches high.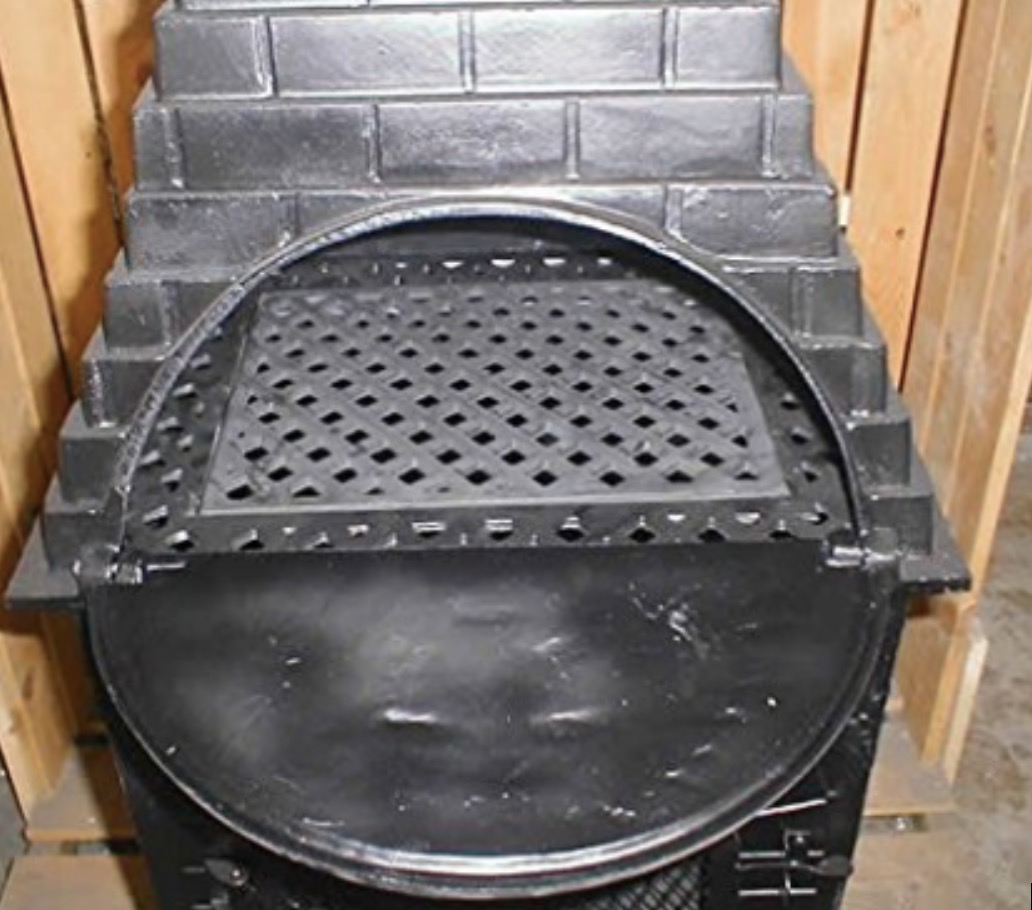 The sun panel is one of our favourite features of this lovely chiminea. It evokes warmth and happiness, while adding a rustic design to your backyard.
It's the perfect thing to set up next to the hot tub so that when you get out, you are nice and toasty! No matter where you put it, we know you'll enjoy the Blue Rooster chiminea.
The Blue Rooster chiminea sells for around $600. We recommend setting it upon a concrete patio or bricks; anything to absorb heat and prevent damage to a patio. Do not place it upon a wooden deck or in the grass.
Related posts: