These beautiful cast chimineas are perfect for adding a touch of style to your garden or patio. Made from either copper or aluminium, they are durable and long lasting, as well as being stylish and elegant. Perfect for entertaining guests or simply relaxing in your own backyard, these cast chimineas are a great addition to any home.

Do you want to add a touch of rustic charm to your backyard? Outdoor fireplaces, also known as chimineas, are perfect for just that. Today, we'll be reviewing two popular types of cast iron chimineas: copper and aluminium. We'll also provide a buying guide and answer some frequently asked questions. So, whether you're looking to buy your first chiminea or are just curious about the options out there, read on!

Copper Chiminea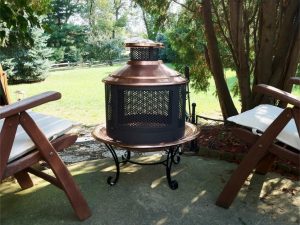 This old-world style is a lovely addition to any backyard. It's not one that you should choose if you're looking for heavy-use chimineas.
It will look fantastic in the corner of a garden with your wild flowers growing up around it. The copper chiminea will get a nice patina if you leave it outside uncovered, too.
Aluminum Chiminea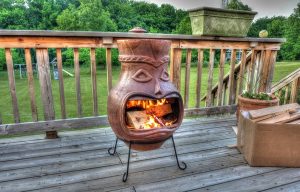 These come in a variety of designs as you can see below. They can burn various types of wood for heat or cooking. There are some versions that can be converted to gas burning, too.
Ease of Maintenance of Copper or Aluminium Chimineas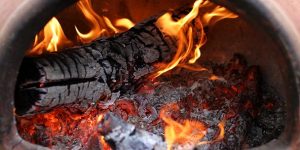 They're easy to maintain and won't rust or corrode. They're great for adding to your deck since they won't leave behind streaks of rust or corrosion on the wood.
There are certainly plenty of choices, but should you be looking for more, we have found an interesting few models for you to check out, which we have reviewed her in some detail.
While still falling in the metal chiminea category, we've found some versions of chimineas made of copper and cast aluminum that have more than caught our eye.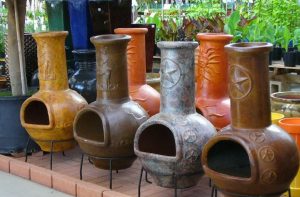 This is due to a blend of features that borrows what is most enjoyed all of the other types of chimineas for a stunning balance of functionality, looks, practicality, and price!
We hope you find something you like here, enjoy!
One of the great things about aluminum cast chimineas is their increased resistance to rust. This outdoor chiminea by none other that the Blue Rooster company is particularly well equipped as it sports an aluminum alloy body and stainless steel hardware.
Topped off with a gold accent finish, it is sure to shine and endure on your patio for a long time to come. Given that we're looking at the unparalleled craftsmanship coming from Blue Rooster we know it's going to be equal parts snazzy and high quality.
It comes in at 52 inches in height, which is particularly tall, however, you will find the weight is only 75 pounds. The surprisingly light weight and portability are another advantage of the aluminum alloy body.
The Venetian Outdoor Chiminea has a built-in cooking capabilities featuring an extra wide grilling area, having all of your outdoor entertaining needs covered.
Top 3 Best Copper and Cast Aluminium Chiminea Reviews 2023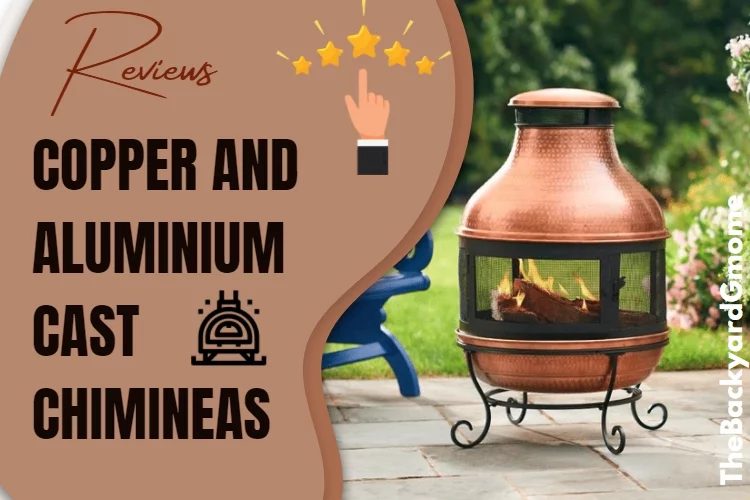 Best Copper Chiminea: Unique Arts Solid Copper Chiminea Combo With Screen
The solid copper body chiminea by Unique Arts is the go-to pick for anyone looking for something different and one of a kind. Each one is hand crafted by master coppersmiths using purely recycled copper.
It sports quite a fashionable design, featuring a shorter chimney but larger body and a 360 degree view of the fire chamber. While dazzling looks are certainly a forte of this chiminea, it also excels in terms of practicality.
It's able to convert from chiminea to a fire pit and even be set up as a grill. At 50 pounds in weight, this multifaceted chiminea is also among the most portable.
Best Aluminum Chiminea: The Blue Rooster CAST Aluminum Dragonfly Chiminea in Charcoal - Link
Another stunning model from Blue Rooster is the Dragonfly Chiminea, this time featured in antique green. Blue Rooster is one of our favourites for sure because they certainly take their craft seriously.
Their products feature a very high quality build and often have a simple yet stylish design embossed on them.
This one comes in an antique green colour which elegantly fades to a darker shade throughout use. The cast aluminum body has increased resistance to rust, as is typical with the material.
What makes this chiminea so great is the fact that it is designed to come apart. The neck is removable, exposing a grilling area that is ideal for cooking.
This also makes it extra portable. Along with the 65 pound weight and the built in carry handles, this model is actually so easy to transport, users can actually take it out with them when camping.
For added convenience, the Dragonfly Chiminea also comes with a removable rain lid, cast iron fire grate and grilling insert, a wood tool, as well as a free bottle of touch up paint.

Runner-up: The Blue Rooster Venetian Grill & Oven Chiminea in Antique Green CAST Aluminum - Link
This CAST Aluminum Chiminea in Antique Green is a beautiful and unique piece that will make a great addition to your outdoor living space. The Venetian style design features an intricate lattice work on the body of the chiminea, as well as dual handles and a round top. The cast aluminum construction ensures that this chiminea will be durable and long lasting, while the green finish gives it a classic look. This grill is sure to be a hit with family and friends, and will make a great addition to any backyard.

The Blue Rooster Venetian Grill & Oven Chiminea is easy to assemble and use. The included rack allows you to cook multiple items at once, while the side shelves provide extra space for prep and serving. The deep bowl design of the chiminea is perfect for holding coals and wood, and provides even heat distribution. This grill also features a spark screen to help keep embers contained, and an easy-to-use ash pan for easy cleanup. Whether you're grilling, smoking, or baking, the Aluminum Chiminea is sure to become your favorite outdoor cooking appliance. Order yours today!


Buying Guide for a Copper or Aluminum Chiminea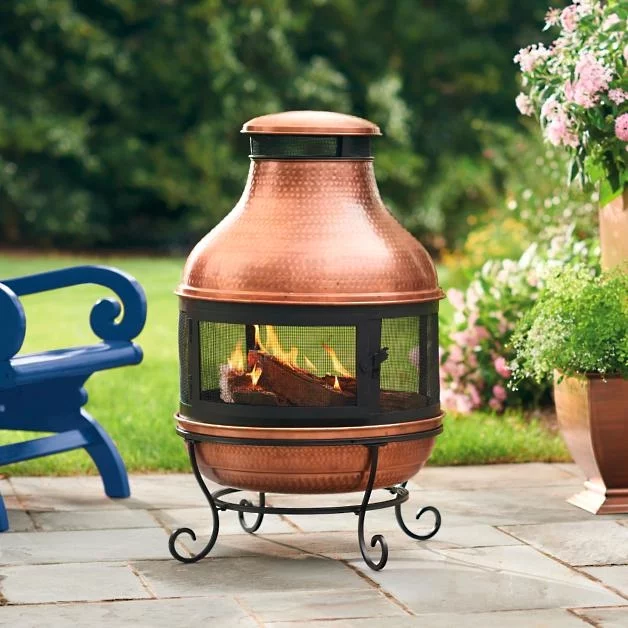 When it comes to outdoor heating, few things can beat a copper or aluminum chiminea. Not only do they provide warmth and ambiance, but they also add a touch of class and elegance to any outdoor space. If you're in the market for a new chiminea, here are a few things to keep in mind.
The Size of the Unit
First, consider the size of the unit. Copper and aluminum chimineas come in a variety of sizes, so make sure to choose one that's appropriate for the space you have available. Smaller units are great for patios or decks, while larger ones can be used in backyards or even on camping trips.
Think About How You'll Be Using Your Chiminea
If you plan on using it primarily for cooking, then you'll want to make sure it has a large firebox. On the other hand, if you just want to use it for decoration, then a smaller unit will suffice.
Take Into Account the Price
Copper and aluminum chimineas can range in price from around $100 to several thousand dollars. It all depends on the size, features, and brand that you choose. With so many options available, be sure to shop around before making your final decision.
How to Clean Cast Aluminum Outdoor Chiminea
If you have a cast aluminum outdoor chiminea, it is important to keep it clean. Aluminum is a material that is susceptible to corrosion and weathering, so it is important to take care of it. Here are some tips on how to clean cast aluminum outdoor chiminea:

Use warm water and soap to clean the exterior of the chiminea. A soft cloth or brush can be used to scrub away any dirt or debris.
Rinse the chiminea with clean water after cleaning.
Dry the chiminea completely with a soft towel.
Apply a thin layer of cooking oil or WD-40 to the exterior of the chiminea. This will help protect the aluminum from weathering and corrosion.
Store the chiminea in a dry, sheltered place when not in use.
Follow these tips to keep your cast aluminum outdoor chiminea clean and protected from the elements. With proper care, your chiminea will last for many years.
Which Chiminea Radiates Heat Outward Better Cast Iron or Aluminum
There are a few things to consider when trying to determine which chiminea radiates heat outward better, cast iron or aluminum. One is the material the chiminea is made out of. Cast iron will tend to retain heat better than aluminum. Another factor to consider is the design of the chiminea. Some designs allow for more heat to radiate outward than others. Finally, the size of the opening on the chiminea will also affect how much heat radiates outward. A larger opening will allow more heat to escape.
In general, cast iron chimineas will tend to radiate heat better than aluminum ones. This is because cast iron is a better conductor of heat than aluminum. Cast iron will also retain heat better than aluminum. The design of the chiminea also plays a role in how well it radiates heat outward. Some designs allow for more heat to radiate outward than others. Finally, the size of the opening on the chiminea will also affect how much heat radiates outward. A larger opening will allow more heat to escape.

Buy now at Walmart, Etsy, eBay (quality guaranteed)
Best Aluminum Chiminea: The Blue Rooster CAST Aluminum Dragonfly Chiminea in Charcoal - Walmart, Etsy, eBay
The Blue Rooster Venetian Grill & Oven Chiminea in Antique Green CAST Aluminum - Walmart, Etsy, eBay
Conclusion for Aluminum / Copper Chiminea Buyers
These are some fine chimineas that are beautifully crafted. You won't find this kind of detail in other chimineas out there. They're crafted with great materials and etched with designed that make them really unique.
Many of them can turn from an outdoor fireplace into a grilling platform quite simply, too. We love the diversity and beauty of these chimineas.
Related posts: