When it comes to keeping your yard clean, there are a variety of tools that you can use. One such tool is a leaf blower. Leaf blowers can be very beneficial, especially if you have a lot of leaves to deal with. Here are some of the benefits of using a leaf blower:
They are very effective at removing leaves from your yard.
They can save you a lot of time and effort.
They are relatively inexpensive and easy to use.
And so it comes to keeping your yard clean, there's no better way than with a leaf blower. But with so many models on the market, how do you know which one is right for you? This buying guide will walk you through the different types of leaf blowers available and help you decide which one is best for your needs. We also answer some of the most commonly asked questions about leaf blowers, so you can be sure to make an informed purchase. Ready to find the perfect leaf blower for your home? Keep reading!

Editor's Recommendation: Top Leaf Blowers in 2023
Top 5 Best Leaf Blower Reviews 2023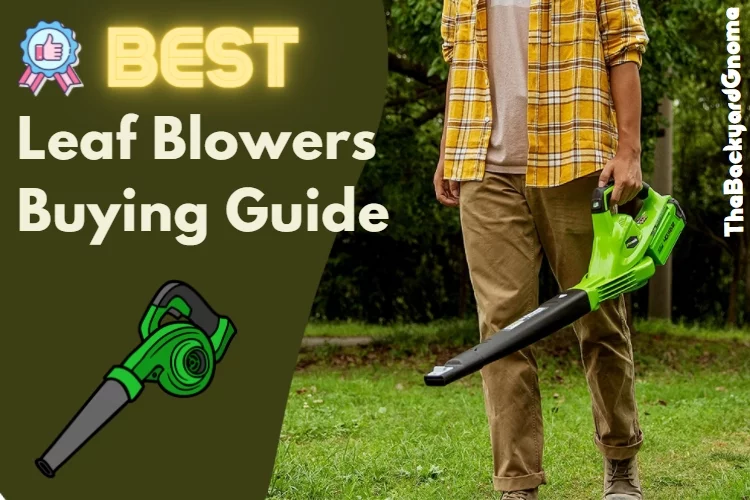 Husqvarna 125B Leaf Blower Review - Link
With this article, we review the 125B leaf blower by Husqvarna, a tool crucial in the process of winterizing your backyard.
While some people enjoy the process of raking leaves and the exercise it requires, others may have mobility issues that make it difficult to rake manually. Alternatively, some of us have too many additional projects that take up our energy and time in the fall, and this causes the falling leaves to build up continually. It is very important to clear your yard of fallen leaves, as this will make your yard look lovely and clean in the spring when the snow melts. If you fail to remove leaves, they collect moisture and rot right there in your grass. This makes for a stinking mess that only becomes harder to clean the longer you let it sit, and eventually turns your yard to muck. Don't wait until spring to clean your yard: save yourself the headache and disappointment by investing in a leafblower.
A leafblower is a very handy tool that enables you to get fallen leaves out of tricky places like corners of patios, or in the garden around your plants.
The Husqvarna 125B model is a lightweight, handheld blower perfect for use by both professional landscapers and homeowners. It has an ergonomic design making it comfortable and efficient for the user. It comes complete with a flare nozzle for higher air speed, as well as a vacuum kit for vacuuming or mulching lawn debris including grass clippings and fallen leaves.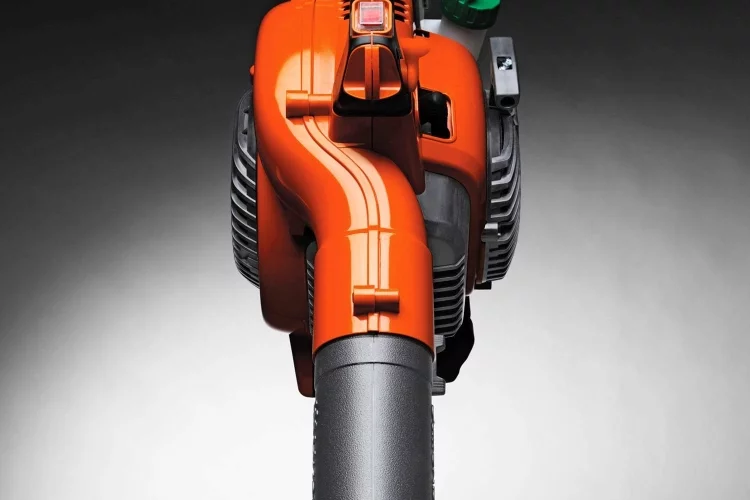 Designed with the user in mind, its stop switch automatically resets to the "on" position for easier starting. As well, its fan speed can be set for easier handle, and the blower tube length is adjustable. This tool measures 14" by 9" by 38.5" and weighs just ten pounds, making for a very lightweight tool that is easy to maneuver. The sign of a good tool is one that does the job for you, with such efficiency that you forget about the tool itself and are able to focus on the job at hand.
Husqvarna is well-known for their quality yard products, with full lines of push and riding mowers, chainsaws and trimmers. Their 125B model leaf blower is a clever, effective design with state of the art ergonomical engineering. It works like this: the blower tube is engineered to be in line with the handle, so that there is is minimized rotational force on the wrist. This is great if you have a large yard or anticipate long periods of use: you don't have to worry about sore joints. This quality design makes it an ideal tool for not just professionals who would use this tool every day, but also for homeowners who may not recognize an ergonomically ineffective leaf blower. It weighs only 9.6 pounds! The handle is adjustable and has a soft grip.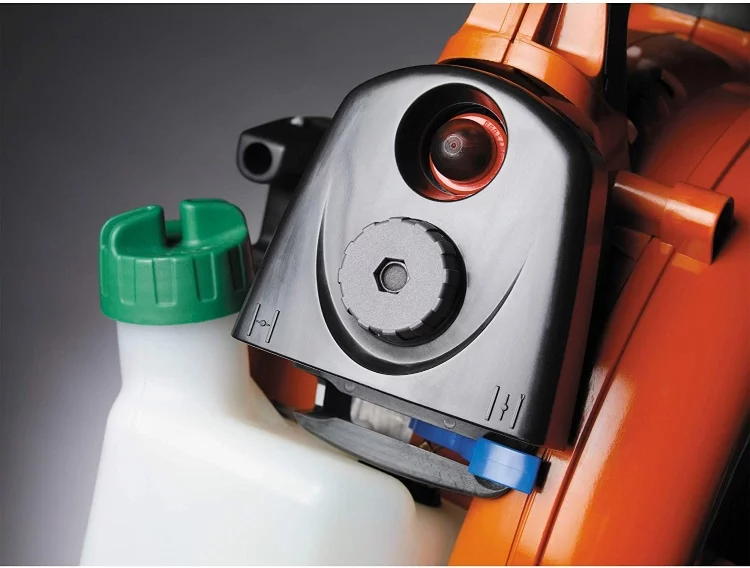 The leaf blower is capable as a lawn vacuum, and comes with a vacuum bag for collecting debris when in vacuum mode. When using the vacuum mode, there are mulching knives to reduce the waste to smaller pieces and thus increase bag capacity. If you are looking to remove wet leaves from your gutters, we recommend blowing them down to the ground and then vacuuming them up once they have dried, or else you will risk clogging the vacuum.
The engine uses 1.1 horsepower, has two-cycles, and a maximum power speed of 8 000 rotations per minute. This blower is able to generate windspeeds up to 170 miles per hour, enough to blow away even the most stubborn yard waste. It runs on gas but is highly fuel efficient, with a fuel consumption rate of 575 g/kWh. Its tank holds 16.91 ounces of fuel and will sustain hours of use. It also has a cruise control function to maintain a constant fan speed, allowing you to complete big jobs without having to constantly regulate the blower speed. The blowing tube itself is fully adjustable.
Included with the blower are vacuum kit, harness, both a round and flat nozzle, and instruction manual. The tool measures 38.5" by 9" by 14", the perfect size for a handheld power tool. All in all this is a great cordless blower that is powerful and easy to handle. It will lessen the manual labour involved in winterizing your yard and cleaning up yard debris. It is relatively quiet so you don't have to worry about ear damage or bothering the neighbours. Its two-in-one dual function as both blower and vacuum make it a great economical investment.
The Husqvarna 125B leaf blower sells for around $200 and is backed by a two-year warranty. Or, if you purchase this model along with three 32-ounce cans of Husqvarna pre-mixed fuel, and register your purchase online, your consumer warranty will be extended from two years to four years. The warranty includes labour and parts.

Greenworks G-Max 40v Leaf-Blower Review
Today we review the Greenworks G-Max 40v leaf blower, a tool that will shorten your time spent collecting fallen leaves while increasing the effectiveness of this crucial part of winterizing your yard.
Raking leaves is a terribly time-consuming activity that seems to eat up the hours we could spend doing other lovely autumn activities. Not to mention this activity is arduous and labour-intensive, leading to exhaustion and muscle aches. If you are a person with mobility issues or lack the strength to endure a raking of the yard, a leaf blower may step in and introduce its helpful self to your winterizing routine. Autumn brings with it the constant struggle to keep the lawn free of debris as the trees prepare for winter. There are many reasons to keep your yard free of leaves: as the leaves accumulate, moisture collects beneath them and does not have a chance to dry. This, in turn, rots the leaves making a stinking mess as well as turning your yard to muck. In addition, failure to remove leaves in the autumn will cause much headache in the spring when you remember how much you enjoy being outside and using your yard.
Leaf blowers are also very handy for getting leaves out of unlikely places like the garden or other landscaping. Let's look at some of the specifics of this model:
It features a high performance G-Max 40 volt lithium-ion battery, a powerhouse that delivers fade-free power with no memory loss after charging. There are variable speeds, delivering wind speed up to 150 mph. This strength is perfect for cleaning leaves and other debris off the lawn, hard surfaces areas, and patios. The sweeper tip offers additional speed control for better sweeping and gathering capabilities.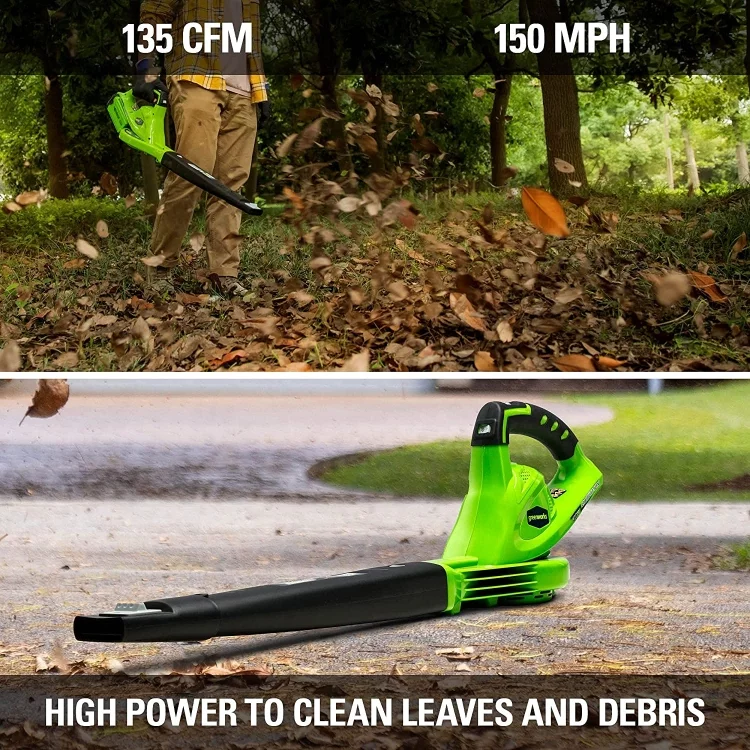 This is a low-maintenance electric tool that stores away quietly without gas and oil mess. Altogether these features make up a lightweight, robust design that is highly efficient but easy on the user. This tool only weighs 3.3 pounds, so it is very easy to hold and maneuver. Efficiently designed, it has a two-piece blower tube that adds extra control while sweeping up debris. The variable speed dial is located just under the thumb for a quick and convenient change of speed for different areas of the yard. For example, there may be light debris like sawdust lying around, and this tool will enable you to clear away the sawdust without blowing away any nails or bolts that are buried within the sawdust. Once the dust is cleared, you can pick up the pieces you need. This makes it great for cleaning up after all kinds of projects.
Its size makes it perfect for small to medium-sized projects around the yard (depending on yard size, of course). This leaf-blower measures 37" by 7" by 10". It is perfect for gathering leaves and debris, possessing the power necessary to effectively clean your yard. Best of all it is low-noise, so it won't cause any damage to your eardrums or irritate the neighbours when you decide to use it at 8:00 A.M. Its easy design and lightweight help you focus on the job at hand, on perfecting your yard, without having to think about the tool you are using. That's the sign of a good tool! It helps you get the job done efficiently, but you are able to focus on the work being done. This is a very low-maintenance leaf-blower. All it requires is a recharging of the battery when needed.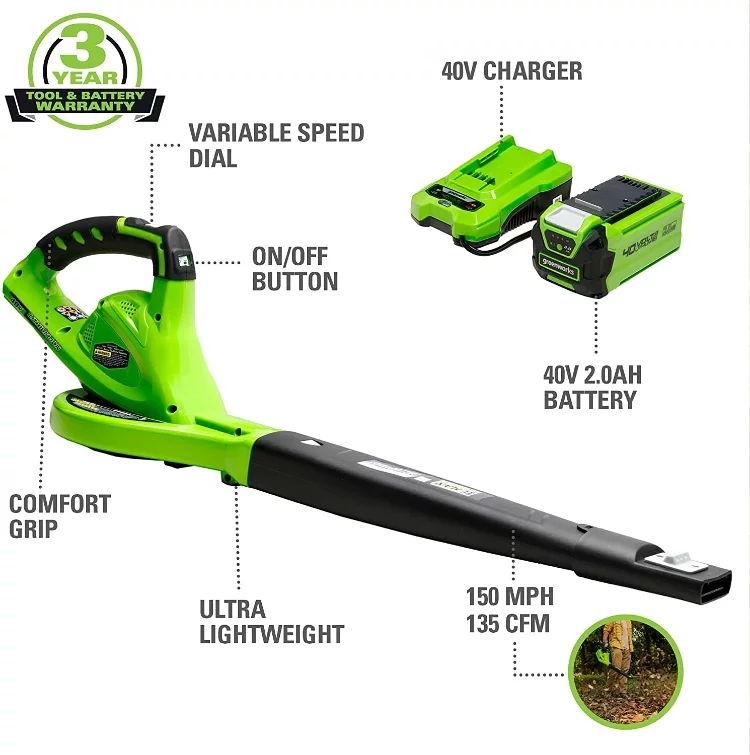 The battery is included with the purchase of the leaf blower, and comes with its very own charger. The rechargeable nature of the battery makes this leaf-blower a more eco-friendly choice for leaf removal, as compared to those fuelled by gas or electricity. No more gas fumes or dangerous flammable materials, plus you don't have to worry about spilling gas or running out of it! You get up to 35 minutes of run time on this battery, making it easy to get the whole job done in just one charge. It takes up to sixty minutes to fully charge the battery. Should you require more than 35 minutes' run time, this tool is also compatible with GreenWorks's G-Max 4 AH battery that provides additional run time.
The leaf blower is such that it can be used for things other than removing leaves: for example, you can clean out the interior of your vehicle, or use the leaf-blower to dry your vehicle after washing it in the driveway. It can also power through dry grass clippings. It is most ideal for walkways and concrete, and works great on porches, patios and the garage, too. Keep in mind that it may not be strong enough for damp clippings or heavy, clumped materials. It is most ideal for dust and light debris. (You shouldn't try to blow around wet leaves or gutter junk anyway: scoop that stuff out with a trowel and place into bag).
The Greenworks G-Max 40v leaf blower sells for around $130 and comes with a four-year warranty, and the battery itself comes with a two-year warranty.

Buying Guide for the Best Leaf Blower
When it comes to choosing a leaf blower, there are many factors to consider. Here is a buying guide to help you choose the best leaf blower for your needs:
1. Types of Leaf Blowers
There are three main types of leaf blowers: backpack, handheld, and wheeled. Backpack leaf blowers are the most powerful type and are perfect for large yards. Handheld leaf blowers are lightweight and easy to maneuver, making them a good choice for small yards. Wheeled leaf blowers are a compromise between the two, offering medium power and being easy to maneuver.

2. Power Sources
Leaf blowers can be powered by electricity, gas, or battery. Electric leaf blowers are the most common type and are typically the least expensive. They are also the lightest weight and easiest to use. Gas leaf blowers are more powerful than electric models and are a good choice for large yards. Battery-powered leaf blowers are becoming more popular as technology improves. They offer the convenience of cordless operation and are usually lightweight and easy to use.

3. Blower Speeds
Most leaf blowers have two speed settings: low and high. The low setting is typically used for lighter jobs, such as cleaning up around the porch or deck. The high setting is needed for heavier jobs, such as clearing a large yard. Some models also have a variable speed feature that allows you to adjust the speed on the fly. This is handy for quickly switching between light and heavy jobs.

4. Nozzles
Most leaf blowers come with one or two nozzles. The standard nozzle is the best choice for most jobs. It offers a balance of power and air flow. The turbo nozzle is designed for heavy-duty jobs and provides more power than the standard nozzle. Some models also come with a vacuum attachment that can be used to suck up leaves and debris.

5. Weight
Weight is an important consideration when choosing a leaf blower. Backpack models are the heaviest type, but they offer the most power. Handheld models are typically the lightest weight, making them easy to maneuver. Wheeled models fall in between the two, offering a balance of power and maneuverability.

When it comes to choosing a leaf blower, there are many factors to consider. This buying guide will help you choose the best leaf blower for your needs.

How to Start a Leaf Blower Business ?
If you're thinking about starting a leaf blower business, there are a few things you need to know. First, you'll need to purchase a quality leaf blower. There are many different brands and models on the market, so it's important to do your research before making a purchase. You'll also need to create a marketing plan and decide how you'll price your services.
Once you've purchased your leaf blower and created a marketing plan, you're ready to start advertising your business. You can promote your leaf blower business in many different ways, including online, in local newspapers, and through word-of-mouth. Be sure to let potential customers know what makes your business unique so they choose you over other leaf blower businesses in the area.

With a little hard work and dedication, you can be successful in the leaf blower business. Just remember to purchase a quality leaf blower, create a marketing plan, and advertise your business in order to attract customers. With a little bit of effort, you'll be well on your way to starting a successful leaf blower business.

Benefits of Using a Leaf Blower
Leaf blowers can be a great way to keep your yard clean and tidy. They can also save you time and energy when it comes to cleaning up leaves and debris. Here are some of the top benefits of using a leaf blower:
1. Leaf blowers can save you time.
If you have a lot of leaves in your yard, it can take a long time to clean them all up by hand. A leaf blower can help you get the job done much faster.

2. Leaf blowers can save you energy.
Cleaning up leaves by hand can be very tiring and strenuous. A leaf blower will make the job much easier and less physically demanding.

3. Leaf blowers can help you reach difficult areas.
If there are leaves in hard-to-reach places, a leaf blower can help you get to them. This can be especially helpful if you have tall trees in your yard.

4. Leaf blowers can make your yard look neater.
A well-maintained yard is important for curb appeal and property value. A leaf blower can help you keep your yard looking neat and tidy.

5. Leaf blowers can be fun to use.
Many people find using a leaf blower to be enjoyable. It can be a fun way to spend some time outdoors while getting some exercise.

Different Types of Leaf Blowers Available in the Market Today
If you are planning to buy a leaf blower, it is important to know the different types that are available in the market. This will help you choose the right one for your needs.

The Hand-Held Leaf Blower
The most common type of leaf blower is the hand-held type. These are usually powered by gas or electricity, and they are relatively inexpensive. However, they can be quite heavy and difficult to use if you have a lot of leaves to blow.
The Backpack Leaf Blower
Another option is the backpack leaf blower. These are larger and more powerful than hand-held models, and they can be very useful if you have a large area to cover. However, they can also be quite expensive.
The Cordless Leaf Blower
Finally, there are also cordless leaf blowers. These are becoming increasingly popular, as they are lighter and easier to use than the other options. However, they may not be as powerful as the other two types.
When choosing a leaf blower, it is important to consider your needs. If you only need to occasionally blow leaves, a hand-held model may be sufficient. However, if you have a large area to cover, you may want to consider a backpack or cordless model.

Tips for Caring Your Leaf Blower
Read the manual that came with your leaf blower carefully. This will help you understand how to use and care for your leaf blower properly.
Inspect your leaf blower before each use. Make sure all the parts are in good working order and there are no loose or damaged parts.
When using your leaf blower, always wear proper safety gear, including ear protection and eye protection.
Never point the nozzle of your leaf blower at anyone, even if the motor is not running.
To avoid injuries, never put your hand or any other object inside the nozzle while the leaf blower is running.
Be careful not to overuse your leaf blower. prolonged use can damage the motor.
When you are finished using your leaf blower, turn it off and unplug it. Then, clean the nozzle and any other parts that may have been exposed to dirt or debris.
Store your leaf blower in a dry, safe place out of the reach of children and pets.
Following these tips will help you get the most out of your leaf blower and keep it in good working condition for many years.

Buy them at eBay, Walmart, Etsy (limited quantity)
WORX WG591 TURBINE 56V Cordless Battery-Powered Leaf Blower with Brushless Motor & TURBO - Walmart, Etsy, eBay
EGO Power+ LB6504 650 CFM Variable-Speed 56-Volt Lithium-ion Cordless Leaf Blower 5.0Ah - Walmart, Etsy, Ebay
Sun Joe SBJ597E-SJB 6-Amp 155 MPH Electric Leaf Blower, Blue - Walmart, Etsy, eBay
BLACK+DECKER Electric Leaf Blower, 7-Amp (LB700) - Walmart, Etsy, eBay
Craftsman B215 25cc 2-Cycle Engine Handheld Gas Powered Leaf Blower - Gasoline Blower - Walmart, Etsy, eBay
Makita EB5300TH 52.5 cc MM4 4-Stroke Engine Tube Throttle Backpack Blower - Walmart, Etsy, Ebay
Litheli Cordless Leaf Blower 40V, Battery Leaf Blowers for Lawn Care, Lightweight Axial - Walmart, Etsy, eBay
Greenworks 40V (185 MPH / 340 CFM) Brushless Cordless Blower / Vacuum, 4.0Ah Battery and - Walmart, Etsy, eBay
BLACK+DECKER 20V MAX* POWERCONNECT 10 in. 2in1 Cordless String Trimmer/Edger + Sweeper - Walmart, Etsy, Ebay
Makita XBU03SM1 18V LXT® Lithium-Ion Brushless Cordless Blower Kit (4.0Ah) - Walmart, Etsy, eBay
Conclusion for Leaf Blower Buyers
When it comes time to purchase a leaf blower, there are many factors to consider. With so many different types and models on the market, it can be tough to decide which one is right for you. But by taking the time to do your research and figure out what your specific needs are, you can find the perfect leaf blower for your yard.

If you have a small yard, then an electric leaf blower should suffice. But if you have a larger yard or live in an area with a lot of trees, then you may need a gas-powered leaf blower. There are also backpack leaf blowers available, which are great for those who need to cover a lot of ground quickly.

No matter what type of leaf blower you choose, be sure to read the reviews before making your purchase. And always follow the manufacturer's instructions for use and safety. With a little bit of research and careful consideration, you can find the perfect leaf blower for your needs.