Last Updated on
By: The Backyard Gnome
Amish-made furniture follows the ideology of simplicity and quality without using modern technology. That means furniture that's created to last with quality details and construction.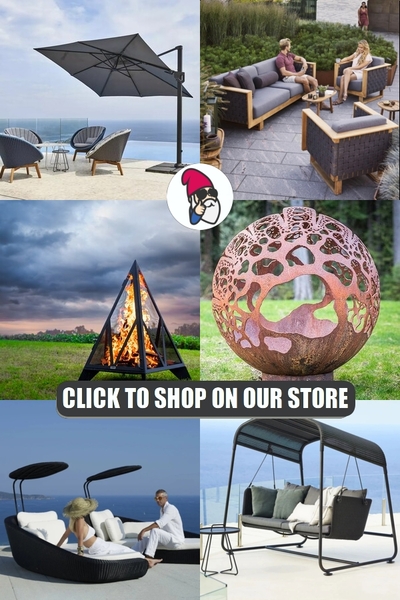 We've chosen Amish porch swings based on their handcrafted construction as well as the quality of the materials chosen. Some people believe that Amish furniture is a certain style, and it's really not.
Kilmer Creek 5 Foot Natural Cedar Porch Swing
Porchgate Amish Made Haven 4Ft
Amish-Made Porch Swing Bird Feeder
It's a quality of construction more than a type of style like Shaker or modern. It's furniture that you can pass down through generations because it's made to last for that long.
Amish Heavy-Duty 800 Lb Roll Back Treated Porch Swing
This sturdy porch swing was created with specially treated wood using Amish craftsmanship. There's so much to love about this swing. Let's start with the wood itself. It's a pressure-treated pine that isn't prone to insects or moisture even if you leave it out in the elements. The swing can be purchased unfinished, which allows you to put your own touch on the colors of the swing itself.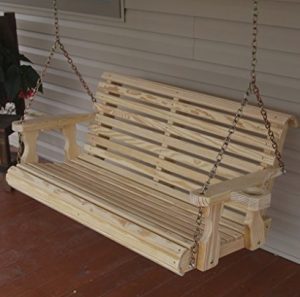 Features We Adore
Cupholders
Handcrafted
Made in the USA
Constructed by Amish
The rolled back and seat ensures that you don't have to worry about the wood cutting into your legs when you sit. All the edges are rounded and sanded smooth, so you won't cut into the back of your thighs when sitting for a long time.
---
Porchgate Amish-Made Mission Red Cedar Porch Swing
This is a beautiful red cedar swing that's constructed using quality materials and construction that is durable and sturdy. Like the swing mentioned previously, this one has a rolled seat, so you don't have to use a cushion for the seat itself. The swing doesn't come with cushions of its own. But, this allows you to create a style all your own.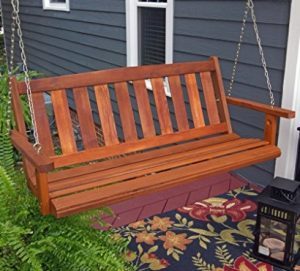 Features We Adore
Western red cedar
Eco-friendly stain
Includes chains for hanging
This swing can hold occupants up to 500 pounds and is spacious enough to fit two or three people on the swing. It depends on the weight and size of each person. In fact, if you wanted to fit more weight on the swing, you can purchase your own chains that are heavy-duty ones.
---
Aspen Tree Interiors Hanging Fanback Porch Swing
This is a swinging day bed that will fit on your porch. It's durably constructed of yellow pine and can hold several people. You might not want to share this beauty, though. It's wide and long enough to use for naps in the sunshine. You could spend your weekends enjoying a good book with a glass of wine in this swing.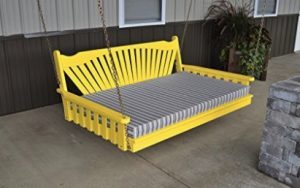 Features We Adore
Knot-free yellow pine
Holds several adults
Includes hanging hardware
USA made
This is one of the ones we love the most. It's crafted by artisan furniture makers with Amish ideals. The back of the swing is quite beautiful and unique, too. All you have to do is find the right cushion, mattress or memory foam for the swing. You'll be ready to relax outdoors as soon as it's hung.
---
Porchgate Heavy-Duty Rollback Swing with Console
When you have guests over, you're always pulling out seating for everyone to enjoy their meal in the backyard. Whether it's a barbecue or a birthday party, your guests will absolutely love using this porch swing. It can hold three people, or it can hold two people with a console in the middle for drinks.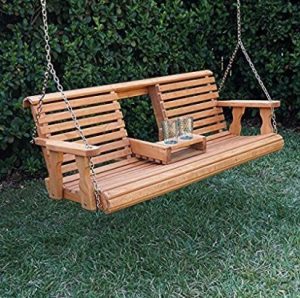 Features We Adore
Console with cupholders
Amish crafted
Rollback design
Routered slats
You can ease the console into the swing itself for more seating, or use the cupholders for drinks during an event. It's able to hold up to 800 pounds with the included hardware and chains. The pressure-treated pine is sturdy and durable.
---
Outdoor 6′ Royal English Garden Swing
While some people don't add cushions or pillows to their porch swing, we believe it adds color and spice to your outdoor space. The color of the porch swing can easily be changed, but adding pillows can instantly mix with the right seasons. This is a wide swing that doesn't come with cushions, but you can add one to create a lovely place to lay down and relax.
Features We Adore
Wide seating
Sturdy construction
Made in the USA
This swing comes in so many colors including an unfinished version that you can paint or stain yourself. The swing of the bed requires some clearance around it, so be sure you are measuring the space accurately before purchasing your porch swing.
---
Any of these swings are a great addition to your porch. If you want a place to nap in the backyard, you can easily purchase a day bed swing crafted by the Amish. It's quality construction that is synonymous with quality. You'll have this swing for many years, and you can even pass it down to your children when they buy a house of their own.