Whether it's a cool summer night or smack dab in the middle of winter, sunken fireplaces have proven themselves to be an unparalleled addition to one's outdoor space, time and time again.
Not only do our inbuilt structures offer an intrinsically luxurious aesthetic, the sheer 'sunken' nature of it evokes a sense of tranquility not to be found otherwise.
Cane-line Ember Fire Pit
Free Shipping anywhere in the USA
Pair both of these things with a bunch of excellent friends and family members, and you have yourself an entirely wholesome flame flickering experience.
Take a look for yourself! Below, we've shared our favourite sunken fire pit designs for your viewing pleasure. Who knows, you may just find yourself inspired to kickstart your next patio project.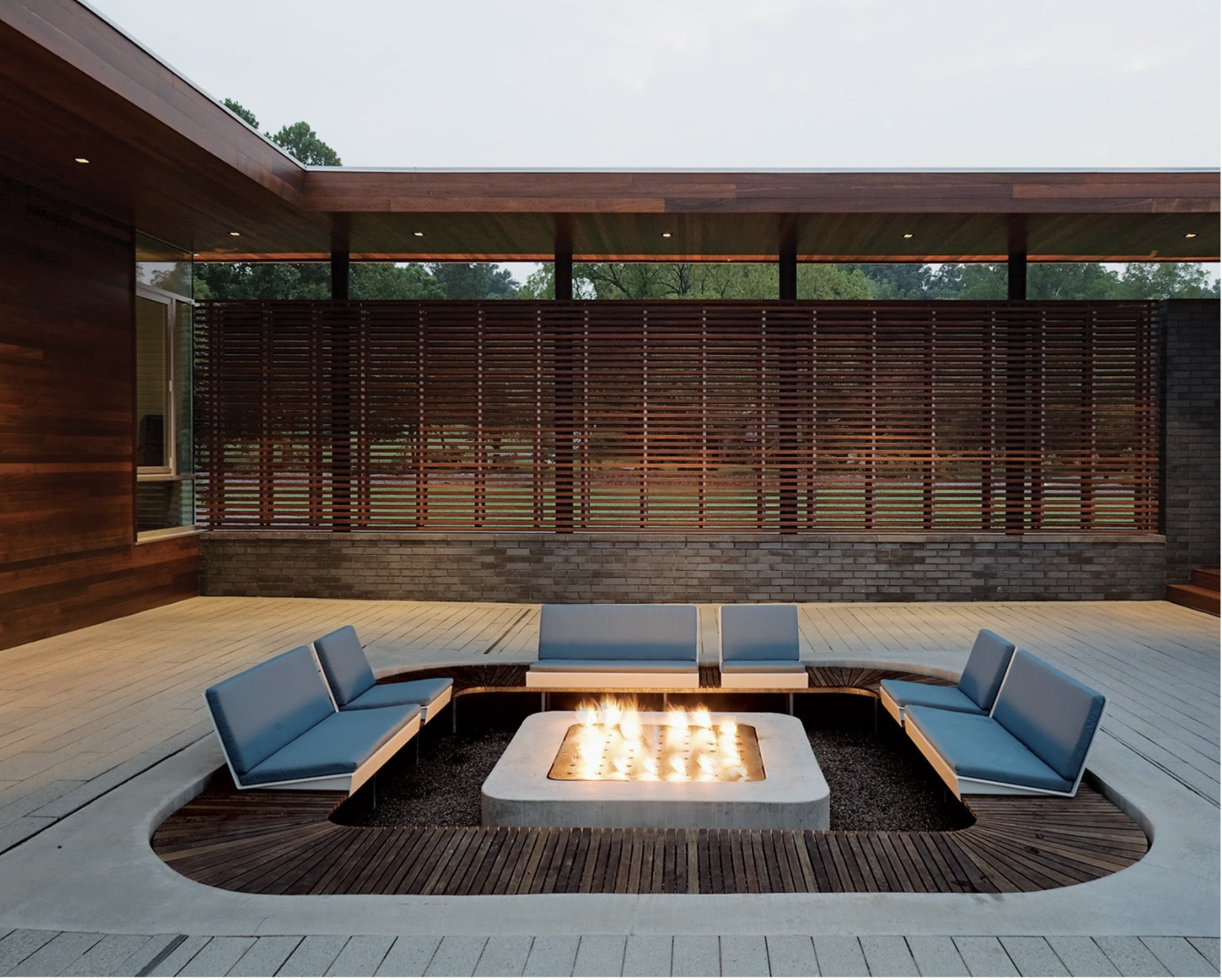 Gilded Bliss
This neat and tidy sunken fire pit offers a sense of minimalist luxury. The lowkey albeit elegant rounded square contraption exists as the statement piece in its partially enclosed outdoor environment.
The low fuss seating area and patio work to ensure that the cement pit takes nothing short of centre stage.
Meanwhile, neutral colouring runs throughout, in turn effectively furthering the secluded and tranquil feel of the setting. There's no surprise that this thoughtful design has made our list of favourites.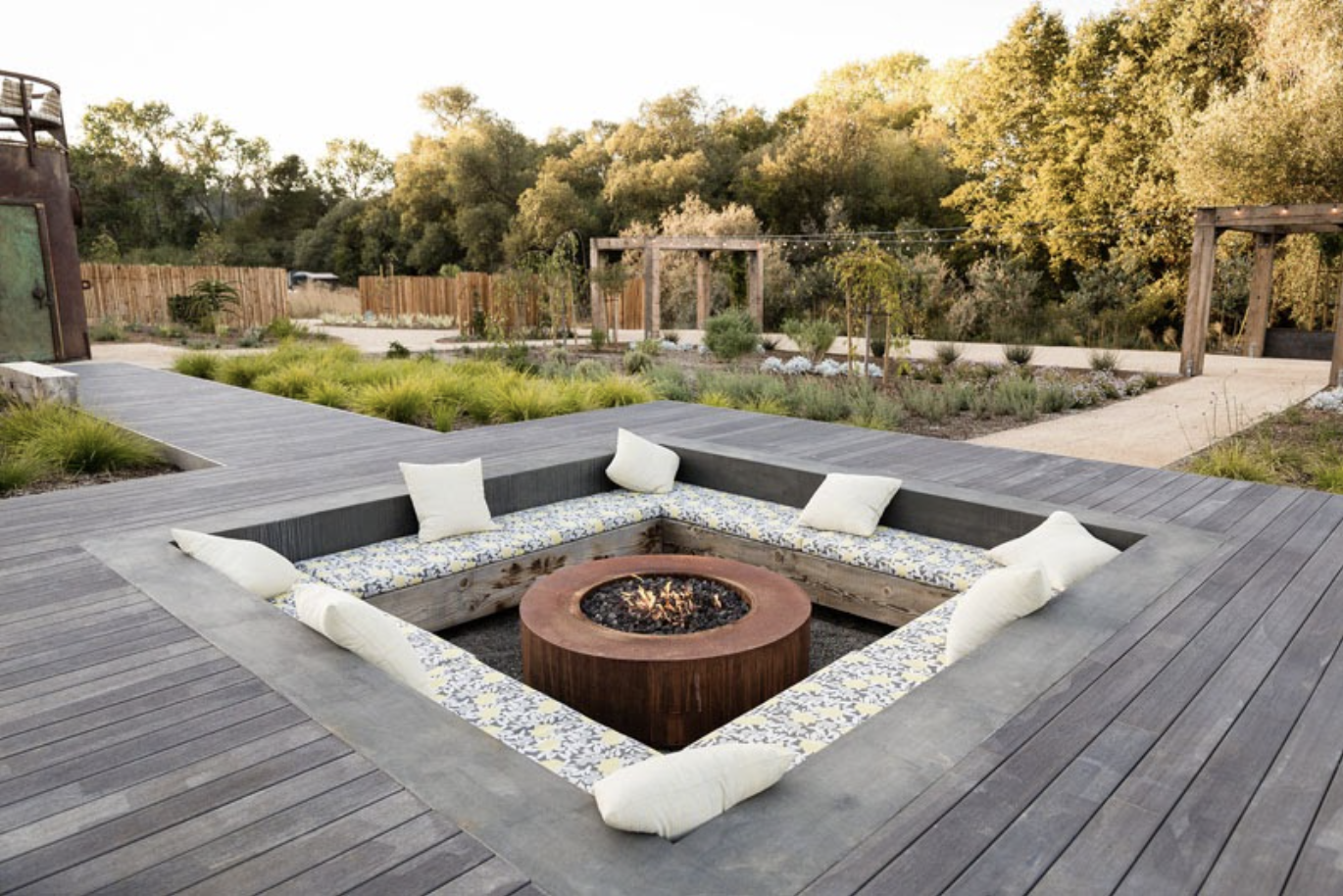 Rustic Retreat
It's much too easy for the night to fly by when it's spent gathered around this cozy fire pit. This unique design features somewhat neutral surroundings consisting of a grey toned wooden deck and a multitude of greenery by way of artful bushes and shrubs.
Whilst the firepit design is inevitably sunken in, interestingly the decking on which it's found is raised in relation to the rest of the garden. In effect, this establishes the firepit as the predominant point of interest in the visible vicinity.
Of course, it helps that it's unique brassy wood tone, surrounding floral detail, and casually strew cushions scream out a good time.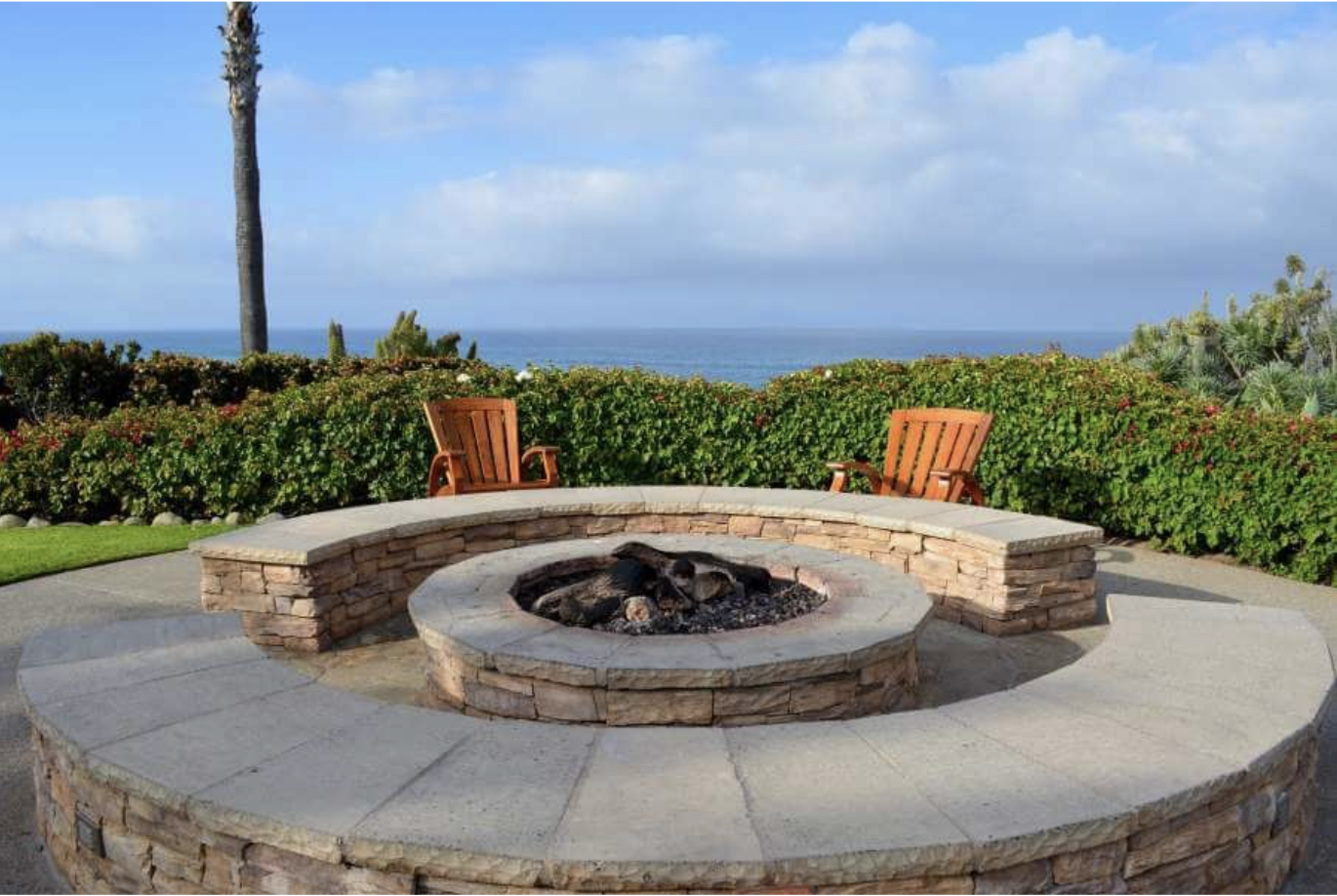 Seaside Serenity
The only thing better than a sunken fire pit? A sunken fire pit with a sea view. This circular stone detail fire pit is a surefire entertainment area that blends into its impressive natural environment seamlessly.
The stone detailing gives it an inviting traditional rustic feel, whilst its well-designed circular nature makes for truly conversational seating. Whilst one might choose to leave the setting alone so as to foster an environment of zen and simplicity, it also exists as the perfect foundation for a few (or many) comfortable cushions.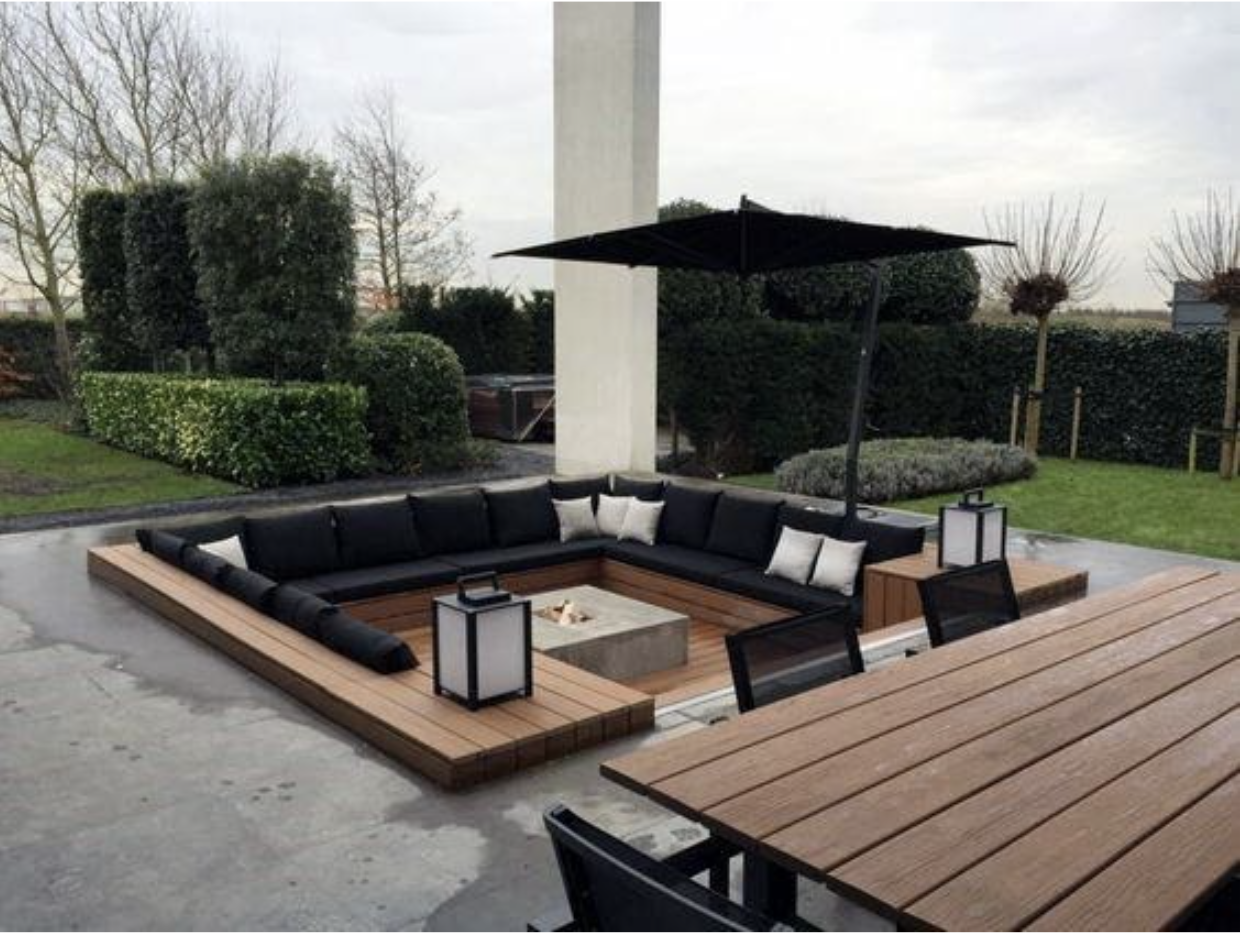 Hedge Your Bets
This versatile stylish space is the ideal setting for an outdoor gathering. The clean-cut linear sunken fire pit and decking style seating area is tastefully coupled with a convenient yet no less tasteful matching outdoor dining table and chair set.
The black cushion, teamed with the sleek deck design, contrasts effortlessly with the surroundings, making it a stunning focal point.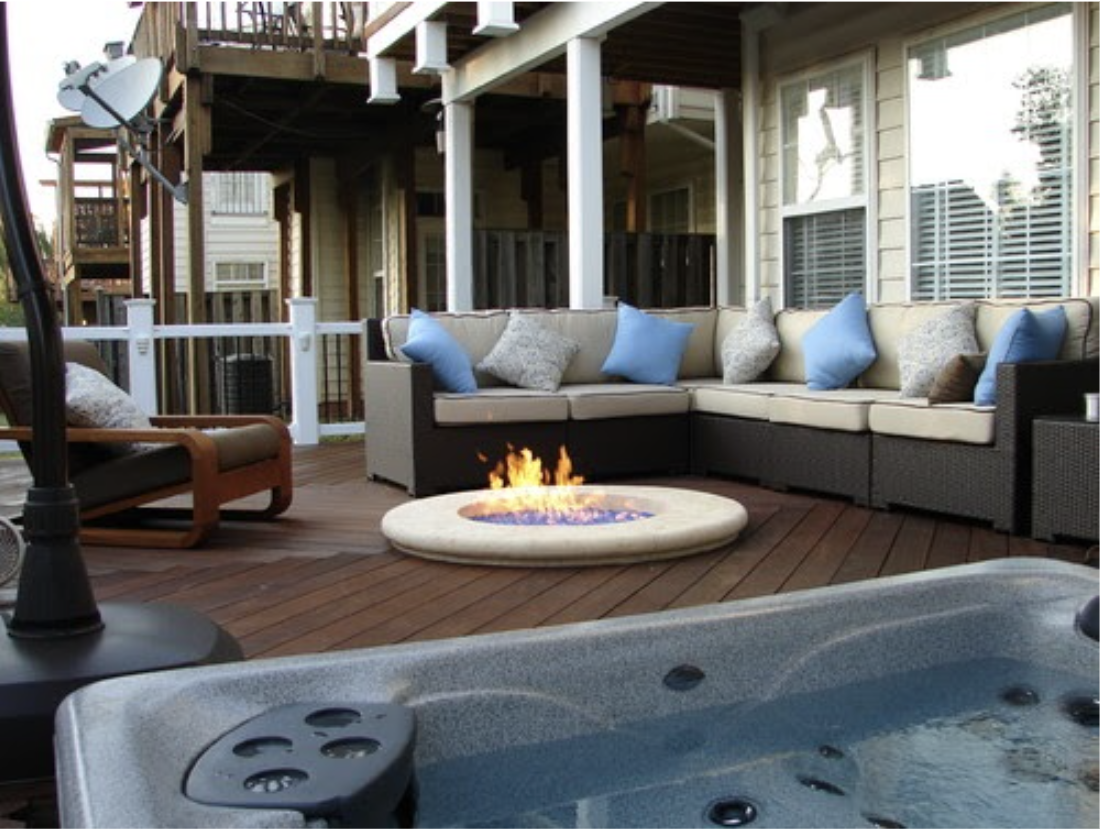 Cozy Nook
As sunken as they come, this firepit is composed of an aesthetically pleasing sleek white stone. The use of colourful tempered fire glass livens the look up by adding sparkle to an otherwise classic, clean, and crisp design.
The wooden decking only adds to this contrast, accentuating the pop further. Surrounded by an understated and homey seating arrangement, the fire pit is the unrivalled star of the show.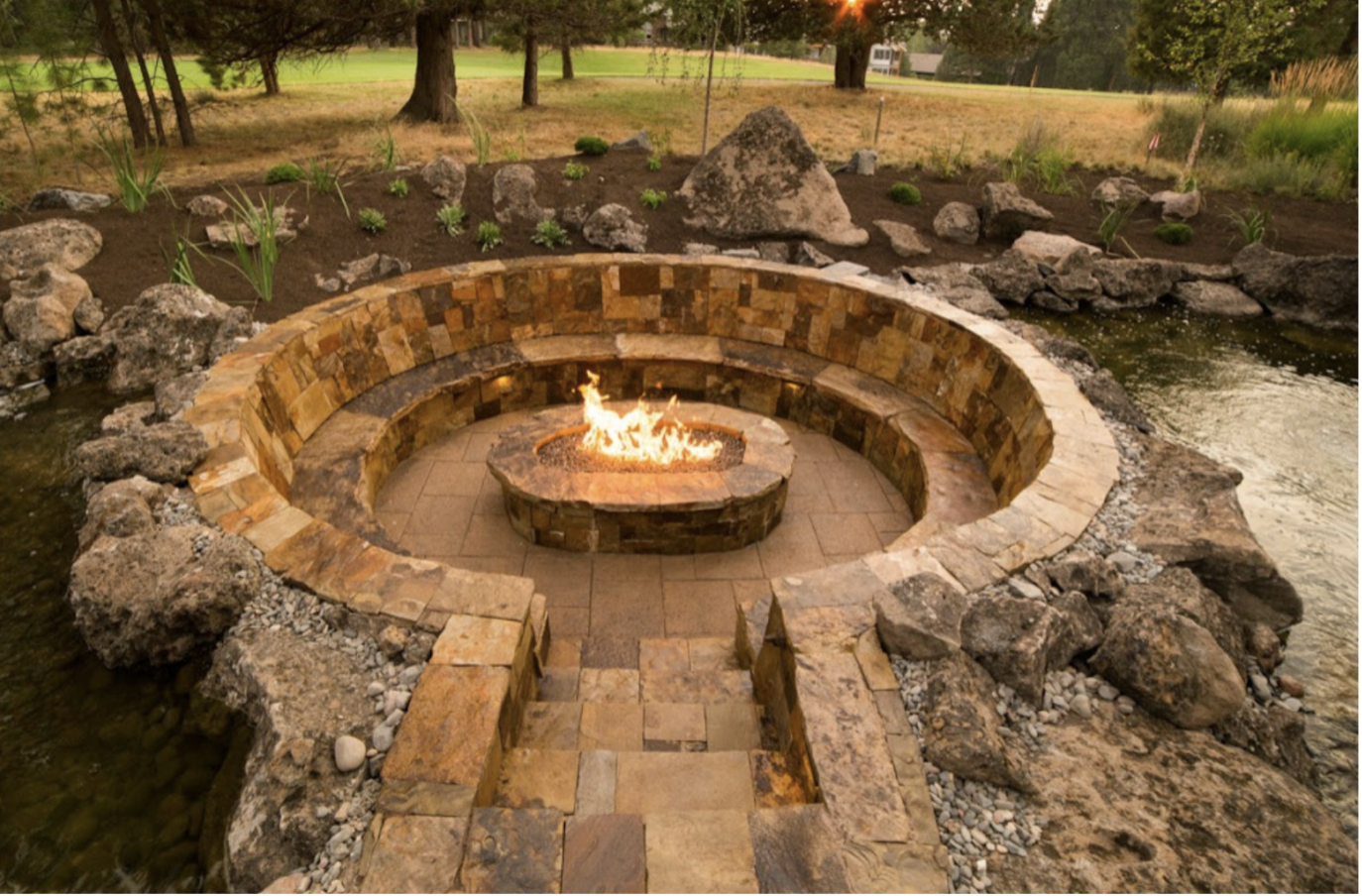 Bronze Medallion
Featuring a dramatic stairwell, this multi-toned sunken fire pit has been thoughtfully designed to blend perfectly with its natural surrounding environment. The intentionally warm-toned rough-look works to effectively extend the aesthetic of the terrain in which it sits.
Located a considerable distance from the nearest indoor abode, this fire pit offers a wonderful escape from day to day life. A refreshing spot to kick back with your nearest and dearest.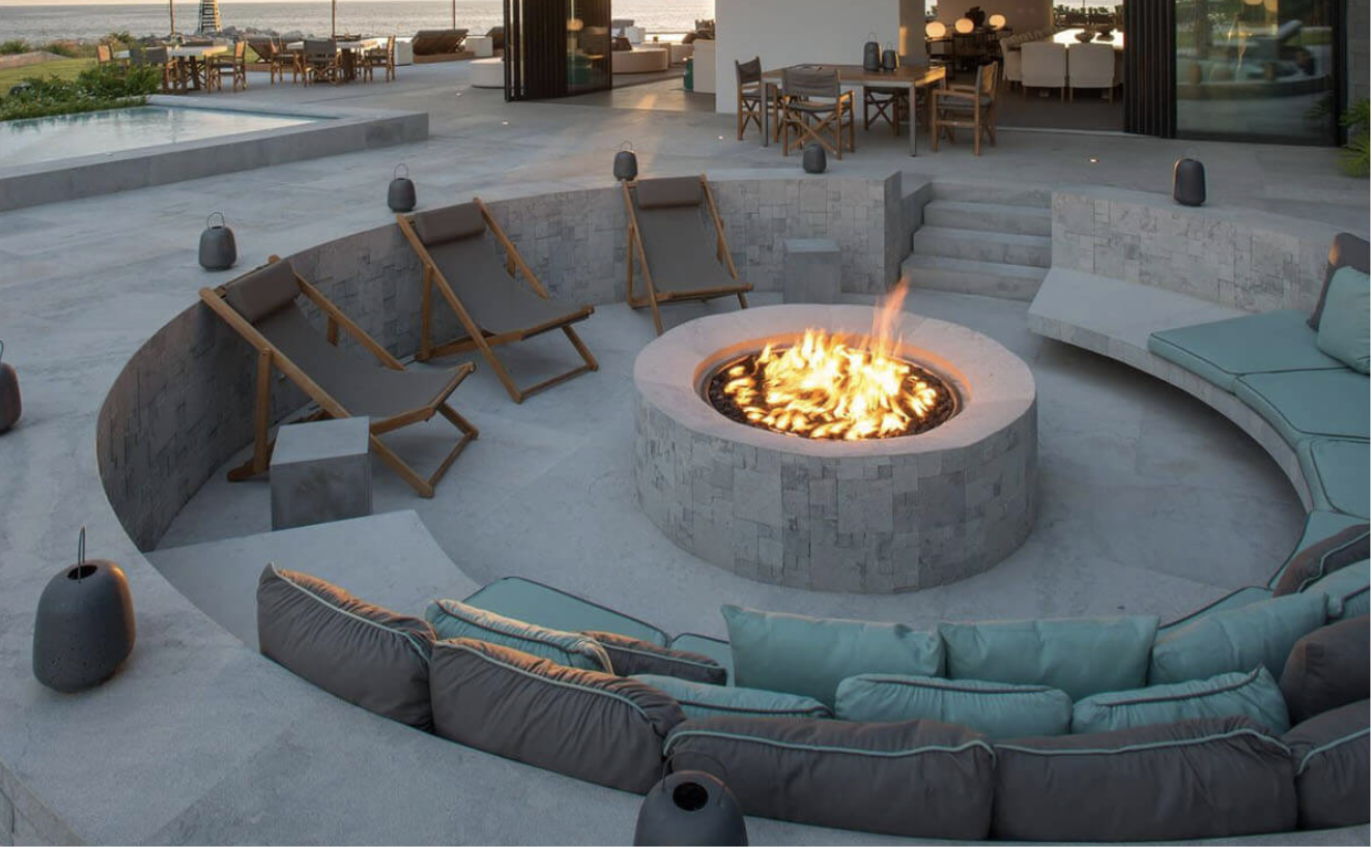 Gray Repose
This sunken fire pit features a concrete tile aesthetic which is both easy on the eye as well as a picturesque continuation of the surrounding patio area.
With a sea view and a swimming pool within arms length, the well-sized sunken area has been kitted out accordingly in harmonious blue and greys. The look is one of sheer sophistication, yet it remains relaxed and informal. The perfect place to gather with friends and family.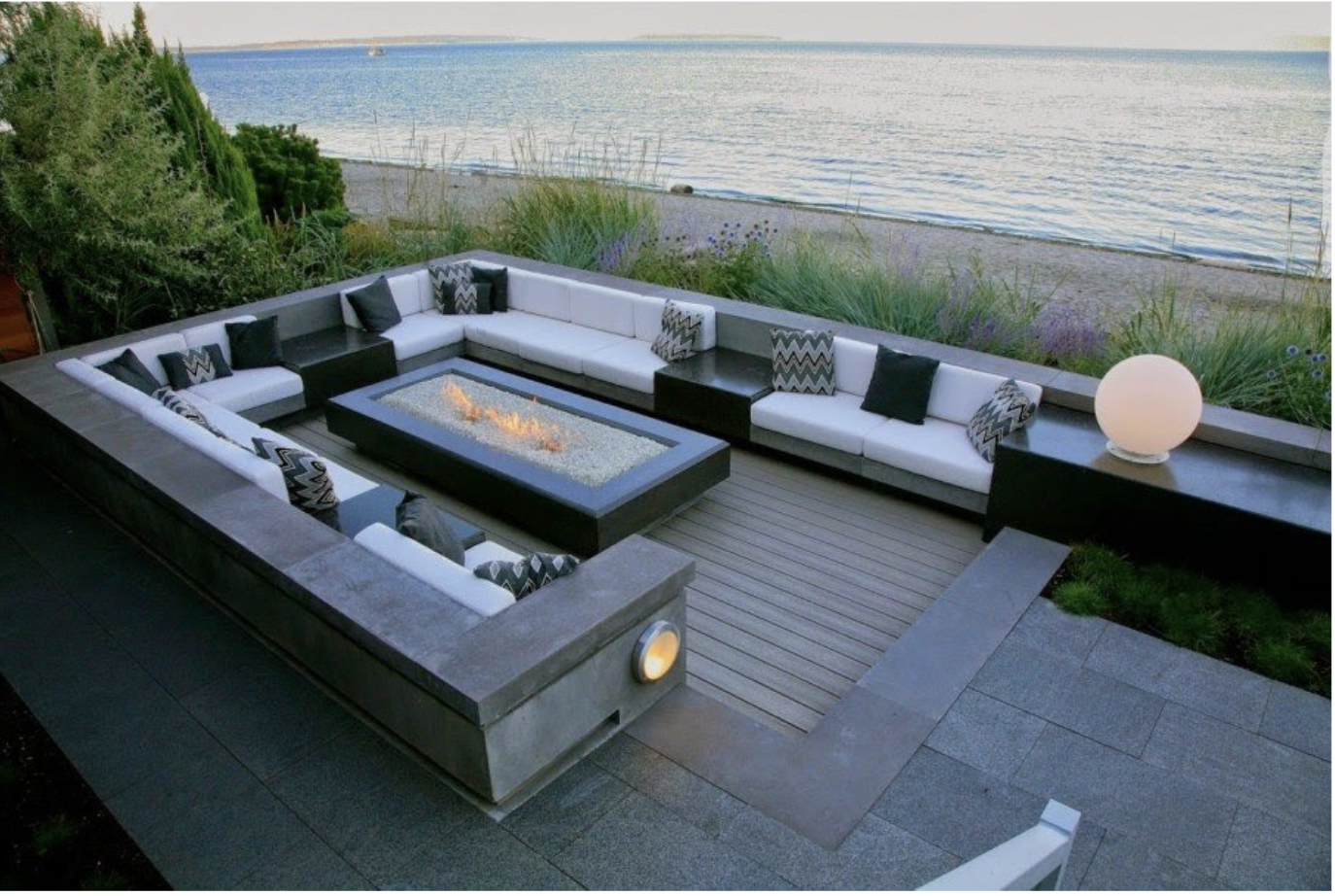 Muted Dusk
You can't beat a fire on the beach, and this patio is as good as that.
Living a few mere steps away from the sea, this ultra modern fire pit features a beautifully unique design. From the stone of the fire pit to the geo-patterned cushions, the decking, and surrounding concrete tile work, the textural variety throughout the space comes together naturally, resulting in a warm and leisurely atmosphere.
Overall, sunken fire pits undoubtedly enhance one's outdoor space, both in a positive way and dramatically so. By now, if you haven't been convinced to get cracking with a sunken fire pit of your own, at the very least we hope you've enjoyed the eye candy!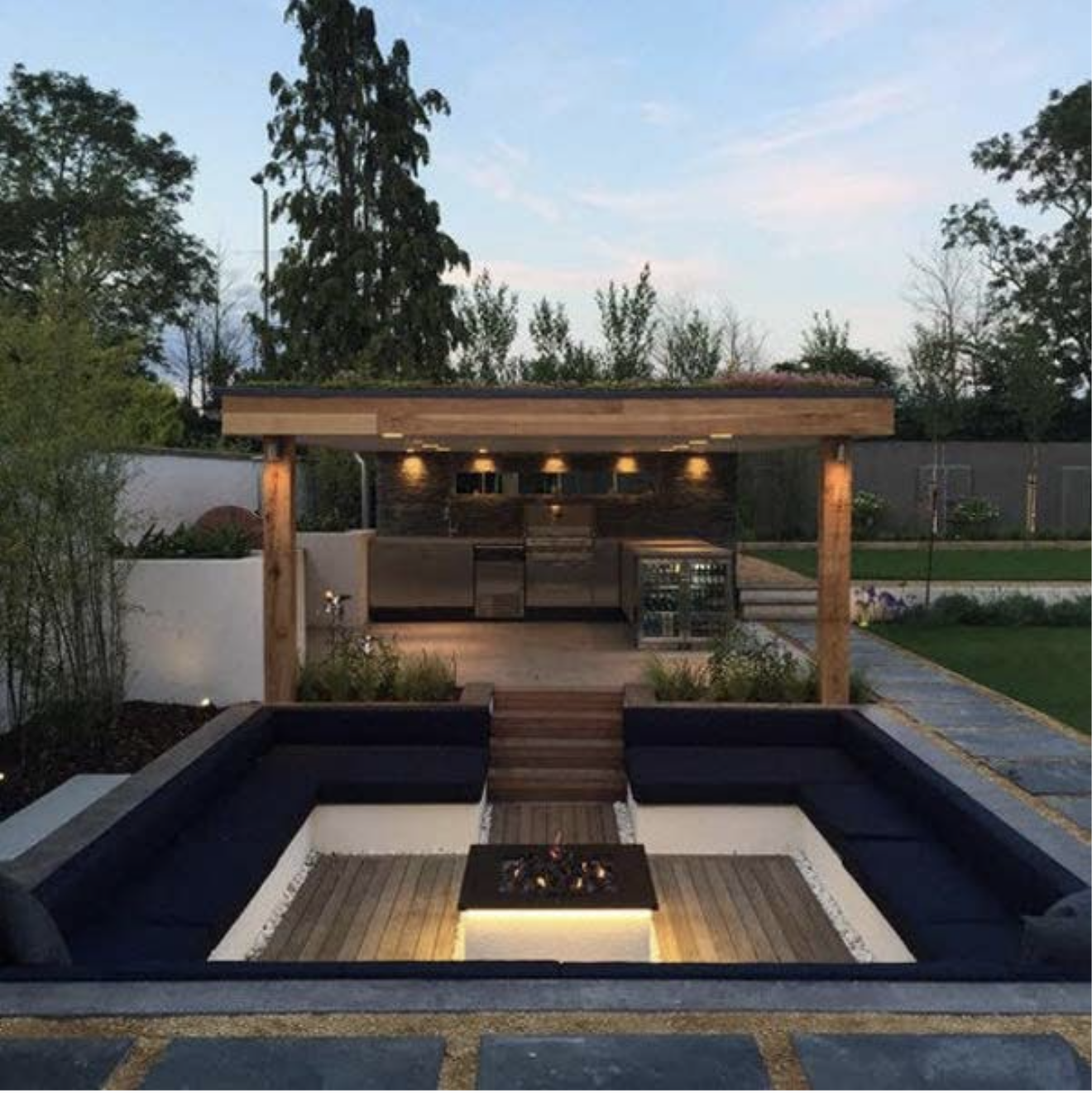 Dyonisian Gala
Last but in no way least, this sunken fire is the epitome of all things suave. Serving up a strong sense of relaxed luxury, the black on white contrast detailing throughout makes a perfect setting to kick back and enjoy an al fresco beverage.
Whilst the design of the bar and fire pit go hand in hand, the floor transition from concrete to decking works to add a sense of privacy to the fire pit area, making it all the more cosy and the ideal spot to catch up with great company.
Thanks for reading! If you have any comments or stories about sunken firepits you've known and loved, please leave them below!
Related posts: