What Is A Chiminea?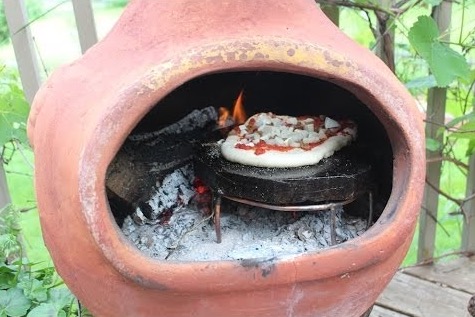 Cooking-in-a-chiminea
Chimineas, the pot-bellied ovens, were invented in the 1600s in Mexico. These small ovens were used to bake bread and provided heating.
They consist of a bulbous bowl with a front opening, while a slender chimney directs smoke up into the air. While they were traditionally made of clay, today they are also made from cast aluminum or cast iron.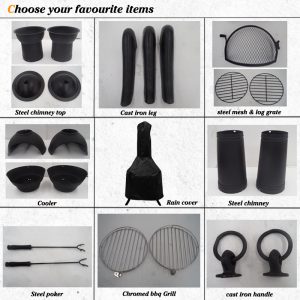 This is one example of a metal chiminea and all its potential parts. They can come separate and have to be assembled. That's not true of a clay chiminea, but you get the idea. There's a bowl, chimney, grill, and other accessories.
Most people use them for décor and backyard entertaining, as they are a source of warmth and light, and allow homeowners to have backyard fires without needing a firepit.
They are widely revered for their interesting shape and rustic feel, but some people forget that they can be used for their traditional purpose: cooking!
Top Pick: Sol y Tierra Clay Chiminea Pizza Oven
Traditional Latin American look
Handmade with high-quality & natural painted terra cotta clay
Made from durable 2 inch thick clay with a crash tested shipping packaging
Certified for food processing (most often used as a pizza oven)
Comes with added accessories: metal feet, 10″ pizza stone, stainless steel grill, instruction in English, French, and Spanish
Size: 15 x 15 x 35 inches
Ships anywhere in Canada and the USA, as well as Hawaii & Puerto Rico
Ships from Quebec Canada in about 5-12 business days, depending on location
Lakeside Collection Outdoor Wood Burning Clay Chimenea with Metal Stand

Redi-Flame Chiminea Kit with Mosquito Repellent Log

Outdoor Cooking in a Chiminea
Cooking over fire adds a smoky flavor that you just can't emulate with an electric stove, no matter how much liquid smoke you add. So, what is the benefit of cooking with a chiminea compared to a barbecue, you ask?
First, chimineas have multiple uses: they can be used as garden décor, as a source of warmth and light, or for cooking.
Not to mention they are much nicer looking than barbecues.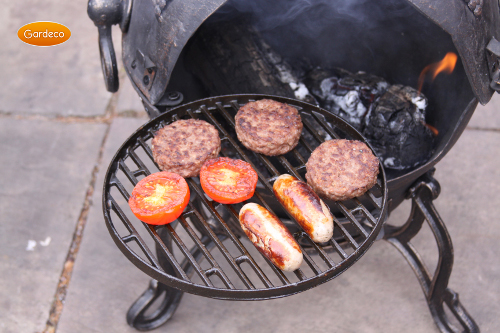 Cooking-with-chiminea-bbq
Chimineas are warm and inviting. Their soft curves welcome you to sit around them. They have the advantage of providing warmth and acting as a fireplace as well as a cooking appliance.
They are beautiful to watch. Barbecues tend to require propane, and therefore, pose more of a hazard, in our opinion.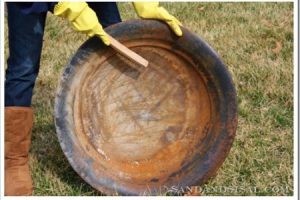 You don't want to end up with a rusty mess in your metal chiminea, so it's always a good idea to clean and maintain regularly.
Chimineas are friendlier to the environment, as they do not require pollutants or electricity. Chimineas do require maintenance from time to time, but are easier to clean.
You just have to remove the old ash with a shovel and scrub the grill down (if applicable).
Barbecues can be difficult to clean, and do not contain their flames.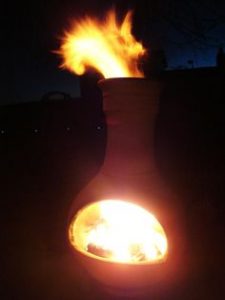 Chimineas are designed to contain the small flames and redirect smoke up through the chimney, while barbecue flames can get out of control quite easily, and send smoke everywhere.
Here's a video showing what could happen with a BBQ, if you're not careful!
All that craziness aside, cooking with chimineas is a lot closer to cooking over a normal fire.
This is due to the fact that chimineas are not propane powered, and the fact that the chimney of a chiminea mitigates the fire and the smoke, and so you don't have to worry about things like billowing smoke and balls of flame.
Hooray!
In fact, chiminea fires (whether for cooking or simply enjoyment) are meant to die off on their own.
We like to think that the experience of cooking with a chiminea is a much more natural experience, when compared to a BBQ.
Have a look at this guy cooking with his cast iron chiminea and tell us you don't want to try something similar! Nothing like preparing some home cooked food, and and enjoying the crackling fire, whether its just you or you and your crew…
How to Cook with a Chiminea
When cooking food, it's important to just use wood that does not give off resin, and to not use fire accelerants. These are poisonous and can cause explosions.
Metal chimineas can take higher heat than clay, as they are not prone to cracking.
However, beware you do not touch the metal chiminea when in use, as they become severely hot to the touch and can cause injury.
Some chimineas will come with a built-in, slide-out grill. If yours does not include a grill, have no fear.
People have been cooking over fire without grills for thousands and thousands and thousands of years.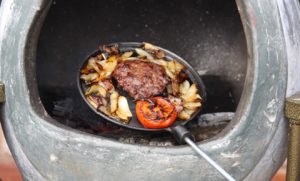 Try building your own by placing firebricks in the bottom of the bowl, and setting a grill upon them.
You can also find a removable grill with a long handle at home improvement stores. The optional grill means you only have to use it for food, and can leave it out when you just want to enjoy the fire.
With a portable grill, you can really work wonders with your chiminea. How about pizza?
For a metal chiminea, you can use charcoal for cooking. Be sure to use pure charcoal, so it doesn't release weird chemicals into your food.
Charcoal is good for extremely high heat, but is unsuitable for clay chimineas. If you have a clay chiminea, use wood.
Wood, like oak, is also good for cooking food, but you will have to cook the food just a bit longer to achieve the same results as with charcoal.
Prepping Your Chiminea For Cooking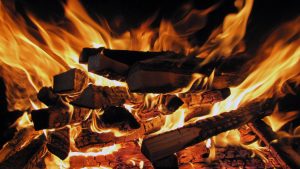 Start the fire about twenty minutes before you want to start cooking your food, to heat the coals thoroughly and get a steady fire going.
This gives you time to prepare the food, if you have not yet done so. You can cook an entire meal in a chiminea, if you like.
You can cook items such as meats or pizzas on a grill, and wrap vegetables in foil, and set those on the coals to roast.
Remember that roasting is a lengthy process, and anything wrapped in foil will take longer to cook, so you should stick those in the chiminea about 20 minutes before anything you plan to cook over the flame.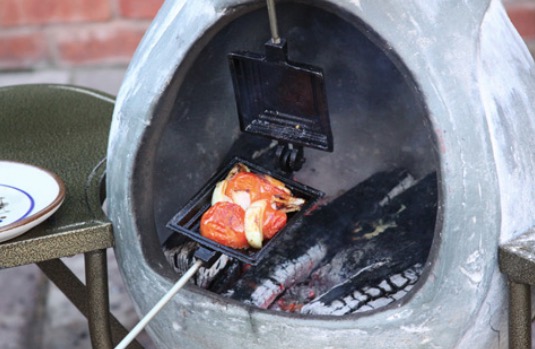 Clay-chiminea
Outdoor cooking is a lot of fun, especially when entertaining guests in the backyard or having family time.
Anything you'd make on the barbecue can be made in a chiminea. You can make a great wood-fired pizza in a chiminea, as shown in the video above!
Neighbors who haven't thought of this method will certainly be jealous, and it might start with a delicious oven-baked scent wafting on the breeze.
Oh, and be sure to check on the food every ten to fifteen minutes.
Making Use Of The Chimney
You can use the top of the chimney stack to cook food in pots, like soup. Just make sure you lay down a grill first, and that smoke is able to escape. Moreover, who doesn't like smoked foods?
You can cook things like meat, tofu, or fish on top of the chimney, too. Just set up a grill across the top of the chimney, and place the food on the grill.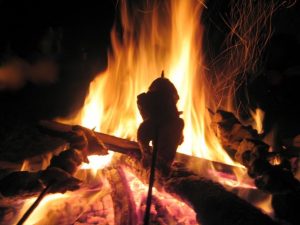 You can also balance a skewer across the top and suspend food within the chimney for a deep, satisfying flavour.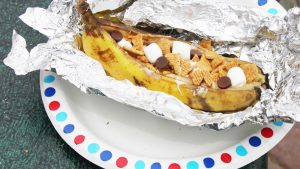 For dessert, try cooking bananas in their skins over straight fire. When the skins are blackened, cut them open and enjoy with syrup. They can also be wrapped in foil. Once heated, the skins and foil act as a boat to hold s'more ingredients.
Chiminea Cooking Accessories
The same accessories you'd need for your grill can work with your chiminea. You'll need to have utensils with long handles to get inside the flames without burning your hands. Don't forget fire resistant or heat resistant gloves.
If you plan on cooking with your chiminea, you will likely need a table nearby for holding all your utensils and prepared food. A place for condiments will help, too. You might not need a place to stack the finished food since your guests will eat those immediately!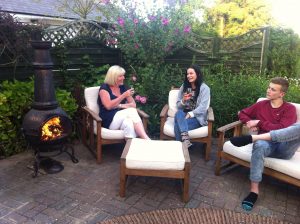 So go ahead, invite some people over, and get cooking!
Related posts: