Zero Gravity Chairs are an absolute must have for the perfect backyard arrangement, which is why we've compiled our top 10 favourite picks from the world of antigravity lounging.
In case you haven't yet seen our extensive article on how they work, zero gravity recliners feature an innovative design that allows your body to relax in a position that evenly distributes your weight across the seat, making sure there isn't any concentrated pressure anywhere on your body due to gravity.
At the same time, it mimics the position your relaxed body would assume if it were floating in zero gravity, therefore making it the most neutral and relaxed position a person can have.
These chairs are excellent for the backyard, all of them have extensively ergonomic features, great durability against the elements, and quality product build that is lightweight and easy to transport and store.  Depending on what you are looking for, we have made sure to include various types of zero gravity chairs in our lineup.  
We're going to take a gander at some standard issue zero g chairs (with a variety of accessories), some double seat sets, as well as extra large zero gravity chairs, and some two person zero gravity loveseats. For the full scoop on how they work, you should check out our article on outdoor zero gravity chairs.
While they are the highlight of anyone's backyard seating arrangement, their durability and portability also make it easy for people to take them along on vacations or camping trips.  Now, without further delay, let's check out the superstar lineup for zero gravity chairs and outdoor recliners.
Sundale Outdoor Quilted Zero Gravity Reclining Chair

First in our lineup is the Sundale Outdoor Quilted Zero Gravity Recliner.  This one is a great starter for getting initiated in the zero gravity lifestyle.  It is very much a quality brand, while maintaining an excellent price that you will not have to think twice about.  It comes in five different colours, featuring a design that will fit with any decor or layout your backyard might have, making it easier than ever to introduce zero gravity lounging into your lifestyle.
The stylish quilted fabric sets itself apart from most zero gravity chairs, and the slick yet durable frame makes it ergonomic and easy to store and transport.   To be precise, it weighs only 22 lbs and folds down to just under 6 inches!  While generally a light build, the frame is particularly strong as it can hold up to 330 lbs without warping or losing shape.
The frame features an adjustable reclining mechanism so you can find just the right angle to relax at.  This is paired with a extra secure locking mechanism to ensure stability and safety.  One very attractive aspect of this chair is the padded seating material.
While most zero gravity chairs have a generic mesh for you to sit into, this chair will pamper your back with it's padded design.  As if that were not enough, it comes with an assorted adjustable headrest and an utility tray to put your drink in!
---
Apontus Zero Gravity Reclining Lounge Chair (Set of Two)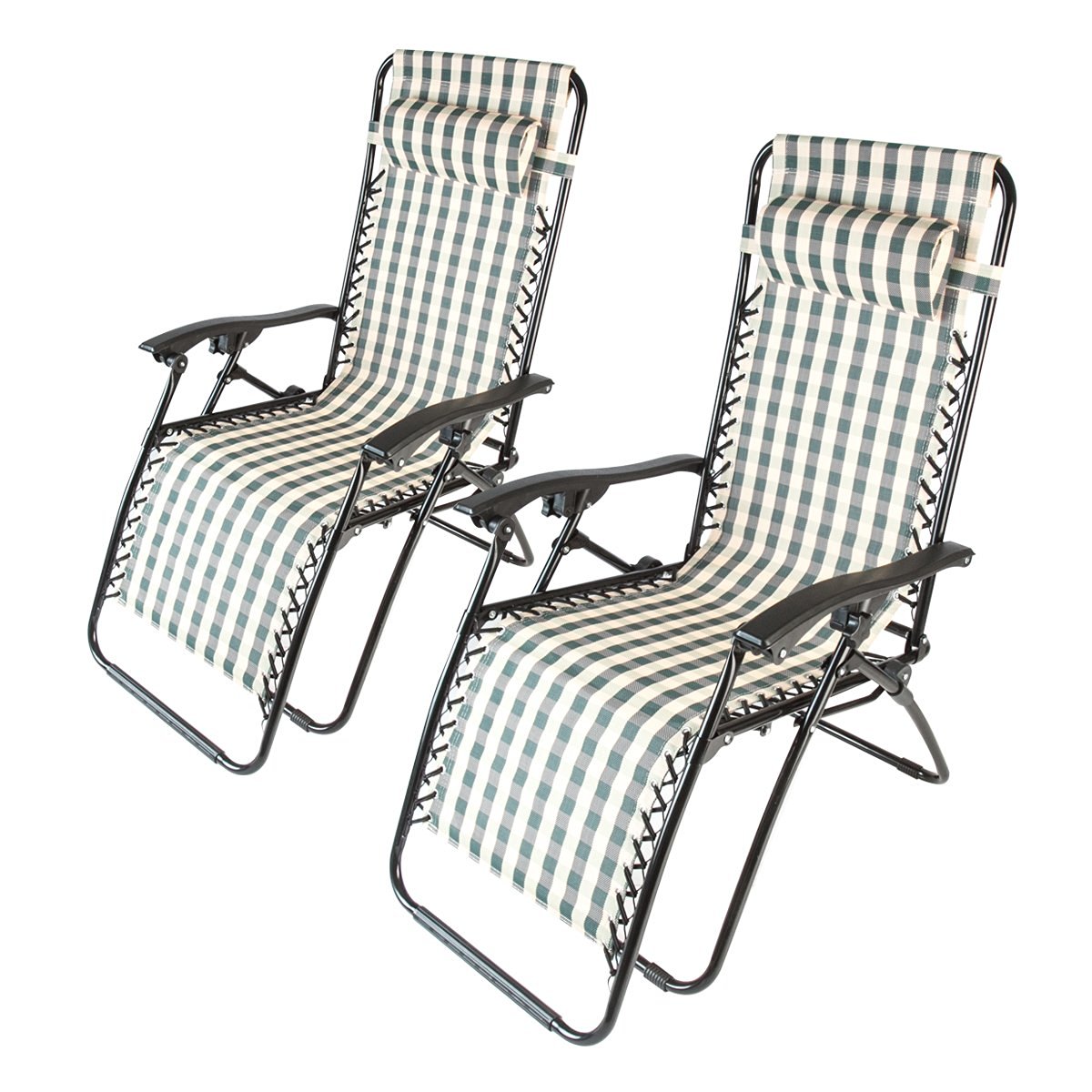 What can possibly be better than a zero gravity chair?  Why, two zero gravity chairs, of course!  Another great starter for those getting acquainted with the world of zero gravity lounging, this set features two zero gravity chairs which are perfect for any backyard.
Coming with a very snazzy striped design, these chairs are not only a great combination of price and quality, they also have a variety of features that match even the priciest big label brands out there.  First thing you will notice is that they are quite lightweight and portable.
Weighing in at 5 lbs and being able to fold down to 5 inches, this chair is both lighter and more compact than our previous candidate.  At the same time, it is brutally uncompromising on durability, being able to sustain up to 350 lbs which is 50 lbs more than your average zero gravity chair.
Another interesting aspect is that this chair is a little larger than the rest, almost resembling one of the larger "XL" or "oversized" gravity chairs.  The Apontus double set of zero gravity chairs also comes with the adjustable headrest, plastic armrests, and a smooth reclining mechanism for your lounging pleasure.
Between the accessories and functionality, the lighter yet stronger build, along with the larger seating area and the fact that it comes in a set of two, this purchase is packed full of value and almost impossible to overlook.
---
Bliss Gravity Free Canopy Recliner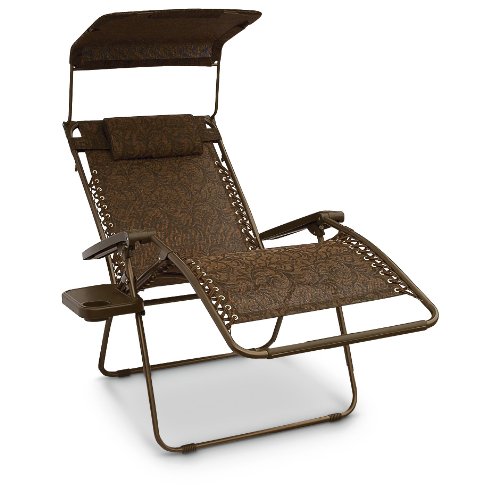 Now, stepping into the more heavyweight contenders of our lineup, it's time to make room for a chair that does not shy away from pure indulgence.  We're, of course, talking about the canopy recliner from Bliss Hammocks.
This zero gravity outdoor recliner sets itself apart from the others by featuring a very handy and much needed canopy to shield your face from the sun.  When relaxing in your backyard, while the sun is definitely something to enjoy, it can be a bit of a drag if it's shining straight into your face.
This chair's design saves you the hassle of picking out a hat or setting up elaborate sun deflection mechanisms by having a canopy to keep your face protected.  Whether you're snoozing, reading quietly, or having company over, you will be able to relax peacefully without the sun getting in your eyes.
In terms of its design, we weren't kidding when we said it's somewhat of a heavyweight.  It clocks in at 23 pounds and folds down to 7 inches, which is a bit more than the other chairs in this lineup, however, it is still more than easy to transport and store.  This champion of relaxation comes with an accessories tray featuring a drink holder and adjustable headrest as well.
---
Deluxe Oversized Extra Large Zero Gravity Chair with Canopy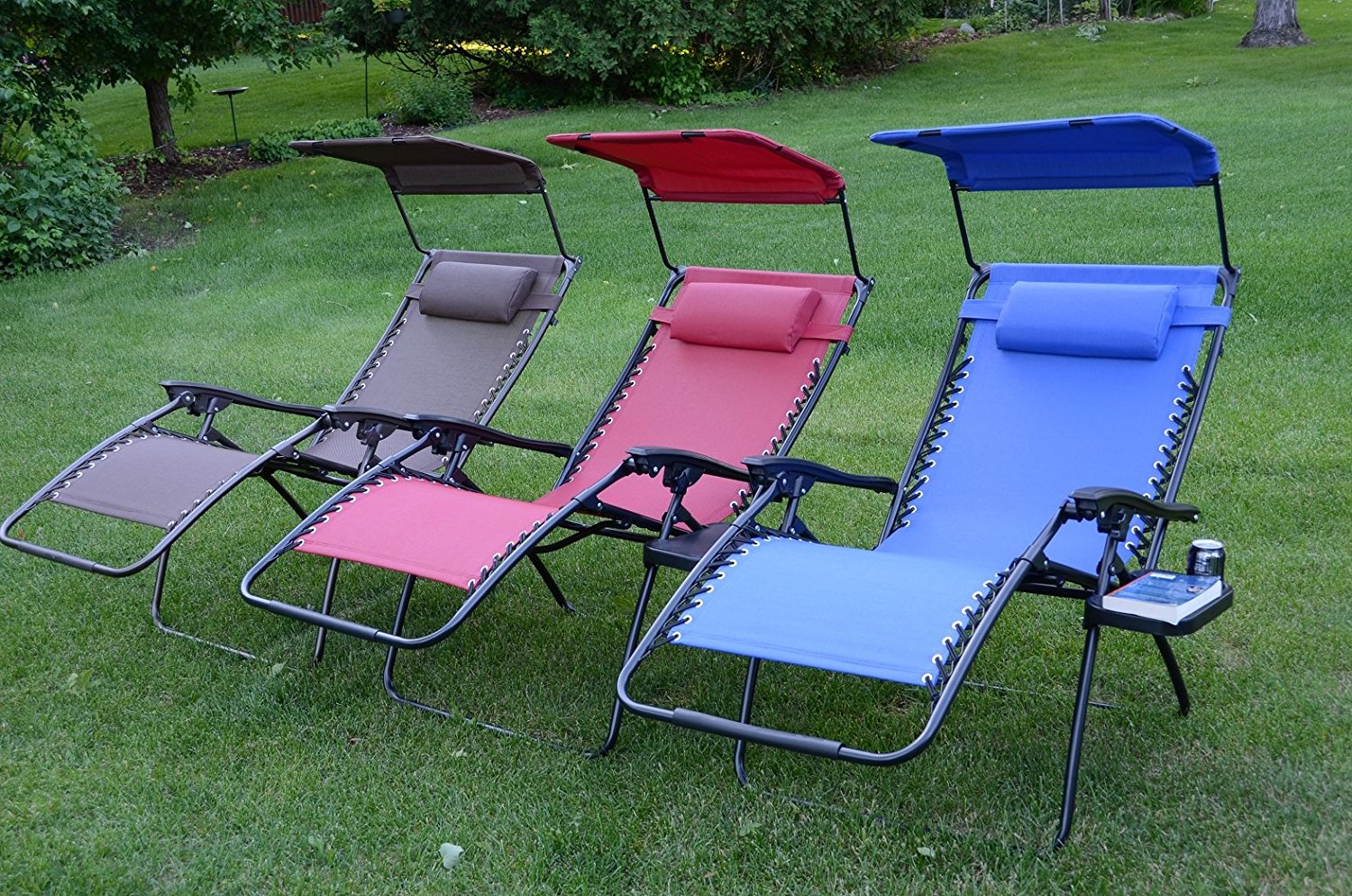 Continuing into the heavyweights, we have what is called an "oversized" zero gravity chair by Styled Shopping.  Similar to the last one, this chair features a luxurious canopy to shelter your face from the sun.  If you spend as much time as we do in the backyard, you know the sun is what makes it so great, but definitely not if it's shining straight into your face.
This chair certainly has a convenient solution to that in the form of the attached canopy that can easily shelter you from the sun.  What makes this chair even better, and has certainly gone a long way to earn it stellar reviews across the board, is the fact that it is much more spacious than your average zero gravity outdoor recliner.
Featuring a spacious tray and arm rests, this chair is a whole 30 inches wider than average and goes up to 6 feet when fully extended, making sure there is no lack of space for the user's enjoyment.
---
Lafuma Futura Air Comfort Zero Gravity Recliner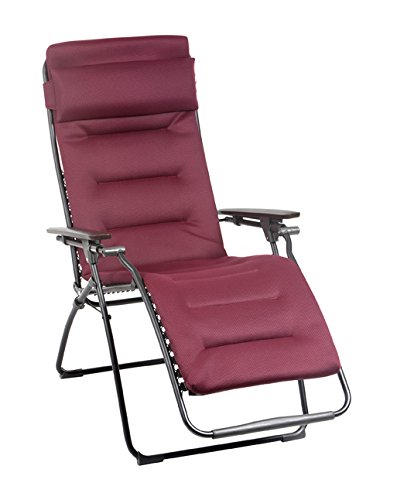 Moving on from the heavyweights, it's time to introduce some of the rockstars of the zero gravity recliner world.  Lafuma is a brand name that echoes through consumer reviews like you wouldn't believe.  It is a brand that carries quite a punch due to its excellent quality products and very stylish designs, earning it #6 in our lineup.
The first thing you will notice about this chair is the delightful padded design and how much bliss it brings to your backyard lounging.  The chair and padding are heavily resistant to the elements, featuring a non-sag breathable fabric that simply refuses to fade.
Like any Lafuma brand chair, it features the patented clip system for better support and easier maintenance than most bungee cord systems.  The features of this chair include adjustable reclining angle, excellent foot and arm rests, as well as an extra soft padded headrest.
This beautifully crafted product weighs in at only 18.5 lbs, while being able to support up to 330 lbs, making it very durable and practical while also easy to store and transport.
---
Bellezze Zero Gravity Orbital Lounger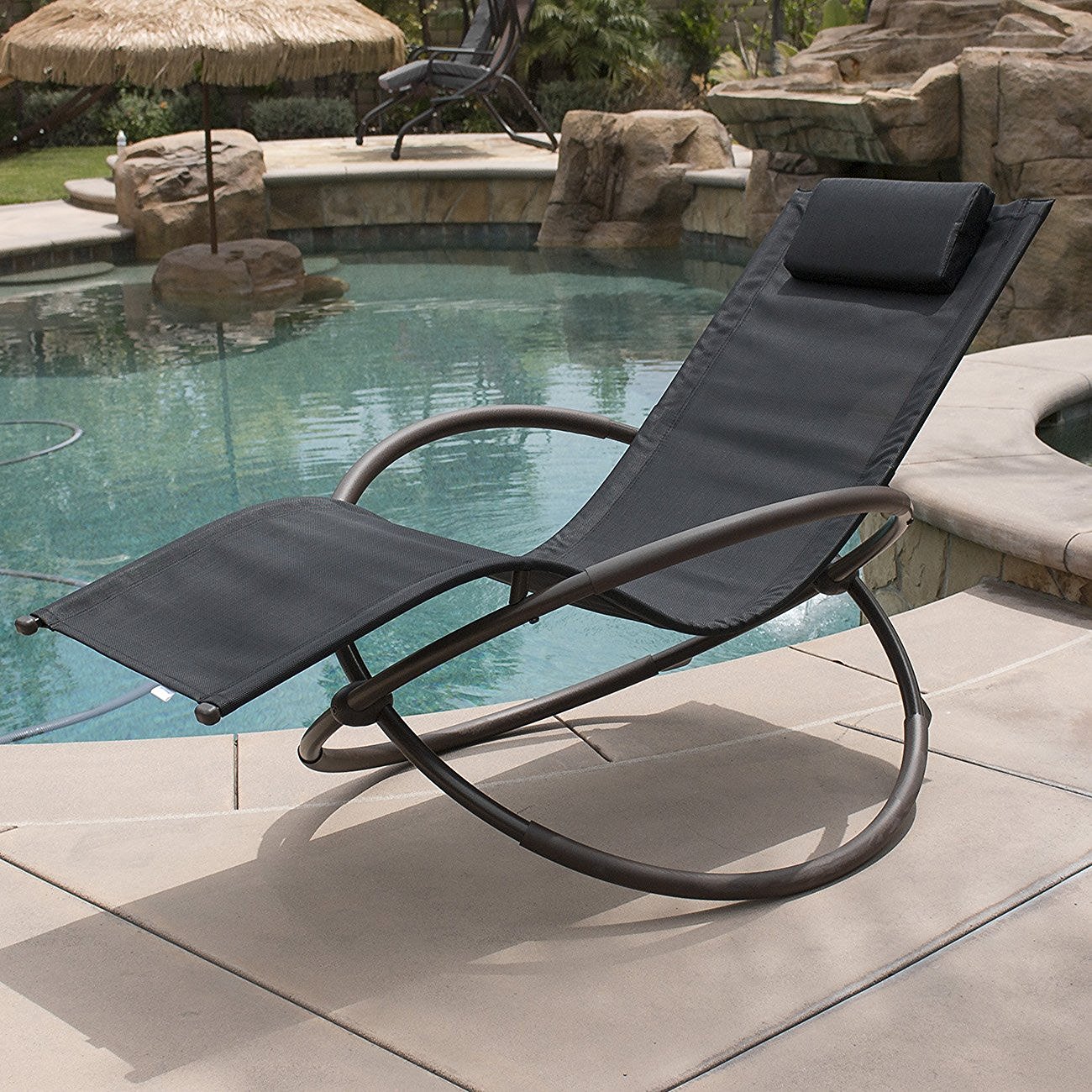 Continuing in the rockstar lineup, Bellezza is another very well known brand that holds an impeccable track record of consumer satisfaction.  Coming in a variety of beautiful and vibrant colours, the Bellezza Orbital recliners are definitely the champions of style as well as comfort.
The unique orbital chair design is no doubt an eyecatcher but also an added boost to comfort and stability.  Overall, this stylish build is quite weather resistant as well as easy to clean and maintain.
It features a breathable seating mesh, which is very quick to dry should your orbital chair get caught in the rain, and a rubberized scratch-proof finish on the armrests.  Weighing in at 20 lbs, the Bellezza orbital recliner can sustain up to 275 lbs.
---
Patio Plus 2-Person Gravity Free Recliner

Up next in our lineup are some extra comfy zero gravity chairs designed to hold two people, or otherwise known as zero gravity loveseats.  This two person zero gravity loveseat is excellent for reclining with a friend or partner.
Designed with an extra wide frame (up to either 45 inches or 48 inches wider), these are quite a bit more spacious than the "XL" or "oversized" gravity chairs.  As one would expect, everything about this chair has double the functionality.
It has two trays, and can hold up 600 lbs which is twice the average weight capacity, as well as an extra strength yet smooth reclining system with tension control calibrated for two people.  While a bit bulkier than regular zero gravity chairs, the Bliss Hammocks two person zero gravity recliner folds down for ease of storage or transportation.
---
Sundale Outdoor 2 Person Zero Gravity Double Chair
Going back to Sundale, their two person Zero Gravity Loveseat comes in five colour varieties, much like their single Zero Gravity Recliners.  Measuring in at 45 inches wide, with a weight capacity of 450 lbs, this loveseat will make sure your backyard lounging can comfortably hold two people.
Much like the previous contender, it is a little bulkier than your standard zero gravity chair, but it still folds to quite a compact and portable size for user convenience.  The Sundale version of the zero gravity loveseat features an extra wide headrest as well as two accessories trays with drink holders.
Supported by a double bungee cord system, the loveseat is able to recline for maximum lounging comfort.  As one would expect from an outdoor chair, it is very well designed to be suited to the elements.  The mesh is comfortable and breathable while being particularly UV-resistant, and the powder-coated frame is designed to hold off rust.
---
Caravan Canopy Oversized Zero Gravity Recliner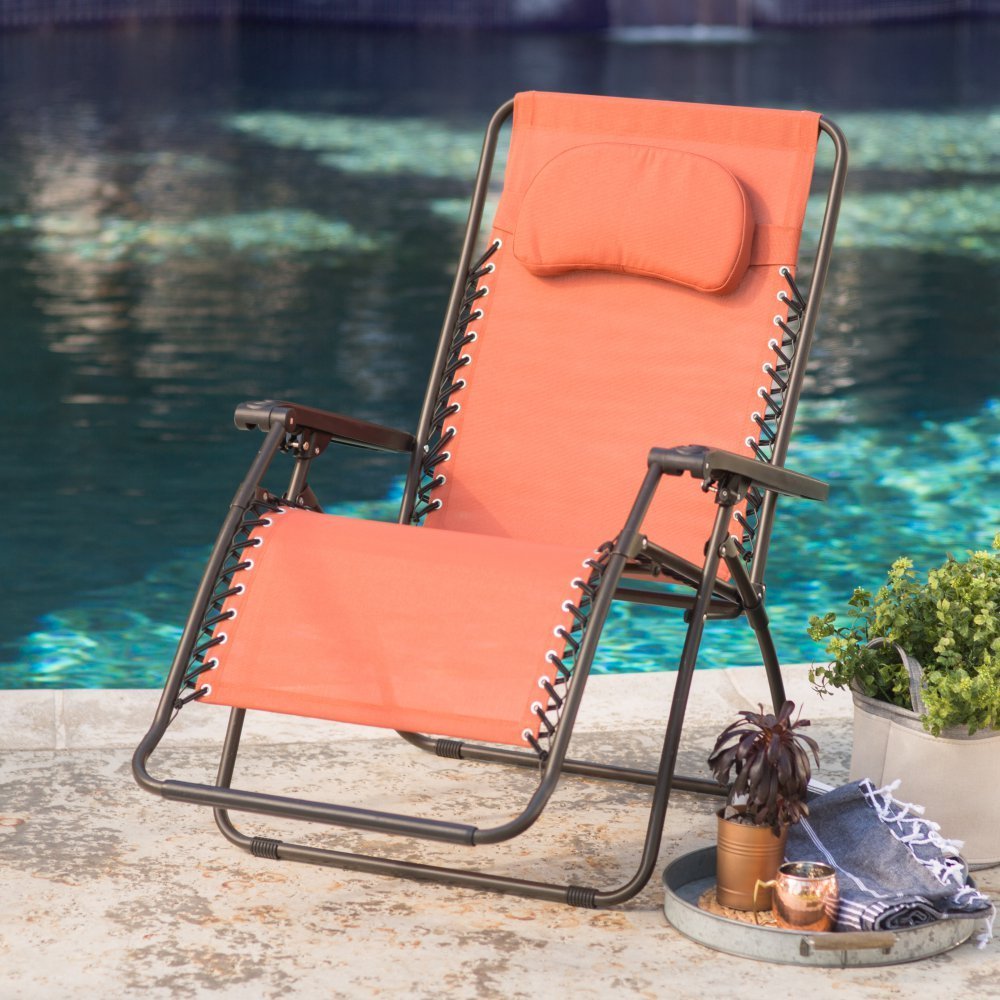 Finally in our highlights, we are gonna take a look into two of the best oversized or "XL" zero gravity recliners.  There is a reason they hold second and first place in our hearts, and that is because you cannot go wrong with extra space.
These single person recliners have quite a bit of extra room, clocking in at 5.3 inches wider than standard models, allowing the user to stretch out more.
Weighing in at a very portable 22 lbs, this chair can hold up to 330 lbs and features a particularly durable textaline fabric and double bungee system for better support. The adjustable headrest and reclining system make it super easy for the end user to customize their lounging experience.
---
Lafuma Futura XL Zero Gravity Recliner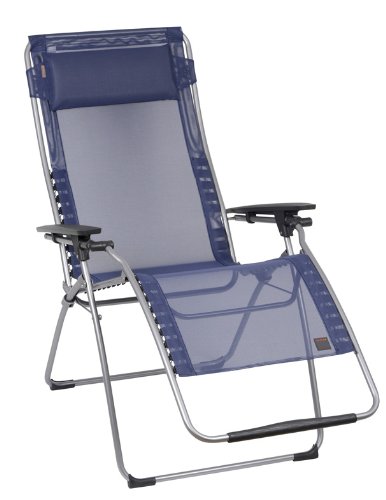 Coming in at #1, it is unsurprising to see that the reigning champion of our list is an "XL" model zero gravity recliner that carries the well known Lafuma brand name on it.  Indeed, there is nothing more indulgent that we can find to supercede a zero gravity chair designed for extra lounging room by a very reputable brand.
The patented clipper system allows the chair to better curve to fit your spine, leading to a much more customized and personal user experience.  At the same time, they are much easier to take apart for cleaning and maintenance all while looking excessively stylish compared to the standard laced design.
The overall build does not cease to amaze as it features composite contoured arm rests as well as high stability foot rests with protective foot rest ring and foot pads. The seating material is designed to never sag, while the chair as a whole is perfectly equipped to brave the elements, resisting temperature changes, moisture, and UV rays.
The durable powder-coated steel frame is designed to resist rust and keep it's shape despite prolonged daily use in the backyard or while on vacation.