Sectional furniture is loosely defined as durable furniture which is divided into sections, which you can then use to activate potentially limited space.
There is both indoor and outdoor sectional furniture, including sofas, recliners, love seats, and chat sets. Here in this article, we will be focusing on the sectionals of the outdoor variety, which means they are all-season, or weather resistant.
The fun thing about sectional furniture is that you can get it in various shapes, sizes, and styles, and with the option of having a consistent look to all your outdoor furniture, or you can choose to mix and match.
For starters, here are some of our favorite pieces of outdoor sectional furniture, from two of our favorite brands - Hanover and Cane-line.
Editors' Picks: Top Outdoor Sectional Furniture in 2023
Why Choose a Sectional?
As mentioned previously, sectional furniture can take a previously unused space on your patio or deck and transform it into a lively area where you can sit and socialize with family and/or friends.
Some sectionals can help to maximize guest seating while providing optimum comfort for each guest who is seated on the sectional. Generally, it's one person per pillow or cushion. Certain sectionals can be very compact, while others can take up more space and be more luxurious space-wise.
A sectional can be simply a single sofa, or it can come in a matching set, which is a popular option, because it takes care of many guests at once by offering a uniform style and comfort for multiple guests all at once.
That said, these sets can be broken up and moved around, depending on how they are designed. Some sets aren't meant to be separated from one another, in that it can appear chaotic, while some are modular in the sense that they invite a certain amount of mixing and matching with other furniture or backyard features.
Up next, we will be focusing on the typically found shapes of full sectional sofa sets, and how you might see them advertised or arranged.
Sectional Shapes
Sectionals, when they come in a full set, come in a variety of shapes and configurations.
The amount of space you have will determine which configuration you might want to opt for, or you may have your eye on a certain configuration for its visual appeal and have to work backwards, seeing if it can work in the space that you have.
Savvy buyers should be acutely aware of the size of the furniture they purchase, not to mention how much space they have available.
If you are at the point where you are just beginning to plan out a new deck or back patio project, these are details that can be pondered ahead of time.
If your deck is already long been complete, you are probably very aware of space availability already, so you can tell right away if certain designs are going to work for you.
Let's have a look at some configurations.
U-Shaped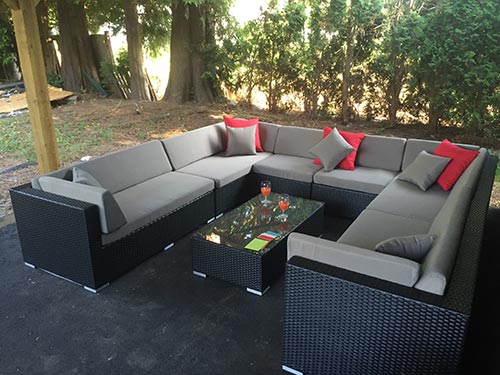 The u-shaped sectional is fantastic for spaces that are very large. The huge space should be made to feel cozy with the addition of the seating. It creates a comfortable, intimate space for conversations.
The end pieces with arms will often face each other, as you can see in the above picture.
L-Shaped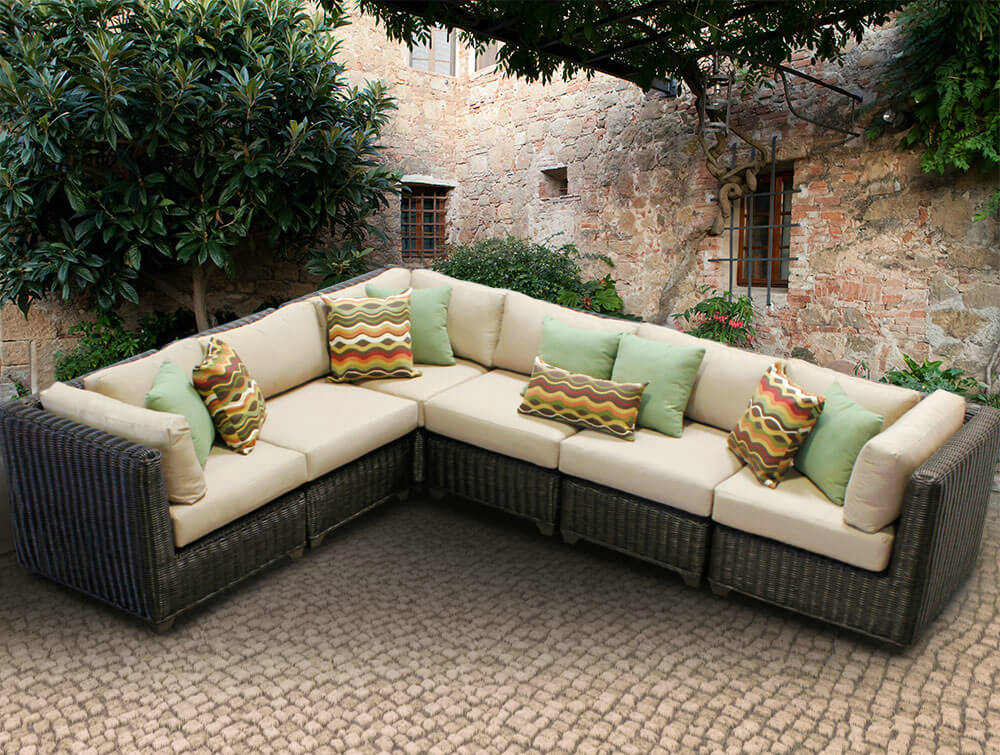 This L-shaped sectional configuration is one of the more versatile ones. The l-shaped sectional is exactly what it sounds like. It will seem as if two sofas were attached to make a right angle. It can be placed easily to fill a corner.
You can separate these sectionals, as they are modular, but then you run the risk of having a somewhat chaotic scene.
Also, you might notice, if you are constantly using your sectionals, that they may start to move slowly away from each other, as some of these pieces are made from wicker or rattan and are lighter weight (not full of metal and springs, like some indoor recliners that stay put).
At any rate, you may want to keep your eyes peeled for this phenomenon, if you want to keep your perfect L-shape intact, rather than having your sectional look detached and disorganized.
Curved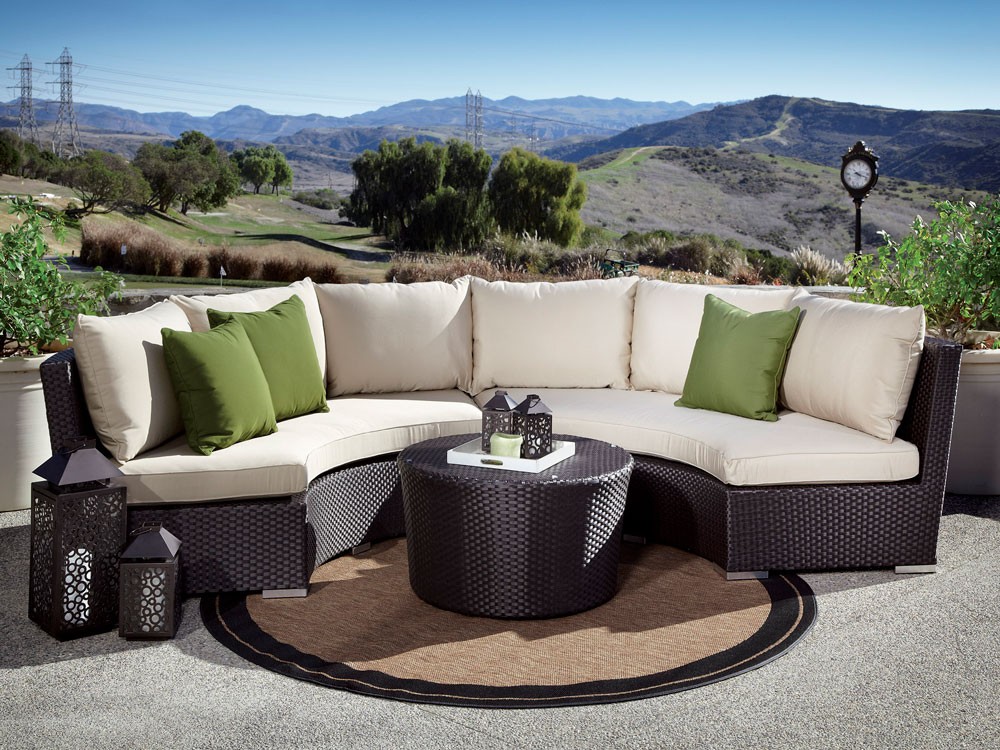 The curved sectional is usually in two pieces to form half of a circle. It won't sit flush against the wall, so that's something to consider when considering your sectional options.
Curved sectionals have a very modern, classy appeal that some people really like.
Chaise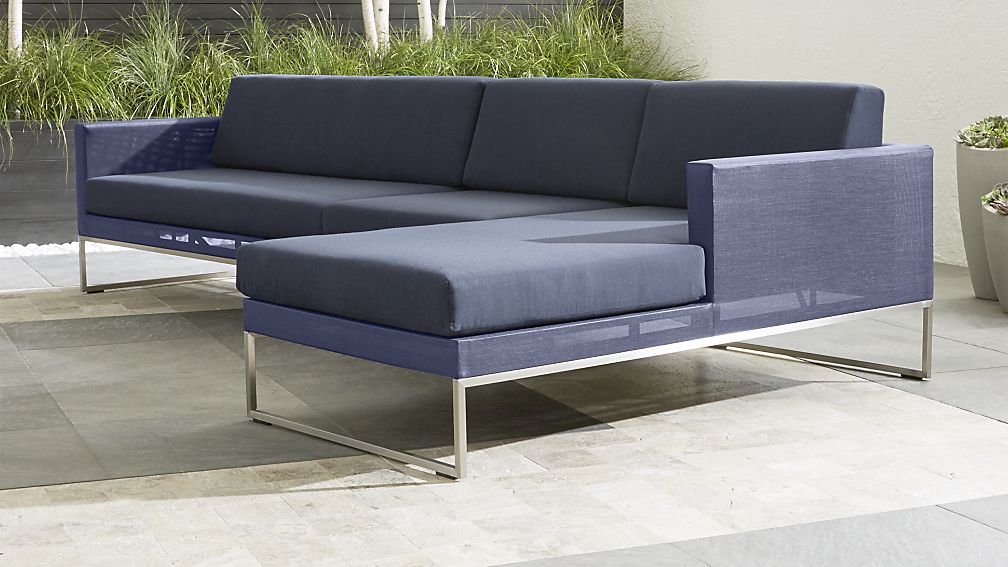 This is a sofa set with a seat that extends on one side to include an ottoman. It's meant for people to stretch out comfortably. The ottoman might be attached or not.
The chaise is definitely a look all its own, and they've been extremely popular for years as outdoor lounge furniture.
Sleeper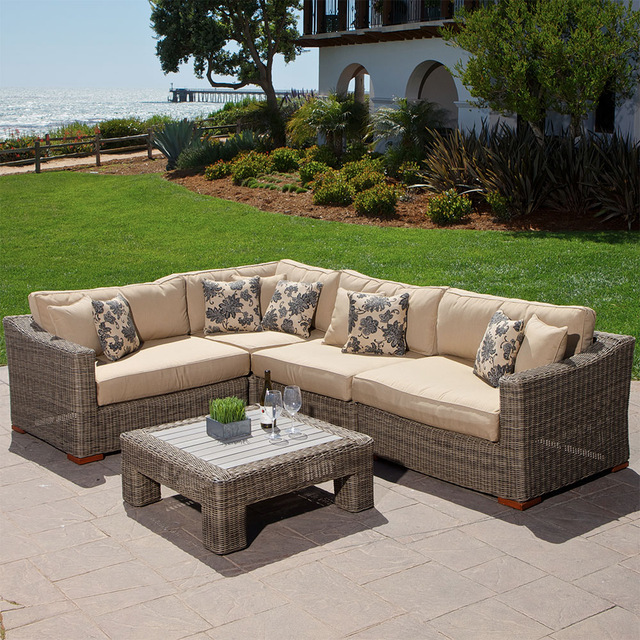 This type of sectional is great for indoor use. You might be surprised to think of this kind of sectional for outdoor use. It can be great for taking naps outdoors on a nice summer day or night, weather permitting of course!
Stationary Sectional or Modular
The sectional for your outdoor space might be stationary. That type of sectional can't be pulled apart and moved. You can't configure it in other styles and shapes.
The modular sectional can be moved around as needed. One or two pieces might be used in one section of the patio while the rest is in the corner. Modular pieces are good for awkward spaces that need unique seating arrangements.
What About the Arms of a Sectional?
Before purchasing your sectional, think about the arms. There are LAF and RAF. If you don't know what that means, it's incredibly lucky that you're here.
LAF means left-arm-facing. And RAF is right-arm-facing. LAF means that when you're facing the sectional, the arm is on the left. RAF means that the arm is on your right.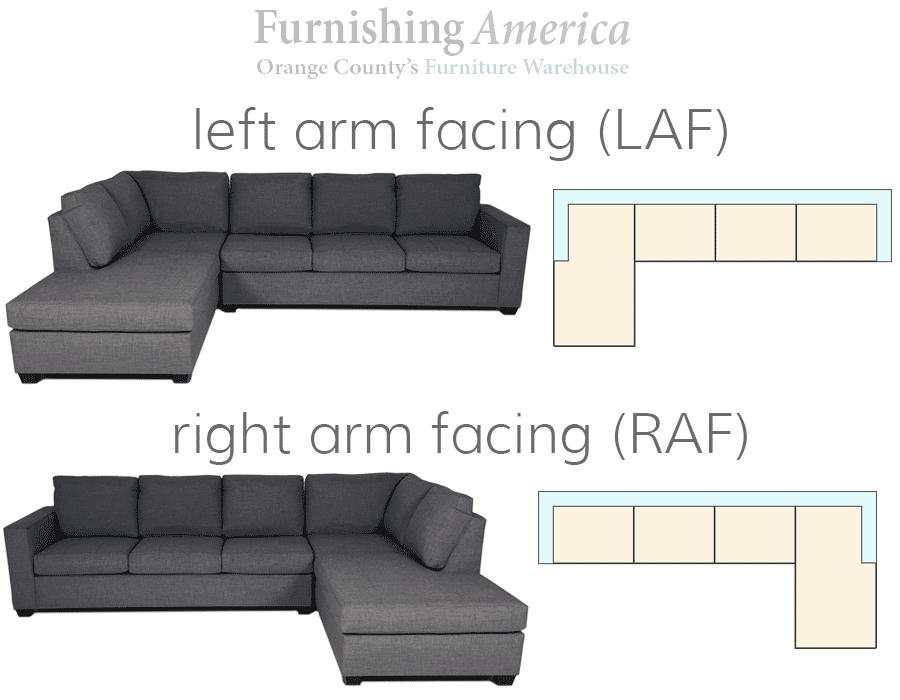 When you're joining a few pieces together, the placement of the arm matters. Consider how it will look in the space depending on the placement of the arm.
Floor Plan for a Sectional
That brings us to the floor plan. You should be thinking about how the pieces will fit into your space. This isn't the time for guessing, though.
If you're scrolling past sectionals without a floor plan or measurements, you could be in for a shock when you try to fit it into the space.
It's vital that you measure the space and draw a floor plan. It'll ensure that you can fit the sectional on your patio or deck without a problem.
Difference Between a Sectional and Patio Set
You might be wondering about the difference between a patio set and a sectional. A sectional is the seating that you and your guests will enjoy. It won't include tables, chairs, or décor.
Once you have your sectional set up outdoors, you can purchase the décor as well as the tables and chairs that you need. Some patio sets will include sectionals and the rest of the things needed for your patio.
The biggest difference is that you'll be able to buy a customized sectional easier when you purchase it separately from the rest of the patio set. It's easy to purchase pillows, umbrellas, extra chairs, or tables to match the sectional you choose.
If you're looking for patio sets, we have a review of some of the best patio sets that might be more fitting for what you need.
That brings us to some of our favorite sectionals for your outdoor living space.
Top 8 Best Outdoor Sectional Reviews 2023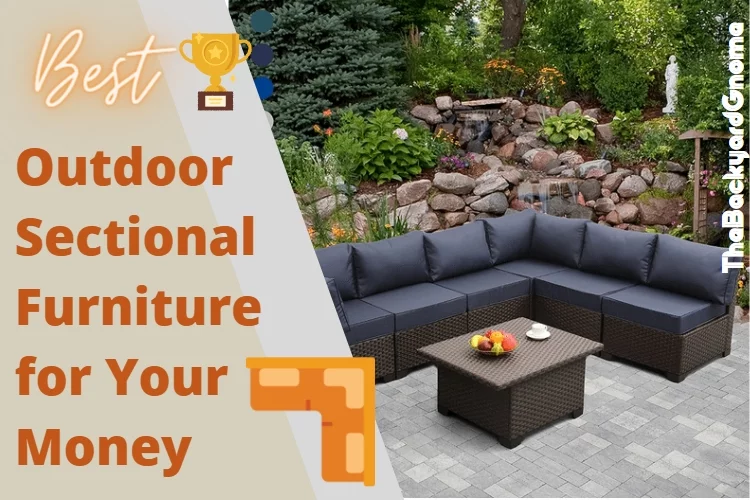 Best Choice Products 7-Piece Modular Outdoor Sectional Wicker Patio Set - Link
This Best Choice Products 7-Piece Modular Outdoor Sectional Wicker Patio Furniture Conversation Sofa Set is perfect for any outdoor space. The set includes 6 chairs, 2 pillows, and a table. The wicker is weather resistant and the cushions are water resistant. The set is easy to assemble and can be rearranged to fit your space.

Advantages:
This set is beautiful and very well made. The cushions are firm but comfortable.
The wicker is of great quality and the set looks very expensive.
This set is perfect for our small patio. It's very comfortable for six people to sit and chat.
The coffee table is the perfect height and size for the set.
We love that this set is modular so we can rearrange it to fit our needs.
The assembly was very easy and took less than an hour.
This set is a great value for the price.
Drawbacks:
The cushions are not waterproof so we have to bring them in every time it rains or when we know bad weather is coming.
The wicker scratches easily so we have to be careful not to put anything on it that might scratch it.
The set is not very comfortable for more than six people. It would be nice if there were more chairs or if the chairs were larger.
The coffee table is a little low for some people to use comfortably. It would be nice if it were taller or adjustable.
We wish the set was available in other colors besides brown.
We wish the cushions were softer. They are a bit too firm for some people's liking.
Some people may find the price a bit high for a seven-piece set.
Our Conclusion
If you're looking for an outdoor furniture set that is both stylish and comfortable, this Outdoor Sectional is a great choice. The set includes a sofa, two chairs, two ottomans, and a coffee table, all of which are made from durable wicker and feature cushioned seats and backrests. The modular design allows you to rearrange the pieces to suit your needs, and the included pillows add an extra touch of comfort. With its sleek lines and modern style, this set will complement any patio or deck décor.


Rattaner 7-Piece Outdoor Furniture Set - Link
This rattan furniture set comes with 6 comfortable sofas, 1 coffee table, 1 stool and 8 cushions. The sofas and table are made of premium PE rattan which is sturdy and can withstand years of use. The thickened cushions are very comfortable to sit on. There is also a storage compartment under the coffee table where you can store things like books, magazines, etc. This set is perfect for outdoor use and will surely add a touch of luxury to your patio or garden.

Features:
7-piece outdoor wicker furniture conversation set
Includes a sofa, 2 armchairs, a coffee table, and an end table
Sofa and armchairs have adjustable backrests
Cushions are included and are made from weather-resistant fabric
Frames are made from powder-coated steel for durability
Assembly is required.
Advantages:
The 7 pieces outdoor wicker furniture conversation set comes with 6 chairs and 1 table with storage. The chairs are adjustable so you can customize the seating arrangement to suit your needs.
The table has a thick glass top that is easy to clean. The chairs have cushions for added comfort.
This set is made of weather-resistant wicker material so it can withstand harsh weather conditions.
The set is easy to assemble and disassemble for easy storage.
The set is available in different colors to match your outdoor décor.
Drawbacks:
The set is a bit pricey compared to other outdoor wicker conversation sets in the market.
The chairs might be too small for some people.
The cushions are not waterproof so they might get soaked in case of rain or spills.
The set is not suitable for extremely cold weather as the wicker material might crack.
The set might require occasional maintenance to keep it looking new.
Our Conclusion
This Rattaner 7 Pieces Outdoor Furniture Sectional is the perfect patio furniture set for your home. The sectional sofa couch is adjustable, so you can customize it to fit your space perfectly. The table has a thickened top, making it sturdy and durable. The set also comes with a storage box, so you can keep your belongings close at hand. This set is perfect for entertaining guests or simply relaxing in your own backyard.


Polar Aurora 6pcs Patio Furniture Set PE Brown Rattan Wicker Sectional Outdoor Sofa Set - Link
This Polar Aurora 6pcs Patio Furniture Set is a great way to add some extra seating and style to your patio or deck. The set includes a sofa, two chairs, a coffee table, and an ottoman, all made from durable PE rattan wicker that is weather-resistant and easy to clean. The cushions are also removable and machine-washable for added convenience. This set is perfect for entertaining guests or just relaxing outdoors with family and friends.

Advantages:
The set is made of high-quality materials that make it durable and long-lasting.
It is easy to assemble and disassemble, which makes it convenient to store or move around.
The set includes a sofa, two armchairs, a coffee table, and an ottoman, which makes it perfect for relaxing or entertaining guests.
The cushions are thick and comfortable, and the fabric is weather-resistant and can be easily cleaned.
Drawbacks:
The set is expensive.
The sofa and armchairs are not reclining, which may be uncomfortable for some people.
The set is heavy and may be difficult to move around.
The fabric on the cushions is not as soft as some people would like.
Our Conclusion
If you're looking for a stylish and affordable patio furniture set, the Polar Aurora 6pcs Patio Furniture Set is a great option. The set includes a sofa, two chairs, a coffee table, and an ottoman, all made from durable PE rattan wicker. The cushions are water-resistant and can be removed for easy cleaning. Assembly is quick and easy, and the set is sure to add a touch of elegance to your outdoor space.


Furnimy 7 PCS Outdoor Patio Furniture Set Cushioned Sectional Conversation Sofa Set Rattan Wicker Gray with Tempered Glass Coffee Table, Red Pillows - Link
7 PC outdoor patio furniture set: This set includes 1 double sofa, 2 armless sofas, 1 ottoman, 1 tempered glass coffee table and 2 throw pillows. It is perfect for 6-8 people to sit and chat or have a meal outdoors.

Features:
Cushioned seats: The cushions of this set are made of high quality sponge and fabric. They are soft and comfortable to sit on. The zippered covers are easy to remove and wash.
Durable and sturdy: The frame of this set is made of powder coated steel, which is rust resistant and can withstand all weather conditions. The rattan is made of PE wicker, which is waterproof and UV resistant.

Easy to assemble: This set comes with clear instructions and all the necessary hardware. It is easy to assemble and disassemble for easy storage.

Dimensions:

-Double sofa: W47.2" x D28.3" x H33.5"
-Armless sofa: W24.4" x D28.3" x H33.5"
-Ottoman: W24.4" x D24.4" x H17.7"
-Coffee table: W39.4" x D19.7" x H17.7"
-Pillows: W17.7" x D5.9"
Advantages:
Stylish and modern design
Comfortable cushioned seats
Durable and sturdy frame
Waterproof and UV resistant rattan
Easy to assemble and disassemble
Perfect for 6-8 people
Drawbacks:
Some customers found the cushions to be too thin
The coffee table is a bit small according to some customers
A few customers received damaged or missing parts
Our Conclusion
If you're looking for a complete outdoor furniture set that is both stylish and comfortable, then you'll want to check out the Furnimy 7 PCS Outdoor Patio Furniture Set Cushioned Sectional Conversation Sofa Set Rattan Wicker Gray with Tempered Glass Table. This set includes a sofa, two armchairs, a coffee table, and two side tables, all of which are made from high-quality materials and construction. The sofa and chairs feature cushions that are not only comfortable but also easy to clean, while the tempered glass table top is both durable and easy to keep clean. The entire set is also very easy to assemble, so you'll be able to enjoy your new outdoor furniture in no time at all.


Prado Patio Sectional Sofa Set
This outdoor sectional sofa is a solid furniture set. It's made with quality materials like powder-coated iron for the frame. There's no worry that guests or family will collapse this furniture. It's solid and sturdy.
It's fantastic for outdoor use, too. The frame will never rust. That's because it's covered with a powder finish to protect it from the elements. It doesn't matter if there's snow with frigid temps or the sun is beating down on the iron.
Features:
Weather-resistant fabric
Iron frame with powder coating
Variety of pieces
Quality construction
The set has a left arm and a right arm piece along with two middle parts as well as a corner piece. Each piece has deep, thick cushions made with quality fabrics.
The sectional is meant to hold 6 adults easily. It could also hold a whole bunch of children. Your next outdoor movie night could include all your kid's friends, too.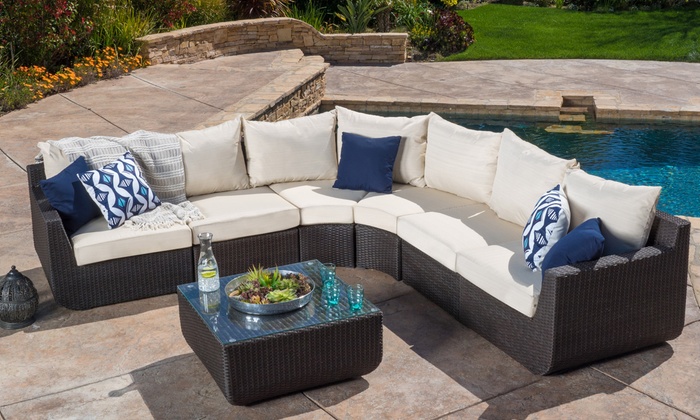 Riviera Portofino Semicircular Sectional Sofa
The design of this sectional is a bit different. It's a circular design that is quite lovely. It won't sit back against a wall, but it's perfect for spaces that need a bit of extra style.
Your guests will be delighted by the curve of this sectional as well as the extra pieces. There's a table for holding an umbrella. The umbrella is sold separately, so you can get one that fits your particular needs.
Features:
4 sections for seating
Umbrella holder table
Waterproof cushions
Aluminum frame
Includes ottoman
Each wedge of this sectional comes with a thick seat cushion and two back cushions. They're waterproof and durable. You could leave this furniture outdoors without it being ruined.
With the ottoman, you get to choose between a regular ottoman or one with a space for an ice bucket. It's an innovative feature that screams party and relaxing.
Features:
Sheridan Outdoor Wicker Sectional
This is an L-shape sectional with many pieces that can be joined together in a variety of ways. The sectional comes with seat and back cushions in a quality fabric that is resistant to all weather conditions.
The cushion covers have a zipper, so you can clean them as needed. That is vital for outdoor furniture. It's also great for parties where guests might spill food or drinks. You won't have to hover over your guests with a cloth to clean messes.
Features:
Quality outdoor materials
Water-resistant cushions
Powder-coated iron frame
Sectional and chairs
The sectional has numerous pieces that can host your entire family. There are also two separate chairs with this set. If you need a ton of furniture, this is the sectional you'll want to purchase.
Sheridan Outdoor Wicker Sectional
Suncrown Outdoor Furniture Sectional Sofa and Chair
The sectional has three sections. It has two arms on the end pieces, and a relaxing chaise section the can be switched between the right and left side depending on your yard.
It also comes with a separate chair as well as a coffee table. This wouldn't be considered a complete patio set, but the sectional, chair, and chaise will give you plenty of seating. You can easily add décor and extra pillows to complete the set.
Features:
Velcro seat cushions
Waterproof cushions
Seat clips
Cover for the furniture
Extra tools for assembly
There are thoughtful design elements in this sectional and chair. The cushions come with Velcro bits that will keep the cushions from sliding. There's nothing more annoying than to be relaxing and have the cushions shift under you.
Suncrown Outdoor Furniture Sectional Sofa And Chair
Buying Guide for the Best Outdoor Sectional
When it comes to choosing the best outdoor sectional for your home, there are a few things you'll need to keep in mind. Here is a quick guide to help you make the best decision for your needs.
First, consider the size of your outdoor space. You'll want to make sure that the sectional you choose will fit comfortably in the area you have available.
Next, think about how you'll be using the outdoor sectional. If you plan on entertaining guests often, you'll want to make sure that the piece can accommodate a large group. Conversely, if you're looking for a more intimate setting, a smaller sectional may be a better choice.
Finally, take into account your budget. Outdoor sectionals can range in price, so it's important to set a realistic budget before you start shopping.
How to Keep Outdoor Sectional Together
If you're like most people, you love spending time outdoors on your patio or deck. But if you have an outdoor sectional, you know that it can be a challenge to keep it all together. Here are some tips to help you keep your outdoor sectional together:
Use furniture straps or ties.
Connect the pieces with screws or bolts.
Use a sealant or glue on the joints.
Cover the couch with a tarp when not in use.
Store the couch indoors during extreme weather conditions.
The Best Brands of Outdoor Sectional Furniture
There are a few things you should keep in mind when shopping for the best outdoor sectional furniture for your home. First, you'll want to decide on the material that you'd like your furniture to be made from. There are many different options available, including wicker, aluminum, teak, and more. Once you've chosen your desired material, you'll need to select a style that matches your personal taste. Do you prefer a contemporary look, or something more traditional?

Once you've taken all of these factors into consideration, it's time to start browsing through some of the best brands of outdoor sectional furniture. A few great options include Lane Venture, Restoration Hardware, Pottery Barn, and Crate & Barrel. With so many amazing choices available, you're sure to find the perfect set of furniture for your home. So get started shopping today and enjoy your new outdoor space in no time!
Benefits of Having an Outdoor Sectional
If you're debating whether or not to buy an outdoor sectional, consider all the benefits before making your final decision. Outdoor sectionals are perfect for entertaining guests or spending time with family outdoors. Here are just a few benefits of owning an outdoor sectional:
Ample seating
An outdoor sectional provides plenty of seating for large gatherings. Whether you're hosting a barbecue or a pool party, your guests will appreciate having somewhere comfortable to sit.

Versatile style
Outdoor sectionals come in a variety of styles to suit any taste. From contemporary to traditional, there's an outdoor sectional to match your décor.

Durable construction
Outdoor furniture needs to be built to withstand the elements. Outdoor sectionals are made with durable materials that can stand up to the sun, rain, and wind.

Easy to maintain
An outdoor sectional is easy to care for. Simply wipe it down with a damp cloth to keep it clean.

Affordable
Outdoor furniture can be expensive, but outdoor sectionals are very affordable. You can find an outdoor sectional to fit your budget.
If you're looking for a piece of furniture that's both stylish and functional, an outdoor sectional is a great choice. With so many benefits, it's easy to see why outdoor sectionals are becoming so popular.
Tips to Clean Your Outdoor Sectional
Rinse off your outdoor sectional with a hose to remove any loose dirt or debris.
Mix together a solution of mild dish soap and water, and scrub the sectional down with a soft-bristled brush.
Rinse the sectional off again with the hose to remove the soap solution.
Allow the sectional to air dry in the sun for best results.
Buy now at Walmart, eBay, Etsy (subject to availability)
Walsunny Outdoor Furniture Patio Sets,Low Back All-Weather Small Rattan Sectional Sofa - Walmart, Etsy, eBay
PHI VILLA 77" Wide Outdoor Rattan Sectional Sofa with Cushions - Small Patio Wicker - Walmart, Etsy, eBay
Tuoze 5 Pieces Patio Furniture Sectional Outdoor PE Rattan Wicker Lawn Conversation - Walmart, Etsy, eBay
Wisteria Lane Patio Furniture Set, 7 Piece Outdoor Dining Sectional Sofa with Dining - Walmart, Etsy, eBay
Conclusion for Sectional Buyers
The sectional you pick for your backyard should fit in the space. You can purchase modular pieces that can be moved as you need. A sectional provides a ton of seating for all your guests for your next gathering. When you purchase a sectional, you can easily integrate it into the outdoor décor you already have in place, too. All it takes is a few extra colorful pillows to really make your outdoor area into a true outdoor living space.
As a sectional buyer, it is important to remember that you are not alone in the process. There are many resources available to help you find the perfect piece of furniture for your home. In addition, there are a number of online retailers that specialize in selling sectionsals, so you can be sure to find one that fits your budget and style preferences. With a little bit of research, you should be able to find the perfect sectional for your home without any problems. Thanks for reading! We hope this guide has been helpful in your journey to purchase the perfect piece of furniture for your home.

Related posts: