Last Updated on
By: The Backyard Gnome
An outdoor sectional sofa is larger and more adaptable than a traditional one.
When it comes to your outdoor space, the sectional can help you fill in an awkward corner. It can be used to create interest, too.
RECOMMENDED: Cane-line Hyde Luxe Tilt Parasol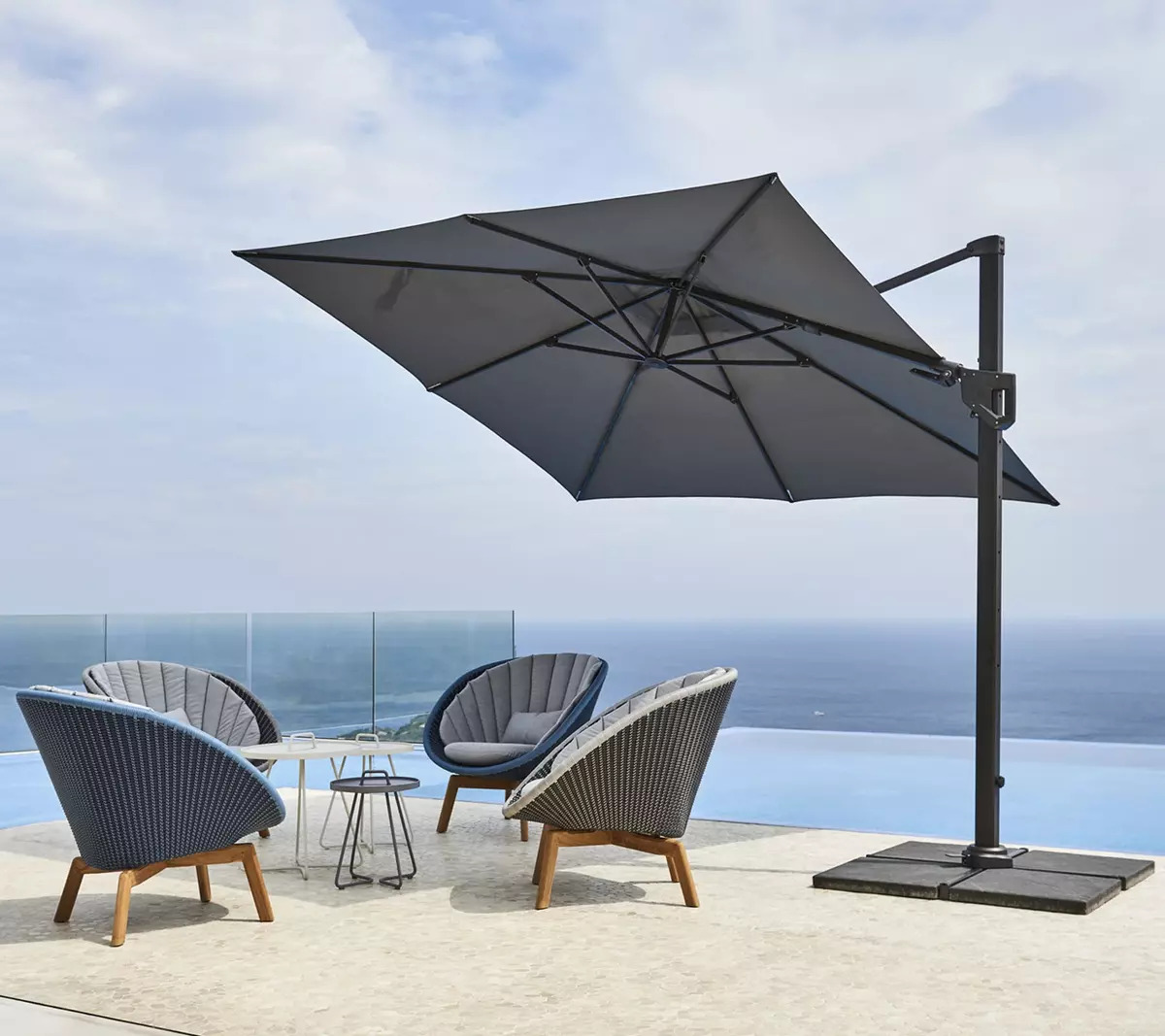 Best selling umbrella from Danish designers Cane-line
Large, stylish cantilever umbrella
Rotating, adjustable, well-balanced, and versatile
Durable, high-grade aluminum build

Available on The Backyard Gnome Store

Sizes currently in stock: 9.85′ x 9.85′, 13.12′ x 9.85′
Free shipping. Ships anywhere in the continental USA
Ships from New York, USA (6-8 weeks)
A small loveseat isn't as dramatic as a sectional and doesn't provide as much seating for your guests.
Why Choose a Sectional?
As mentioned previously, the sectional creates more seating for your guests.
It maximizes guest seating while working in an area that has special needs. A sectional can be broken up into smaller sections and moved around to fill a corner.
If you have a large, open space to fill, the sectional can make the space more inviting and cozy. Instead of filling it with tables and decorations, you can add cozy seating.
Jetime Outdoor Rattan Sofa Set Patio Furniture Wicker Garden Couch (…)
U-Max 7 Piece Patio Pe Rattan Wicker Sofa Set
Walsunny 7Pcs Patio Outdoor Furniture Sets
Do4U Patio Sofa 7-Piece Set Outdoor Furniture Sectional All-Weather Wicker (…)
Sectional Shapes
Sectionals come in a variety of shapes. The design you choose for your space will depend on the configuration of the seating. It'll also depend on the amount of floor space you have on your patio or backyard deck.
U-Shaped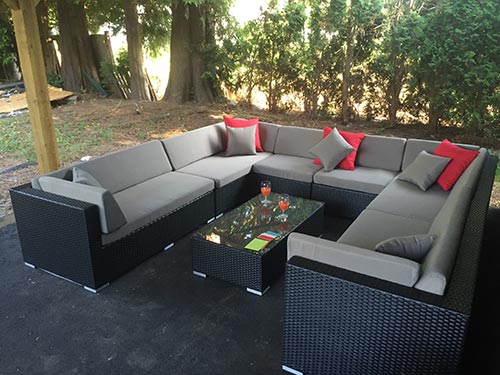 The u-shaped sectional is fantastic for spaces that are very large. The huge space should be made to feel cozy with the addition of the seating. It creates a comfortable, intimate space for conversations.
The end pieces with arms will face each other.
L-Shaped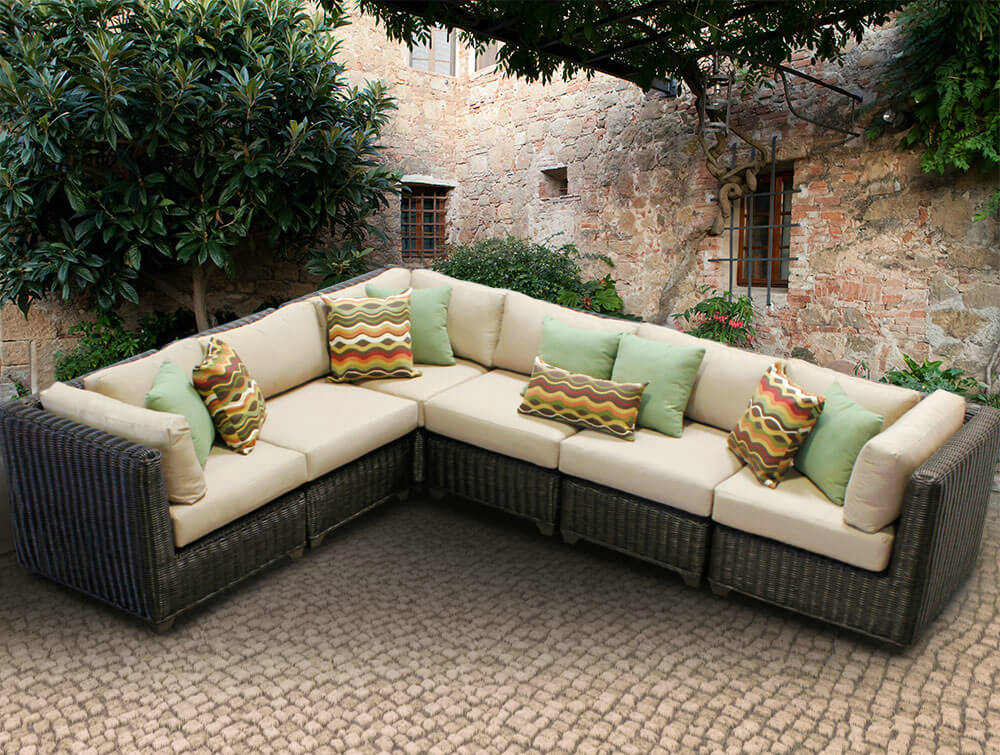 This sectional is one of the more versatile ones. The l-shaped sectional is exactly what it sounds like. It will seem as if two sofas were attached to make a right angle. It can be placed easily to fill a corner.
Curved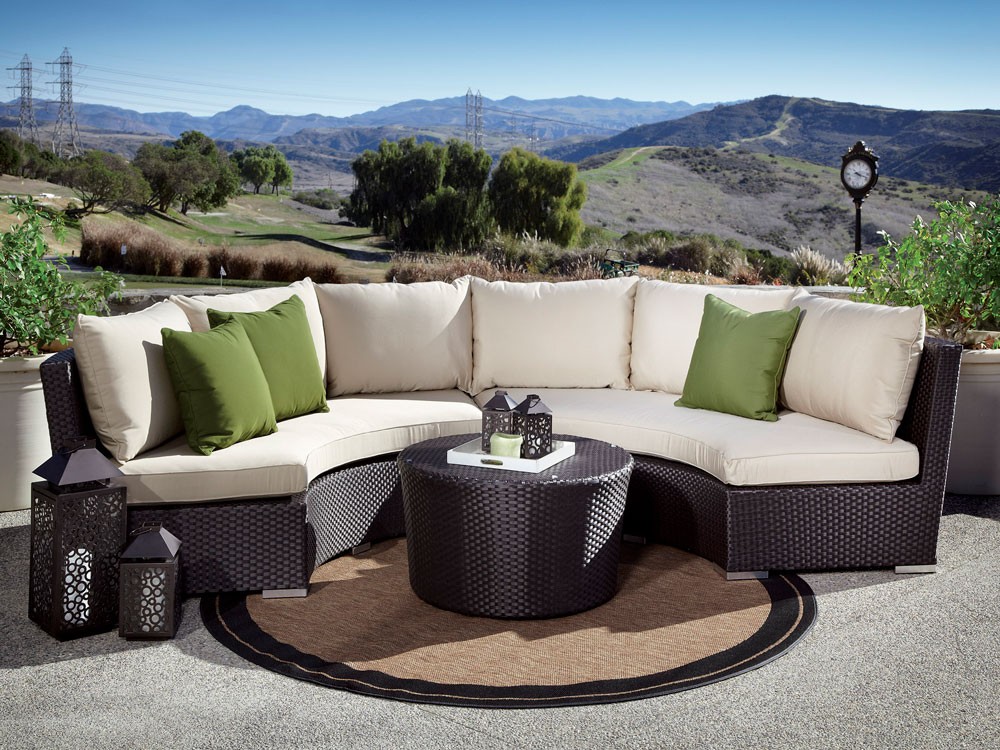 The curved sectional is usually in two pieces to form half of a circle. It won't sit flush against the wall, so that's something to consider when considering your sectional options.
Chaise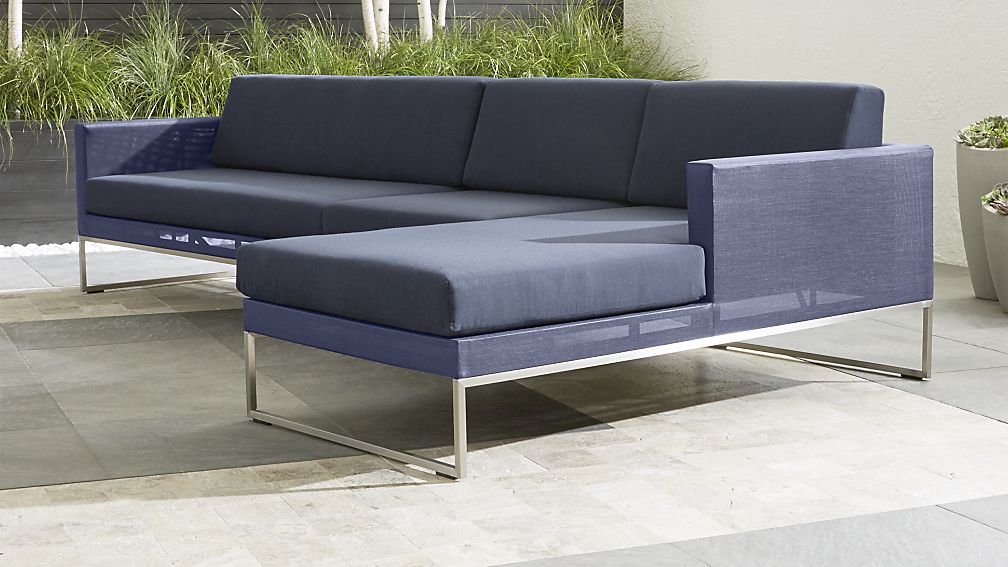 This is a sofa set with a seat that extends on one side to include an ottoman. It's meant for people to stretch out comfortably. The ottoman might be attached or not.
Sleeper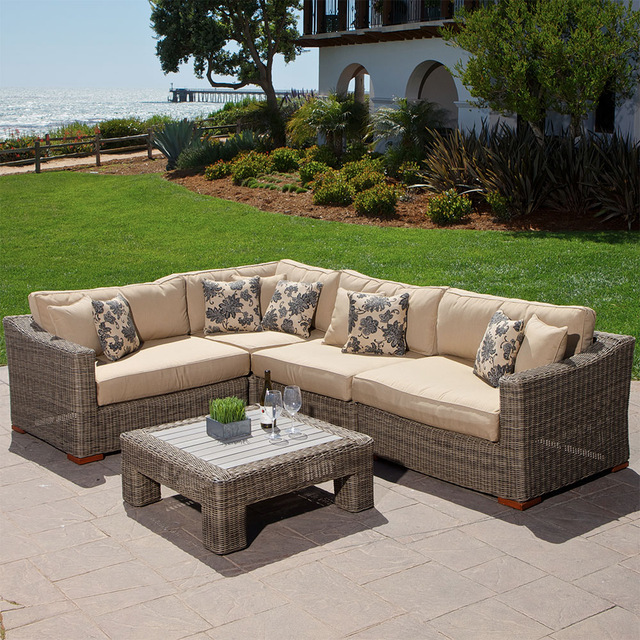 This type of sectional is great for indoor use. You might be surprised to think of this kind of sectional for outdoor use. It can be great for sleeping outdoors without laying on the ground in a sleeping bag.
Stationary Sectional or Modular
The sectional for your outdoor space might be stationary. That type of sectional can't be pulled apart and moved. You can't configure it in other styles and shapes.
The modular sectional can be moved around as needed. One or two pieces might be used in one section of the patio while the rest is in the corner. Modular pieces are good for awkward spaces that need unique seating arrangements.
What About the Arms?
Before purchasing your sectional, think about the arms. There are LAF and RAF. If you don't know what that means, it's incredibly lucky that you're here.
LAF means left-arm-facing. And RAF is right-arm-facing. LAF means that when you're facing the sectional, the arm is on the left. RAF means that the arm is on your right.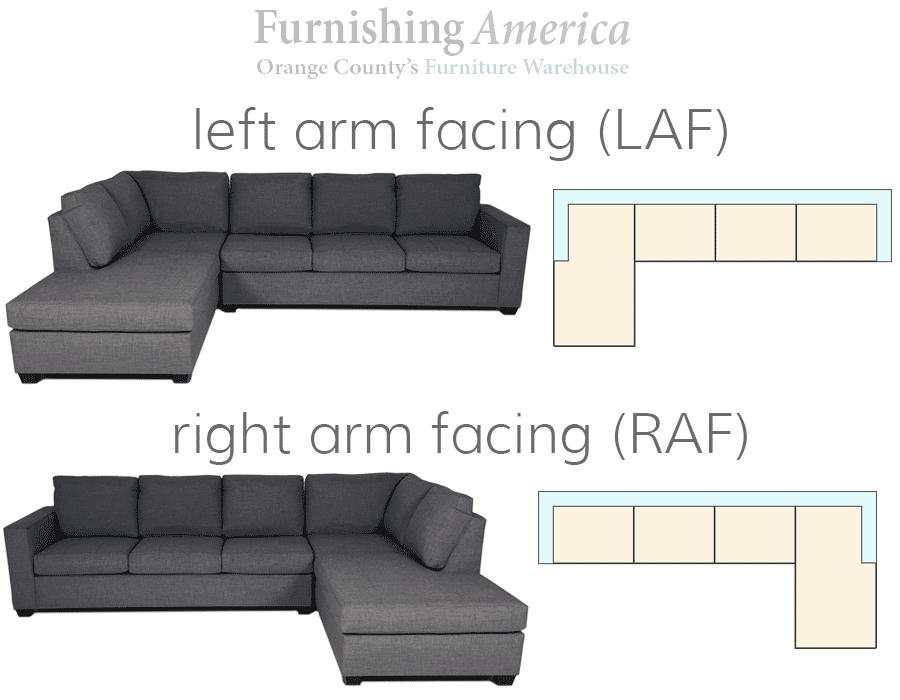 When you're joining a few pieces together, the placement of the arm matters. Consider how it will look in the space depending on the placement of the arm.
Floor Plan
That brings us to the floor plan. You should be thinking about how the pieces will fit into your space. This isn't the time for guessing, though.
If you're scrolling past sectionals without a floor plan or measurements, you could be in for a shock when you try to fit it into the space.
It's vital that you measure the space and draw a floor plan. It'll ensure that you can fit the sectional on your patio or deck without a problem.
Difference Between a Sectional and Patio Set
You might be wondering about the difference between a patio set and a sectional. A sectional is the seating that you and your guests will enjoy. It won't include tables, chairs, or décor.
Once you have your sectional set up outdoors, you can purchase the décor as well as the tables and chairs that you need. Some patio sets will include sectionals and the rest of the things needed for your patio.
The biggest difference is that you'll be able to buy a customized sectional easier when you purchase it separately from the rest of the patio set. It's easy to purchase pillows, umbrellas, extra chairs, or tables to match the sectional you choose.
If you're looking for patio sets, we have a review of some of the best patio sets that might be more fitting for what you need.
That brings us to some of our favorite sectionals for your outdoor living space.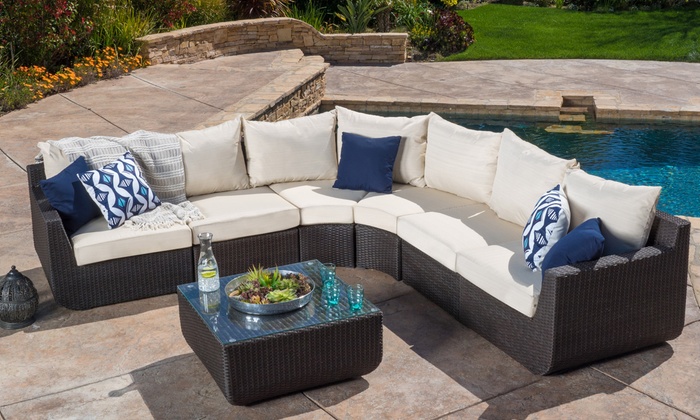 Prado Patio Sectional Sofa Set
This outdoor sectional sofa is a solid furniture set. It's made with quality materials like powder-coated iron for the frame. There's no worry that guests or family will collapse this furniture. It's solid and sturdy.
It's fantastic for outdoor use, too. The frame will never rust. That's because it's covered with a powder finish to protect it from the elements. It doesn't matter if there's snow with frigid temps or the sun is beating down on the iron.
Features:
Weather-resistant fabric
Iron frame with powder coating
Variety of pieces
Quality construction
The set has a left arm and a right arm piece along with two middle parts as well as a corner piece. Each piece has deep, thick cushions made with quality fabrics.
The sectional is meant to hold 6 adults easily. It could also hold a whole bunch of children. Your next outdoor movie night could include all your kid's friends, too.
---
Riviera Portofino Semicircular Sectional Sofa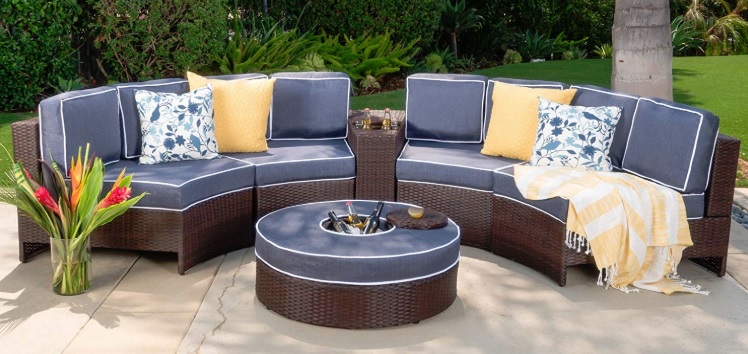 The design of this sectional is a bit different. It's a circular design that is quite lovely. It won't sit back against a wall, but it's perfect for spaces that need a bit of extra style.
Your guests will be delighted by the curve of this sectional as well as the extra pieces. There's a table for holding an umbrella. The umbrella is sold separately, so you can get one that fits your particular needs.
Features:
4 sections for seating
Umbrella holder table
Waterproof cushions
Aluminum frame
Includes ottoman
Each wedge of this sectional comes with a thick seat cushion and two back cushions. They're waterproof and durable. You could leave this furniture outdoors without it being ruined.
With the ottoman, you get to choose between a regular ottoman or one with a space for an ice bucket. It's an innovative feature that screams party and relaxing.
---

Sheridan Outdoor Wicker Sectional
This is an L-shape sectional with many pieces that can be joined together in a variety of ways. The sectional comes with seat and back cushions in a quality fabric that is resistant to all weather conditions.
The cushion covers have a zipper, so you can clean them as needed. That is vital for outdoor furniture. It's also great for parties where guests might spill food or drinks. You won't have to hover over your guests with a cloth to clean messes.
Features:
Quality outdoor materials
Water-resistant cushions
Powder-coated iron frame
Sectional and chairs
The sectional has numerous pieces that can host your entire family. There are also two separate chairs with this set. If you need a ton of furniture, this is the sectional you'll want to purchase.
---

Suncrown Outdoor Furniture Sectional Sofa and Chair
The sectional has three sections. It has two arms on the end pieces, and a relaxing chaise section the can be switched between the right and left side depending on your yard.
It also comes with a separate chair as well as a coffee table. This wouldn't be considered a complete patio set, but the sectional, chair, and chaise will give you plenty of seating. You can easily add décor and extra pillows to complete the set.
Features:
Velcro seat cushions
Waterproof cushions
Seat clips
Cover for the furniture
Extra tools for assembly
There are thoughtful design elements in this sectional and chair. The cushions come with Velcro bits that will keep the cushions from sliding. There's nothing more annoying than to be relaxing and have the cushions shift under you.
---
Conclusion
The sectional you pick for your backyard should fit in the space. You can purchase modular pieces that can be moved as you need. A sectional provides a ton of seating for all your guests for your next gathering.
When you purchase a sectional, you can easily integrate it into the outdoor décor you already have in place, too. All it takes is a few extra colorful pillows to really make your outdoor area into a true outdoor living space.