This is an all-weather brown checkered wicker set with brown seat cushions, and modern glass coffee table.
It is good for the patio, backyard, and poolside, and will bring the look and luxury of a resort right to your own backyard.
Suncrown Outdoor Patio Furniture Sectional Sofa & Chair (6-Piece Set) All-Weather Brown Checkered Wicker With

Suncrown Outdoor Furniture Sectional Sofa (4-Piece Set) All-Weather Brown Checkered Wicker W/Washable Seat Cushions & Glass Coffee Table | Patio, Backyard, Pool

Suncrown Outdoor Furniture Sectional Sofa Set (7-Piece Set) All-Weather Brown Wicker With

You'll be on your way to hosting the hottest backyard parties, or become the most sought after yard for relaxing with a couple of friends and good conversation.
No matter your backyard needs, this set is sure to bring style and comfort with high quality construction and easy to manage sectional set.
This comfortable sofa set is basically an outdoor living room, giving you all the comfort you'll need while enjoying the fresh warm air of summer.
This contemporary outdoor sectional sofa comes with enough room to seat four to six friends comfortably, as well as providing a table to hold food and drinks.
You can add one section to the end of the sofa that will create a lounge chair, for the days you want to kick back with a good book or get your tan on.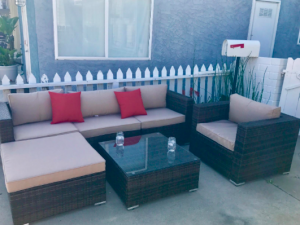 Some of its stellar features include:
Velcro seat cushions. Velcro on the underside of the seat cushions secure the seat to the frame, in order to keep your cushions from sliding. Even the cushions that tie to the frame keep moving around; these securely attach to the frame so you can lounge in comfort and relaxation
Elegant glass tabletop. The checkered wicker sectional sofa set features a table with gorgeous tempered glass top, one that will perfectly highlight your patio or poolside décor. Glass is easy to clean and provides a solid, stable surface for setting down food and drinks. It sits atop the table with the use of four suction cups.
Waterproof cover and seat clips. When you are not using your patio set, you can cover the furniture with the included waterproof cover to keep your chairs and table dry. Nothing worse than trying to use your patio furniture after the rain, but having to wait for the cushions to dry. Not this one! Simply remove the cover and enjoy immediately. Additionally, 6 seat clips are included. They are for the underside of the sofa pieces to keep everything from sliding apart.
Complimentary socket wrench. The purchase of this patio set includes all necessary hardware, instructions, and a complimentary socket wrench for quick assembly. Please note it will only take 45 minutes to one hour to complete assembly.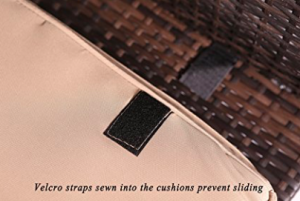 When it comes to enjoying the outdoors, this is the ideal set for feeling relaxed and comfortable while having lunch, reading a book or catching a nap.
This unforgettably gorgeous set includes a wicker sectional sofa, chairs and coffee table that together, create the perfect area for enjoying cocktails or watching the sunset with friends.
It is made from high-quality resin wicker, for an all-weather resistance. This assures you never have to worry about rain or cold climates.
The inclusion of seat clamps is very helpful in keeping each piece from sliding apart while in use. Especially after a couple of cocktails, this feature will have your back every time!
The cushions are ultra plus and do not collapse after use. They resist water and are easy to clean between uses, as the covers zip right off and are machine washable. The waterproof cover fits the whole set perfectly and the clips are very easy to use.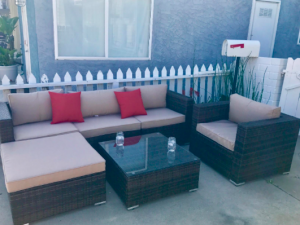 This is a tough and durable backyard set that is comfortable for the user and beautiful for the patio aesthetic. It is easy to clean and maneuver since it is sectional.
The top-quality weather-resistant resin in built to last, with a sleek finish. You cannot feel the wicker under the cushions as they are very thick and comfortable.
You will receive many compliments on this wondrous patio set, especially as it is customizable into different shapes and secures with provided clips.
You can keep changing your mind on the layout without experience buyer's remorse. Perfect! It is a great set of high quality, at an unbelievable price. You will feel like you have a resort right there in your own backyard!
Some assembly is required, as mentioned, but instructions are included.
If for some reason you have issues following the included manual you can contact the company and they will send you a detailed email with instructions.
This has helped some customers. You will need another person to help put the set together.
Suncrown Outdoor Furniture All-Weather Square Wicker Dining Table And Chairs (5-Piece Set) Washable Cushions | Patio, Backyard, Porch, Garden, Poolside

Suncrown Outdoor Furniture All Weather Brown Checkered Wicker Chairs (2) | Additional Seats 7-Piece Sets

Suncrown Outdoor Patio Round Daybed With Retractable Canopy | Brown Wicker Furniture Clamshell Sectional Seating W/Table

Its dimensions are as follows:
Sofa – 89" wide, 25" tall, and 29.5" deep
Removable lounge section – 30" wide, 16" tall, makes sofa 59" deep
Loveseat – 25" tall, 29" deep
Coffee table – 29" wide by 13" tall
This set sells for around $800.
Related posts: