Last Updated on
When choosing a patio set for your backyard, it always comes down to your own personal taste, of course.  Its your backyard, and who better than you to decide what would look best?  
Your surroundings are going to play a major role in your decision, as is the overall color scheme of your yard, and, of course, the size of the space that you have to work with.  
Functionally speaking, purchasing something which can withstand different weather conditions will be a major consideration, and you can't do wrong with a patio set that is known to be durable and has a timeless fashionable appeal.
This patio set can be assembled in an hour and a half. The white cushions are removable, making the set easy to clean, and gives the option to replace cushions with different colours.
It is extremely sturdy and comfortable and fits perfectly into a small area. The black steel frame is sleek and elegant. Holds up well over time, thanks in part to the rattan, which always trumps wicker in terms of quality and durability, although the look is the same.  
This patio set is fully weatherproof, and is so low maintenance you can leave it out year-round. The glass tabletop suctions to its frame, so you don't have to worry about it sliding around. 
Simply remove the cushions and wipe down the black rattan to clean. Perfect for a smaller space.  
Unlike natural rattan, this synthetic weave made from polypropylene will not splinter or become brittle. The four-piece set is luxurious, durable, and 100% weatherproof.
Set in warm coffee tones, the open weave furniture is designed ergonomically for ultimate comfort with wide armrests and reclining back.  
Have your own personal backyard lounge with this dream set! All cushions and woven resin are 100% rustproof, and will resist UV rays and staining.
Deep seats allow for maximum relaxation. The table comes with smoky tempered glass and a shelf for additional storage. Along with beautiful cilantro cushioning and hand woven rattan, this is a truly lovely summery patio set! Sells for around $1300.
Have your own personal VIP lounge right in your backyard!
This sectional sofa set boasts an ultra-sleek, modern design that enables guests to sit around the table together.
Table comes with tempered glass.
Furniture is customizable as the corner sections are removable.
Set sells for around $600.

This avocado-green and brown set will add a fun pop of colour to your patio, while blending in with the natural scenery. Features a sophisticated, deep-seat design for a group of five.
You and your guests will be reclining in style and luxury! Cushions are UV-resistant and ultra-comfortable, while the steel frame is durable and weatherproof.
Sleek black frame with cream-coloured cushions. The couch comes in six pieces and can be separated into individual chairs or put altogether in one piece, making it easy to fit your patio needs.
This set is very user-friendly. The frame is welded and comes assembled.
This sectional patio set boasts luxurious, wide chairs that can stand as one sofa or be used as individual chairs.  For this model, the frame is a neutral grey, while cushions are beige.  
It does come in a selection of other colors as well.  Its modern, slim design will bring instant sophistication to your yard.
Bring the fancy lounge to your backyard with this sleek and slim sectional patio set! Its 10 pieces work great spread out across the yard or altogether in one entertainment area.
Its aluminum frame is lightweight, making it easy to move around. Comes assembled. Woven with durable wicker. Sells for around $2500.
Read our review of the Urban Finishing 10-Piece Patio Sectional Sofa Set
---
Mosaic Outdoor 6-Piece Folding Patio Dining Furniture Set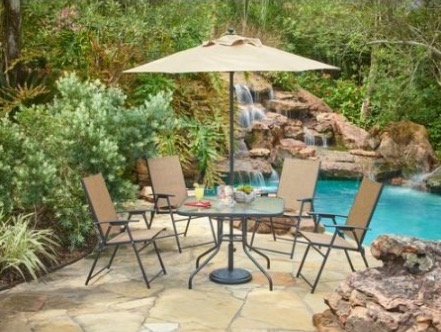 Includes four chairs, table, and umbrella

Dimensions (LxDxH): table 36.5″x36.5″x27.5″; chairs 22.75″x25.5″x36.5″; umbrella 82.7″x78″

High-backed chairs for comfortable reclining

Tempered glass tabletop for durability

Suitable for families or light entertaining
A good and simple patio set that includes a dining table, chairs, and an umbrella from Mosaic.
Not only is this set easy to set up, it takes up little space and chairs can be compacted for seasonal storage.
The frame is made of steel and powder-coated. Sells for around $200.
Read our review of the Mosaic 6 Piece Patio Set
---
Once you've picked out the set of your fancy, you should take a look at some considerations for arranging your perfect patio. As well, if you are on the lookout for ideas on how to adorn and decorate your patio, we have some backyard decor ideas that will really liven things up.