There's hanging out in the backyard, and then there's lounging like a celebrity in style.
You can go ahead and set up some iron mesh chairs and watch your guests squirm around in discomfort, or you can set yourself up with a Muskoka chair and a little side table and curse yourself every time you try to stand up because getting out of a Muskoka chair is the least comfortable thing in the world.
Alternatively, you can get yourself a patio set that is comfortable, chic, and will hold up to weather conditions for years and years.
Ohana 7-Piece Wicker Patio Set – Features
The Ohana seven-piece wicker patio set is a fine example of the comfort and beauty you can bring to your backyard party experience. The cushions are sloped and measure 22" for optimal comfort, while keeping it easy enough to stand up, thus preventing damage to your back.
You and guests will be able to sit back and relax against the unique sloping design with full back support. The set includes four armless chairs, two corner chairs, as well as a coffee table with slick glass top. The cushion fabric is a nice and neutral taupe, while the wicker frame is a deep coffee tone.
The colour combination is a timeless pairing that, due to its natural tones, will match well with any existing décor or landscape. The cushion covers are weather resistant, and zip open for easy removal and cleaning. Gotta love that Sunbrella fabric for being so reliable.
In addition to the wicker and Sunbrella fabric, there are stainless steel accents around the frame of the furniture to enhance and highlight the modern lines, while adding glamorous flickers of light. The rust-free aluminum frame and top-quality resin wicker are built to withstand the elements.
Dimensions And No Assembly Required
The coffee table and chairs measure 28" tall. The two corner chairs measure 32" x 32", while the armless chairs measure 26.5" by 32". This makes for very roomy and comfortable seating.
The coffee table measures 31.5" x 19.7", and stands 16.5" tall. The furniture is framed by sleek, straight lines, combining contemporary fashionable design with functional ability.
Even better – there are hidden Velcro straps to hold the cushions together.
One great feature of this set is that no assembly is required. When you order the set, you'll simply remove them from the boxes and set up as you choose.
Most people set up two armless chairs flanked by the corner chairs, but this is entirely customizable depending up the amount of space you have, or your personal preference for aesthetic.
It might be fun to space out each individual chair in a circle around the table, so every person can get up freely and move about. Of course, the fun part of sectional furniture is changing it up every now and then. Try a new look for every party!
The cushions do not absorb rain; instead, they wick the water away and dry quickly. They are super comfortable and are very easy to clean by wiping down with a damp cloth (to remove rain spots, for example).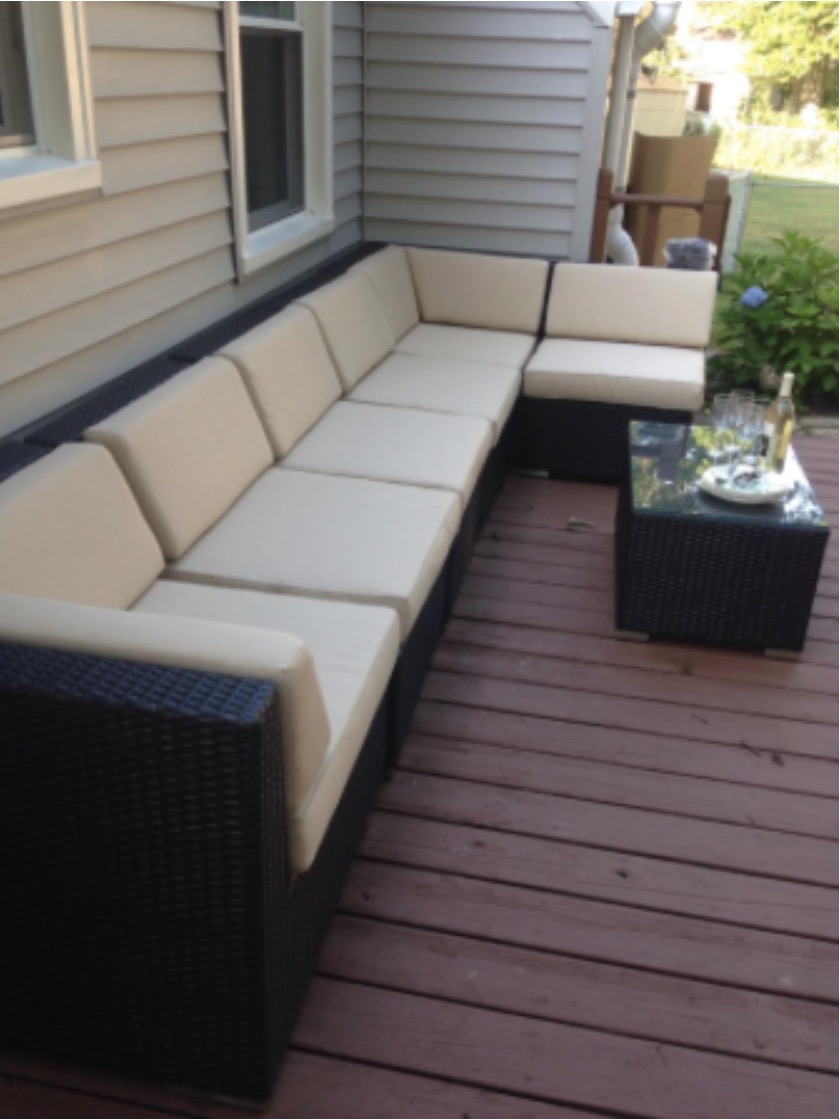 Want For Nothing
The patio set comes with a free cover, and a set of seat clips to hold the chairs together once you've decided on your layout.
The seven-piece wicker patio set by Ohana sells for around $1600 and doesn't require any assembly. The welded frames are solid and durable, providing structural integrity that other sets can sometimes lack when they are sectionals. The seamless construction makes for a very visually pleasing finish.
The weight limit of each piece is 300 pounds, and with the luxuriously wide seat cushions, this set should comfortably sit just about anybody! The individual pieces are fairly lightweight so unpacking and moving them is fairly easy. They will be wrapped with protective coverings and Styrofoam to prevent damage.
As mentioned, it comes with a free winter cover so you don't have to worry about moving the entire set indoors over the winter. This is a great deal for such quality furniture.
You will notice water beading on the cushions but not soaking in. if you live in an area that experiences heavy thunderstorms on the regular, like Florida for example, we recommend leaving the cover on when not in use, just to help prolong the life of your furniture. It is top quality stuff, but nothing is invincible!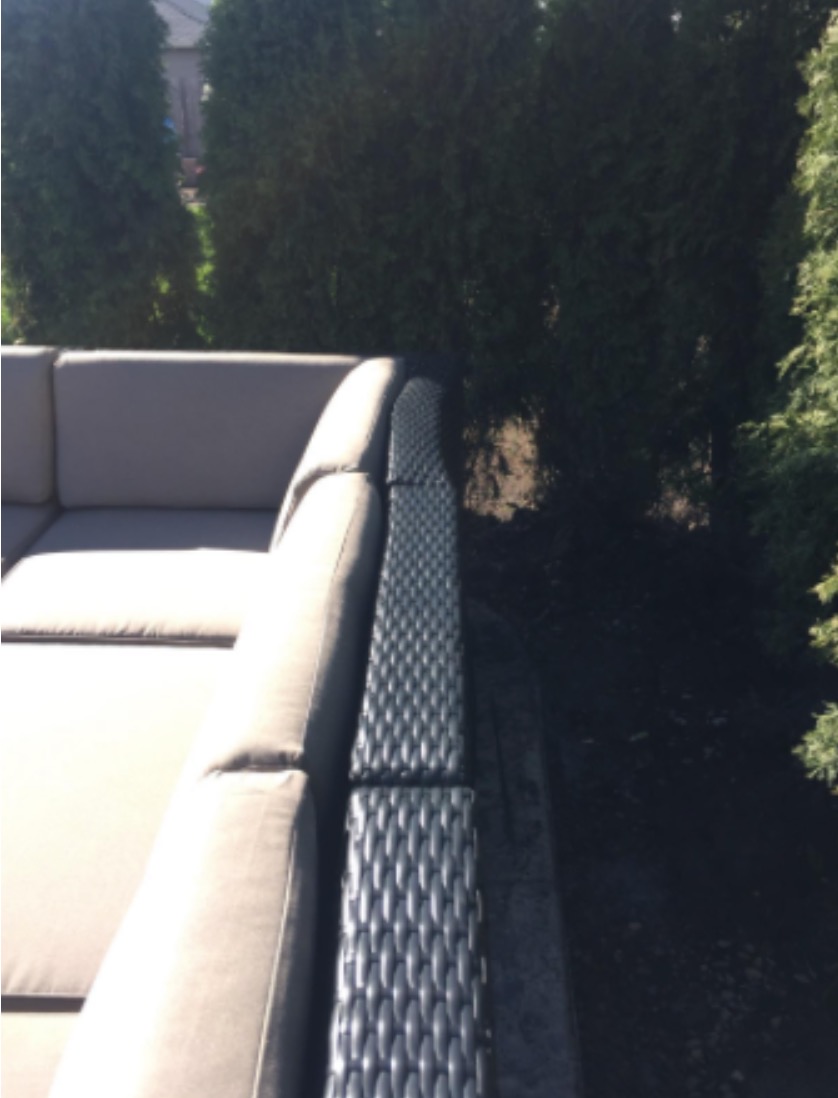 Conclusion
Ohana is not only known for its quality furniture, but also its excellent customer service. The polyurethane wicker has proven to stand up to weather conditions over time, as it is much stronger than a natural wicker weave.
No splintering, no drying out, no breaking. It will maintain its shape, and a powder-coated aluminum frame means it won't rust.
This sectional set is a favourite for its reasonable price, top quality construction, and ultimate comfort making for the ideal patio furniture for backyard parties, casual lounging, and afternoon naps.
Related posts: