Spring is around the corner, which means it's time to get your patio into tip top shape. Fortunately, there are ways to do so with very little and without breaking the bank.
Follow these rules when designing your patio setup and save yourself bags of time! For this time around, we will focus on creating the best sense of place in your patio. This means working with the space and the arrangement of the furniture within it to create the best dynamic and get the most use out of it for yourself as well as your guests. If you happen to be looking for something more on the decor side of things, you should take a gander at our article on backyard decor ideas that will really liven things up. Nevertheless, decor and sense of place always work hand in hand, so reading up on both is not at all a bad idea.

So if you don't have the budget to install a bunch of new trees, a sunken set up, or even a pool, don't worry about a thing! Read on for a few easy yet creative ways to reinvigorate your backyard.
Top Patio Furniture Arrangement Ideas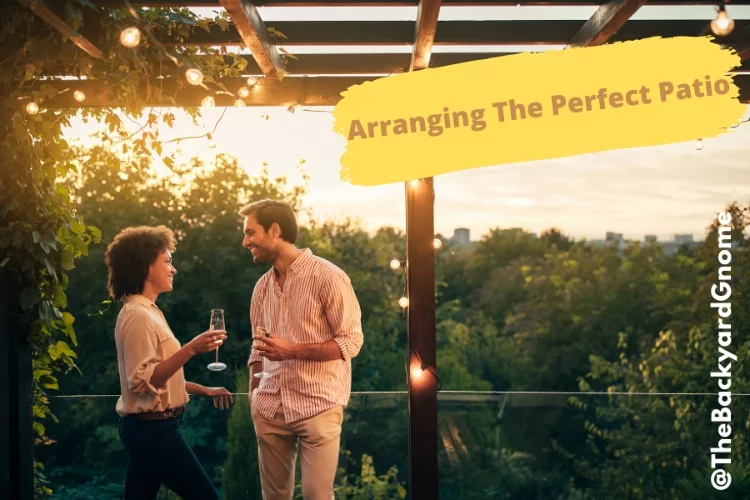 Pop-up Patio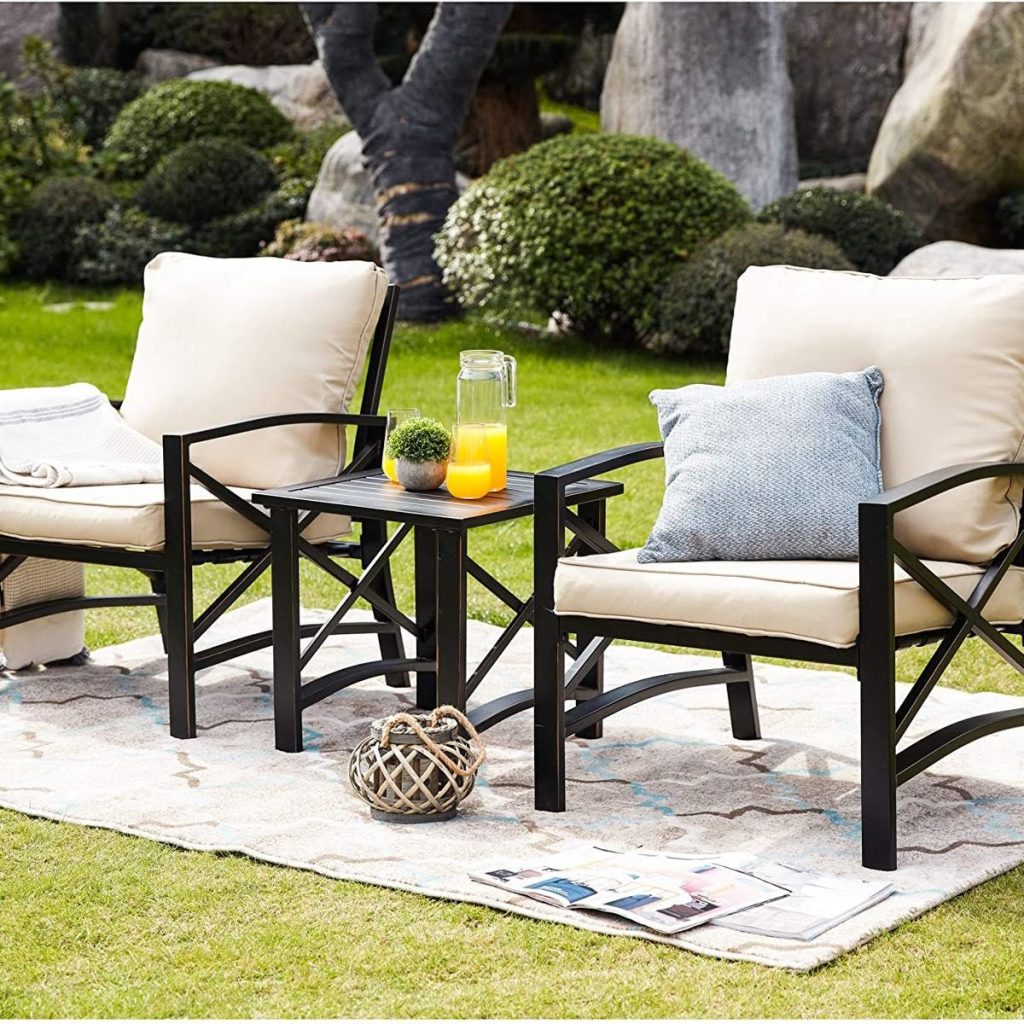 Have you ever considered putting together a 'pop up' patio?! Essentially, it's a temporary set up with the power to enhance your backyard in months you probably frequent it the most. It's as simple as a rug, chat set, and whatever decor is to your taste.
Whether you want to appeal to the minimalist within you, or go for something a bit more bold, when it comes to its design, you have full reign. You can alter the look however often you like and set it up wherever you feel best. Whether you want it centre-stage or in the corner, if you select items that are lightweight enough to move around, your backyard is your oyster!
If you opt to complete the look with a rug, do ensure it's thick enough to support the weight of the chairs and their potential occupants. Otherwise, you run the risk of not just rug damage, but a suboptimal aesthetic too.
Finally, it's best to position the pop-up on even ground, and if it's on grass, be sure to mow it down to keep the look as manageable as can be.
Easy peasy!
Fire Pit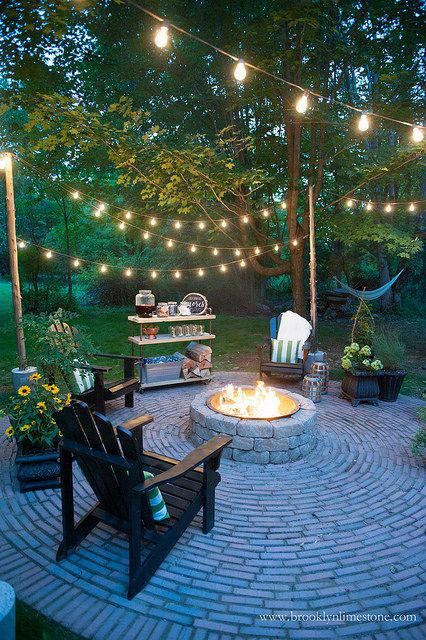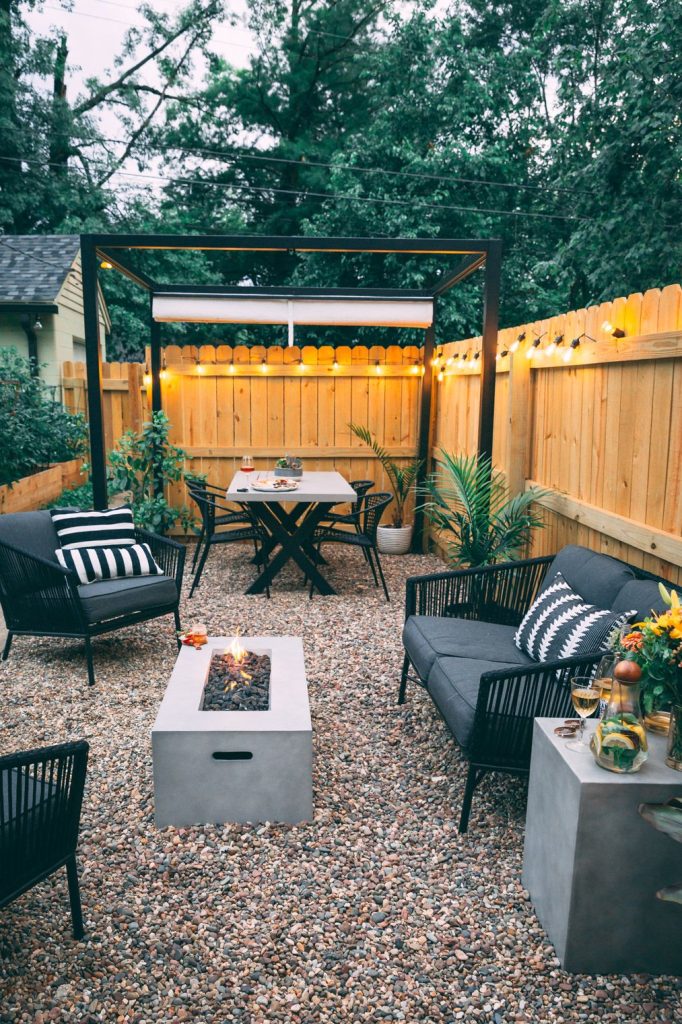 There's nothing quite like gathering around a fire pit on a cool summer's evening with your loved ones.
Fire pits come in all sorts of shapes and sizes, hence make an excellent addition to any back yard. Whether you're seeking a rustic or modern look, or a gas or wood fuelled pit, you can pretty much guarantee there's one out there that will suit your space, your aesthetic preference, and importantly, your budget.
The above images serve as a little inspiration around what the market has to offer. In both of these, we love the use of hanging lights to enhance the warmth of the environment.
Curtains
I know what you're thinking. Curtains? Outside?
Believe it or not, be it around the perimeter of your patio or on your pergola, when draped well, curtains can be the perfect way to transform your patio into a tranquil haven.
The bonus? They keep you nice and shaded. To ensure their utmost pragmatism and durability, we recommend investing in the weather and UV resistant variety.
Plant Decor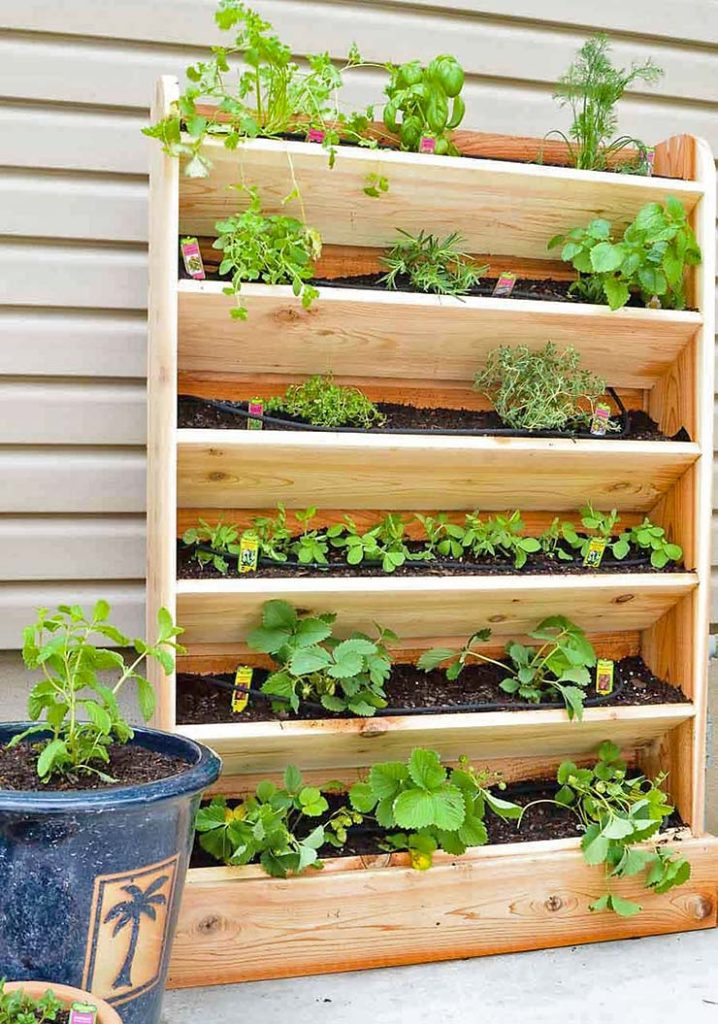 From plant boxes to hanging baskets, there are several ways to style your foliage and add extra dimensions to your patios. If your priority is to save space, a vertical vegetable garden could be perfect for you. It looks great, and the concept of growing your own fruit and vegetables, from melons to squash, is both sustainable as well as personally fulfilling!
Do remember that your plants may have different needs, and accommodate for this accordingly. For instance, root vegetables require much deeper trays than those with shallower root systems.
Swing Seating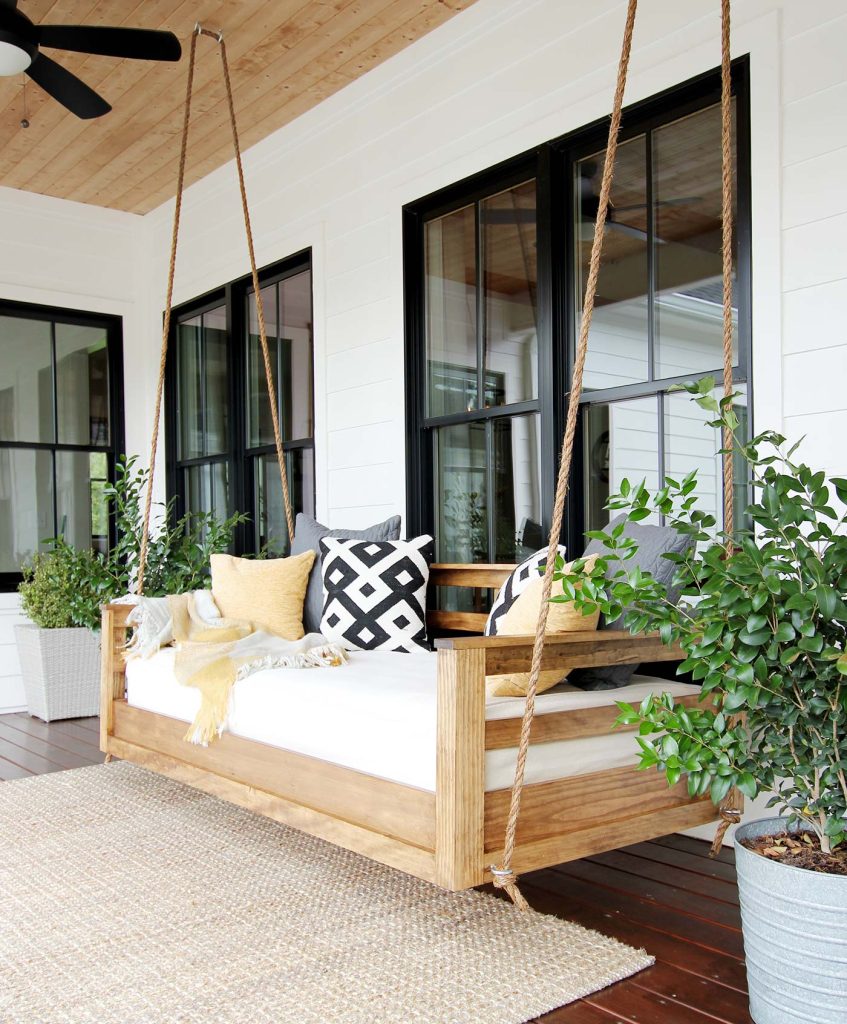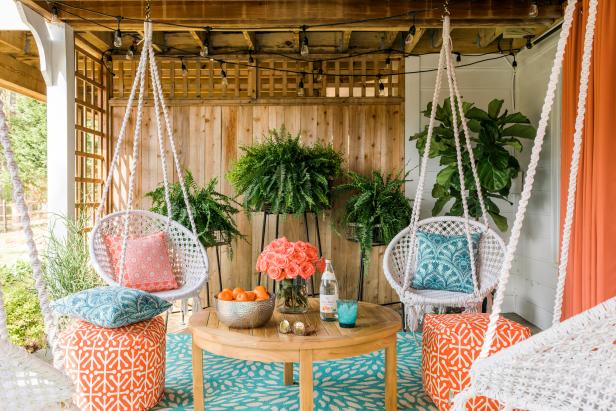 Is there anything more relaxing than dozing off on a good ol' porch swing?
And they're not just reserved for porches. As depicted in the above images, swing sofas can be set up anywhere in your backyard. Depending on how much space you have, you could opt for a one or two seater, or something even larger.
Alongside paying an ode to the inner child within you, they look great too! Get creative and adorn it with cushions that best suit your taste and personality. So that it can stand the test of time, you'll want to be sure to purchase a heavy duty swing and weather resistant cushions.
Indoor-Outdoor Bar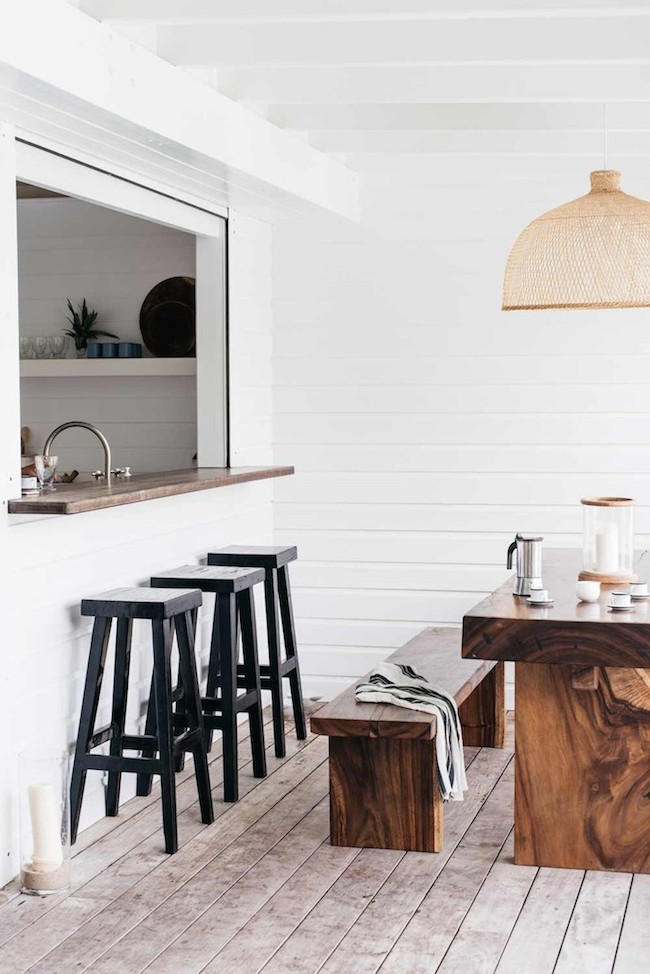 Indoor-outdoor bars are a unique concept, and best suit those who love the outdoors, but equally appreciate all things home comfort and design.
As picture above, they work by connecting the inside of your home with the outdoors, enabling you to prepare food and drinks inside without shutting yourself off. It's the ultimate open-plan arrangement, and one that is sure to impress your guests!
Hanging Hammock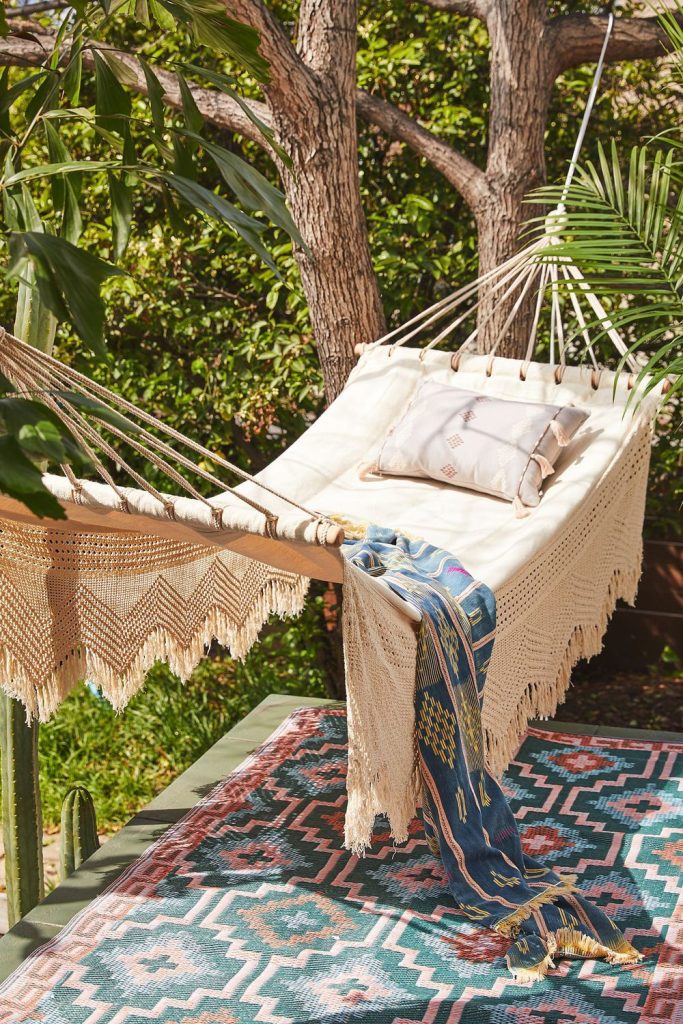 You can't not love a hammock. They're a classic addition to any backyard, available in a countless number of designs, and conveniently, can be hung in a multitude of ways that well-utilise the existing nature, e.g. between two trees.
After a long hard week at work, there's nothing like hanging out, quite literally. Disclaimer: you'll probably fall asleep!
Gravel Detailing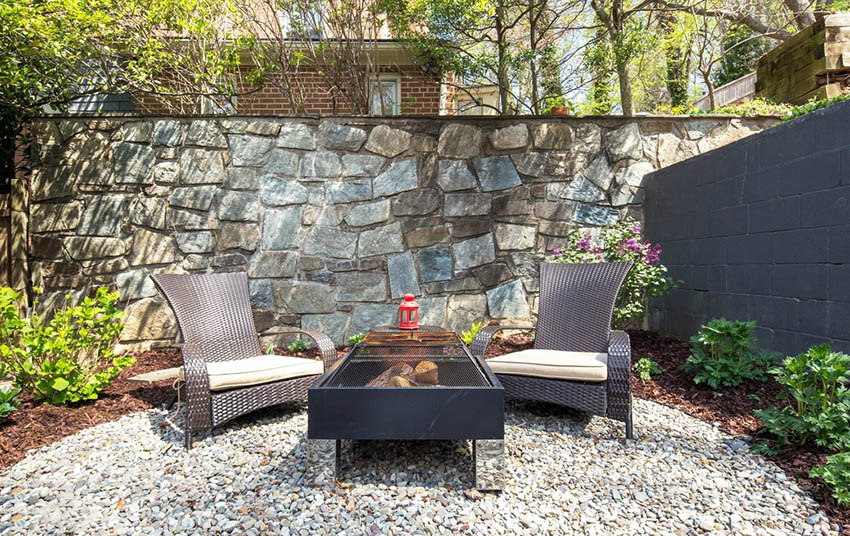 Gravel offers a surprisingly nifty way to spruce up your patio! It's economical, and can be laid pretty much anywhere to enhance your backyard's overall aesthetic whilst retaining it's natural feel.
You could dig out and adorn your entire patio area in it, or use it as embellishment around your florals and shrubs. Whichever route you chose, it's an easy DIY job and requires nominal ongoing maintenance; a no-brainer!
Outdoor Shower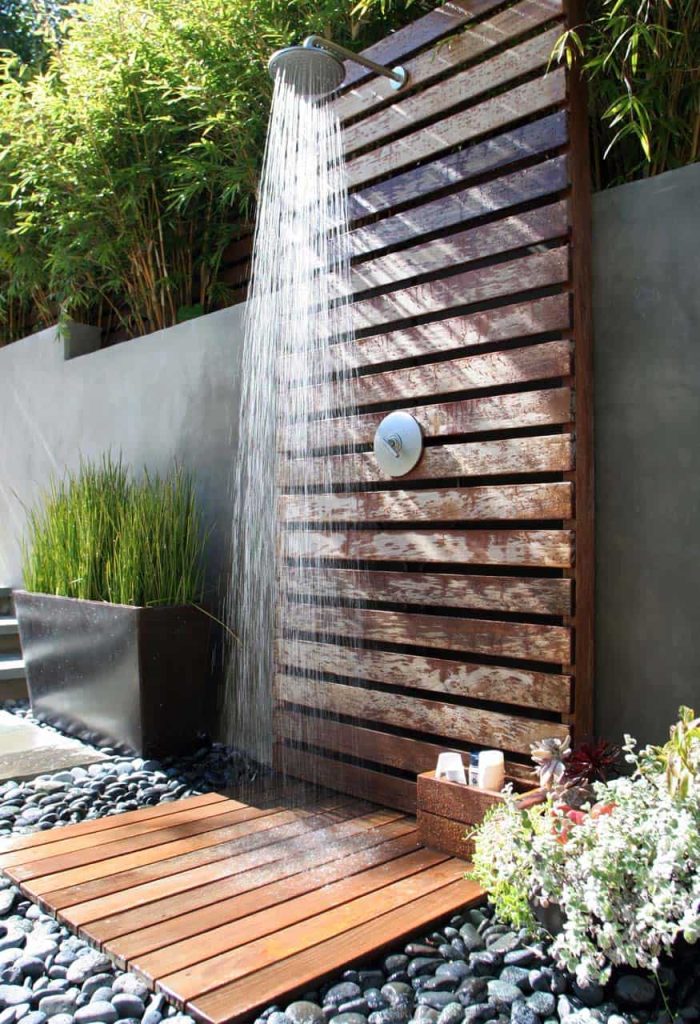 Outdoor showers range in budget and type; from the wall-mounted, to the standalone and portable. However, one thing remains true - when made and installed well, they offer a sense of both zen and luxury.
Whilst they're perfect for those with outdoor pools, they're surprising multipurpose too. So whether you want to cool down on a sweltering Summer's day, or clean your kids, canines, or gardening tools after a day spent well outdoors, you could very well benefit. Just don't forget to install appropriate drainage!
Outdoor Pool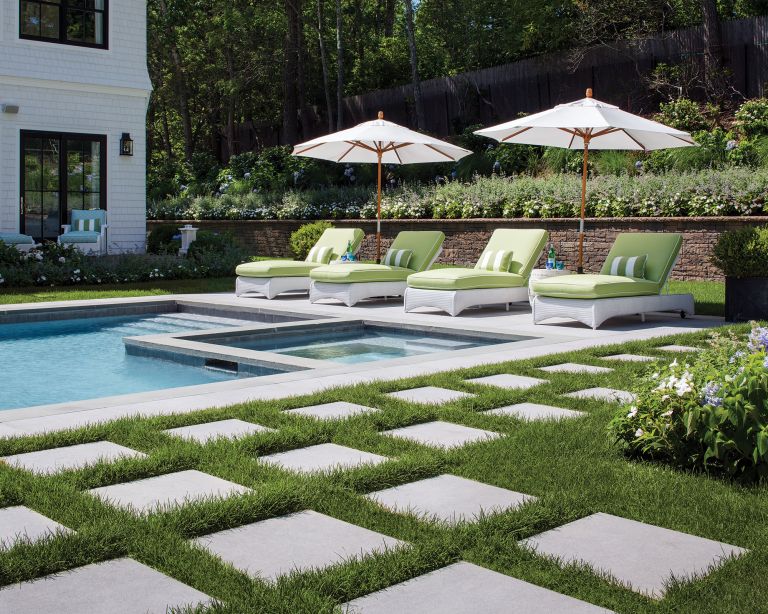 A swimming pool in your backyard doesn't have to be a dream. The concept especially suits homes located in warmer climates, as well as those with children, entertainment needs, or avid swimmers in their household.
It's a true luxury, and one that many are willing to fork out for. Doing so can be worth it, for the above reasons, as well as it's positive effect on the houses' resale value. But whether you choose to install a cocktail, lap, or plunge pool, be warned! Installing and the ongoing maintenance of pools can be considerably costly. So do your research first to avoid getting into a tricky financial commitment.
Pergola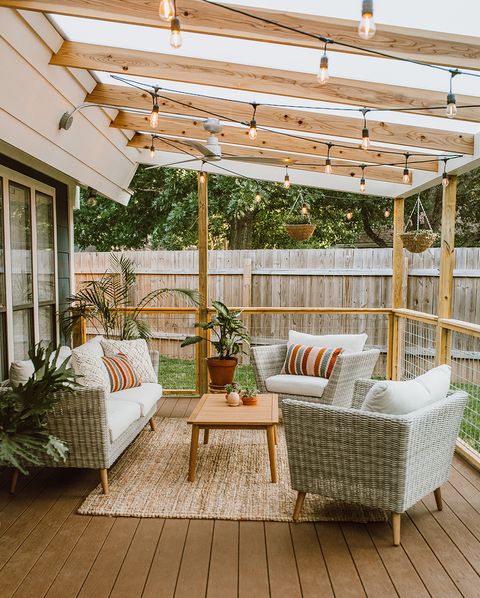 Installing a pergola or decorating an existing one has the potential to significantly elevate the look of your patio, and bring about as homely a feel as one can evoke outdoors. Sought after features include draped curtains, space heaters, water-resistant lighting and sound systems, and even roll-down windows between the pergola and the indoors.
They offer a tropical feel, so much so that you're bound to feel as though you're on vacation. The perfect set up to melt away the stress of the preceding work week.
Outdoor Play Area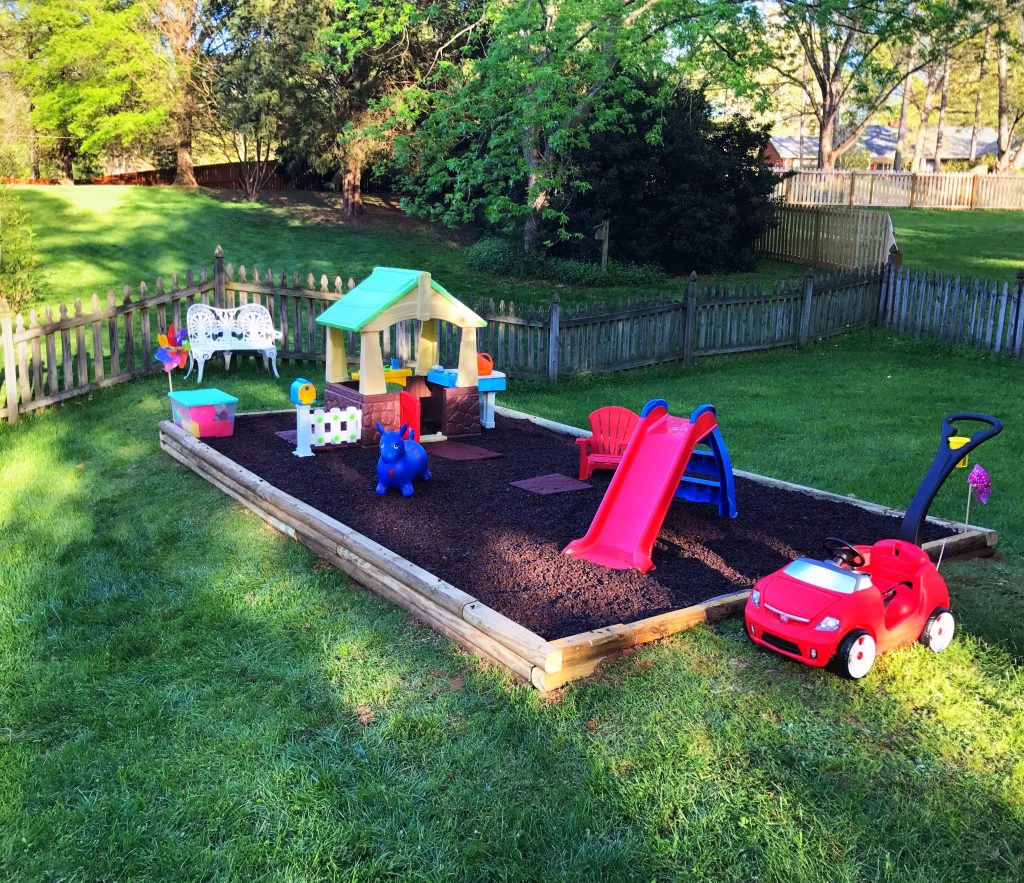 If you have little ones in your life, setting up their very own play area could be a great use of your outdoors space. From treehouses to sandpits and free-standing slides, the options are endless.
Of course, the more sensory-like, the better for their blossoming brains! And the inclusion of trampolines, balls, scooters and bikes will ensure they're staying physically active, and enjoying their time spent doing so.
Lighting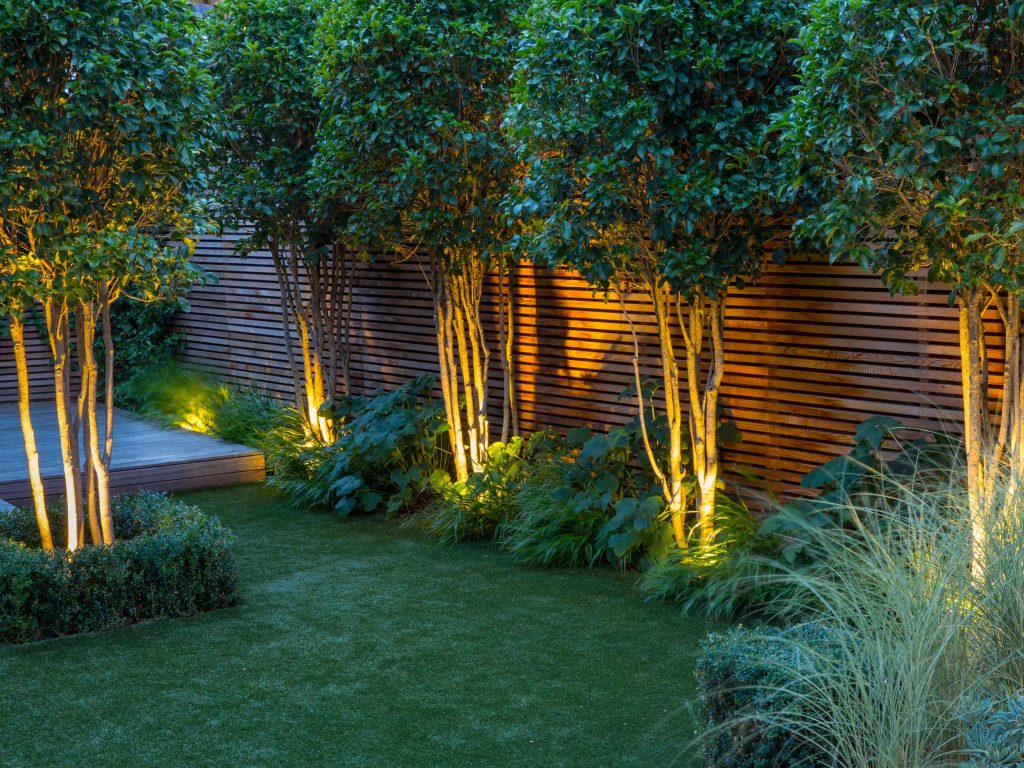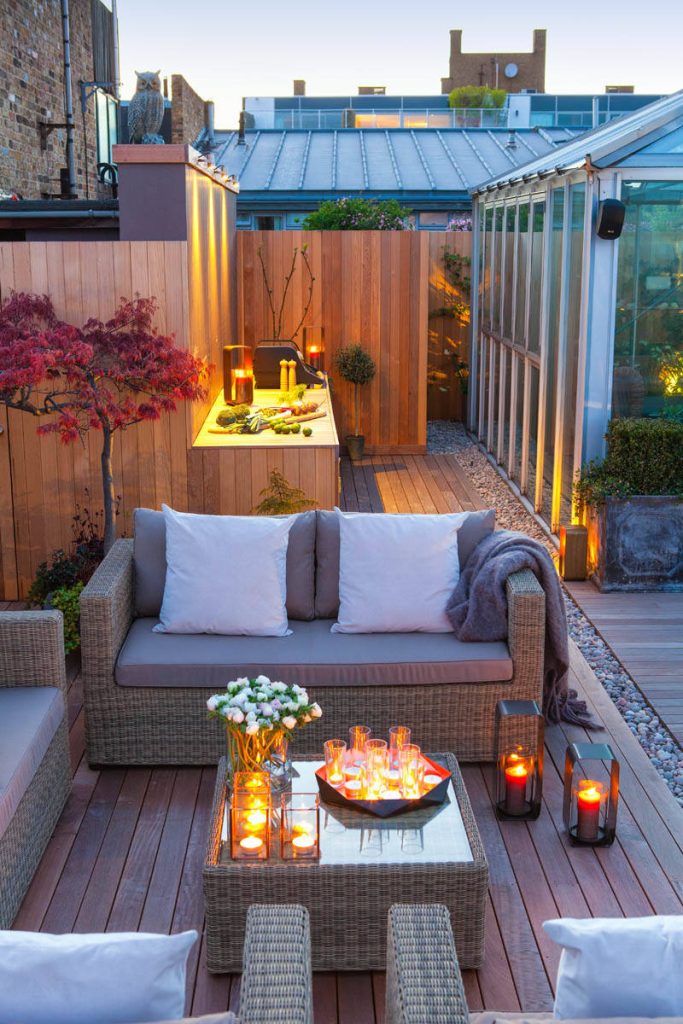 We love outdoor lights. From lampposts to spotlights, when scattered amongst the edges of the garden, usually near trees, they draw the eye away from the usual seating area and towards the surrounding nature.
For smaller spaces or less permanent needs, lanterns are an effective solution. They provide atmospheric light and as with regular lighting systems, tend to offer both battery and solar powered versions. Great looks and convenience.
If you're aiming to enhance your patio, worry not - there are options in abundance. We hope you found the above ideas useful.
Have your implemented any creative concepts in your backyard? We'd love to read all about them in the below comment box!
Arranging The Perfect Patio
Purpose
The word "patio" is Spanish for backyard garden and serves to extend the living space. It will contain furniture and flooring - usually tile, stone, or paved - as a middle ground between house and yard. However, if you have a large lot, you may wish to build your patio away from the noise of the house and street. What do you want your patio to do for you? Will you be cooking out there? Hosting parties? Spending the mornings reading? Patios can connect to the house, be freestanding, tiered, next to a pool, or on a rooftop. The location of the patio will determine its size.
Center of Attention
Once you've decided the purpose and location, draw up a floor plan. Begin by choosing an anchor point, where the eyes will fall as you first enter the room. It may be a fireplace, a window, or detail in the architecture that you want to show off. All other furniture and embellishments should complement and branch off from here. The focal point could also be the center of the room: e.g., the table. Slip an outdoor rug beneath the table for extra pizazz. If you are working with a large space, consider more than one focal point.
Furniture Arrangement
First, you must get the dimensions of the patio in order to find suitable furniture. Then you must decide what kind of furniture you want for your patio. Is there a theme? For example, you may want to set up lounge chairs under large trees for a vacation feel.
Individual chairs allow people to choose their own spot, while sofas encourage people to sit together. It's best to find a balance of chairs and sofa to allow for stretching and relaxation, and to encourage guests to join the focal area. Will the furniture face inward, or toward the sunset?
Remember that all furniture should complement the focal point, without blocking your view of it. Your longest piece of furniture - like a couch - should go along the outside of your arrangement. Keeping furniture along the outside walls will allow for maximized space usage.
You may also want to set up a space that can be transformed from small entertaining to large-scale. Bench seating works best around a firepit so people can maneuver safely.
Make sure you and your guests have enough room to enter and exit the space, without running into objects or other guests. You will be carrying food and equipment around the patio. Visible footpath is aesthetically pleasing and also makes for a safer space, and helps guide guests around the yard. Two to three feet should be sufficient. If you have a square space, you may want to set up two sofas across from each other to allow for conversation and traffic flow.
Hands-Free
While your patio will likely be used for feeding and entertaining, your guests will be lost in the party atmosphere and need to set their drinks, plates, and other things down. Be sure to provide flat surfaces for this purpose, such as end tables or ottomans along with seating. Some seating, such as Muskoka chairs, have wide armrests, and can be used to hold drinks, but may not be sufficient for other miscellaneous items. If your patio is circular, then a round table would be best, with all seating facing inward. This will allow guest to converse and use the table simultaneously.
Outdoor Kitchen
If you plan to cook on your patio, then you have a large appliance like a barbecue or a firepit. This outdoor kitchen should be close to the door for convenience, as long as there is ventilation, but separated from the dining and seating area for safety. Make sure there is a clear path from the house to the cooking area. You do not want to trip over obstacles or burn your hands on a hot plate that you had to carry. Keep yourself and your guests away from the smoky areas. Breaking up the patio also creates a dynamic setting. All utensils and cooking needs should be stored next to the barbecue or indoors. Avoiding clutter is just as important on the patio as inside the house.
Finishing Touches
Now that your furniture is set up and everything is figured out, it is time to add some custom touches. The goal is to create the ultimate outdoor living room, and this can be done by adding planters, lighting, and pillows. Planters can flank the focal point for extra beauty, but should also follow the theme and colour scheme of your patio area. Lighting should come from several points and several sources, such as tabletop candles or outdoor lamps, but your patio should always be cord-free. Include some extra decorative pillows, too. They will add extra comfort and can even be used as floor cushions, if needed.
Finally, you might want to take a look at some patio furniture sets to put your plans in motion. Our review of the best backyard patio sets will walk you through the details.
By implementing some or all of these ideas, you simply cannot go wrong when it comes to your new outdoor patio. If you found these tips helpful, or managed to snap a few good pictures of your patio that you'd like to share, email us at thebackyardgnome11@gmail.com and say hello!
Conclusion on Patio Furniture Arrangement Ideas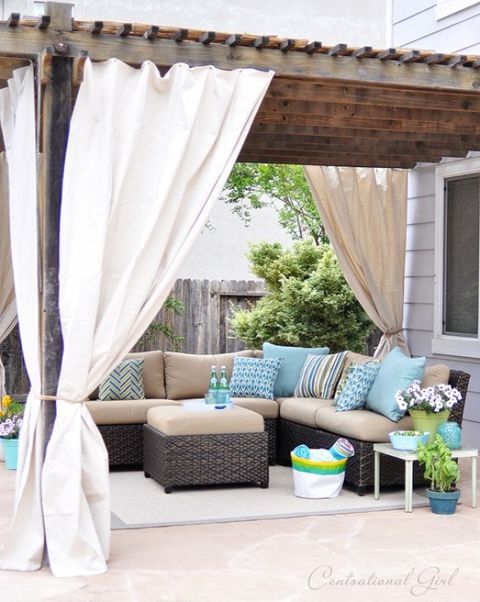 After going through all the different patio furniture arrangement ideas, it is important to choose the one that best suits your needs. Whether you want a more intimate setting for two or a large gathering space for many, there is an option for you. Be sure to consider the size of your patio and the amount of furniture you have before making your final decision. With a little bit of planning, you can easily transform your patio into the perfect outdoor living space.

Related posts: