Backyards. They come in all shapes and sizes. They can also make you excited, enchanted, or extremely bored when you step into them. Decor can be everything. Sometimes its simply a matter of getting creative in order to transform your backyard into something amazing, which harkens to a different time or place. Other times, to make the transformation happen the way you imagine it, its going to cost you a bundle, and understandably so, because some of this stuff don't come cheap, baby.
Regardless of your budget, there's always something you can do that will make you and your guests go "Wow!" when they see it, and these are the things we spend our time thinking about.
So, here we are offering 10 ideas for backyard decor that may or may not be within your budget, but we ultimately hope that some of them will spark an idea or two and get your gears turning.
Top 12 Best Backyard Decor Ideas You Should Try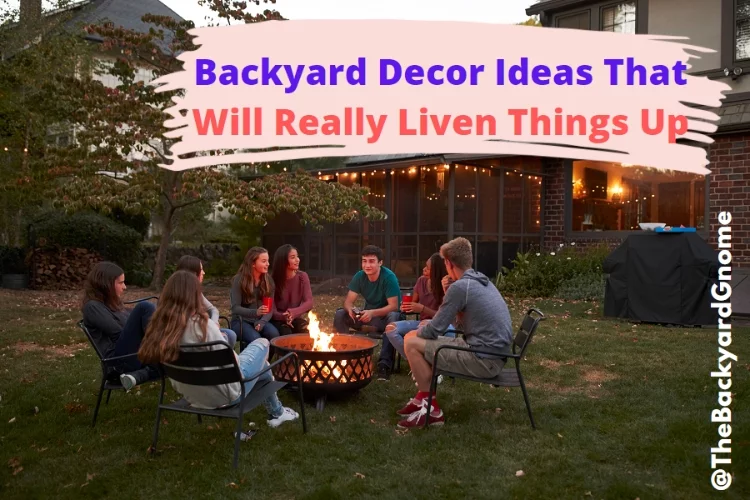 Tried And True: The Campfire
Nothing says summer like sitting around a fire at night. Love campfires but don't love camping? Easy. Firepits encourage guests to join each other in a circle for warmth, conversation, and snacking, with the comforts of home. Install bench seating with storage for fire tools and pillows.
Garden Party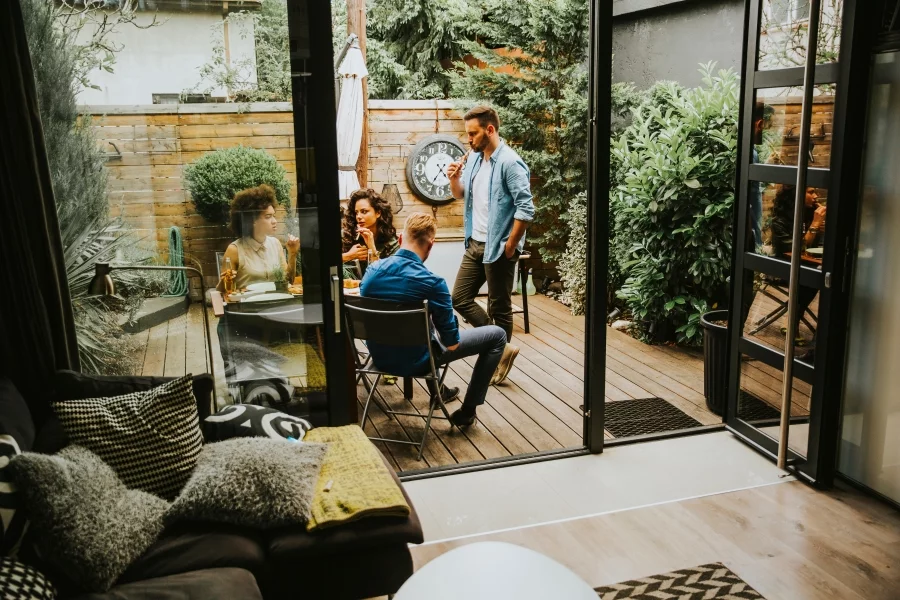 Entertain guests surrounded by beautiful blooms. Consider a wall of ivy for some privacy and atmospheric backdrop. Hang floral chandaliers above the table for daytime entertaining. Wooden table and chairs can be found at a flea market, making this option fairly affordable and easy to set up.
Hermit in a Hammock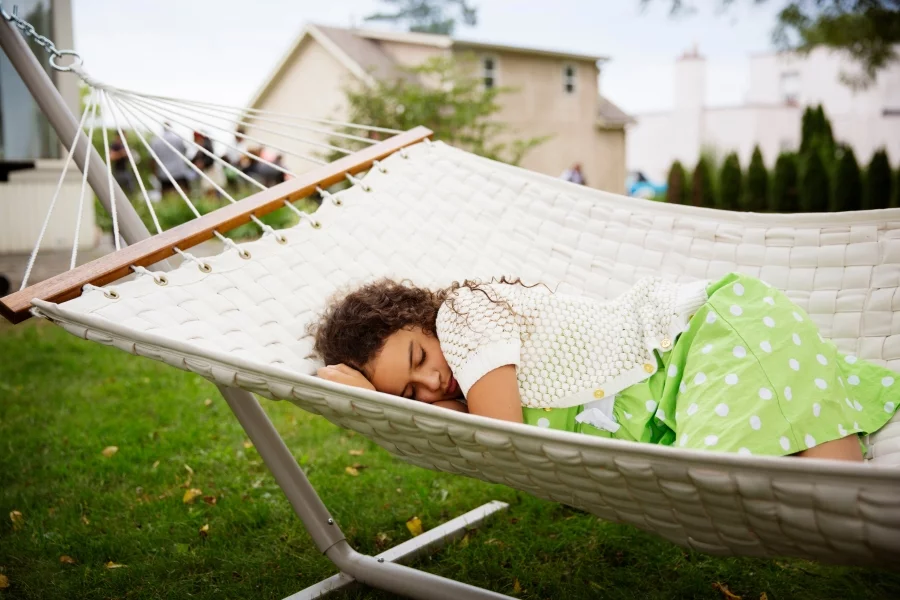 Hammocks provide a relaxing getaway in the comfort of your own yard. A hammock is a relatively affordable option, and is very easy to set up. Because it is suspended, it conforms to the natural shape of your body, which enables a better night's sleep than a mattress. Its rocking motion is soothing, and when placed next to a fountain or lush greenery, the hammock is a sanctuary.
Idea: Hang a hammock between two trees for a relaxing place to read or nap
Hanging a hammock between two trees is a great way to create a relaxing spot for reading or napping. You'll need to find two trees that are the right distance apart, then use rope or straps to secure the hammock in place. Once your hammock is up, you can sit back and enjoy the peace and quiet!

Pavilion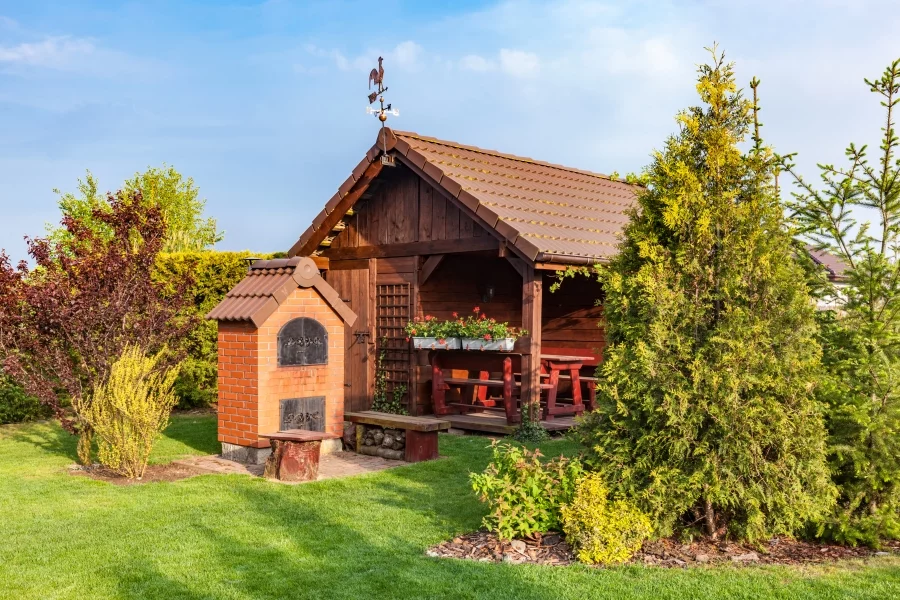 Pavilions provide shelter and create airflow, and their framework adds beauty to the yard. They are durable and require little maintenance, making them a popular choice for backyard entertaining. Essentially, you are recreating a living room in an outdoor setting. You can also leave an opening in the roof, and set up a daybed from which to view the sky. For some options on what to use for your pavilion, you should check out our review of the best canvas canopy gazebos or our review of the best hardtop gazebos.
Tuscan-Inspired
Tuscany is known for its hills, wine, and villas in the countryside. Think simplistic, warm, and open. Cooking meals will be the centre of focus for the Tuscan look, so you will want to build a terrace around a fireplace or wood-burning oven. Use large patio stones for an old-world look. A water feature can emulate the Mediterranean seascape, and don't forget the terracotta pottery.
Woodland Dinner Party
Moroccan
Deck with Fireplace
Converted Shed
Downtown Balcony
Apartment living? No problem. Add some texture to your balcony with a rug and throw pillows. String lights add a nice ambience, and a few big planters will spruce up the area, making it great for morning tea, reading, and conversation.
All in all, you'll come to see there is lots to work with in terms of backyard decor. It's just a matter of finding what works for you and putting the right things together. Now that you have some insight on the decor side of things, you should take a look at space management and how arranging your perfect patio works.
Add Some Brightly Colored Flowers or Plants to Bring Life to the Space
One of the best ways to make your backyard feel more lively is to add some color. Flowers and plants are a great way to do this, and you can experiment with different arrangements to find what looks best. Consider adding some bright annuals or perennials to borders or along walkways. Or, try groupings of colorful flowers in pots or planters scattered around the yard. You can also use foliage plants to add color - think about adding some ornamental grasses or shrubs with colorful leaves. Whatever you choose, a little bit of color will really help to liven up your backyard space.
Another great way to add color to your backyard is through the use of accessories. Things like brightly colored patio furniture, outdoor rugs or cushions, and even decorative accents can really help to brighten things up. Again, experiment with different colors and patterns to find what you like best. And don't be afraid to mix and match - a little bit of variety can really add interest to the space.

Put up a Wind Chime or Other Decorative Item to Add Sound and Interest
If you're looking for a backyard decor idea that will add both sound and interest to your outdoor space, consider hanging a wind chime or other decorative item. Wind chimes come in all shapes and sizes, so you can find one that fits your personal style. And, they'll add a touch of whimsy to your yard or patio.
Other great backyard decor ideas that will add sound include water fountains and bird baths. Both of these items can be found in a variety of styles, so you're sure to find one that's just right for your home. Water fountains not only look great, but they also provide the soothing sound of running water - perfect for relaxing on a warm summer day. Bird baths, on the other hand, are a great way to attract wildlife to your yard.
Conclusion on 10 Great Backyard Decor Ideas
If you're looking for some great backyard decor ideas, then look no further! These 10 great ideas will definitely give your backyard the boost it needs to stand out from the rest. With a little bit of creativity and elbow grease, you can easily transform your boring backyard into an outdoor paradise. So what are you waiting for? Start planning your backyard makeover today!

One final tip: don't forget to add some personal touches to really make your backyard your own. Add some family photos or mementos, garden gnomes, or anything else that makes you smile. After all, it's your backyard - make it as unique as you are!