Last Updated on
By: The Backyard Gnome
Today, we're reviewing the best hot tub lights. You might not even know that they're an option for the spa or hot tub. When you are having a backyard party, everything should be decorated to perfection.
As you're gazing into the backyard, you might often wonder how to mask the hot tub with its boring cover. You could include it in the party, but it's not appropriate for every occasion.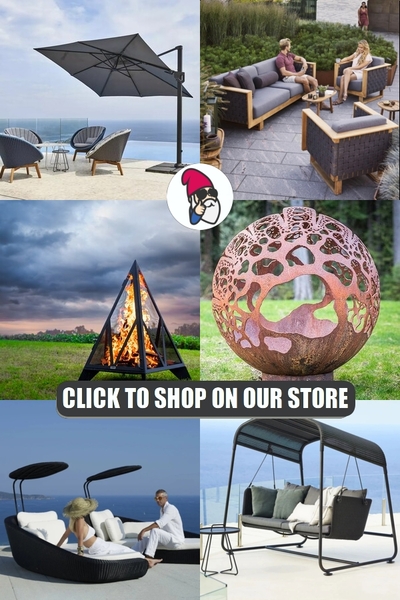 You could use a screen of some kind to hide the big hot tub, or you could make it part of the décor.
We vote that you make it spectacular with lights!
---
Game 3567 Underwater Light Show Fountain
Game Underwater Light Show Pool Fountain
This light is more than just a couple of colors. There are 4 colors available, and those colors are projected towards the bottom of the hot tub. The colors will project to the sides, too. The colors and patterns vary between 8 beautiful options.
Features of the Fountain
Color-changing lights
Projects color
Fountain of colored water
Four colors available
Auto shut-off
Along with the colors projected into the hot tub's water, this light includes a fountain. The fountain of water is colored and will shoot 2 feet into the air.
Instead of your hot tub being a big hulk you need to hide, it becomes a feature of the backyard party décor.
---
Trend Wind Submersible LED Light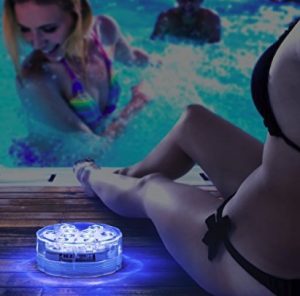 The LED submersible lights can be placed into the water itself since they're waterproof. There's a rubber sealing ring that will keep water from entering the case.
You can allow them to float to the bottom of the hot tub to provide an illuminated pool of water. You could surround the edge of the hot tub in light as well.
Features of the LED Lights
Remote controlled
Sixteen colors available
Waterproof
Battery powered
They're color changing and remote controlled. They are RGB and can be color mixed to get all the colors of the rainbow from red to purple.
Submersible Led Light With Remote Control Powered By Aaa Batteries Included
Imagine a few of these in the hot tub around the Fourth of July. You'll easily be able to celebrate the Red, White, and Blue with these LED lights.
---
Litake Submersible LED Lights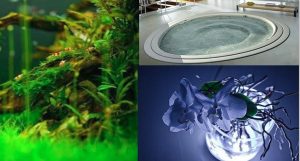 Litake Submersible Led Lights
These small discs give off a huge amount of light. They're able to emit 16 different colors. These come in packs of 2 or 4 lights. They controlled by remote, so you can easily change the colors without having to find them at the bottom of the hot tub.
Features of the Submersible LED Lights
Sixteen colors
Four flashing modes
Ten LED beads
Remote controlled
Battery powered
Along with the hot tub, these can be added to ponds or fountains in the backyard, too. You can scatter them throughout the yard in vases for a splash of colored water all around. Special events look so much better when there are layers of light.
---
Qoolife Submersible LED Lights
Qoolife Submersible Led Lights Remote Controlled
Any container that has water in it can be turned into a centerpiece. We love the idea of taking a few of these LED lights and scattering them around the backyard.
An old-fashioned punch bowl can become the center of attention. The hot tub becomes a beautiful addition to your outdoor decorations, too.
Features of the LED Lights
Waterproof
Three color modes
Remote controlled
Dimmer levels
Sixteen colors
When you purchase these LED lights, you can reuse them for many events. They'll change color easily and all you need to do is place some vases or containers filled with water.
It's a simple and inexpensive way to decorate for a party. You won't have to hide the spa, either. It becomes a seamless part of the decorations without being used during the party.
---
StarFish Underwater LED Lights
Starfish Underwater Submersible Led Lights Waterproof Remote Control Battery Operated Color Changing Floating Hot Tub Swimming
The underwater lights can be added to any surface that will brighten the illumination. The beauty of these lights is that they take something like water and create this amazing illumination.
A dim light becomes an aquatic scene. When you buy a set of LED lights, you can use them over and over for all your events. Even the indoor parties can benefit from more lights.
Features of the Underwater LED Lights
Waterproof
Suction cups
Sixteen colors
Four color changing modes
Rubber O ring
These lights come in a set of two with two remotes. There's a remote for each disc. They come with suction cups, so you can stick them to the sides of the hot tub instead of dropping them to the bottom.
Leave them in there all the time for an added dimension of fun in the hot tub all the time.
---
Hot tub lights add a dynamic element to your backyard parties. You can add these to your hot tub or spa without turning on the jets. Instead of a thing you need to hide, the spa becomes another great area of your decorations.
The LED lights boost the layers of light in your backyard whether you're having a party or just enjoying the hot tub by yourself.