Today we review the Belize hot tub booster seat cushion, a comfortable spa cushion that allows shorter hot tub users, as well as children, to enjoy the hot tub.
Not only does the booster seat add height, it provides much needed comfort to some of those less luxurious spas.
This portable, ultra-comfortable seat cushion will protect your tush in wooden hot tubs and those with floor seating. Best of all, it is portable, so you can take it on trips, to your friend's house, or to the resort.
Shorter folk no longer need feel like they are drowning. The seat will boost you to the proper height so the jets can reach all the right spots in your back and shoulders.
The cushion seat has side handles so you can easily place it down or remove it, and use these handles to hang it to dry. The Belize water seat also has a removable cover, making it more durable, and washable!
You can just throw it in the machine with your other laundry. It's good to keep things sanitary. You can leave it in the hot tub year round, but it will fade the colour faster (with chlorine, not bromide).
And while you surely use spa chemicals to kill bacteria, we recommend removing the cushion and draining it when you're not using it. As mentioned the cover is machine washable so take advantage of that.
Would you leave your bathing suit in the hot tub year round? The water drains when you remove it. It will be fairly heavy when it is water logged. Simply hang it from a chair or over a laundry tub to let it thoroughly dry in between uses.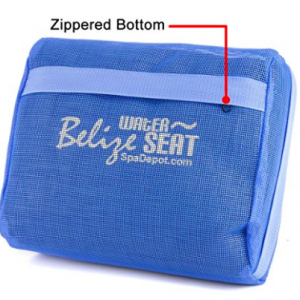 So just how big is this thing? The seat measures approximately 12" long by 15" wide and 5" high. It gives a nice boost especially when the jets are on.
For taller folks, too: sometimes when we sit in very hot water for a long period of time, it can put a lot of pressure on our chests. Our heartbeats may elevate and breathing may become a little more difficult.
The cushion provides a nice break, allowing you to continue enjoying the tub while giving your chest a break from the heat.
Its core is very cushy and comfortable, making it a great accessory for aquatic exercise. It also enables your kids to join in on the fun!
When you're not using the seat, you can weigh it down with a small amount of (washed, clean) pea gravel or marbles to prevent it floating.
You will want to put a little weight in the designated pocket to keep it down, so that it doesn't float the second you get up from it.
That being said, the foam is very light when dry, but fills with water and becomes weighted enough to remain submerged.
Keep in mind this will take a full day (24 hours) to absorb enough water to remain submerged, so keep your patience.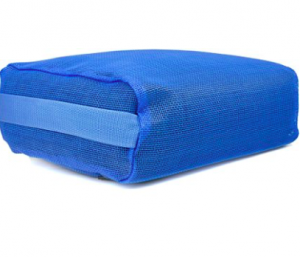 The cushion holds up nicely over time. It regains its shape in bromine pools, and holds up nicely to chlorine as well (though chlorine does sometimes fade colour over time). When you're done in the hot tub, you can remove the cushion and let it drain.
The booster seat will also fit into a kayak, but remember that it's just a booster seat. You cannot use it as a floatation device. That being said, it sure loves to float!
Even once water logged, it will want to move around if no one is sitting on it. Park your butt on it and it will stay in place and serve its purpose.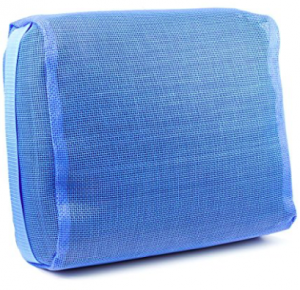 One of the benefits of using a booster seat is that after a period of time, our chests become heavy when submerged in extremely hot water.
This can cause some breathing problems or heartbeat. Giving your chest a break while continuing to relax your legs is one of the benefits of this water seat.
Another is that jets are in fixed position and this can make it difficult to reach the right spot.
When your muscles are aching you want the jets to blast right on there, and this booster seat will allow you to position yourself in just the right way so as to maximize the efficiency of the jets.
Some folks have found it tricky to get this cushion working for them as they did not have access to the advice we have provided here. Be sure to follow the simple directions:
fill with marbles or pea gravel in designated weight pocket
allow its interior sponge to become water logged
it will take about 24 hours to become submerged and stay down on its own
The Belize hot tub booster seat cushion sells for around $38.
Related posts: