Today we review the Yardistry Cedar Wood Gazebo, a popular hard top gazebo by Yardistry Ltd., who, according to their website, are an "entrepreneurial and innovative leader in the design and manufacturing of ready to assemble ("RTA") outdoor living products for residential consumers".
To play devil's advocate for a moment, why even bother getting a gazebo, particularly something as big and bulky as a hard top? Well, gazebos are a great example of a backyard fixture that is both highly decorative while also serving a practical purpose.
They can be used to add privacy, create a focal point, add shade and protection from sun and rain. With the addition of this type of structure, you'll have added a whole new dimension to the backyard.
Research has even proven that people are overall happier when surrounded by natural beauty (eg. read this great study on the topic from Greater Good Magazine), and gazebos allow us to have somewhere to go in our own yard where we can commune with nature more often if we wish.
In an ideal world, gazebos are long-lasting, sturdy, beautiful, stylish, and low maintenance, and yet like any type of product that you buy and assemble, some gazebos end up simply costing a lot and being an overall disappointment.
The Yardistry Company

The Yardistry Company is a leading manufacturer of high quality outdoor living products. Their product line includes gazebos, pergolas, pavilions, and more. All of their products are made from the finest materials and construction techniques to ensure lasting beauty and durability. The company's commitment to customer satisfaction is evident in their outstanding customer service and support. When you purchase a Yardistry product, you can be confident that you are getting a top quality product that will provide years of enjoyment.

Review of the Yardistry Cedar Wood Gazebo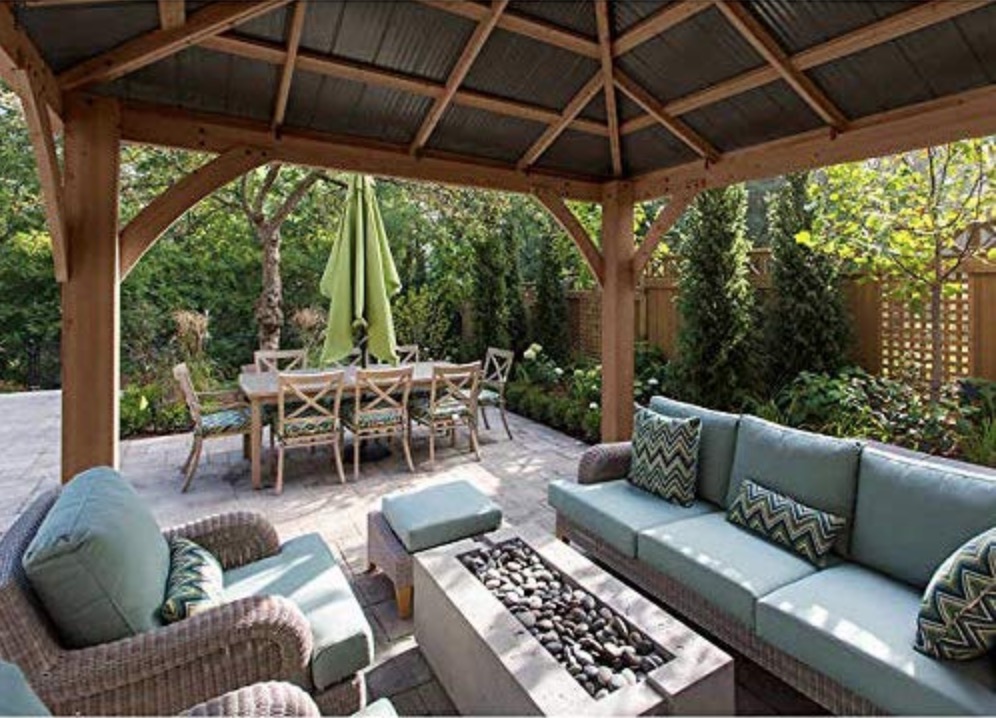 Here we will go over the features of the Yardistry Cedar Wood Gazebo, which features an aluminum roof, to see if it's something that would be right for your backyard or outdoor living space, and check on what purchasers overall think of this structure.
First off, let's talk about the general price range of hard top gazebos. This is no small purchase, as these structures are big, sturdy, and usually made from a combination of wood and metal.
As such, you can expect them to generally set you back roughly at least a thousand dollars, and often over two thousand. This Yardistry model of gazebo is in that price range somewhere, depending where you buy.
In regards to the financial aspect, if spending roughly 2K on a gazebo makes you stop and pause, that's understandable, because it's a big purchase one way or the other. It's seriously an investment.
That said, the alternatives to hard top gazebos are basically soft top gazebos, which, essentially, give you the same sort of structure, but without the sense of protection that you get from a big hard top.
Even simple sun shade sails can do the trick in a pinch, or patio umbrellas, if you were never looking for anything too substantial or rugged to begin with, but you still want some escape from the harsh sun.
All that being said, let's look at the aluminum roof of this Yardistry gazebo. This is a sturdy, attractive feature that will be a beautiful addition to your backyard.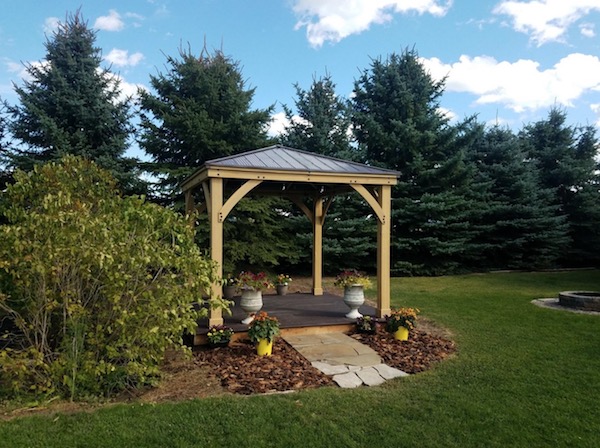 It measures 12'x12', about the size of an average master bedroom. Beneath, it creates a home-y space out of doors that is just lovely for use in the warmer months when you spend your time cooking, eating and entertaining on the patio.
The roof will cast shade and protect you from the high heat of summer as well as sunburn, while creating an intimate space under which you can design an outdoor kitchen.
The peaked roof will enable the ventilation of smoke if you choose to put a barbecue under the gazebo. Remember that barbecues should be placed a safe distance from furniture.
If you are specifically looking for a gazebo dedicated to BBQ'ing, read our review of this barbeque-style gazebo from Outsunny.
Depending on your existing décor, you may want to stain and seal the pieces of wood before you put everything together. You will want to use strong anchor bolts, 3/8 for example.
Be sure to go through all of the parts before you begin assembly, to make sure everything is included.
Yardistry is a great company that will deliver any missing pieces overnight, so you can get right to assembling.
If you want our opinion, we'll say this - from start to finish, this is a quality gazebo, and our research shows that the majority of customers agree.
You will have to put the roof pieces altogether first. Then you will want to get the posts and everything else in place.
If you live in a climate with lots of wind, such as New England or anywhere that goes through a cold winter season, you will want to anchor the posts in concrete. Otherwise the gazebo will get knocked over.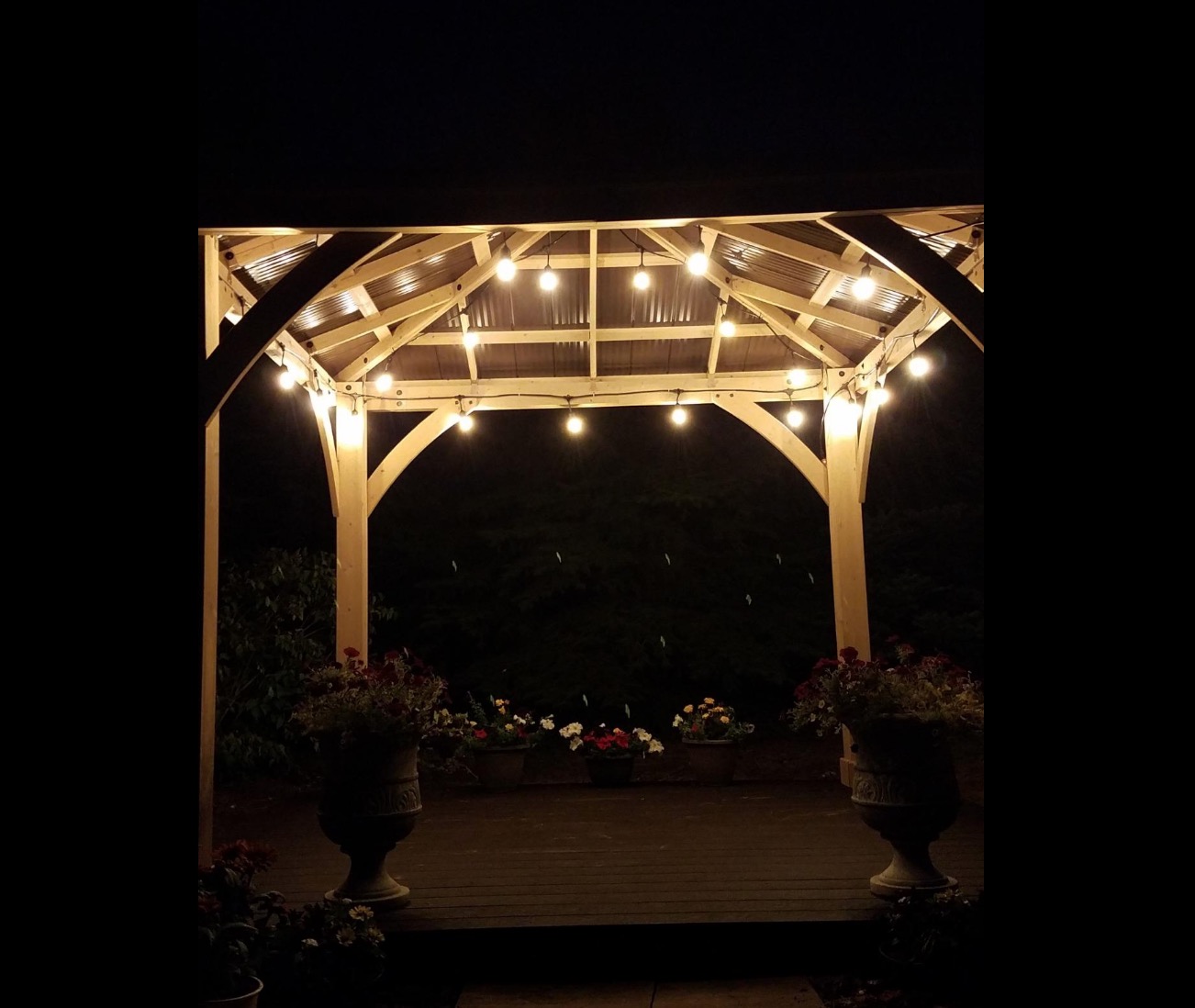 The holes are predrilled and lined up perfectly to make assembly easy for you. This is a quality gazebo made by a great company with attention to detail.
As well, all lumber pieces are pre-cut and are cut with precision, so you will not have to worry about adjusting any cuts.
There are many pieces and parts that go into this gazebo, so you will need a small crew of three to four people. Be prepared for it to take a couple of days to assemble.
Some people go hard for two days to get it up, and others space it out over the course of a week. The roof itself will require four people to set it in place.
Once it's up, and done correctly, it usually looks quite nice, as it is both unassuming with neutral colours, with a touch of class, allowing for you to decorate it yourself the way you want.
Watch this instructional video for a more detailed guide to setup and assembly.
The video goes along with the included instruction manual to ensure exact steps. It's especially helpful if you are a visual person and like to see things being done before you go ahead. The extra details in the videos are very helpful.
Working on a flat, raised surface, like a saw horse or work table, will help ensure the pieces are level as you attach them.
Have one person look down the beam to make sure its straight while the other person drills the pieces together.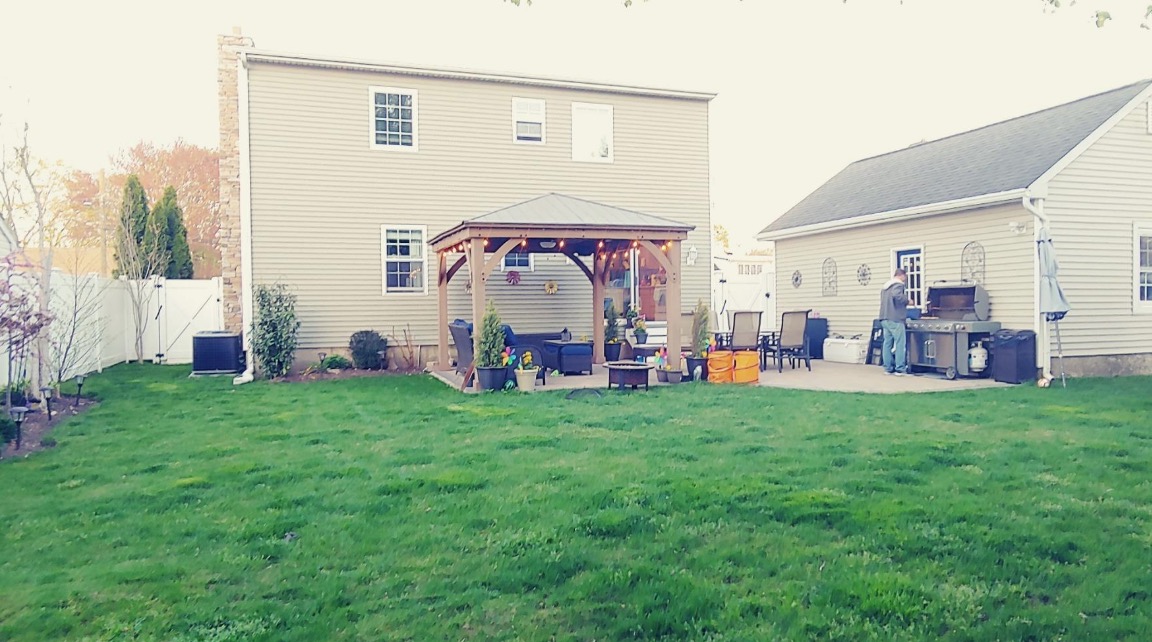 A plastic hook is provided so you can hang plants or light décor inside the gazebo. The aluminum roof is a nice bronze tone of brown, with reddish hue. It has a slightly rustic look, while being contemporary in design.
The benefit of a hardtop is its longevity: it will hold up to windstorms and never fade.
If your area receives snowfall, we recommend regularly removing any snow buildup from the gazebo roof. This will keep it strong and like new.
Hardtop gazebos are more popular than ever, as they provide protection from the sun and rain, enabling you to enjoy your patio no matter what the weather is doing.
The hard top provides perfect shade, while creating a centering structure that draws people into this focal point.
This will be installed as a permanent structure in your yard, and creates a nice feeling of being protected while having access to the open, fresh air.
You can enjoy every aspect of summer living without sunburn or being exposed to rain. In terms of entertaining on the patio, the gazebo will provide a centralized area for people to gather. It will act as the perfect party anchor.
You can purchase mosquito netting separately if you wish to surround the gazebo with it.
The Yardistry gazebo with aluminum roof sells for around $1800, last we checked the usual retail sources.
Pros and Cons of the Yardistry Cedar Gazebo with Aluminum Roof
Pros
Cons

Yardistry has great customer service
Takes a long time to put up, but customers are generally pleased with the final result
If bought through Amazon, they can provide relatively inexpensive labourers to help you put it up

At least one customer has reported the size of this gazebo to be slightly smaller than 10′ x 10′ when measured precisely
Like most gazebos that arrive by delivery, your average non-handy person would have difficulty assembling this structure
At least one customer said the cedar finish was too light for their liking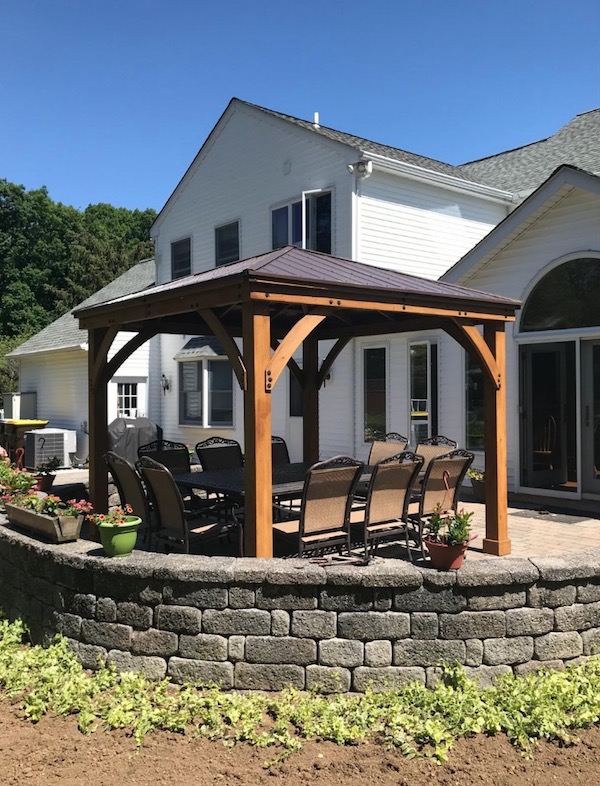 Frequently Asked Questions about The Yardistry Cedar Wood Gazebo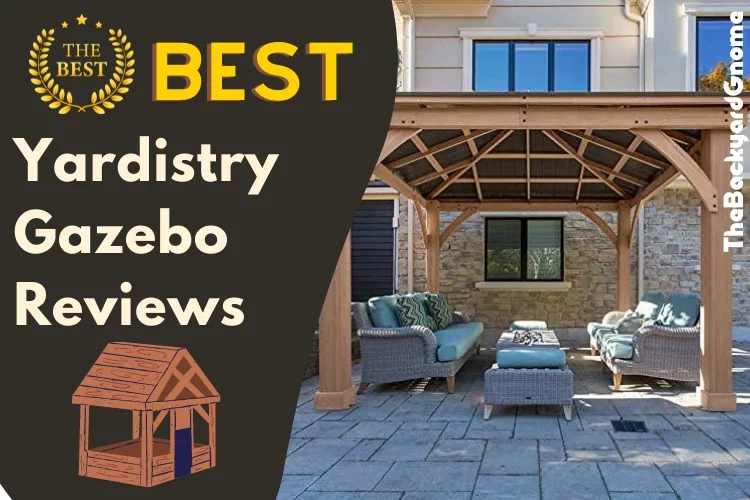 What is the return policy on this gazebo?
Customers report that Yardistry customer service is generally very good, and they have been known to replace parts if they are delivered with any damage or inconsistencies. Still, a full refund may not be possible once delivered. Please contact Yardistry directly to see about their current policies when it comes to returns here: Yardistry Customer Experience Team : 1-888-509-4382
Do I need a permit to put this gazebo up in my back yard?
You may wish to consult your city officials if you have any doubt as to whether you may not be able to erect this gazebo, but, generally speaking, if you attach a structure to your home, then you need a permit. Otherwise, if a structure is free standing, as this one is, then a permit is not needed.
Is there any fitted mosquito netting that can be purchased with this gazebo?
If you are looking for fitted netting, check Amazon for current availability.
TBG's Conclusion
This gazebo is a great option for those looking for a stylish and durable backyard shelter. It's made from high-quality materials and features a unique design that is sure to impress your guests. The aluminum roof provides excellent protection from the sun and weather, and the cedar frame is both beautiful and long lasting. If you're looking for a top quality gazebo that will provide years of enjoyment, we highly recommend the Yardistry 12' x 12' Cedar Gazebo with Aluminum Roof. Let us know in the comments below if you have any stories or experiences with this gazebo, or any other gazebos you may have purchased. How did your experience go?
Benefits of Owning a Yardistry Gazebo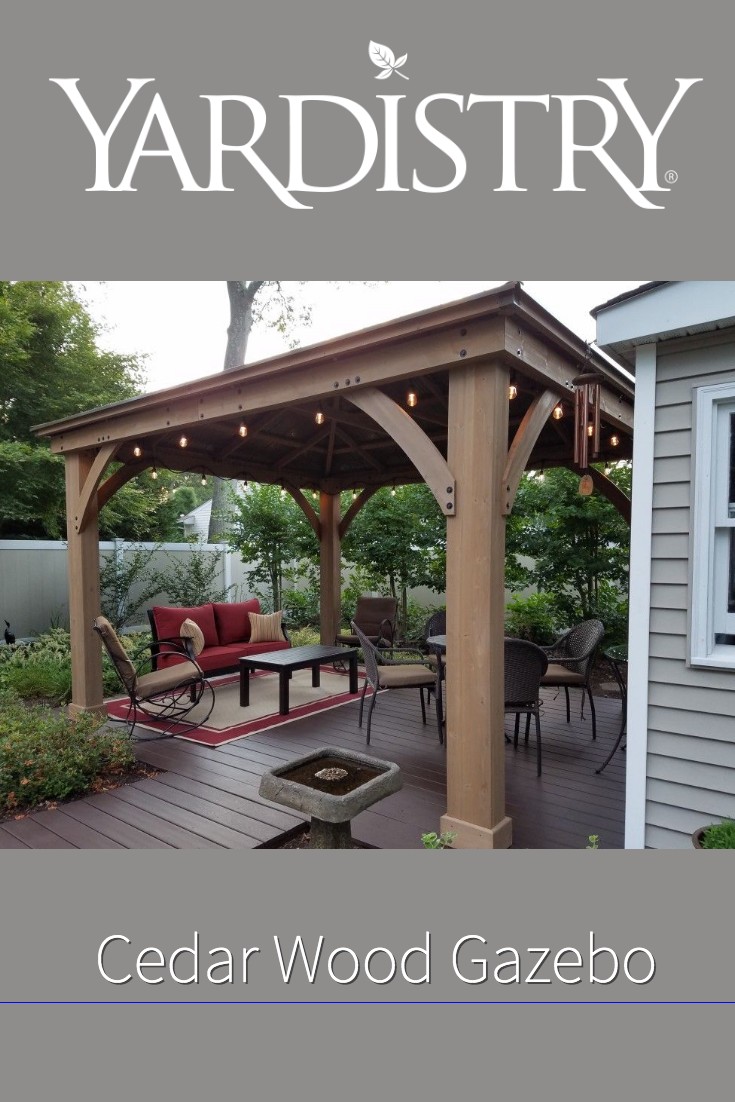 Having a Yardistry gazebo in your backyard can provide many benefits. It can serve as a beautiful focal point for your outdoor space and provide a place to relax and enjoy the outdoors. A gazebo can also provide protection from the sun and rain, making it a great place to entertain guests or simply enjoy some time outdoors.

There are many different styles of Yardistry gazebos available, so you can choose one that fits your personal style and needs. Whether you want a simple structure or something more elaborate, there is sure to be a gazebo that is perfect for you.

Yardistry Gazebos are easy to assemble and come with all of the necessary hardware and instructions. They are also made from high-quality materials, so you can be confident that your gazebo will last for many years to come.

If you are looking for a way to enhance your backyard and create a beautiful outdoor space, a Yardistry Gazebo may be the perfect solution. With so many different styles and sizes available, you are sure to find the perfect gazebo for your home. Order your Yardistry Gazebo today and start enjoying all of the benefits it has to offer!

Related posts:
Buy on Walmart, eBay, Etsy (limited quantity)
Yardistry 12' x 12' Cedar Gazebo with Aluminum Roof (Assembly Required) - Walmart, Etsy, eBay