There are many ways to set up and arrange your dream backyard.  Of all the many tastes and styles, as well as the different accessories available for each, it's hard to say any two backyards are ever the same.  However, one thing that any backyard needs, and would seldom lack, is at least one trustworthy umbrella.  Truly so, while we all look forward to the heat and the sunshine, there is a difference between enjoying some sun and being completely beaten down by it.  That is why it's always important to consider a proper shade arrangement when putting together your ideal backyard, so that you can relax and take in exactly the amount of sun you need.  Looking at what's out there in the land of umbrellas, we've found that there is indeed no lack of options, models, and designs to fit every need imaginable.  So much so, that it can actually be a bit dizzying.  Nevertheless, there is no need to fear, as we've scoured the land and picked out what we feel are the most excellent candidates out there.  Being quite picky for aesthetics as well as practicality, we've selected the models that bring forth nothing less than the best features, style, and even price. Here are the contenders that have won us over!
Best Choice Products Offset 10' Hanging Outdoor Market Umbrella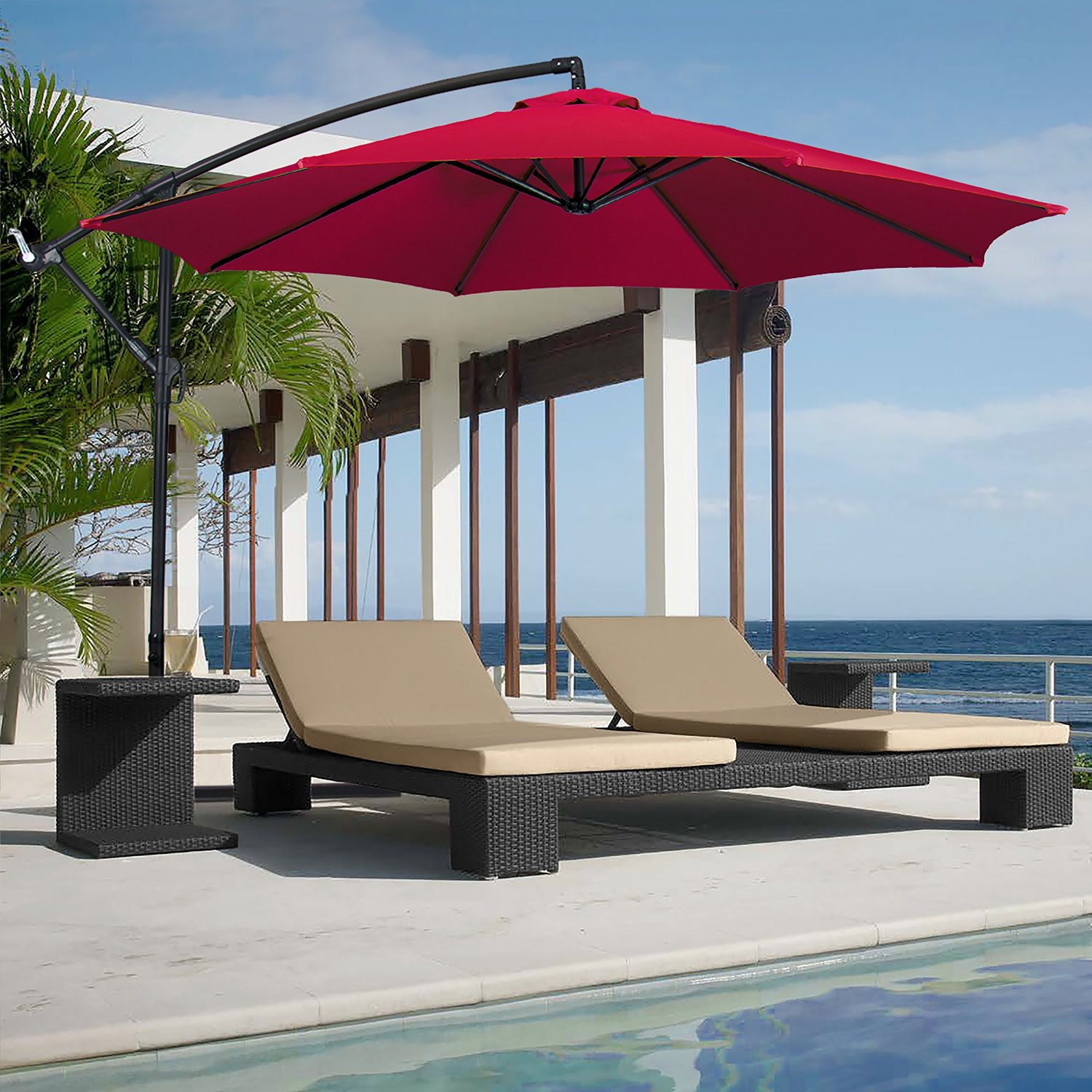 A great starter for our list of patio umbrellas is the offset 10' umbrella by Best Choice Products.  A brand we've certainly talked about before and definitely put our trust in, this item features a simple and effective design that is not shy about showing off some style.  The best thing about it is how versatile it is.  The offset design allows you to comfortably place it anywhere in your backyard and move it around at your leisure.  It's compatible with a patio table and dining set up as well as your array of lounging chairs or even by the pool.
---
Coolaroo 11' Market Umbrella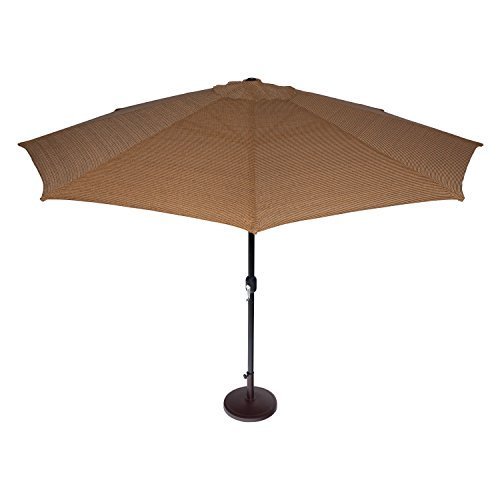 Moving on to the slightly larger Coolaroo umbrella, this one features the standard design.  The adjustable pole makes it easy to arrange for shade in any spot in your backyard, while the UV-resistant canopy and rust-resistant frame ensure that this product will not let you down.
---
California Umbrella 9' Wind Resistant Tilt Umbrella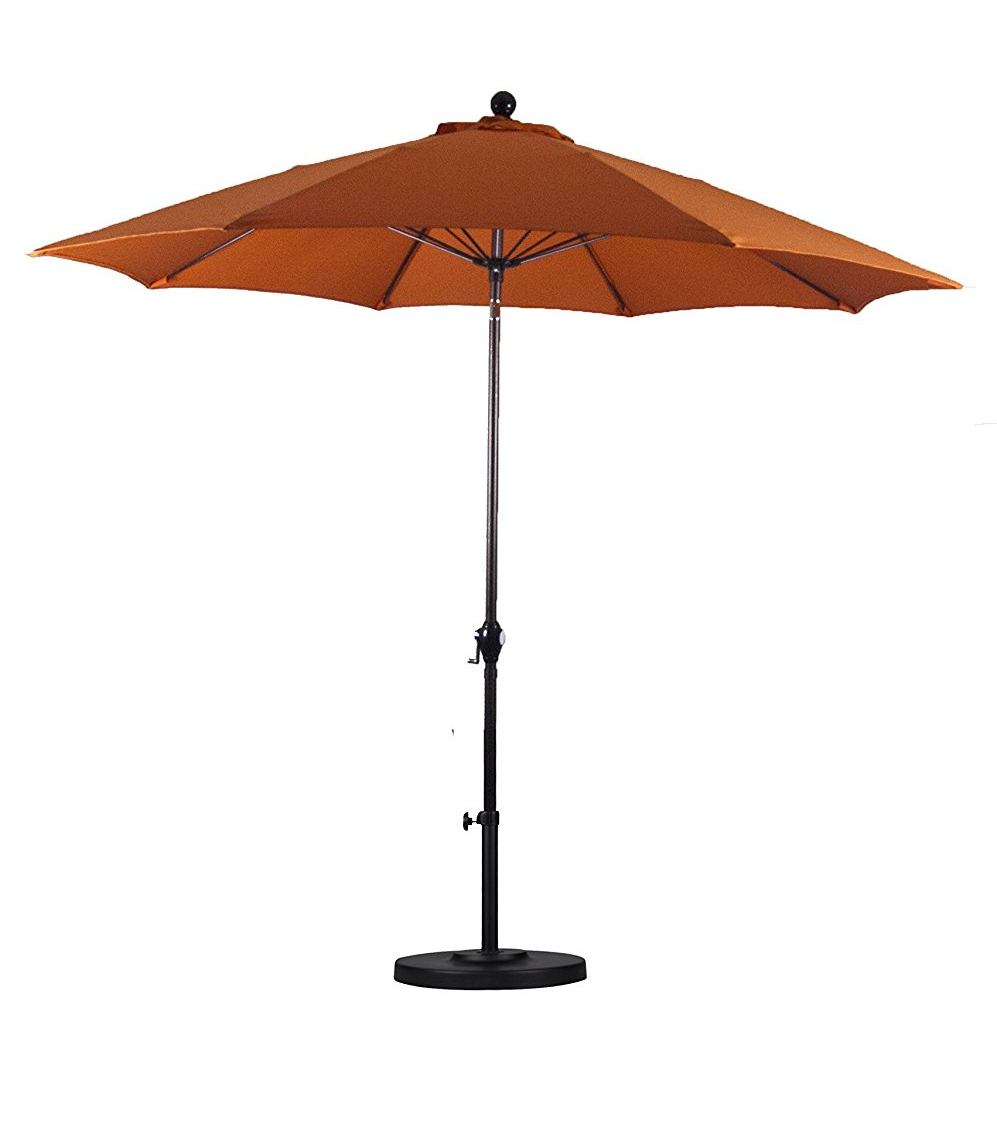 This more compact 9 foot tilt umbrella from California Umbrella is by all means sure to dazzle and impress.  Coming in an array of beautiful colours, it can easily find it's place in any backyard arrangement and design.  The wind resistant, three-way tilt system allows for very easy adjusting and placement, while the carbon fibre ribs and aluminum pole make this one as durable as it is stylish.
---
Flexzion 10' Hanging Offset Patio Umbrella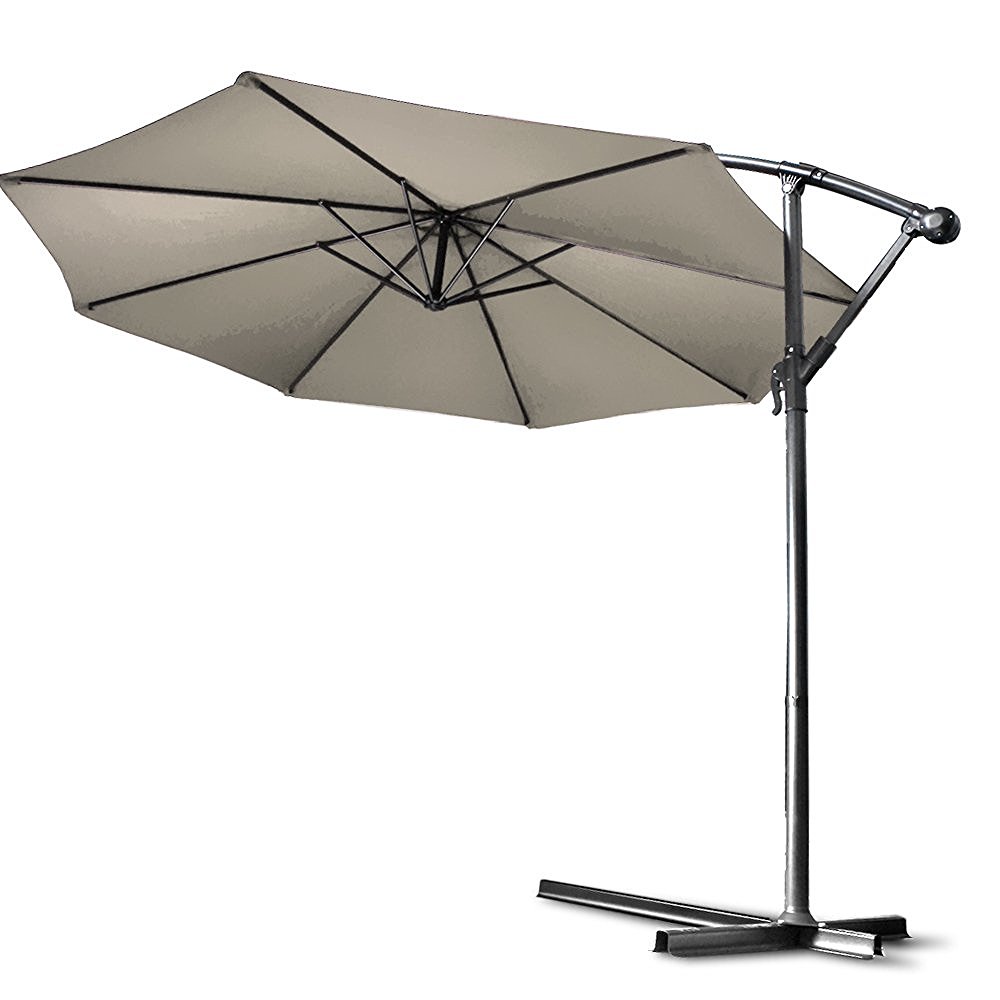 The Flexzion Offset Umbrella is an excellent heavy duty patio umbrella that is actually very light on the wallet.  Considerably more budget-friendly than our earlier feature offset umbrella, but certainly not shy with quality and durability, the Flexzion by Pro-Market is perfect if you are looking for a versatile and stylish addition to your backyard.  It comes in several colours and sports a UV protected canopy with vents built in for better air circulation.  The adjustable stand with easy-tilt operation is there to make sure this umbrella delivers on versatility as much as it does on style and longevity.
---
TropiShade TropiLight 9' Mood Lit Umbrella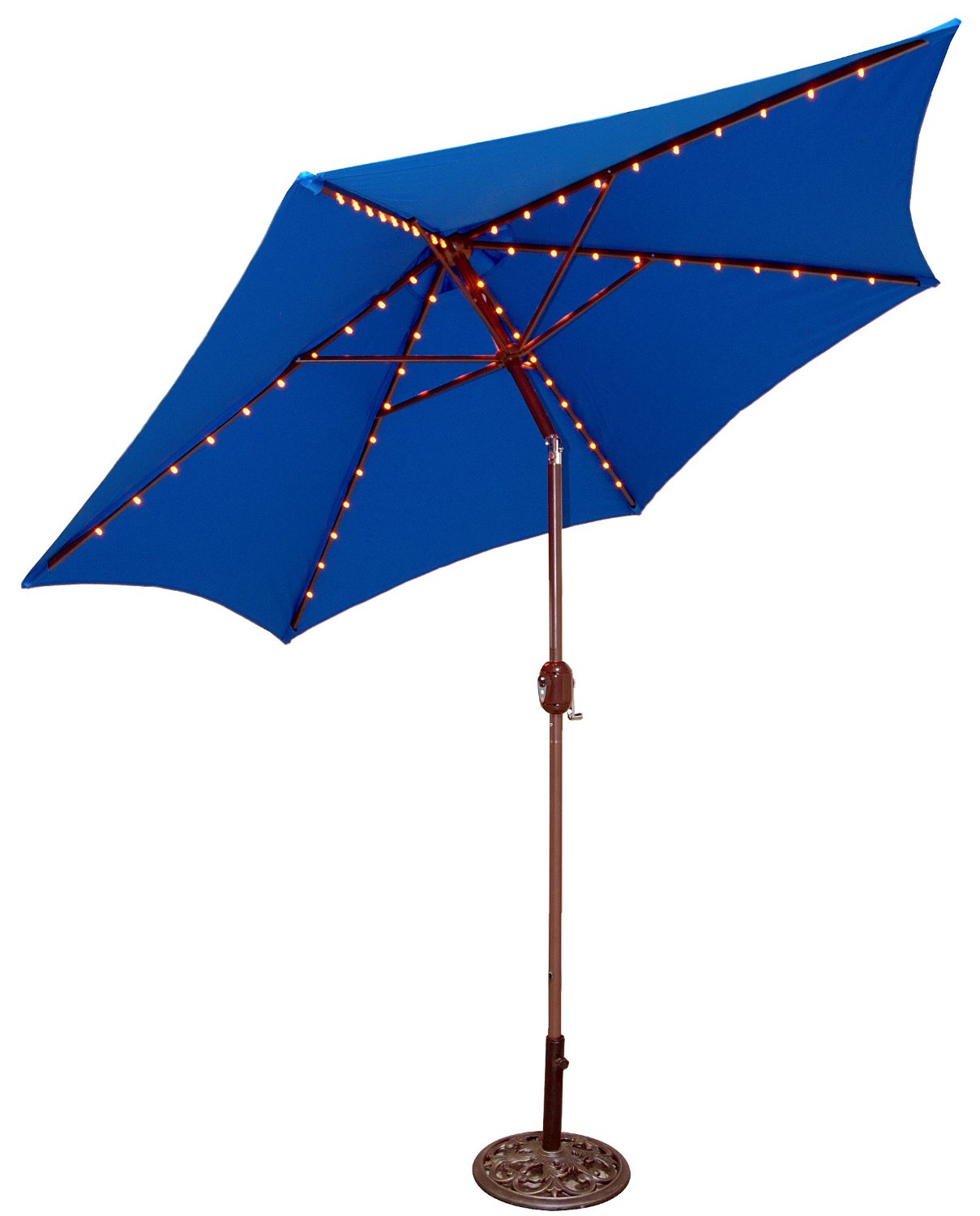 The TropiShade TropiLight Umbrella is certainly a change of pace.  This beautiful mood lit patio umbrella is perfect for nighttime relaxation in your backyard.  The wind-resistant frame is versatile and adjustable, featuring a lightweight canopy with venting built in.  It comes in a very stylish blue colour and is equipped with the mood lighting system which makes it a light fixture as much as it is a shading fixture.  If you're looking for the perfect treat to spoil yourself with, or the best piece to dazzle your guests with, the TropiShade is what you should go for.
---
Yescom 8' Tilted Aluminum Umbrella with LED Lighting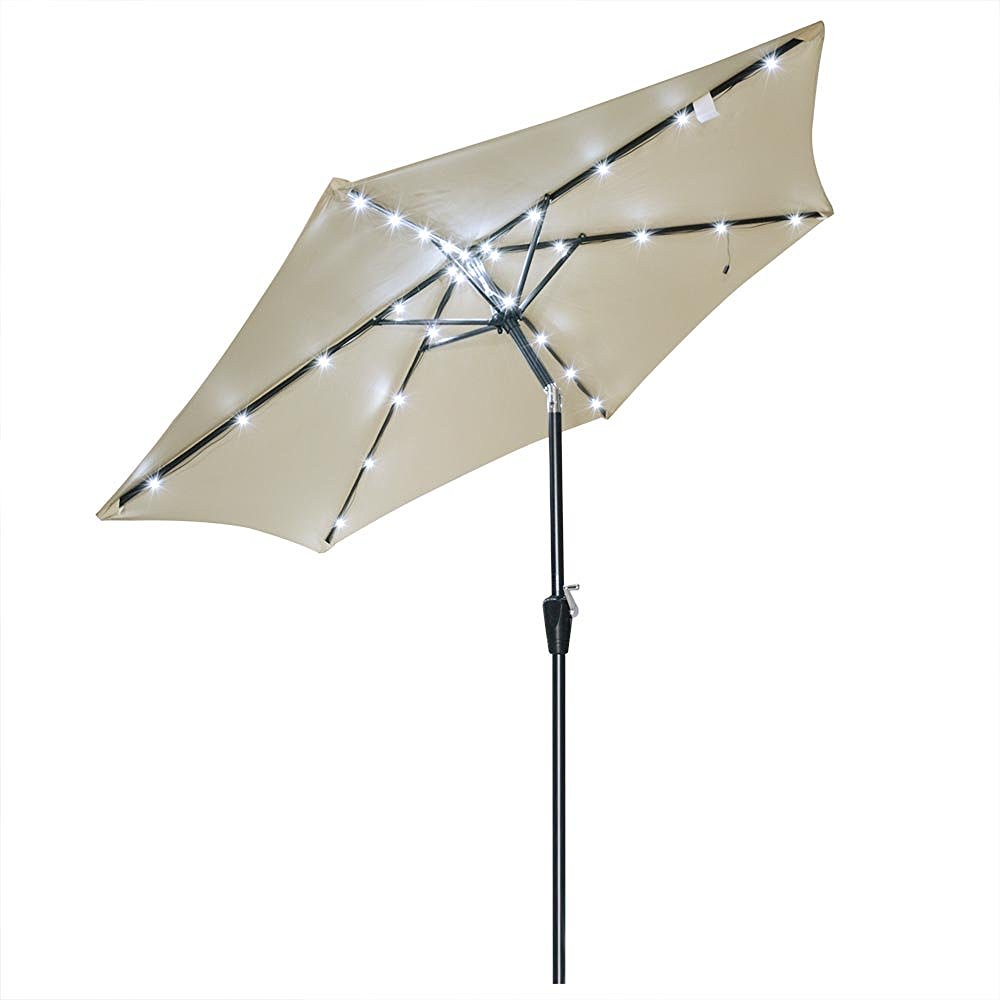 Continuing the trend of beautifully mood lit umbrellas, the Yescom 8' Tilted Aluminium Umbrella is along the same lines as the TropiShade, but with a few different features.  It sports a similar versatile and adjustable frame, making it excellent for placement and very easy to work with.  It, of course, has an array of beautiful white LEDs to light up your evening relaxation.  The canopy is fade-resistant, which is a much needed feature for any piece, especially one where the aesthetics are such a big selling point.  However, one of the coolest ad-ons to this model is the built in solar panel on top of the umbrella.  Not only is it fighting off the sun to keep you in the shade, it also uses it to charge up the LEDs so you can have a beautifully lit evening later on.  The Yescom has definitely won us over with this design!
---
Trademark Innovations 9' Half-Umbrella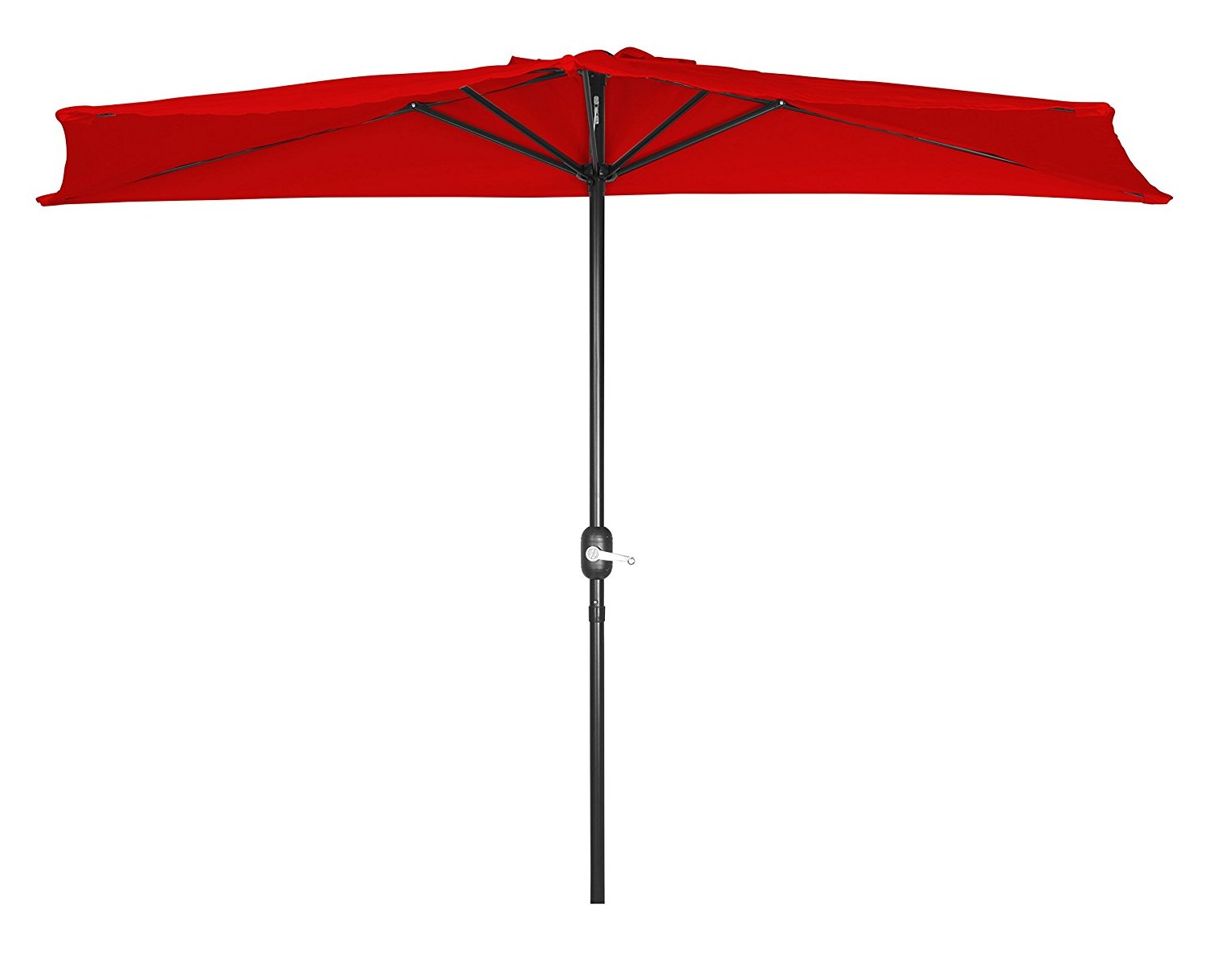 Now, if you're looking for something truly different, you should take a gander at the Trademark Innovations so called Half-Umbrella.  Intriguingly enough, it is an umbrella that looks like half of an umbrella, much like the name implies.  Do not be fooled, however, as it is still a considerably sized canopy, just with a particularly quirky design.  Aside from being fun and quite the head-turner, this model is actually brilliantly practical.   It features the same durable and versatile frame as all the superstars in our lineup plus some advantages brought on by it's shape.  The halved design allows for easier placement along walls or even as an extension to gazebos or other canopies.  At the same time, the flat side allows for more effective coverage of hard to reach areas, as opposed to circular designs which always leave unavoidable openings because of the circumference arching away.
---
Trademark Innovations 5' LED Lighting Rectangular Umbrella
Taking it up a notch, since we've talked about the quirky half umbrellas as well as the enchanting LED mood lit umbrellas, wouldn't it be great if there was a combination of the two?  Well, Trademark Innovations definitely has us covered on that front (both literally and metaphorically).  The 5' LED Lighting Rectangular Umbrella combines the unique design of the half-umbrella with the functionality and style of LED lit umbrellas making it an absolutely stunning addition to your backyard.  The rectangular shape is not only intriguing as decor but also allows for much easier placement in the backyard as well as better alignment with the side of your house, other umbrellas or canopies.  This is matched by the array of gorgeous LED lights on its underside which are not only beautiful but also great for lighting up a spot on your patio for hanging out, reading, or entertaining.  The umbrella is equipped with solar panels so it's not just fighting off the sun for you, but also charging the LEDs with up to 9-12hrs of battery life.  As a consequence, the Trademark Innovations LED Lighting Umbrella does not need you to go through the hassle of plugging it in or charging it.
---
San Diego Shade Sail Rectangle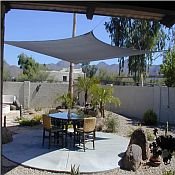 Next in our lineup of shade providing champions is the San Diego Shade Sail Rectangle.  The shade sail is not quite your typical umbrella, but rather a hanging canopy.  This design accomplishes several impressive feats.  Unlike most backyard umbrellas, the canopy and hanging system do not rely at all on any kind of pole or frame making it one of the lightest and least hassle options for shade in your backyard.  At the same time, this also allows it to actually be much larger than most umbrellas, clocking it at a phenomenal 12 by 8 feet (measured from D-ring to D-ring).  At the same time, the rectangular shape lends itself to much more effective coverage and easier alignment with other elements of your backyard since you don't have to worry about the circular shape arching away and leaving corners uncovered.  Getting shade over large dining tables or patio chair arrays will be no problem with this one!
---
Blue Wave 10' Santorini II Square Cantilever Umbrella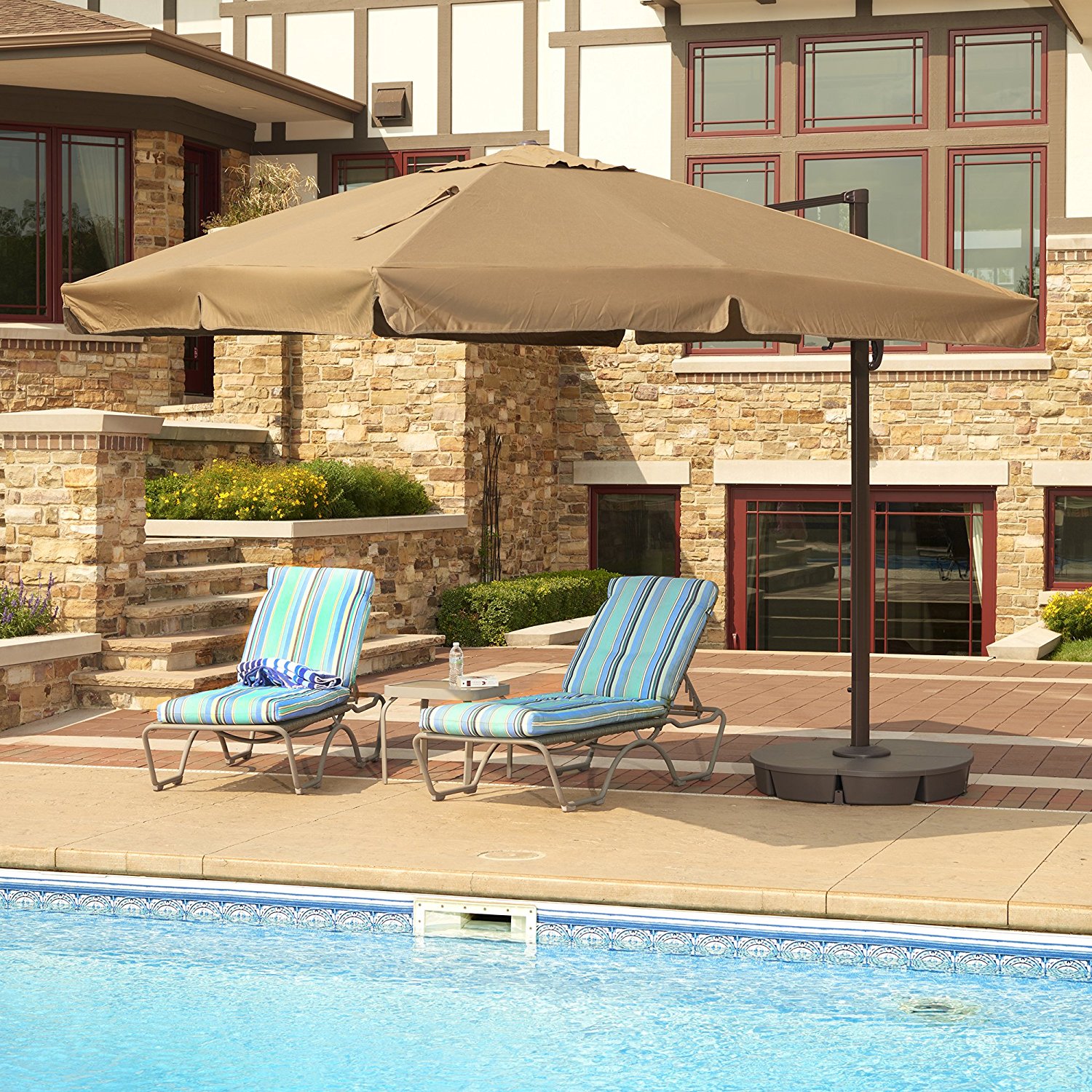 Finally, the last contender in our rockstar compilation of backyard shade ideas is the Blue Wave 10' Santorini II Square Cantilever Umbrella.  Nothing short of a jaw-dropping heavyweight, this umbrella is perfect for anyone in need of an absolutely luxurious canopy and a LOT of shade coverage.  The Blue Wave incorporates a lot of useful features like the offset cantilever build as well as the square canopy shape.  The square canopy, as we've mentioned before, allows for much better coverage and alignment, while the offset pole makes it that much easier to integrate among any of your backyard elements.  Most umbrellas with a centred pole would need to be placed right in the middle of where you want the shade to be in order to be effective.  With the offset pole, they can be conveniently placed off to the side of what you want covered in cool relaxing shade.  Adding to this The Blue Wave has a 360 degree rotating system as well as a locking canopy tilt and orientation system making it surprisingly easy to maneuver despite it's size.  While it is a bit of an extra expense, it is a product well worth the investment.  It is particularly durable and well build, featuring a 5 year warranty on the canopy and a 2 year warranty on the pole.  At the same time it is stylish and sleek, but will not be difficult at all to integrate with your decor.  All these features aside, the one main advantage and selling point of The Blue Wave is that it is…well……huge and beautiful.  It is a design that firmly states indulgence and luxury.  It towers over users and their guests, like an impressive monolith of shade and relaxation.  For those looking for ultimate coverage, this is undoubtedly the umbrella for you!
That's it for the umbrellas.  If you still find yourself still in need for more shade options, you should take a look at some gazebos.  Here is our review of the best canopy gazebos as well as our review of the best hardtop gazebos.