The Coolaroo Market Umbrella is a unique shade umbrella that blocks a ton of UV light rays. It's been given the seal of approval from foundations concerned with skin health.
The umbrella's material is where this product really stands out in the crowd. While you're normally getting waterproof material that can hold heat, this one is a weave that is open to cooling breezes.
We recommend this umbrella for times when you're sitting in the sun all day and need protection and cooling.
Features of the Coolaroo Market Umbrella
Knitted fabric
Reduces temps by 32 degrees
Fabric blocks 90% of UV rays
Premium crank mechanism
Tilt system to block light
Works with tables
Powder-coated aluminum pole
Knitted Fabric
This isn't a waterproof material that can be used in the rain. Instead, it's a fabric that will block 90% of the UV rays of the sun. While blocking the sun, it allows a breeze to penetrate the material.
This unique type of material is actually approved by the Melanoma International Foundation. This is because the material actually blocks so much of the sun that it can reduce people's risk for this deadly kind of skin cancer.
Reduces Temperatures
It not only reduces the rays of the sun. It actually allows a breeze to flow through the material. Instead of getting heated up by the sun like other umbrellas, this one stays cool. It doesn't bake and hold in heat.
In some umbrellas, you can stand up and actually feel like there's an oven living under the fabric. That isn't going to happen with this umbrella.
We'd recommend this umbrella for those who have to be out in the sun, but don't want to be assaulted by heat.
Premium Crank Mechanism
The crank mechanism is vital for the storage of this umbrella. This is an umbrella we'd expect to see covering your tables as you sell your wares at a flea market or yard sale. You'll need to store the umbrella at the end of the day.
The crank mechanism makes quick work of the storage and set up process. It's easy to get this umbrella open and set in just a few minutes.
Tilt System for Blocking Light
In some instances, an umbrella is only good when the sun is directly over head. The umbrella can't easily be moved to follow the rising and setting of the firey orb. It's a shame because every umbrella should be tiltable.
This umbrella has a great tilt system that can be moved and tilted as you need. Instead of moving yourself around to find a good position under the umbrella, you're able to move the umbrella slightly to keep yourself in the cool shade.
Powder-Coated Aluminum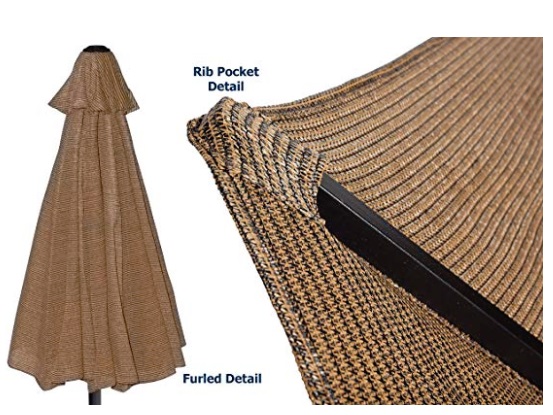 When you're going to the beach, the last thing you want to do is lug around a very heavy umbrella. You're carrying a beach bag, cooler, towels, and water toys.
The powder-coated aluminum of this umbrella ensures that the umbrella pole is very lightweight. In fact, it's less than 17 pounds. While lightweight, it's sturdy and able to stand against the elements. It'll last for years without bending or rusting.
Works with Tables
The umbrella's pole is thin enough to slip into a hole in any table that's meant for umbrellas. It'll fit behind a table if you want to use this at your vendor table in a selling environment. Yard sales or flea markets are a great place to take advantage of all the features this Coolaroo Market Umbrella has to offer.
Frequently Asked Questions
How long is the umbrella pole?
The pole of the Coolaroo Market Umbrella measures approximately 8 ½ feet from the base to the top of the umbrella. The tilt mechanism is near the top, too. That can make it hard to reach unless you are able to pull the umbrella off-kilter slightly.
What's the pole diameter?

This pole is slim enough to fit in any table that has a hole purposely there for umbrellas. It's 1.3 inches around.
Does this umbrella come with a base?
You'll need to purchase a base for this umbrella. It should be wide enough to fit the 1.3 inch pole diameter.
This Coolaroo Market Umbrella is a tilt umbrella that will fit in your backyard table easily. Some tables have a 2 inch hole for an umbrella, but this one is slimmer, so keep that in mind when ordering.
It's a lovely umbrella that will protect you from the UV rays of the sun. It doesn't hold heat under the fabric, either. The fabric breathes, so cooling breezes will keep the heat bearable.
Related posts: