Last Updated on
By: The Backyard Gnome
Today we review the Sunjoy Chatham Steel Hardtop Gazebo, a back yard structure that many people use to gather underneath with friends and family, whether it be in patio furniture, or a hot tub. Some have even been known to grill under it, thanks to its vented roof.
RECOMMENDED: Sojag Meridien Hardtop Gazebo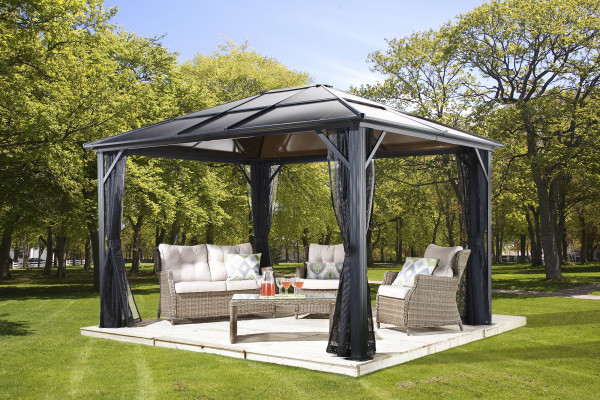 All-Season Hardtop
Premium polycarbonate roof panels
Durable and corrosion resistant, premium powder coated dark grey aluminum frame
Includes a functional and convenient nylon mosquito netting that attaches easily

Available on The Backyard Gnome Store

Sizes currently in stock: 10′ x 10′, 10′ x 12′, 12′ x 16′
Free shipping anywhere in the USA
Ships from California, USA (4-5 weeks)
The two main options when it comes to gazebos, specifically, are hard top and soft top gazebos.  While hard tops are heavier, more durable, and more expensive, they can't be easily packed away and taken to the beach, or set up at an open air market.  Hard tops are designed to be permanent.
On the other hand, the sun can damage lower quality soft tops, leaving a very tired looking patio at the end of it all.
Soft top gazebos do not provide better protection from rain than hard tops, and they are not going to last nearly as long.
This reflects in their price, but if you've ever had a soft top blow over on you, then that might even be the reason you're reading this article in the first place.
These days, this is why more and more people are opting for hardtop gazebos, seeing as how soft top gazebos are prone to elemental damage, usually induced by rain or snow.
Even some hard tops can take a licking, if they're made of wood that isn't prepared for Mother Nature. A wooden gazebo is attractive but is prone to rot over time, and its shingled roof can require maintenance from time to time.
But what about the Sunjoy Chatham? 
We've reviewed other acclaimed Sunjoy gazebos, such as the Wyndham and the Royal Square, which have helped elevate the brand name Sunjoy, but what of this specific gazebo?  Let's find out!
Sunjoy Chatham Steel Hardtop Gazebo
Size & Assembly
The Sunjoy Chatham measures ten by twelve feet, and will need to be anchored down. It comes with L brackets on each corner for easy fastening. A great feature of this canopy is that it includes mosquito netting, zippered for ease of access.
It will require some assembly upon receipt, but between two or three people it can be completed over the course of a weekend. Some tricks to installation include building the roof atop the walls, rather than building it on the ground. The roof will be very heavy if you build it on the ground and might require a handful of people to hoist it.
Instead, finish all the roof supports, attach the frame that holds the cupola, and then carry the cupola and rest it atop the frame. After this, if you are brave, you can build the roof from your ladder, panel by panel.
Most people who have bought and assembled this gazebo opt for installing the little roof first, and then doing the large roof panel by panel. This keeps the weight down, and requires only the work of one to two people. We recommend using galvanized steel screws to anchor it down.
This gazebo is very popular with purchasers, and quite possibly the best gazebo Sunjoy has on offer.  Over 90% of purchasers give this 4 stars or above.
One reviewer said: "Only have had this up since May but this gazebo survived Snow-vember in Buffalo….we did have to remove some snow but even with the heavy wet snow accumulation on it….it held up fantastic! We have it on a second floor deck and it holds up perfect to the Lake Erie wind too….so far i give it 2 thumbs up!"
When delivered, the gazebo will arrive in two very neat packages. Each piece will be carefully wrapped to prevent damage. From start to finish, this is a quality gazebo.
We recommend going through the instructions and checking the hardware to make sure everything is in place before you begin installation, for the sake of avoiding a potential headache.
Assembly is quite intuitive. Each piece is perfectly labelled to make it easier on you. They even have orientation marked, such as "this side up." We only wish IKEA did this kind of labelling – it would have saved us much frustration in the past.
One reviewer had the following to say about set-up: "Before we purchased this gazebo, we read all of the reviews, just like you are right now. My main concern was the amount of people we would need to lift the roof on to the legs. I don't know about you, but I have a hard time getting a group of reliable people to show up never mind asking them to do actual work." Sounds about right!
He continues, "Let me tell you this…My wife and I assembled this unit in 2 days by ourselves. My wife helped hold the legs while I attached the support pieces. Once the four legs are attached by the horizontal supports, the rest is pretty easy. Do not build the roof on the ground, it will be way too heavy. Once I finished all of the roof supports, I attached the rectangular frame that holds the small, upper roof cap. I carried the assembled roof cap up the ladder and rested it on top of the frame. After that was complete, I built the roof from my ladder. It was really easy, time consuming, but easy. You have to think logically while assembling this way. You can do it!"
Longevity & Features
The benefit of investing in a hardtop gazebo is its longevity. It will just keep going and going. It will hold up to windstorms, it will not rust, or fade, and you can leave it up year-round.
Keep in mind that it is wise to do a bit of regular maintenance on the gazebo, such as removing snow as it piles up. too much weight can crush anything, even the rooves of houses.
The roof tint is rather dark, so it does attract the sun and melt the snow. However, removing the snow in the winter will only prolong the life of your gazebo and protect it from any potential damage.
The gazebo, once installed, will bring a very grand air to your yard. It will encourage you to get outside and enjoy the fresh air. The mosquito netting is a very handy addition, and can be tied back at each post for a nice look.
If you consider that the purpose of a backyard gazebo is to provide shade, but also a focal point, or to have some kind of centering structure that draws people into it, the Sunjoy Chatham does precisely that.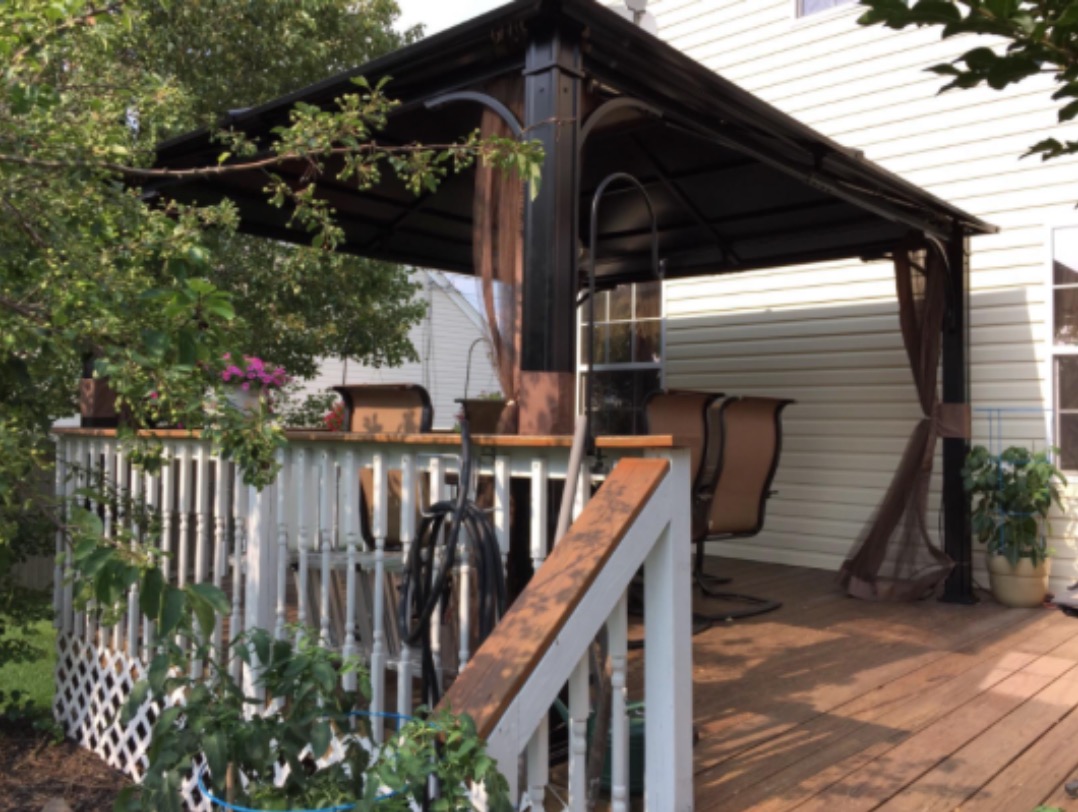 One reviewer said: "I am impressed with this quality. Shipped in 4 days. Sturdy cardboard and entire gazebo is enclosed in a steel cage so no damage. Extra bolts etc, yea. Up in about 10 hours with 2 males and one female reading directions. Install the roof in pieces on the structure and not on the ground b/c you will need a crane to lift it. No problems so far and I do not expect any."
This gazebo sells for around $1300.
Sojag Messina Gazebo

Thank you for reading our review of the Sunjoy Chatham Steel Hardtop Gazebo! 
Let us know in the comments below if you have any stories or experiences with this gazebo, or any other gazebos you may have purchased. 
How did your experience go?
Here are some additional articles on our site you might find helpful.