So the time has come, has it? You've got to get rid of the ol' gazebo. Perhaps the soft canopy has been torn up, or you're wanting to change up the arrangement of your yard with a patio makeover. No matter hard or soft top gazebo, we're right here with you to guide you through the process of gazebo removal.
It can be done in one afternoon and should be completed by someone with at least a bit of construction experience. You don't need much, but it will really help.
Some things to remember going into this job:
Because you are destructing a décor item that you likely no longer want or need, it will be tempting to rip it down quickly to get the job over and done with. It is important to stay calm and patient so as to minimize damage to any materials and minimize risk of injury. Remaining calm and doing it slowly will ensure safety of all workers and will help keep you organized. You will be able to have the whole thing down in an afternoon.
Sojag Mykonos II Double Roof Hardtop Gazebo

Sojag Roma Soft Top Gazebo

PenGuin All-Season Hardtop Gazebo

Here is a list of the tools needed for this job:
Screwdrivers
Work gloves
Ladders
Carpenter's flat bar
Crow bar
Now that you've got your tools ready, let's move on to the removal process.
Step 1: Remove everything inside the gazebo.
This may seem obvious, but you must be careful to look out for any extra hooks or clips you may have put in. Remove all furniture and planters and lighting. Get rid of absolutely everything under that canopy; move it well out of your way before you take apart the gazebo. You do not need to create extra tripping hazards for yourself.
Step 2: Remove the roof.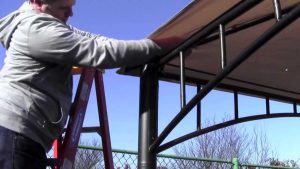 Soft top is definitely easier than a hard top, because it is lightweight and easy to maneuver. You will need helpers for this step. It helps to work from the highest point downward.
Soft top: remove all hooks from grommets and gazebo frame, one side at a time. It would be helpful to have a partner for this task to work opposite you. Once the canopy has been freed, lift it up over the peak and throw it down on the ground beside you. Before you go any further, get down from the ladder and fold up the canopy no matter if you are reusing or throwing it out.
Hard top: take a look at the hardware securing the hard top to the frame. You will need the help of two or three other people for this part. Disconnect all hardware and then, with the canopy still intact, get everyone to help you lift the canopy off the frame and set it on the ground. You will need to take the panels apart eventually. It is best to leave this for later. For now, set aside the hard top canopy.
Step 3: Dismantle the frame.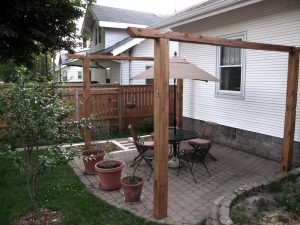 Now that the canopy is removed, you are left with an entirely exposed frame. Get up on your ladders and loosen all hardware that fastens the top peak of the frame. Take these pieces down and lay them on the ground.
Step 4: Remove the posts.
This will be simple or difficult depending upon your setup. If you have only anchored the gazebo to the ground with stakes, it will be very easy to pull those up and take the posts down. If, however, your posts are set in concrete, you will have to dig into the earth to get the entire hunk of concrete out. This is a really difficult job physically and you may want to contact a professional post hole company to come and remove the posts for you, since they will be able to use an auger. The posts will be very heavy with concrete attached to them. Note that these posts in concrete – whether you sank them into the ground or into planters – will not be salvageable. You will have to dispose of them at the dump. If you hired a contractor to do this job, they will likely take the posts for you for a removal fee.
Step 5: Lift up the patio/flooring
This is where the flat bar and crow bars come in handy. If your patio is concrete, you will likely leave it as is. However, if you installed some kind of flooring for your gazebo like wooden slats, for example, you can have these up in no time. Stick the short hooked end of the crow bar up under the planks and push down on your side so as to lift up under the floorboards.
Now that your gazebo has been dismantled, you will have to deal with the leftover parts and pieces. You can either try to recycle them with a local upcycle shop or hardware store, or perhaps you can find another use for them.
Related posts: