Want to step out your back door and feel like you've escaped to a mystical tropical resort? A tiki hut can be a great way to add some tropical character to your backyard.
A well-designed tiki hut will offer you a place for relaxation where you can get away from all the stress of everyday life and simply enjoy the beauty of your garden.
TIKI Brand 25 Inch Stainless Steel Low Smoke Fire Pit

Yiosax Solar-Powered Tiki Statue

TIKI Brand 65-Inch Cabos Bronze Metal Torch

A tiki hut is fairly easy to install and costs less than other structures, such as a gazebo.
Today we discuss different type of tiki huts, focusing on different materials used for their construction. Here is what we are going to cover:
Let's start…
Tiki Huts Made from Natural Materials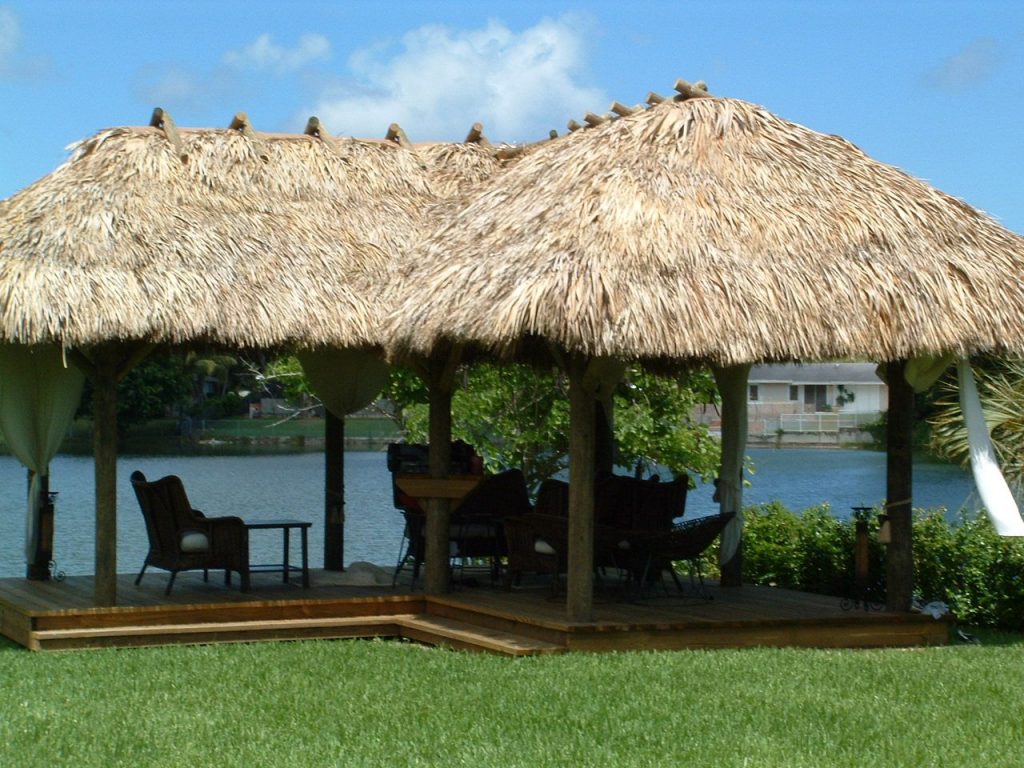 Natural thatch is perfect for indoor Tiki Huts, temporary structures, or when you require 100% authenticity for your outdoor hut.
With natural thatch, you can choose between three main types – Mexican Rain Cape, Tahit thatch, and Thatch Reed Panels. These varieties of roofing matierals give you different features and looks.
They are all made by drying out natural materials, such as reed grass or palm leaves, and sewing them together into panels.
Before we discuss Mexican Rain Cape, Tahit thatch, and Thatch Reed Panels into detail, we'll cover pros and cons of natural thatch.
So, let's get to it…
Pros and Cons of Using Natural Thatch for Tiki Huts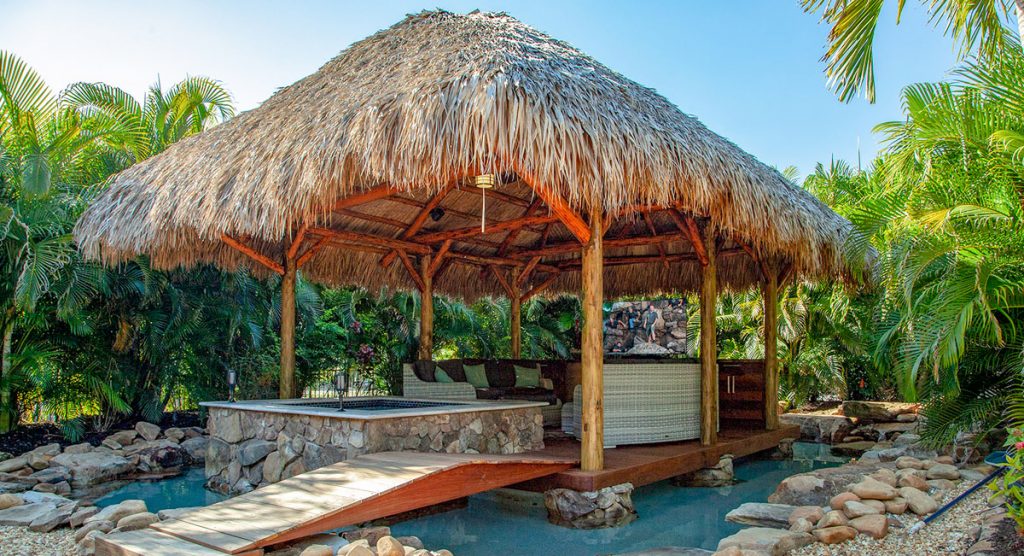 As a material, natural thatch is sustainable, environmentally friendly and cost-effective. It also brings informal, tropical authencity to your Tiki Hut.
Natural thatch can last indefinitely indoors and for over a decade when used outside in dry climates. However, this is only half the typical life of artificial thatch. Artificial thatch roofs don't depend on environmental factors to achieve their long lives, but natural thatch roofs do.
Natural thatch is the best option for you if you require 100% authenticity for your outdoor hut.
Next, we discuss the most common types of natural thatch you can use for your tiki hut…
Mexican Rain Cape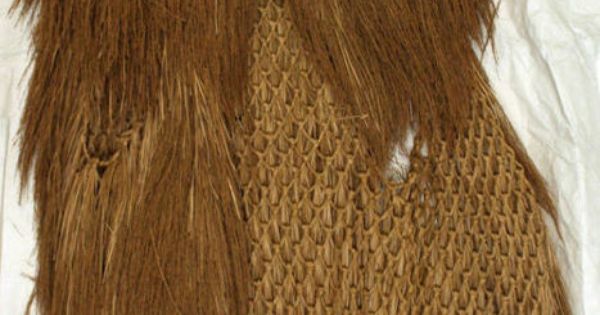 Mexican Rain Cape is made from the fronds of Mexican palm trees and comes in a light blonde color. It is installed in naturalistic, uneven strands around the roofline, which adds natural look to your Tiki Hut.
Mexican Rain Cape is one of the most budget-friendly types of thatch which can last indefinitely indoors. However, it does have one drawback. When using outdoors, it lasts 1 or 2 years in wet, humid climates. In hot and dry climates, it can last up to 5 years.
It is also worth mentioning that Mexican rain cape is not waterproof. Although it can offer some protection against water, it should primarily be used for shade covering or decorative purposes.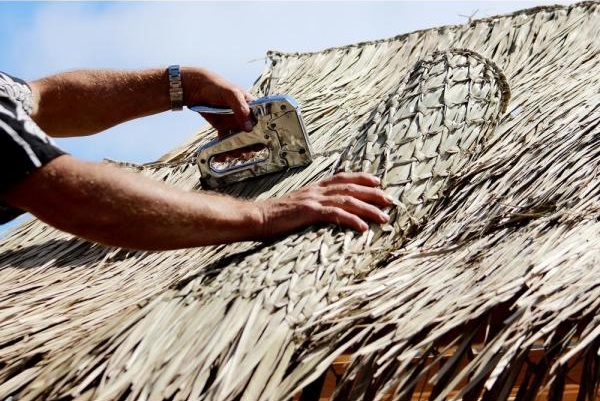 Mexican rain cape installation is very simple and doesn't require any special skills or tools. Heavy duty staples or zip ties can be used to attach the thatch to the tiki roof.
Next, we talk about Tahiti thatch which is much more durable than Mexican Cape thatch.
Tahiti Thatch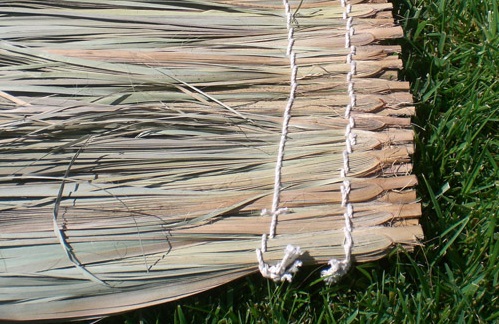 Tahiti thatch is also known as Tahitian palm thatch. It is made from desert palm fronds which are sewn with nylon rope for extra durability. This is a rustic looking, natural, eco-friendly and sustainable material.
Tahiti thatch is much thicker than Mexican Rain Cape and is also more appropriate for waterproofing. This type of thatch is actually 98% water-proof. Its thickness is what allows water drops to roll off of the roof and not soak through.
This thatch is very flexible and can be installed in neat, straight lines or uneven roofing lines. Tahiti thatch is ideal for round or umbrella style tiki huts.
Finally, we discuss Thatch reed panels…
Thatch Reed Panels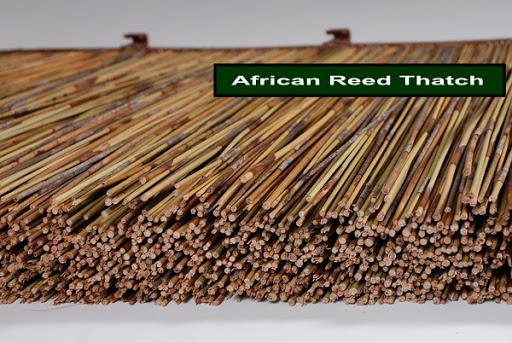 Thatch Reed Panels have a more refined classic look which makes them very popular for homeowners. The tropical color blend of yellows, browns, and greens gives a natural look that perfectly complements any décor scheme.
They are made from natural African reeds which is the most durable and waterproof material on the market. Thatch reed panels can last up to 10 years depending on climate conditions and treatment.
This long lasting and rugged thatching material provides significantly cooler shade than other alternatives. Typically, African reed thatch will keep your tiki hut 10 degrees cooler or warmer, depending on the season. This thatch allows heat and moisture to escape upward and naturally ventilate your hut.
For more information about Thatch Reed Panels, please watch this useful video:
Next, we talk about using artificial thatch in making tiki huts. We cover all the pros and cons of artificial thatch and explain when it's better to go with artificial over natural thatch.
Pros and Cons of Using Artificial Thatch for Tiki Huts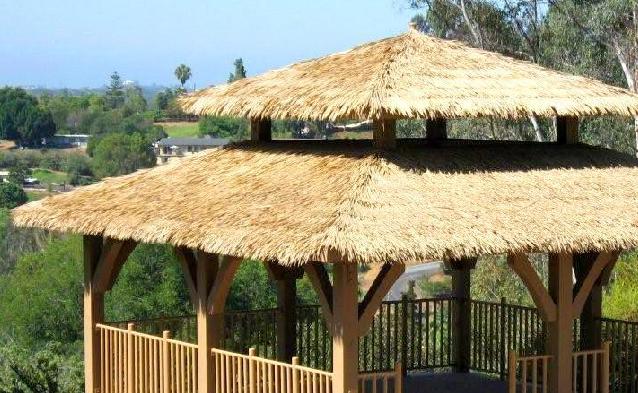 In the last couple of years, artificial thatch has come a long way. Compared to natural thatch made from drying out palm leaves and grass, artificial thatch is made from specially crafted plastics.
The use of plastics doesn't affect the appearance of thatch, but instead helps extend its lifespan. At a distance, it is almost impossible to tell the difference between artificial and natural thatch.
With a quality artificial thatch, you don't need to about mold, insect damage or decay. Whether it's located inside or outside, a tiki hut with artificial thatch requires no maintenance.
Artificial thatch is the best option when you are building your tiki hut outdoors, especially in damp environments.
It is also worth mentioning that the premium versions of artificial thatch usually meet fire, wind and UV ratings for building codes of the most states.
If your outdoor tiki hut requires longer-term durability at a lower overall cost, artificial thatch is going to be your best option!
That's it! Thanks for reading. Please feel free to share your thoughts and comments in the comment section below!
Related posts: