You may already have a tiki hut in tow, or perhaps you're looking to either purchase or build a couple. Either way, it's imperative that you pay just as much attention to securing the perfect accompanying bar stools.
It's easy enough to stumble upon an aesthetically pleasing set of bar stools. What matters just as much is their durability, particularly given that they'll be living outside.
Suncoast Tiki Bar
Free Shipping anywhere in the USA
However, whether you favour stools that are handmade rather than factory made, or those bearing a dramatic totem pole design, in the first instance, it can be difficult to know where exactly you should be looking for the high quality that you're seeking.
Worry not! We've done the research for you. Simply read on to discover where in America you'll find the best tiki bar stools and soon enough, your very own back garden will feel like the spotless Hawaiian coastline.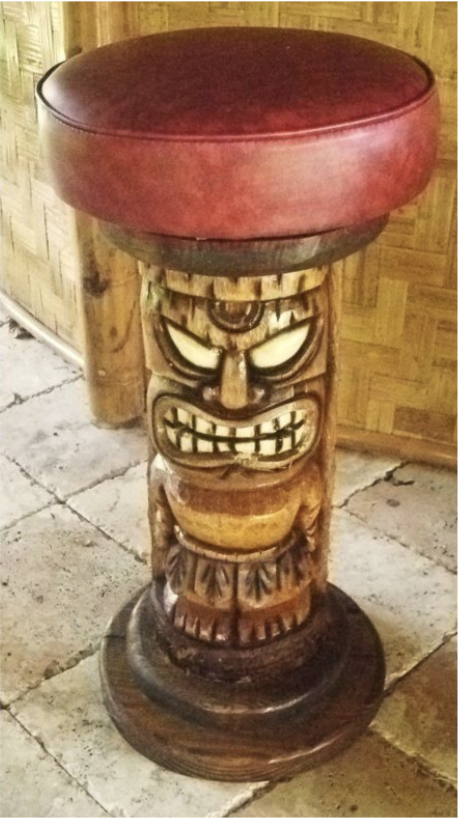 Located in Florida, Suncoast Tiki Huts is home to the full Hawaiin shebang! Here, the tiki bar stools on offer have been completely hand carved with totem pole designs.
As they're both made by hand and from natural tree trunks, you'll find that each bar stool bears its very own markings, burns included. So if you're into thoughtful craftsmanship and owning a few one of a kind pieces, we think you'll find the offering intrinsically charming.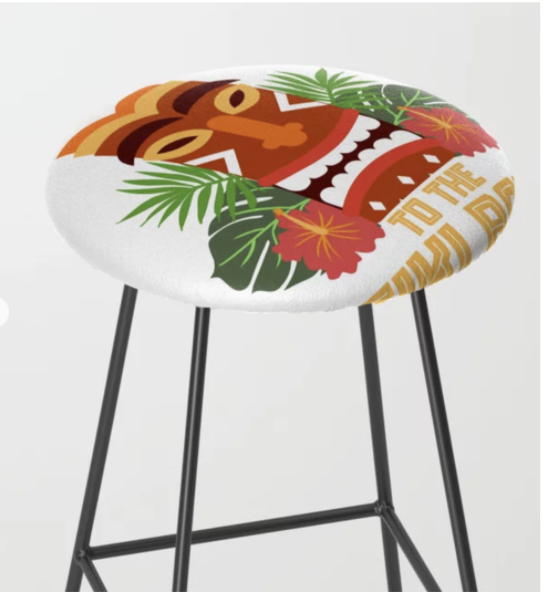 Society6 is an exciting online marketplace allowing designers and artists to showcase the best of their work, of which tiki stools are no exception. So if you've found yourself itching to spruce up your bar area with a modern touch, Society6 may just be able to help.
Whilst their tiki bar stool collection is extensive, it's not exactly traditional. Rather, the available designs are inherently contemporary.
No bamboo or wood in sight, their designs comprise steel legs which are available in both black and gold, alongside soft vegan leather seats.
With over 20 bold, tropical, and even humorous designs, all lovingly made of course, we have no doubt that you will find the stylish stool for you!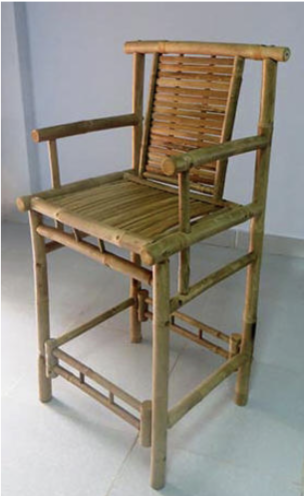 Master Garden Products stock a range of tiki bar stools, all of which have been hand crafted out of the most heavy weight Bamboo possible – 'iron bamboo'. Hence, these stools offer a robustness that is pretty much guaranteed to stand the test of time.
By nature, their design is fairly understated without so much as a totem pole in sight, yet they remain a perfect Polynesian ode and one that is sure to complement the natural reed that is often used in the making of tiki huts and bars.
The stools feature back support which enables you to relax to your heart's content. Plus, they're available with or without armrests. You decide!
Finally, if your goal is to save space, their convenient foldable variety has you covered!
Bar-stools-single-400px
Situated in Pennsylvania, Tiki Kev's business model is centered around custom work with an unwavering vision to convert your patio into something of a paradise.
With years of experience and expertise built up, his trademark bar stools are expertly hand carved from either sassafras, sweet cherry, or elm trees, and are the ideal height for most countertops (but fear not, height can be customised too)! For a marginal additional cost, he'll make them with 360 swivel tiki heads.
His customer testimonials are glowing, and we can see why!
Frontgate Tiki Bar Stools
FrontGate's Margaritaville tiki bar stools are so immensely popular that they're almost always sold out! With Bamboo legs and relatively thick beige Sunbrella® fabric seats, they pay a classic and tasteful homage to the oh so tropical Hawaii, whilst remaining pragmatic and comfortable.
You'll want to move quickly with these ones!
Bamboo Creasian
Based in California, Bamboo Creasian is home to 'Waikiki' tiki bar stools that are, of course, made wholly out of bamboo. The smart use of marine sealer works to safeguard the stools against decay. Hence the bar stools are fundamentally durable whilst the stunning rattan aesthetic design simultaneously emanates all things tropical.
It's the best of both worlds and we're all for it!
Wayfair
Last but not least is none other than the tried and true Wayfair!
Head to this infamous ecommerce company for your choice of tiki barstools. Wayfair stocks an impressive range of stools, varying in material, design, and arguably most importantly, price tag!
There is truly something for everyone's unique taste, and the largely mass-made nature of their products means that they're a great choice for commercial use, as well as residential.
Have a browse!
We hope that our shortlist proves to be helpful in your hunt for the ideal tiki bar stools. Once you've made your purchase, whether it's from any of the above stores, or anywhere else for that matter, we would love to hear your feedback!
Related posts: