A clay chiminea brings a rustic feel to any backyard setting, while providing a decorative focal point, as well as a practical gathering place providing warmth and visual effects.
Top Pick: Sol y Tierra Clay Chiminea Pizza Oven
Traditional Latin American look
Handmade with high-quality & natural painted terra cotta clay
Made from durable 2 inch thick clay with a crash tested shipping packaging
Certified for food processing (most often used as a pizza oven)
Comes with added accessories: metal feet, 10″ pizza stone, stainless steel grill, instruction in English, French, and Spanish
Size: 15 x 15 x 35 inches
Ships anywhere in Canada and the USA, as well as Hawaii & Puerto Rico
Ships from Quebec Canada in about 5-12 business days, depending on location
Lakeside Collection Outdoor Wood Burning Clay Chimenea with Metal Stand

Redi-Flame Chiminea Kit with Mosquito Repellent Log

Chimineas also come in cast iron and cast aluminum, but clay chimineas are revered for their authentic, old-timey feel, as they are the traditional building material of choice for this particular invention.
Have a look at this clay chiminea in action!
Compared to iron, clay requires no assembly, and the exterior does not get as hot. Iron can be dangerous when in use, as it can cause severe burns.
The exterior of clay chimineas will become warm, but will not cause instant injury if accidentally touched. This is very important especially if you have pets or children who may come in contact with the chiminea.
Clay does not rust like iron, but it does break down in its own ways over time. We have put together this guide to help you care for your clay chiminea so that you and your family and guests can enjoy it for many years to come.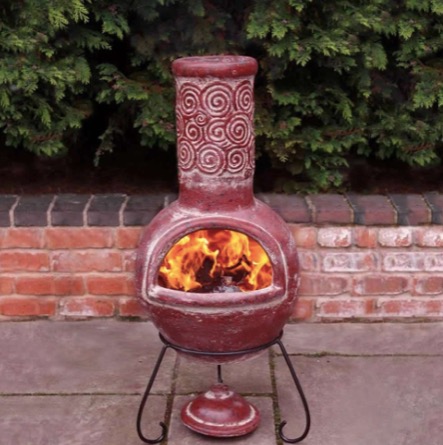 Clay chimineas are constructed as such: both the bowl (base) and the stack are modeled separately, and then placed together while the pieces are still wet.
From here the clay dries and the base and stack are bonded together. Each is handmade, giving the clay chiminea a unique appearance.
Clay will take on a more rustic and warmed appearance the more it is used. While clay has these advantages, it also has some disadvantages, such as being prone to cracking, or paint flaking.
We do not recommend "abusing" your chiminea in any way. If you follow our rules, you need not fear! If you follow this guide to clay chiminea care, you should not have any such problems.
People who report these issues tend not to take care of their chimineas or give them the regular maintenance required.
#1 – Seal And Cure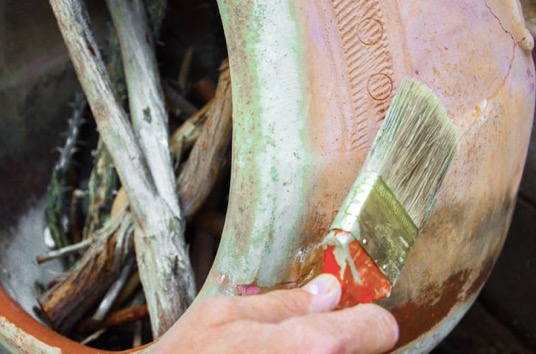 When you get your chiminea home, be sure to build a hearth upon which to set it. The hearth will be an area of non-flammable material such as gravel, brick, or stone to catch any stray ash, and will create a buffer zone to stop people getting too close.
The key steps take place before you even use your chiminea. It may come with a coat of sealant, but it is prudent to add another layer when you get it home.
You can use either a weatherproof sealer or floor finish. The surface of the chiminea must be clean and dry. You can either spray or paint on the sealer.
This will prepare the hardened clay for enduring high temperatures, and prevent the clay from absorbing moisture.
Next, you will cure the chiminea. By strengthening your chiminea, you will prevent many problems down the road. Line the bowl with about an inch of sand or gravel.
Using small balls of paper, light a small fire inside the bowl. Allow this fire to burn out naturally, and allow the chiminea to cool. Then put small firewood or kindling in the bowl and light a slightly larger fire.
Again, allow it to burn out naturally, and allow the chiminea to cool. You will repeat this another three times and your chiminea will be properly prepared to endure longer, bigger fires for you to enjoy in the future.
Purchase a waterproof cover for your chiminea. This will protect it from the elements, repel moisture, and block out UV rays. Clay will absorb moisture, and will crack during freeze/thaw cycles.
Also, if the interior of the chiminea gets wet, you may not be able to start a fire until it is thoroughly dry; wetness creates a lot of smoke.
#2 – Usage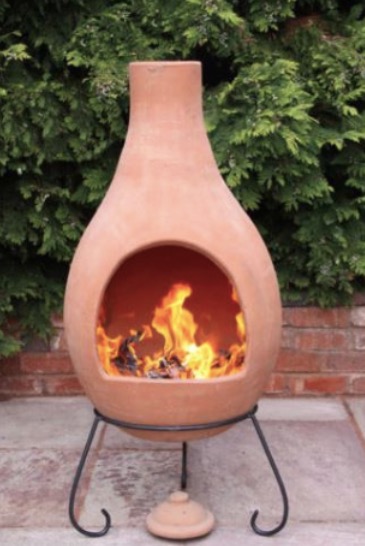 Be sure to only use the chiminea when it is thoroughly dry. We recommend covering it to protect it from rain, etc. The chiminea is designed to provide sufficient heat when the flames are contained within the bowl.
They should not go up into the stack or else you could damage it. Use thin firewood that is nine to twelve inches in length: you can find chiminea-specific wood in some home improvement stores.
If the party is over but the flames are still going, then use a fire poker or shovel to overturn the sand and bury the embers in it. This will smother the fire and put it out. Never use water to extinguish the fire.
#3 – Maintenance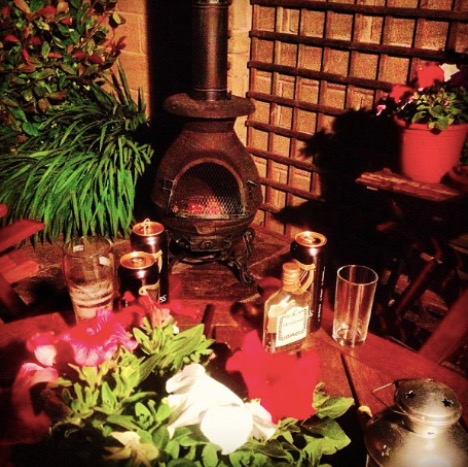 Depending how often you use the chiminea, you should regularly remove the ashes and sand, wash it out using mild dish soap and water, and let it dry. Then replace the sand bottom.
Cover the chiminea when not in use, and bring it inside for the winter months. Be advised that your clay chiminea should only be moved using a cart, if possible.
If not possible, get one or two more people to help you lift it by the bowl and into shelter. Chimineas are fragile, despite their weight, and dropping them can cause irreversible damage.
You may need to touch up the paint periodically: be sure to use a heat-resistant paint. If your chiminea does crack, you can either fill the cracks and seal it, or you can use it for garden décor. Try planting ivy inside and watch it grow out the front!
Chimineas do not require a lot of work, but if you put in a little extra care here and there, your chiminea will last for years, bringing a warm focal point to your backyard parties.
Related posts: