Today we review the Dewalt DCBL720P1 leaf blower, a lightweight and cordless blower great for cleaning and/or winterizing your yard.
Making Yard Chores Almost Seem Fun
It will maximize efficiency while minimizing effort. This is especially handy for anyone with mobility issues or those of us who exhaust our muscles raking all the falling leaves in autumn.
It is an endless chore that takes too much time and elbow grease leading to sprains or muscle tensions. A leaf blower not only moves leaves around, but they are a handy way to remove leftover debris from do-it-yourself projects, like sawdust.
Let's look at the specifics: this model features a brushless motor, maximizing motor efficiency and durability. It has an innovative axial fan design that maximizes air output and run time, with 400 cubic feet per minute, performing at a speed of 90 miles per hour.
There is a variable trigger as well as speed lock, giving you maximum power over the blower by selecting your chosen speed and letting it run.
The purchase of this leaf blower includes a 20 volt MAX 5.0Ah lithium ion battery, as well as a charger. Rechargeable batteries are the way of the future, for they save us money and save the environment.
Many leaf blowers are gas-powered, which can lead to frustrating gas spills or running out of gas, plus the fumes.
Not to mention the constantly rising fuel prices and the taxing environmental effects. You can't beat the convenience of a tool that comes with its own rechargeable battery.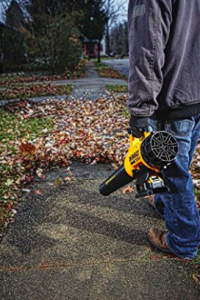 It also requires little maintenance: there are no carburetors, spark plugs, or air filters. It only weighs 7.1 pounds, so it is a compact, lightweight, and ergonomical blower.
Its cordless design makes it very easy to use and maneuver around the yard. It covers a larger area than some of its competitors, making it one of the more efficient blowers on the market.
Its setup is similar to that of a jet turbine, and gives a bit of a high-pitched buzzing. It has an instant on-trigger that you hit and the machine fires right up.
The battery automatically shuts off when it runs out of juice. The charger has overheating and cool-down warnings.
This blower has great run time considering the size of the battery, and covers a wider area than a blower that is necked down. It works quite well on driveways, roadways, and sidewalks.
Great for weekly lawn maintenance and tidying up! It's the perfect alternative to sweeping; a tool well used and beloved by homeowners and professionals alike.
It's great for blowing out porches and patios and general regular maintenance. It is the perfect size and power for someone with a smaller property.
The cordless design allows you to move around the yard without tripping, using electricity or having to think about the length of a cord. You are free to move around as you like and need.
More Features of the Dewalt DCBL720P1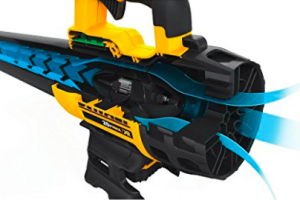 The nozzle tube is removable for easy and tidy storage. You can hang a bicycle hook on the wall and keep the blower here when not in use.
It's like having a portable vacuum on hand: not necessarily for the heavy-duty jobs (like cleaning out wet, packed leaves from the eavestrough).
It's great for blowing out the deck, walkway and garage without having to pull out the heavy-duty blower, vacuum or other tools.
When you need a quick tidy-up, like clearing the sidewalk after mowing the grass or removing cobwebs, this is the perfect tool!
It's also handy when you've just washed your car and you want to blow the excess water off. It works best at clearing large spaces of small, lightweight debris. It gives out a good amount of air.
The quality of DeWalt's batteries is such that the charges last much longer than other brands. The large capacity of this battery allows it to run for long enough that you can get your jobs done without it dying on you.
Best of all, the 20V battery is compatible with other DeWalt tools.
The battery will last about half an hour for you. Whenever you need a quick cleanup, simply throw in the battery and turn it on. You don't have to worry about priming, warming it up, or filling with gas.
Its ease of use may prove to be the best thing to happen to your yard, as you might even anticipate using it rather than dread it! The on-lock trigger keeps the trigger in the on position so you don't have to constantly press it down for power.
This is a product designed with the user in mind. It's great for residential purposes or for contractors who need a quick tool to blow away sawdust, etc.
DeWalt has proven to be a reliable and dependable brand. This DeWalt leaf blower sells for around $175.
Recommended Videos
Related posts: