Last Updated on
By: The Backyard Gnome
Today we review the Lifetime storage shed with shuttered windows and skylights, a shelter that will house all of your backyard and outdoor equipment, but can also serve as a clubhouse with its extra features!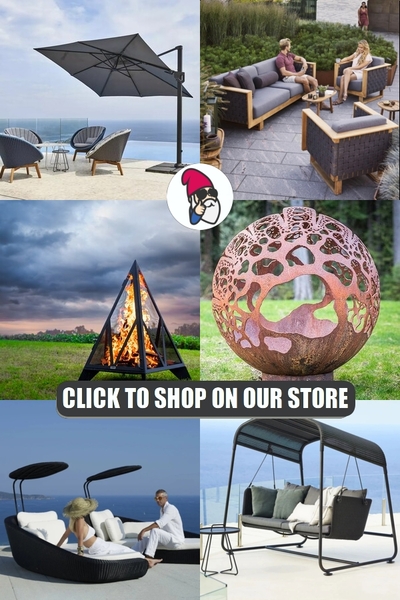 Lifetime 6446 Outdoor Storage Shed With Shutters
What's in a name? More importantly, what's in a shed? If you have a backyard, a shed is absolutely essential for storing all your equipment no matter your hobbies.
You'll need a shed for winterizing your yard and protecting things from the rain. It will be a very convenient spot to store your gardening tools, lawn mower, paint supplies, et cetera. Save the garage for housing your vehicle, and get yourself a quality shed.
We are fond of the Lifetime 6446 shed model for all of its extra features. This thing is the penthouse of garden sheds. Maybe you have a garage and prefer to store everything in there, and are looking for a backyard clubhouse that is pre-assembled. No matter your needs, this shed will cover it.
Let's look at some of the specifics:
This shed measures 8×15 feet. Its interior dimensions are 90" wide by 174" deep and 94" tall at ceiling peak, 70" everywhere else.
There are six small skylights, two polycarbonate windows (that are also shatterproof), two screened vents, and decorative shutters for these windows. It also includes two peg strips, two shelves measuring 90" by 9", and four corner shelves.
The storage and shelving system is entirely customisable to suit your needs.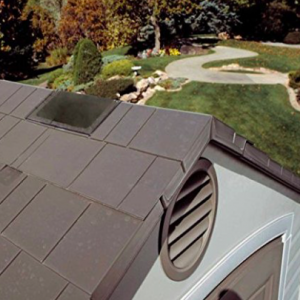 This is a low maintenance structure constructed from dual wall UV protected, high-density polyethylene, with steel wall supports for ultimate durability.
The UV protection will prevent fading and other weather related damage. The roof's strength comes from heavy-duty steel trusses, and is high pitched for quick and easy drainage of rain or snow.
All of these features come together for a very attractive appearance and design. Best of all, the shed is backed by a ten-year warranty from the manufacturer.
All Lifetime's garden buildings are built for superior strength with attractive designs to look beautiful in your backyard.
The doors are centralized for ease of access to either end of the shed. This clever design and durable construction make for the perfect shed for all your storage needs.
And since it's so big, and you will be storing your good equipment in there, the doors are fully lockable and steel-reinforced for security.
The floor is slip-resistant, made from high-density polyethylene, and protects against oils, solvents, and stains. One thing to note is that the floor is only as sturdy as what is beneath it: the shed must be secured to the ground somehow.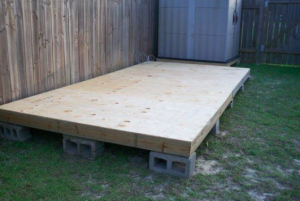 You will want to construct a foundation of sorts, to which you anchor the shed. This will enable it to stand up to windstorms especially if you live in a windy or hurricane-prone area.
A good compacted and level subfloor is key: wood, gravel or concrete will do. Some people opt to lay down cinder blocks and assemble a wooden platform atop this. Boards should be one foot apart to keep it level and sturdy.
This is a very attractive shed around which you can design landscaping or gardening. Since it looks so much like a house, the addition of flowerbeds or a few shrubs would suit it perfectly!
Weighing in at just over 600 pounds, it is a very sturdy thing once put together. Fear not: it comes in pieces in a couple of boxes, so with the help of one or two other people, you will be able to carry it to the backyard and then assemble it.
You will find there are no holes for the shutters, so this will require outdoor glue. Do not drill holes in your shed, or it will be subject to leaks!
The assembly is straightforward. Instructions are included, of course, and are easy to follow.
There is an easy process to follow that will help the assembly of this shed and any project in the future: lay out all of the pieces first, to make sure everything is there and lined up. This way you know where each piece goes.
The instructions are broken down by sections so you can do a bit at a time. Altogether, with two people, assembly should take around three hours.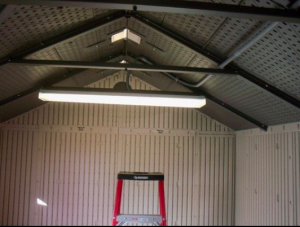 Easy to install wiring for electricity in here!
The shed is incredibly waterproof and will hold up to moisture and weather damage over time. Your equipment will be safely guarded from any rain getting in and the shed is resistant to mold.
You will see no leaks! The windows make it a pleasant place to go in and search for your needed tools.
It has the ability to hold electrical wiring should you choose to add lighting (especially if you're turning this into a clubhouse, as you would have seen in our article about shed conversion).
The Lifetime 6446 Shed sells for around $1700.