If you're lucky enough to have a lūʻau in your future, of which you find yourself playing the all-important role of host, whether the event is personal or commercial in nature, you're going to need the right tools and props to play to the theme.
We're talking about everything from floral garlands to flavorful poke bowls to coconut decor. And if cocktails are on the agenda, what better way to whip them up than from behind your very own themed bar.
Fortunately, you don't need an in-built traditional bar to impress your guests. Rather, why not win them over with a portable tiki bar?!
Growing in popularity, portable tiki bars are temporary enough to roll out with ease should an event call for it, whilst remaining impactful and fun. As long as it's a high quality bar, you'll be sure to transport your guests to a hypothetical Hawaiian paradise.
To save you the research, we've highlighted our top three portable tiki bars below. Read on to discover our favorites.
TikiBarToGo Paradise Portable Tiki Bar -
Our TikiBarToGo exhibits an innately fun aesthetic. The weaved palm roof and natural reed bar skirt are the perfect ode to Hawaii and are guaranteed to bring a slice of paradise to your event.
Not only does it look the part, it's pragmatic too.
We love the fact that it comes with a storage shelf that fits perfectly behind the bar, doubling the room the bartender has to work their magic. It's wheelable nature works to maximize its portability, giving you the freedom to shift its location should the need arise.
Plus, the roof handily comes with a pre-installed power cord, allowing you to complete the look with your very own choice of lighting, sans excess wires!
Alongside boasting supreme functionality, it's a high quality contraption too! Premium grade white PVC furniture pipe runs throughout it, the roof's frame is made of bamboo, and faux bamboo uprights form the bar front.
The look is completed by the tasteful unmanila rope footrest, which is designed to remain damage and discoloration free.
It's portability is made all the more useful by the sheer ease at which it can be assembled. When it's not in use, simply put it away in the professional carry bags that it conveniently comes with, where you can rest assured that it will safely remain until you're next ready for it.
With detachable shoulder straps, velcro wraps for storage of the power cord and skirt, and buckle straps to keep the PVC pipe locked in, even the bags themselves boast ease of mobility and efficiency.
Mobile Tiki Bar - Link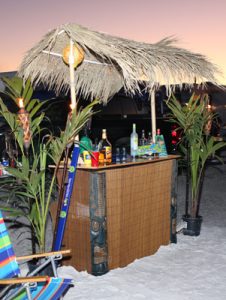 The Mobile Tiki Bar was created by a group of friends determined to tailgate outside an Orlando Predators Arena Football game. Rather than settling for the usual table and chairs set up, they wanted to do so in style! Tiki style, it soon transpired.
Soon enough, the Mobile Tiki Bar was up and running, and quickly became renowned for its portability; so much so that it could fit into even the smallest of cars with ease.
Measuring at a mere width of five feet, and a depth of two feet, you can be sure that it will come into use not only in your very own home or backyard, but anywhere you wish! It's just that portable.
Hence, it's no surprise that it's a breeze to store, and to help further, it conveniently comes with it's own carry case too.
The bar itself features a traditional woven thatch roof, a robust brown-toned pvc base, bamboo style uprights, and a bamboo countertop and shelf; the many aesthetic ingredients of a traditional Hawaiian bar.
The icing on the cake? Taking the tiki decor to a whole new level are the decorative tiki heads that it comes with.
It's the ultimate multipurpose bar. You can buy it outright or if you need it for a one off, you can even choose to rent it; an ideal option for large events, from weddings to pop ups, or any commercial celebration for that matter. It's a surefire crowd pleaser.
Best of Times Tiki Bars - Link
The Best of Times portable tiki bar is an event organizer's best friend.
First and foremost, its durability is second to none. The L shaped bar is made of a robust white powder-coated steel bar frame, and all of its wrap material is UV protected, because, safety first!
Equipped with three levels of blow-molded plastic shelving, it's undoubtedly a space-efficient bar. Plus, both it's cooler insert and deluxe travel case with wheels adds a whole new dimension to it's portable nature.
Perhaps the most exciting aspect of the Best of Times offering is its ability to cater for any and every taste. Each bar purchase comes with a themed fabric wrap of your choice; wrap that adorns the stools and bar front, and comes complete with velcro for ease of interchangeability.
The number of available themes is ginormous, with an entire category dedicated to all things tiki. From totems to anchors to tribal to the classic bamboo look, choose your ideal aesthetic!
You can even purchase multiple fabric wraps to transform the setting for each event that you host. Personalisation is an option too! Add a special touch to personal or commercial events by uploading your design onto the fabric wrap.
Speaking of customisation, if you require more bar space than the standard L shape allows for, you can purchase multiple bars to create the shape that best suits your space and needs. Get creative!
So there you have it. As far as portable tiki bars go, you're spoiled for choice with high quality, fun, and inherently practical options. With these solutions in the market, hosting a party has never been easier!
Related posts: