Here we review the soft top Elite Shade Titan Garden Gazebo by Sunbrella, which is a forward-thinking textile company that specialize in textiles, which have some really cool applications. It comes in both cocoa and rust colours, as per your preference.
The Elite Shade Titan gazebo is basically, to our eye, a gazebo that looks like a hard top, but is actually a soft top.
It looks like a hard top because of the formidable structure that holds up the canopy, and simply the overall design has a certain sturdiness to it you don't see in a lot of soft tops, which go for a more minimal, slimmed down look.
Indeed, at 150 pounds, this soft top canopy gazebo outweighs the majority of soft tops by a good 50 pounds, which can be a positive or a negative depending on your viewpoint. More on that shortly!
Because of Sunbrella's attention to detail when it comes to fabric, this gazebo has a number of unique qualities which we'll be going over today.
That said, the main reason people purchase gazebos, whether hard top or soft top, for their backyard, special event, what have you, is to get protection from the elements, like the sun and rain. If a gazebo can't provide that, it's not really going to be worth it.
Sunbrella is well aware of this, and has built in an effective a weather-resistant canopy that will protect the people standing under it as well as any furniture you use that will sit beneath it. This protection from water is essential for any event where rain starts to come down, whether you're at dinner with friends or lounging in your hot tub.
Also, the Elite Shade Titan Garden Gazebo is made of corrosion-free materials that are different in style than other gazebos. Sunbrella seems to have taken a few extra measures to make sure that their gazebo is still standing while others may topple due to unforeseen circumstances.
But what is the consensus on this gazebo in the eyes of purchasers? Sure, Sunbrella has tried to make this an effective gazebo, but did they truly succeed, according to the majority of customers?
Weather-Resistant Canopy
Let's take another look at the canopy. Sunbrella claims that the materials used to make it are going to resist fading for 10-15 years!
If you know anything about soft top gazebos, you'll know that few manufacturers would make such a bold claim, since a common complaint is that the canopy fades in colour within one or two season. In lesser canopies, you'll either get fading, a weird change in colour, ripping, tearing, etc.
Luckily, the word from the vast majority of purchasers that we've come across is that this material, probably due to being proprietary Sunbrella fabric (which is their forté after all), actually does have less of a tendency to be damaged than other similar-looking gazebos.
Without knowing the exact ingredients, it's clearly of a better make, which is encouraging. It's a textile that is resistant to the fading from UV rays. It's resistant to mold and mildew, too.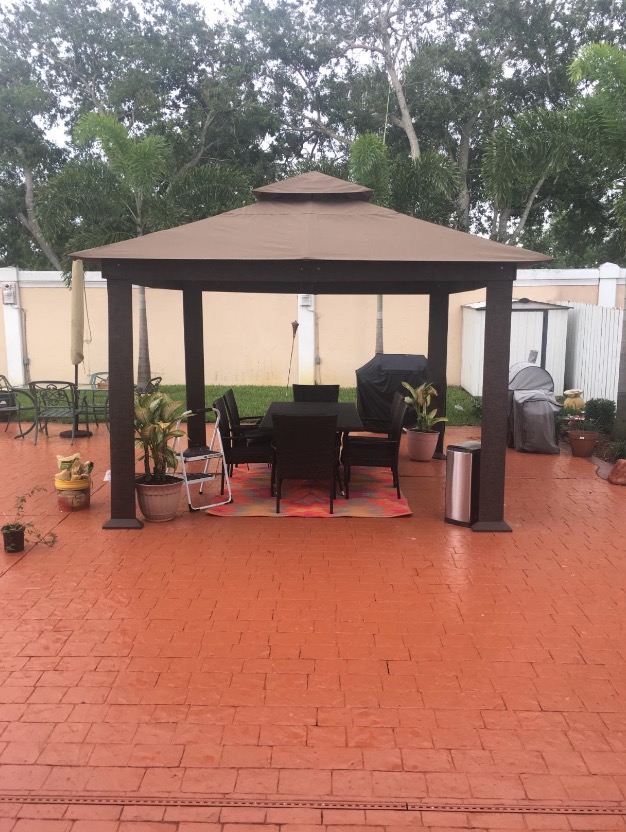 When you're leaving the canopy out during storms and summer days, you need a fabric that can handle the elements. The vented canopy won't rip, either.
It's a fabric that can be cleaned with bleach when needed, too. The color won't fade or lose their color. Both iterations of the Titan, whether cocoa or rust, are a lovely color that will stick around for years, we've found.
Durable Construction
The frame for the gazebo is made of sturdy aluminum and steel. It's resistant to corrosion and warping. It's rust free, too.
Most purchasers have had little to no complaints about how well this gazebo stands up to the elements, and, therefore, you could leave the structure up all year without worrying that the frame will rust or the surface will crack or peel. It's powder coated to resistant anything the weather can throw at it.
One purchaser said: "Perfect patio for our area. Feels a lot cooler under this than our cantilever umbrella or regular under roof patio. The Sunbrella top really knocks down the heat! Definitely took me longer than a few hours with just a little help from my wife, but well worth it. Seems to be made sturdy and should hold up for many years."
In some cases, when it comes to soft top gazebos, we recommend to purchasers that they may wish to literally remove the canvas if a big rain storm is coming, but this gazebo we feel more confident in saying you can leave it out, because the frame is so heavy duty, and the way it is put together is unique as well, which we'll mention next.

Specially Designed Posts
The posts are made with powder-coated steel, but that's not all. The posts are ornamental with coffee-bean colored material wrapped around them.
The material is a wicker wrap that you'd find in other kinds of outdoor furniture.
Many people have artisan-woven wicker furniture in this exact shade.
It'll match your current patio set beautifully. Instead of cold steel for your posts, this gives you a stunning, warm color palette for your outdoor space.
The legs are set 12 feet apart, which actually gives you 144 square feet of shade in your new gazebo.
Pros
Cons

The vast majority of customers are pleased with this gazebo, with hardly any low ratings to speak of, and one person going as far as calling it "Sweeeeeeet!"
Another customer called this gazebo "very affordable, spacious and durable."
Can even be put together by non-handy people in several hours

A few people had issues with parts being bent on arrival
At least one customer remarked that their canopy faded after not much time
At least one customer said the water pools on the canopy with this model
EliteShade 10x13 Feet Sunbrella Titan Patio Outdoor Garden Backyard Gazebo
Easy to Assemble
The gazebo is easy to assemble. You don't need to hire a handyman to come and assemble the gazebo for you. One five star rater said: "This is a very nice gazebo. My two guys had it up in about three-four hours. Now I have an oasis in my backyard! This really blocks the super hot Florida sun. I love it!"
So, rather than hiring someone, go grab the tools from your toolbox and put it together in a few hours. It also includes the wrenches you'll need for assembly.
The gazebo comes with detailed instructions for making assembly much easier than you'd expect. It'll only require one other person for help as well as approximately 3 hours of your time.
The patented connectors are included, too.
Sunbrella Titan
Bolted to a Deck
The legs of the gazebo can be attached to many types of decks from wooden to concrete. You might need to purchase the right bolts depending on the material.
The concealed anchor plates make attachments much easier.
Some people anchor this to a wooden deck that surrounds their pool. Others anchor the gazebo to a cement pad out in the yard.
You can also stake it into the ground in a garden with no floor at all. This gazebo gives you options for any kind of anchoring you need to do.
Frequently Asked Questions
What are the dimensions of this gazebo?
It measures 12 feet by 12 feet by 10 feet. It weighs 134 pounds. The gazebo is delivered in one package that measures 88 x 20 x 13 inches.
Will the canopy hold up in the cold winters?
It's not a good idea to leave your canopy up in the icy cold winters. You can easily remove the fabric but leave the posts in place.
Is this sturdy and stable enough for mounting a television or light fixtures?
You'd have to be slightly creative in your mounting kit, but it's able to hold the weight of a television.
Does Elite Shade provide customer service, in case I have any questions?
Although their products seem very popular, the only website we could find when it comes to EliteShade is their Amazon store. The canopy material is designed by Sunbrella, who do have a website, which is here. Try contacting them to see what they say.
Can this gazebo be put up by one person?
We always recommend having a second person on hand to help out with gazebo setup, as many customers need a ladder to perform some of the setup, which would indicate the need for a second person in most cases. There are those who are able to put these gazebos up themselves, but, we still recommend having some help.
The Elite Shade Titan Garden Gazebo is 144 square feet of lovely shade from the sun.
It's perfect for giving yourself an extra room right in your backyard. The structure can be decorated in a style that fits with your event or the theme of your backyard.
Let us know in the comments below if you have any stories or experiences with this gazebo, or any other gazebos you may have purchased.
How did your experience go?
Here are some additional articles on our site you might find helpful.
Related posts: