Last Updated on
The pergola-inspired gazebo isn't another gazebo with metal legs and a canvas top. It has beautiful details that make it interesting and unique. There's a weather-resistant canopy that will protect the people standing under it as well as any furniture you use. The Elite Shade Titan Garden Gazebo is made of corrosion-free materials that are different in style than other gazebos.
Features of the Elite Shade Titan Garden Gazebo
Sunbrella fabric
Durable construction
Vented canopy
Easily assembled
Specially designed posts
Huge amount of space
Weather-Resistant Canopy
First, let's talk about the important aspect of the gazebo, which is the canopy. This is the material that will protect you and your guests while sitting outdoors. It'll keep the sun and rain off your guests and the furniture in the space.
The canopy is made from Sunbrella materials. It's a textile that is resistant to the fading from UV rays. It's resistant to mold and mildew, too. While the material will keep water off your guests, it can often pool on the top of the canvas after a rain storm. When you're leaving the canopy out during storms and summer days, you need a fabric that can handle the elements. The vented canopy won't rip, either.
It's a fabric that can be cleaned with bleach when needed, too. The color won't fade or lose their color. The Titan Gazebo is a lovely cocoa color that will stick around for years.
Durable Construction
The frame for the gazebo is made of sturdy aluminum and steel. It's resistant to corrosion and warping. It's rust free, too. You could leave the structure up all year without worrying that the frame will rust or the surface will crack or peel. It's powder coated to resistant anything the weather can throw at it.
Specially Designed Posts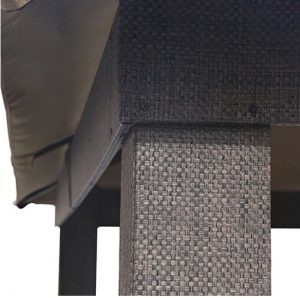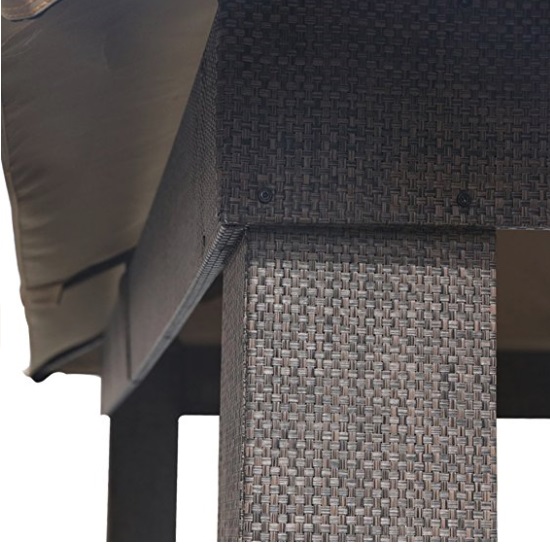 The posts are made with powder-coated steel, but that's not all. The posts are ornamental with coffee-bean colored material wrapped around them. The material is a wicker wrap that you'd find in other kinds of outdoor furniture.
Many people have artisan-woven wicker furniture in this exact shade. It'll match your current patio set beautifully. Instead of cold steel for your posts, this gives you a stunning, warm color palette for your outdoor space.
The legs are set 12 feet apart, which actually gives you 144 square feet of shade in your new gazebo.
Easy to Assemble
The gazebo is easy to assemble yourself. You don't need to hire a handyman to come and assemble the gazebo for you. Instead, grab the tools from your toolbox and put it together in a few hours. It also includes the wrenches you'll need for assembly.
The gazebo comes with detailed instructions for making assembly much easier than you'd expect. It'll only require one other person for help as well as approximately 3 hours of your time. The patented connectors are included, too.
Bolted to a Deck
The legs of the gazebo can be attached to many types of decks from wooden to concrete. You might need to purchase the right bolts depending on the material. The concealed anchor plates make attachments much easier.
Some people anchor this to a wooden deck that surrounds their pool. Others anchor the gazebo to a cement pad out in the yard. You can also stake it into the ground in a garden with no floor at all. This gazebo gives you options for any kind of anchoring you need to do.
Frequently Asked Questions
What are the dimensions of this gazebo?
It measures 12 feet by 12 feet by 10 feet. It weighs 134 pounds. The gazebo is delivered in one package that measures 88 x 20 x 13 inches.
Will the canopy hold up in the cold winters?
It's not a good idea to leave your canopy up in the icy cold winters. You can easily remove the fabric but leave the posts in place.
Is this sturdy and stable enough for mounting a television or light fixtures?
You'd have to be slightly creative in your mounting kit, but it's able to hold the weight of a television.
The Elite Shade Titan Garden Gazebo is 144 square feet of lovely shade from the sun. It's perfect for giving yourself an extra room right in your backyard. The structure can be decorated in a style that fits with your event or the theme of your backyard.